Video editing apps are in high demand, whether you're a pro or just for fun on social media. They empower you to enhance your videos with effects, music, subtitles, and more for that viral impact. This article is your complete guide to CapCut, the lesser-known sibling of TikTok.
CapCut, owned by ByteDance, TikTok's parent company, is an online and desktop video editing app. It's a versatile tool, brimming with AI features and preloaded assets. And the great thing is that it's free to use and start with.
---
A Detailed Guide To CapCut, Including Editors, Features, Benefits, And Practical Applications:
---
What Is CapCut?
CapCut is a free video editing app that lets users quickly turn their smartphone videos into pro-quality content. Its user-friendly features include cutting, speed adjustments, reversals, music integration, stickers, text, and more. It suits all skill levels and is compatible with online, Windows, and mobile editing. What makes CapCut exceptional is its knack for enhancing videos not just for TikTok, Facebook, and Instagram but also for YouTube, ensuring a polished, professional result.
CapCut's templates simplify trendy content creation, boasting over 4613.5 billion views under #capcut on TikTok. These templates, featuring brand-friendly, uncopyrighted sound remixes, seamlessly integrate into TikTok. Notably, brands like Duolingo actively embrace CapCut trends, amplifying their content with popular sounds from these trends.
As TikTok Shops gain global momentum, sellers turn to CapCut to edit their promotional TikToks. They use popular and humorous CapCut templates to showcase their best-selling products, generating content that garners millions of views. CapCut edits for TikTok Shop merchandise encompass everything from informative product demonstrations to eye-catching, attention-grabbing product listings. User-generated content creators can also leverage CapCut to create distinct, one-of-a-kind ads for brands, allowing them to command premium rates and maintain a competitive edge.
CapCut has now exceeded 200 million monthly active users, solidifying its position as ByteDance's second overseas-focused product to achieve over 100 million MAUs.
---
What Are CapCut Editors?
CapCut's user-friendly editors are designed for efficient video and image creation:
Free Mobile Video Editor
Streamline video creation for personal or business branding. Utilize smart features like Speech to Text, Text to Speech, and multi-language video transcription. Easily remove video backgrounds with a single click. Enhance videos with effects, text overlays, trendy music, and sound effects. CapCut supports cloud storage for seamless media sharing and management.
Free Mobile Photo Editor
CapCut's AI-powered photo editor delivers free image creation and editing. Enjoy color matching, resizing, and background removal. Easily import photos from your device or cloud storage. Explore templates, filters, effects, and text overlays. Customize file details before sharing on social platforms.
Free Desktop Video Editor
CapCut's desktop video editor blends AI power and professionalism. Features like Script to Video, Auto Reframe, and Auto Captions streamline your work. The intuitive interface includes productivity-boosting shortcuts. Access thousands of free effects, animations, transitions, rich text options, keyframe animations, and AI-generated captions in multiple languages. Export in stunning 4k 60fps for top-notch quality, empowering users of all levels to create anywhere.
CapCut editors bring a host of benefits:
Effortless Collaboration: Pool resources with your team in real-time, eliminating file exchanges.
Cloud Storage: Your work is automatically saved in CapCut's secure cloud drive, preserving your files and freeing up hard drive space.
Platform Versatility: These editors seamlessly operate on all platforms, allowing easy device transitions.
No Need for Frequent Software Upgrades: They perform efficiently on moderately aged laptops and easily handle large 4K video files.
Ad-Free Experience: CapCut's interface ensures a streamlined video editing experience without disruptive advertisements.
---
What Are the Top Features of CapCut?
CapCut offers a plethora of basic and advanced features to empower users. Let's explore what sets CapCut apart in video editing for beginners and seasoned creators.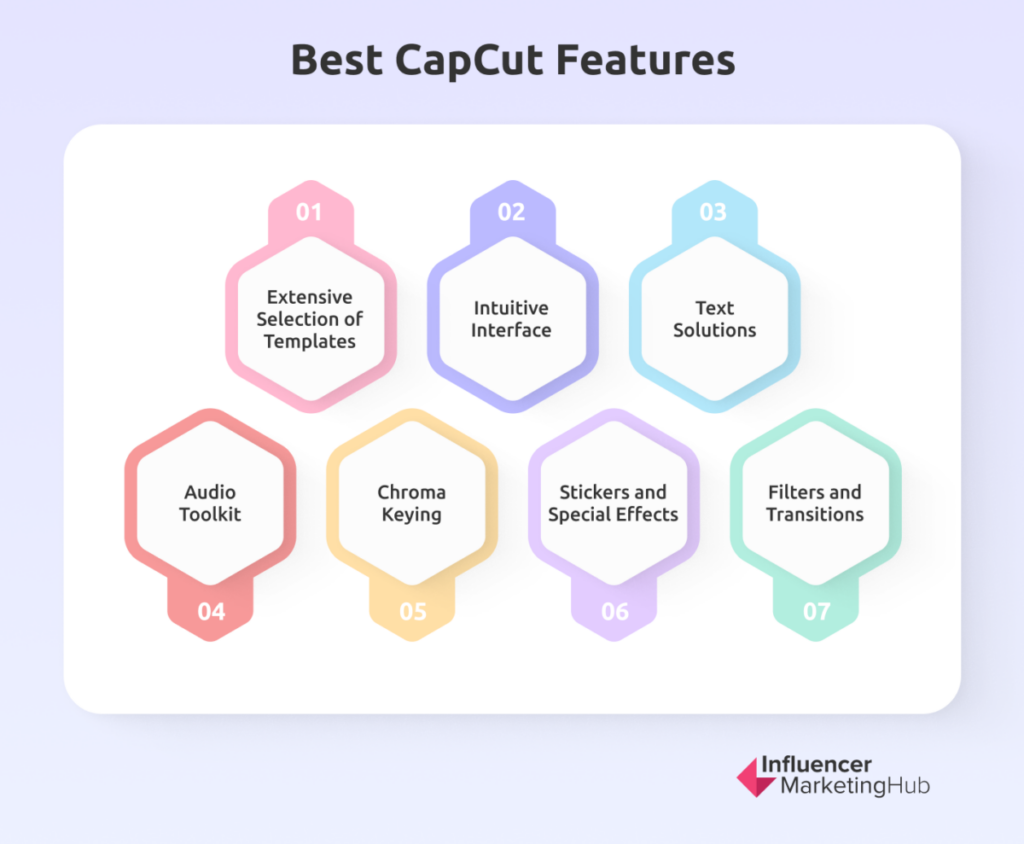 Extensive Selection of Templates
CapCut simplifies video creation with user-friendly templates. Easily insert your clips into these professionally designed templates with color schemes, transitions, animations, and soundtracks. This time-saving feature enhances efficiency.
Discovering the perfect template is effortless in CapCut, thanks to its extensive categorized library and a handy search function. These high-quality templates are free, ensuring accessible video editing for all, regardless of skill level.
---
Intuitive Interface
CapCut offers an intuitive interface that makes video editing straightforward. You can efficiently perform a wide range of tasks, including splitting and merging clips, adjusting video formats, resizing canvases, changing playback speed, and even reversing clips—all accomplished with a few simple taps on its intuitive timeline. Recently, CapCut introduced a valuable feature: the speed curve. Adding speed ramps enables you to create seamless transitions in your videos.
One notable function is the overlay feature, which allows you to superimpose additional clips onto your main footage. You can easily adjust the size and trim these overlay clips, similar to how you manipulate the primary clip. CapCut also supports standard overlay practices like green screen effects and adding backgrounds.
---
Text Solutions
Text can be incredibly informative, and when added to videos, it can make them truly engaging. CapCut provides a creative service by offering preset templates for text editing. This eliminates the need to navigate numerous complex tabs to adjust font sizes, styles, and bubbles. This streamlines the process, making it more efficient.
Consider using the Voiceover and Auto Captions tools in the audio editing section if manual text entry becomes tedious. When you tap "Auto Captions," CapCut automatically generates captions and assigns them to specific time codes. You can delete, move, or split these captions into new ones. To edit multiple captions simultaneously, use Batch Edit, allowing you to review and stylize them collectively with a simple click.
---
Audio Toolkit
CapCut provides a rich music library with exclusive copyrighted songs, but if you prefer your tracks, you can easily import them or extract audio from existing videos. Sound effects are also at your fingertips, made even more accessible with a user-friendly search bar and a favorite button.
Editing audio tracks separately is a breeze, allowing you to adjust volume, determine starting and ending points, and trim as needed. CapCut even surprises with a match-out tool for adding beats, giving you the choice to add them manually or let the app do it automatically.
---
Chroma Keying
CapCut enables you to unlock your creative potential with its video background remover tool. Easily extract the main subject or object from your videos, offering endless creative opportunities. After removing the background, you can replace it with a new one or overlay the subject on a separate layer.
This technique, known as chroma keying or the green screen effect, seamlessly integrates subjects into various backgrounds, enhancing the visual appeal of your videos. CapCut's background remover empowers you to craft dynamic scenes, transport subjects to diverse settings, and transform your imaginative ideas into captivating visual effects.
---
Stickers and Special Effects
CapCut makes video editing as easy as photo editing, with a wide selection of categorized stickers ranging from emojis to themed items like snowflakes, stars, arrows, and special occasions like Christmas and New Year's. While you can import your pictures as stickers (in JPG or PNG format), note that there's no search bar or favorite button, so navigating the abundant choices may be overwhelming for frequent sticker users.
Moreover, CapCut offers two types of special effects: video effects and body effects. Video effects apply to the entire video and can be added to the main video, overlay, or both. Body effects target specific areas or parts of the human body in the video, automatically detected and enhanced by CapCut.
With numerous video effects like CapCut 3D zoom and CapCut blur available, you can layer multiple effects on a single video clip and fine-tune each individually, giving your videos a dynamic and vibrant touch.
---
Filters and Transitions
These two features play a significant role in setting the mood of your video. While CapCut doesn't offer advanced color grading features, it strikes a balance effectively. CapCut provides a range of predefined filters that you can customize to your liking. Using these filters is a time-efficient alternative to creating your own, speeding up your workflow. You can apply filters to both primary clips and overlays.
Alternatively, transitions are brief clips that seamlessly connect one shot to another. CapCut offers a variety of transition options, including basic, camera, MG, effect, and mask, allowing you to transition between clips and hide cuts smoothly.
---
How Does CapCut Work?
CapCut offers an accessible and user-friendly alternative to complex AI video editing software. Here's how to get started with the mobile version:
Install the CapCut app and launch it on your device.

Tap the "New Project" icon.

Add one or multiple video clips to your project.

Start your editing process on the timeline.
The CapCut interface comprises four key components: the Preview Window, Timeline, Main Toolbar, and Sub Toolbars. The Preview Window lets you play back videos and interact directly with clips. The timeline is your workspace for arranging and editing video, audio, overlay, effects, and text tracks. The Main Toolbar appears when no clip is selected. Finally, the Sub Toolbars are tailored for different tracks and clips on the timeline.
CapCut automatically saves your project drafts, allowing you to pause and resume editing at your convenience. You can also use the ShortCut feature to create videos with a single click for rapid editing.
Using CapCut on your desktop is just as simple:
Go to CapCut.com.

Click "Download" for Windows or Mac.

Run the installer.

Log in to CapCut for PC with your existing account or create a new one.
Once logged in, you'll unlock the full spectrum of CapCut's media editing capabilities. The CapCut PC version features a user interface similar to the mobile app, making it a seamless transition. You can effortlessly add animated text, stickers, transitions, effects, and filters as you would on your phone.
CapCut exports include watermarks by default, but removing them is pretty straightforward.
---
What Are The Top Benefits Of Using CapCut?
Using CapCut can be very beneficial, especially if you add it to your marketing strategy toolkit.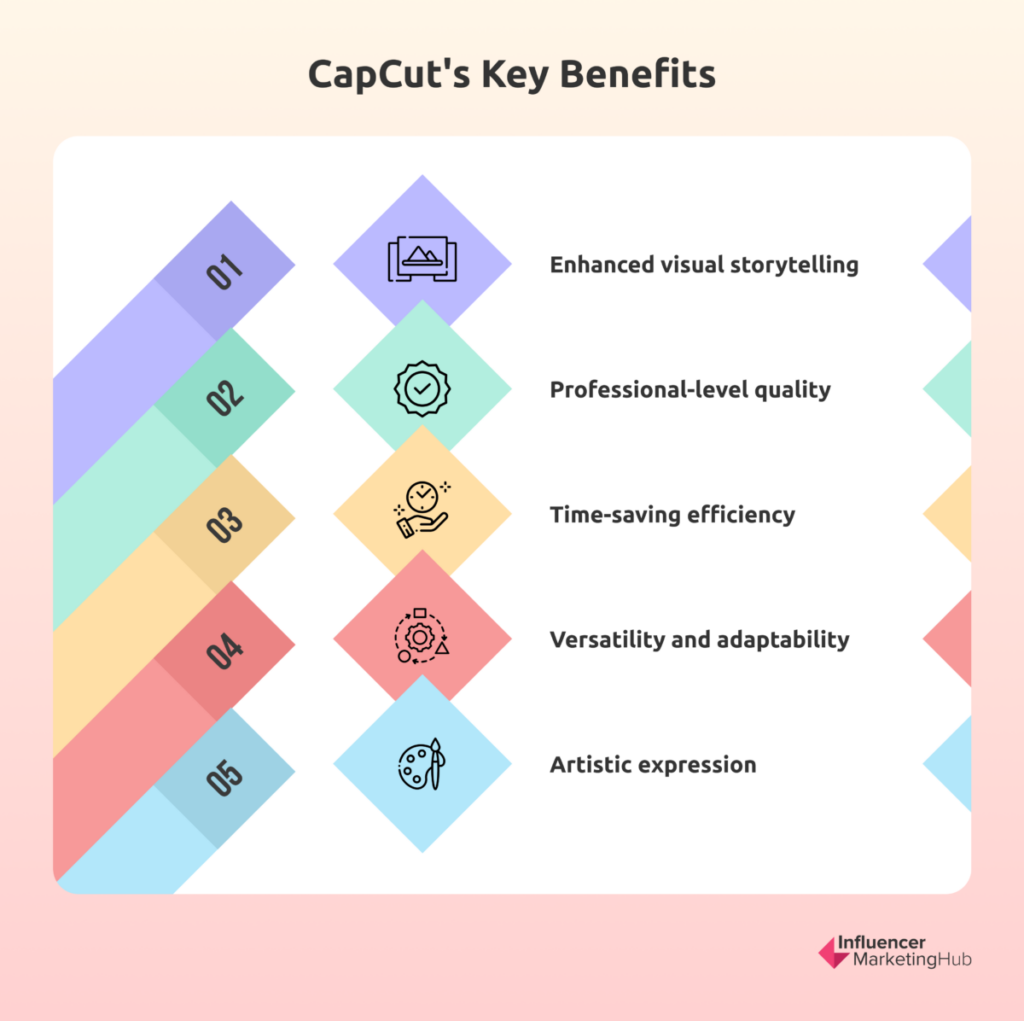 Enhanced visual storytelling
Elevate your storytelling with special effects, transitions, filters, and motion graphics to engage your audience with captivating visuals.
Professional-level quality
Achieve professional-quality video editing with precise editing, advanced audio tools, and a comprehensive effects library.
Time-saving efficiency
Streamline your editing process with CapCut's intuitive interface, multi-layer timeline editing, and user-friendly presets.
Versatility and adaptability
Tailor your content for various platforms and formats by customizing text, effects, music, and video backgrounds.
Artistic expression
Explore your creative potential with various tools, effects, and customization options to create standout content.
---
What Are The Top Practical Applications of CapCut?
CapCut is a versatile video editing tool with numerous practical applications. Here are some of its top uses: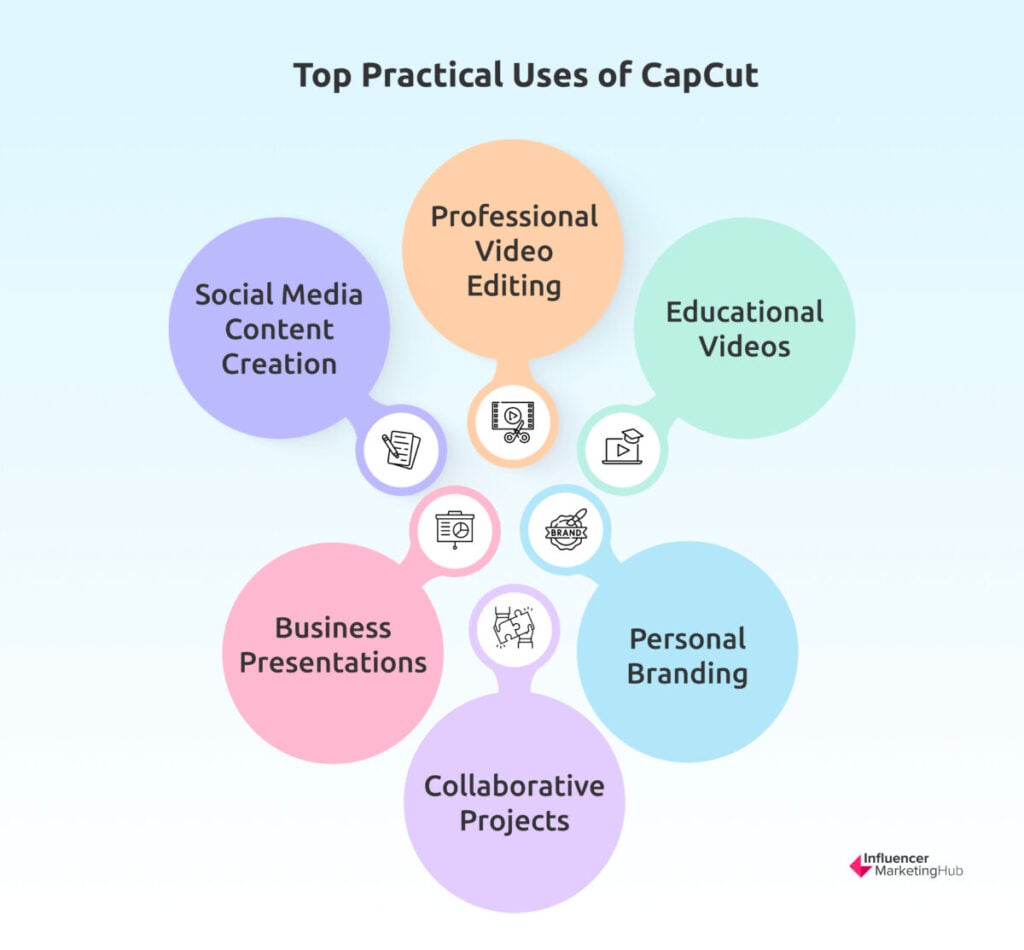 Social Media Content Creation
CapCut is perfect for crafting engaging content for platforms like TikTok, Instagram, and Facebook. It even supports direct exports to TikTok.
Professional Video Editing
Utilize CapCut's advanced features, such as keyframe animation, smooth slow-motion effects, chroma key, Picture-in-Picture (PIP), and stabilization for professional-grade video editing.
Educational Videos
CapCut's text-to-speech and auto-captions features make it an excellent choice for creating informative educational videos.
Business Presentations
Leverage the app's advanced editing tools and stock assets to craft compelling business presentations that leave a lasting impression.
Personal Branding
With various filters and effects, CapCut empowers you to create videos that authentically represent your brand.
Collaborative Projects
CapCut's support for team collaboration makes it a valuable tool for collaborative group projects.
These are just a few examples, but remember, the possibilities with CapCut are limitless, allowing you to unleash your creativity in various ways.
---
Final Thoughts
CapCut is a versatile and user-friendly video editing tool suitable for beginners and those with prior experience. It's free, offers quick access to essential features, and is perfect for enhancing your TikTok content. Not all can hire TikTok marketing agencies to elevate their brands, but CapCut can help you save resources and produce unique, high-quality videos. Whether new to editing or experienced, CapCut is a powerful and fast solution for quickly unleashing your creativity.
Frequently Asked Questions
Is CapCut a good video editing app?
Yes. It's versatile, free, and suitable for short video editing.
What is CapCut mainly used for?
Designed initially for TikTok, it's expanded to edit longer videos for platforms like Instagram and YouTube.
What are some CapCut desktop alternatives?
Consider VideoProc Vlogger, WeVideo, Flexclip Video Maker, and iMovie for easy template-based video editing. Check here for a list of other video editing software.
Is CapCut available for PC or Mac?
Yes, you can use CapCut on both PC and Mac. Download the respective versions from your system's software store.