Advertising Disclosure
Advertising disclosure:
Our partners compensate us. This may influence which products or services we review (also where and how those products appear on the site), this in no way affects our recommendations or the advice we offer. Our reviews are based on years of experience and countless hours of research. Our partners cannot pay us to guarantee favorable reviews of their products or services.
AI video editing software programs automate tasks for producing visually appealing content with your audience. Through automatic adjustments in lighting, color and other elements, these tools can quickly help you create professional-looking videos. Moreover, editing software can select, cut, re-sequence, and stitch together footage that you need for a more concise but cohesive storyline or flow. Special effects and transitions can add spice to your end product.
With so much that goes into producing videos for YouTube, you might rush choosing the right video editing software. To help you with your search, we've compiled the eight leading editing software programs in the industry today. But before we share the list, here are the criteria we used for our selection, which you can also use when picking your editing tool.
---
Top 9 Video Editing Software for YouTube
Here are 9 tools to consider for editing your videos for YouTube in 2023:
Top
ai youtube video editing software
2024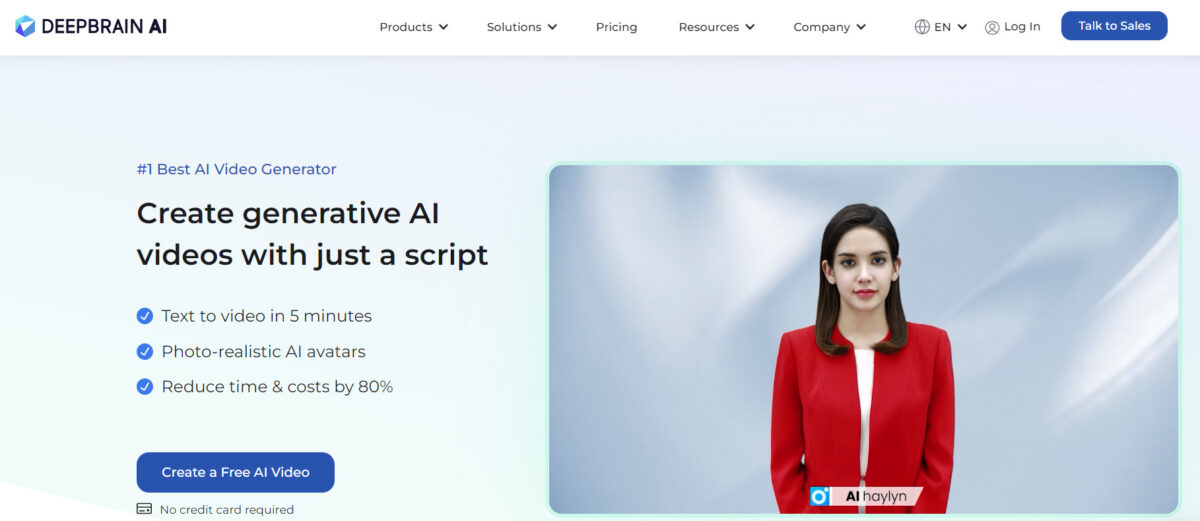 DeepBrain AI Studios emerges as a groundbreaking platform for crafting captivating, professional-grade YouTube videos. This state-of-the-art tool facilitates real-time video creation, with a plethora of custom templates tailored for YouTube content creators. DeepBrain AI Studios stands out with its text-to-speech feature, enabling users to effortlessly incorporate engaging voiceovers into their content.
A notable feature of DeepBrain AI Studios is its automatic subtitle setting, ensuring content is accessible to a wider audience. The platform boasts a diverse range of templates, from those designed for creating chat-GPT videos to templates optimized for YouTube videos shot with a camera. This versatility ensures content creators have a starting point, eliminating the complexities of design and saving valuable time.
DeepBrain AI Studios is not just about video creation; it's a comprehensive suite that includes an easy video clip editor, deep fake technology, A.I. voice generator, avatar maker, and people creator. This ensures that users can produce content that truly stands out, whether it's for marketing or entertainment purposes.
The platform's library is vast, offering royalty-free music and sound effects to enhance videos. This, combined with the AI-powered engine, ensures videos are not only professional-grade but also unique and tailored to the creator's vision.
For those wary of hidden costs, DeepBrain AI Studios offers a free AI video demo, with no credit card requirements. This commitment to user experience has earned them accolades, including the CES Innovation Awards.
---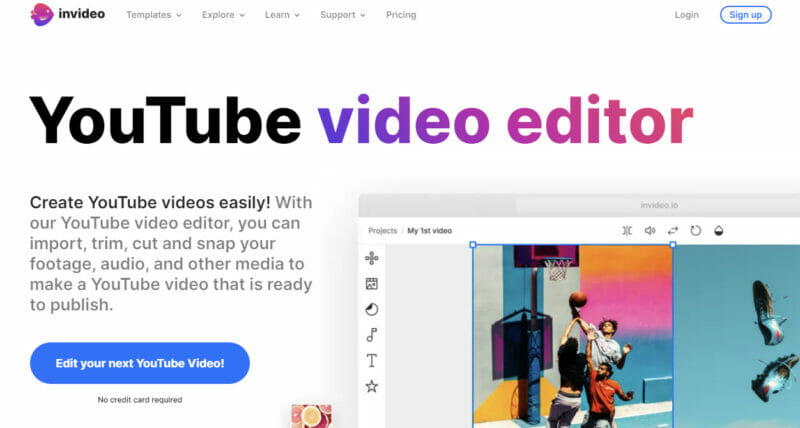 InVideo is the perfect platform for creating engaging, professional-quality videos. This easy-to-use tool make it simple to turn your ideas into videos in real-time, and library of built-in templates and media makes it easy to get started. With InVideo, you can add voiceover, customize templates by changing colors, animations, transitions, social media posts, shapes, emojis—and more.
However, InVideo is known for its audio options: you can record yourself on the spot, upload your pre-recorded voice, or convert text content into speech. Moreover, you can select the language and voice (three options) for your video.
InVideo's library features over 5,000 customizable templates, transitions, and effects. Subscribers also enjoy access to more than 8 million video, image, and music tracks. It's compatible with Microsoft, Apple, and Linux systems. Its AI-powered intelligent video assistant and online tutorials guides you through the editing process.
Plus, their intuitive editor allows employees to add media files or choose files from an integrated media library. And with a live support team available 24/7*, you can always create video content that's truly amazing.
InVideo grants mobile app access to its Business and Unlimited plan holders.
---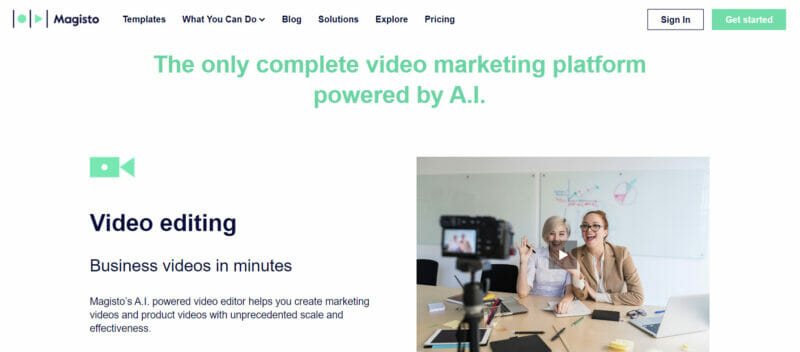 Some users call Magisto the PowerPoint of video editing as you follow a simple three-step process to produce your video. First, you select your media files. Next, pick a soundtrack from their library. Lastly, choose a template from Magisto's 100-plus-piece collection onto which you put together your video into a single clip.
The platform features a library with more than 3 million professionally shot full-HD stock video clips, more than 100 stickers, and background music. Magisto can apply automatic camera motion stabilization, color correction, and other edits. Tools are available for adding a title sequence and captions to your video.
You can use Magisto via desktop or phone app.
The free version allows production of up to one-minute videos (access up to 10 photos and 10 video clips for every video you create), full access to Smart Editor and editing styles and limited social sharing. Premium version ($9.99 per month) allows production of up to 10-minute videos and access to premium editing styles. There's also a Professional and Business plan.
---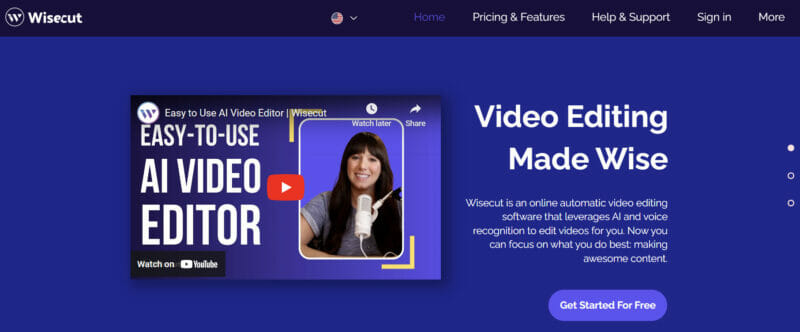 Wisecut is a popular editing software for "talking head" videos or videos wherein one person speaks in front of the camera as the subject matter expert, such as explainers and tutorials. 
With Wisecut, you can identify awkward pauses and delete them automatically, without going through the video over and over again during the editing process. It creates jump cuts for you with punch in and out to make your video more concise and engaging, seamlessly eliminating unnecessary gaps and applies audio ducking or lowering of the background music volume when the speaker starts talking. Meanwhile, you can widen your audience reach with Wisecut's translations, such as Spanish, Portuguese, German, French, Italian, Korean, Japanese, Arabic, and Hindi. You can use Wisecut either on desktop or mobile.
Starter and Professional plan subscribers will enjoy Wisecut's watermark-free video output and aspect ratio conversion (landscape, square, and vertical views), access to sound waves, background noise reduction, and its "punch in and out" (similar to zoom in and out) feature. Auto-translation is only available under the paid plans.
---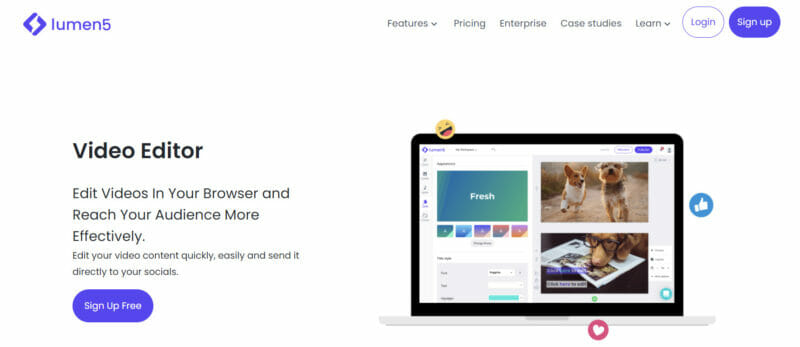 Lumen5 is a drag-and-drop platform whose AI tools also allow the convenient editing of talking head videos. Its other core strength is its ability to convert blog posts or articles into videos. It enables marketers to quickly and easily create engaging, personalized videos with custom themes, watermarks, fonts, and brand colors.

Lumen5 divides your content into segments, depending on the amount of text your transcript or article has. It can identify keywords and suggest where to position callouts and overlays. The software can work with any file format. You can later upload your final output onto your website or social channels.
The solution offers a host of features such as natural language processing, a built-in media library, role-based permissions, automated workflows, configurable storyboards, and more. The drag-and-drop functionality enables users to modify content as well as upload custom audio or images. Lumen5 is currently available in desktop version only.
---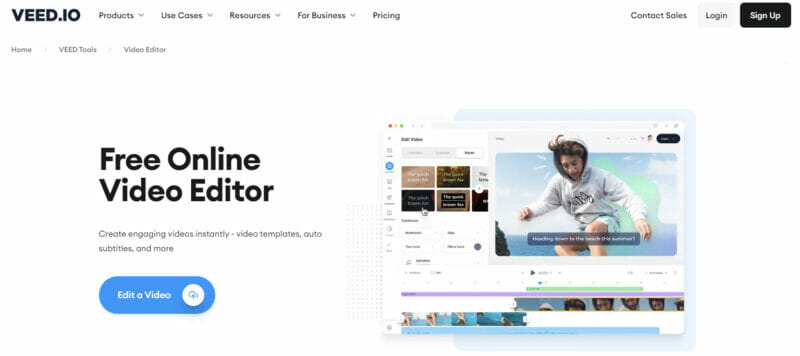 Veed is another option to consider if your YouTube channel focuses on explainer or tutorial videos. It is a cloud-based video editing platform that makes professional video production simple. Their key features include one-click subtitling, auto-translation and subtitling, removal of background noise and unwanted pauses, cropping, cutting, transitions, custom branding, compression, replacement of backgrounds with a new image or another video, format conversion and application of various visual effects and audio visualizers.
Being cloud-based, it is ideal for teams. Avoid slow file transfers and laptop storage issues. Instead, keep all your video projects online and accessible. Allow multiple editors to work on the same project. Share videos via a URL, collate feedback comments and keep existing videos up to date. When you're ready to share simply use a URL or embed the video directly into a website. Common use cases for VEED include social media videos, training videos, help videos, marketing videos, recruitment videos, onboarding videos. The software is also available on mobile devices.
Basic, pro, and business plans provide unlimited access to stock audio, video, and text animations. You must also subscribe to these paid plans to delete unnecessary pauses and background noise. Meanwhile, subtitle translation is only available in the pro and business plans. Veed is offering the basic and pro at discounted rates this holiday season.
---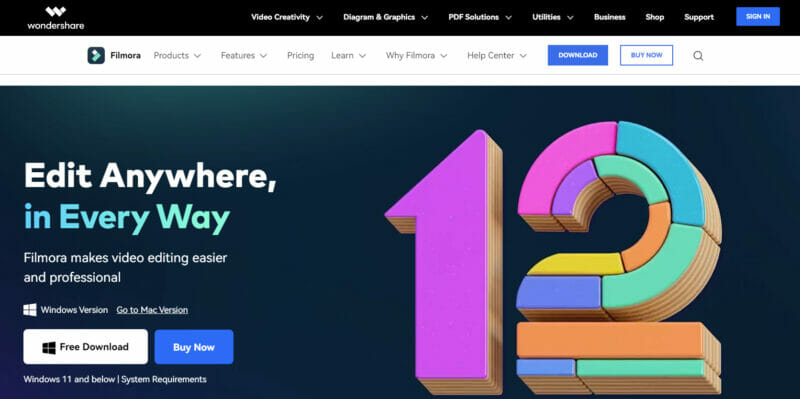 Filmora is known for its extensive array of creative effects. The platform has over 1,000 pre-set templates and an auto beat sync feature to match your footage with music clips. Filmora continues to update its offers with plug-ins for cinematic effects, motion graphics, and auto synchronization of sounds and visuals.
This tool can quickly identify and delete over or underexposed parts of your footage and any jitters to produce a clean montage. Meanwhile, its speed ramping feature lets you choose from six settings to adjust the speed of your video segments. Filmora also has tools for masking, split screen, title editing, keyframing, screen recorder, motion tracking, and auto reframing.
All plan holders have access to over 100 advanced video, audio, and color editing features, more than 200 pro-quality visual effects, over 1,000 pre-set templates, and more than 150 portrait matting effects.
---
RunwayML specializes in green screen editing or Chroma key application, which allows you to change the background of your subject. The platform's other top feature is its inpainting tool, which removes objects originally in a footage—such as bystanders—as long as they made minimal movement in the background. You don't need to download RunwayML for editing—you can edit your videos directly on your browser.
You also have access to customized titles, fillers, automatic motion tracking, and keyframe animations.
---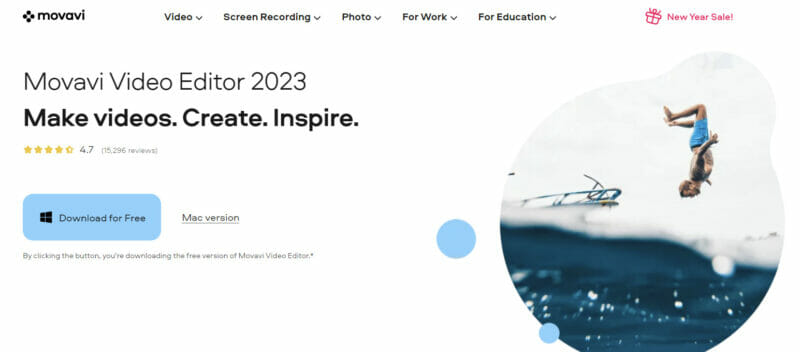 Movavi's filters and transitions give videos a professional touch, making the platform a favorite among content creators since 2004. It is the perfect tool to bring your creative ideas to life and share them with the world. Its top assets include a Chroma key for changing backgrounds and picture-in-picture mode to show one main screen—from one source device—with an inset window from another source device, stylization or creative filters, and voice-overs.
With lightning-fast file processing and rendering, you can enjoy easy video editing that is stylish and efficient. It can create short movies from your videos and photos with ease, using the extended built-in library of sample video clips, stickers, and music tracks. Add titles, filters, transitions, and special effects for a polished final product. Use animation to move objects in your video smoothly around the screen.
Speed editing, motion tracking, audio correction (audio "denoiser"), and audio enhancements (including effects such as vibrato and robot) are also available. 
---
---
What to Look for In AI Video Editing Software
Engaging customers through video has become a top metric for marketing success, according to WyzeOwl's State of Video Marketing Survey 2022. A majority of marketers (62%) believe this factor is a top contributor to a successful campaign, followed by video views (61%) and leads or clicks (60%). The survey reported that 86% of businesses currently use video marketing. Marketers believe that videos improved user understanding of their products and services (94%), adding that they effectively helped generate leads (86%).
Amid these statistics, picking the right video editing software is crucial if you'd like to thrive in this competitive segment of digital marketing. Here are the factors you should consider in selecting your tool: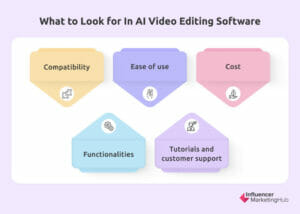 1. Compatibility
Your chosen software must be able to edit the video format of your camera. Choose software that will work with your operating system (Windows or Apple), or find a cross-platform tool that can work on all operating systems. 
Also, check if it will work with your other devices, including your camera, webcam, drone camera, microphone, screen recorder, or gaming console. 
---
2. Ease of use
Pick software that matches your video editing skills. Reviews can help you determine which brand and version will suit your skill set.
An editing software workspace typically has the following features:
Split screen and picture-in-picture

: displays several windows at once, making it easier for you to review content while trimming it down. This option helps you combine separate video files.

Hotkeys

: keyboard shortcuts

Chroma keys

: allows you to combine two video streams or images through the separation of colors in the original image
---
3. Cost
You can start with free software to check out their capabilities. However, most of these tools have limited editing features and file format support. 
If you are only starting, you may want to try basic plans of subscription-based editing software. Others have a free trial period of several days. After getting a feel of the tool, you may choose a higher plan later if it meets your needs.
---
4. Functionalities
Software that offers advanced features will improve the appeal of your video. Examples include:
Color correction, matching, and grading

Stock templates: visuals for introducing and concluding your videos

Overlay: makes your logo, "like" or "subscribe" buttons, and other emojis or stickers appear on your video

Screen recorder: allows you to record what's on your screen, perform live streams, or even do background replacement

Object motion tracking: allows text or graphics to follow the movement of an object in your video clip

Uploading speed 

Mobile phone editing
---
5. Tutorials and customer support
Some platforms provide tutorials for new video producers. Before signing up for an editing platform, check what customer services are available in your plan. Also, visit the website and view if the brand has product FAQs, a community forum, and other online support.  
---
Top 2 Reasons to Use AI Editing Software 
Here are the two main benefits of using AI-equipped software to edit YouTube videos: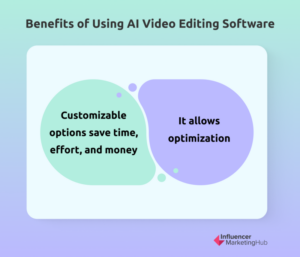 1. Customizable options save time, effort, and money.
With each software's available features, the formerly manual aspects of editing are now possible with a few clicks. 
AI video editing is already making a tremendous impact in sports marketing. World Football Summit reported that a broadcasting group saved up to 75% in production costs using Magnifi.
2. It allows optimization.
The best tools let you put files into a timeline without taking up too much hard storage on your computer or plenty of space in the cloud. 
Your software can also optimize your video for Google, Bing, and other platforms through search engine optimization (SEO). Techniques include using relevant titles, descriptions, tags, hashtags, and transcription.
---
Check Out Our Other Suggested Tools
We want to keep you constantly abreast of the latest software to help you get the results you need from your YouTube campaigns. Discover more video editing tools in our other blog post "38 Best Free Video Editing Software Platforms."