Screencasting software is a godsend. It makes sharing knowledge easier, saving you tons of words and energy trying to explain complex concepts or tasks by email. And they're perfect for quickly creating marketing content, too. As with many software categories, the tech industry knows when it's onto a good thing. Screencasting software has grown into a booming industry, one with countless options to choose from.
While screencasting is really all about capturing what's on your screen, some solutions offer a little more. For example, you'll find that our list includes tools with annotation and advanced video editing capabilities. Some also allow you to add background music, images, use pre-made video templates, and save content to the cloud.
Which brings us to the question: which screencasting software should you choose? In this blog post, we'll look at 11 of the best free and premium screencasting software solutions out there. We'll dive into every feature of each screencasting app to help you find the best tool.
---
10 of the Best Free and Premium Screencasting Software:
---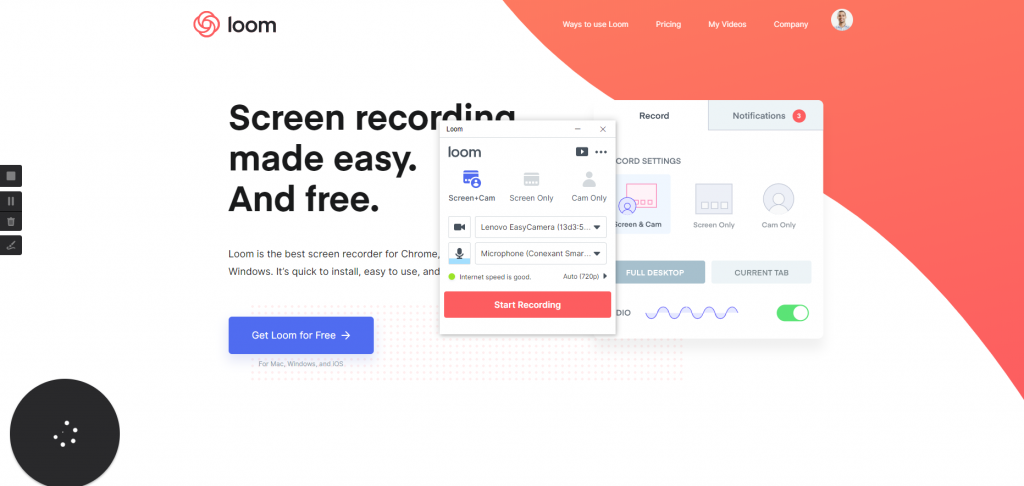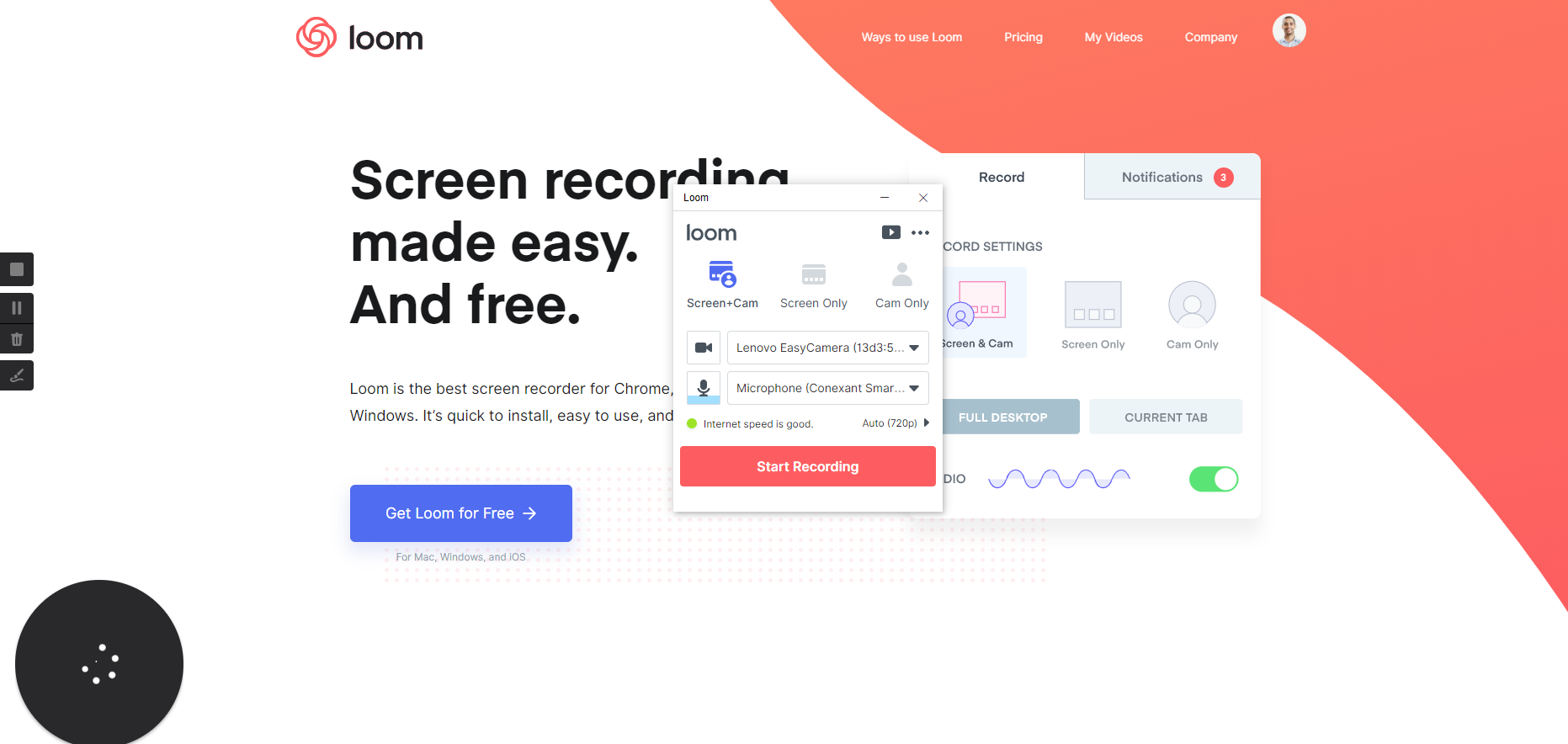 If you're looking for a way to quickly capture what's on your screen, Loom might just be the tool for you. It's available as a free and paid-for product, with three plans (Pro, Business, and Enterprise). The free version comes with screen and camera recording (with a cam bubble), allows viewers to offer comments and reactions, offers 480p resolution, and provides viewer insights (number of views of your video). While video editing functionality is limited, you can trim recordings and create GIF thumbnails.
When recording with the free Chrome browser extension version, you have the option of recording a tab or your entire screen. Loom also comes as a downloadable app, helpful if you have a spotty internet connection that makes it difficult to record using the Chrome browser extension. With the app, you get the same functionality mentioned above.
When upgrading to paid plans, additional features like high-definition video and custom recording dimensions are available. You can also add buttons, links, and files to your videos, and generate in-depth analytics to know exactly who viewed your video as well as what your video engagements that like.
Free and paid options offer password protection for videos, where paid versions allow you to restrict video access by email address. As a paying customer, you also get to customize your video player. You can add your company logo and change the color of your player to match your brand. Loom can be downloaded on Windows and Mac, and also comes as an iOS app with the Android version in the works.
Takeaway
Loom is the quintessential corporate worker tool. It's not built with advanced editing tools, but more to help teams quickly communicate important concepts with each other and their clients.
---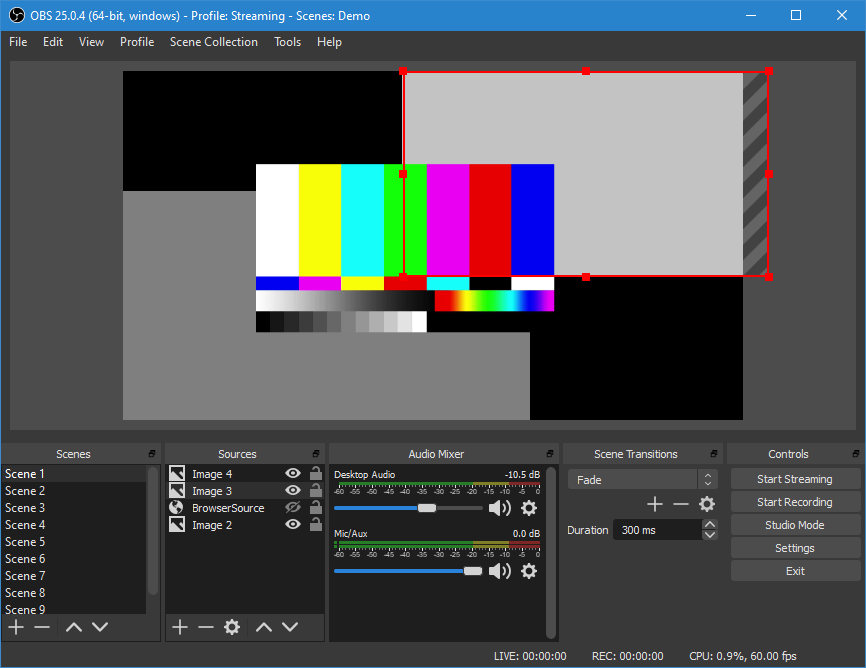 Open Broadcaster Software is likely one of the most popular free screencasting solutions available today. It packs a collection of powerful features, giving anyone from novices to professionals something to work with to create amazing video content. You can capture audio and video and do so in real-time. You can create scenes that consist of window captures, images, text, brother windows, WebCam footage, and more.
While it's already powerful as is, it does something we haven't seen anywhere else. You can set up and work with an unlimited number of scenes. This means you're able to switch between scenes, creating a more interactive look and feel for your screencast. OBS also comes with a powerful audio mixer that includes a collection of time-saving filters.
A feature most pro-OBS users appreciate most is it's easy-to-set configuration options. With them, you can add new sources, duplicate existing sources, or adjust their properties. It is able to use its easily accessible settings panel to make almost any configuration you can think of. OBS modular user interface is another unique feature. It allows you to rearrange all the elements in your version of the screencasting software, really giving you that customized look and feel.
Takeaway
OBS is a robust screencasting solution. Its flexible configuration features may make it look and feel like a complex tool, however, novice users willing to spend the time getting their feet wet will enjoy using it.
---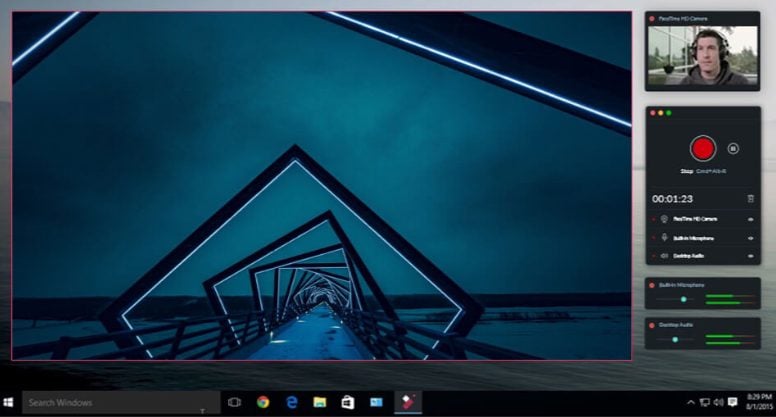 Filmora is no stranger to the video creation and editing world. Like it's popular video editing tool, Filmora 9, FilmoraScrn is just as intuitive, fun, and free to use. For example, screencasting often requires the use of on-screen tools to instruct or explain concepts. To help, FilmoraScrn offers a changeable cursor. Should you need to draw attention to a specific element to have viewers follow your every move, simply just the size, shape, and color your cursor to make it stand out.
Other features include the ability to record from your computer and WebCam simultaneously, use a second image or video in your main footage (think a facecam for gaming), add annotations, import over 50 file formats, export video in multiple formats, record all or just a section of your screen, and create tutorials with the tutorial feature set.
One feature that sets FilmoraScrn apart from most other screencasting software is its full editing suite. You can do anything from edit clips by adding layers of elements, audio, and more. FilmoraScrn is available for Windows 7, 8, and 10. It also comes ready for OS X 10.11 to 10.14.
Takeaway
If you're a Filmora fan, you'll love their screencasting offering. It's intuitive and clean layout makes it a must for beginners.
---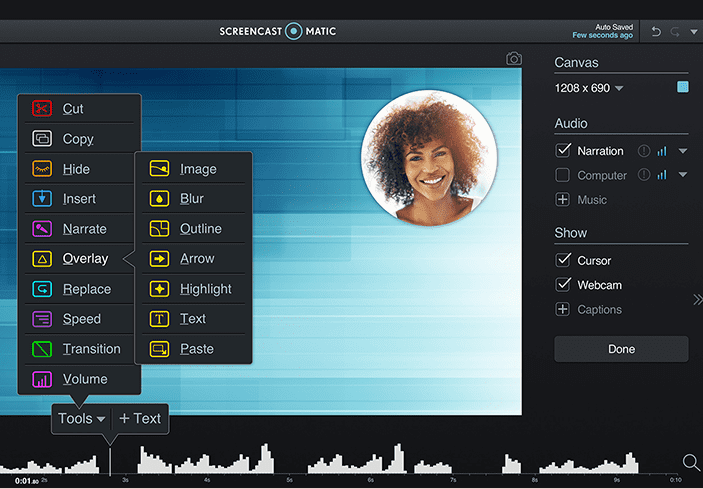 Screencast-o-Matic is a screencasting tool with a built-in editor. It comes in both a free and premium option, with the paid version offering more advanced capabilities. If you're looking for a free solution, Screencast-o-Matic will give you control of screen capturing (capture a part or all of your screen), add and adjust the size of your WebCam on-screen, include narration audio, and stock music and captions, and trim the start and end of your recordings. Screencast-o-Matic also comes with one-click saving. When done recording, a click of a button uploads content to Screencast-o-Matic or YouTube.
And when it comes to advanced features, you really begin to see how valuable Screencast-o-Matic can be. You're able to use automated captions, access an expanded music library, can control system audio, use pan and zoom functionality, add a script to your recordings, use picture-in-picture functionality, and also leverage the screenshot tool.
Advanced editing tools are just as powerful. Screencast-o-Matic allows you to create animated transitions, overlay effects, or hide, show, scale, or crop images. It also comes with a green screen to which you can add your own background, text, images, blurs and shapes, and zoom in or out of your video. Unlike most tools in our list, Screencast-o-Matic is available on Mac, Chromebook, Windows, Android, and iOS.
Takeaway
While Screencast-o-Matic looks like a basic tool, it packs a punch but does so without the complexity that will scare beginners away. Advanced features make it an attractive option, especially if you plan to invest more time producing screencasts.
---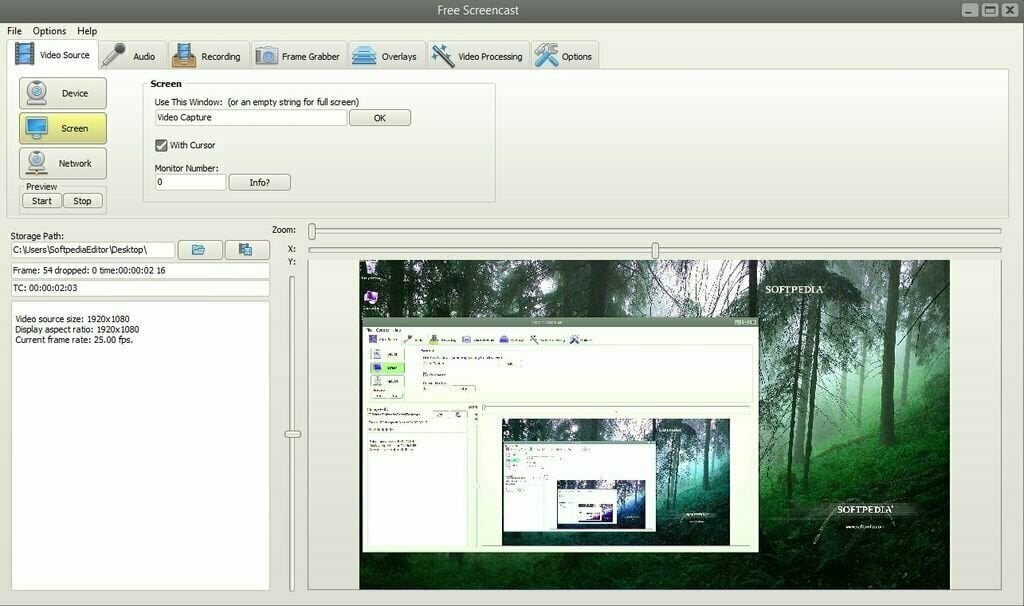 Free Screencast has been around since 2005. As its name says this is a free piece of software, and it comes with a handful of powerful features. You're able to record your entire screen or a specific area, and even capture sound from your microphone, telephone line audio mixer, and other input devices.
Video can be captured from your WebCam, from any IP-camera or capable device, something that makes producing credit content and breeze, especially if you need to produce educational videos. Free Screencast also offers a set of editing tools. You can crop recordings, add filter effects, text and image overlays, and create a time-lapse.
It also comes with the recording time. This feature allows you to create scheduled recordings by presetting the duration of the recording. For example, if you're away from your computer and need to record a live streaming video, the preset feature makes it a breeze.
Free Screencast can turn your PC camera into a surveillance system images of any area you designate. Need still images from your WebCam? You can use the grab frame feature to collect BMP/JPEG images which are all automatically saved to your clipboard. Free Screencast runs on Windows XP/Vista/7/8/8.1 and Windows 10.
Takeaway
Free Screencast is easy to navigate and use, making it a smart choice for beginners.
---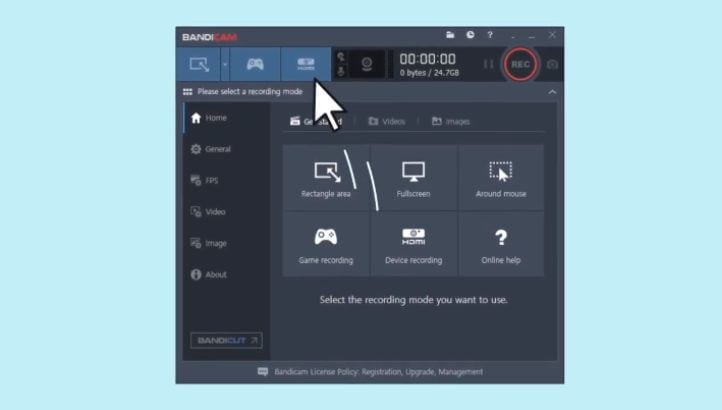 Bandicam is a small but powerful screen recording app. Is capable of recording live streams, video playing in other programs, and Skype calls. Like other tools on our list, you have the option of recording specific parts of your screen (rectangle on screen mode) by simply clicking and selecting the area you'd like to capture or capturing or entire screen (full-screen recording mode or dual monitors).
Other recording modes include "around the mouse" (record screen areas that your mouse visits), "game recording mode" (comfortably record games without lag), and "device recording mode" (capture video from your WebCam, Xbox, PlayStation, IPTV, HDTV, Smartphone, iPad, or computer screen). Bandicam can also record multiple sounds from your PC and mic.
Bandicam comes with schedule recording functionality. And if you wondered how long you can record content for, this tool is capable of capturing content for 24 hours straight. While the free version comes with everything you get the paid version, there are two limitations. The first, a watermark on all recorded videos. The second, a 10-minute limit for recordings. Bandicam is only available on Windows XP, Vista, 7/8/10 (Support for 32/64-bit).
Takeaway
Bandicam makes for quick and easy learning. It's packed with helpful features and has a UI that's simplistic and inviting. Try it if you're looking for something that will give you advanced features without the steep learning curve.
---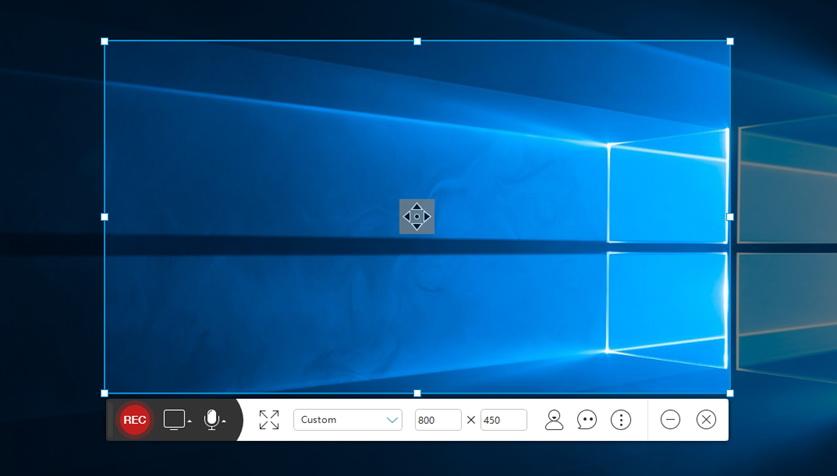 Image: Talk Helper
Apowersoft Screen Recorder Pro makes our list as one of the feature-rich screencast software options. It offers everything you need for screen capture and is bundled with a professional editing suite.
Screencasting features include four recording options. You can capture your entire screen, a customer area, mouse movements, or select a window to focus on. Like other sophisticated options, you can record videos and pair them with multiple sound sources. Apowersoft also offers WebCam video recordings for a personalized touch. Given Apowersoft's feature set, it's a great tool for creating more in-depth tutorials.
On the editing front, you aren't limited to touching up recorded content. Apowersoft also offers real-time editing. Using an easily accessible toolbar, you can add text, lines, callouts, highlight elements, and more. Other editing features include trimming, merging content, adding visual effects, and watermarks. While this screencast software is free to download, like most other offerings, the free version comes with limited features. Recordings are capped at three minutes, you don't have editing features, and all videos and screenshots are watermarked. Apowersoft is available on Windows and Mac.
Takeaway
Try Apowersoft if you're looking for an easy-to-use, and feature-packed solution. While upgrading to the paid version may seem a little inconvenient, you'll be able to do more than most can with other screencasting tools. Features like real-time editing and its advanced editing suite make for a tool you'll undoubtedly use without wanting for more.
---
Icecream Screen Recorder comes as a free 14-day trial app with an upgrade to access all features. It captures all types of video (think webinars, gaming, Skype calls, live streams, and more), screenshots, and audio. When it comes to recording video, you can record parts of your screen or all of it. Unlike other tools, Icecream Screen Reocoder handles access to recordings and screenshots you capture differently. Both automatically get URLs that can be shared.
You can also customize recordings with annotation to recordings and attach your logo. Other handy features include trimming capabilities, the option of increasing or decreasing recording speeds, scheduled recording, and adding animated mouse clicks while recording videos. Icecream Screen Recorder is available for Windows Vista, 7, 8, 8.1, and 10. Mac users with OS X 10.9 Mavericks, OS Yosemite will also be able to download and install the app. Android users also get to enjoy this one, with app compatibility existing for Android 9.0, 8.1, 7.1, 60.0, and 5.1.
Takeaway
Icecream Screen Recorder is a relatively easy tool to use. It's definitely ideal for beginner users, and we recommend upgrading to benefit from all it has to offer. It's feature set and unintimidating look and feel makes it easy to warm up to, and that's what you'll mostly be interested in if you want to get your hands dirty and produce professional screencasts.
---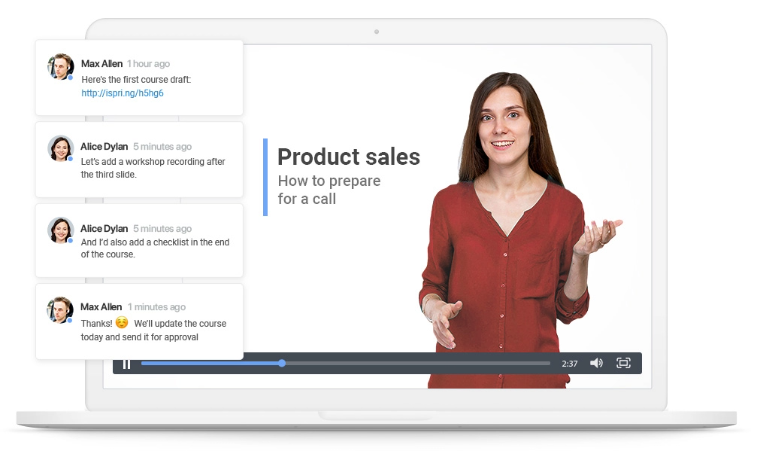 iSpring Cam Pro is positioned as more of a tutorial solution. While most tools on our list can perform this function, iSpring Can Pro stands out because it can also be used to produce professional training videos with interactive canvases, intro slides and annotations, and other advanced features like screen transitions and multi-track timeline video editing.
Basic features include entire and partial screen recordings, a mouse spotlighting feature (to draw attention to your cursor), system sound recording, and voiceover recording. It also offers collaboration features. Need to work on a video presentation with your team? Simply complete your recording and send it in an email. Colleagues can provide feedback, making it easier to build powerful recordings in less time. iSpring Cam Pro is available for Windows 7, 8, and 10.
Takeaway
iSpring Cam Pro is designed for businesses and professionals who constantly produce instructional content. Its feature set is ideal for compiling courses, something that would be overkill for beginners who need to share one or two quick screencasts.
---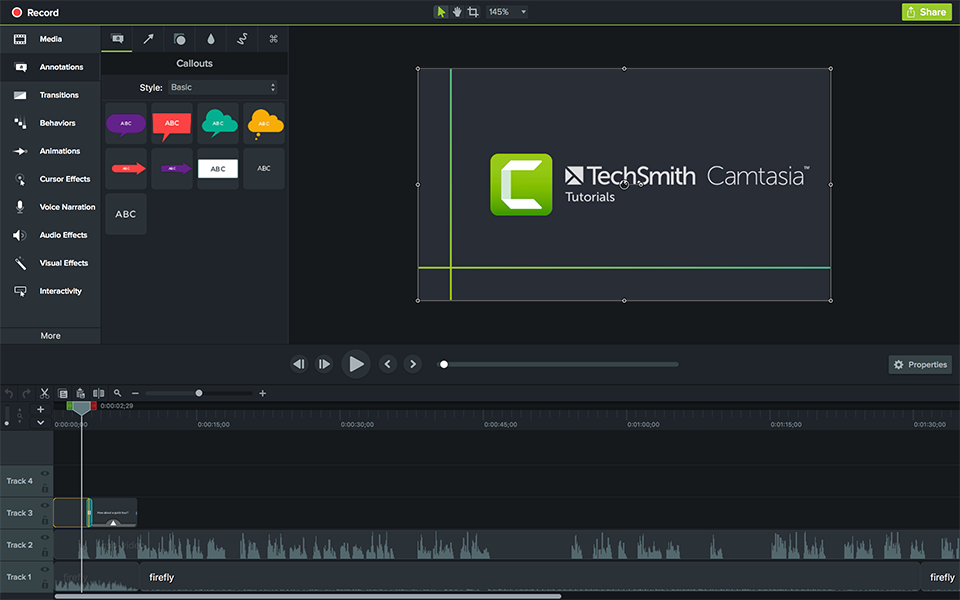 Camtasia Studio has been around since 2002. In this time, TechSmith has found a way to keep it relevant and feature-packed with all you'll need to produce powerful screencasts. For example, you have the option of using pre-built and custom video templates to streamline your production cycle.
Like other tools, you can record parts of- and your entire screen, capture WebCam footage, and add special effects (think animations). You also get to control zoom, pan and animations of your screen recordings, add titles, annotations and callouts, and produce smooth transitions between videos. What's different is access to music from an extensive royalty-free library, the ability to create interactive quizzes, and measure learning in videos. Camtasia Studio is available for Windows and Mac as a free 30-day trial. Any videos recorded during your trial will include a watermark.
Takeaway
If you're looking for a feature-rich screencasting tool, Camtasia Studio won't disappoint. It's built to help you streamline screencasting and video production, something busy professionals and teams will appreciate. It's also easy to use, making it palatable for beginners who will be spending more time screencasting.
---
Get Your Feet Wet
While we've shared all there is to know about each tool, we urge you to test them out. As screencasting has a role in content marketing, finding your perfect tool depends on how much functionality you need, but also on what your future screencasting needs may be. So, take the next step. Download trial versions, play with interfaces, and find the best screencasting software for your needs.
Frequently Asked Questions
How do I screencast for free?
Free screencast software helps you record video and narration on your computer. There are lots of great programs available on the market right now:
1. Loom
2. Open Broadcaster Software
3. Filmora Scrn
4. Screencast-o-Matic
5. Free Screencast
6. Bandicam
7. Apowersoft
8. Icecream Screen Recorder
9. iSpring Cam Pro
10. Camtasia Studio
What is the best screencast software?
Here are 10 of the best premium screencast software programs on the market right now:
1. Loom
2. Open Broadcaster Software
3. Filmora Scrn
4. Screencast-o-Matic
5. Free Screencast
6. Bandicam
7. Apowersoft
8. Icecream Screen Recorder
9. iSpring Cam Pro
10. Camtasia Studio
What is the best screencasting app?
These are some of the best screencasting apps for Android and iOS devices:
Screencast-o-Matic
Chrome Remote Desktop
Android OS Default Screencast tool
iOS Built-in Screen Recorder
Screenflow
Vidyo Screen Recorder
Which software is used for screencasting?
Here are 10 of the best premium software programs used for screencasting:
1. Loom
2. Open Broadcaster Software
3. Filmora Scrn
4. Screencast-o-Matic
5. Free Screencast
6. Bandicam
7. Apowersoft
8. Icecream Screen Recorder
9. iSpring Cam Pro
10. Camtasia Studio
Is Camstasia free?
Camtasia is not free, however, it is a cost-effective solution. Camtasia is one of the best software options for beginners looking to start video blogging or screencasting. Camtasia helps users record their screens for a small fee.