TikTok might be a comparatively new social media platform but that hasn't stopped it from becoming popular at an exponential rate. It was officially launched in 2017 and in only two years, it already has a massive user base.
TikTok has as many as 500 million monthly active users and this number is only expected to grow. The engaging nature of the content posted on the platform and its unique concept has made it a fan favourite worldwide.
Given the massive user base and growing popularity of the platform, marketers are now recognizing it as a marketing opportunity. However, it is not easy for anyone to simply join the platform and become an overnight success. That is where hashtags can help you. Hashtags can help you grow your account and build a follower base much faster than you normally could.
In this post, we will discuss everything that you need to know about TikTok hashtags. This includes reasons for using them, how to search for the best ones, and tips for creating your own hashtags. You can also use our Tiktok Hashtag Generator to increase your posts's reach and gain more followers.
---
Your Ultimate Guide to TikTok Hashtags:
---
Why Should You Use TikTok Hashtags?
Hashtags are very important for any social media platform and TikTok is no exception. Just like SEO is important for a website, hashtags are important for social media.
Hashtags help your content get more visibility and also help users find the content they're looking for. Anyone looking for content on a specific topic or area of interest can simply use a relevant hashtag to discover such content. From a business point of view, it's vice-versa, as hashtags can help your content reach the right people. In this section, we will discuss all of the reasons why you should use hashtags and how they can help you.
Here are some of the benefits of using TikTok hashtags that should motivate you to start using them right now.
To Amplify the Reach of Your Content
Hashtags help you reach people based on their interests and this extends your reach beyond your followers. People often follow hashtags related to the topics of their interest. And, if you use hashtags, your content will be shown to people who follow those hashtags.
This means that instead of just showing your content to your followers, hashtags can help you reach more people. This increases the visibility of your content and helps you get more likes and followers.
To Identify Competitors
If you regularly use popular industry hashtags, you might also end up following some of them. If you check other content that uses the same hashtags, it can help you identify your competition.
Using hashtags to search for competitors is brilliant because it can help you find people you didn't already know. Moreover, checking out other content using the same hashtags is a great way to look for content ideas for your future videos.
To Get More Followers
As discussed, hashtags help you extend your content's reach beyond your existing followers. And it helps you reach a relevant audience as people who follow that hashtag are likely to be interested in your content as well.
This provides you with an opportunity to win that audience over with your content and give them a reason to follow you. Just remember that hashtags can only help you show your content to more people. However, it is the quality of the content that will finally close the deal and help you get more followers.
---
The Basics of Finding TikTok Hashtags
Now that you know how important it is to use hashtags to increase the reach of your content, let's look at some ways to find relevant hashtags. Here are three key ways to search for TikTok hashtags.
You can also make use of our Hashtag Generator Tool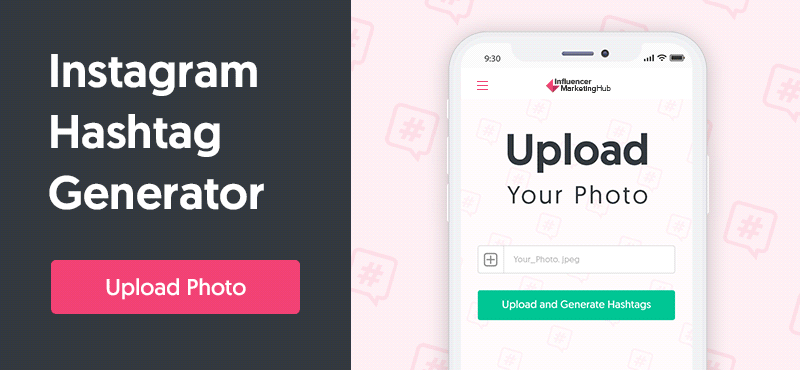 Analyse Similar Industry Content to Find Relevant Hashtags
The simplest but most time-consuming way to find hashtags is to scroll in the app and browse through content. Of course, you need to search for content based on relevant topics and interests. But still, browsing through content, looking for hashtags, is probably not the best use of your time.
While this tactic to find hashtags is not always feasible, there is still no harm in keeping an eye out for relevant hashtags when you do browse through content. You just might stumble upon some less popular but very relevant hashtags in your niche.
See What Hashtags Your Competitors are Using
Another way to look for TikTok hashtags is to simply follow your competitors and see what they're doing. Chances are that they might be using hashtags that are relevant to your content as well. So, always keep an eye on what your competitors are doing, but don't rely on that as your primary hashtag finding strategy.
Use Hashtag Finder Tools
Now, coming to the best and fastest way to search for TikTok hashtags—hashtag finder tools. There are several free hashtag finder tools available online that can help you find relevant hashtags within seconds.
While there are numerous tools for the more popular platforms like Instagram, there are not as many for TikTok. Nonetheless, there are options available like TikTokHashtags.com that can help you find relevant hashtags specifically for TikTok. All you need to do is enter a topic, industry name, or any keyword and it will generate a list of related hashtags for you. You can simply copy and paste these hashtags while posting your content.
Here's an example of the kind of search results that you will get. This one is for the keyword "digital marketing."
If you want to build a more customised list, you can then repeat the same exercise using any of the hashtags that you got in the results. You can also build your own database with hashtags related to different topics. And, whenever you create content on that topic, you can simply copy-paste hashtags from your custom list.
---
Create Your Own Branded Hashtags
Using popular industry hashtags is important to increase visibility, but creating your own hashtag can take your TikTok marketing to the next level. It can help you stand out in the crowd and provide you with the opportunity to source user-generated content.
In this section, we will discuss the benefits of creating a branded hashtag and tips for creating one.
The Benefits of Creating Your Own Hashtag
There are several benefits of using your own hashtags in addition to popular industry hashtags.
For one, you can create a hashtag for a marketing campaign and use that hashtag for all content created for that campaign. You can also keep track of all campaign-related content and its performance simply from the hashtag page. Secondly, you can create a hashtag for an upcoming product launch and create buzz around it before it is even launched. Create a series of content introducing the product and providing sneak peeks and use the same hashtag.
You can take this a step further and ask your customers to use the hashtag after they buy it and start using it. This way, not only will your campaign extend post-launch, but you will also get valuable user-generated content.
Another great idea for creating a hashtag is to start a social media challenge and create a hashtag for that. Challenges like the "ice bucket challenge" have gone viral in the past and have taken over all social media platforms. If you create a challenge, the hashtag can help you make it viral.
This will, again, help you get tons of free user-generated content and also help make your hashtag and campaign viral.
Tips For Creating a Hashtag
Here are some tips to help you create hashtags that become popular.
Always focus on creating just one hashtag for a campaign instead of creating a bunch of them. This is because people may not always copy all hashtags, but will definitely remember to use the one main one.

Your hashtag should be relevant to your campaign, product, challenge, or whatever you create the hashtag for.

The hashtag that you create should be self-explanatory and should be able to tell people what the content is all about.

Create hashtags with simple spellings that are easy to remember and type without the need for copy-pasting. The easier it is to use a hashtag, the more people will use it.

Come up with a new hashtag for different content series or campaigns to organise and track your content properly.
---
Conclusion
Hashtags are powerful tools that provide numerous benefits and can help you build a solid social media presence. They are just as important for TikTok as they are for other social media platforms. You can use this post as your reference for finding and using relevant TikTok hashtags to boost your content's reach and engagement. You can also leverage the tips provided here to create your own hashtags and use them to your advantage.