Best for:
Content creators, influencers, and small businesses
What is it, Exactly?
Koji is a link-in-bio app. Like LinkTree and Beacons, it makes directing people to unique content or a place where they can see more of your content easier. Similar to LinkTree and Beacons, Koji is a smart choice for influencers, but it also offers a different take on what you can do with your profile page. You can use add-ons, buy and sell things, and even communicate directly with fans.
---
What's the Cost?
Koji is free, which is a slightly different from how other link-in-bio apps offer their products. Typically, link-in-bio apps offer a free and premium plan. Koji's approach is to give access to functionality available in the app, and the platform makes money off of add-on sales, and transaction fees for tips and money made through the platform. Transaction fees for things you sell are broken into two categories:
Fees paid to the community: 9% of item cost

Processing fees: 6% of the item cost
Your total transaction fee: 15%
For context, LinkTree charges 1.75% for transactions on free accounts and 0.5% on Pro plan accounts. Beacons' fees are much higher and come in at 9% for the Creator plan (free) and the paid Entrepreneurs plan fee is 5%.
---
Is It Easy to Setup and Use?
Sign-up is only possible with a mobile number that you'll need to verify via an SMS code sent to your number. You'll pick a username, add profile info, a profile image, and complete your signup.
With a profile set up complete, you can begin customizing it. You can choose from a collection of themes, backgrounds, button types, and fonts. Your content page is where you'll add content directly to your profile. You can also edit your bio, add social media links, and add-on also called Kojis at any time.
Kojis are how the magic happens. They offer nifty features that super-charge your account. Popular Kojis include Email Collection, Tip Jar, Music (stream music in your profile), and Personal Status. And there are many more Kojis to use. 
A favorite is Billboard. It lets fans buy space on your profile where they can add an image or video showing love for your content. And Koji's made it easy to cash in on this concept. Every time a fan buys a space, the price increases. No need to worry about screening content, either. Billboards come with moderation tools, and the ability to set pricing and time limits.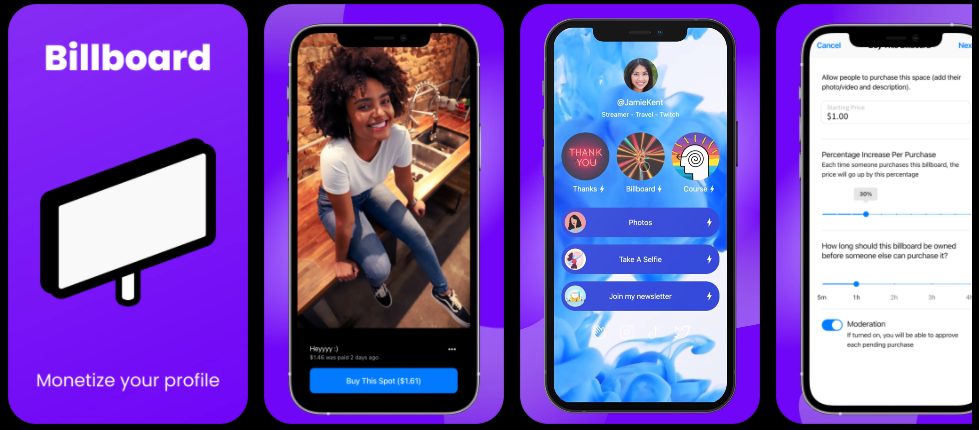 There are also categories with Kojis for:
Growing your network with retro games like Slicer and Invaders that capture email addresses before the game starts

Fulfilling customer requests by selling personalized videos

Adding a featured podcast for sponsorship

Crowdsourcing content using polls

Adding memes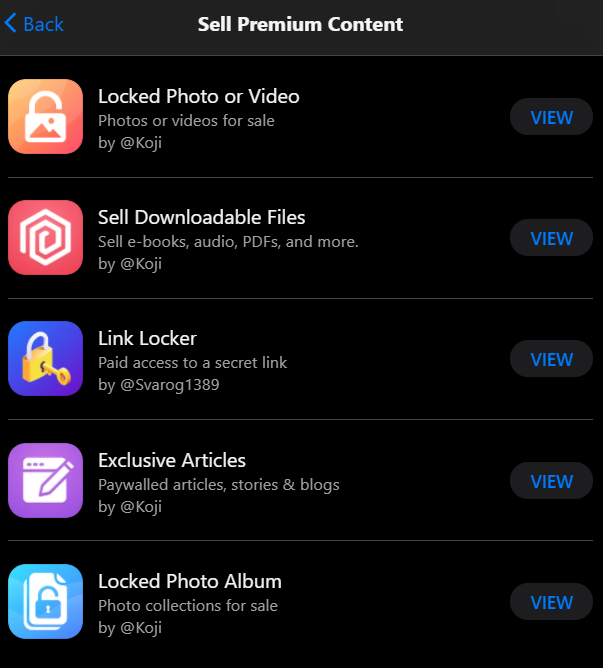 Setting up Payments
Koji uses Stripe as its payment provider of choice. Like many other platforms, Stripe is a favorite for easy integration and because it's in over 40 countries. We think including PayPal would be a good idea for the 160+/- that Stripe isn't currently in.
---
How to Make Money With Koji
One of the biggest wins in Koji is how easy it is to make money using the app. Here's a look at your options:
Offer affiliate links to products 

Sell locked or private content like images (or a collection) or videos on Instagram

Sell videos or photos independent of social media

Sell downloadable content like ebooks or music

Accept tips
Making money with Koji is all about using add-ons or Kojis. Beyond add-ons that allow instant transactions, you can also build an email subscriber list. Unlike integrations with email marketing platforms that LinkTree and Beacons offer, Koji has its own built-in email capture feature. You can use it to collect email addresses for new courses, newsletters, or any idea you can come up with. 
All email addresses you collect are viewable through the app. At this point, we can't find a way to export subscriber lists.
---
The Bottom Line
Koji makes for an interesting alternative to other link-in-bio apps like LinkTree and Beacons. Using add-ons is a novel way to offer more functionality to users, and it makes monetizing your content easier with tons of options to choose from. 
Koji
Features

Ease of Use

Support
Best for:
Content creators, influencers, and small businesses