It is hard for a business to survive in 2020 without video. Video content works exceptionally well not only in terms of engagement but for ROI too. According to Wyzowl video marketing statistics 2020, 89% of video marketers said that video gives them the highest ROI, 80% reported that videos increase sales, 83% said that videos help them in generating leads, and 87% said that videos increased traffic to their website.
Consumers love seeing videos and it is their favorite content type. People want to see more video content in the future more than any other type of content. In a survey of more than 3000 consumers, 53% of respondents said that they want to see more video content in the future and 54% of consumers said that they want to see more video content from their favorite business.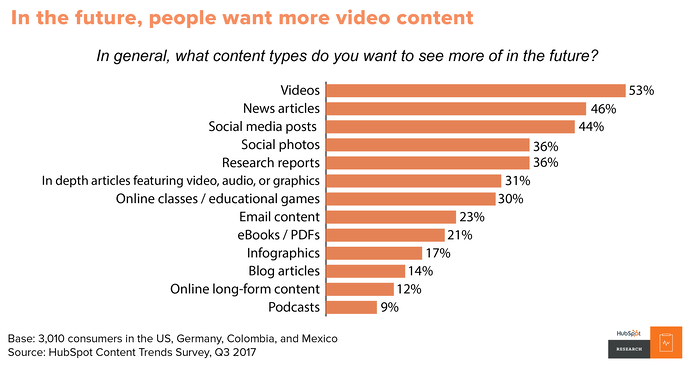 You can't go without videos, that's for sure. And to create videos for your business, you need the best video maker tool. A poorly recorded or edited video will distort your brand's image and isn't something recommended. A promo video maker will do a great job of making promotional videos for your website, blog, and social media. Not sure what's the right promo video maker for your company? Check out the following list of the best promo video makers for 2020.
11 of the Best Promo Video Makers for 2020:
---
1. Animoto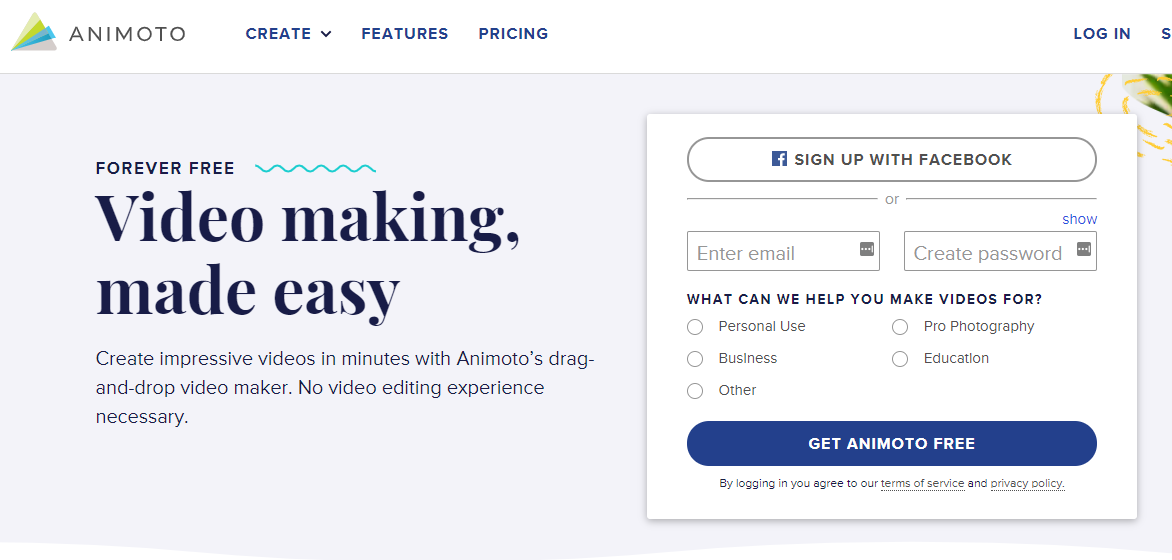 Animoto is an easy-to-use video maker for businesses. You can use it to create several types of videos including promo videos for your business. It has a gigantic library of images, photos, video clips, music, templates, and font. These resources help you create any type of promo video for your business.
It has a drag-and-drop video maker where you can create a stunning video in a few minutes. Choose a storyboard template, upload your video, personalize it, add images, music, and other material from the library, and produce it. You can download it and share it on social media with a single click.
Animoto is a cost-effective tool that has a free version. The Personal plan starts at $5/month with an Animoto logo at the end of the video. The Professional plan is priced at $33/month with no Animoto branding.
---
2. Biteable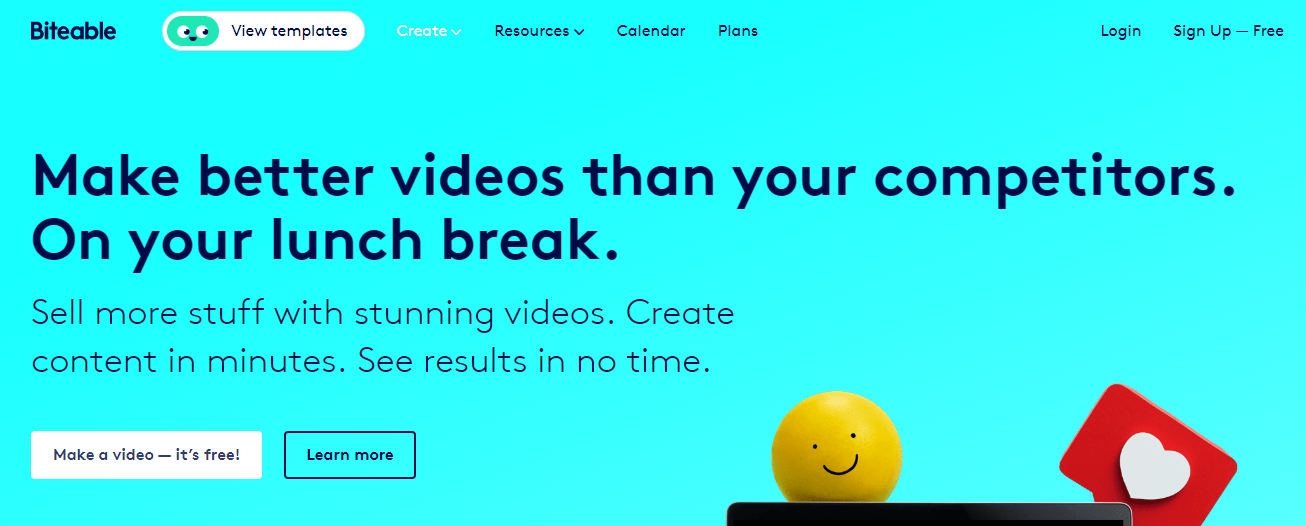 Biteable is a perfect promo video maker for beginners. It has no learning curve, and anyone can create a professional video within a few minutes. It has tons of templates that can be personalized with a few clicks. The best thing about Biteable is its extensive collection of templates that make your job easier and fun.
Biteable has a free for life plan with limited features. The starting price is $19/month that gives you access to 800K+ premium clips and assets. You can download your promo videos and use them in any way you like for your business.
---
3. Vyond

Are you interested in creating animated promo videos for your business? If so, Vyond is the right video maker tool for you. You can use it to create a wide range of promotional videos for your business such as explainer videos, tutorials, how-to videos, and more.
Templates make it easy to create a video instantly with its simple video maker dashboard. It's realistic lip-syncing is really awesome that makes videos professional. The starting price is $89/month that gives you access to most of the features to Vyond video maker.
---
4. Powtoon

Powtoon is one of the best explainer video maker tools out there. It works best for creating explainer videos to share your brand story with your audience to make it memorable. Not just a brand story, but you can use explainer videos to promote your products.
Powtoon dashboard is simple and straightforward with no hiccups at all. You can choose templates from the marketing category for an explainer video, product video, or video ads. Edit the template, tweak it, add assets from its library, save your video, and download it as MP4. One of the best features of Powtoon is its full HD quality video for all paid plans.
It comes with a free plan with limited access and Powtoon branding. The paid plans start from $19/month and if you want to get access to its entire asset library, you have to switch to Pro+ plan ($59/month).
---
5. Moovly

Moovly is a feature-rich and cost-effective promotional video maker that is suitable for all types of businesses. It comes with a simple drag-and-drop video maker that lets you create amazing videos for your business. One of the best features is its automated video creation that allows your company to create your own template that you can use to create videos on autopilot for your brand daily. The Video Automator is connected to your data (e.g. email list), and this lets you send personalized videos to your customers.
It has several customizable video templates to choose from. All you have to do is choose a promo video template, customize it, add your video, add images, save and share it, and download it for later use. It has some of the best features like text-to-speech, floating subscriptions, and white labeling.
Moovly has a free plan with limited access. The paid plans start from $24.96/month that gives you access to all the core features that you need to create professional promotional videos for your business.
---
6. Headliner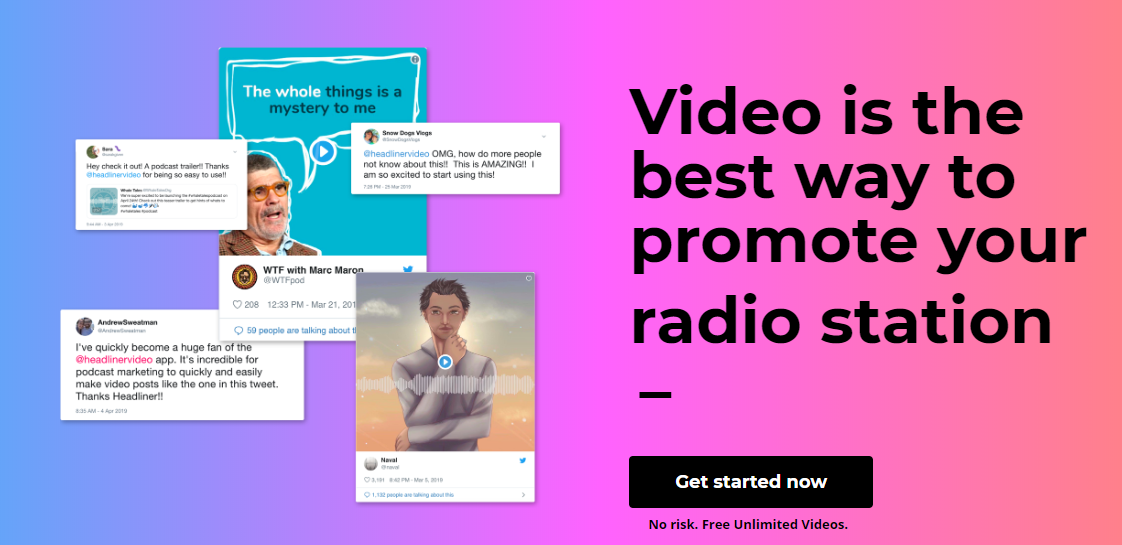 Headliner focuses on helping businesses create videos for marketing purposes. This makes it an ideal promo video maker that you should try in 2020. It lets you create highly professional videos in 3 simple steps:
Upload your video

Add assets from the library and tweak your video

Publish, share, and download it.
If you are looking to create long videos for YouTube, Headliner will work best. You can create 120 minutes of video with it. Additionally, it automatically transcribes audio and video for you. The videos you create with Headliner are highly engaging because it uses waveforms that forces viewers to turn on the audio.
You can use it free for life with restrictions, of course. The paid plan starts from $12.95/month with full access to all the assets and features. This makes Headliner one of the cheapest promo video makers in this list.
---
7. Offeo
If you are looking for a free marketing and promotional video maker, you should give a try to Offeo. Its free plan is much better and offers way more features than what you'll get with another video maker. You can create any type of video in its intuitive interface. It has a massive library of assets that include images, photos, animation, video clips, licensed music, and more.
You can use it free for life to create professional-looking videos for your business. You'll enjoy access to their assets even in the free plan including commercially licensed music and animation. Paid plan starts at $19/month making it one of the most reasonable video makers in the market.
---
8. Typito

Typito is for businesses that prefer to have text promo videos. You can use it to create quality text videos that are suitable for social media. It has more than 200 templates that make it extremely easy to get started. You can upload your own video, or you can choose images and clips from its built-in library of more than 600K+ images to spice your promotional video.
You can publish videos directly to Facebook or YouTube from Typito which saves a lot of time. All the plans support teams which means you can add multiple users to a single Typito account. The starting price is $25/month that allows up to 3 users. If you have a video marketing team, Typito will turn out to be a deal-breaker for your company.
---
9. Animaker

Animaker is one of the most popular animated video makers. You can use it to create amazing animated promotional videos. But it doesn't just support animated videos, you can create live-action videos too and pretty much any type of video for any purpose. It has a drag-and-drop interface that is simple and fast.
One of the amazing things about Animaker is that it lets you create characters with a few simple clicks, and you personalize character for your brand. This makes your videos personalized and you can create unique characters for your promo videos.
With over 100 million videos, photos, and other assets and more than 1000 templates, it has one of the biggest asset libraries among promo video making software. The free plan has watermarks on the videos which can be removed by switching to a paid plan. The starting price is $19/month where you get access to all the amazing features and assets. All the plans support real-time team collaboration.
---
10. Shakr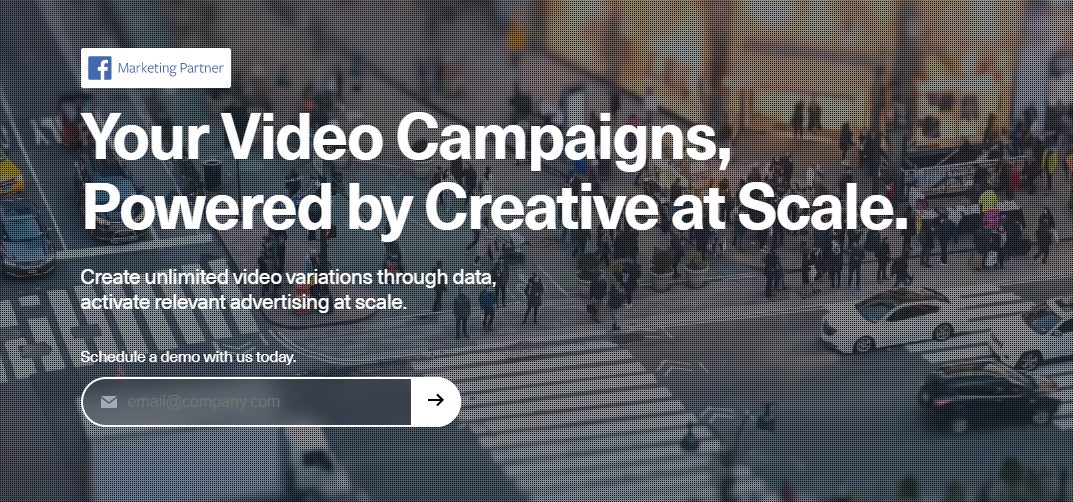 Facebook is one of the most used social networks for video marketing. Shakr video maker is the best tool for your company if you need promo videos for Facebook and want videos for Facebook ad campaigns. It is a Facebook Partner company that focuses on creating unlimited video variations for your Facebook ad campaigns. If you don't intend to run Facebook ads for promo videos, Shakr won't be a good fit.
It comes with a great video editor interface that lets you create and edit videos quickly. With a large media library and batch video production, you can create several variations of a single video in a few minutes. This is what Shakr specializes in.
The starting price is $200/month for up to 5 team members. Yes, it's expensive but if you need to make your promo videos work, give this tool a try.
---
11. Adobe Spark

It's impossible to skip Adobe when you are talking about graphics, design, and animation. Adobe Spark is a great design tool for creating professional videos and stories on the go. You can use the Adobe Spark app to create videos on your smartphone.
It has a clean and quick interface that lets you create graphics and videos in minutes. The best thing about Adobe Spark is that you can create your own graphics for your promo videos which means your videos will always be unique. It supplies you with icons, images, and designs to create videos for any purpose.
You can use it for free with limited access. The paid plans start at $9.79/month making it a very cost-effective promotional video maker.
---
Conclusion
Making promo videos isn't a big deal anymore. You can do it without a team of video editors and designers. Video editing tools make it simple, fast, and cost-effective. You can create a full month's stock of promo videos for under $50.
It is best to use at least two promo video makers to diversify video content. Creating one kind of video throughout the month will make your videos monotonous. For instance, creating animated promo videos only with similar characters will make your videos less engaging over time. Create different video types and the best way to do it is by having multiple video maker tools in your stack.
It doesn't cost you much, does it?