Affiliate marketing can be an excellent way for successful online personalities to make passive income. Anyone with a sizeable online following, influencers, for example, can sign up to an affiliate marketing network and proceed to promote products, earning a form of commission when anybody they refer makes a purchase.
In theory, virtually anybody can be an affiliate marketer. The affiliate marketing networks tend to look for a genuineness of intent, rather than realistic chances of directing customers. But it can be incredibly hard to do if you don't already have an online following. This is why influencers make such good affiliate marketers. Indeed, in some cases, other less popular affiliates hire influencers to do their affiliate marketing for them.
Although some brands run their own affiliate marketing, many work with specialist affiliate marketing networks. They curate products from a variety of brands and coordinate sales with the affiliate marketers. Although most don't refer to influencers separately, they know their best salespeople are the influencers with huge dedicated followings.
While there may not yet be dedicated influencer marketing affiliate networks, the two types of marketing have a close synergy, and the affiliate networks are well aware of the importance of influencers to the spread of knowledge about the products they distribute.
---
Top Influencer Affiliate Marketing Networks for 2021:
---
How Influencers Can Thrive in Affiliate Marketing
Social media now plays an enormous role in the success of marketing. As we have written in countless previous articles, there are now influencers in virtually every niche imaginable, who have built their reputations on social media. They have become the "go-to" people in their specialist niches. Many influencers run popular blogs, too.
Influencers have the power to reach sizeable audiences. Nano and micro-influencers may not have enormous followings, but they appeal to people in less mainstream subject areas who follow them fervently and are ready to follow their recommendations.
This can make influencers ideal affiliates. Unlike other affiliate marketers, influencers already have a custom-made audience. As long as they restrict themselves to the types of products their followers love, they have a ready-made group of keen and eager people willing to make purchases of suitable items.
Technically, influencer marketing and affiliate marketing are two different marketing models. The former involves an influencer working on behalf of a business to meet some goal, often creating brand recognition, although it can be to generate sales. The company will generally pay the influencer for his or her work, although sometimes firms simply give free product to lesser-known influencers.
Influencers who undertake affiliate marketing usually do so, like any other affiliate marketer. They either work directly with the creator or perhaps with an affiliate network. They make posts promoting the product, but this time they use a unique link (to differentiate this influencer's referrals from those of others). If the referred people make purchases, the influencer affiliate will receive an agreed percentage of the money spent. If nobody spends money as a result of the affiliate promotion, the brand pays no payment to the influencer.
Although some brands work directly with affiliates (influencers and others), many prefer to sell their products via an affiliate network. It simplifies things for them, as they don't have to worry about finding salespeople, handling sales, and paying commissions to affiliates.
---
A Selection of Affiliate Marketing Networks That Welcome Influencers

Like many of these affiliate networks, AWIN has gone through a name change in recent years. It originally called itself Affiliate Window, before shortening it to the current AWIN.
It claims to work with more than 15,500 advertisers and over 200,000 publishers (affiliate marketers.) It features the products of 1,600 brands. The network began in Germany, and Europe is still the base of many of the merchants. The most significant number currently are UK-based. AWIN clients made a combined $139m in sales in 2018.
It refers to its affiliates as "publishers," and these a mix of content creators, influencers, website owners, and technology partners.
AWIN is now nearly 20 years old and has built sophisticated systems to help its partners. Although it offers products in virtually every niche, it has real strengths in finance, fashion, beauty, home and garden, sports, and travel products. These are a mix of digital and physical products. Some of these are from big-name merchants, such as Hyatt, Etsy, AliExpress, and HP.
---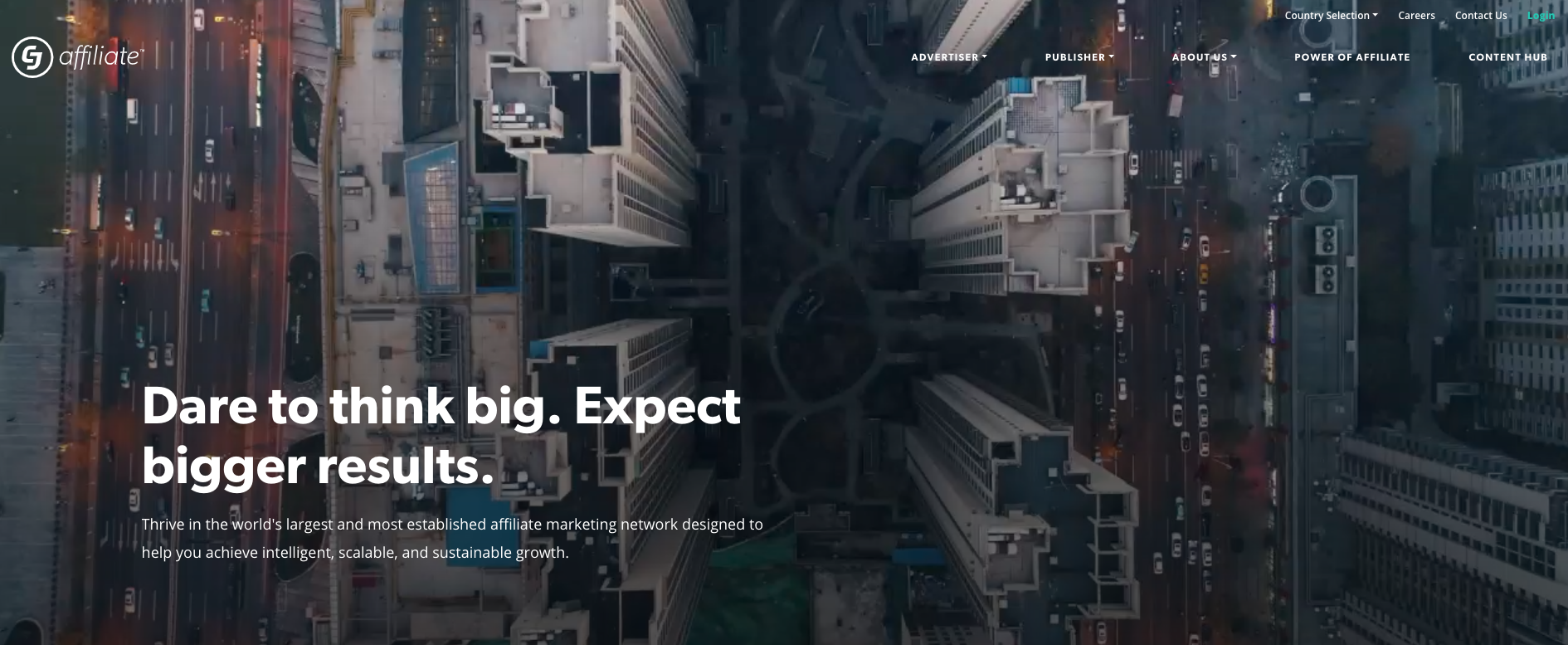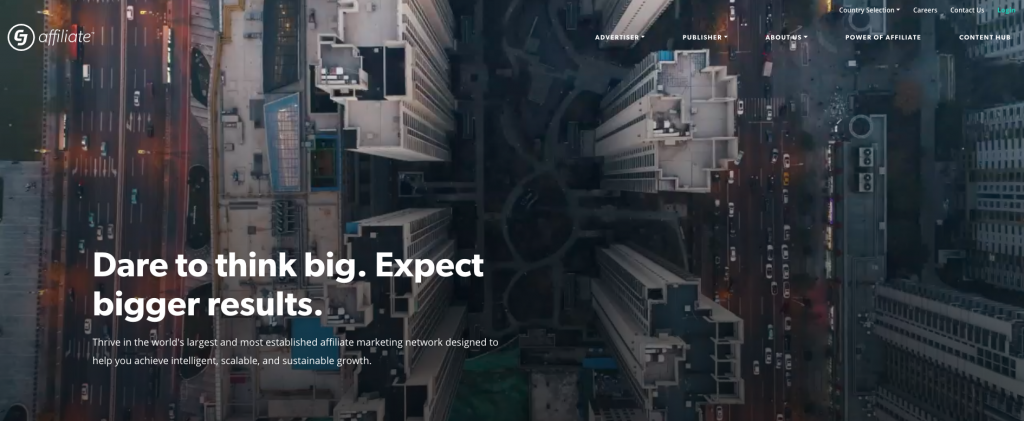 CJ Affiliate, formerly Commission Junction, has now operated for more than 20 years. They work with a wide range of merchants, offering more than 3,000 products. Influencers will be sure to find products that fit in with their areas of expertise.
CJ Affiliate's merchants prefer to work with established affiliates and influencers and are less likely to accept beginner affiliates. Just because CJ Affiliate takes you into their program, doesn't mean that individual merchants have to work with you.
Indeed C J Affiliate rewards its best performers by offering them a Content Certified program. They have set entrance requirements for this that include:
You share content in one of the following general niches: style, home, tech, business, or lifestyle

You provide authentic, high-quality non-gated content

You have a clear site privacy policy

You don't offer software, coupon/deal, or incentive models

You produce a blog with 10K+ page views a month, or you have a substantial following on specified social networks (i.e., you are an influencer)

If the bulk of your traffic is outside the US and Canada, your site must be in English. If your traffic comes from those countries, your website may be in any language, including Spanish, French, and Chinese
Atypically for these affiliate networks, C J Affiliate provides real-time reporting. You can always gain up-to-the-minute analytics relating to your affiliate marketing.
---


NicheVendor makes the connection between affiliate marketing and influencer marketing very clear. They describe themselves as the place where brands and influencers meet.
They probably consider themselves primarily an influencer marketing platform, but they also use the affiliate model.
---


In many ways, this is a well-named affiliate marketing network – it provides a platform where affiliate merchants can share a portion of the sales dollars with the affiliate merchants who refer customers.
ShareASale has been on the scene since 2000, making it one of the more established affiliate networks. This has enabled it to build up a solid reputation and make connections with many large companies, prepared to make products available for sale.
Indeed, the sheer scale of the catalog of products is one of ShareASale's most significant advantages. There are more than 3,900 items in its range, meaning that virtually every influencer who chooses to join the scheme should find some products that will suit their audience. More than 1,000 merchants and affiliates are exclusive to ShareASale.
Another advantage for influencers and other affiliates is that ShareASale makes regular payments. As long as you have a balance of $50 or more owing, ShareASale will pay you on the 20th of each month. They offer a variety of payment options, too, but notably not PayPal.
---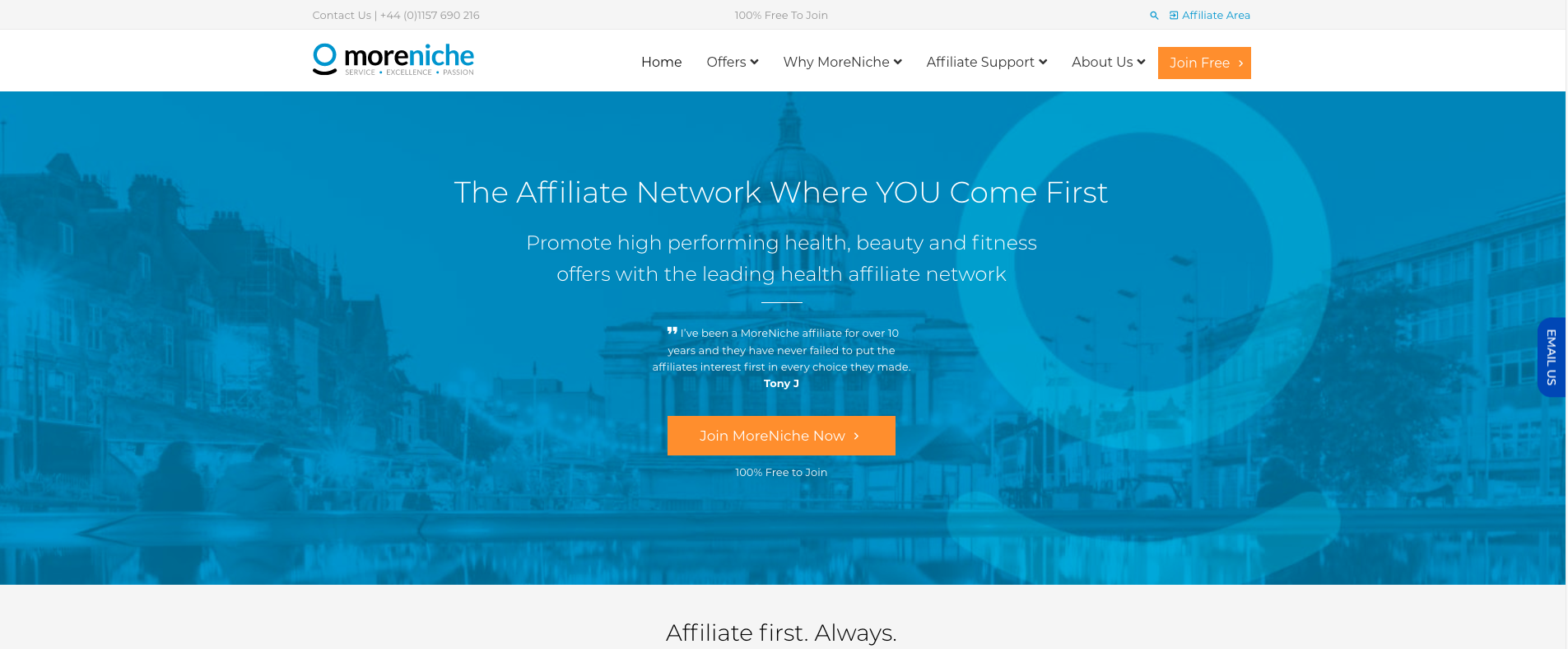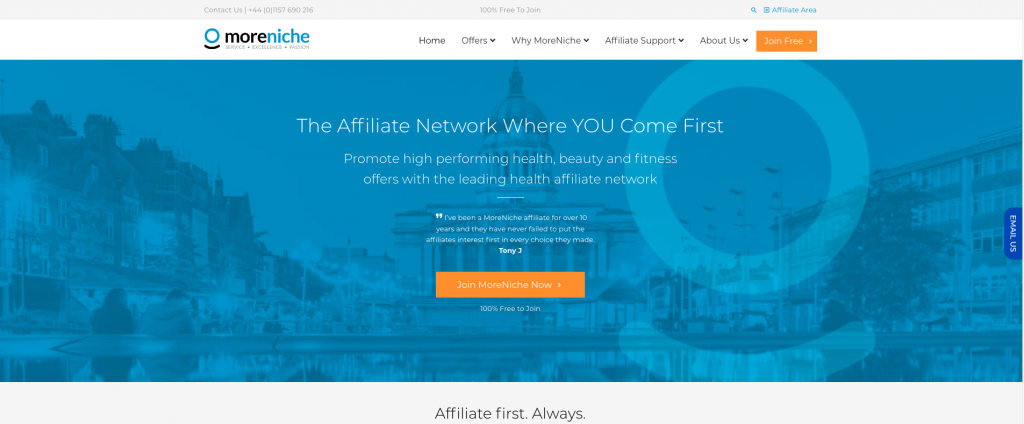 UK-based MoreNiche focuses on selling products in the health, beauty, and fitness niches. It gives its affiliate marketers all the necessary tools and resources they need to make sales.
They don't believe in offering thousands of products – they prefer to limit themselves to products that meet strict quality controls. They currently have 29 high-converting offers to promote.
Members belong to an exclusive, private affiliate Facebook group, where they can get insider knowledge from other affiliates, expert marketing advice from MoreNiche's specialists, hot off the press news and product launches, excellent incentives, and more.
Many of the merchants who work with MoreNiche pay between 30-80% commission per offer.
MoreNiche provides a range of real-time stats, related to sales made by its marketers. As of the end of November 2019, their affiliates had made a total of 145687 sales in the preceding 12 months. There are currently 28,695 active affiliates in the MoreNiche network.
---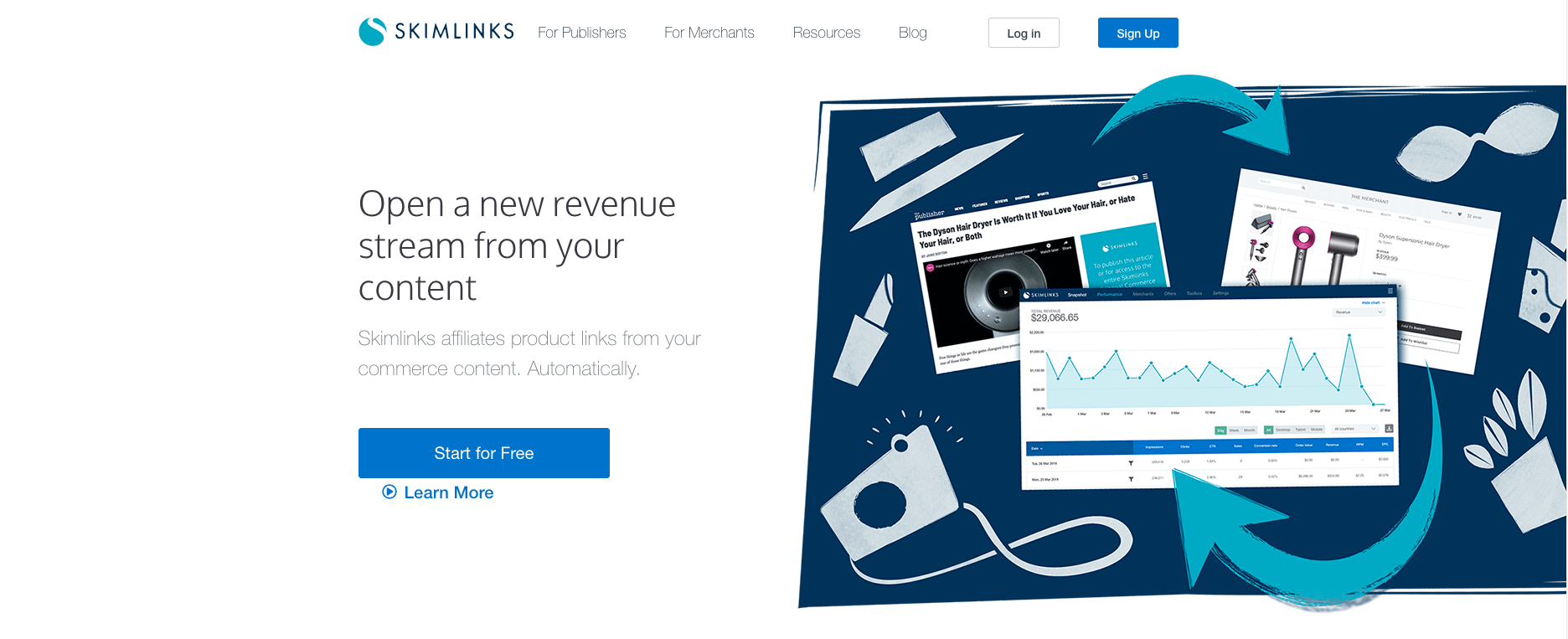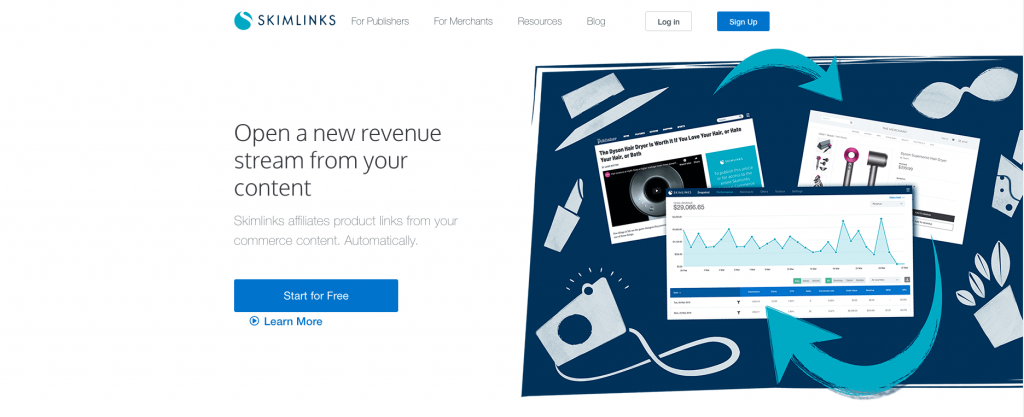 Skim Link mainly targets successful bloggers, who can promote products via their posts. Affiliate marketers downlink a plugin that creates dynamic links that the blogger can insert in his or her content, to send people to a relevant landing page.
The company has 60,000 publishers worldwide, promoting the products of 48,500 merchants. Combined, they make sales of $2.5m every day. Although Skim Links offers different types of products, there is more of an emphasis on physical rather than digital products. These include many Amazon, Target, and eBay products, and the links are intelligent enough to send people to the correct geographic store.
Skim Links is particularly suited to influencers who are prepared to write reviews and other content about specific products.
---


2Checkout used to be known as AvanGate. To confuse things, 2Checkout is still based around the Avangate monetization program. This name-changing occurred because, in April 2017, Avangate acquired 2Checkout to expand payment flexibility and broaden market reach, and they relaunched the joint company under one name as 2Checkout.
They place a real focus on software and digital goods. Indeed, as Avangate, they were ranked the #1 Affiliate Network Focused On Digital Goods in 2015. They offer over 22,000 different software products from a wide number of big-name companies.
2Checkout is ideal for tech and business influencers. They provide many opportunities for bloggers who write online tech reviews.
Frequently Asked Questions
Is affiliate marketing and influencer marketing the same thing?
Technically, influencer marketing and affiliate marketing are two different marketing models. Affiliate marketing is a type of marketing where marketing is the primary way of making income. In contrast, influencer marketing is a type of marketing that focuses more on social media relationships and content curation. You can work with the influencers in a number of ways, including through affiliate marketing.
What are affiliate marketing networks?
Affiliate networks connect content creators and influencers with different companies looking to promote their products or services. Although some brands work directly with affiliates (influencers and others), many prefer to sell their products via an affiliate network. Affiliate networks also offer tools, training, and other resources to grow your network.
What are some of the best affiliate marketing networks?
Here are some of the best affiliate marketing networks that work with influencers:
AWIN
C J Affiliate
NicheVendor
ShareASale
MoreNiche
Skim Links
2Checkout
Are influencers considered affiliates?
Influencers can be affiliates, but not all affiliate marketers are influencers. The big difference lies in the way that influencers and affiliates promote their products. Influencers will primarily use social media, like Instagram or YouTube. However, affiliates may use other types of tools to promote their products. One common example is blogging.
How many followers do you need for affiliate marketing to work?
In theory, virtually anybody can be an affiliate marketer. The affiliate marketing networks tend to look for a genuineness of intent, rather than realistic chances of directing customers. You don't need to have any specific number of followers. However, affiliate marketing can be incredibly hard to do if you don't already have an online following.