Small and Mid-size Enterprises (SMEs) are constantly looking for ways to broaden their online reach, and social media marketing plays an enormous role in building a solid digital presence. When it comes to social media platforms, Facebook remains the absolute champ.
Why is Facebook an excellent location to advertise? The numbers don't lie.
With Facebook Shops, businesses can create a unique, personalized and shopper-friendly online platform that taps Facebook's huge user base.
---
A Comprehensive Guide to Facebook Shops:
---
What Are Facebook Shops?
Facebook introduced Facebook Shops in 2020 for SMEs with the goal of easing the buying process of online clients. It's a native eCommerce solution where buyers can browse, share, and buy products directly from the shop.
Creating a Facebook Shop account is free, and having a Shop page is like having a storefront on your Facebook or Instagram accounts. You can offer products from your catalog and customize the shop to match your branding.
Facebook Shop's mobile-first in-app feature allows sellers and buyers to transact in one place. It's a step toward what experts in the eCommerce industry refer to as "F-commerce." This is where sale dealings run on Facebook from start to finish.
---
Is Facebook Shop Different from Facebook Page Shop?
The vernacular can be confusing, but the Facebook Shop and Facebook Page shop are not the same. The latter allows you to sell products directly from your Facebook Business Page. When customers click on an item, they checkout the item on your website.
On the other hand, the Facebook Shop adds a storefront to an existing Facebook Page shop and provides a more streamlined purchasing scheme that lets them checkout without leaving the platform.
---
What Makes Facebook Shops Ideal for Businesses?
Here are the key benefits of Facebook Shops.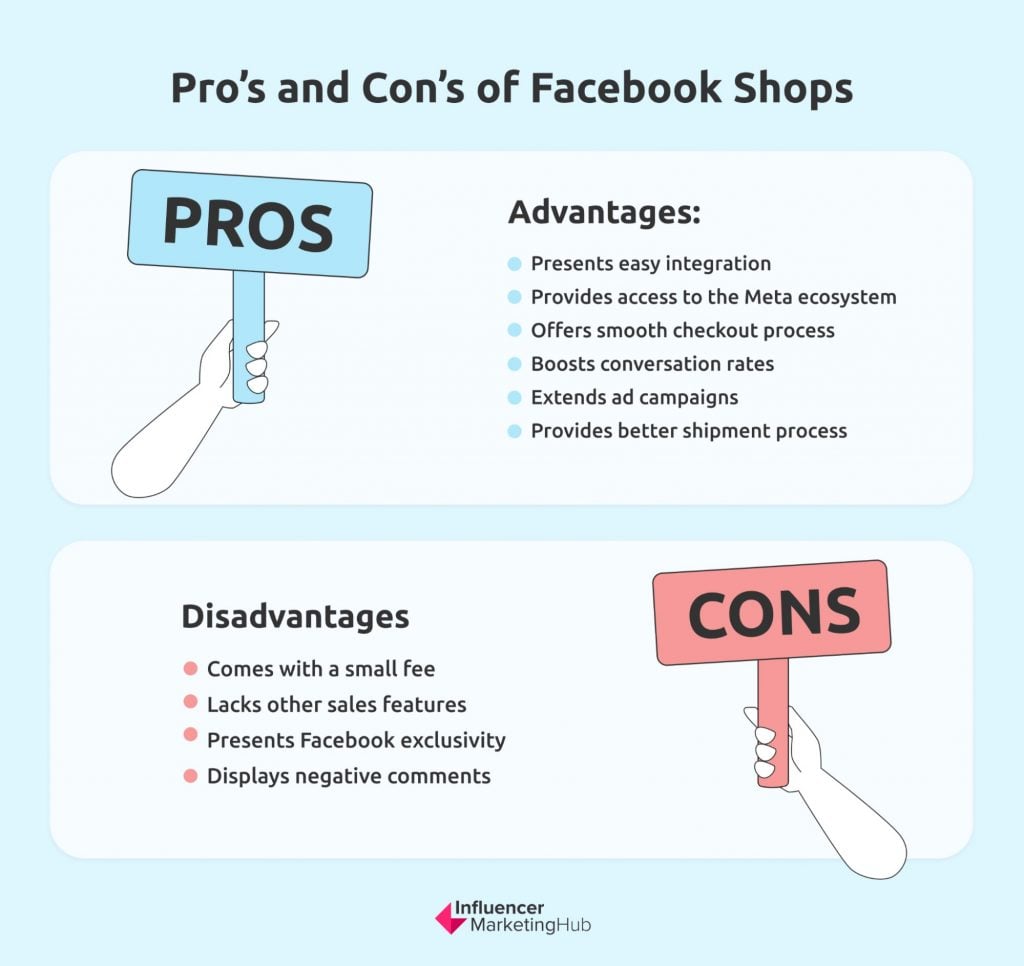 Presents easy integration
You can market your products on Facebook Shops instead of a dedicated eCommerce website. Most tools and features found in the latter are accessible on Facebook. However, a Facebook Shop doesn't negate your previous eCommerce site. You can quickly integrate Facebook Shops to eCommerce sites like Shopify.
Provides access to the Meta ecosystem
You can advertise your products on Facebook networks like Facebook groups, Facebook Page shop, Facebook Marketplace, and Instagram shopping. You can even open a checkout counter on WhatsApp.
Offers smooth checkout process
One of the key features of Facebook Shops is its checkout options. Buyers can purchase and complete the transaction without redirection to another site.
Boosts conversation rates
Clients and prospects may reach you via Messenger, Instagram Direct, and WhatsApp. They can instantly ask questions and track deliveries in real-time.
Extends ad campaigns
You can increase product discovery using Facebook Live, Instagram Stories, Facebook posts, and more. You can catalog your products before going live to make the buying experience natural for customers.
Provides better shipment process
If the checkout is directly from Facebook, the platform permits you to work with any shipping provider as long as it presents tracking details and proof of delivery. Particulars like shipping fee, destination, and ETA are adjustable too.
---
Some Drawbacks for Facebook Shops
Though Facebook Shop has many advantages, there are some things worth keeping in mind.
Comes with a small fee
Facebook deducts 5% of each completed sale over $8. Currently, the social platform temporarily halted charging the selling fee due to the pandemic. It will resume again after June 30, 2022.
Lacks other sales features
Facebook doesn't allow sellers to insert promo codes and referral programs in their shops.
Presents Facebook exclusivity
While there are billions of Facebook users worldwide, hundreds of billions more people don't use it. If you only use Facebook Shops, you limit yourself to a specific target audience.
Displays negative comments
The comment section of Facebook can make or break a post. Facebook Shop can expose your business to negative comments or critical reviews, even if they're unfounded.
---
How Do You Create a Facebook Shop?
Before you can run a Facebook shop, you must have the following requirements:
A Facebook profile and a Facebook Business page linked to it.

Your Facebook page must have at least 2000 likes.

Your products should be physical; no digital items are allowed.

Your business must have a legal permit to operate in the country from where you're selling.

You must have a Tax Identification Number (TIN).

You must have a valid bank account with your Facebook name.
You have two options to sign up for Facebook Shops: through Commerce Manager and through eCommerce platform integration. The Facebook Shops interface will walk you through the process step-by-step.
---
Steps on Creating Facebook Shops via Commerce Manager
Step 1: Log in to your Facebook page
Go to your Facebook Business page. You must have admin credentials to access it. The Shops section displays a range of Facebook stores that are only visible to you and not your clients. Click "Shop" on the left side of the page to get started.
Step 2: Build your shop profile
This step varies depending on the location of your business. For US-based shops:
Click the Shop tab and read the pop-up explanation. Click the "Get Started" button.

Provide the necessary business details.

Enter your state and TIN. If you don't have the latter yet, you can skip it, but you'll eventually have to provide the information.

Specify the products you want to sell.

Answer all the other business information required.
The process is similar for non-US shops with a few differences. Read and accept the Merchant Terms agreement, then enter business details like the company name and contact information.
The main variance is how you want to handle the orders. You can choose Message to Buy or Check Out on Another Website. Message to Buy requires a buyer to send a message directly to the seller for the entire transaction. In contrast, external eCommerce sites handle everything in Check Out on Another Website.
Step 3: Select a checkout method
Facebook Shops provide three checkout options:
Checkout on Facebook and Instagram. This option is only available to businesses in the United States. You must have a current bank account and a business address in the US.
Checkout on your website. You must have Page authorization to redirect the checkout to your website.
Checkout with messaging. Buyers can contact you via Messenger or WhatsApp. Because this option does not require a checkout, you must create your payment and order processing system. You also need a WhatsApp business account.
Step 4: Set up the business account
Create a Business Manager account. You can set up two accounts. Start by entering the business name, the name of the business manager, and their work email address.
Step 5: Set up your product catalog
Select the shop catalog you want to use. The Service catalog is for non-tangible services like hair cutting, house cleaning, designing, and consulting. The Product catalog is for selling tangible items that need to ship out to buyers. Make sure you pick the right one because you can't edit this later.
Once you have a category, you can start a collection. You can upload one product and do the rest after the setup is complete. You need to input product details every time you add an item. These details include the product's name and description, photos and videos, price, inventory, shipping options, and visibility. Shops outside the US also need to provide a checkout URL.
If you don't have a catalog yet, this step won't be visible to you. However, Facebook will automatically create a catalog for your shop. It will be under the Commerce Manager, tagged with "Items for (your name and Page ID).
Step 6: Select a shipping method
You can choose between Standard, Expedited, and Rushed shipping options. Set up how much delivery will cost and how long shipping will take. You also need to establish a rule if you're going to charge for extra items, and configure the return window. Facebook has a 30-day minimum return policy.
Step 7: Configure the payment setup
Enter your payment details options the interface provides depending on your location. For US-based businesses, it's typical to open a bank account and have the payments routed there. For international transactions, Facebook uses PayPal and Stripe.
Step 8: Review your shop details and submit them for approval
Preview your account to ensure all fields are correct. Read and accept the Seller Agreement. It usually takes between 24 hours to 48 hours to approve your Facebook Shop unless there are issues with it.
After finishing the setup, you can add more products, adjust the shop's look, and make it public.
---
Steps on Creating Facebook Shops Using eCommerce Sites
Many new eCommerce platforms automatically create a Facebook Shop page for you. That means you'll be able to manage all your orders and products on your eCommerce site and seamlessly link with Facebook.
To do so:
Step 1: Link your Facebook account and install the app from your eCommerce site (ex. Shopify, BigCommerce, WooCommerce).
Step 2: Log in to the app with your preferred Business Manager account.
Step 3: Create a Facebook Page and an account with Commerce Manager.
Step 4: Bulk upload your product images. You can also build profiles on Facebook to promote your items.
Step 5: Wait for Facebook to approve your request.
After the approval, your products will be displayed in the Shop, ready to be purchased.
---
What Are the Best Practices in Using Facebook Shops?
Use the following techniques to get the most out of your Facebook Shop:
Increase visual impact.

Upload eye-catching product images and provide a brief and concise description.

Put your best items on display.

Showcase products in your collection that are popular with your target audience.

Answer queries promptly.

There's nothing more annoying to prospective buyers than an unresponsive seller.

Pick a name wisely.

Choose one that accurately reflects your brand and company.

Keep track of your inventory.

There's nothing worse than finding out the item is out of stock when you're about to pay for it.

Check the comments section regularly.

If someone writes a bad review, ask how you can improve your service. If there is a baseless comment, answer it politely. Don't ever get into a fight online.

Make the most of Facebook's features.

Don't merely keep your shop's products to a bare minimum. Share them on your other Facebook pages too.
Frequently Asked Questions
What is a Facebook Shop?
Facebook Shop is a mobile-first shopping experience where sellers simplify the buying process for their customers on Facebook. This marketing tool allows you to showcase specific products, promote them on various Facebook networks, and position your brand using custom fonts and colors. With Facebook Shop, your customers and prospects can also send you a direct message via Messenger, Instagram Direct, or WhatsApp.
What are the basic requirements in setting up Facebook Shops?
You need a Facebook account and a Facebook Business Page with at least 2000 likes. There are no digital products allowed for the time being, so your items should be tangible. You should legally register your business too. You also need a valid bank account, a physical business address, and a TIN.
Are Facebook Shops free?
Creating a Facebook Shop account is free. However, Facebook collects a small fee for completed transactions. The selling fee is 5% for each shipping that exceeds $8. However, due to COVID, Facebook is waiving the fee until June 30, 2022.
How can you sign up for a Facebook Shop account?
There are two methods to create a Facebook Shop: through the Commerce Manager or through integrating an existing eCommerce site into the Facebook Shop. Both methods have straightforward procedures to follow.