Best for:
Medium and Large brands; Agencies 
In the court of public opinion, influencers get a bad rap, often criticized as a group of vapid, navel-gazing youth ready to pitch any product for any brand that pays them. From a brand's perspective, they are often seen as merely a collection of numbers in the form of social performance metrics. Their names may as well be Engagement Rate or Cost Per Impression, or any other bit of data that marketers use to define who they are. These perspectives can sometimes be true, but just as often: they aren't. It's almost as if, behind the stereotypes and data, these influencers are actual people—as varied and unique as any other human.
Such is the conceit behind Humanz, a (relatively) new influencer marketing platform developed by a group of military tech intelligence experts from Israel. Co-founder and CEO Liav Refael Chen got the idea to create the platform after talking with a marketing friend about his experiences hiring influencers. Chen asked his friend what it cost to work with an influencer, and the answer—As much as they demand—became his "There's got to be a better way" inspiration. To build it out, he enlisted the help of other Israeli Defense Force veterans who served with him in the 8200 unit, an intelligence corps with deep cyber-security expertise.
Humanz doesn't just aim to remind marketers that influencers are people: the same is true for their audiences. It's easy to become data-obsessed and focus on numbers, but that can often be to the detriment of campaigns. If we asked you who you spoke to yesterday, and you answered, "12 people," did you really answer the question? (Spoiler alert: no. No, you did not) It's the same logic with influencer marketing—you can't justify an ad spend by saying you reached a million people if the vast majority of those people aren't your target audience.
Ironically, to bring the human element to the fore, Chen and his team rely on AI. Using an algorithm that's crawling the social web and analyzing all the public profiles (with >1k followers) by looking at performance stats, but also analyzing the text, image, and video content, the people who follow them and the people they follow, their bios—all of it. In this way, the AI is able to generate profiles of influencers that don't just tell you about the account, but the person behind the account.
The results of their work have impressed anyone who's seen it. This includes investors like Stardom Ventures who were part of Humanz' $10m seed funding round. Marketers with global brands like L'Oréal, McDonald's, Nestlé, and Unilever were also sold on the platform. And the company is slowly going global itself, with offices in Brazil, Israel, Kenya, Nigeria, South Africa, Turkey, the UK, and the US. There are humans everywhere, and so the founders want Humanz to be everywhere.
---
Summary:
---
Pricing
Humanz offers a fully self-service SaaS solution as well as hybrid models that brands can directly use as much as or as little as they want (with Humanz acting as an agency). There are no monthly fees or subscriptions, and you're not locked into any specific term. For both options, payment is done on a per-campaign basis, with Humanz taking their fees as a percentage of budget.
The percentages themselves are calculated on a sliding scale: the higher the budget, the lower the rate. For exact pricing, you'll need to talk to a human(z).
---
The Details
The Humanz algorithm crawls the entire web, ingesting and indexing data from any public profile with more than 1,000 followers, profiles which you can then search through as part of the discovery process. But it also functions as a marketplace: there are currently more than 50,000 influencers registered on the platform. Keep in mind that you can work with anyone you find—and they don't necessarily have to register with the platform to do so. But registering makes everything easier, of course, centralizing and streamlining things like communications, content approval, and scheduling.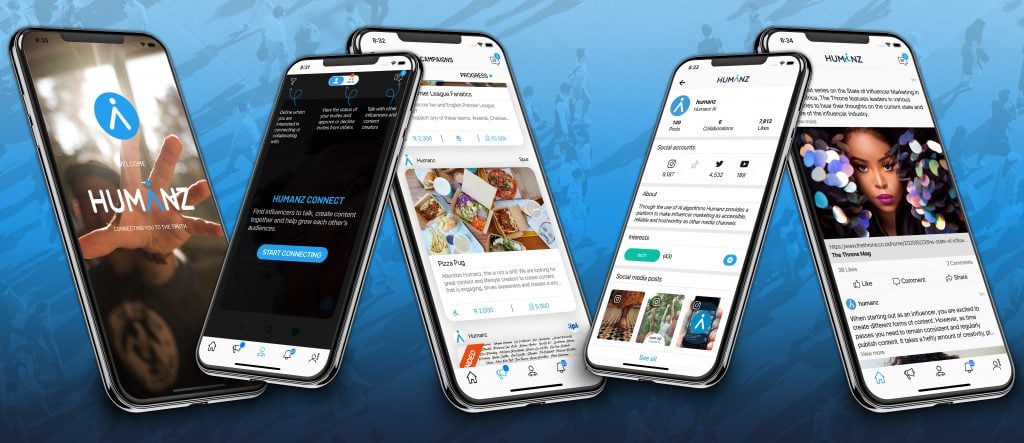 While most platforms that take this hybrid discovery/marketplace approach leave it to the brands to onboard new influencers that they find in their searches, Humanz goes a step further by making their platform appealing to influencers in the first place. There's a mobile app for them, where they can access all their data—the same stuff marketers see. The app also features a Tinder-like feature where influencers can swipe through each other to find like minded creators to collaborate with. Humanz (as a company) also has an Advisory Board made up of creators—some of whom are also investors—that help guide strategy toward appealing to influencers.
The platform also hosts an online course that covers everything from the ideas and goals of influencer marketing to setting up collaborations to actually using the platform. In another move that should help brands rest easy about the quality of the influencers they choose to work with, there's a feature of Humanz that allows them to customize this course to their liking and then require influencers to complete it before they partner up. But we're getting ahead of the process.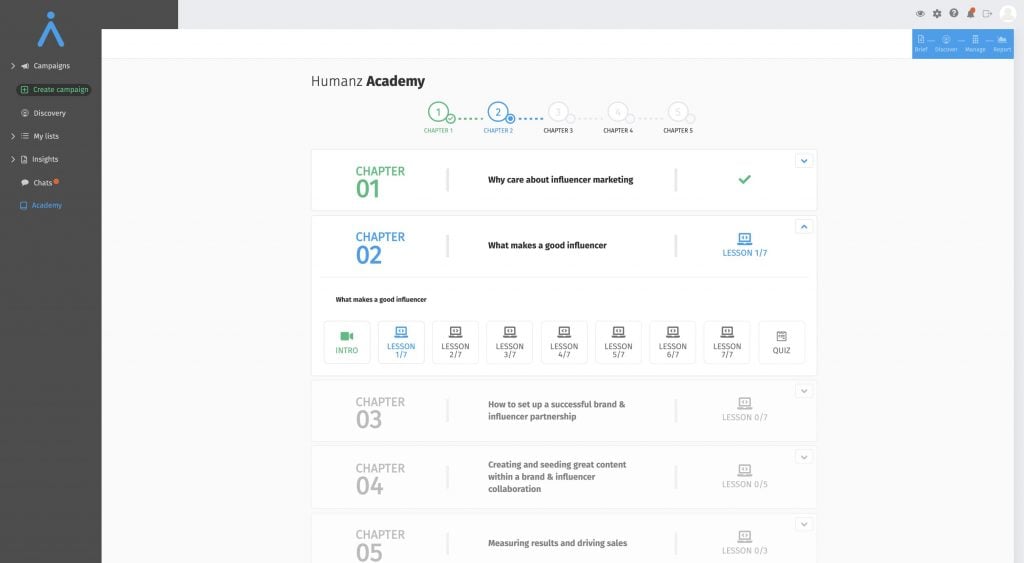 Humanz' workflow starts with campaigns, and the creation of them. It's an in-depth process, the kind that, when done properly, leaves no room for error or missed opportunities. Summarize the campaign with words and a mood board of content that reflects what you're looking for; define the budget and payment terms; ask open ended questions for applicants to answer; describe the product and tasks; be upfront with Do's and Don'ts. It's all there. You can also select whether you want the campaign to accept bids—i.e. work like a marketplace where influencers can see the listing and apply. If you leave that off, then you just move forward with your own influencers and use Humanz as a campaign management tool. And as a campaign management tool, you'll have your influencer registered here and organized into lists, at which point you can restrict the visibility of your campaigns just to those lists of influencers you want to participate.
The next step in the process is the Discovery engine, and it's just an all around excellent implementation. There aren't a lot of ways to innovate the action of searching for influencers at this point, which means that newer platforms need to just focus on getting it right. And Humanz
really does it right. The interface itself is dynamic and fluid, with quick results and a menu of filters that slide on and off the page as you move back and forth between refining your search and browsing the results. Filters go deep, and can apply both to influencers and audiences.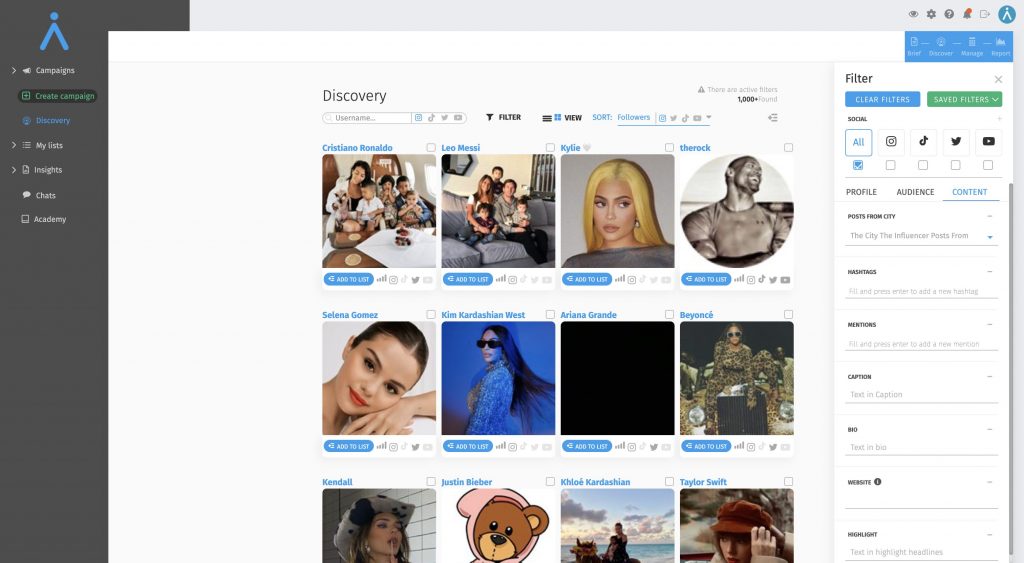 Click through to an influencer that interests you and charts and graphs animate their way to completion as the platform loads up the profile. You can toggle back and forth between different social accounts—Instagram, TikTok, Twitter, and YouTube—to data about content performance as well as insights into the audience (including how many of them are suspicious, as well as examples of the suspicious accounts). But beyond knowing how many followers might be fake, Humanz also knows how many followers just don't appear to be active or reachable, so the profile will give you a much more realistic view of an influencer's reach.
Once Discovery is done, you move on to manage the campaign. If you've made a public campaign, this is where you'd go through all the applications, and Humanz makes it very easy to manage them all. Similar to Discovery, there's a menu of filters you can select from to narrow the list down, especially helpful if you've gotten hundreds of applications. Maybe you want to start by looking at influencers who are already fans of yours. Just filter the list by who's mentioned you. Maybe one of the questions you created for the application has a wrong answer: filter the list by that answer and then decline all their applications in a few clicks. Those kinds of efficiencies are all over the management tools.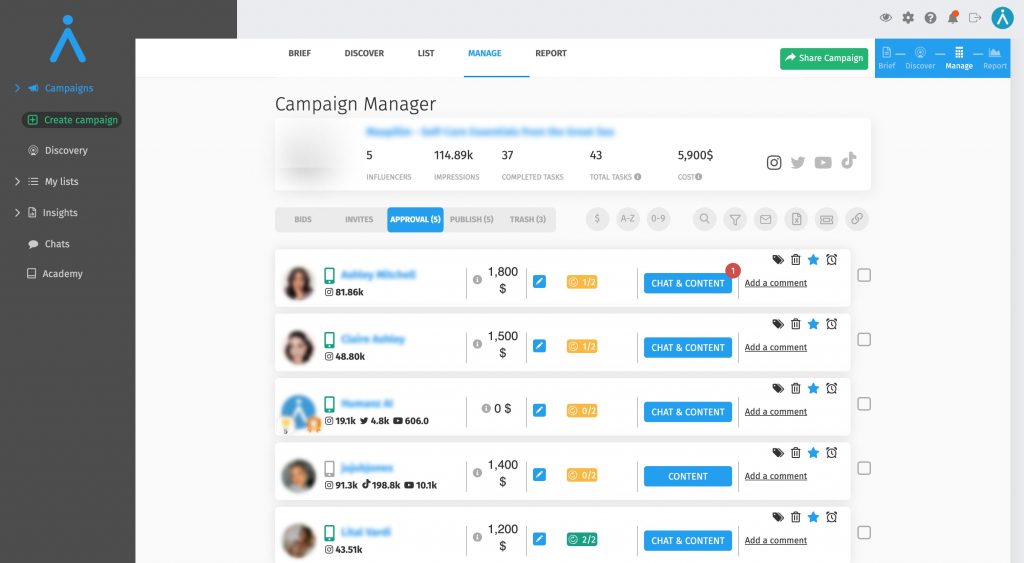 The eye to detail is also seen in those lists you can create. If you create a list around potential influencers for a specific campaign, you can get a forecast of that campaign's performance with those influencers. You'll see unique reach, impressions, and engagement, as well as a forecast of the budget you'll need, and what the cost per engagement is based on that budget. But you'll also be able to see what the aggregate audience of all those influencers looks like, allowing you an impressive amount of control over who will see your campaign's posts. Once again, you can filter this list down with any combination of the options, and then save that combination for use with all other lists. Maybe you don't want to work with any influencer that's ever mentioned a competitor: add all those filters, save it, then apply every time as a quick way to weed people out.
Lists are also a powerful tool for agencies. They can be annotated and tagged, making it easy for teams to find what they're looking for and collaborate with each other: any changes or notes are visible to everyone. The lists can also be shared with their clients in the form of a link. You can choose to share as much or as little of the information you have—around performance metrics, audience data, only specific channels, etc. The list the client receives is interactive and they can decline and/or add notes as they want.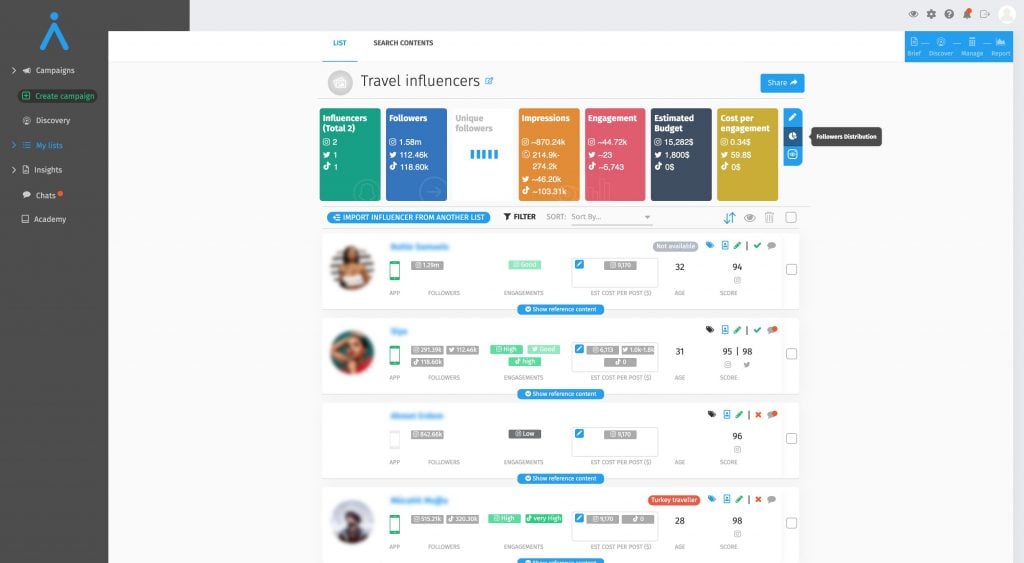 After reading all of the above, it should come as no surprise that the reporting tool for campaigns is as well thought out as everything else. You're getting all the usual information, but you're also getting context. It's cool to see impressions, but it's cooler to see how many of those impressions were in your target audience. It's cool to see engagement, but it's cooler to see how you did versus your KPI target. And it's cool that you can see all these numbers, but it's cooler that campaign managers can add comments that summarize the meaning of all those numbers. At all steps across the platform, the attention to detail is remarkable.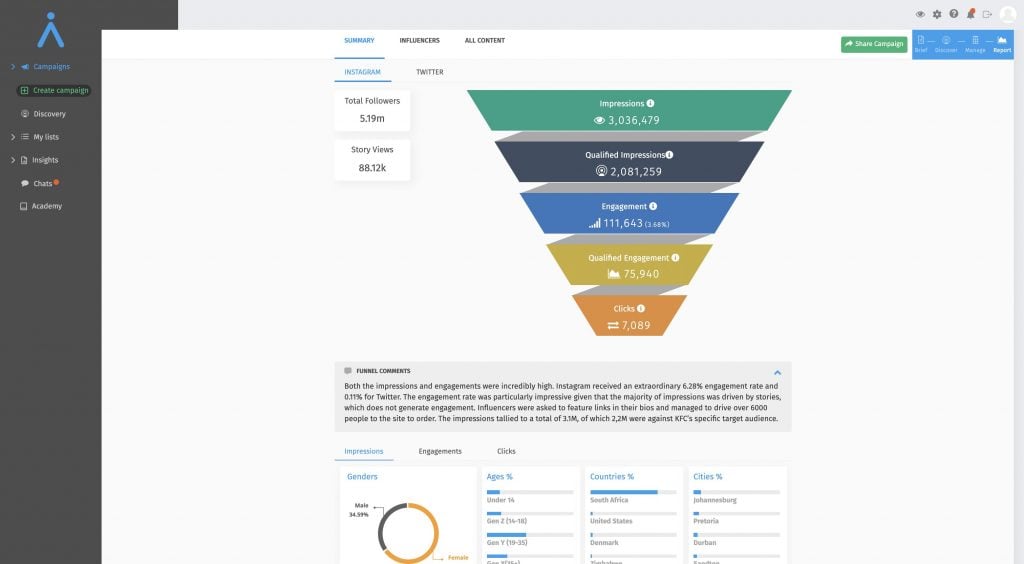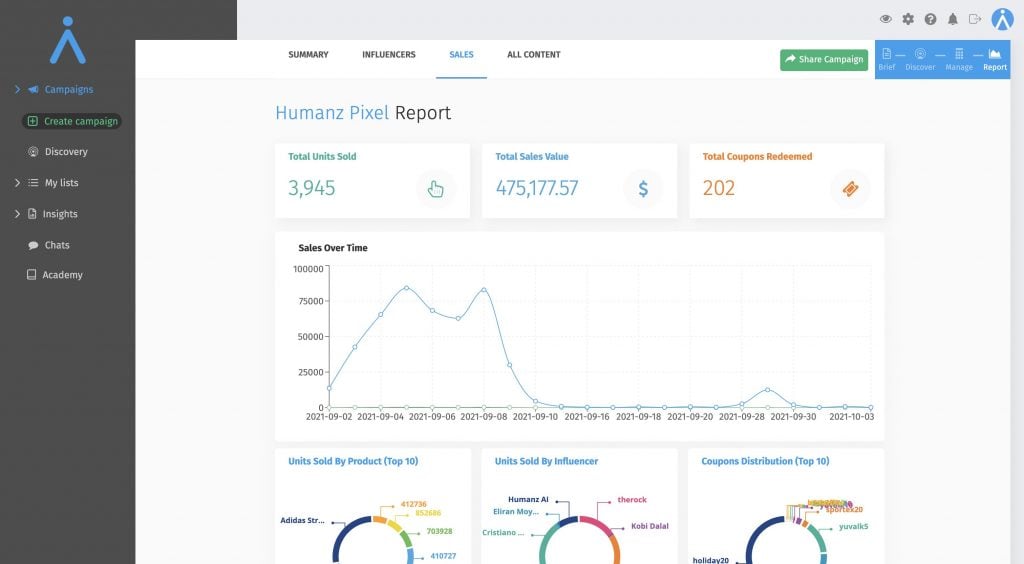 ---
Conclusion
We are now in our sixth year of reviewing influencer marketing platforms, and in that time we've seen a few hundred of them. We only actually ever review the ones worth talking about, and we only ever give five stars when we're left thinking that there's really nothing else that could be added to this platform to make it better. Maybe there is, and if anyone figures out what that is, the standards will be raised again. But at this moment, it's Humanz that's the standard bearer. They've raised the bar again for everyone, if not for new features, then for an incomparable user experience. Interfacing with Humanz is a downright enjoyable experience.
Note: interfacing with humans is still hit or miss.
Humanz
Features

Ease of Use

Reporting

Best for:
Medium and Large brands; Agencies