Advertising Disclosure
Advertising disclosure:
Our partners compensate us. This may influence which products or services we review (also where and how those products appear on the site), this in no way affects our recommendations or the advice we offer. Our reviews are based on years of experience and countless hours of research. Our partners cannot pay us to guarantee favorable reviews of their products or services.
Over-the-Top (OTT) media services have dynamically shifted the media landscape, leveraging internet technology to deliver film and television content directly to viewers. Bypassing traditional distribution channels, they have effectively rewritten the rules of engagement in this competitive domain.
It's anticipated that by 2023, the US will house approximately 224.8 million smart TV households, a figure projected to surge to over 274.2 million by 2026. Amidst this growth, the focus of our exploration lies in those pioneering marketing agencies who have honed exceptional proficiency in this sphere. These specialists distill vast data into compelling, actionable strategies that enhance viewer engagement, increase subscriptions, and ensure enduring viewer relationships through captivating content. This resource offers a front-row seat to their successful campaigns, the pivotal metrics, and the tactical approaches that resonate with the audience. If you're targeting data-driven growth in the streaming arena, consider this your roadmap.
---
Top OTT Marketing Agencies for Driving Results on Streaming Channels:
---
Top OTT Marketing Agencies for Driving Results on Streaming Channels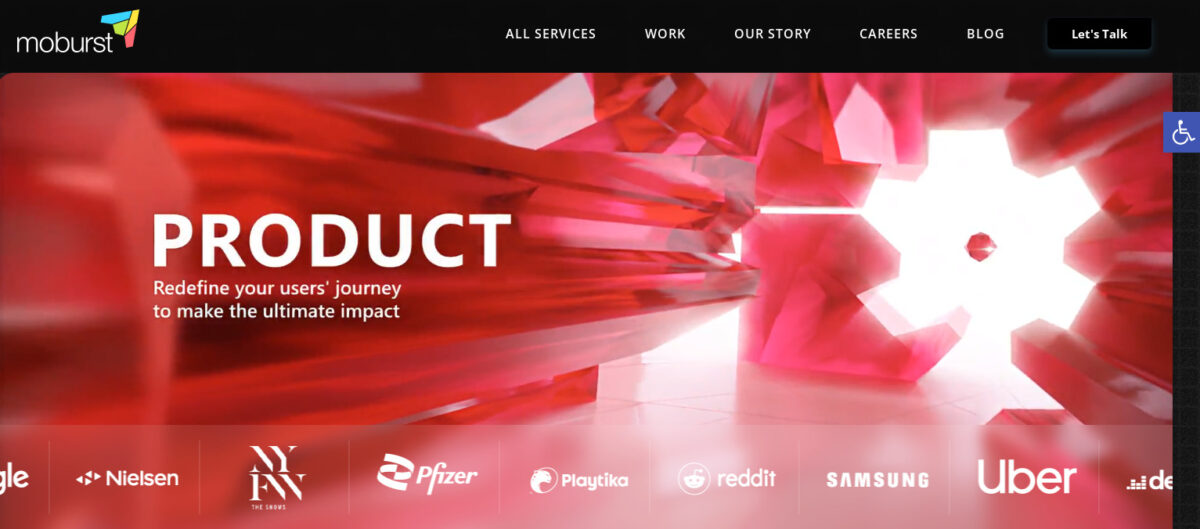 As one of the leading OTT marketing agencies, Moburst is known for transforming the TV advertising landscape with its precision-targeted campaigns that deliver real results. Their expertise in OTT advertising allows them to create tailored creative assets that are well-suited to the target audience and streaming channels. By tracking and measuring everything, they can ensure maximum ROI for every dollar spent.
Moburst's unique approach to OTT marketing blends performance marketing outcomes with awareness-type results, making them a go-to agency for businesses looking to expand their audience and grow their brand. They work with a range of channels, and offer weekly progress and performance reports to keep clients informed and allow for ongoing optimization.
Channels: Chromecast, TV, Roku, Smart TVs.
---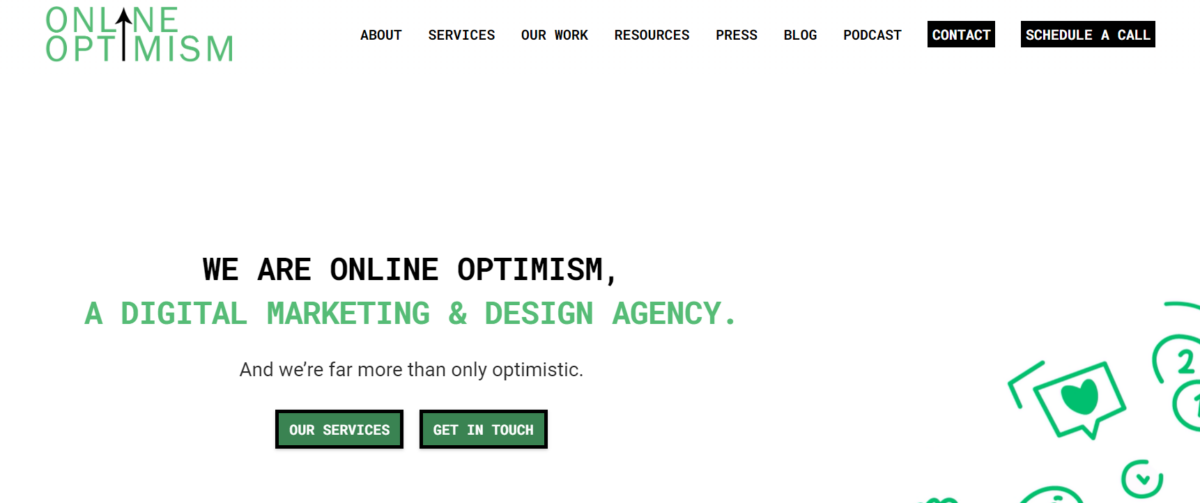 Online Optimism is a cutting-edge marketing agency that specializes in creating captivating, unskippable OTT ads for brands looking to access streaming audiences. With their expertise in OTT advertising, they can access video ad inventory on a range of devices, including game consoles, DVR set-top boxes, and mobile devices with apps such as such as YouTube.
The team at Online Optimism crafts a clear and creative advertising strategy that engages viewers and effectively sells your brand within the ad's timeframe. They can help local retailers and small businesses tap into the streaming movement and reach the coveted 18-34 demographic who are increasingly streaming media through apps via OTT. Online Optimism measures ad success through OTT metrics, enabling businesses to reach new audiences that traditional TV advertising cannot.
Channels: Apple TV, Android TV, Amazon Fire TV, Roku, Chromecast, YouTube.
---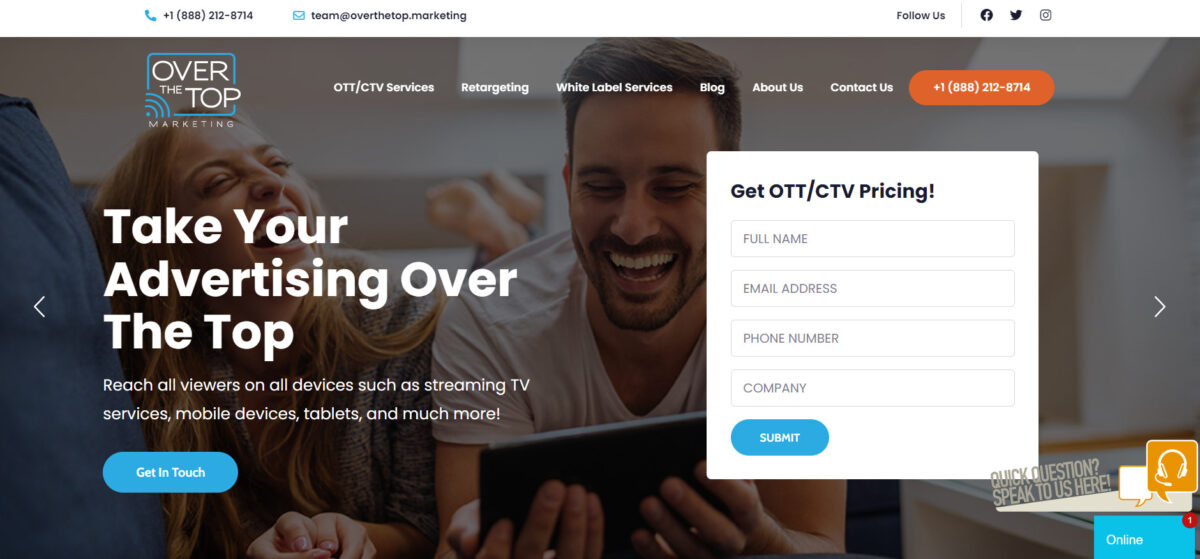 Over The Top Marketing is an OTT/CTV media buying agency that specializes in helping businesses engage with their online audiences across all devices, including streaming TV services, mobile devices, and tablets. With a focus on segmentation, microtargeting, and in-market and affinity indicators, they enable advertisers to reach specific audiences and maximize their ad spend.
Over The Top Marketing is committed to providing full transparency and constant communication with clients, making them a reliable and accountable agency. They have an impressive roster of clients, including Blue Man Group, Mark Cuban Companies, and WeedMaps. By utilizing OTT platforms, brands can access near real-time data and reach specific demographic subsets based on user-generated data.
Channels: Roku, AppleTV, gaming consoles, social media campaigns, programmatic ads, and more.
---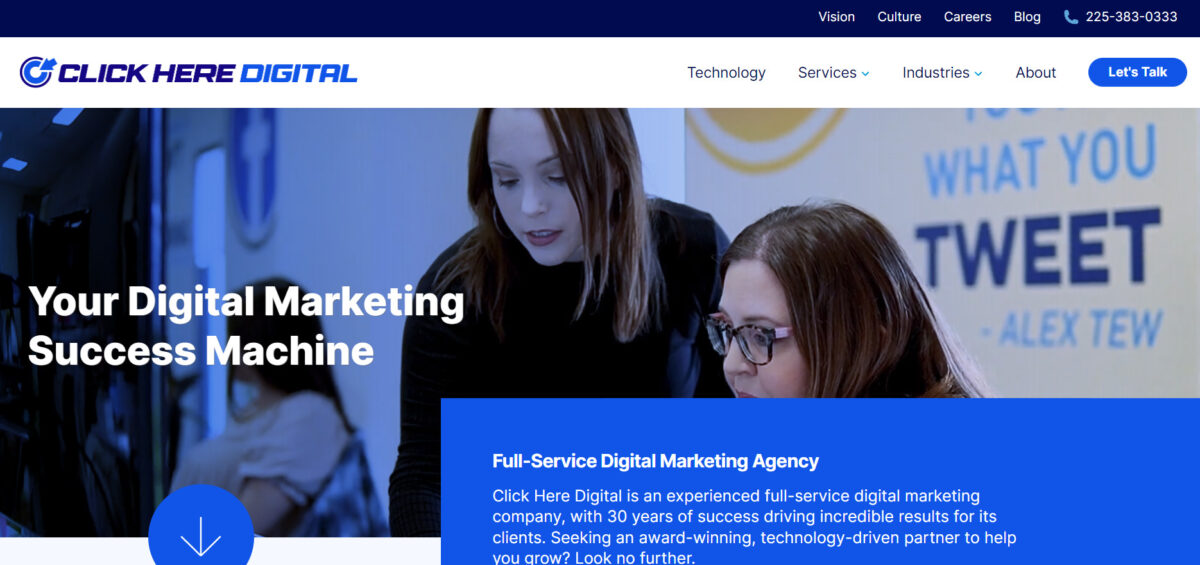 Click Here Digital is a leading OTT/CTV media buying agency that specializes in streaming TV advertising. As an agency that works with smart TVs, streaming services, and gaming consoles, Click Here Digital harnesses the power of high-growth advertising channels to ensure clients reach quality audiences. By purchasing ad inventory directly from channels and cutting out middlemen, Click Here Digital can offer some of the lowest rates in the industry.
One of Click Here Digital's strengths is its commitment to quality assurance. As a part of the agency's standard service offering, Click Here Digital uses protection technology with the only fraud prevention accredited by the Media Rating Council. This ensures that CTV campaigns are pre-screened and protected. The agency's comprehensive approach includes a thorough analysis of a business and its fit with different DV advertising strategies, competitive analysis, benchmarking, Google analytics integration, daily account management, bi-weekly client meetings, and end-of-month performance reports.
With the continuing trend towards digital TV, Click Here Digital provides businesses with an excellent option to establish and grow their brand through CTV/OTT advertising. The agency partners with a range of channels to help clients harness the audience of live sports programming to strengthen their brand.
Channels: ESPN+, Hulu, Sling, YouTube, DirectTV, Fubo, and others.
---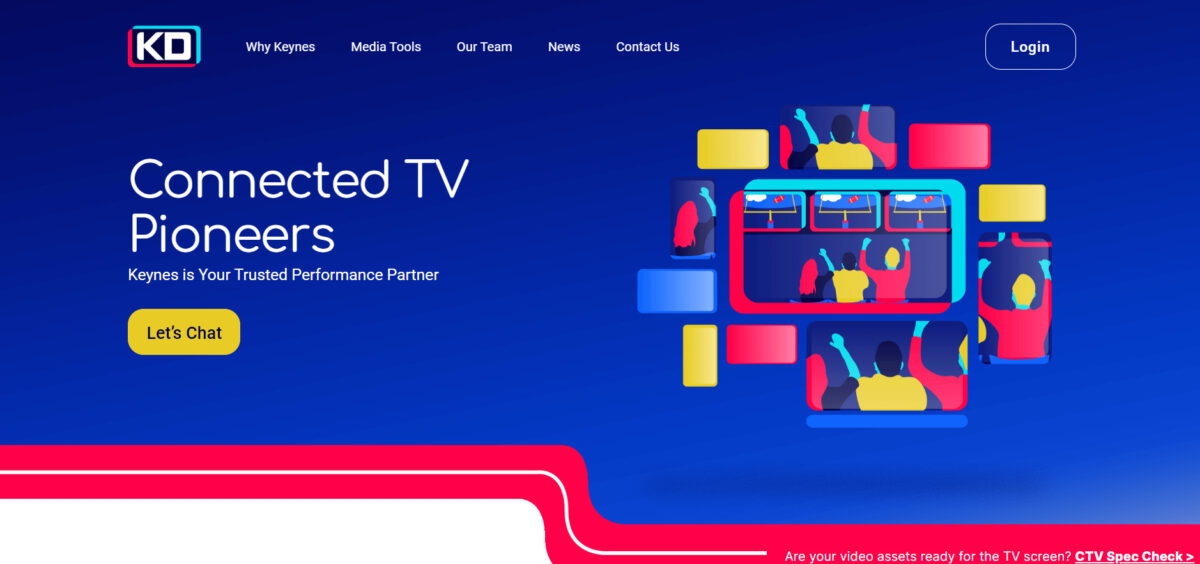 Keynes Digital is an OTT agency that offers real-time analytics to help brands measure their growth through programmatic channels. The agency focuses on providing clients with cost-effective solutions that maximize their budget, with an emphasis on impactful programmatic media strategies. They stand out for their seamless tracking of the marketing process, which enables growth measurement and digital conversion analysis. The agency also partners with the latest technology platforms to make running programmatic campaigns easy.
Keynes Digital is committed to providing clients with trackable metrics and expertise on how to effectively target specific audiences for maximum engagement. Their focus on sustainable and cost-effective methods benefits cord-never and cord-cutters who may be difficult to reach through traditional means. With the growing popularity of the OTT market, Keynes Digital has the necessary knowledge and skills to offer a full-stack benefit to any OTT advertising business. Their experience working with premium networks and expertise in planning and managing advertising campaigns has earned them recognition in the industry. Keynes Digital's strategic approach allows marketers to easily plan advertising campaigns tailored to their brand's unique needs and target the maximum audience through a single source.
Channels: Netflix, Amazon, Disney+, Hulu, HBO Max, ESPN+, Peacock.
---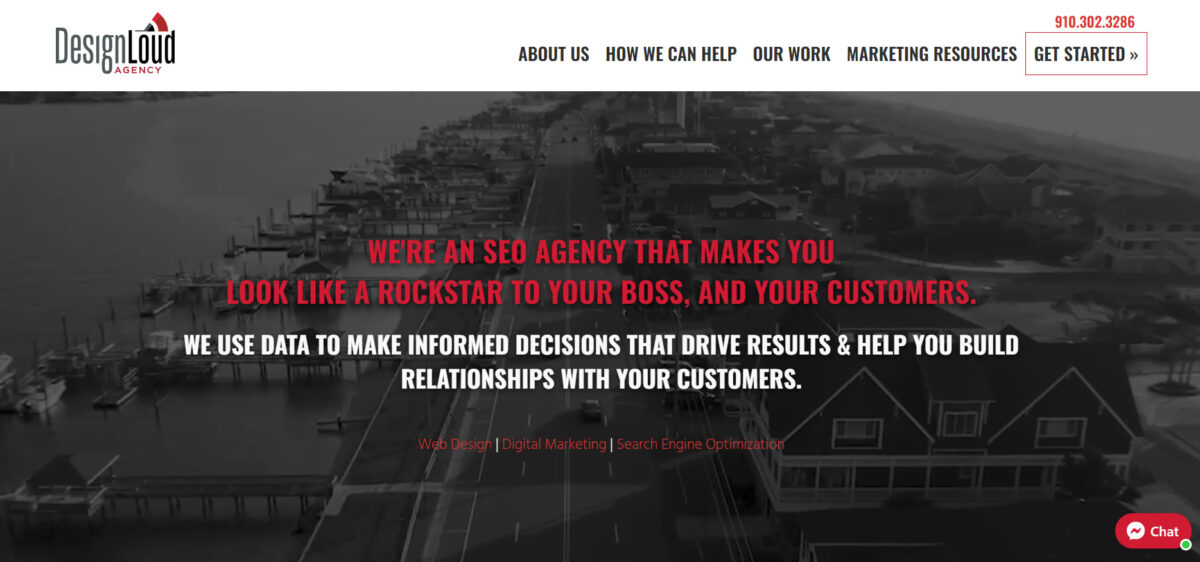 DesignLoud has been helping businesses grow through advertising since 2011. The agency offers experienced professionals who know how to create effective ads and campaigns for both Connected TV and Over-the-top (OTT) mediums. With expertise in two different areas at once, DesignLoud makes it easier for new and burgeoning businesses to stay ahead of competitors.
The team has experience working with both CTV and OTT advertising and offers custom video creation tailored towards what clients want to sell or promote. It allows clients to track the return on their investment and provides geo-targeting options to ensure the right audience sees their ads. DesignLoud is recognized for its high-quality work, reasonable prices, and speedy work. Clients appreciate the agency's professional and knowledgeable team and transparent branding.
DesignLoud's clients include small businesses and entrepreneurs looking to expand their reach through advertising. The agency is dedicated to creating effective ads and campaigns that help businesses grow. The agency's fans rave about its quality work, reasonable prices, and speedy turnaround time.
Channels: Connected TV, OTT.
---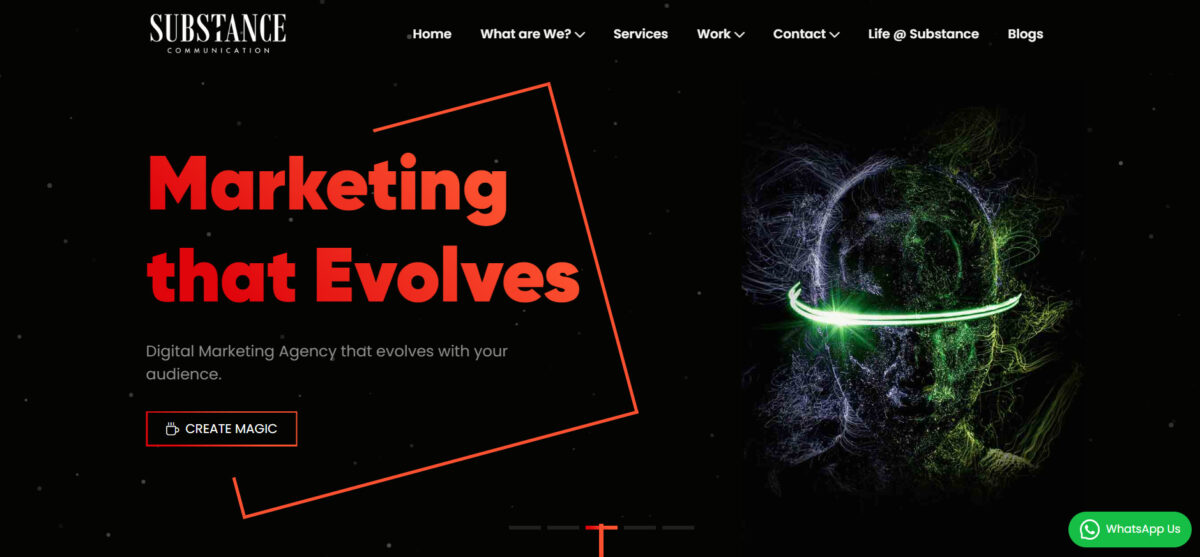 Substance Communication is a reputable agency renowned for producing top-notch and impactful radio ads in India. Their proven track record of success has made them a go-to agency for businesses looking to create radio ads that are memorable and effective. Substance Communication boasts a team of seasoned professionals who handle everything from ideation to execution, ensuring that clients' ads are on the air and delivering results.
The agency also offers expertise in OTT platform advertising, which is increasingly becoming a vital channel for businesses to reach consumers. With more people switching to OTT platforms for their entertainment needs, brands need to tap into this new and growing channel to drive sales and awareness. Substance Communication offers various types of OTT platform advertising, including video pre-roll, display ads, and native advertising. The most common form of OTT platform advertising is video pre-roll, where short ads are placed before the start of a video. Display ads can be placed on the platform's homepage or within specific content categories. The agency's flexible approach allows businesses to tailor their campaigns to suit their unique needs.
Channels: TV, Radio & OTT.
---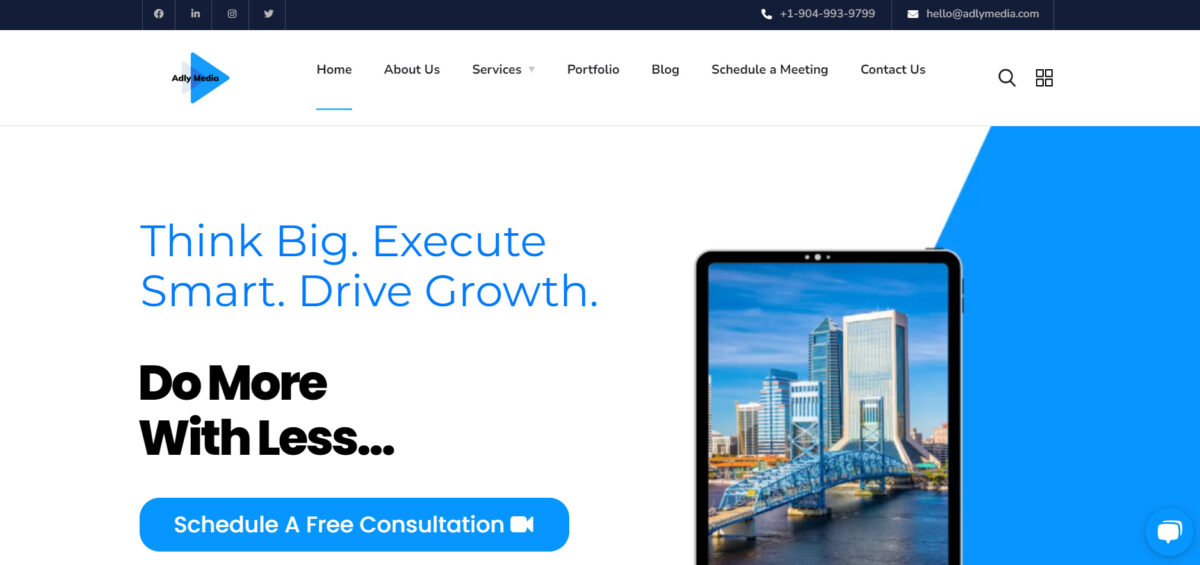 Adly Media is a top-notch advertising agency in Jacksonville specializing in OTT and TV advertising, providing businesses with the latest data and best practices to capitalize on the opportunity presented by increased video streaming. The agency offers a variety of services to help clients unlock the full potential of TV and OTT ads.
Adly Media's team of skilled marketers customize the approach to suit different budgets and goals, seamlessly managing OTT advertising for multiple target audiences. Their data-driven approach can influence various sales and marketing goals beyond just upper-funnel brand awareness. OTT ads use Over-The-Top video streaming platforms and devices to reach potential customers directly through the internet, bypassing traditional constraints like geography and broadcasting schedules.
With a deep understanding of various platforms and devices, Adly Media runs ads across all popular channels and devices, providing clients with more accountability and optimizing future ads. The agency's expertise in OTT advertising is an advantage for businesses looking to increase brand awareness and reach potential customers. Adly Media provides 100% customizable and effective strategies to transform ads into brand awareness beacons, tapping into the vast customer base of 150 million subscribers across popular OTT and video streaming platforms.
Channels: Netflix, Amazon Prime, Hulu, Disney Plus, Apple TV Plus, HBO Now, Roku, NVIDIA Shield, Amazon Fire TV, Apple
---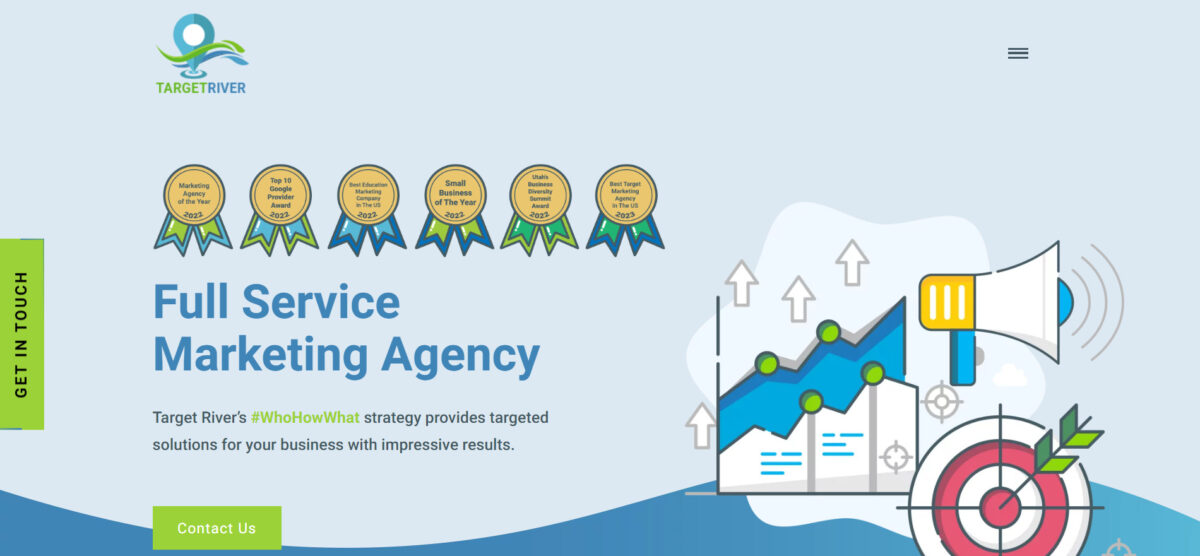 Target River is a marketing agency that caters to a diverse range of clients, including businesses, non-profit organizations, school districts, and government agencies. One of their specialized offerings, TargetTV, provides videos to the right audience, regardless of where and how they are watching content.
Target River offers both TV ad campaigns and digital video marketing to ensure your message reaches the right audience at the most opportune time. With TargetTV, businesses can target their customers based on various characteristics like geographic location, interests, age, income, and more. The agency boasts a team of professional videographers and photographers capable of creating both live production and animated videos to suit your preferences.
TargetTV also offers additional services, such as linking viewers to your website or shopping page, capturing IP addresses for future retargeting, and generating traffic to your video channel. At Target River, you have access to a full-service marketing agency that provides effective tactics customized to fit your needs, ensuring you hit your target
Channels: Cable Broadcast, OTT, Connected TV, Social, In-App.
---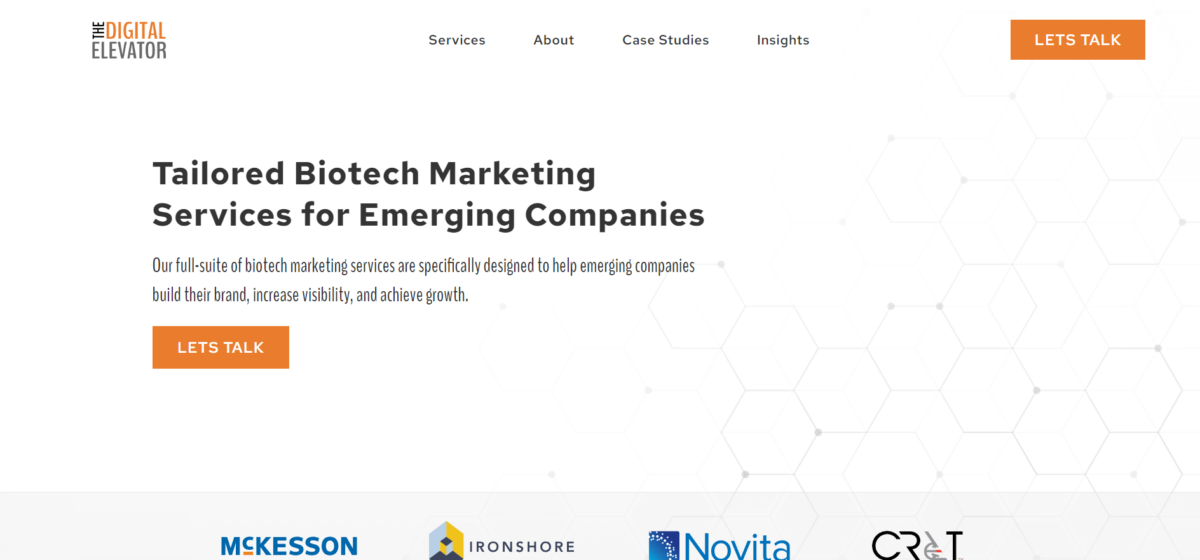 Digital Elevator is an agency that specializes in advertising on CTV and OTT platforms, offering expert media buying services. Their team can help you develop a media plan tailored to the unique opportunities provided by CTV, ensuring maximum returns on ad spend (ROAS).
With Digital Elevator's programmatic TV advertising services, brands can engage viewers on the big screen or their favorite devices at the right moment. The agency offers multiple benefits of programmatic advertising, such as high digital video view time among US adults, high CTV ad spend poised for growth, and programmatic connected TV targeting reaching 78% of US households.
Digital Elevator employs various targeting strategies like 1st-Party Targeting, 3rd-Party Targeting, Page Context AI, and more, to help businesses leverage CTV or OTT advertising to reach the 87 million households that stream content. Through their services, advertisers can gain valuable insights into reporting, forecasting, and conversion data, resulting in more effective and efficient campaigns.
Channels: CTV
---
---
The Role of OTT Marketing Agency
OTT marketing agencies are experts in using popular streaming platforms like Netflix, Hulu, Amazon Prime Video, and Disney+ to deliver personalized and effective ad campaigns for their clients. They use data to create ads that cater to viewers' interests and demographics, ensuring that the right message reaches the right audience at the right time.
But that's not all they do. These agencies work closely with platform partners to highlight and promote their clients' offerings, attracting more viewers and subscribers. They also integrate their OTT promotions with other digital channels, creating a powerful marketing strategy that amplifies brand messages and connects with audiences.
Another unique approach they take is the creation of sponsored content that blends seamlessly with the platform's existing offerings. This approach captures viewers' attention and fosters positive brand associations while maintaining the authenticity and quality of the viewing experience.
And all of this is powered by data-driven insights. These agencies analyze analytics and data from OTT platforms to identify trends, uncover opportunities, and optimize their efforts for maximum impact.
---
Frequently Asked Questions
What role do OTT marketing agencies play in the development of marketing strategies?
OTT marketing agencies play a critical role in the development of marketing strategies by providing expert guidance, insights into audience behavior and preferences, and recommendations on the most effective channels and tactics to reach target audiences and achieve specific marketing goals.
How do OTT marketing agencies help businesses optimize their advertising spend?
OTT marketing agencies help businesses optimize their advertising spend by analyzing data from OTT platforms and other sources, identifying the most effective channels and tactics, and making adjustments to campaigns in real-time based on performance metrics.
How do OTT marketing agencies help businesses build brand awareness?
OTT marketing agencies help businesses build brand awareness by creating engaging content, using advanced targeting and retargeting techniques, integrating promotions across multiple touchpoints, and leveraging the power of social media and influencer marketing.
What are the common challenges of OTT marketing campaigns?
Common challenges of OTT marketing campaigns include platform saturation and competition, ad fatigue, ad-blockers, privacy concerns, and rapidly changing viewer habits and preferences.