Best for:
Ecommerce brands of any size
In 2015, while the rest of the world was focused on how best to market themselves on social media, Alan VanToai saw an opportunity in the physical world. With most marketing eyes looking at what screens could do for them, VanToai had the seemingly obvious realization that people still need to go out into the world on a daily basis. He launched Crewfire as a way for advertisers to meet their audience where they are often at: out on the street.
Crewfire was—and is—an app for managing your brand ambassadors, but in its early years those ambassadors were participating in offline campaigns. Social media post-sharing was also heavily in its DNA, but Crewfire's differentiator was the way it enabled businesses to find ambassadors within their customer base and incentivize them to bring the brand message out into the world.
But then 2020 happened—you may have heard of something called Covid—and drove the world indoors and decidedly online. Crewfire then made the decision to shift its app's focus to e-commerce. Note that we use the word "shift" and not "pivot." That's because, fundamentally, Crewfire is doing the same thing as it did before—managing brand ambassadors—while not straying at all from its original conceit: meeting audiences where they are. In 2015, Crewfire ambassadors were handing out products and participating in publicity stunts on college campuses and at events. Today, they're creating content and handing out referral codes and affiliate links on social media channels.
Crewfire still emphasizes community building for brands, it's only the location of that community that's changed. Big names like Red Bull and P&G, along with more modestly known brands like Vitae Apparel and Sportsmans Warehouse, all use Crewfire to build and nurture relationships with their customers, converting them to ambassadors who can convert content into sales.
---
Summary:
---
Pricing
Like most Saas offerings, Crewfire offers monthly plans with no commitment, and incentives for an annual prepayment. The three plans offered are:
Starter, $1k/mo ($10k/year if paid annually) —

2 admins can manage up to 500 ambassadors, with an unlimited number of activities (campaigns) and rewards. Includes custom branding and email & SMS broadcasts.

Growth, $2k/mo ($20k/year if paid annually) —

All of the above, but for 5 admins and up to 1,500 ambassadors, plus a custom domain and the ability to connect multiple brand Instagram accounts

Business, $4k/mo ($40k/year if paid annually) —

All of the above, but for 10 admins and up to 5,000 ambassadors, plus Advanced Reporting and Integrations
There is also a $1,000 setup fee, which is only waived if you pay for an annual plan. On its own, and without making a judgment as to the software itself, this pricing is on the high side—and the setup fee is not a standard requirement for software like this. Especially at this price point, onboarding and setup should be part of the deal.
Of course, if the software works as promised, you'll make that money back and then some as ambassadors help you drive sales, and the reporting will very clearly tell you if it was worth the investment.
---
The Details
Because Crewfire's focus is on nurturing communities, we're going to take a different approach in this review and start with the ambassador experience. The idea here is to keep them engaged, so it's worth finding out if they can deliver on that. Note that Crewfire does not include a search function to find influencers. Ambassadors are going to be people that are your customers, who you will find yourself and invite on to the platform.
There's not yet a native mobile app for Crewfire ambassadors—that is soon to be coming, we're told. It's a web app, but a responsive one, and so when you access it from a mobile device, it looks and feels native. They've also designed the experience of using it to work like a social media app. People who join a brand's ambassador program will find that it works a lot like a Facebook group. Ambassadors will see a feed of posts from that brand and can also access any content from a centralized page. If they're participating in more than one program, they can scroll through their feed and see all posts, just like they do on social media. They can like and comment on them, as well as make their own posts on the brand's page (brands take note: you're learning what your ambassadors respond to and motivates them).
The content brands share here isn't just for good times and laughs, though. At the core of what makes Crewfire succeed is its gamification of marketing campaigns, and the feed is where they announce these games (called Activities on the platform) and how to "play" them. That's a more fun way of saying the brands are setting up campaigns and posting the terms and conditions of participation. Ambassadors can always see current campaigns in the "Activities" tab. Let's say you want your ambassadors to drive sales by offering coupon codes to their friends and followers. They can navigate to this portion of the web app to set up their code (Crewfire lets them create their own), and there are built-in integrations with Shopify, WooCommerce, and Magento to automate commissions. Ambassadors will be able to see a history of every sale they've made and a running total of commissions earned.
Activities aren't just sales based. Again, there's that focus on community, and Crewfire has included an activity that's all around engagement. Brands can connect their social accounts; ambassadors can, too. When the brand posts on Instagram, Facebook, or Twitter, Crewfire sends notifications to ambassadors in their program. They are then rewarded for liking and/or commenting on that post. The brands can set up point systems where ambassadors accumulate points they can redeem for a reward when they have enough. This is a good way to reward them for participating in surveys, too.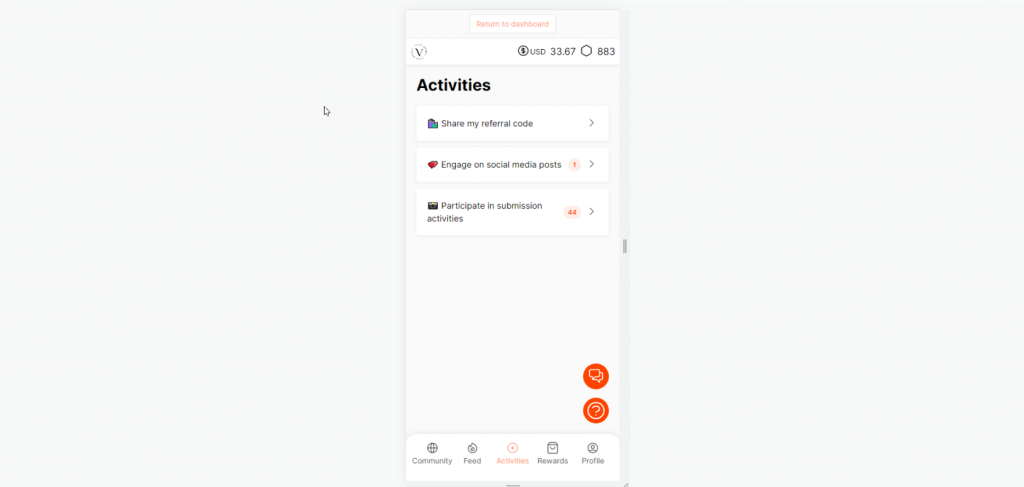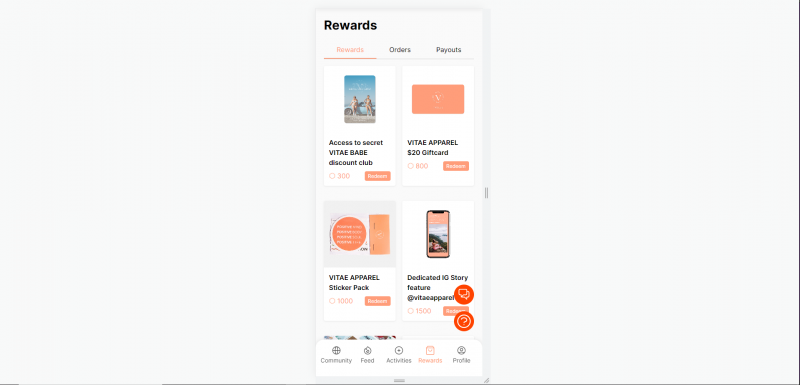 There's a third category of activity that functions more like a traditional influencer marketing campaign, in that you're getting your ambassadors to create and post content, and speaks to the flexibility of what Crewfire offers. When ambassadors submit their content, it goes through the brand's portal to make sure that it conforms to the requirements of the campaign. It also gives the brand the chance to reward outstanding work, because you can make a last minute boost and give more than initially promised. On the flipside, they can also decrease the reward. This is something we haven't seen, but it's a real nice efficiency that's built in to Crewfire. Let's say the ambassador made a small mistake like leaving a hashtag out or has typos in the caption: it's not really worth the time to decline the content and have them go back and change it and resubmit. You can instead just approve the content but with some deductions.
On the brand side of things, the management is mostly focused on bringing ambassadors on, and then giving them activities. As we stated earlier, there's no Discovery function, though that doesn't feel like a loss with a setup like this. And there's some surprisingly good Influencer Relationship Management. You can see a summary of their contact info, all of their content, commissions, points earned, any of their answers to questions you asked during signup, and there's space for your team to leave notes/comments.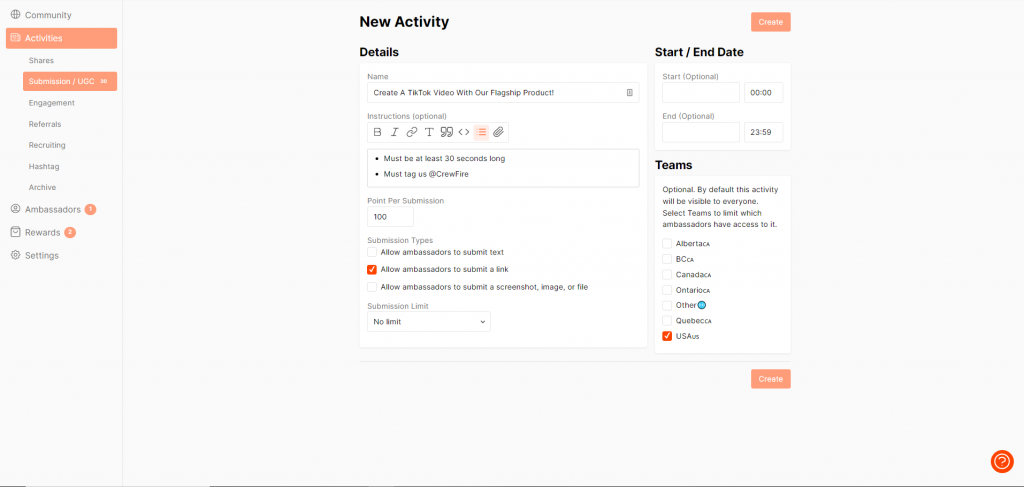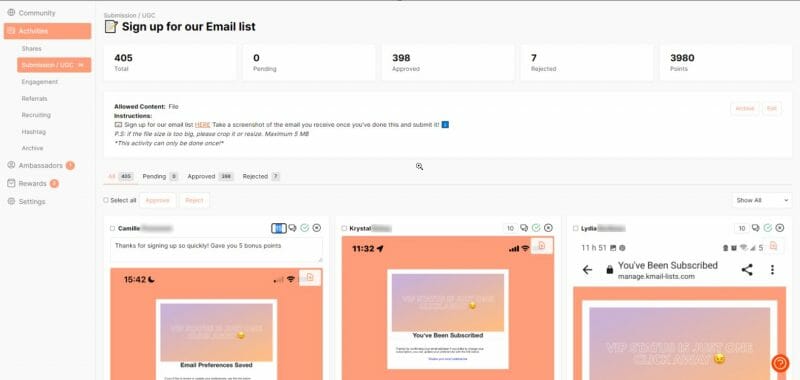 But the big question is always reporting. Crewfire's reporting is very specific to what happens on the platform, which is to say there's not much in the way of analytics. You won't learn anything deep about the audiences that your ambassadors are connected to, or even that much about what your ambassadors are up to on social media. But that's not really what Crewfire is trying to achieve. In terms of building community, the tools are there and the reporting shows whether it's working. But more importantly, you'll get detailed information about the sales that your ambassadors are driving—and don't forget that when people buy from you online, you have potential new recruits.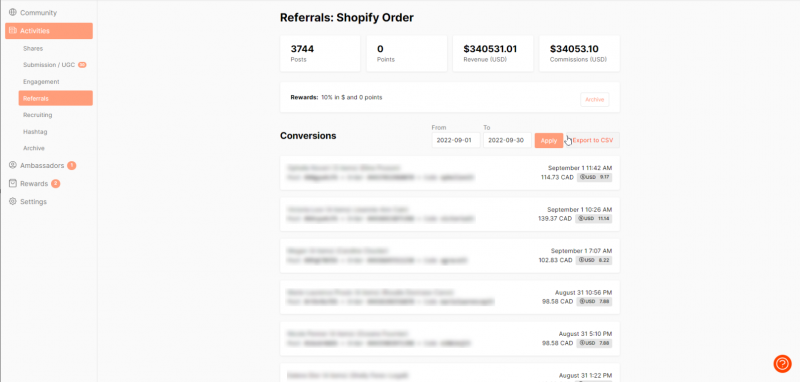 ---
Conclusion
Crewfire's beginnings as a way to mobilize brand ambassadors at the street level has a lot to do with how it's built out today. It doesn't look like a lot of influencer marketing platforms because, really, it isn't. That's not meant in a negative way: Crewfire is one of the handful of platforms that come at influencer marketing from a different perspective, but it's one that makes sense. Popular social accounts with big audiences are great, but a lot of brands already have their own popular social accounts with big audiences. Why not focus on that audience instead? Loyal and happy customers are always going to be your best bet for word of mouth, whether that's out in the real world or done online—and Crewfire makes some very clever use out of that fact.
CrewFire
Features

Ease of Use

Reporting

Best for:
Ecommerce brands of any size