Advertising Disclosure
Advertising disclosure:
Our partners compensate us. This may influence which products or services we review (also where and how those products appear on the site), this in no way affects our recommendations or the advice we offer. Our reviews are based on years of experience and countless hours of research. Our partners cannot pay us to guarantee favorable reviews of their products or services.
The virtual reality industry is set to grow bigger in 2024 with an estimated revenue that will reach $7 billion. As the metaverse and digital reality technologies continue to gain traction, consumers are more likely to spend more on interactive content.
39% of retailers are looking into adding VR and AR experiences for their brands, and almost 71% of consumers are more likely to purchase from retailers that offer VR or AR experiences for their branding and marketing campaigns.
For brands and marketers, this means re-assessing their content strategies to include mixed reality. The technology's capacity to blend virtual and real elements can help improve your operations and performance, boost consumer engagement, enhance brand reputation and loyalty, streamline the product development process, and improve communication and collaboration among teams.
Because these are emerging technologies, their potential applications for both businesses and consumers still haven't been fully explored. Currently, VR is used across various industries like healthcare, retail, real estate, and entertainment for training, education, and offering more compelling interactive digital content.
Virtual reality is here, and it's fast becoming a part of our daily life. Transform the way you do your business by adopting early VR technology. We've curated a list of some of the best virtual reality agencies you can work with that can help take your business to new heights.
---
Top Virtual Reality Agencies for 2024:
---
Top VR Agencies in 2024
Top
virtual reality agencies
2024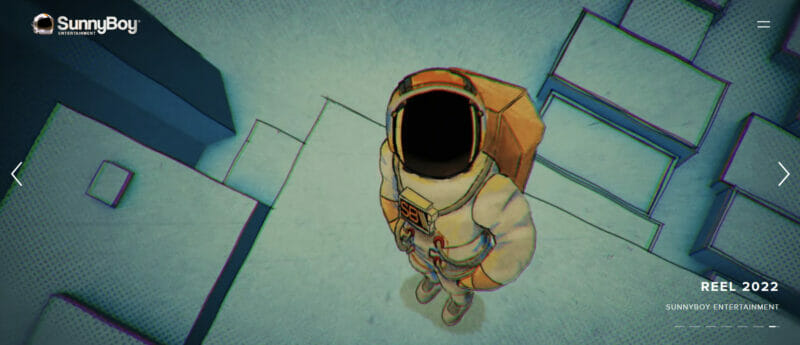 SunnyBoy Entertainment is a creative agency based in Pasadena, California. Focusing on storytelling, it has worked with some of the biggest names in the entertainment industry, such as Disney, Universal, Netflix, and Dreamworks, to create a range of projects spanning from game and design production to VR/360 post-production and development.
SunnyBoy's core capabilities include spatial audio mixing, conceptualizing and executing visual effects, producing VR/AR content, and designing interactive experiences. The full-service agency was founded by Emmy-nominated writers Harold Hayes Jr. and Craig S. Phillips.
Some of its projects include IT: Float – A Cinematic VR Experience, Pacific Rim: Uprising – Inside the Uprising 360, and producing a cinematic paranormal VR experience for Annabelle: Creation.
---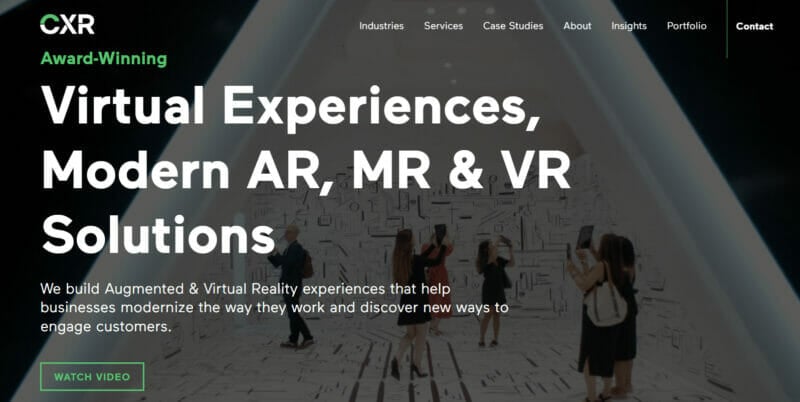 CXR is an award-winning XR agency that has worked with brands such as HBO Max, Piaget, and Harvard Medtech. It specializes in end-to-end mixed reality services that deliver impactful outcomes. Some of its services include designing and executing mixed reality experiences for immersive training, XR marketing, and 3D modeling.
Its VR capabilities include developing interactive and engaging VR content, such as retail store virtualization or VR popups, live-action 360-degree videos that simulate the real-world environment, and building CGI models.
The agency's goal is to help businesses engage their audiences and build stronger connections with their clients by leveraging mixed reality technologies.
---

Friends With Holograms (FWH) creates VR and AR experiences that promote child welfare, patient communication, employee safety, and better communication, among other projects. The agency has collaborated with Unity, Coca-Cola, and Eunoe to build and execute VR experiences or programs that help make new technology more accessible, educate employees about the best practices for adopting AR/VR, and create a VR mental health and wellness app.
FWH's unique approach is anchored on the following premises:
The AR/VR experiences must be capable of simulating reality

Experiences should focus on interactivity to drive results

Each client requires custom, scalable solutions
The agency offers both consulting and production and technology services, including opportunity assessment, workshops and education, interactive design and visualization, and machine learning.
---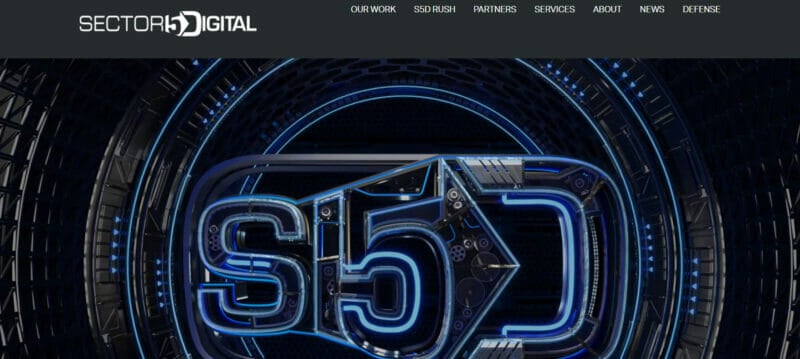 Sector 5 Digital (S5D) is a creative agency based in Fort Worth, Texas. It specializes in brand transformation through creating digital content for marketing, communications, training, and simulations.
The company has more than 25 years of experience and has worked with enterprises like American Airlines, Aerospace Industries Association, and DuPont. S5D has worked on projects like the Galderma Interactive Anatomy App, Halliburton Virtual Product Launch, Bell CES 2020, and Titus Magic Portal AR.
Its expertise covers AR and VR, apps, interactive game technology, integrated campaigns, and film and video production.
---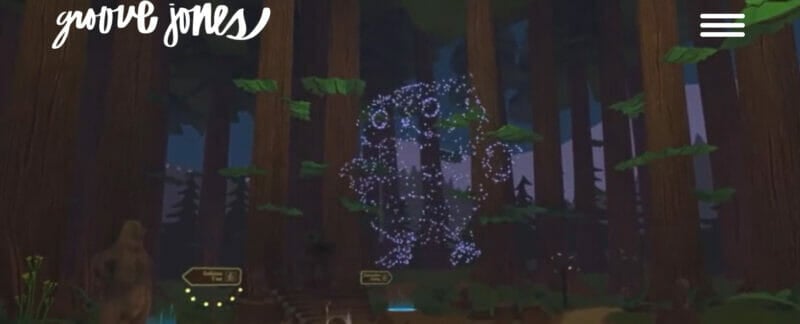 An award-winning XR studio based in the US, Groove Jones employs groundbreaking technologies and processes to deliver engaging and informative dynamic digital solutions for its clients. The studio specializes in augmented reality, virtual reality, machine learning, WebGL, and artificial intelligence.
Some of its services include:
Strategic planning, consulting, and development

Application development (multi-touch surfaces and gesture-based reactive interfaces)

Enterprise application development

Mobile platform AR

Camera AR lens and filters for different social media platforms

CGI and animation
Groove Jones has worked with renowned brands like IBM (AR and WebGL for IBM's Power10 Marketing and Product Demo), Midea (Ride the Wave Retail AR Experience), NBC (Olympic and Super Bowl AR Portal Experience), and Verizon (Verizon 5G and Riot Games' League of Legends 5G MEC Virtual production). It's part of the Unity Certified Creator Network.
---

Noble Digital is a creative growth agency that focuses on combining data and storytelling to help businesses scale faster. Its goal is to even out the playing field so businesses of varying sizes can use data and analytics to their advantage using creative solutions.
Noble Digital's services include:
Brand strategy and planning

Digital campaigning and audience growth

Video production and storytelling

Websites and eCommerce
The agency employs a three-step process for its projects:
Strategize:

it conducts thorough research to

create

a custom marketing strategy that best fits the client's business goals. Services include market positioning, branding and identity, and competitive analysis.
Build:

it builds and executes creative assets that resonate with the client's brand. Services include CTV/digital TV campaigns and AR/VR experiences.
Grow

: throughout the campaign, Noble monitors results and tweaks campaigns or strategies accordingly to deliver optimal results. Services include optimization and campaign management.
---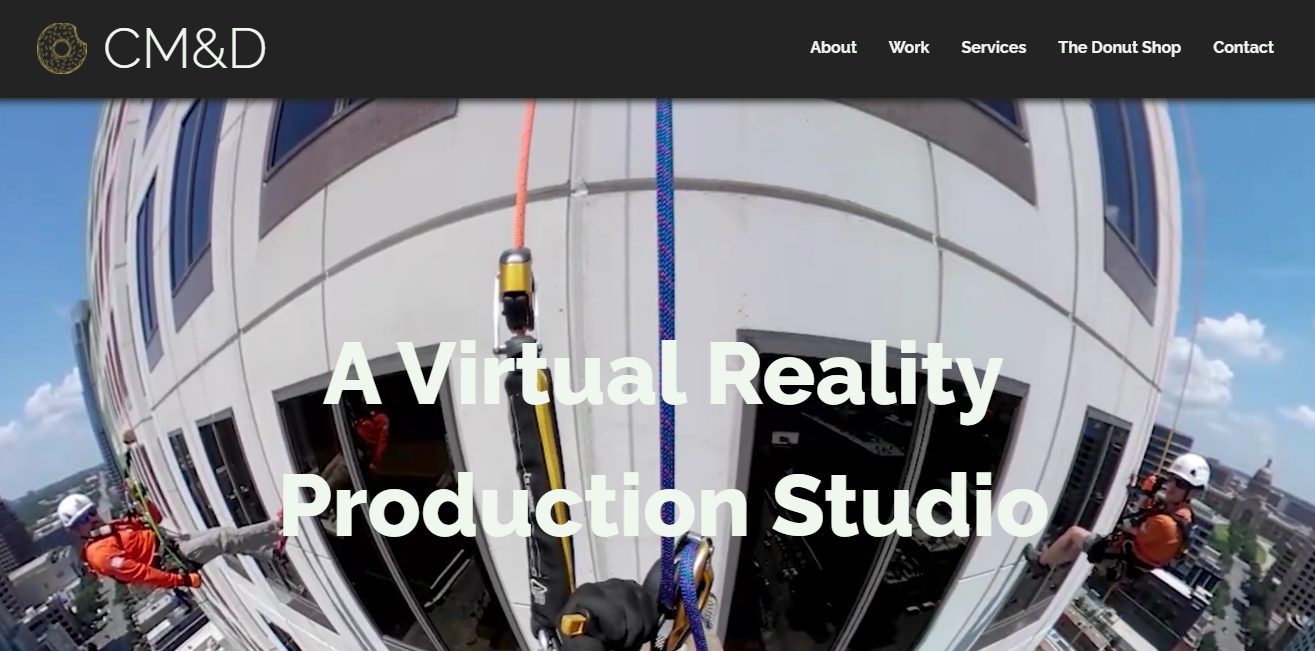 A full-service VR production studio, Chocolate Milk & Donuts (CMD) has worked with world-renowned brands such as Pepsi, Hasbro, and Volkswagen. It harnesses the capabilities of virtual reality and storytelling, complementing them with the studio's extensive development services to create immersive content.
Its services include 360-degree video production, VR development, AR development, WebVR and WebAR. The studio focuses on interactive storytelling through creative direction, experience design, and immersive brand strategy, immersive development through services like VR and AR development, and engagement through immersive brand activations and back-end support and database development
---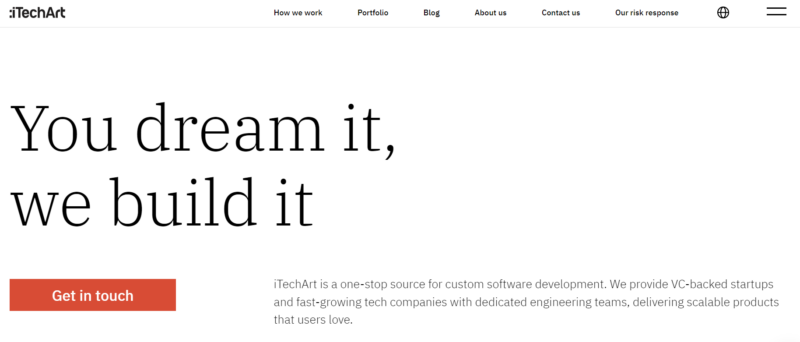 iTechArt is a custom software development company headquartered in New York. It has more than 15 years of experience in creating custom, scalable products for a range of clients who hail from industries like FinTech, GameDev, and eCommerce.
Its core services include developing interactive AR and VR experiences across different mobile platforms, building AR/VR graphs or maps, and image recognition and 3D rendering. For its mobile development services, iTechArt's developers can incorporate the latest in-app AR and VR for mobile apps.
---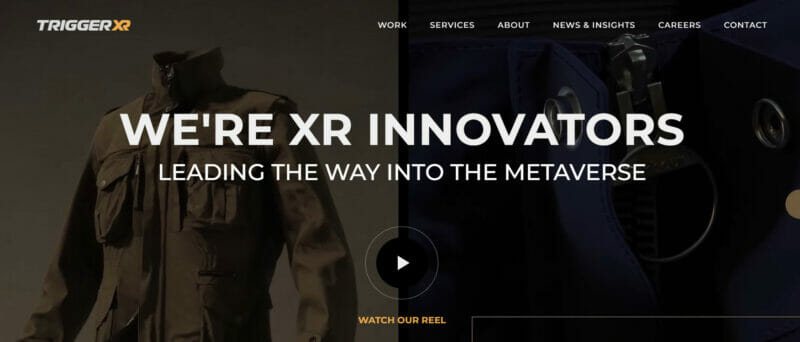 Trigger has been recognized as one of INC 5000's fastest-growing companies. This full-service mixed reality agency uses emerging AR and VR technologies to create innovative XR solutions for brands like Disney, Coors, and Sony Pictures.
Some of its projects include:
Are You the Avatar?

Spark AR

WNBA All-Access Pass Web AR Experience

Spider-Man: No Way Home

AR Social Lens

Super Bowl Halftime Show 360-degree WebAR Portal
Trigger has an extensive array of services, spanning from innovation and strategy to deployment and measurement. Its capabilities range from XR education and content strategy to specialized XR UI/UX design, prototyping, and user testing.
---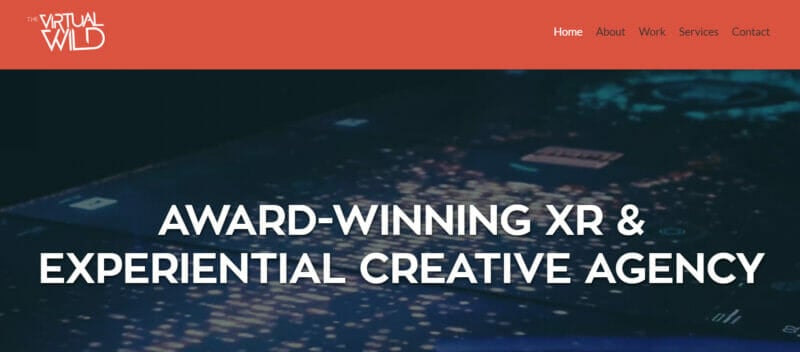 The Virtual Wild is an XR and experiential creative agency that's headquartered in Dallas, Texas. The agency has worked with top brands like Walmart, Siemens, HP, and Cisco.
It leverages digital strategy, creative design, and innovative technologies to come up with custom digital solutions.
Some of the agency's projects include:
Girl Scouts Geo Quest Experience

Perot Museum Facial Recognition App

All Aboard! 360: Mobile VR App
The Virtual Wild's services cover games and gamification, learning and education, interactive media installations, and digital realities (VR/AR/MR). It can also work on metaverse-based projects.
---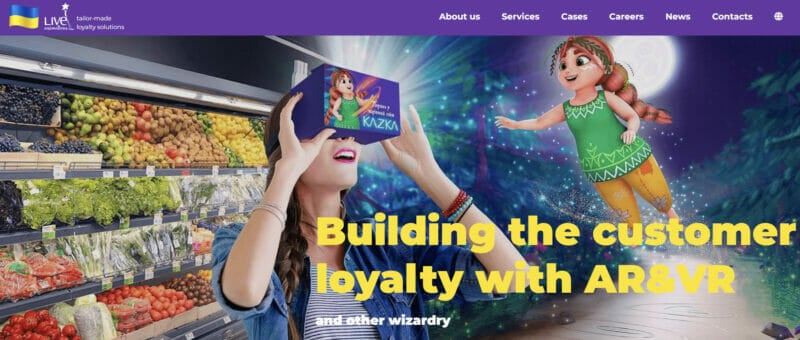 Live Animations has offices in New York and Kyiv. It's a software development company that builds loyalty programs for retailers and manufacturers of children's products. It also develops AR, MR, and VR applications, as well as WebAR applications for businesses.
It mainly focuses on developing immersive loyalty solutions such as promotions for kids' collectibles, loyalty promotions for FMCGs, and creative concept development. It has worked with Kurazhyky, one of Ukraine's leading retailers, and Auchan, a global retailer. Part of its portfolio includes working with the ATB retail chain to create a VR-based loyalty program, a game called Kazka.
---

Softengi is a custom software development company based in Ukraine. It has been on the IT market for over 20 years and uses advanced XR, IoT, and AI technologies to create custom solutions for businesses. It offers legacy system modernization, mobile app consultancy, team augmentation, AI, design, 3D modeling, and XR development.
Its extended reality solutions cover a wide area including VR training, AR UI for business app development, and building digital twins.
Other services include business intelligence services, ecological consulting services, software engineering, and information security.
Softengi works with companies across various industries, including retail and eCommerce, real estate, construction, telecommunication, and gaming and entertainment.
---
Navigating the Future with VR
The future is here.
Make sure that your business is prepared for upcoming technological developments by embracing extended reality technologies and incorporating them into your marketing campaigns. Virtual reality technology itself is already being extensively used in industries like retail, remote education, and native advertising. Furthermore, it's predicted that VR will play a major role in the metaverse.
The COVID-19 pandemic has undeniably spurred the growth and popularity of these extended realities. Adopting early into VR and other extended realities can help you gain a competitive edge. The world of VR opens plenty of opportunities, given that it's still in its early stages.
Frequently Asked Questions
What is virtual reality?
Virtual reality (VR) uses computer technology to create a realistic, 360-degree virtual environment that gives users a three-dimensional experience. A user is "placed" inside a simulated environment where they can interact with various objects, giving them an immersive experience.
Virtual reality uses VR headsets like the Oculus Quest and HTC Vive Pro 2 that allow users to access the virtual world.
What are some of the top VR agencies I can work with?
Some of the world's top VR agencies in 2024 are:
SunnyBoy Entertainment

CXR

Sector 5 Digital

Groove Jones

Trigger

Somewhere Else