Advertising Disclosure
Advertising disclosure:
Our partners compensate us. This may influence which products or services we review (also where and how those products appear on the site), this in no way affects our recommendations or the advice we offer. Our reviews are based on years of experience and countless hours of research. Our partners cannot pay us to guarantee favorable reviews of their products or services.
As a pivotal advertising hub, New York hosts many agencies that continuously drive innovation and business growth. Among these, ten agencies stand out for their ingenious campaigns and strategic advertising solutions. 
This article unfolds the narrative of these top 10 New York Advertising Agencies, who have not only mastered the art of compelling storytelling but have also significantly impacted brands' market positions in this vibrant city.
---
Best 10 Advertising Agencies in New York
Top
advertising agencies new york
2024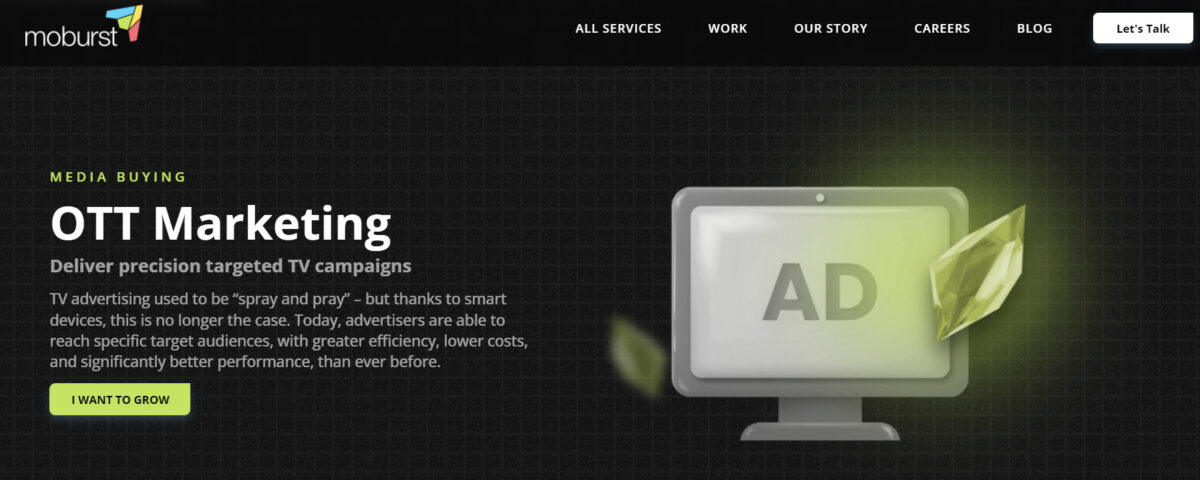 New York-based Moburst is revolutionizing the advertising landscape with its precision-targeted OTT marketing services. TV advertising is no longer restricted to a broad and uncertain audience; with the rise of smart devices, advertisers can ensure every dollar spent reaches the right eyes and ears. Through platforms like Chromecast and Apple TV, Moburst maximizes ad performance by targeting specific locations, channels, and shows. This laser-focused approach results in real traction – from app installs to enhanced brand awareness. With measurable outcomes and consistent tracking, Moburst ensures clients receive the highest ROI possible.
Diversifying beyond OTT marketing, the agency offers a comprehensive range of services from SEO, ASO, and CRO, to video production, influencer marketing, and app development. Their strategic and holistic approach ensures brands not only stand out but also stay ahead in the rapidly evolving digital sphere.
Case Study
A testament to their prowess is the success story of Redefine Meat. Tasked with generating awareness for the yet-to-be commercially available products, Moburst orchestrated a multi-faceted campaign. By targeting restaurant owners with hyper-specific lead-generation strategies, followed by a broad consumer awareness drive, they achieved astounding results. The campaign generated nearly 16 million TikTok views in 60 days, over 82.5 million Facebook impressions, and built a waiting list of 50,000 eager customers. It's not just about advertising; it's about creating monumental shifts in market perception.
---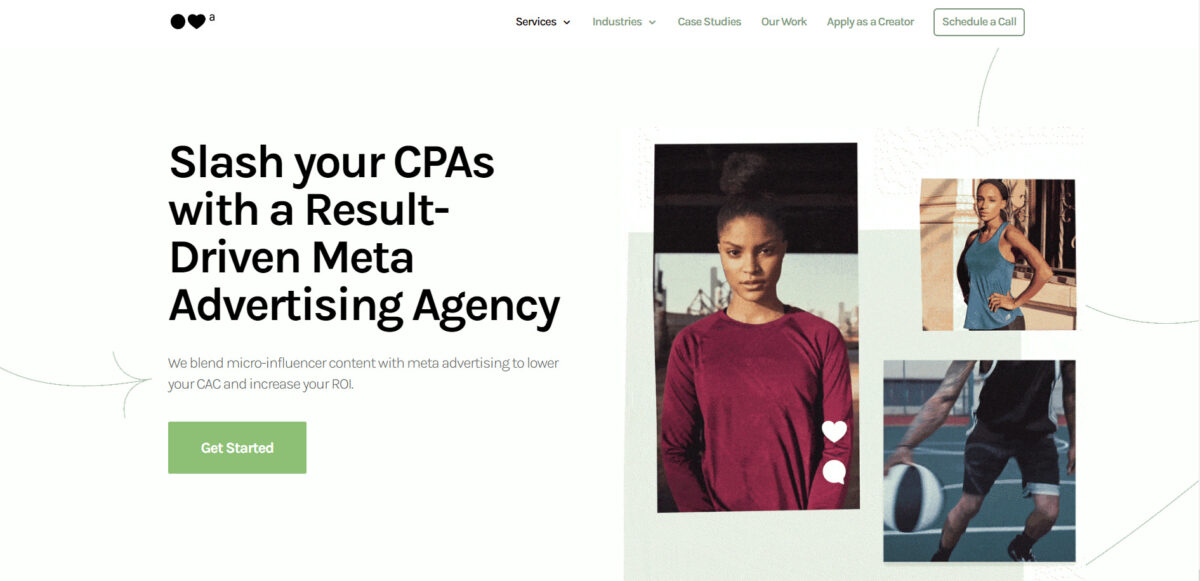 Situated at the heart of New York's dynamic advertising landscape, inBeat Agency has meticulously crafted its niche in influencer marketing. At the agency's core lies a commitment to harnessing the power of a vetted network of creators, seamlessly melding their prowess with inBeat's in-house conversion expertise. This collaborative synergy results in captivating User-Generated Content (UGC) geared towards authentic engagement and maximum conversion.
Diversification is another feather in inBeat's cap. Their expertise isn't restricted to one platform; they have adeptly navigated the realms of Meta and TikTok advertising, providing brands with audience-specific ad targeting. This strategic alignment not only ensures data-driven results and high ROI but also paves the way for the creation of original content that brands can repurpose across varied advertising channels.
Case Study
A testament to their excellence is evident in their notable case studies. One such campaign, "Nordstrom x Wildfang," underscores its capacity to bridge compelling narratives with powerful brand messaging. Catering to diverse industries, from mobile applications to direct-to-consumer markets, inBeat Agency undeniably stands as a beacon for those aiming to scale their brand's advertising footprint with ingenuity and authenticity.
---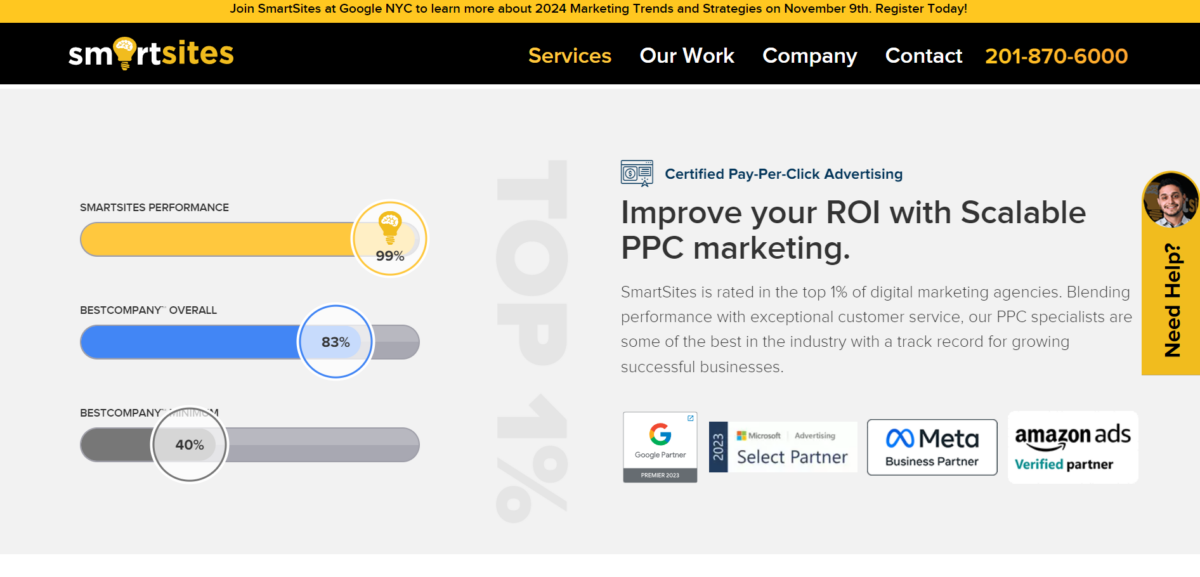 SmartSites stands as a beacon among New York-based advertising agencies, particularly acclaimed for its proficiency in Pay-Per-Click (PPC) management. Distinguished as a Google Premier Partner, Microsoft Advertising Select Partner, and multiple other accolades, the agency boasts credentials that place it in the top 1% of digital advertising agencies worldwide. Emphasizing a blend of technological innovation and data analytics, SmartSites provides clients with detailed, transparent reporting and leverages insights from thousands of PPC campaigns across varied industries. This empowers businesses to make informed decisions, reduce acquisition costs, and consistently outperform competitors.
But SmartSites is more than just a PPC leader. It also offers a comprehensive suite of services, from email marketing to social media strategy, ensuring businesses have a holistic approach to digital growth. With a track record of producing tangible results, SmartSites solidifies its reputation as a go-to digital advertising powerhouse.
Case Study
One of SmartSites' exemplary successes is its collaboration with Classic Audi, a family-owned dealership from Westchester, New York. Faced with the challenges of continuous content updates and strict corporate guidelines, SmartSites tailored an SEO audit, developed directional pages for in-store visits, and crafted strategic PPC campaigns. The result? A staggering 999% increase in conversions, a 999% surge in click-through rates, and a noteworthy 999% decrease in Cost Per Click (CPC).
---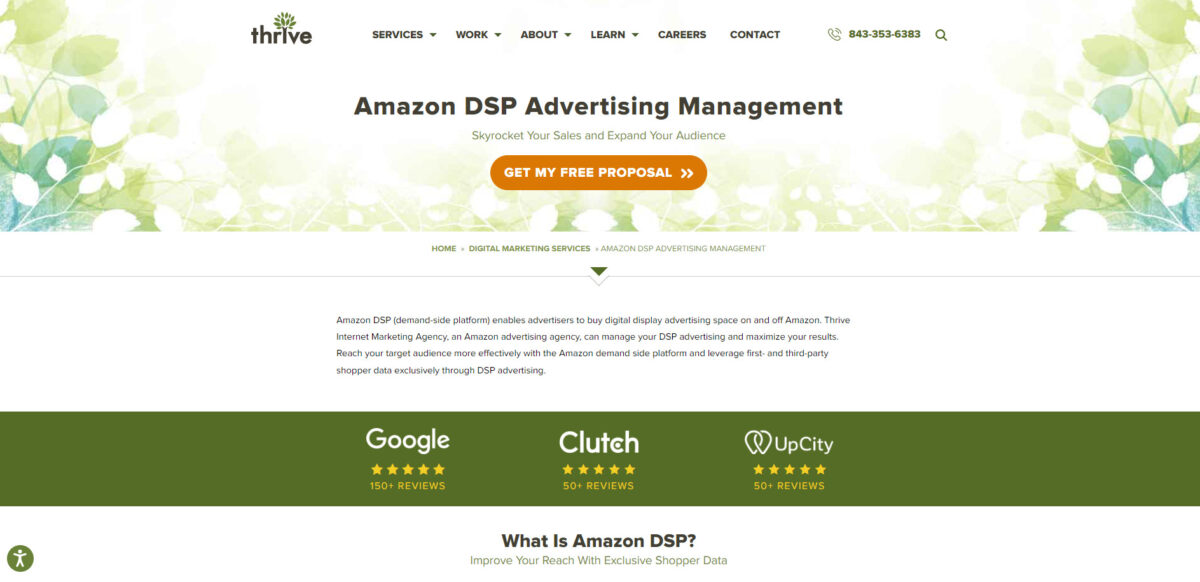 Thrive boasts a sophisticated approach to Amazon DSP (Demand Side Platform) advertising. Beginning with an intricate strategy tailored to individual business goals, Thrive curates unique campaigns that stand out amidst templated ads on Amazon. Their team taps into Amazon's deep reservoir of shopper data, setting them apart from other DSP agencies. With a focus on both ad placement and creative quality, Thrive assures adherence to Amazon's stringent creative guidelines. They employ a comprehensive process: from strategizing, managing the DSP, and continuous optimization based on data-driven insights, making every advertising dollar count.
Beyond Amazon, Thrive extends its expertise to social media, offering an array of services ranging from targeted advertising to content creation and brand management across platforms like Facebook, Instagram, TikTok, and LinkedIn. Their approach combines the management of both organic and paid campaigns, ensuring optimal reach and engagement. 
Case Study
Thrive's adeptness is further exemplified through their collaboration with an online shop based in Southern California. Tasked with the store's paid social media campaign, Thrive managed a remarkable 794% ROI and an 84% surge in Facebook referrals to the client's website, all achieved at a mere $0.15 cost per click. This showcases Thrive's capability to craft high-impact campaigns that deliver tangible results.
---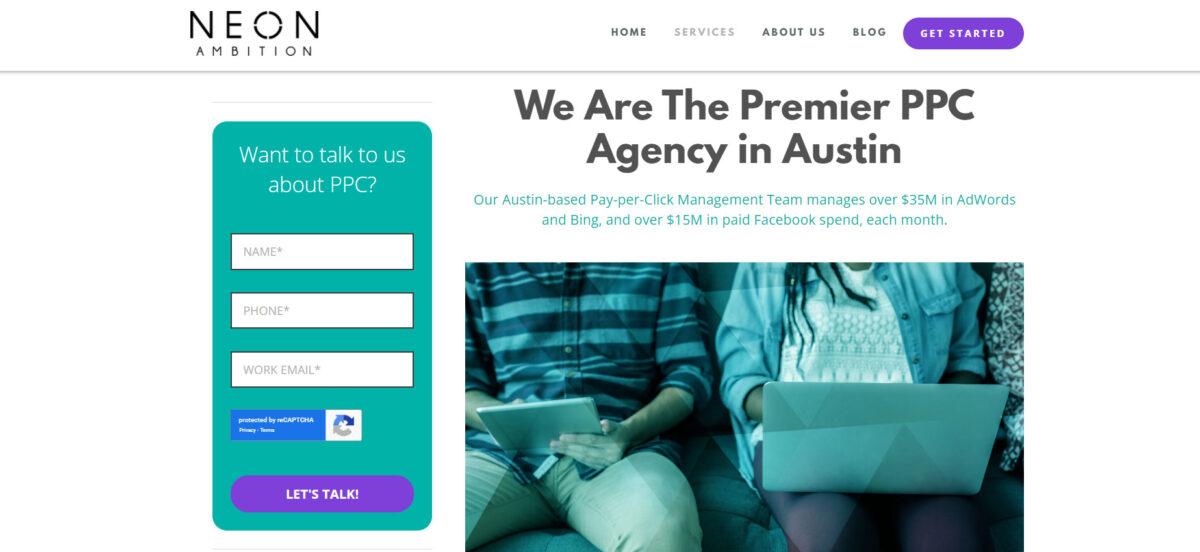 Neon Ambition stakes its claim as a preeminent PPC agency, managing a staggering $35M in AdWords and Bing, and $15M in Facebook paid advertisements monthly. Their renowned Pay-per-Click Management Team harnesses the advantage of managing vast advertising budgets, granting them unparalleled data-driven insights to tailor campaigns for optimal ROI. Beyond just numbers, their proficiency extends to the Gemini (Yahoo ads) platform – presenting businesses with the unparalleled opportunity to engage high-intent audiences precisely when they search for related keywords.
Distinguishing itself on a global scale, Neon Ambition's expertise isn't restricted to New York; their clients' campaigns have spanned over 150 countries and have been executed in more than 10 languages. Their commitment resonates in their approach, treating every client's campaign as their own. Whether it's a fixed monthly budget or one pegged to cost-per-acquisition goals, Neon Ambition promises judicious utilization of every penny, backed by tangible metrics like keyword performance analysis and budget monitoring.
Case Study
A testament to their prowess, the case study for Kissing Tree, Brookfield Residential Community, reveals their proficiency. Kissing Tree lauds Neon Ambition's exemplary management of their expansive AdWords and Facebook campaigns, which resulted in a steady increase in conversions paired with a reduction in cost per conversion. Their New York presence ensures businesses in the city can directly benefit from Neon Ambition's unparalleled advertising expertise.
---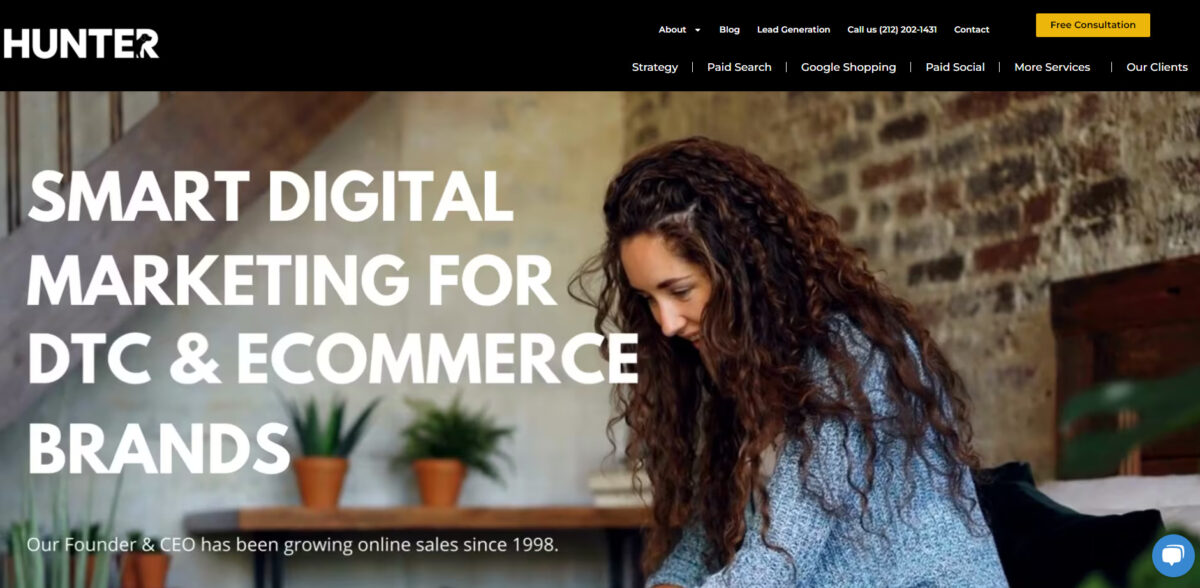 As an esteemed player in the digital advertising arena, Hunter Digital Marketing has cemented its reputation, hailing from the pioneering batch of the first 350 advertisers on Google AdWords. Their impressive experience allows them to optimize Pay-Per-Click (PPC) campaigns like no other. Precision in keyword research, compelling ad copy, and advanced geographical, demographic, and behavioral targeting are the cornerstones of their strategy. 
Hunter's proactive approach to employing AI-powered ads illustrates their commitment to future-driven marketing solutions. Their accolades aren't mere decorations; they are a testament to the agency's consistent world-class results. Hunter is undeniably a force to reckon with in the industry. Their impeccable track record, as highlighted by publications like The Influential and Disrupt Magazine, underscores their capability to foster creativity and innovation and deliver exceptional results.
Case Study
A case in point: Benjamin Bathelot, Marketing Director at Cornilleau, lauds Hunter for its eCommerce & marketing expertise, attributing the agency's strategies to exceeding their online sales goals. Such endorsements reiterate Hunter's relentless drive toward generating tangible business outcomes.
---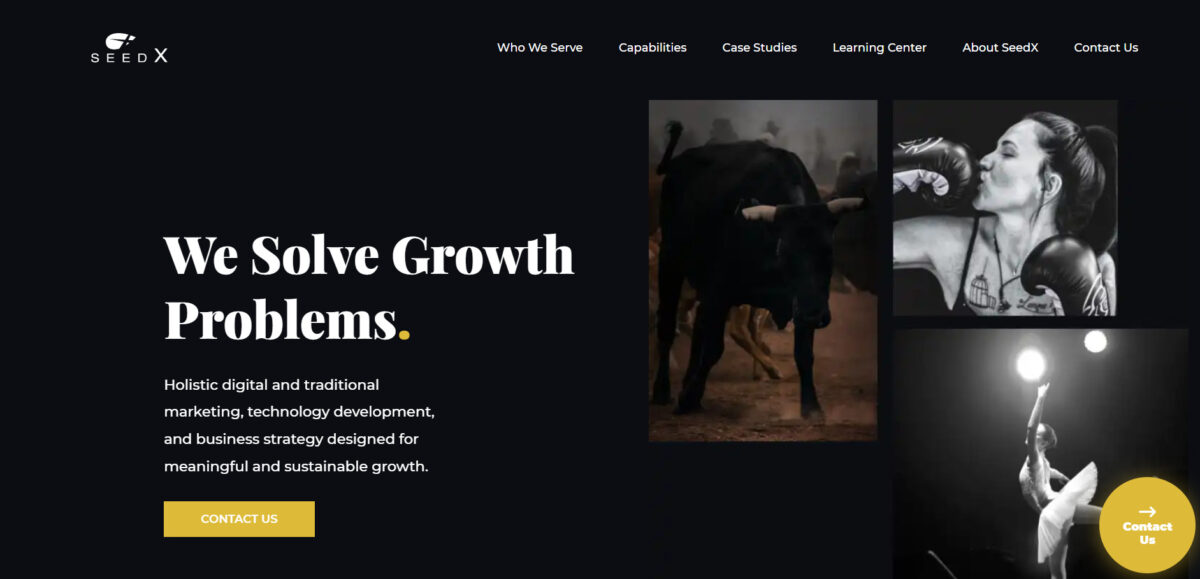 Emerging as a formidable entity in the New York advertising landscape, SeedX specializes in sculpting scalable growth channels for businesses, encompassing a holistic approach that integrates technology, marketing, design, and overarching business strategies. 
SeedX's creative capabilities are comprehensive, spanning from ad creation and written ad copy development to paid media buying. Every effort is intricately tied to tangible KPIs and revenue outcomes. Furthermore, SeedX's technology offerings include web development, server support, CRM automation, and process optimization across the advertising-sales spectrum.
For businesses in search of a synergistic blend of creativity, technology, and marketing finesse, SeedX emerges as a solution-oriented agency. Their adaptive approach, deeply rooted in understanding business imperatives, positions them as a trusted growth partner for diverse sectors ranging from B2B marketing and eCommerce to software solutions and consumer goods. As an emblem of trust, reliability, and innovation, SeedX stands ready to solve challenges and propel New York businesses toward their goals.
---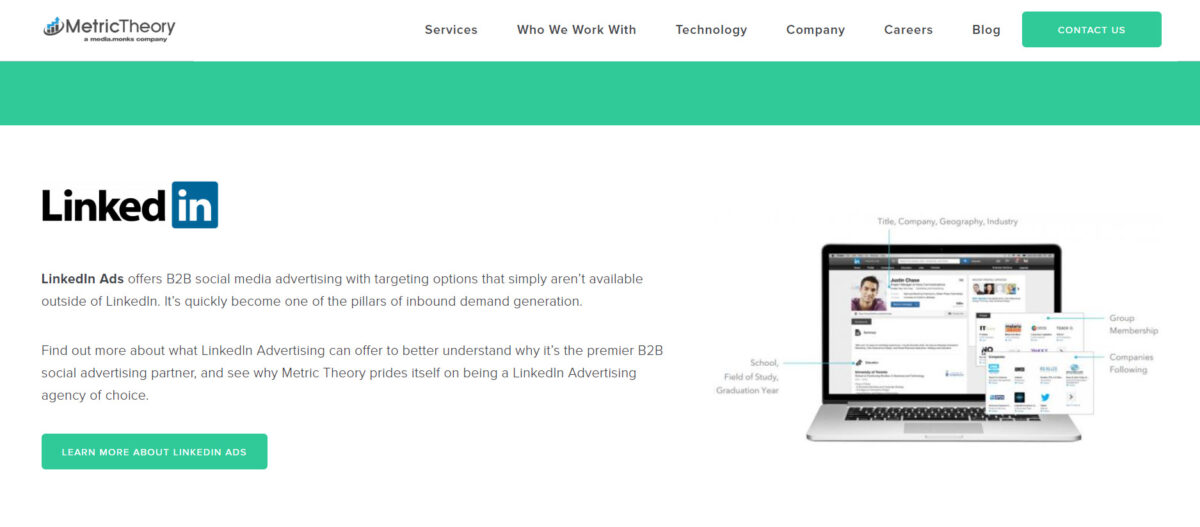 Metric Theory emerges as a vanguard in the New York advertising realm with its expansive suite of services, catering to the multifaceted needs of modern businesses. This agency offers diverse digital solutions, from traditional search and shopping ads to cutting-edge video and mobile advertising techniques. With a unique blend of data-driven strategies and innovative creativity, Metric Theory ensures comprehensive digital visibility for businesses. They seamlessly integrate across multiple channels, a testament to their commitment to evolve in the dynamic digital advertising landscape.
At the heart of Metric Theory's expertise lies their prowess in paid social advertising, a domain now deemed essential for any contemporary business endeavor. Their approach encompasses meticulous ad copy testing, leveraging the robust data infrastructure of platforms like Facebook for precise audience targeting, strategic bid management, and effective remarketing to ensure client messages resonate with the target audience. Notably, their adeptness with LinkedIn Ads solidifies their position as the go-to agency for B2B enterprises aiming for strategic inbound demand generation.
Case Study
One of Metric Theory's exemplary success stories centers on Getaround, a peer-to-peer car rental marketplace. Challenged with the task of attracting individuals willing to rent out their vehicles across various US markets, Metric Theory applied a strategic mix of big data insights and innovative audience targeting. The result? A remarkable 44% growth in Getaround's car supply. This success story, which stood out as a finalist in the Drum Digital Advertising Awards, underlines Metric Theory's commitment to employing data-driven solutions tailored to specific client needs and objectives.
---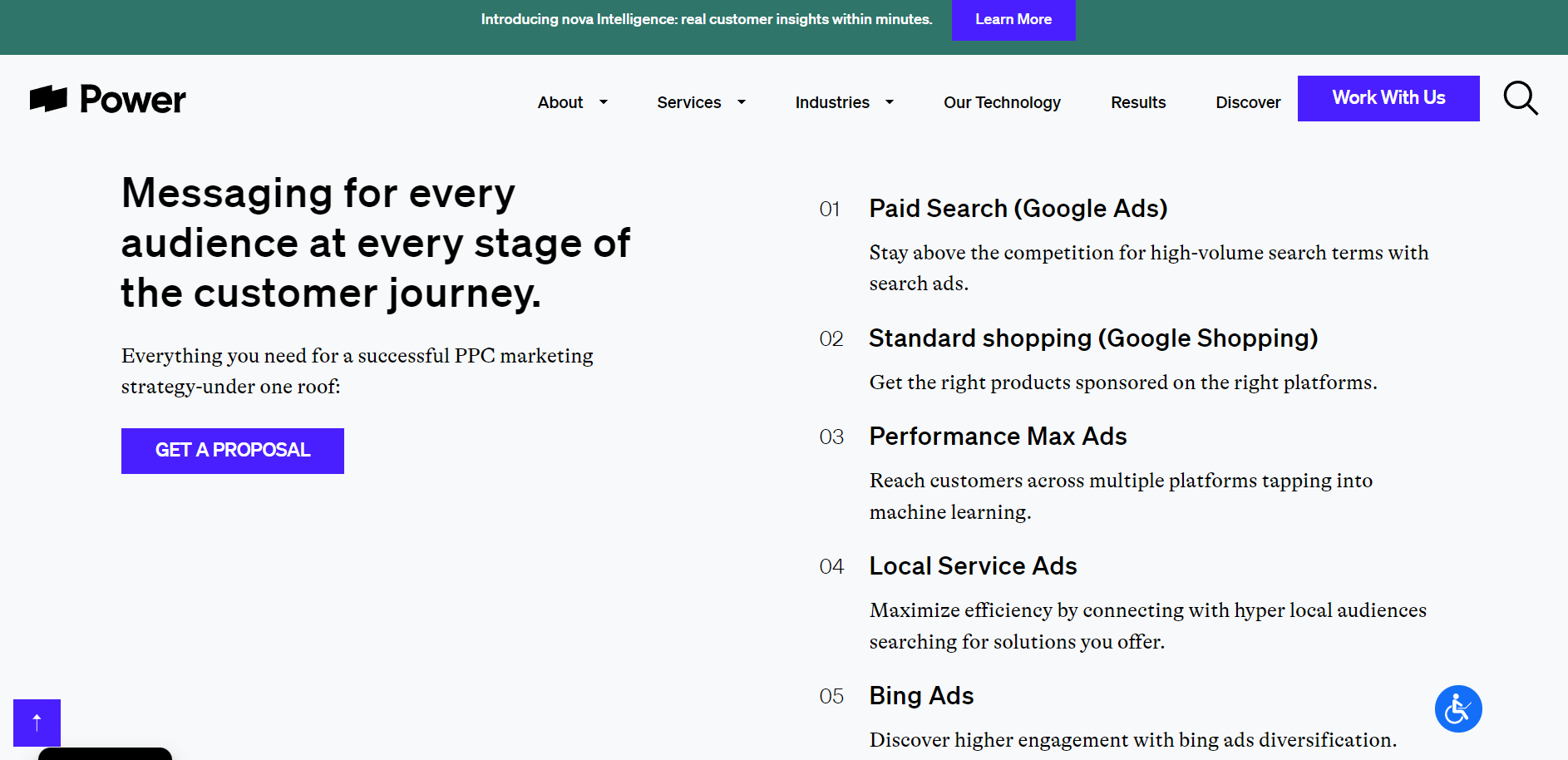 Recognized for its prowess in the realm of PPC, Power Digital Marketing firmly anchors its strategies in over a decade of rich advertising experience, having served over 300 clients across myriad industries. Their comprehensive suite encompasses services ranging from Paid Search (Google Ads) and YouTube advertising to programmatic advertising and Amazon marketing. Remarkably, Power Digital transcends mere ad placements. Their services promise increased brand visibility, reduced customer acquisition costs, and a tangible surge in revenue, all while ensuring cost efficiency.
Central to their operational framework is a robust four-step process: a meticulous pre-contract analysis, a tailored marketing strategy formulation, an agile implementation phase, and a consistent feedback loop for result refinement. This systematic approach ensures clients enjoy increased revenue as campaigns are perpetually optimized.
But their commitment to innovation and adaptability truly sets Power Digital apart in the bustling New York ad scene. Their proprietary technology powers informed and scalable PPC strategies backed by actionable data. While many tread lightly on emerging platforms, Power Digital flaunts expertise in areas like connected TV. Their dedication to remaining nimble and aligned with audience shifts guarantees that their marketing strategies remain ever-relevant and impactful.
---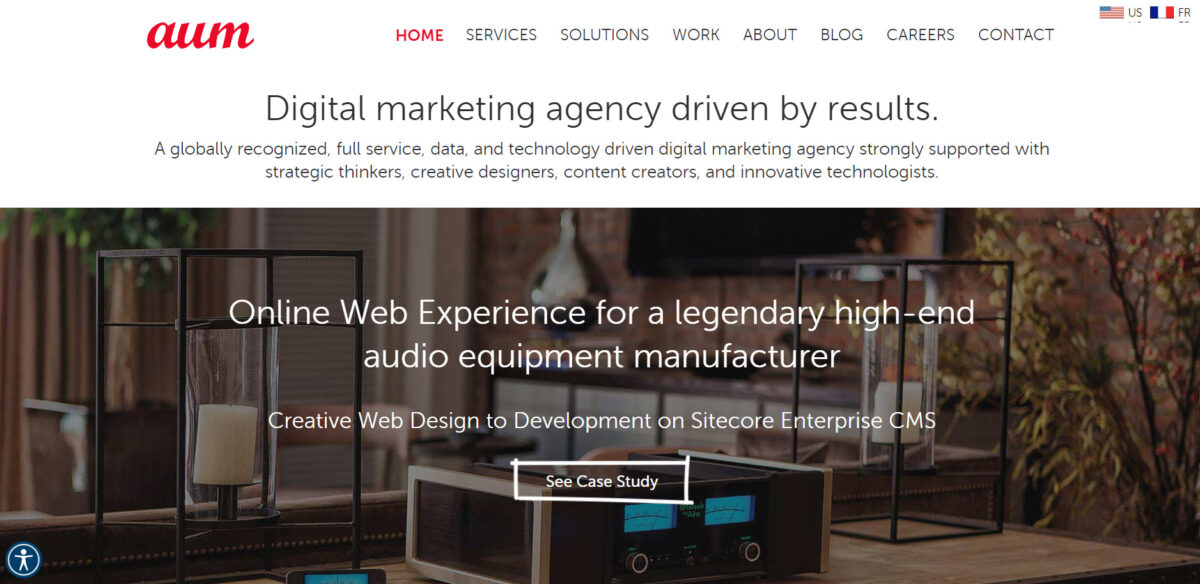 Operating as a leading light in the domain of PPC management, Aumcore's expertise seamlessly melds advanced PPC services with a singular vision: driving business growth and maximizing ROI. Their sophisticated approach pivots on an in-depth comprehension of digital advertising where businesses gain prime visibility on top search engine slots, consequently enhancing brand reach and garnering an immediate response. Emphasizing the potency of targeted keywords and strategically crafted ad copy, Aumcore employs PPC to complement broader digital marketing efforts, enabling synergies with search engine optimization to bolster early traffic influx.
Aumcore's modus operandi extends beyond mere campaign conceptualization. Following thorough research into a business's unique needs, they craft tailored strategies, execution blueprints, and reporting matrices to ensure an unparalleled ROI. Their extensive repertoire includes managing platforms such as Google Ads, Microsoft Advertising, YouTube Advertising, and Google Shopping Ads, among others. Remarketing, targeted audience campaigns, and continual optimization of existing PPC campaigns underline their commitment to driving leads, surging traffic, and engendering brand resonance.
With myriad benefits spanning instantaneous results, meticulous cost management, and data-driven SEO enhancement, Aumcore's PPC services stand as a beacon for businesses seeking impactful audience engagement. Their unparalleled approach promises businesses a captivating journey from first click to conversion, exemplifying why they reign supreme in the bustling New York advertising arena.
---
---
Performance Metrics of New York's Leading Advertising Agencies
In evaluating the effectiveness and reach of advertising agencies, performance metrics play a crucial role. They not only reflect an agency's capabilities but also signify the potential impact they can bring to a brand's marketing strategies. Therefore, it's essential to consider the numeric evidence of New York agencies' success and industry impact. 
In 2023, the advertising industry saw a notable uptick, with the estimated total ad expenditure reaching a whopping $278.59 billion. New York, often regarded as the advertising capital of the world, significantly contributes to these figures with its myriad of top-tier agencies. This makes sense as,  according to Ibis World, New York is one of three states with the highest concentration of advertising agencies.
The ROI (Return on Investment), CTR (Click Through Rate), and the overall campaign success rates are some of the vital metrics that demonstrate an agency's performance. Additionally, client retention rates and the number of awards or recognitions received are indicative of an agency's quality and reliability. The agencies listed in this review have showcased exemplary performance in these metrics, thereby validating their inclusion in the top 10.
Furthermore, the breadth of services, the scale of campaigns managed, and these agencies' continuous utilization of new tech and trends reflect their capacity to handle varied advertising needs. The advertising trends in 2023, as seen during Advertising Week New York, highlighted the focus on retail media, AI, and social media transformation, shedding light on the evolving advertising platforms and the innovative approaches adopted by New York's leading agencies​.
---
Conclusion
The New York advertising realm continues to blossom. The city's top 10 advertising agencies, as discussed, exhibit mastery in diverse advertising mediums, ingeniously steering campaigns toward measurable success. Their strategic foresight, coupled with a holistic approach, empowers brands to not only navigate the digital tide but also significantly impact market dynamics. 
As digital ad spending propels forward, these agencies' relentless pursuit of innovation and result-driven strategies place them at the vanguard of the advertising domain, substantiating New York's stance as a pivotal advertising hub.
Frequently Asked Questions
What types of advertising mediums do these top 10 New York agencies specialize in?
The top 10 advertising agencies in New York exhibit expertise across a variety of advertising mediums, including digital, print, social media, outdoor, and television advertising. Their specializations encompass a broad spectrum, ensuring they can cater to diverse marketing needs.
How do these agencies measure the success of their advertising campaigns?
Success measurement is a critical aspect of advertising campaigns managed by these top agencies. Common metrics include Return on Investment (ROI), Click Through Rates (CTR), engagement rates, lead generation, and conversion rates. Additionally, client feedback and market response play significant roles in evaluating campaign success.
What is the average cost of engaging one of these top advertising agencies in New York?
The cost of engaging a top advertising agency in New York can vary widely based on several factors, including the project's scope, the services required, and the agency's pricing model. It's advisable to reach out to these agencies directly for a customized quote based on your specific advertising needs.
How do these agencies stay updated with the evolving advertising trends and technologies?
Continuous learning, industry engagement, and investment in modern technologies are common practices among these top agencies. They often participate in industry forums, workshops, and certifications to stay abreast of the latest advertising trends, technologies, and best practices.
Do these top New York advertising agencies work with international clients?
Many of the top advertising agencies in New York have a global clientele and are equipped to handle advertising campaigns that span across different regions and markets. Their extensive experience and global perspective enable them to craft advertising strategies that resonate on a global scale.