Advertising Disclosure
Advertising disclosure:
Our partners compensate us. This may influence which products or services we review (also where and how those products appear on the site), this in no way affects our recommendations or the advice we offer. Our reviews are based on years of experience and countless hours of research. Our partners cannot pay us to guarantee favorable reviews of their products or services.
The automotive industry has experienced significant transformations in recent years, with the rise of electric vehicles, autonomous driving technology, and changing consumer preferences. In this fast-paced and competitive environment, businesses need to stay on top of their marketing game to reach potential customers, build brand awareness, and drive sales. This is where automotive marketing agencies come in, offering tailored solutions to help businesses succeed in this dynamic landscape.
Automotive marketing agencies specialize in creating and implementing strategic marketing campaigns for car dealerships, manufacturers, parts suppliers, and other businesses in the automotive industry. They use a range of digital marketing techniques, including search engine optimization (SEO), pay-per-click (PPC) advertising, social media marketing, and content creation, to connect with customers and drive conversions.
When it comes to selecting the right partner for your marketing needs, whether you're seeking a general marketing agency or a specialized automotive marketing agency, the decision can be overwhelming. There are many factors to consider, including the agency's track record, expertise, and range of services offered. To help you in your decision-making process, we have compiled a list of the top automotive marketing agencies in 2023, based on their reputation, client success stories, and core services.
---
Top Automotive Marketing Agencies Driving Auto Industry Success:
Without further ado, let's dive into our top picks for the best automotive marketing agencies for your business.
Top
automotive marketing agencies
2024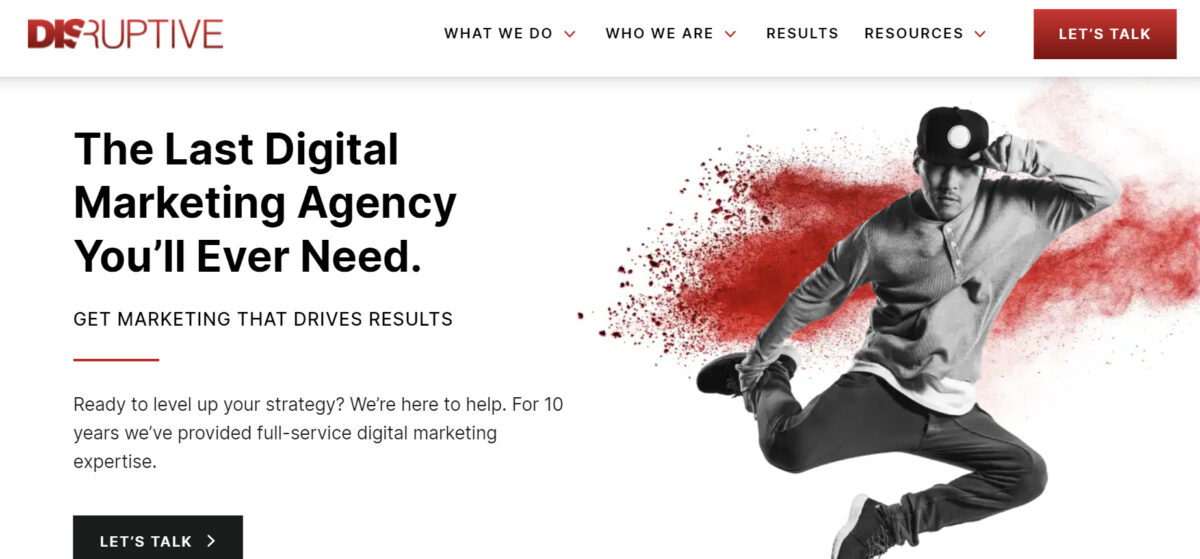 As a premier automotive marketing agency, Disruptive Advertising has achieved prominence by adeptly managing vast advertising budgets for their clientele. They've refined their marketing techniques, focusing on crucial aspects like targeting, timing, and tracking to consistently deliver remarkable outcomes. With their profound understanding of automotive marketing, Disruptive Advertising has emerged as a go-to partner for companies striving to broaden their customer base and enhance sales. Clients collaborating with Disruptive Advertising can anticipate data-centric strategies and a devoted team committed to optimizing their automotive market investments.
Services:
Paid Search
Amazon Advertising
Lead Generation
SEO
Lifecycle Marketing
eCommerce
Paid Social
Creative Services
---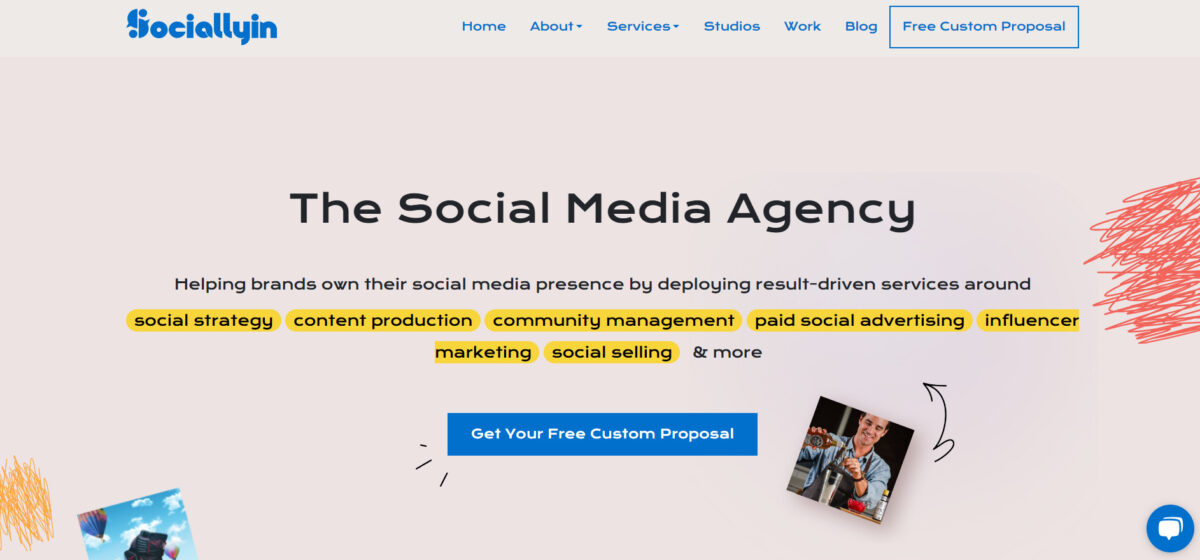 Renowned for its social media expertise, Sociallyin is a distinguished agency and production studio, working alongside more than 200 global brands to craft engaging, high-caliber social media content. Their geographically diverse team operates from four locations across the United States, and they're dedicated to assisting businesses in connecting with their target audience, narrating their unique stories, and achieving remarkable results. Sociallyin, a minority-owned company, champions diverse viewpoints and empowers clients and team members alike. Collaborating with Sociallyin ensures automotive industry clients a partner who comprehends the significance of social media in today's market and is dedicated to their success.
Services:
Social Media Strategy
Social Media Management
Community Management & Listening
Influencer Marketing
Social Selling
Data Analysis & ROI Modeling
Paid Social Advertising
Content Production
---

SmartSites, a renowned digital marketing agency, specializes in helping automotive businesses grow through tailored online marketing strategies. They have a stellar history of delivering outstanding results for car dealerships and other automotive companies, offering comprehensive services like website design and PPC marketing. Collaborating with SmartSites gives clients the advantage of working with experienced industry professionals who elevate their brand and drive growth in the competitive automotive market.
A case study of Time Auto Parts demonstrates SmartSites' proficiency. Faced with data consolidation and display challenges, Time Auto Parts benefited from SmartSites' expertise, leading to a 73% increase in total site traffic and a 23% increase in average time spent on the site.
Services:
Automotive Marketing
Website Design for Automotive
Search Engine Optimization for Automotive
Pay Per Click Marketing for Automotive
---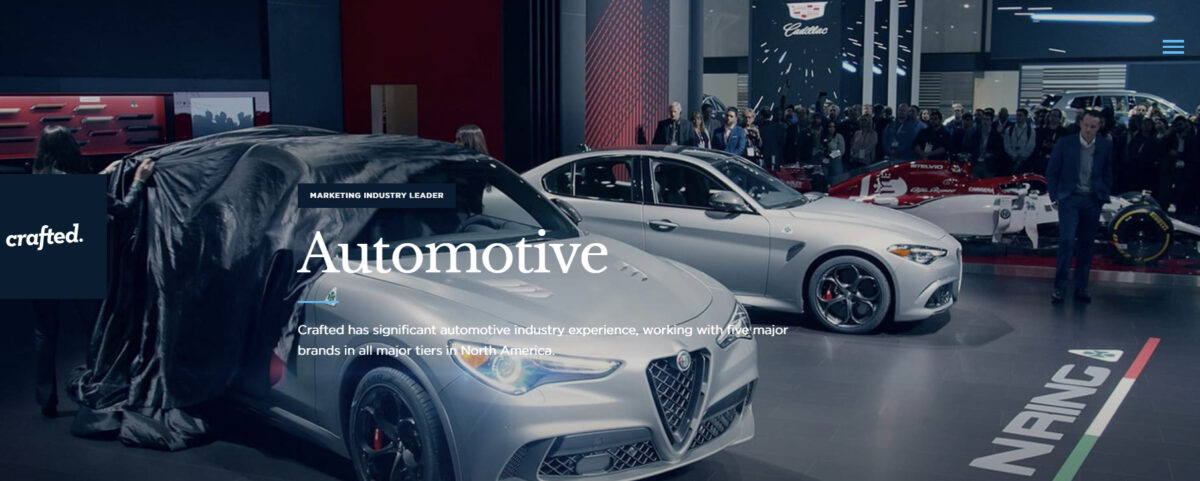 Headquartered in NYC, Crafted Automotive is a distinguished creative agency possessing extensive experience within the automotive sector. They have partnered with leading brands such as BMW, Toyota, Nissan, Lexus, and Rolls-Royce, skillfully launching worldwide campaigns, debuting new models, and investigating the future of mobility. Garnering numerous awards from esteemed organizations, Crafted Automotive stands as an exceptional choice for businesses seeking a seasoned partner in the automotive domain. Engaging with Crafted Automotive offers clients the expertise of a team with a proven history of delivering extraordinary results and earning industry-wide acclaim.
Services:
Global Campaigns
National Campaigns
Regional Campaigns
Automotive Digital Marketing
---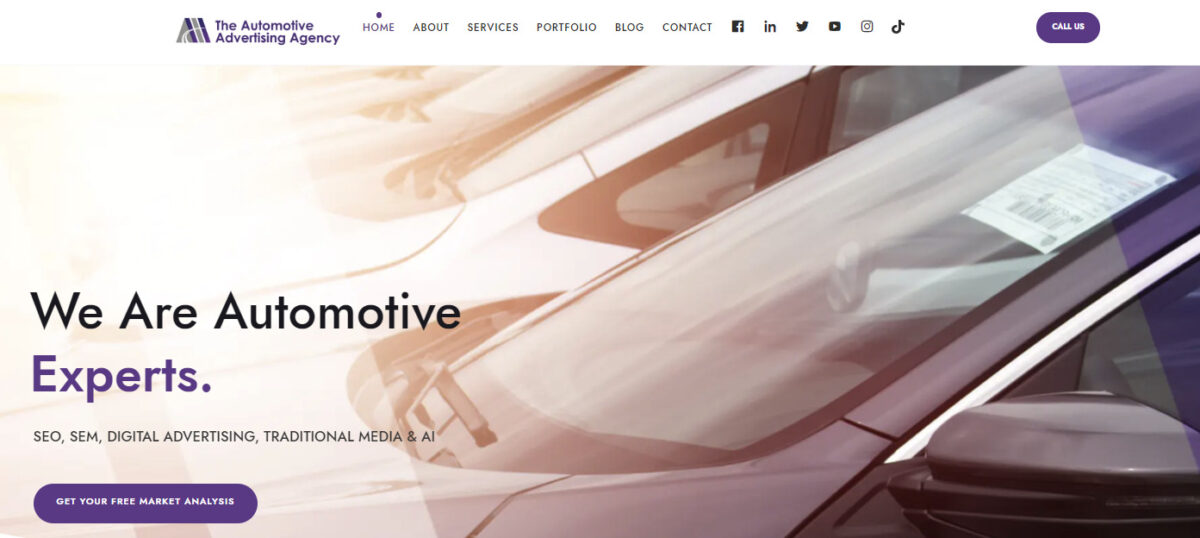 The Automotive Advertising Agency, a trailblazing AI-driven automotive advertising agency, is devoted exclusively to the automotive industry. Their proficiency encompasses both new and pre-owned segments, delivering strategic marketing and advertising solutions through a blend of traditional and digital media channels. Utilizing an all-encompassing approach, they integrate market analytics, compelling creative, and customized social media management to effectively captivate customers and fuel sales. Numerous positive client testimonials in the automotive industry vouch for The Automotive Advertising Agency as a dependable choice for businesses in search of a full-service, inventive, and multicultural ad agency attuned to the automotive sector's distinct requirements.
Services:
SEO
Traditional Media
Search Engine Marketing
Creative
---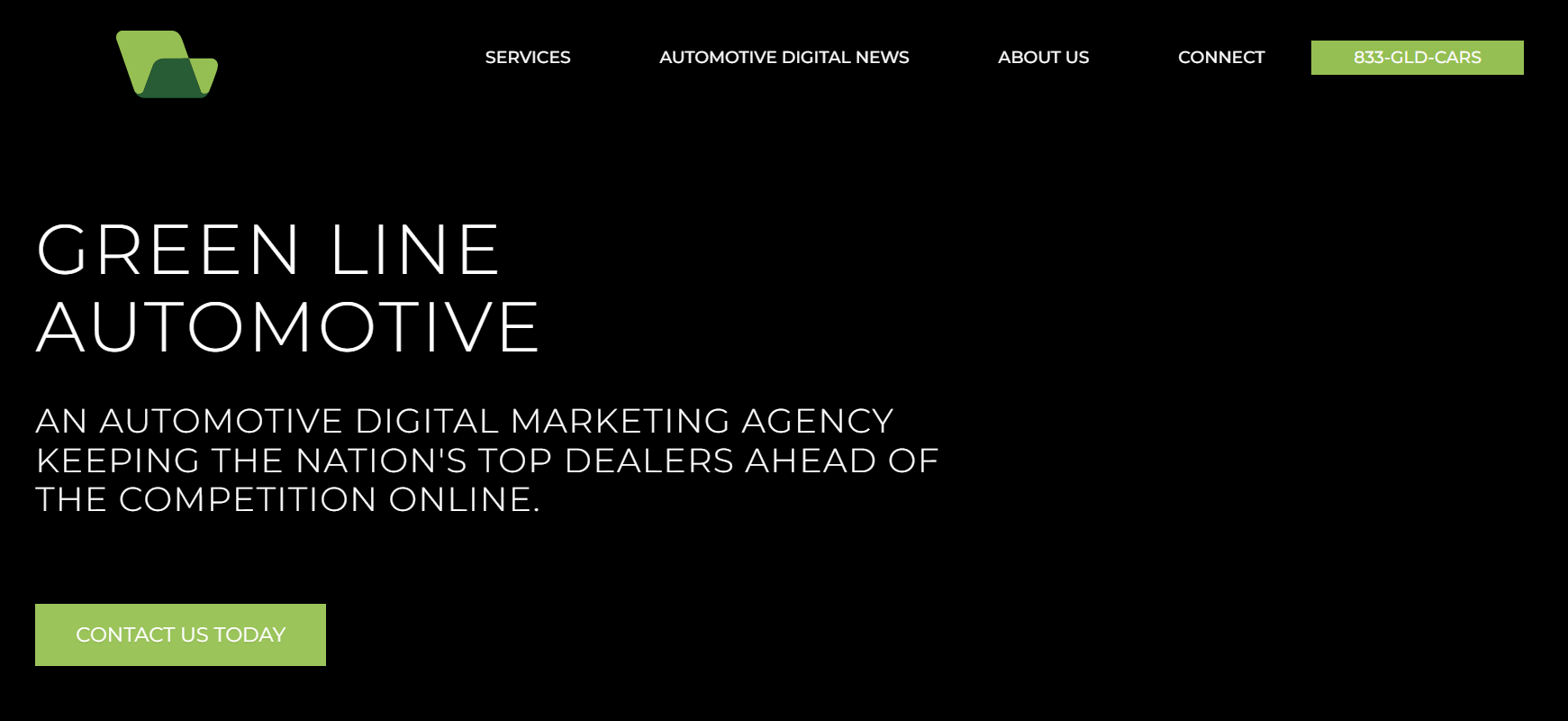 Green Line Automotive, a digital advertising agency, concentrates solely on the automotive industry. They fuse industry know-how with cutting-edge technology to yield tangible outcomes without any hidden costs. Their bespoke automotive digital strategy caters to each client's specific requirements, positioning them as a favored choice for businesses in the automotive field. Green Line Automotive sets itself apart by offering expertise, proprietary technology, personalized approaches, and transparent services. Their commitment to comprehending each business's nuances and providing tailored solutions makes them an ideal choice for automotive firms seeking a dedicated digital ad agency.
Services:
Paid Search
Paid Social Media
Organic Social Media
Search Engine Optimization
Vehicle Ads
Streaming Video
Creative
Reporting + Data Analytics
---

CBM, a strategic marketing agency, excels in the global automotive industry. Their profound understanding of the international automotive landscape enables them to provide market insights, devise marketing strategies, and carry out targeted brand communications. This expertise assists automotive companies in tackling intricate marketing challenges and adapting to industry disruptions. Demonstrating success in launching brands, vehicles, and bringing products to market for companies worldwide, CBM ensures clients receive customized strategies to overcome marketing hurdles and attain growth in the global automotive market.
Services:
Brand development
Brand management
Automotive brand launches
Automotive event marketing
International marketing for motorsports and automotive
---

Cerious Productions, a Las Vegas-based video production company, specializes in automotive, corporate, and trade show convention video services. Alongside managing social media accounts, developing websites, and crafting brand campaigns, they offer a diverse range of video production services adapted to each client's distinctive needs. With over 15 years of experience in Las Vegas, Cerious Productions has partnered with a varied clientele, including Mercedes Benz, Pepsi, and HGTV. Collaborating with Cerious Productions ensures clients access to a team that produces top-tier video content and imaginative solutions, enhancing their brand and engaging their target audiences.
Services:
Automotive cinematography
Trade show and convention filming
Corporate video production
Las Vegas drone photography
Social media management
Website development
Brand campaigns
---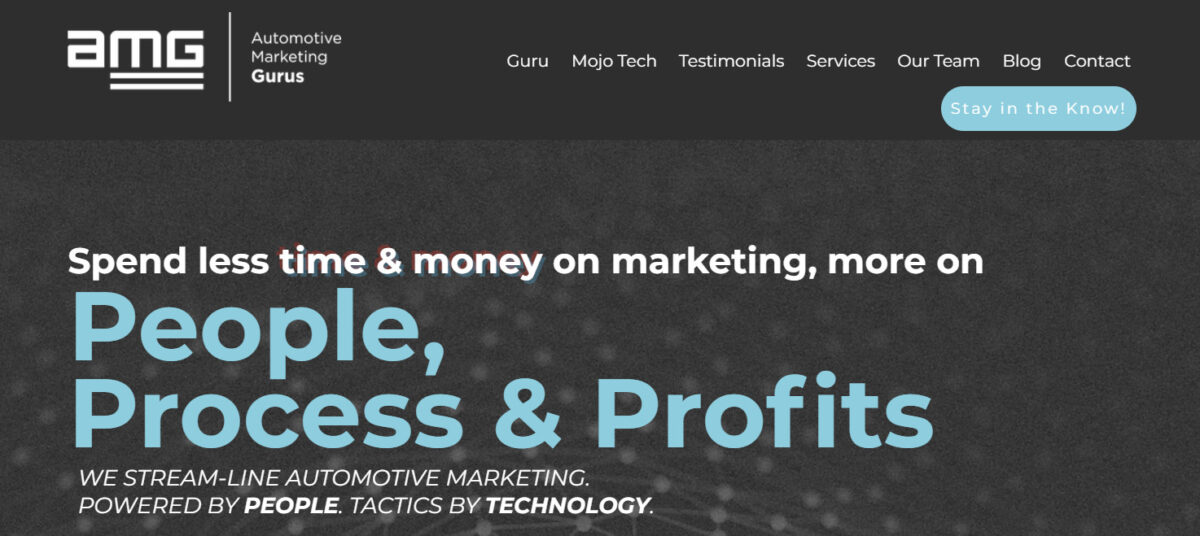 Automotive Marketing Gurus (AMG) is a non-traditional advertising agency that employs their MOJO partner platform and process to streamline automotive marketing strategy, reporting, alignment, and efforts. With experience working with top automotive groups, individual dealers, and numerous vendors in the automotive marketing space, AMG is a true expert in the field. Their primary goal is to improve vendor relationships and performance while saving time and money for their clients. By choosing Automotive Marketing Gurus, clients gain access to a team that understands the intricacies of the automotive marketing landscape and is committed to optimizing their marketing efforts for maximum efficiency and return on investment.
Services:
Coop programs
CRM management
Direct mail campaigns
Email marketing
Traditional advertising
Third-party lead providers
Video marketing
Website development
---

As a trailblazer in the realm of automotive marketing, Alioze specializes in providing cutting-edge solutions to professionals in the industry. With a strong UK & International presence, this agency is committed to helping businesses enhance their communication, refine their positioning, and accelerate growth. Alioze's expertise spans a wide array of services tailored to the needs of car dealerships, manufacturers, and other automotive stakeholders. Their comprehensive approach covers communication strategy, web production, and traffic acquisition, ensuring clients receive the support they need to make a lasting impact.
Services:
Communication Strategy
Web Production
Traffic Acquisition
---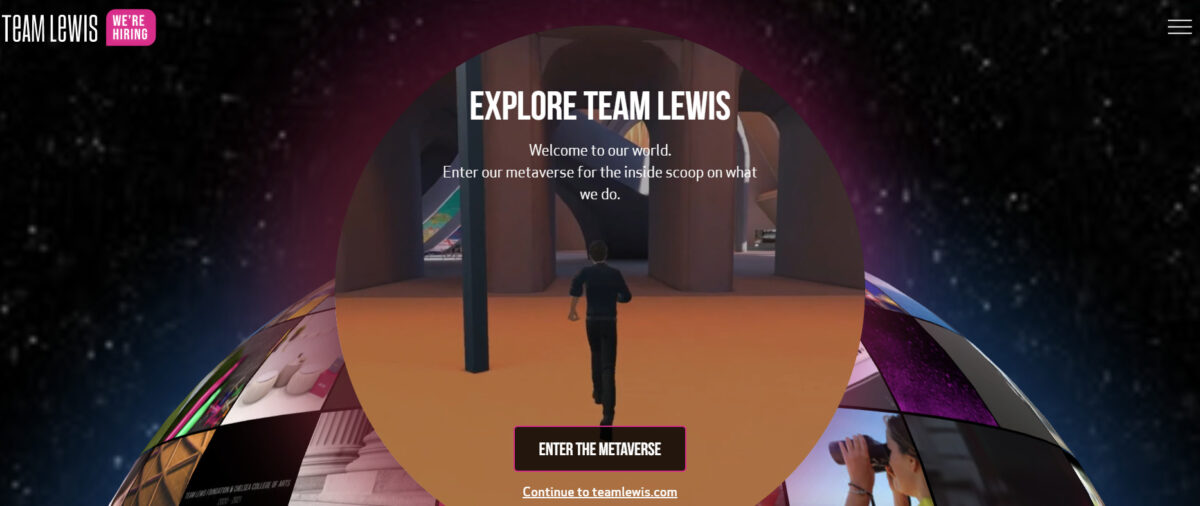 Adopting a novel approach to automotive marketing, Team Lewis is an international agency that empowers businesses to think differently and overcome industry challenges. With a presence in 14 countries, they offer a wealth of regional insights and extensive media resources for clients' campaigns across various regions. Team Lewis focuses on addressing the complex obstacles automotive brands face, from rapid innovation cycles and emerging competitors to disruptive business models and evolving mobility concepts. Their tailored services are designed to guide clients through the ever-changing landscape of the automotive industry, ensuring success and long-term growth.
Services:
Global Awareness
Expert Positioning
Social Media Management
---

Omni Advertising is a results-focused, full-service digital marketing agency that thrives on driving success for automotive businesses. With over $1 billion in media placed, they currently work with over 300 dealers and represent 10 of the top 25 volume Honda dealers. Their comprehensive approach combines creative and media teams with direct dealer strategy collaboration, ensuring seamless integration of marketing efforts. Omni Advertising's performance-based marketing strategy focuses on targeting decisions derived from real-time results of top-performing campaigns. Their data-driven approach optimizes inventory and audiences by using insights from thousands of sources and dealerships across the country. With a commitment to driving outcomes that have a visible impact on the bottom line, Omni Advertising is an excellent choice for businesses seeking an agency that excels in automotive marketing.
Services:
Audience Creation
Dynamic Inventory Optimization
Attribution Modeling
Campaign Activation
Analysis & Accountability
Sales & Service Solutions
---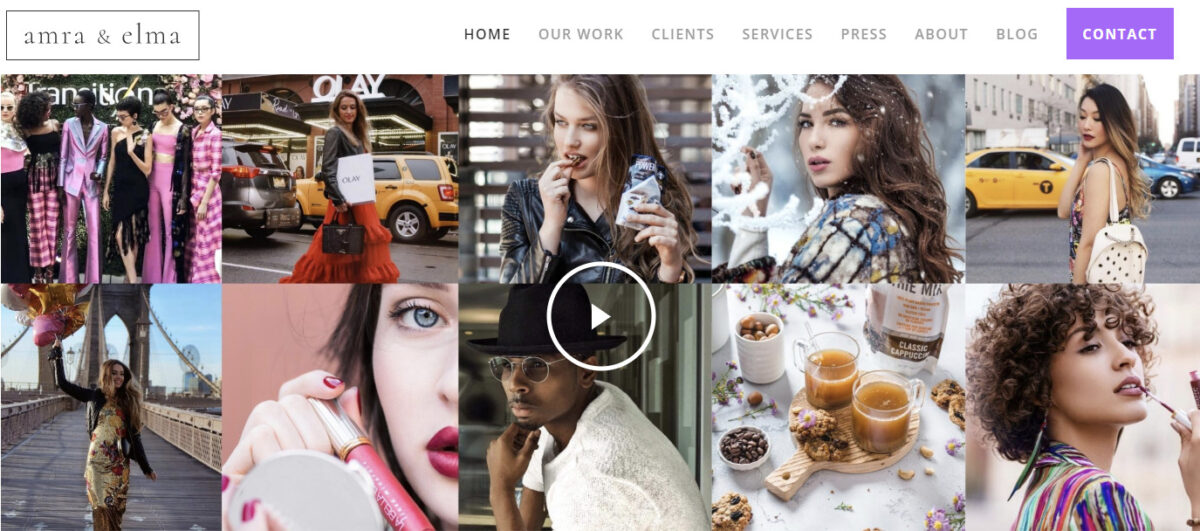 Amra & Elma is a leading automotive digital marketing agency with a wide range of core capabilities. Their data-driven approach helps automotive brands achieve faster and higher returns on investment, generate quality leads, and enhance brand recognition. Amra & Elma specializes in media buying, SEO, influencer marketing, public relations, social media management, content development, and branding. Their media buying strategy utilizes thorough research and analytics to maximize advertising budgets and accomplish critical campaign objectives. Amra & Elma's SEO services focus on optimizing website pages to improve search engine rankings and generate organic traffic. They also excel in influencer marketing, partnering with influential automotive advocates to promote brands on social media platforms.
Services:
Media Buying
Search Engine Optimization
Influencer Marketing
Public Relations
Social Media Management
Content Development
Branding
---
Frequently Asked Questions
What services do automotive marketing agencies typically offer?
Automotive marketing agencies typically provide a wide range of services to help automotive businesses grow and reach their target audience. These services may include digital marketing strategies, such as search engine optimization (SEO), pay-per-click (PPC) advertising, social media management, content marketing, and email marketing. Additionally, they may offer traditional marketing services like print, radio, and television advertising, as well as public relations, event marketing, and branding services.
How do automotive marketing agencies help businesses in the industry?
Automotive marketing agencies specialize in understanding the unique needs and challenges of the automotive industry. They help businesses by developing tailored marketing strategies that effectively reach and engage their target audience, drive leads, and increase sales. By leveraging industry expertise and data-driven insights, these agencies can create marketing campaigns that resonate with potential customers and build brand awareness, helping automotive businesses stay competitive in a rapidly evolving market.
What should I look for when choosing an automotive marketing agency?
When selecting an automotive marketing agency, consider the following factors: industry experience, range of services offered, proven track record, client testimonials, and the agency's approach to collaboration and communication. It's essential to find an agency that understands the unique needs of the automotive industry and has experience working with businesses similar to yours. Additionally, ensure that the agency offers the specific services you require and has a demonstrated history of delivering successful results for their clients.
How can automotive marketing agencies help with online reputation management?
Automotive marketing agencies can assist with online reputation management by monitoring and managing your brand's online presence. They can track customer reviews, social media mentions, and other online interactions to ensure that your brand is being represented positively and accurately. By addressing negative feedback and promoting positive experiences, these agencies can help improve your online reputation, resulting in increased trust and credibility among potential customers.
How do automotive marketing agencies measure the success of their campaigns?
Automotive marketing agencies typically use various key performance indicators (KPIs) to measure the success of their campaigns. These KPIs may include metrics such as website traffic, lead generation, conversion rates, social media engagement, click-through rates, and return on investment (ROI). By tracking and analyzing these metrics, agencies can determine the effectiveness of their marketing strategies and make data-driven decisions to optimize campaigns for better results.
How much does it cost to work with an automotive marketing agency?
The cost of working with an automotive marketing agency can vary greatly depending on factors such as the size of the agency, the scope of services required, and the duration of the engagement. Some agencies may charge a flat fee for specific services, while others may offer pricing based on a retainer or a performance-based model. It's essential to discuss your budget and marketing needs with potential agencies to find a solution that aligns with your business goals and financial constraints.