In 2022, three of the biggest auction houses turned to something less conventional - non-fungible tokens (aka NFTs). And, by the look of the results, the demand for digital art is definitely there.
If you're wondering who would spend money on buying NFTs, let alone millions of dollars, it's not just so-called "super fans". Instead, it's anyone from collectors to individuals, who are searching for a way to earn higher profits, that are impacting the role of NFTs on the creator economy and empowering creators to earn millions from merely a single piece of work. Without further ado, here are the stars of this article – 14 of the most expensive NFTs ever to be sold.
---
14 of the Most Expensive NFTs Ever Sold:
---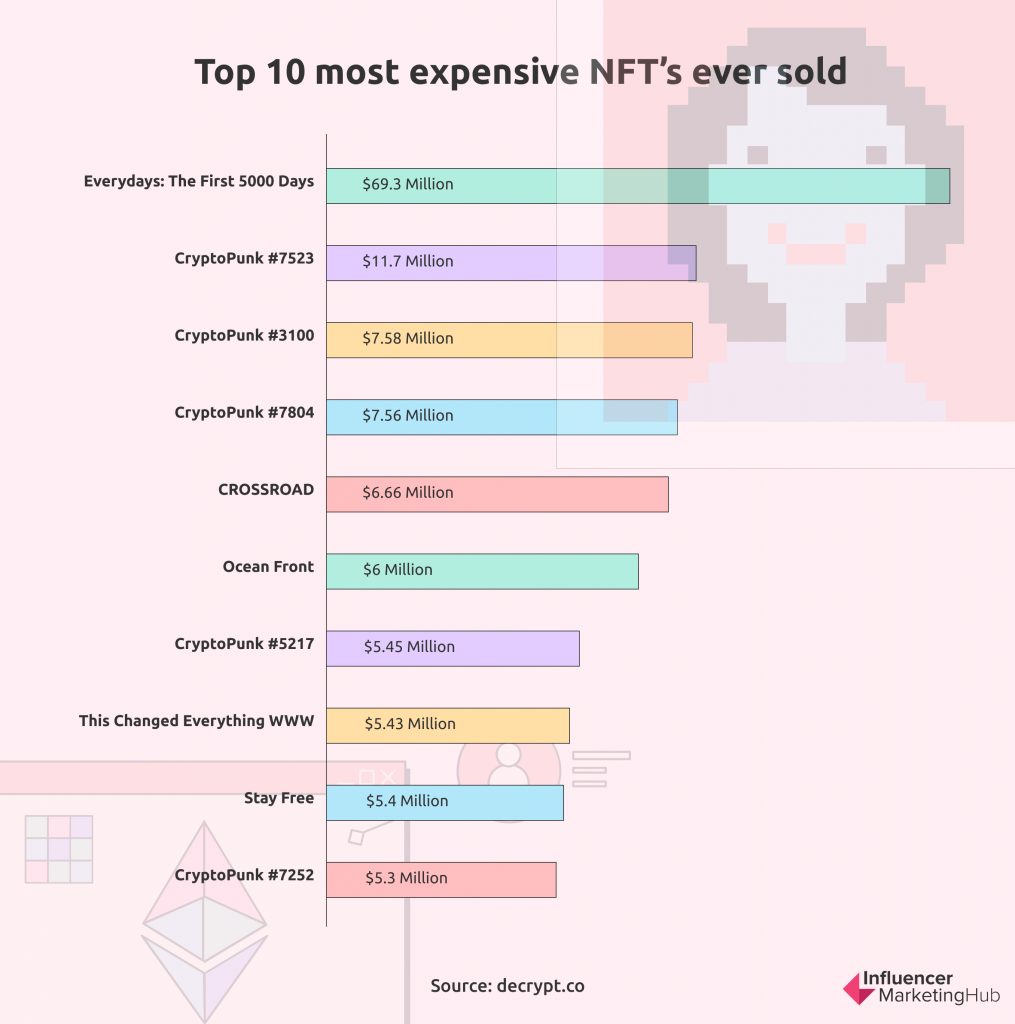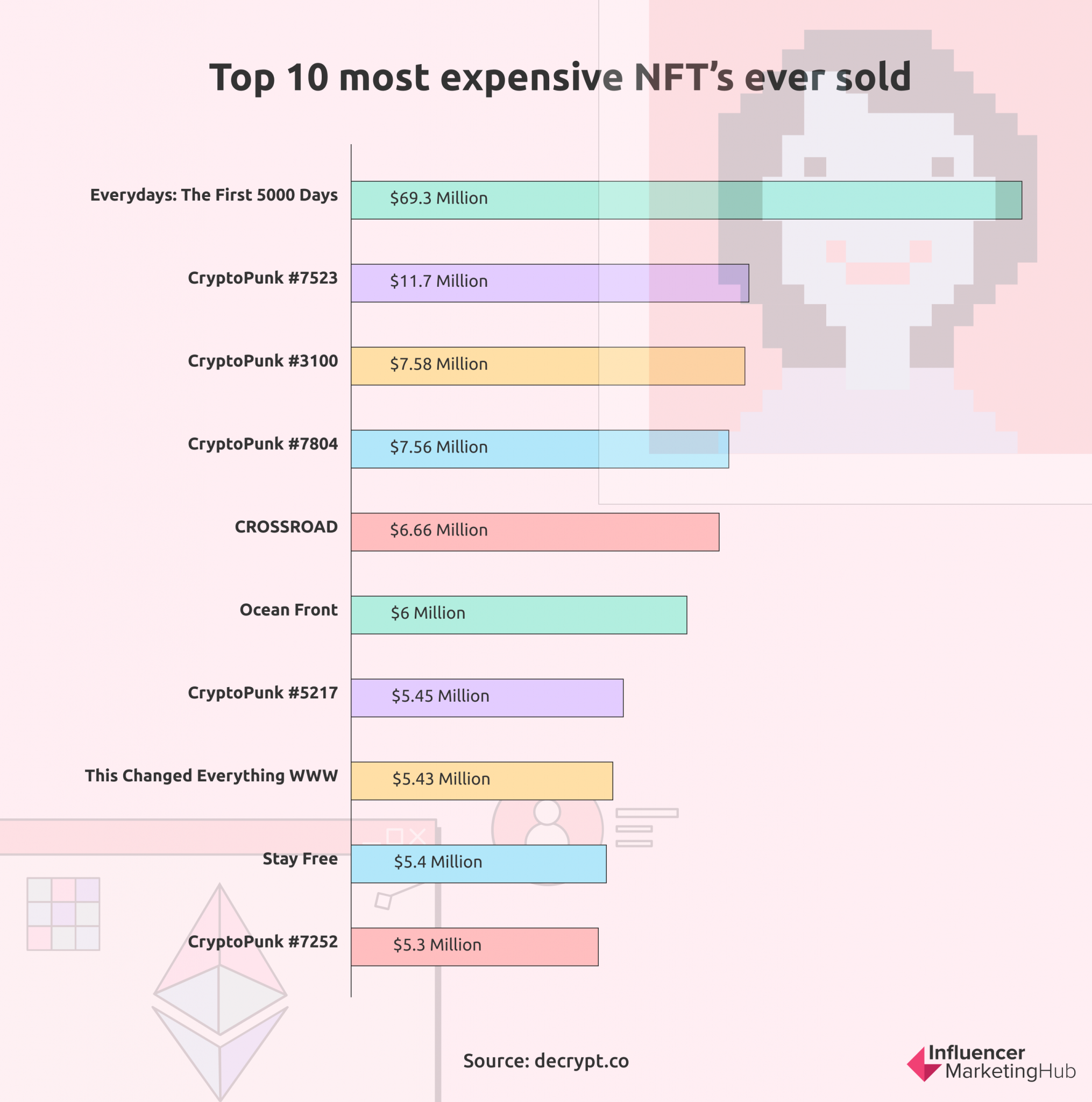 1. Everydays: The First 5000 Days by Beeple
Price: $69.3 million
.@beeple 's 'The First 5000 Days', the 1st purely digital NFT based artwork offered by a major auction house has sold for $69,346,250, positioning him among the top three most valuable living artists. Major Thanks to @beeple + @makersplaceco. More details to be released shortly

— Christie's (@ChristiesInc) March 11, 2021
In March 2021, Everydays: The First 5000 Days, created by the digital artist Mike Winkelmann (aka Beeple), was sold for a record high of $69.3 million, making it the most expensive NFT to date. In fact, it's one of the most expensive artworks that have ever been sold.
The artwork is a collage of 5,000 of the artist's earlier work. In 2007, Beeple embarked on a mission to create and post a new digital artwork online every single day. The result – 5,000 digital pictures.
The artwork, which was sold by the auction house Christie's at an online auction, was bought by Vignesh Sundaresan (aka MetaKovan). In an interview with CNBC, he said that he was willing to bid even higher as NFTs were the start of a new era in art.
---
2. CryptoPunk #7523 by Larva Labs
Price: $11.7 million
A #NFT of 'CryptoPunk' digital artwork was sold for $11.8 million, according to a tweet by auction house @Sothebys. @e_howcroft reports https://t.co/7sK9va6STK pic.twitter.com/FHlr75A3ug

— Reuters (@Reuters) June 10, 2021
In very few instances will a pixelated image bag you millions of dollars. CryptoPunk #7523 that was developed by John Watkinson and Matt Hall from Larva Labs is one example of this exception. While there are 10,000 other similar collectible characters, this particular digital character is one of just nine Alien punks and the only one that wears a medical mask.
It was sold on 10 June 2021 for $11,754,000 at a Sotheby's "Natively Digital" auction. The buyer, Shalom Meckenzie, is an Israeli entrepreneur and the biggest shareholder of DraftKings, a daily fantasy and sports-betting firm.
---
3. CryptoPunk #7804 by Larva Labs
Price: $7.56 million
Punk 7804 bought for 4,200 ETH ($7,566,173.88 USD) by 0xf4b4a5 from 0x03911f. https://t.co/0aatHjfooI #cryptopunks #ethereum pic.twitter.com/TrMgPUK0Hn

— CryptoPunks Bot (@cryptopunksbot) March 11, 2021
You're not seeing double. These pixelated faces might look similar, but it's the unique attributes that set them apart and drive their popularity. As a matter of fact, you'll be seeing more of these blue faces later on our list.
CryptoPunk #7804 is also one of the nine Alien punks. Instead of a medical mask, this one has a pipe in his mouth and wears small shades and a cap facing forward.
In January 2018, it was sold for the first time for only $14,988. Then, in March 2021, CryptoPunk #7804 was resold for $7.5 million.
---
4. CryptoPunk #3100 by Larva Labs
Price: $7.58 million
Punk 3100 bought for 8 ETH ($2,117.28 USD) by 0x6611fe from 0x1e32a8. https://t.co/3HawbYyhNZ #cryptopunks #ethereum pic.twitter.com/R8t8omFnMb

— CryptoPunks Bot (@cryptopunksbot) July 6, 2017
CryptoPunk #3100 is the third of the nine Alien punks to have sold for an astronomical price. Unlike the other two Alien punks on our list, his accessories are minimal and he wears only a headband. It was sold for $7.58 million in March 2021 and is the only CryptoPunk on our list that's currently listed as for sale by the owner for more than 10 times the original sale price – $132.96 million.
---
5. Crossroad by Beeple
Price: $6.6 million
CROSSROAD
By @beeple

The #1/1 from beeple's first NG drop has just resold on the secondary market for $6.6 million.

History has just been made.

Congrats to beeple and of course to @pablorfraile for the sale. pic.twitter.com/mTYG4VABSw

— Nifty Gateway (@niftygateway) February 25, 2021
Crossroad is another NFT created by Beeple that was sold for millions of dollars. While not nearly reaching the price of Everydays, Crossroad was sold on Nifty Gateway, a digital art marketplace and platform, to an anonymous buyer for $6.66 million.
The digital artwork shows former US president Donald Trump flat on his stomach with derogatory words written all over his body after his defeat in the 2020 US presidential election. The interesting fact about this NFT is that when it was first created by Beeple, he designed it in such a manner that the artwork would change depending on the result of the election.
---
6. Ocean Front by Beeple
Price: $6 million
#everyday #cinema4d - OCEAN FRONT pic.twitter.com/KEUbQ0Sskw

— beeple (@beeple) March 24, 2019
After nearly acquiring Beeple's Everydays, Justin Sun, the CEO and founder of the cryptocurrency platform TRON, managed to snatch up this digital artwork by Beeple for a "modest" $6 million, 10 times less than what he was willing to pay for Everydays. The best part about this sale that was made via Nifty Gateway is that the profits of the auction were given to Open Earth Foundation, a non-profit organization with the goal of fighting climate change.
The artwork depicts a tree that sits on top of a platform with shipping containers and trailers that in turn sits on the ocean. It serves to comment on the climate change issues that we're currently facing. So, the fact that the proceeds will go to help keep tabs on the progress of the Paris Agreement makes this sale bittersweet.
---
7. CryptoPunk #5217 by Larva Labs
Price: $5.45 million
Punk 5217 bought for 2,250 ETH ($5,446,822.63 USD) by 0x8f7cee from 0xe83c75. https://t.co/JSjHEuaKR4 #cryptopunks #ethereum pic.twitter.com/di8yHKLMJs

— CryptoPunks Bot (@cryptopunksbot) July 30, 2021
Unlike the other digital artworks by Larva Labs on our list, this CryptoPunk forms part of the Ape punks collection. CryptoPunk #5217 is one of 24 Ape punks and sports a knitted cap and a gold chain.
It was sold at the end of July 2021 for $5.45 million. It's currently not listed for sale by its owner.
---
8. This Changed Everything by Sir Tim Berners-Lee
Price: $5.43 million
#ThisChangedEverything Thrilled to announce that we are working with Sir Tim Berners-Lee to offer the source code for the World Wide Web as an NFT @Sothebys pic.twitter.com/O8gLKi1mmK

— Cassandra Hatton 🚀 (@the_lynx_eyed) June 15, 2021
This Changed Everything is an artistic representation of the world wide web's source code, making it a type of historical artifact. Included in the NFT is timestamped documentation that outlines the creation of the internet. It also includes a letter written by Sir Tim Berners-Lee and a digital poster of the full code that he created.
It was auctioned the last week of June 2021 by Sotheby's and sold for $5,434,500 million to an anonymous buyer. Though, less than an hour after the auction closed, Scott Burke, a member of PleasrDAO, found a mistake in the video of the source code that gets typed up.
---
9. Stay Free by Edward Snowden
Price: $2.75 million
"Stay Free" 🌐 Edward Snowden @Snowden's first NFT contains the entirety of the landmark 2015 Second Circuit Court of Appeals decision in ACLU v. Clapper, ruling the NSA's mass surveillance violated the law.

All proceeds to @FreedomofPress.

→ https://t.co/EewI1HVknD pic.twitter.com/eXUJpf8hc8

— Foundation (@foundation) April 15, 2021
The whistleblower, Edward Snowden, made another contribution to society. This one is in the form of an NFT artwork.
In April 2021, his digital artwork titled Stay Free was sold for $2.75 million. The artwork features a portrait of Snowden by Platon that's placed on top of court documents that declared that the mass surveillance practice of the National Security Agency was unlawful. The proceeds of this auction went to Freedom of the Press Foundation, a non-profit organization founded to aid free speech and freedom of the press.
To date, this is the only NFT that Snowden has created.
---
10. CryptoPunk #7252 by Larva Labs
Price: $5.3 million
10. CryptoPunk #7252 by Larva Labs
Price: $5.3 million pic.twitter.com/y7zqTEqIAw

— NFT Volt ⚡️ (@nftVOLTclub) September 17, 2021
One of the interesting things about the sale of this NFT is that it was resold less than a month after it was first sold. On 4 August 2021, it was first sold for $2.53 million. Make no mistake, this is loads of money for an NFT, but not when you compare it to the price for which it was resold. A mere 20 days later, it was resold for more than double that amount at $5.33 million.
CryptoPunk #7252 is the first of the Zombie punks collection on our list. It's one of 88 Zombie punks and sports three accessories: a chinstrap, an earring, and crazy hair.
---
11. Save Thousands of Lives by Noora Health
Price: $5.1 million
SOLD FOR $5.1 MILLION

Name: Save Thousands Of Lives
By: Noora Health

Non-profit Noora Health created its "Save Thousands of Lives" NFT to raise funds for its work with new mothers in South Asia.#nfts #nft #digitalart #art #cryptoart #artist #raredigitalart #ethereum pic.twitter.com/sTvRF98ZA2

— Daily Dose Of NFTs (@DoseNfts) September 28, 2021
Similar to Stay Free by Snowden and Beeple's Ocean Front, this NFT by Noora Health is less about the money and more about the cause. Noora Health was launched in 2014 to redefine healthcare by equipping families to play a key role in the healthcare journeys of their loved ones.
In May 2021, the NFT, Save Thousands of Lives, created by Noora Health was sold via OpenSea for just over $5 million. As the title suggests, the proceeds will be used by the non-profit organization to save quite literally thousands of lives. According to their numbers, they can save one life (and improve many more lives) with every $1,235 raised by the sale.
---
12. CryptoPunk #2338 by Larva Labs
Price: $4.38 million
Punk 2338 bought for 1,500 ETH ($4,379,924.93 USD) by 0x7cd3fc from 0xfab9b8. https://t.co/uWIpBAC8ew #cryptopunks #ethereum pic.twitter.com/bpLcaYt2Av

— CryptoPunks Bot (@cryptopunksbot) August 6, 2021
If you've grown tired of looking at pixelated faces (or getting jealous of the success of Larva Labs), this is the last punk on our list. Just like CryptoPunk #7252, this NFT is also one of 88 Zombie punks and has only one accessory – a mohawk thin.
After CryptoPunk #2338 was first sold in July 2017 for a mere $673, it was already resold three times. The highest price that it has achieved was $4.38 million at the beginning of August 2021.
Interestingly enough, when this NFT was resold the first time, it was actually sold at a loss of $73. If the owner kicked himself then, this latest transaction will for sure make him revisit that bad decision four years ago again.
---
13. Replicator by Micah Bowbak
Price: $4.1 million
13. Replicator by Micah Bowbak
Price: $4.1 million pic.twitter.com/75u91451OV

— NFT Volt ⚡️ (@nftVOLTclub) September 17, 2021
Replicator is a self-replicating NFT that creates variant NFTs every 28 days that the owner can then sell. This means that the owner can end up selling more than a hundred NFTs, each with its own resale value.
The creator Micah Bowbak (aka Mad Dog Jones) dubbed his artwork as the first "multi-generational NFT. It was sold at a Phillips auction for just over $4 million in April 2021.
---
14. Doge
Price: $4 million
The image of a Shiba Inu, a breed of hunting dog from Japan, is viewed as one of the most famous memes. As of June 2021, it's also the most expensive meme NFT after it was sold for about $4 million on Zora. A percentage of the sale's proceeds will go toward the World Food Program, the Japanese Red Cross Society, and a number of other charities.
It's not the first time that this meme's journey to stardom took a different turn. It enjoyed a recent resurgence after a cryptocurrency Dogecoin was named after the meme. Then, earlier in 2021, Elon Musk, the CEO of Tesla, endorsed the cryptocurrency on social media which also helped to increase its popularity. The Doge NFT now is 99.29% below its price an it's worth $0.0009887.
Frequently Asked Questions
What's an NFT?
A non-fungible token (NFT) is a unique digital asset similar to cryptocurrency that's managed on a blockchain. While purely digital, NFTs are seen as a value-holding investment. Unlike standard cryptocurrency like Bitcoin or Ethereum which are fungible, each NFT is unique and can't be exchanged or replaced with something similar. While some NFTs may have some similarities, each one is inherently unique. They can be anything, as long as they're digital.
Who's Mike Winkelmann?
Mike Winkelmann (also known as Beeple) is without any doubt the star of NFTs. He's a graphic designer from Charleston in the USA and does a variety of digital artwork, including short films. He's best known for Everydays, his most successful artwork. It's a compilation of pictures from his first 5,000 days online and the most expensive NFT ever to be sold.
Who's Michah Dowbak?
Micah Dowbak (also known as Mad Dog Jones) hails from Toronto. He launched his career by displaying 15 neon- and citrus-toned prints of his work at Diesel Art Gallery in Shibuya. He makes the most of modern technology to create futuristic art. His artwork starts as photographs or hand-drawings of nature and morphs through coloring into a cyberpunk scene. Each image tells a specific story. Currently, he also experiments with NFT digital artwork.
What are some of the risks linked with NFTs?
There are a couple of risks that are present when you're dealing with NFTs. On top of their volatile price, there's also the risk of a work decreasing in value due to price-fixing as well as fear and uncertainty. There's also the fact that blockchain technology is taking its toll on the environment. The process of creating blockchains is complicated and consumes a lot of power.
What are some of the most common types of NFTs?
There are a number of popular use cases of NFTs. These include:
- Digital art
- Digital music
- Event tickets
- Gaming assets
- Blockchain domain names