Best for:
Financial services areas, banking, telecommunications, automotive and manufacturing
Employee advocacy is a simple proposition. You identify the people in your business who have prominent social profiles, invite them to post content about or related to your company, and then give them rewards for doing these things. With successful campaigns, you'll get greater social reach, more leads, and better quality hires. Just another day at the office, right?
If that's what you think about employee advocacy—and I confess to sharing this reductionist view—then you haven't been introduced to Ambassify. Founded in 2015, the Belgian company created a platform that indicates two things: one, that many of us haven't really considered how much you can do with an EA platform, and two, the team at Ambassify have spent a LOT of time thinking about thow much you can do with an EA platform.
The difference starts with the branding of Ambassify. It's not an employee advocacy solution, so much as it is a brand advocacy solution. For the purposes of this review, I'm going to cover everything from an EA perspective, but know that everything the software can do in this regard also applies to consumers, as well. Why should employees get to have all the fun? Used in conjunction with a social listening tool, you'll also be able to identify who in the social world is already a loyal customer and recruit them as an advocate for your brand; all the tools you'll use to manage your employee advocates work with your customers, as well.
This is a more holistic approach to brand advocacy in general, and many of Ambassify's customers have been singing their praises for the results they're getting out of the platform. You can check out any of the case studies published on their website, and peruse the glowing testimonials from customers like Nvidia, Microsoft, KBC bank, Bang & Olufsen, and Bioracer. The common thread amongst these success stories is that Ambassify treats advocacy like a dialogue. Many platforms are one-way solutions; whether the brand dictates what content gets shared or gives its advocates free rein to post as they wish, the process begins with shared content reaching people and ends with campaign reporting. It's a linear process with a beginning and end; when a campaign is over you start again.
On Ambassify, the same process that manages these one-way campaigns can also be used to get feedback or suggestions. This means that some campaigns are internal, and the CTA is to get employees to participate in polls and surveys. The results of these campaigns then determine the direction and scope of more traditional social/content marketing strategies. This is a feedback loop of the best kind, allowing for a more flexible, agile strategy to mobilise your brand advocates. And in the process, it doesn't just allow you to create communities—Ambassify gives you the tools to nurture them and let them flourish.
---
Summary
---
Pricing
Ambassify has three levels of subscriptions, but doesn't publish pricing. Each plan is priced on a "per advocate/per month" basis, but like many platforms they want a year long contract—advocacy takes time and you won't know truly know the impact in just a few months.
Their plans break down like this:
Essential —

One admin user account, self service training, automated ticketed support, and basic advocacy tools and features. There are a lot of them, so check their

Plans

page for the full accounting.



Premium —

Multiple admins, training and onboarding services by Ambassify, and direct email support. You'll get the basic features included with Professional, plus more advanced tools, white labeling of the platform itself, and premium analytics.

Enterprise —

All of the above, with phone support, dedicated account manager, and very detailed customisation. You can also integrate Ambassify with 3rd party software (like Slack or Salesforce, for example), and get API access for more custom integrations.
---
The Details
I'm not going to spend much time here going over the things that you'd expect from an advocacy platform. Of course, there's a content feed, campaign creation with templates, messaging, rewards, advocate portals—it's all there.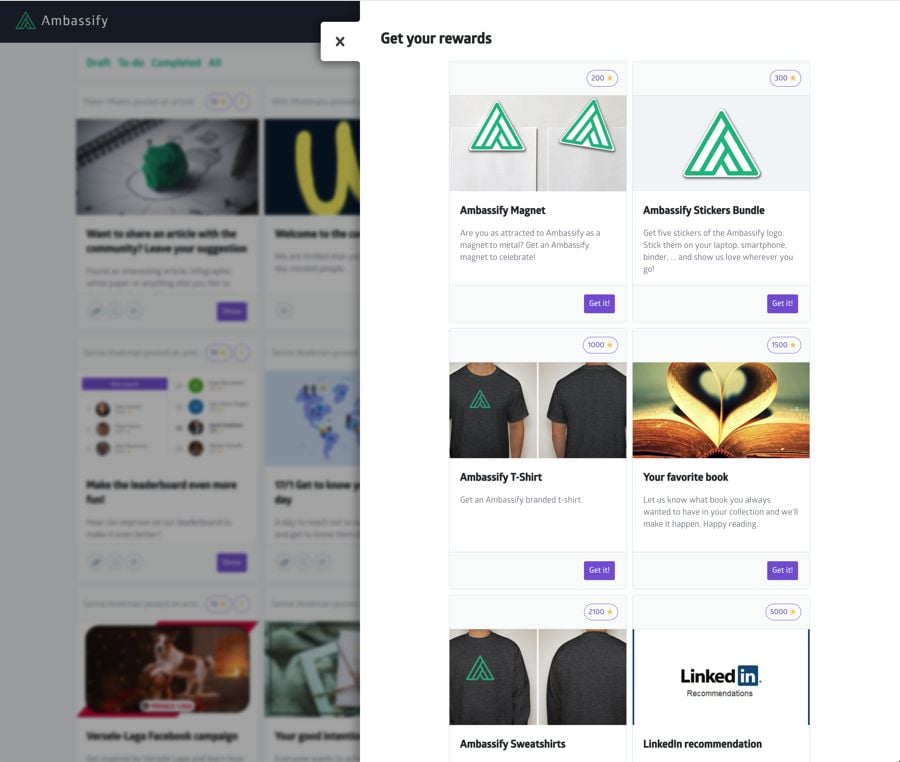 Whatever it is you might be expecting out of software for employee advocacy, you'll find it here. Instead, let's cover some of the more unexpected features.
First, I'd like to expand on what I said in the Overview, that you don't just create a community of advocates with Ambassify, you nurture it. This all happens within a feature of the software called—wait for it—the Community portal. On the surface the portal seems like any other EA platform as seen from the advocate side. They login, see available campaigns, a leaderboard, a feed showing posts made by the community, and a way to redeem points for rewards. Where this becomes different is in the campaigns themselves.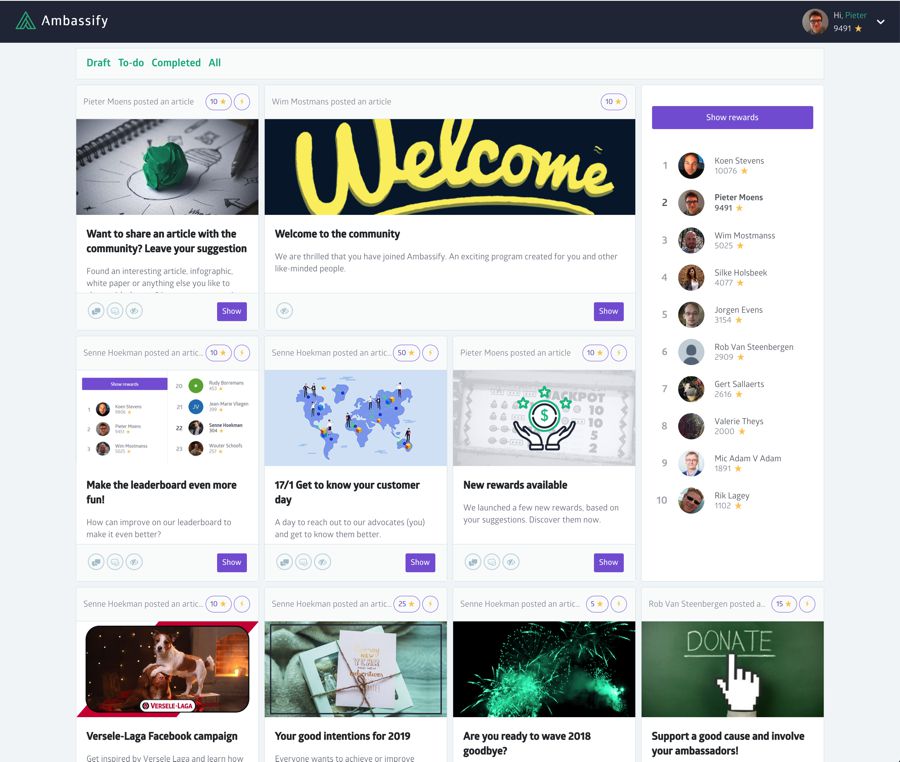 Ambassify offers 20+ campaign templates, each for different purposes—a Facebook share, a tweet, an Instagram post, and others like this. But there's also a category of campaigns for feedback, soliciting suggestions for new posts, A/B testing campaign ideas, or sending out polls. These aren't really campaigns, per se, but the process of getting people to participate works the same way: you create the campaign, members of the community see it, and they participate.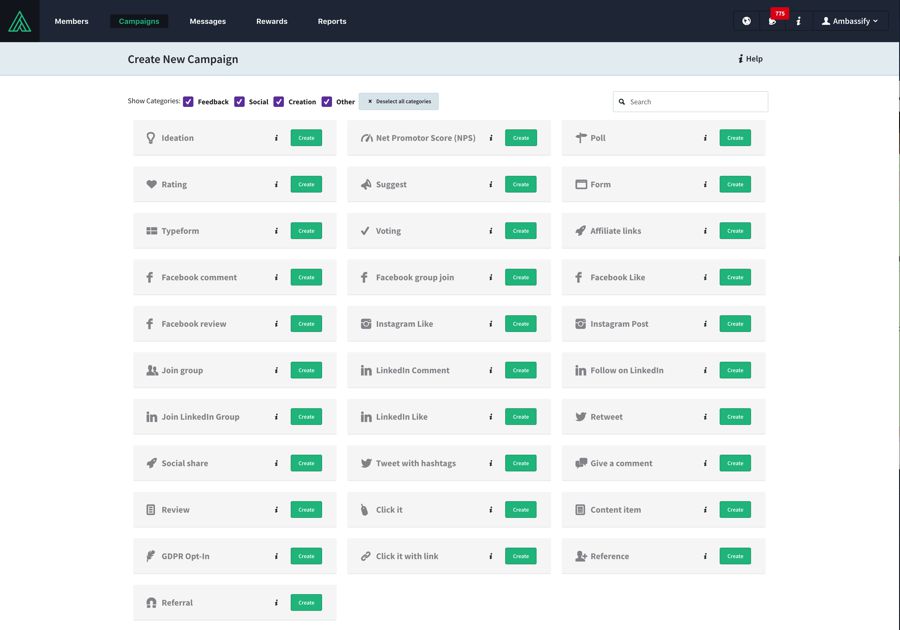 After inviting people to join the community, the first campaign Ambassify recommends you run is poll, the results of which let the software calculate who your strongest advocates are. For an employee advocate, it's as simple as asking the question: On a scale of 1 to 10, how likely are you to recommend working here? People responding with high marks will be your best advocates, the ones you want to have front and center for important campaigns. People in the middle, with more passive results, might not be great boosters for your image but probably wouldn't mind sharing pre-made content for rewards. Those who give lower scores should probably be quarantined out of the community. From this poll, Ambassify creates individualised Net Promoter Scores, aka their NPS. You can use these scores to segment members accordingly (you can create any number of groups based on any kind of criteria, as well).
This isn't the only kind of feedback campaign there is—others allow community members to suggest ideas for content, either original or reposts. Also, you can send out multiple images, blog posts, or versions of a post to see which one your advocates think would be most effective. Ultimately, this kind of two-way street for strategising has double impact on the community. First, giving them voices internally gives some sense of ownership of the process and reinforces that they actually are part of a community. This translates to the second impact: your advocates are going to be posting content they're genuinely excited about—and we all know the value of authenticity.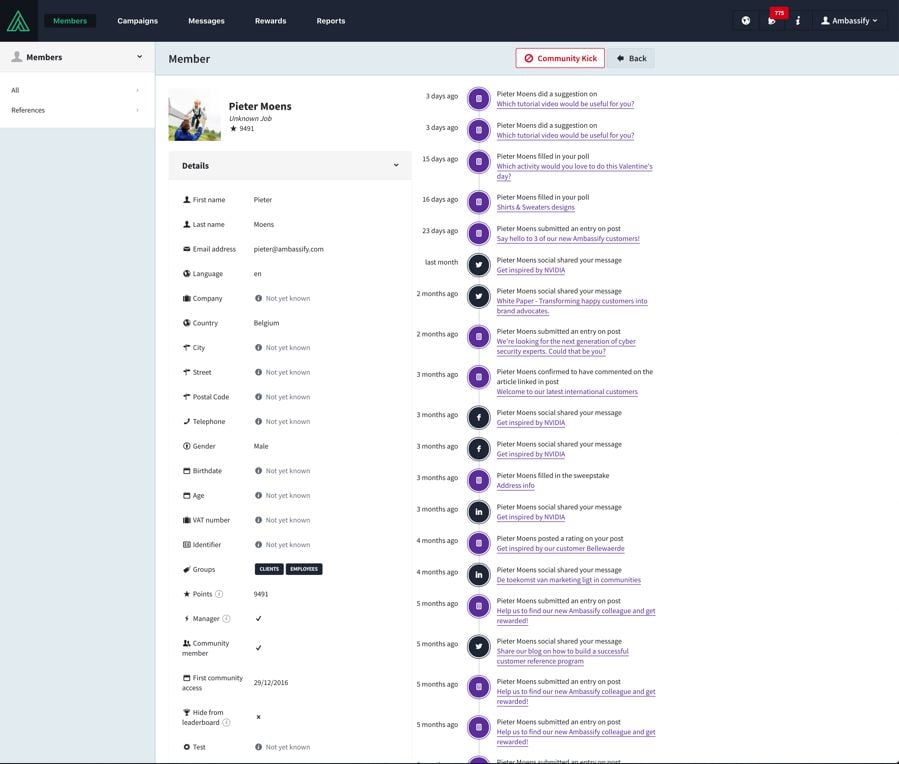 But it's not just these bigger conceptual things that Ambassify gets right. The mechanics of using the platform are extremely well thought out, taking into account much more than the user interface. These differentiators can be found in a few places:
Activation —

Most platforms encourage you to hand select the employees you think would make great advocates and add just those people to the platform—shutting out every other person who wasn't chosen. This approach could also leave you with a smaller team than you want because not everyone will want to participate. With Ambassify, you invite

everyone

to sign up, and there are no limits or restrictions around who can participate. Once these people have joined community, you can slice and dice them into relevant groups to manage them, as described above. By opening it up to everyone and leaving it to them to opt in, it won't take several rounds of recruitment to build a team that wants to be there.



Mobile App —

Let's be honest, your advocates are likely going to be millennials, and they don't to mess with a computer or website if they don't have to. To that end, Ambassify has created a mobile app for the community members to receive push notifications on new campaigns and participate in campaigns. This is a much more effective way to reach out to people for whom mobile is the connection of choice.




Campaign Sign-ups —

When you create a campaign brief to publish to the community, you have a choice to create a public landing page for it, as well. This enables you to reach even those people who didn't sign up in the first place. Community members will get their push notifications and access the portal directly from their phones, but those who didn't want to sign up can still get notified via email and click on a link to sign up on a campaign-by-campaign basis.



Ease of Signup —

For a lot of us, just having to type in registration information—even if it's as basic as name/email/password—can be a hassle. Here again, Ambassify makes it easy to activate advocates by letting them sign in with the social profiles (in other words, a one-click sign up). You can even configure which channels you'll accept (i.e. you'll allow Facebook, LinkedIn, and Google accounts, but not Twitter or Instagram).



Campaign Notifications —

Even people with attached to their smartphones aren't going to check every notification that comes through, especially if you're pretty active in creating campaigns. Ambassify can supplement these notifications with weekly e-mail digests that contain a listing of every new campaign brief they might have missed. It's a nice, low-impact way of getting the message across: advocates can preview all the campaigns without even having to go into the app, and click their way through to it if there's something they want participate in.
This mobile-forward approach seems like a no-brainer, but it's not one that everyone's doing. And for those that are, they're not doing it in as thoughtful a way as Ambassify does. There are many more details about the platform, from its reporting, to its seemingly endless amount of customisation that's possible, to an attractive and minimalist user interface. And everything you've done here with your employees? You can do it with your customers, too. You'll obviously want to create different campaigns and rewards for them, but the tools you'll use are identical.
---
Conclusion
If you've skipped through everything in this review to get the TL;DR version, here it is: Ambassify is a top-notch brand advocacy solution. It makes recruiting and activating advocates simple, whether they're your employees or customers/fans. It makes a lot of things simple, actually, despite being some pretty complex software. It goes above and beyond most of its competitors in both small and big ways, and it all adds up to be a platform that I have no reservations in recommending. It doesn't just allow you to manage something like employee advocacy, it gives you the tools to find and even create more advocates. Success at this isn't guaranteed by using the platform. But if you fail, I can guarantee it isn't the software's fault.
Ambassify
Features

Easy of Use

Support

Best for:
Financial services areas, banking, telecommunications, automotive and manufacturing