Advertising Disclosure
Advertising disclosure:
Our partners compensate us. This may influence which products or services we review (also where and how those products appear on the site), this in no way affects our recommendations or the advice we offer. Our reviews are based on years of experience and countless hours of research. Our partners cannot pay us to guarantee favorable reviews of their products or services.
If you thought there was simply "the internet," you are well out-of-date. The internet, as we first knew it, is now referred to as Web1. This was the internet until about 2004, with mainly static websites and little interaction between users. To a large extent, it was a read-only web, with few people making and uploading content. Things changed in 2004 as the internet became Web2 and read-write. People realized they could create content, social media became popular, and the internet gained an advertising-driven revenue model. We are now moving towards Web3, which some describe as read-write-own.
Ethereum co-founder Gavin Wood felt the problem with Web2 was that it relies on trusting a few private companies to act in everybody's interests. So instead, Web3 uses blockchains, cryptocurrencies, and NFTs to give power back to the users in the form of ownership. And this has given rise to a new category of blockchain consulting services to advise those wanting to participate.
Web3 follows four core principles:
Web3 is decentralized – ownership is distributed between builders and users

Web3 is permissionless – everyone has an equal opportunity to participate

Web3 has native payments – it uses cryptocurrency for spending and sending money online

Web3 is trustless – it uses incentives and economic mechanisms rather than requiring people to trust third parties
With Web3, you store your data on the blockchain. This means you keep control of it, not some faceless platform where you have to obey its rules, or it can remove you and keep your data. Web2 platforms, such as Facebook and Twitter, have all the power. For example, if they ban you, you lose all the posts and content you've built over the time of your account. With Web3, however, you can still access all your content on the blockchain. In addition, if you leave a Web3 equivalent of Facebook, you can take your content with you.
---
Top 12 Blockchain Consulting Services to Help You in Web3:
---
What are Blockchain Consulting Services?
As we've seen, blockchain is an essential component of Web3. But blockchain is still very new to many people, despite blockchain technology having been around for 30 years. We previously wrote an article describing Everything You Need to Know About Blockchain Marketing which looks in more detail at the blockchain phenomenon.
A blockchain is a digital chain of blocks that keeps a public ledger of transactions. It is effectively a database stored in a certain way. No single person or entity owns or runs it. Every person who has access to the blockchain can see every transaction. While the most popular use for blockchains is keeping records of who owns cryptocurrency, they have much more capability than that. You can use them to store any data, knowing that nobody can go in and alter or manipulate that data. Blockchain technology provides an excellent way for companies to record data digitally and securely.
Many industries, for example, finance, insurance, healthcare, agriculture, retail, and legal, see potential in using blockchain. This has led to many opportunities for blockchain consultants to advise and assist potential users in understanding the technology.
For example, some banks consult blockchain consultants to determine how to best move banking processes online. Other common users of blockchain consultants include those involved in supply chain management, patient healthcare records, and legal documentation.
Firms offering blockchain consulting services advise developing and implementing key blockchain strategies to optimize business efficiency. In addition, blockchain consultants typically provide legal advice about how organizations can manage their identity and finances using blockchain technology.
Blockchain Consulting Services to Help You in Web3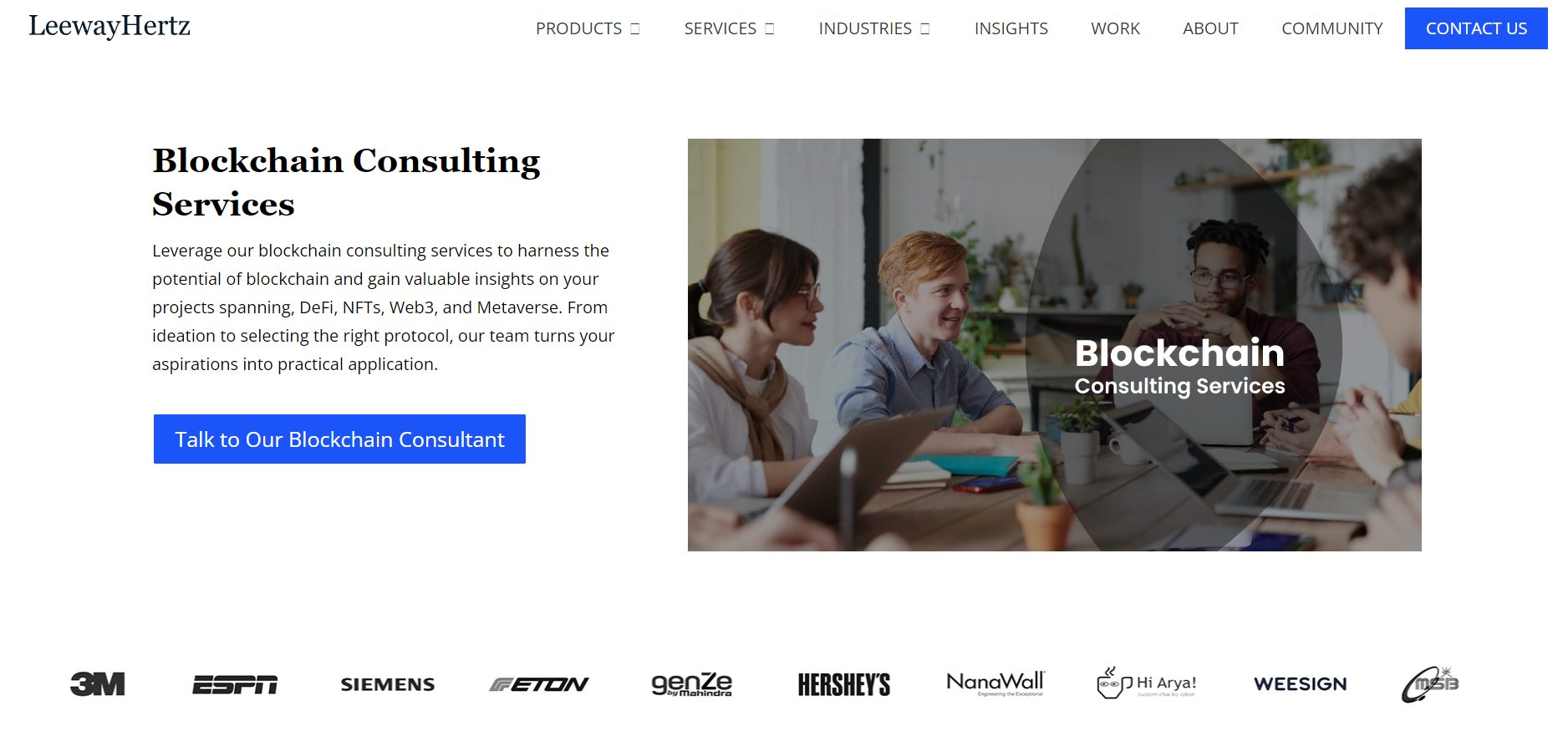 Headquartered in San Francisco, LeewayHertz builds futuristic digital solutions for tech-savvy enterprises and startups. They are a Web3 and blockchain development company specializing in building world-class enterprise solutions and applications. Their motto is 'You Dream It: We Build It.'
LeewayHertz offers blockchain consulting services to harness the potential of blockchain and gain valuable insights on your projects spanning DeFi, NFTs, Web3, and Metaverse. Their blockchain consultants understand your project-specific needs and help you identify the right blockchain protocol that suits your business case. They have helped 125+ startups and enterprises succeed with their training workshops, prototype design, and blockchain proof of concepts.
---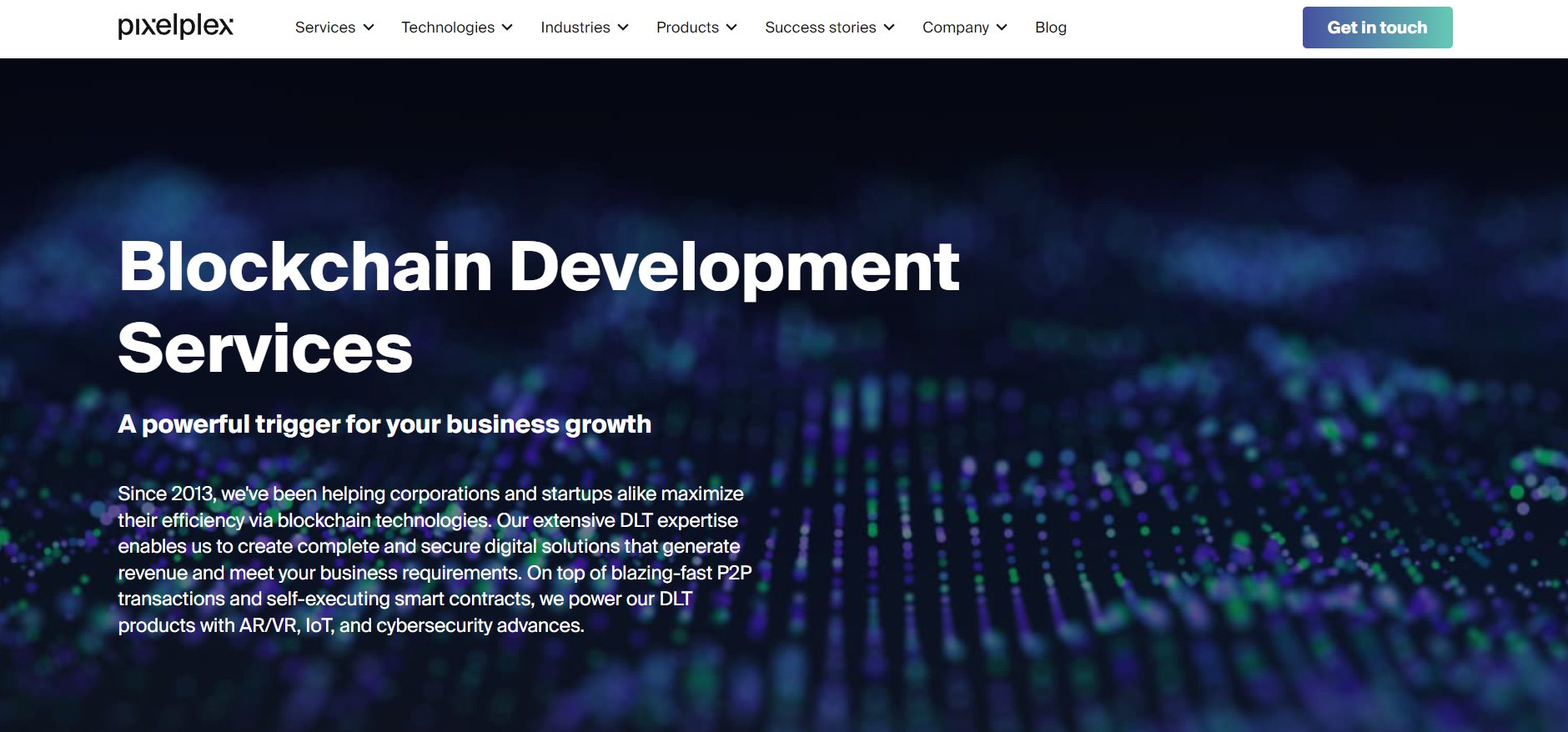 PixelPlex is a trusted outsourced tech provider, delivering internationally. They undertake work in blockchain development, artificial intelligence, the internet of things, virtual and augmented reality, mobile development, and web development.
In terms of blockchain development, they build smart contracts, NFTs, marketplaces, DeFi crypto tools, Metaverse, dApps on Ethereum, Hyperledger, Flow, Solana, Cardano, and Polkadot blockchains.
They undertake blockchain consulting alongside their blockchain development. As soon as they analyze your case, they pinpoint inefficiencies and, if any, discover the growth triggers. They offer strategic and financially feasible solutions, acknowledging your enterprise's differentiators. In addition, they offer blockchain training sessions that provide first-hand knowledge to business owners, tech industry insiders, and investors.
---
Accenture describes their purpose as delivering on the promise of technology and human ingenuity. They help their clients become the next and best versions of themselves. Indeed, they proudly work with 89 of the Fortune Global 100.
They offer their clients many technology and consulting services, from artificial intelligence and automation to sustainability and zero-based transformation.
One of their specialties is providing blockchain solutions for businesses. They start with understanding your specific aspirations, followed by a practical application of blockchain innovation. The conversation grows as new opportunities come to light along the way. Finally, they integrate alliances, partnerships, and leaders from every aspect of the blockchain ecosystem.
Areas where Accenture can advise and assist you include the Metaverse, blockchain for social impact, financial services infrastructure (and how blockchain can empower businesses with this), decentralized digital identity, and blockchain for the supply chain.
---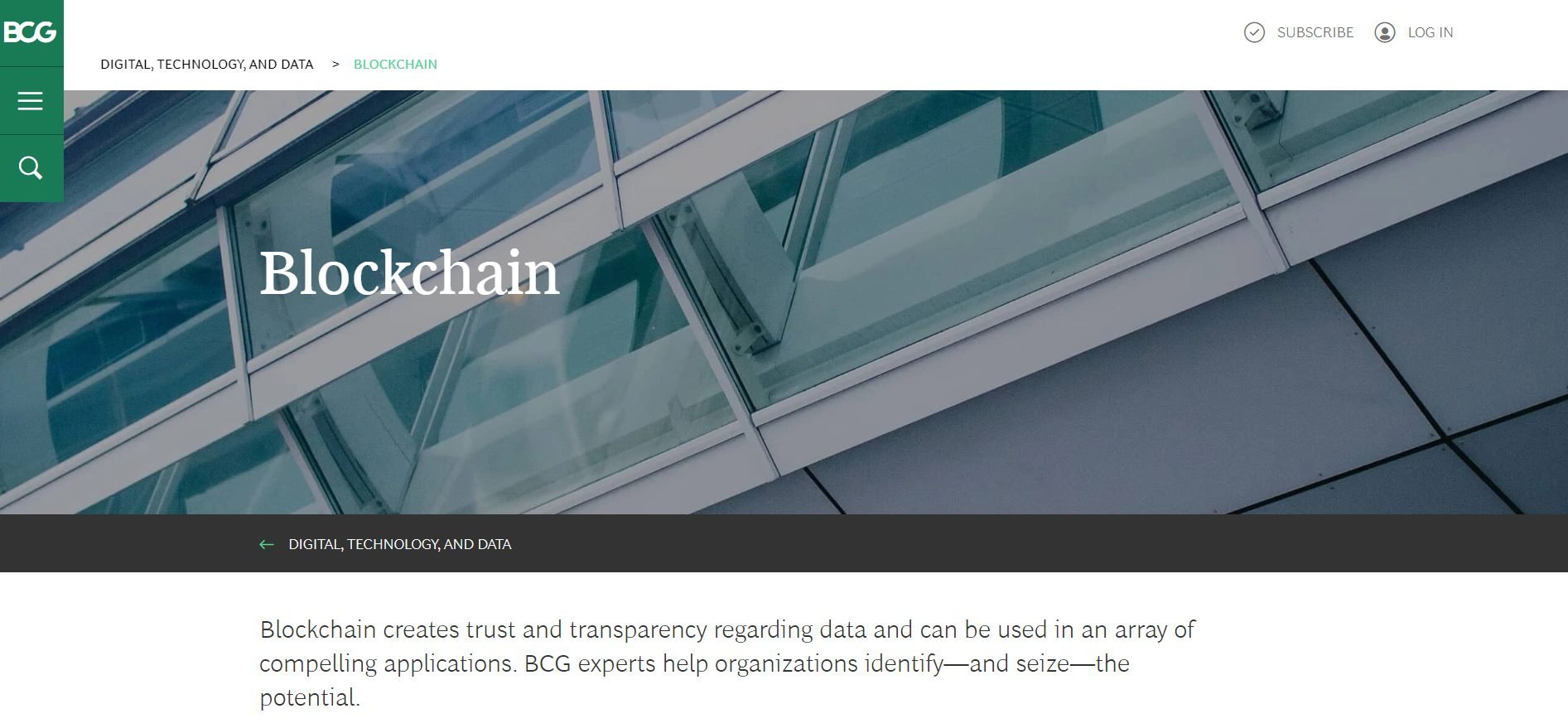 BCG (Boston Consulting Group) is a global consulting firm that partners with leaders in business and society to tackle their most important challenges and capture their greatest opportunities. They have set their purpose to unlock the potential of those who advance the world.
They believe that blockchain has the potential to change how organizations operate. However, organizations face three challenges: understanding the technology, determining how blockchain can be molded to create value, and developing an approach that captures value early on to fund the journey.
BCG and its specialty businesses, BCG Platinion and BCG Digital Ventures, help organizations answer core questions about potential blockchain solutions and support them throughout the journey.
---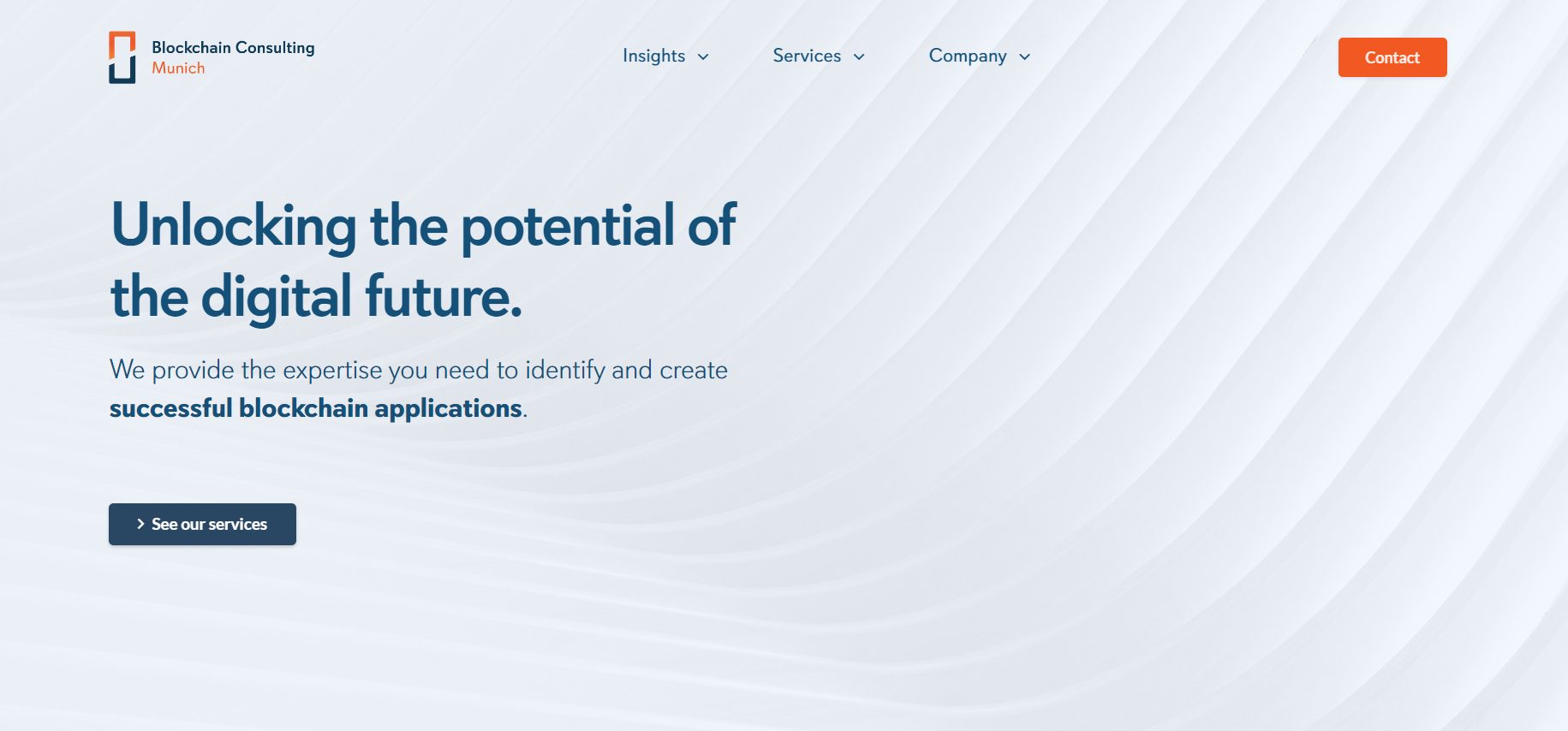 Blockchain Consulting Munich provides the expertise you need to identify and create successful blockchain applications. They develop, maintain, and evaluate blockchain and cryptocurrency-related products. Their teams operate in multiple disciplines, from hardware to financial trading frameworks and Blockchain web services, while creating beautiful and intuitive UI/UX. In addition, the company provides long-term assistance and advice to its partners on related technological and operational matters.
Blockchain Consulting Munich offers advice on the strategic employment of blockchain technology based on a thorough analysis of your company's vision while drafting your development ideas. In addition, they will assess the potential of blockchain technology in your company and discuss possibilities for optimization.
---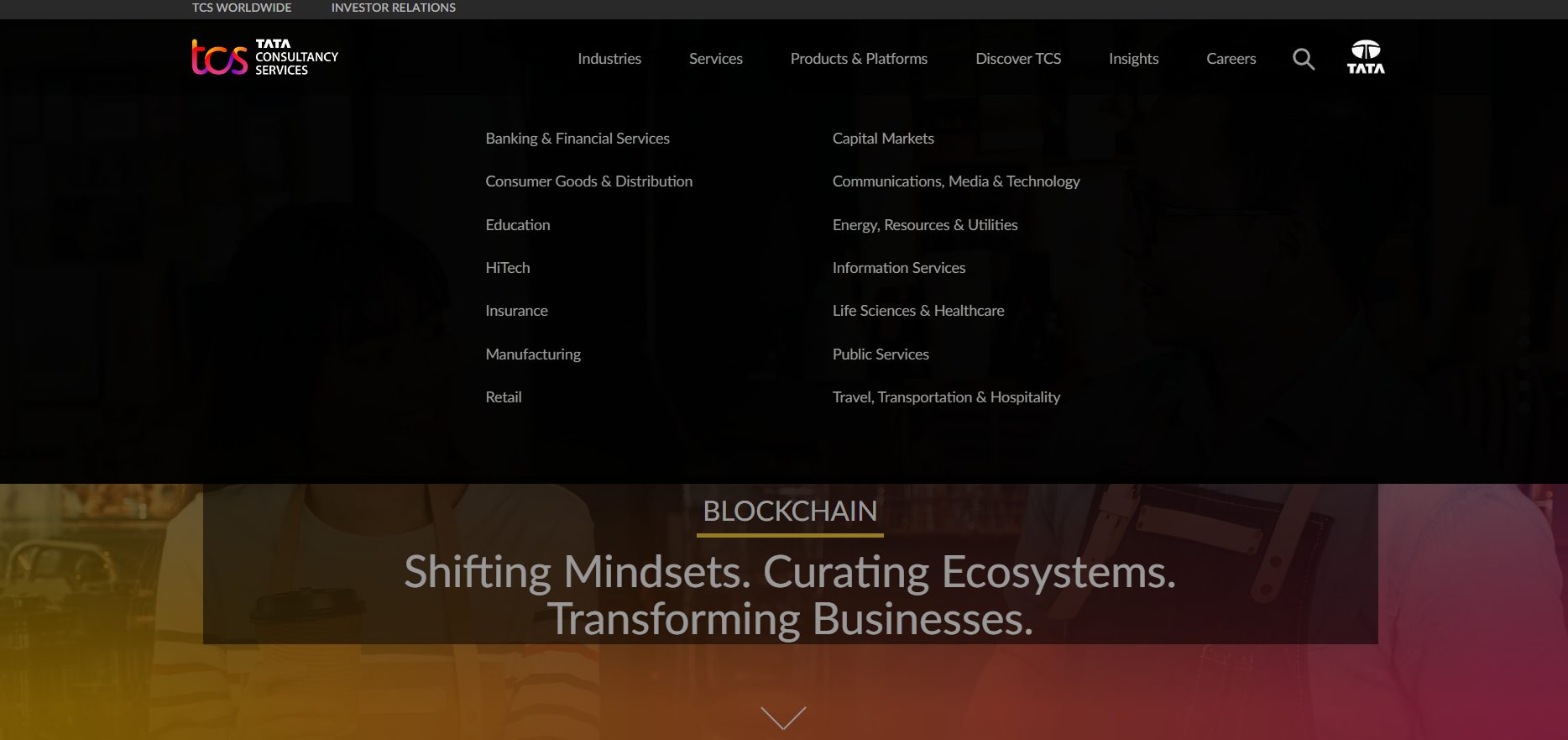 TCS combines tech expertise and business intelligence to catalyze change and deliver results. They are global leaders in IT services, digital, and business solutions and partner with clients to simplify, strengthen, and transform their businesses.
They include blockchain consulting among the services they offer their clients. The TCS Business Value Delivery Model (BVDM) provides a structured approach to identify, prioritize, and implement innovation opportunities aligned to business priorities, market dynamics, and evolving technology landscape. This begins by developing an idea map of potential blockchain innovation through an immersion and ideation drive engaging the executive and senior leadership.
---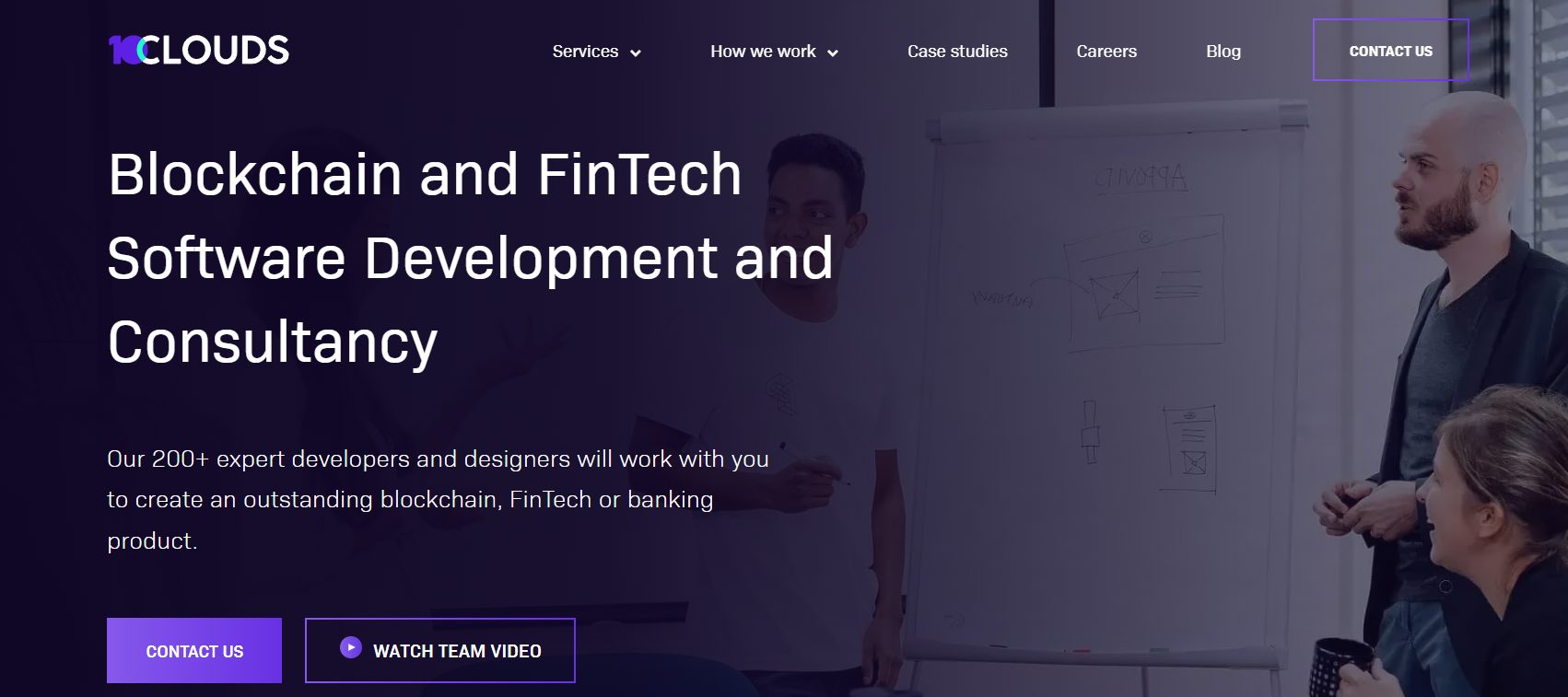 10Clouds has more than 200 expert developers and designers to work with you to create an outstanding blockchain, FinTech, or banking product. They recognize that blockchain isn't a universal solution to every business problem. It's not a good idea to use blockchain technology just because everyone else is using it. You might already be using solutions that help your teams achieve more and boost your revenue. However, they believe that smart organizations always investigate the potential value innovative technologies may bring to their business.
Should you decide during the blockchain consultancy process that blockchain is suitable for you, 10Clouds can bring you the best in blockchain development services, combining technical prowess with extensive business experience. They can help you redesign and develop your blockchain app, scale your team, enhance your UX, develop a DApp (from Exchange to NFT Marketplace), create a Smart Contract, and much more.
---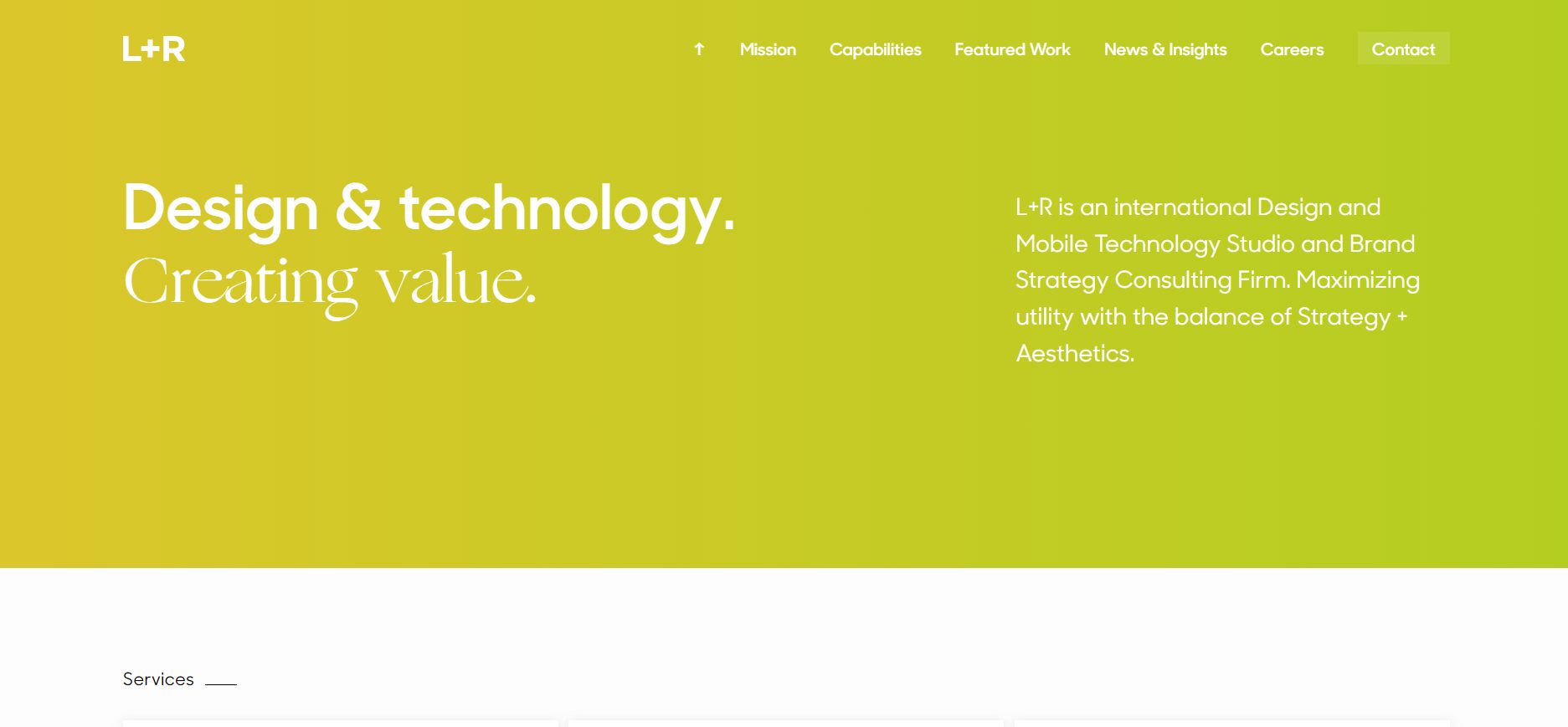 L+R is an international Design and Mobile Technology Studio and Brand Strategy Consulting Firm. Their work covers UX design, strategy consulting, mobile development, branding, research and testing, and blockchain and Web3.
The company supports its clients on their blockchain and Web3 projects with education and co-creation.
The pillars of L+R's work in this area are Metaverse and Web3 consulting, NFT development, mobile wallet development, smart contract development, branding and design, DAO development, Metaverse 3D modeling and architecture, user research and testing, Web3 UX/UI design, and Metaverse workshops and education.
---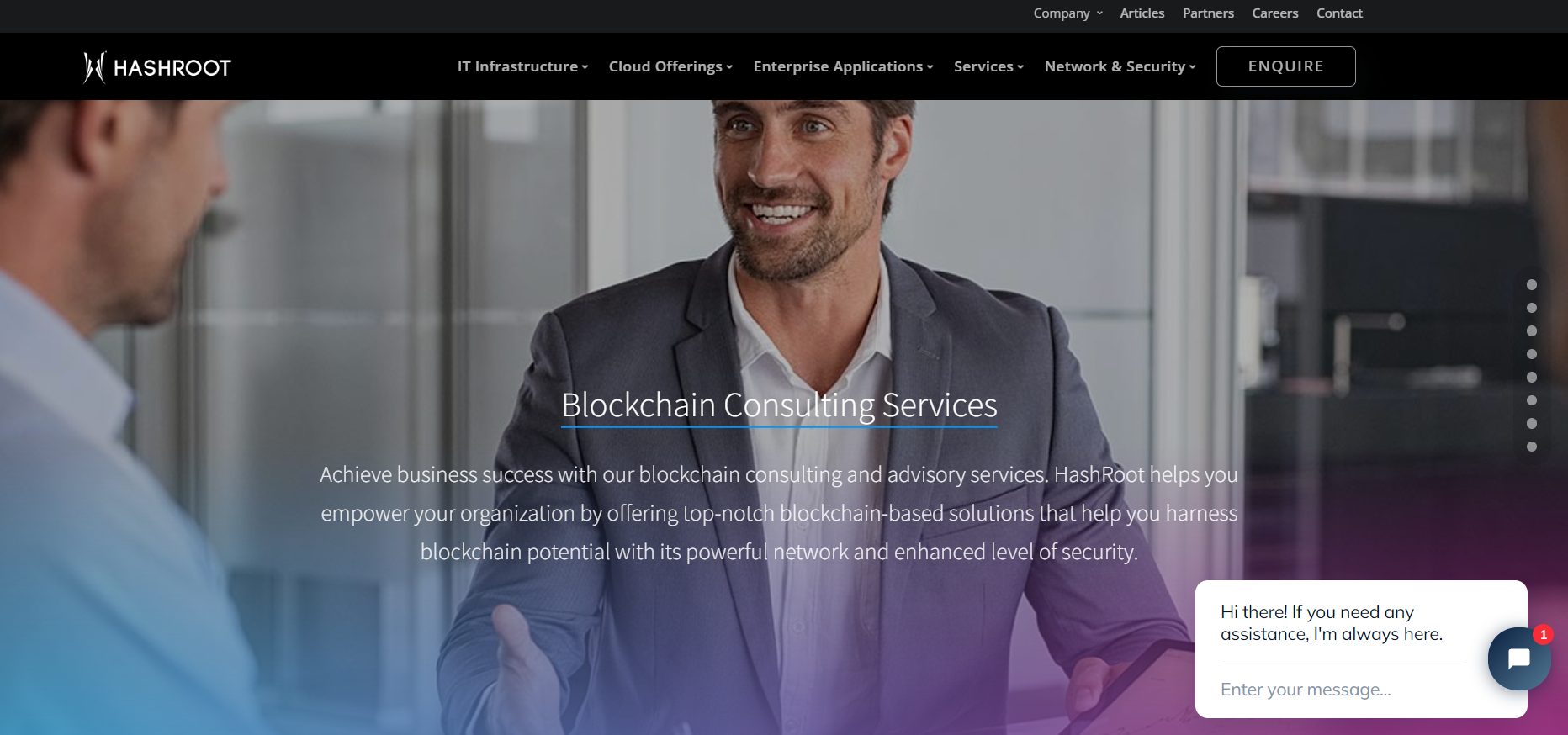 As an Information Technology company since 2008, HashRoot helps organizations assess their needs and plan, thereby implementing the right technology for their goals, budget, and timeline. Its mission is to make technology easy, manageable, and affordable by offering a complete computing solution with complete support and accountability.
Part of this is providing blockchain consulting and advisory services. For example, HashRoot offers blockchain-based solutions that help you harness blockchain potential with its powerful network and enhanced level of security. In addition, their blockchain consultants keenly research, develop, and test the blockchain ecosystem and your business ideas to suggest the best integration of blockchain architecture that can drive success for your organization.
---
LimeChain lives and breathes Blockchain and Web3. They list amongst their services, Web3 development and consulting in blockchain, DeFi, Metaverse, Web3 gaming, NFTs, DAOs, and tooling. Thanks to a diverse skill set, they can support you during every stage of product development. They can help you flesh out your product idea, test its viability, devise and execute implementation strategies and provide post-launch support.
Being experts in everything blockchain, they are not bound to any one chain or framework. This allows them to use the best tool for a particular job. They also specialize in cross-chain technologies like blockchain bridges. In addition, LimeChain's Web3 consulting services can help you determine the opportunities and hidden risks when using blockchain to develop a business solution.
Their blockchain consulting services include technical training about the nature of blockchain, business workshops that help flesh out a blockchain business case and its value, project ideation and design sprints, blockchain smart contracts and architecture design services, and legal advisory.
---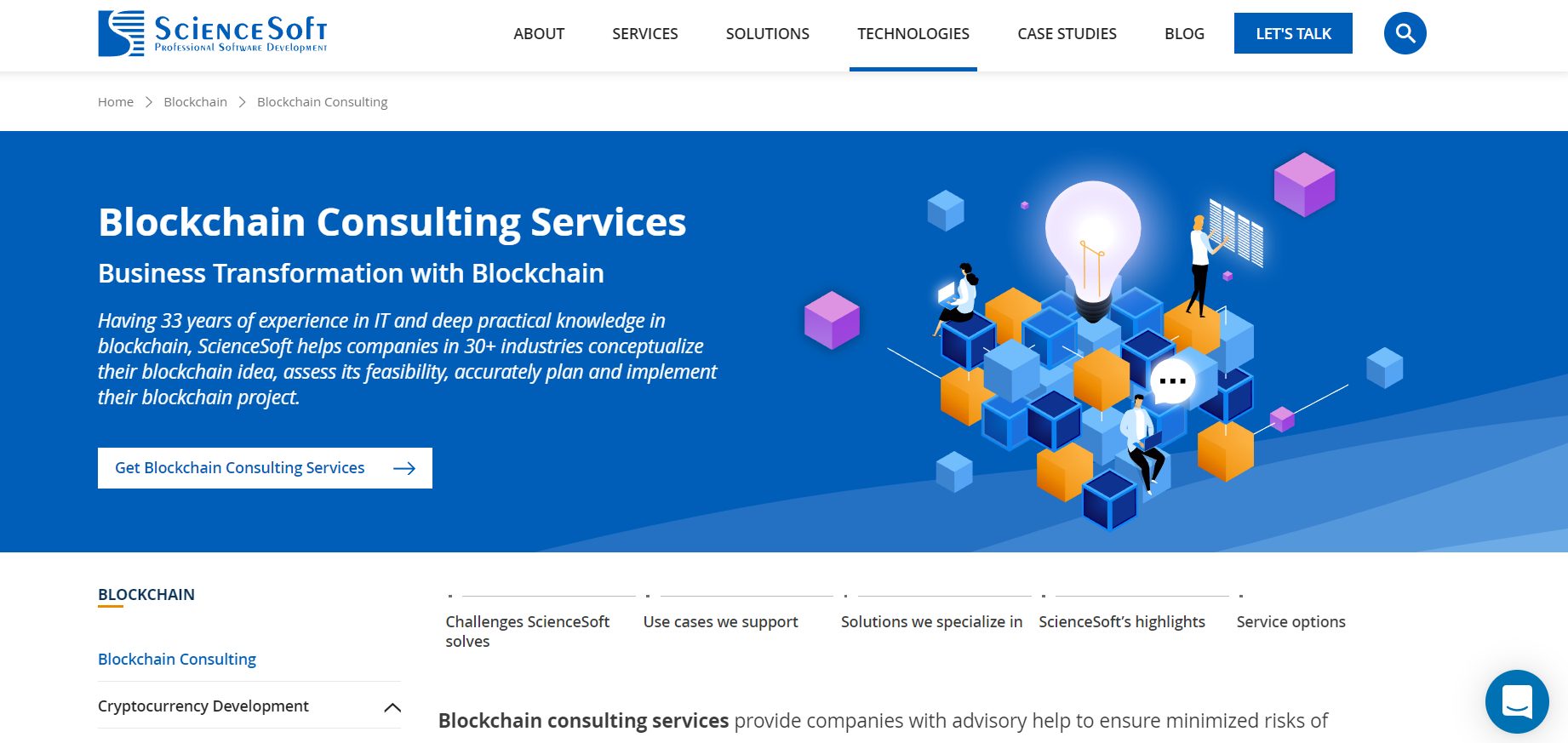 ScienceSoft offers software consulting and development for your digital success. They transform businesses with powerful and adaptable digital solutions that satisfy the needs of today and unlock the opportunities of tomorrow.
With 33 years of experience in IT and deep practical knowledge of blockchain, ScienceSoft helps companies in more than 30 industries conceptualize their blockchain idea, assess its feasibility, and accurately plan and implement their blockchain project. In addition, their advisory help ensures their clients face minimized risks of blockchain implementation and practical assistance with designing and creating a reliable blockchain solution on time and within budget.
---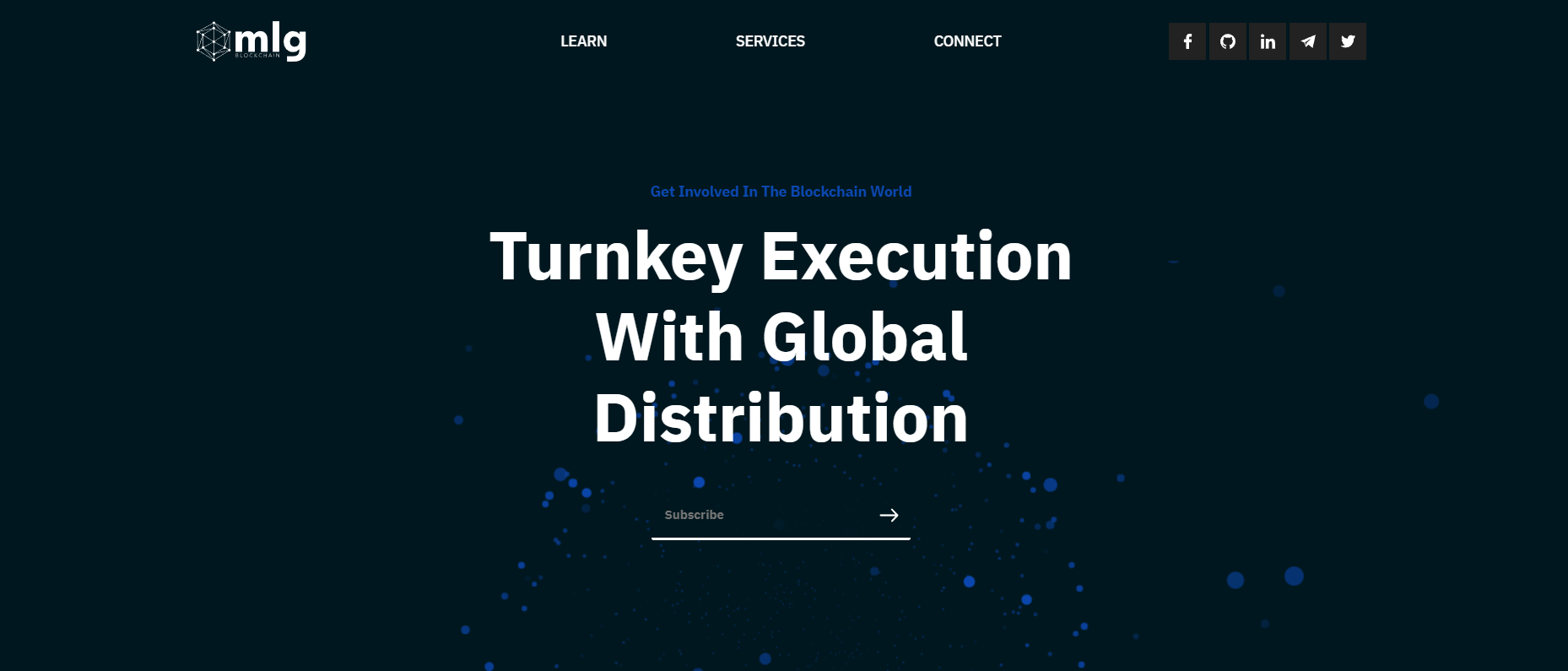 MLG Blockchain is a Toronto-based venture creation and capital advisory firm with blockchain technology development and broker-dealer capabilities. They offer premium blockchain consulting services with regional and global representation for clients worldwide.
MLG Blockchain consultants have extensive experience in the blockchain industry. They are Blockchain and DLT agnostic and have experience with many blockchain fabrics, including the Bitcoin Blockchain, Ethereum, Hyperledger, EOS, Ripple, Factom, Tron, Neo, Icon & Aion, among other protocols. They have also worked with many types of blockchain development and distributed ledger technology APIs, software frameworks, databases, and DevOps tools for testing and agile development.
---