Advertising Disclosure
Advertising disclosure:
Our partners compensate us. This may influence which products or services we review (also where and how those products appear on the site), this in no way affects our recommendations or the advice we offer. Our reviews are based on years of experience and countless hours of research. Our partners cannot pay us to guarantee favorable reviews of their products or services.
As consumers worldwide have moved to working, shopping, and socializing online, it's now second nature for companies to research user behavior and quantify different data on the Internet. Business intelligence (BI) platforms enlighten your company about what digital users are into and how they behave. Information gleaned from business platforms makes analysis efficient and accurate and ultimately enhances your products, services, inventory management, and internal processes.
Business intelligence software and platforms enable users to visualize data, create an interactive dashboard, and automate reporting and predictive analytics. Companies across the globe aim to evolve to stay competitive, and business software and platforms help along the way. More startups are relying on data to get ahead - spending on business intelligence is predicted to increase worldwide - from $15.2 billion in 2021 to over $18 billion by 2025.
---
Business Intelligence Platforms That Maximize Analysis and Productivity:
---
Benefits That Business Intelligence Platforms Offer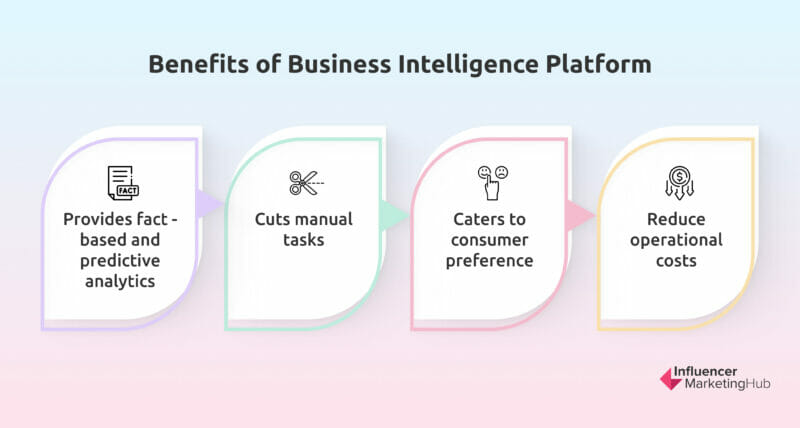 Provides fact-based and predictive analytics - from discovering trends and patterns to consumer behavior to managing vast amounts of data; business software allows your business to gain valuable insights that can help adjust strategies for maximum growth.
Cuts manual tasks - technology enables a more interactive, automated work system that applies to every industry. Whether you need to optimize logistics, inventory, sales, or human resource management, business intelligence platforms make software work for its users in the technical and non-technical spheres.
Caters to consumer preference - consumers are highly digitalized nowadays, meaning businesses must align with the times. Business intelligence adjusts according to current trends (e.g., mobile apps cover 90% of smartphone usage).
Reduce operational costs - automating tasks and making analytics and monitoring happen in real-time make it easier for businesses to plan faster, adjust any errors, eliminate guesswork, and make reporting processes convenient for every staff.
---
2023 Business Intelligence Platforms That Maximize Analysis and Productivity
These business intelligence platforms can automate, lessen errors, and make big data workable for companies. Here are our top technology recommendations, whatever industry you are in:

Oracle is among the top global providers of business software services, with an integrated platform for enterprise-level needs. Their customizable platforms revolutionize how your company can obtain and interpret data, providing a comprehensive review of key metrics, trends, and an overall augmented analytics system. Their powerful system features natural language processing, data discovery, and data management. With the help of the integrated business platform, you can build specific data sets, display outcomes, upload data, and combine business data for an insightful report that executives and managers can use.
Oracle BI offers a business intelligence suite that enables rich access to broad sets of data in any form, from any industry enterprise. Their server can integrate business processes that involve dashboards, AI interaction, enterprise reporting, financial reporting, data mining, and other web-service applications. What sets Oracle apart is that it can create a common BI architecture for a more seamless user experience. Different members of an organization can access and use these data accurately.
---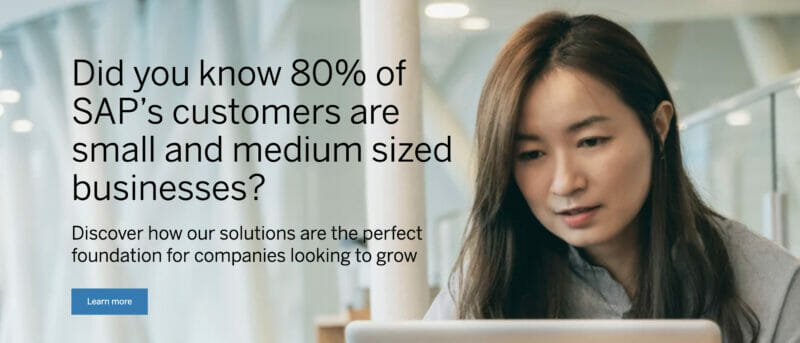 SAP is also one of the biggest business intelligence platforms in the world, with integrated systems and applications that can replace old-school legacy platforms. Their services cater to both enterprises and SMEs. SAP has over 230 million cloud users at present and over 100 custom business solutions covering different functions.
Its all-in-one suite system makes SAP incredibly useful and sustainable for businesses. Your company can centralize software for core business areas, including procurement, production, marketing, sales, materials management, finance, and HR. SAP also enables cross-enterprise sharing, which makes communicating findings and data presentations with other stakeholders convenient. With this platform, your technical personnel can build role-based dashboards to assess risks, predict needs, and identify growth opportunities.
Enterprise planning and analytics application are advanced with the SAP platform integrated into your workflow. The only drawback is that SAP requires user training, especially its extensive analysis features. The learning curve for this platform is much longer than with other options.
---

Upgraded to its previous Cognos Business Intelligence, IBM Cognos Analytics has a more convenient cloud functionality, data visualization tools, and a more user-friendly interface. This business intelligence platform is reliable because it can feed in data from third-party sources and tools, such as Google Analytics or CRM platforms.
Unlike platforms like Oracle, IBM Cognos Analytics can work within the cloud while still providing the essential features needed for data analytics. You have custom dashboards, conversational speech, animated stories, and machine-learning predictive analytics. This platform offers straightforward techniques for sharing intelligent visual representations vital for planning and business solutions.
---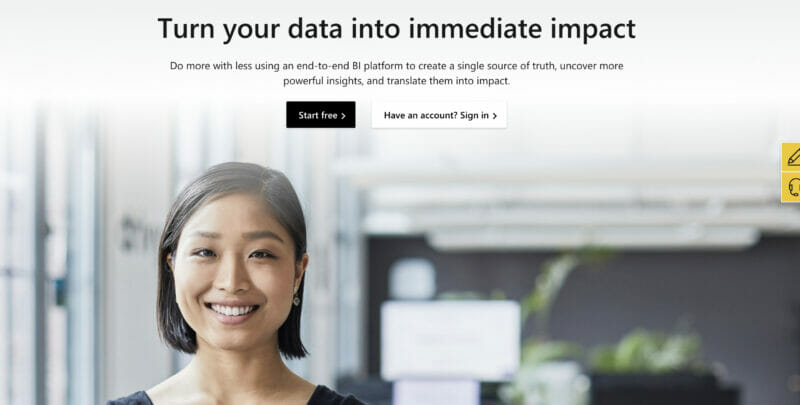 A giant in the software industry, Microsoft's Power BI is another quality choice for facilitating quick data exploration, AI-assisted visualizations, and analysis for decision-making. By connecting 90+ sources, Power BI can help managers make sense of large volumes of data for accurate, efficient data analysis. You can utilize original visuals and select from over 100 community-created graphics for intelligent visual representation.
Enterprises and SMEs appreciate how Power BI takes a comprehensive approach to company KPIs, unlike other platforms that focus on website metrics and marketing performance. Here, you access AI diagnostics, predictive analysis, and real-time reporting to influence your inventory, HR, sales and marketing, and other business areas.
---

Mobile business intelligence platforms are the way forward, with around 21.6% Compound Annual Growth Rate in 2023. One highly-rated solution is Tableau, a business intelligence platform and analytics solution that can generate meaningful real-time insights for companies.
Their platform is primed especially for mobile data, connecting to data from on-premises systems and cloud sources. Tableau is an open-source tool, meaning even lone analysts or mid-scale businesses can explore it and customize it according to the type of AI research needed.
Tableau helps collect and prepare data from multiple source points such as spreadsheets, SQL databases, cloud apps, and third-party sources like Salesforce. The software's live visual analytics provide rich, interactive ways to present data, saving labor hours when accessing useful information. You're able to create a narrative story using real-time data analysis. This open-source platform applies to industries such as communications, banking, education, real estate, manufacturing, and healthcare, among others.
---

Want a low-friction business intelligence platform? Clear Analytics is perhaps the best instrument for the job. It is recognized globally as a useful solution that may be used without any prior training, setting it apart from other highly technical platforms mentioned in this list. Clear Analytics delivers extensive real-time data analysis capability while keeping onboarding, migration, and learning issues minimal. The platform shows every information relevant to stakeholders, and keeps data aggregation fuss-free, enabling users to model, filter, and visualize data from a variety of sources.
Businesses especially appreciate the Excel functionality because most companies that rely on Excel can continue using it but with added solutions. For example, you can access data on-demand, facilitate quick data sharing between departments, and audit all data changes. Their business intelligence platform equips even non-technical personnel with the capacity to analyze and collaborate using accurate data. Clear Analytics is easily integrated with other software, such as Power BI, to maximize data presentation.
---

Sisense, formerly known as Periscope Data, is a powerful cloud-based business intelligence platform that integrates massive data sets into a digestible format. It is an API-first platform that simplifies data collection and organization, allowing businesses to gather insightful intelligence from their databases, systems, and services effortlessly.
What gives Sisense an edge over other options is that anyone can use it without advanced technical knowledge. Their goal is to "infuse data everywhere you work," so the business decides only on data-driven information. It's basically ready to use, no longer burdening your team with additional training. You can create dashboards and charts and develop reports to make use of predictive analytics. These capabilities can be done with low-code or no-code applications.
The ability to quickly turn large datasets into intuitive dashboards & charts makes Sisense an invaluable business asset. Different industries, including retail, life sciences, tech, and manufacturing, benefit from their smart, agile solutions.
---

Qlik Sense is a cloud-based business intelligence software offering a range of augmented analytics capabilities. Data visualization, dashboards, reporting, and natural language processing, among other features, are usable within the platform.
There are several vital features in the platform. Qlik Sense has self-service data visualization, allowing users to combine, explore, and load massive data sets. The platform also has an associative exploration feature that enables simple search functions to illustrate connections between data. Businesses can easily spot hidden insights and opportunities. Qlik Sense is among the few platforms with a reliable insight advisor chat that analyzes user intent via natural language processing.
The platform is hosted on the cloud, offering the ability to have a boundless analytics solution and extend Qlik Sense with other software for a dual-use strategy. The only consideration is its technical requirements; you need further training to maximize the platform's features.
---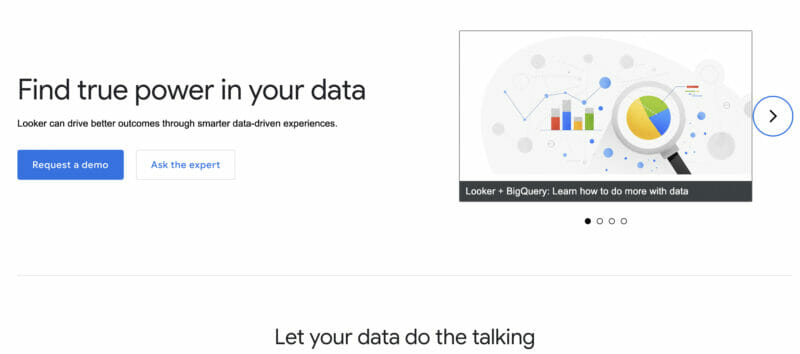 Looker is another outstanding business intelligence platform that allows managers and business executives to organize and visualize data. Now part of Google Cloud, the platform helps businesses capture real-time data to facilitate proper decision-making in each department. Users appreciate that Looker requires no advanced technology or training, because it easily integrates comprehensive workflow processes and data sets intuitively. Databases, services, systems, and spreadsheets – these sources are analyzed to create dynamic dashboards for relevant data.
From the name itself, Looker lets users "view source" to understand not only the data presented but how the data presented is being manipulated and combined. All dashboards and queries can be drilled into further, allowing you to uncover possible data connections across multiple layers and sources. With Looker, your departments can analyze supply chains, digital marketing, customer behavior, and distribution processes.
Looker is much more user-friendly than other business intelligence platforms. Users create dynamic graphics that make results easier to understand and explore more in-depth. Apart from the Looker Data Platform, you can develop new apps using this software, and it can interface with a variety of third-party tools to maximize your data analytics processes.
---

Data Pine is another powerful solution to explore and interpret data for business decisions. Its intuitive drag-and-drop user interface keeps charts and graphs highly interactive and professionally presented without any coding required.
This business intelligence platform also makes predictive analytics uncomplicated. Users can simply select the KPI, determine the number of data points to forecast, input previous data points, and define the model quality via a specific confidence interval. Company departments can perform educated forecasts.
Unlock the power of your data with this software's intuitive capabilities. With its expansive dashboard features, predictive analytics, and AI-powered insights, you can explore questions quickly and visually- presenting graphical answers that clearly communicate scenarios and trends.
---
---
Business Intelligence Platforms: The Way Forward
By leveraging business intelligence, companies of all sizes the power of an integrated platform, businesses and managers can gain a comprehensive picture of their metrics - from statistics to dynamics - using a few steps. Business intelligence software can elevate your business apart from competitors. By listening in to customer insights, predicting inventory needs, organizing finance and HR systems, and replacing legacy systems with more intuitive, AI-powered solutions, companies gain actionable insights. Never before has discovery, natural language processing, and augmented analytics been more powerful. It's only right that businesses take hold of these capabilities.
One of the wisest decisions in choosing a business intelligence platform is to go with a reputable provider. These ten solutions have been around for decades, helping industries become more stable, cohesive, and agile. With the help of business intelligence platforms, companies can make sense of big data. Investing in technical training and resources to integrate these platforms means you reap the rewards. Find an on-premise or a cloud-based BI solution for your company today.