What a difference a year makes. Two years, actually, but that wouldn't have been as catchy as an opening line. When we first looked at Buzzoole in mid-2017, we saw a completely different product than the one we're reviewing here. Without dwelling on the details, it's enough to say we were not impressed. The company itself didn't even look particularly viable—at the time, Buzzoole was four years old and its most recent round of funding ended with the issuance of an $830K convertible note. Every great tech rush includes some also-rans fizzling out, and Buzzoole seemed destined to become one of the first of the influencer marketing platform craze.
So, again: what a difference two years makes.
First and foremost, the Italy-based company clearly spent much of that $830K on salaries and espressos for their developers. They continued to improve the platform bit by bit, taking carefully measured steps, slowly attracting newer and bigger customers—companies like Amazon, Canon, Samsung, Bacardi, KFC, Nissan, Starbucks, Tommy Hilfiger, Sony….there's more, and if I got paid by the word I'd definitely list them. Their success has been such that in December of 2018, Buzzoole's latest attempt at funding got them $8.39 million. Series A investors don't put down money unless they believe they're going get much more back in return, and Buzzoole has given every reason to believe that's going to happen.
What was once a drab interface that gave marketers very little control over their campaigns—and even less insight into performance—is now as full featured as they come. In the previous version, customers created a brief, set a budget, set some criteria for influencers and then sat back and watched everything else unfold. There was no interaction with influencers or any other kind of creative direction or input that could be offered beyond whatever they put in the brief. That's all changed now, and for the better.
With a modern design and intuitive interface—not to mention the ability to interface with any of the 280,000+ influencers who'll be speaking on their behalf—brands are able to effectively and efficiently manage their influencer marketing campaigns. Add to that an improved analytics engine that powers Buzzoole's campaign reporting, and it's no wonder there's a tremendous amount of buzz around the platform.
---
Summary: Quick Jump Menu
---
Pricing:
There's no fee, monthly or otherwise, to create an account on the platform. Brands can poke around, browse influencers, and even create a campaign brief. Buzzoole takes its fees as a percentage of your campaign budget, the rest going to the influencers you've chosen to work with. For the most accurate pricing, it's best to contact the company directly.
---
The Details
To say that Buzzoole's UI has improved since our last would be an understatement. It isn't going to win any awards, but it's modern and simple in the best way; Buzzoole is intuitive to navigate, while data is presented in an organised, easy-to-digest manner.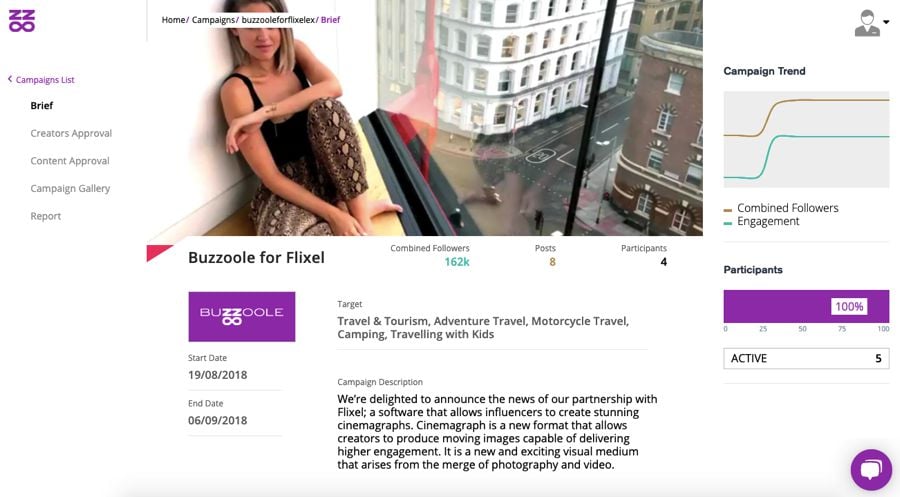 Part of Buzzoole's simplicity is that it doesn't bother with a discovery module. When you create a campaign, the brief is shared out with influencers who the system deems a good fit. While this isn't necessarily different from other marketplaces, Buzzoole's approach to creator curation is. Instead of simply relying on keywords and other filters to match you, the platform uses AI to determine influencers your brand has the greatest affinity with. It doesn't index data points for reference, it understands what that data says about you and your brand—and what the influencers' data reveals about them. As a brand uses Buzzoole, the AI is also noticing who they're choosing, who they're asking back, what content they're approving, what's getting rejected, all with the aim of fine tuning the influencer selection process so that brands get better matches with none of the time spent looking for them. That's kind of a huge deal. If you're wondering how well that works, I'd refer you to the $8 million funding round and long list of prestigious clients mentioned in the introduction.
Buzzoole's other big-deal innovation is the result of their partnership with Nielson. Using their data, along with a custom survey of the audience that would have seen your brand's campaign, you can get a much more accurate picture of how effective your campaign was. This isn't just numbers served to you on a page—it's more like consumer research being done on your behalf. But also, you can get numbers served to you on a page: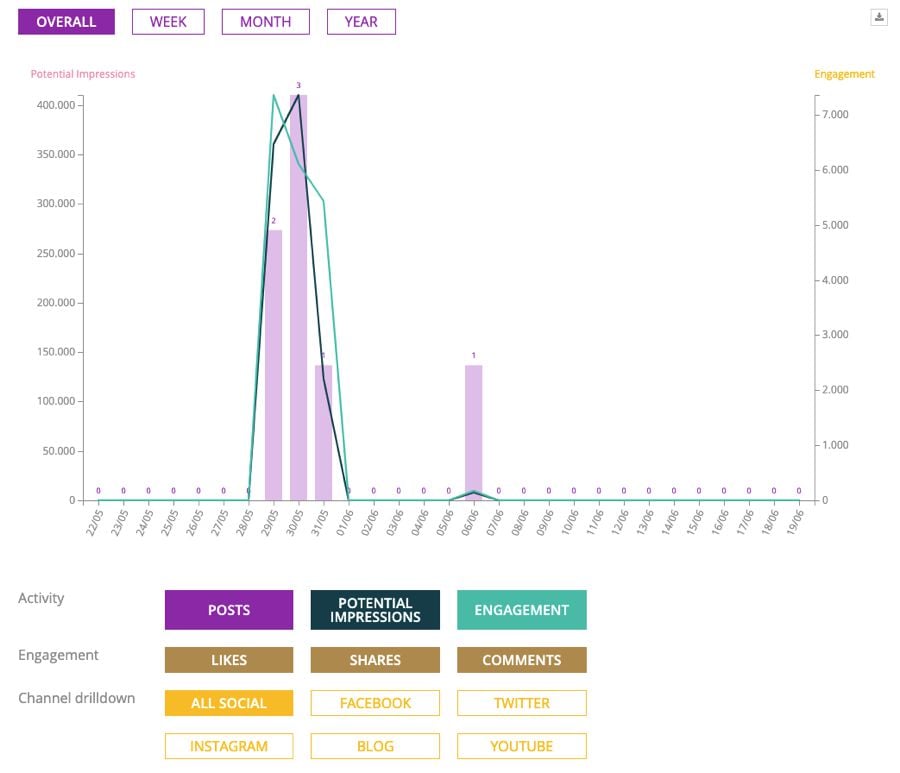 The reporting module is another area where Buzzoole has upped its game. You'll get the standard view of reach, likes, comments, and shares, but also an interactive graph that shows you all that over the life of the campaign—and which can be sliced and diced a number of ways to get a better understanding of the factors that impact performance. Another plus is that Buzzoole differentiates between paid and earned reach. The one gripe here is that you can't dig deeper into the audience you've reached: there's no way to find out any demographics or interest or affinities of the people that engaged with your influencers' posts.
You can see some of that when you look at an influencer's profile, though. Once you've published a campaign brief and the platform suggests influencers for you to consider, you can start browsing through their profiles. And there's plenty to browse through. There's an influence score for different verticals to get an idea of just how powerful their voices are on any given topic. You can see the gender breakdown, age ranges, locations, and interests of their followers, as well a few performance metrics served to you via interactive graphs and charts. The influencer profile goes pretty deep, and you'll be able to tell whether the AI has picked a good one for you.
If you like what you see, then you can approve them to join the campaign and they move along to the content creation process. This is also managed through the platform, and it's as easy and clear to handle as anything else here.
---
Conclusion
Buzzoole has been on a steady upward trajectory for the last couple of years. In fact, what's most impressive about their product right now is that it isn't the result of any major funding. They got their funding after building an impressive and successful product. With momentum on their side, the next couple of years will likely see even more rapid development of the platform—and continued growth. What they've already built is impressive in its ability to simplify and streamline influencer marketing campaigns.
Usually, automation means sacrificing some control and precision—and sometimes even quality. That was one of our biggest complaints about the earlier version of Buzzoole. Now, though, brands have the ability to curate content and manage campaigns doing a small fraction of the work that would otherwise be necessary—yet they're in control every step of the way. That's progress for everyone.
Buzzoole
Features

Ease of Use

Reporting