Chatbots are increasing in popularity and, fortunately, quality. They're a great way to provide fast and convenient customer service without sacrificing quality. Plus, you can free up your sales and customer service staff for the hard questions that chatbots can't answer. But how you implement your chatbot can make an enormous difference in customer satisfaction. You want to provide a chatbot experience that engages and entertains, of course, but you also need a chatbot solution that will move your prospects through your marketing funnel and help you meet your marketing goals. That's why we've pulled together this list of our favorite chatbot examples so you can get inspiration from the best of the best. You'll find chatbots for just about any purpose—conversions, lead generation, educational content, and more.
If you're not familiar with chatbots, don't worry! We're going to start at the beginning to answer your questions about what a chatbot actually is and how they work before diving into our chatbot examples.
---
15 Best Chatbot Examples You Can Learn From:
---
What Is a Chatbot?
A chatbot is a software app designed to engage with your site visitors using human, conversational language. Chatbots are widely used for customer service but we've seen them increasingly being used to generate leads, make sales, and a number of other things. Chatbots are growing in popularity in large part because they're so easy to create; there are chatbot platforms that let businesses create advanced chatbots without coding, using only a drag-and-drop interface.
---
How do Chatbots Work?
Chatbots use natural language processing (NLP). This technology is also used by the voice recognition systems that virtual assistants like Siri, Cortana, and Alexa are built on. They parse the text entered by the user and responses are based on complex algorithms that not only identify what the user said but also make inferences about what the user actually meant or what they want. From there, the chatbot chooses the appropriate response.
With advances in technology, chatbots are becoming more and more natural, using metaphors, similes, and idioms that were out of reach for the earlier chatbots. This makes it increasingly difficult for users to tell the difference between chatbots and actual humans. While some brands embrace the non-human aspect of chatbots, others strive to make them as close to human interactions as possible. There's no right or wrong in either approach—it's all about what makes sense for your brand.
Now that we've covered what chatbots are and how they work, let's get into our chatbot examples.
---
15 Best Chatbot Examples
Chatbots show up across industries and can make an enormous difference in the effectiveness of marketing strategies for brands in eCommerce, publishing, healthcare, and more. In our list of chatbot examples, you'll find different chatbot types that represent different goals. You can use these chatbot examples to plan out your own chatbot marketing.
1. Varicent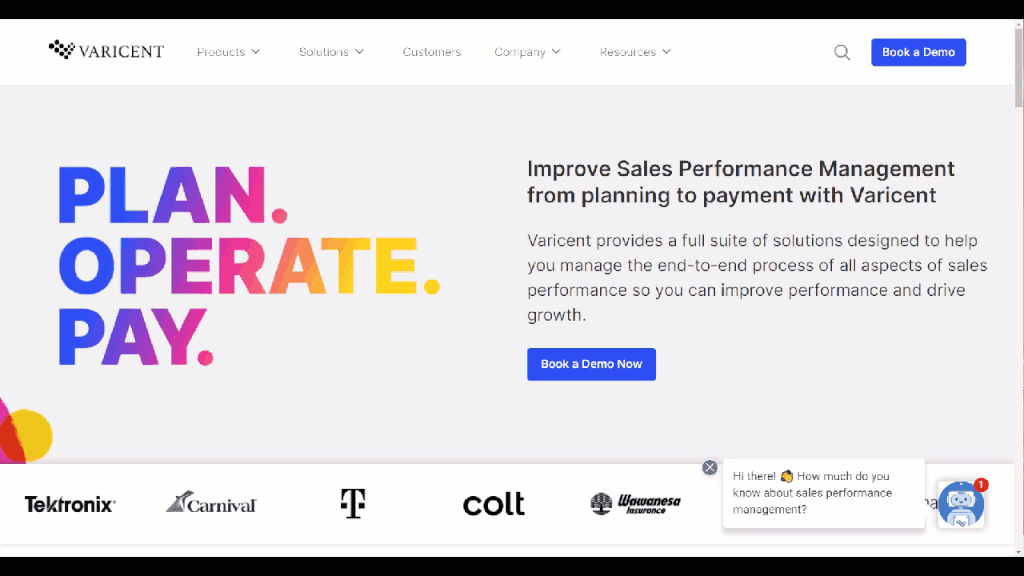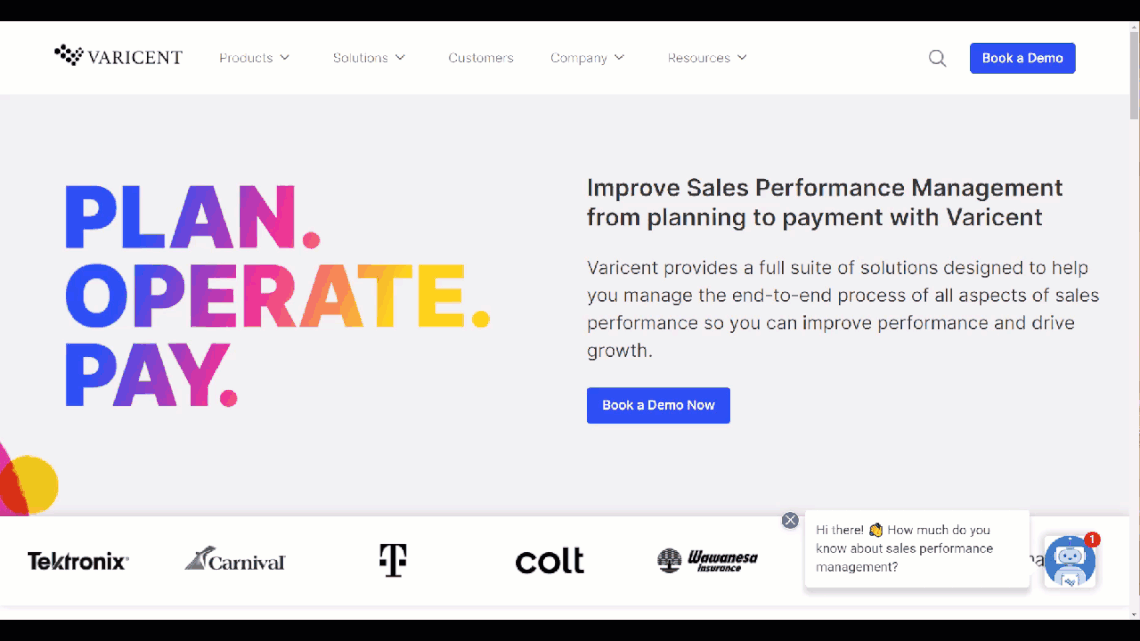 Chatbot Type: Conversational
Varicent is a Sales Performance Management platform that delivers measurable improvements through incentive compensation and sales performance management solutions. They have an in-depth understanding of improving performance and driving profitability for sales organizations as well as a network of partners worldwide that they rely on to provide solutions for both enterprise and mid-market businesses that want to increase their sales efficiency and improve effectiveness.
Varicent is using this conversational chatbot to generate leads—getting users to exchange their business email address for an eBook. Varicent has opted to highlight the fact that this is a chatbot, not a human, that users are interacting with, setting the expectation that if the user needs assistance with a complex issue, a human will take over the conversation.
---
2–3. Drift
Numbers two and three on our list of chatbot examples are from the same company: Drift. Drift helps businesses engage in real-time, personalized conversations, helping them reach the right people with their message at the right time to build trust and boost revenue. They use real-time chat, video, voice, and email.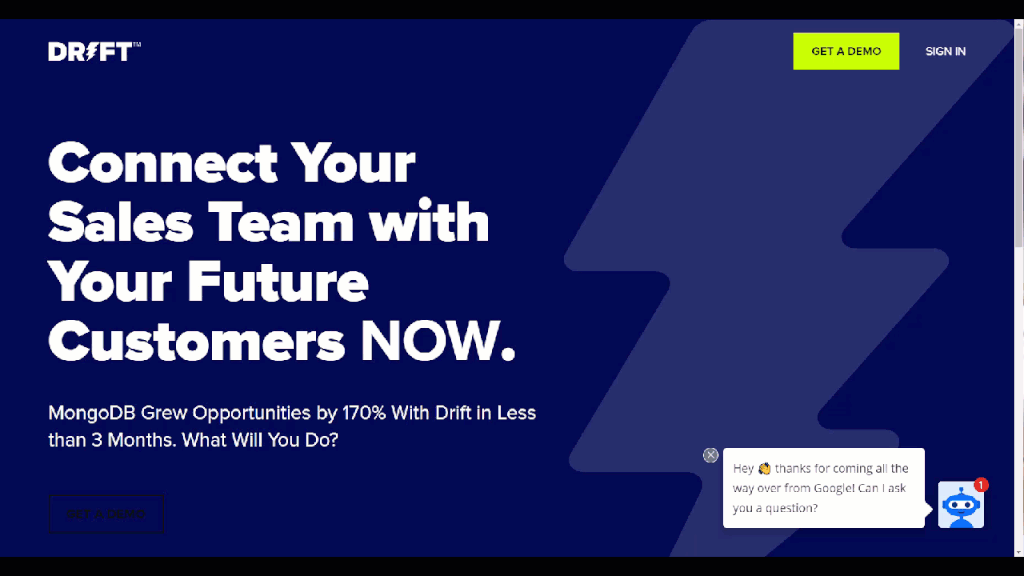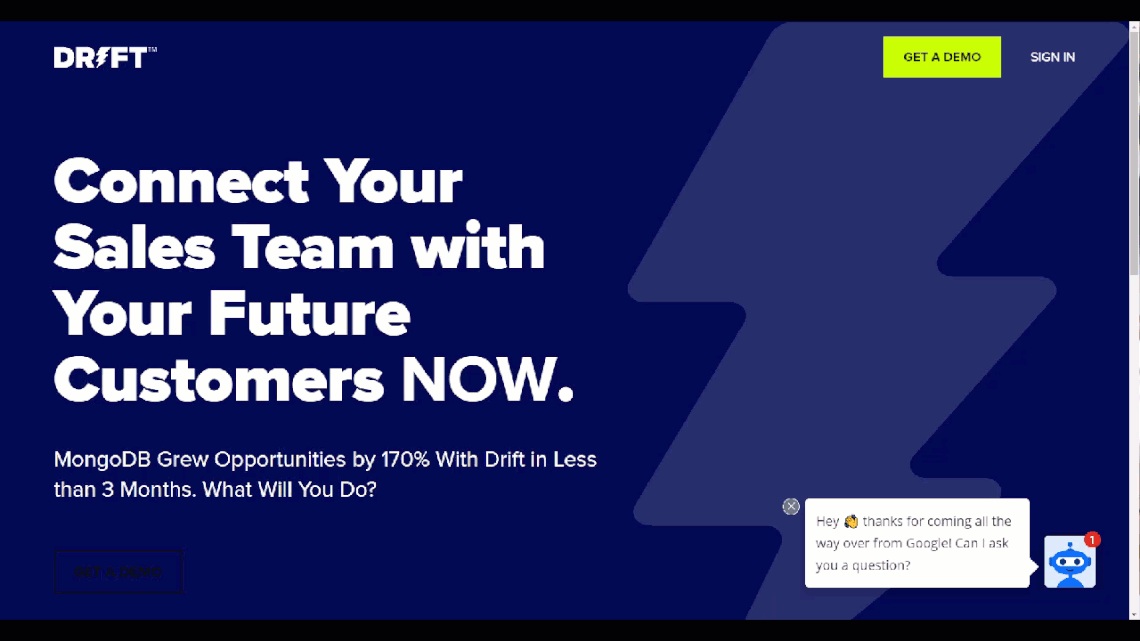 Chatbot Type: Paid Ad Converter
In this first chatbot example from Drift, we're looking at a chatbot that only shows up when visitors come from a paid Google ad. Since the traffic is coming in as a result of an ad, the chatbot can make certain assumptions about what the visitor is looking for and struggling with. In this case, Drift asks visitors if they're creating custom experiences for their paid traffic and gives two options for a response, both of which further the conversation.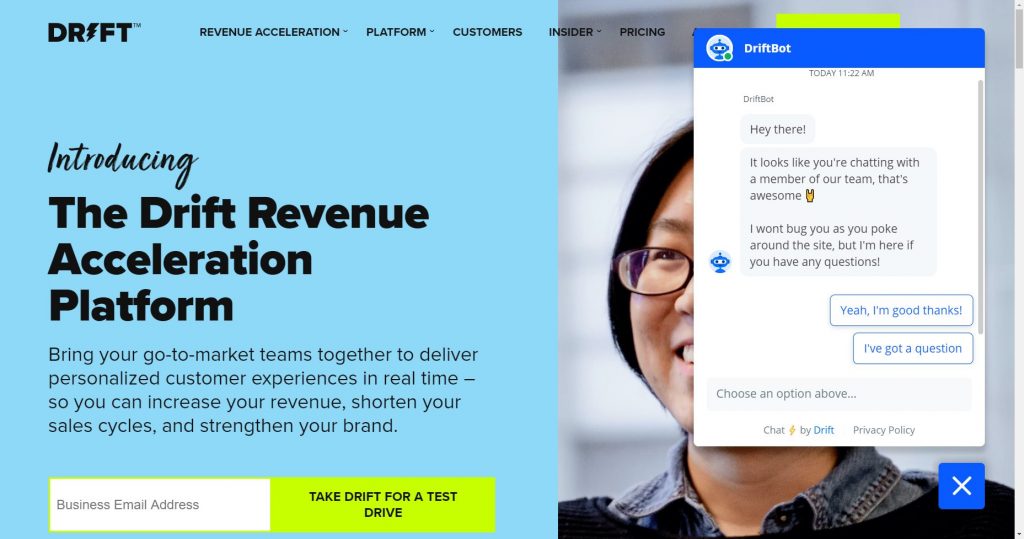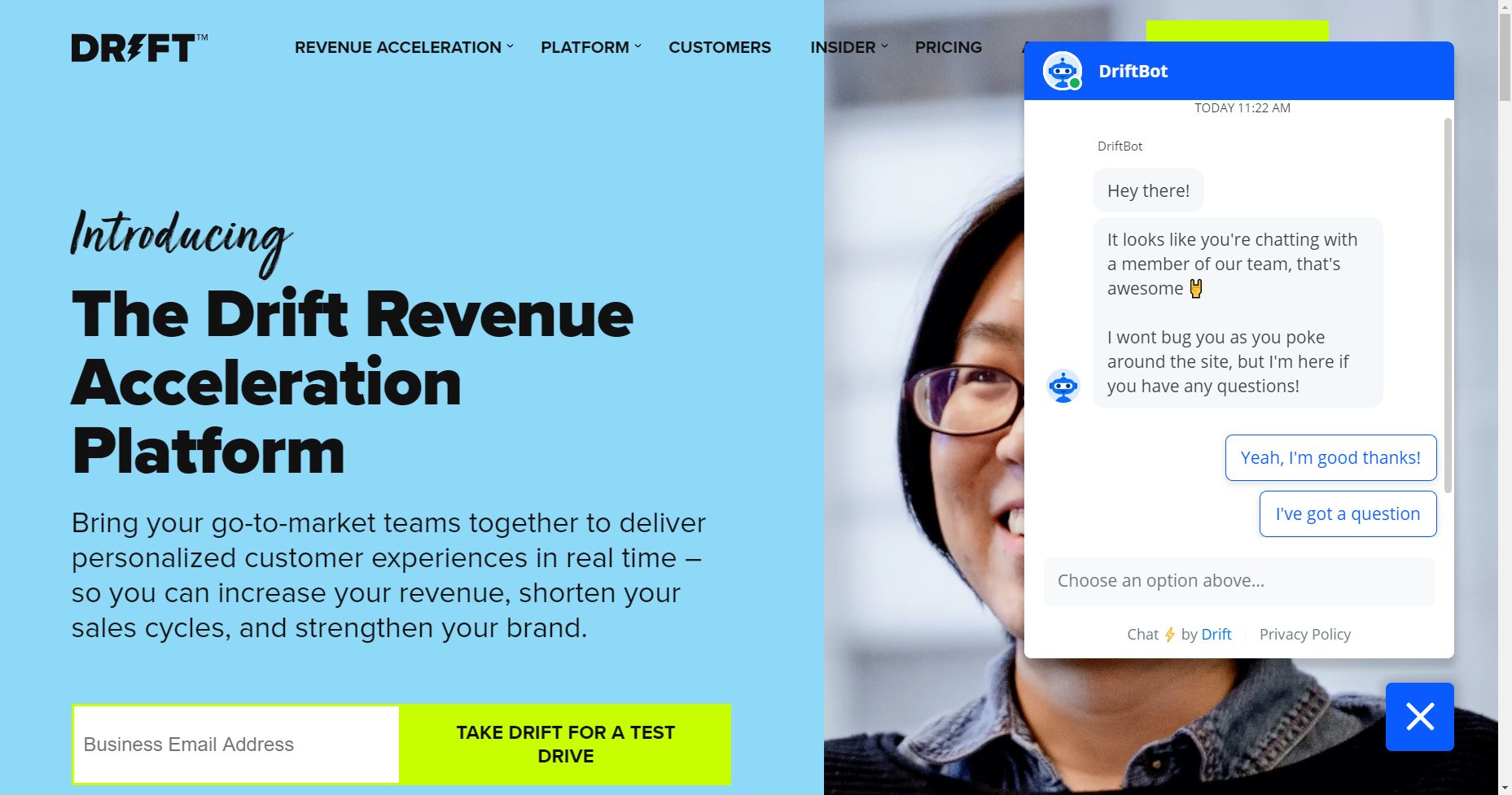 Chatbot Type: Account-Based Marketing
In our second chatbot example from Drift, you'll see an example of a chatbot built for account-based marketing. The chatbot knows that the visitor has already engaged with a member of the Drift team but offers assistance in case the visitor needs anything else. This lets the visitor know that Drift is paying attention to their behavior and needs. While it can seem creepy to have a website know what you're doing on their site, account-based marketing leads to better targeting and minimizes duplicate communications.
---
4. Lemonade Insurance
Chatbot Type: Customer Onboarding
Lemonade Insurance offers homeowners, renters, and pet insurance. They use chatbots to streamline their processes, reducing time and costs associated with repetitive customer service tasks. Lemonade Insurance has a policy chatbot named Maya that they use to onboard customers in about 90 seconds. Their insurance claims chatbot, Jim, helps visitors settle claims in mere moments.
---
5. B2B Lead Blog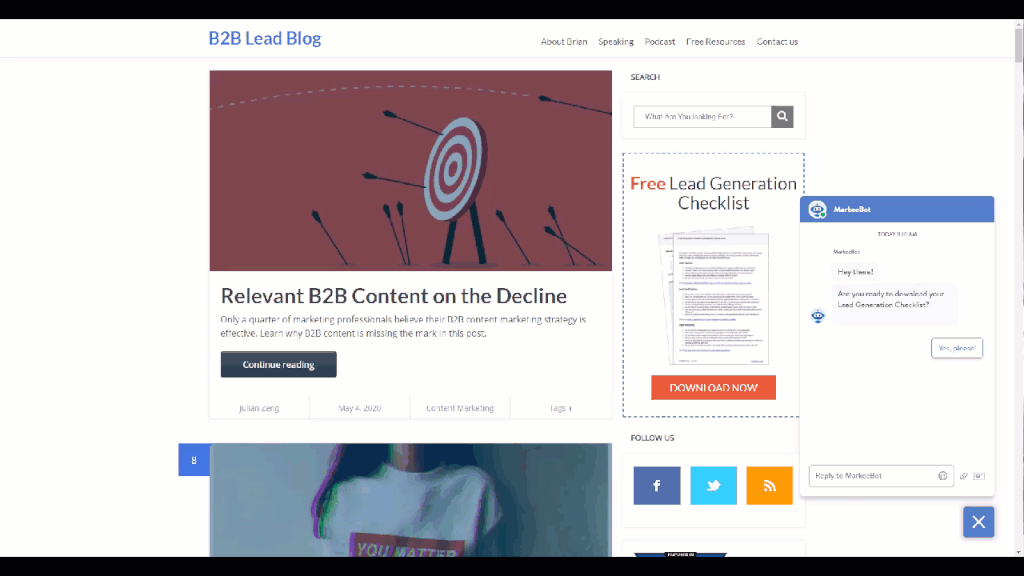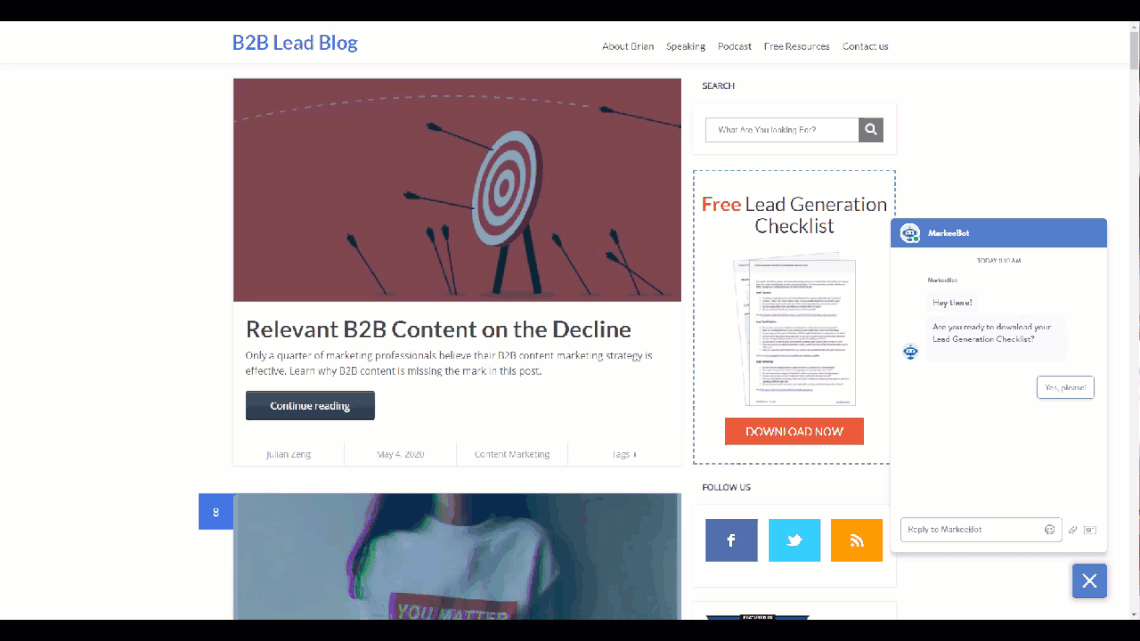 Chatbot Type: Lead Generation
B2B Lead Blog was started by Brian Carroll in 2003 with the goal of providing the information their audience needs to get the highest ROI for their sales and marketing strategy. Given the purpose of the B2B Lead Blog, it should come as no surprise that the chatbot example here has a lead generation goal. The chatbot offers a lead generation checklist as a lead magnet and asks visitors if they want access to more free tools. Visitors who do want more free tools will provide their email address for access.
---
6. One Week Website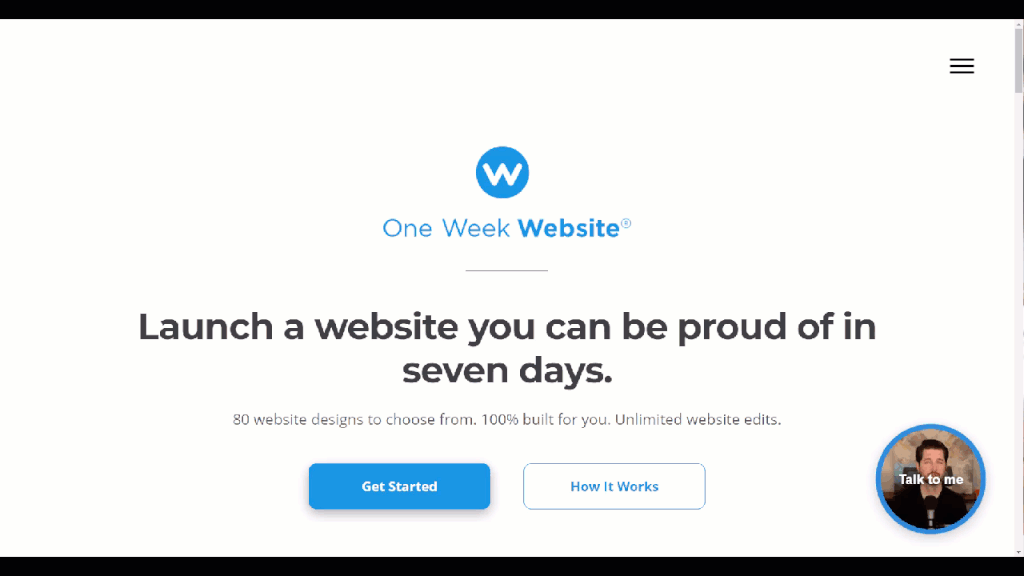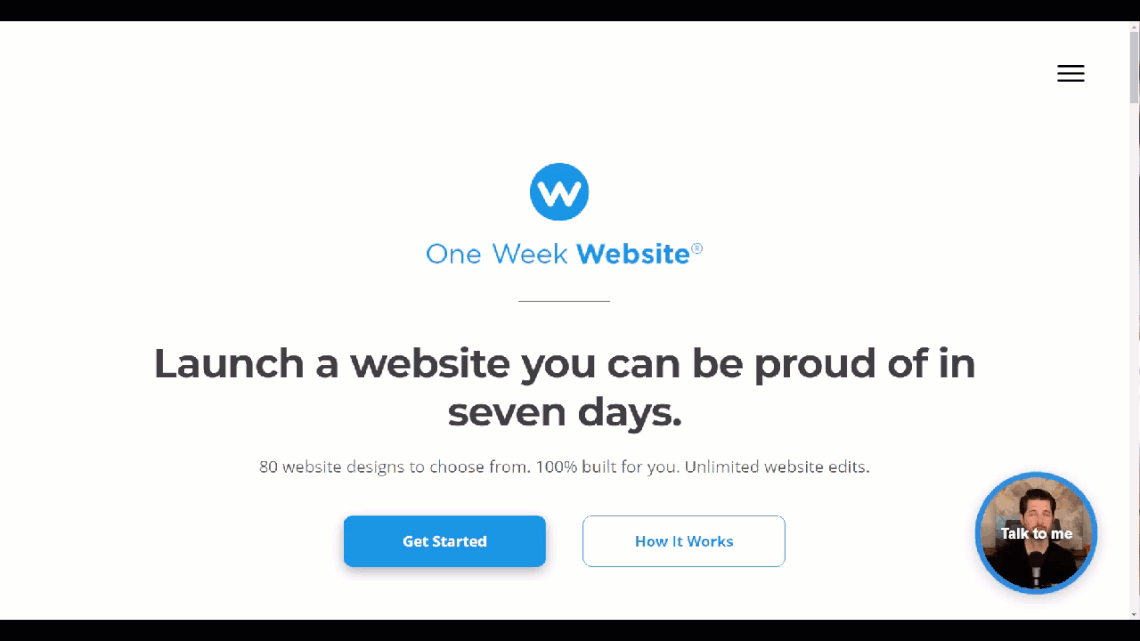 Chatbot Type: Video
One Week Website provides what businesses need to launch a website in seven days. The website will be built to your needs and specifications and will even be kept updated (with unlimited changes).
This is one of our favorite chatbot examples because video isn't something you see a lot in a chatbot. Plus, visitors can reply via video, audio, or text. This gives the chatbot the feel that a real human is actively engaging with you, even if the responses are prerecorded and come up based on advanced NLP.
---
7. Endurance
Chatbot Type: Conversational
Next up in our list of chatbot examples is this wonderful chatbot from Russian tech company Endurance that is designed for Alzheimer's patients so they can engage in conversations without the pressure (and shame) associated with talking to family members they might not remember well. The chatbot is cloud-based which makes it easy for doctors and family members to review the communication logs so they can better understand how the user's memory is functioning or degrading. While there's currently only a Russian version available, an English version is reported to be on the way.
---
8. Databox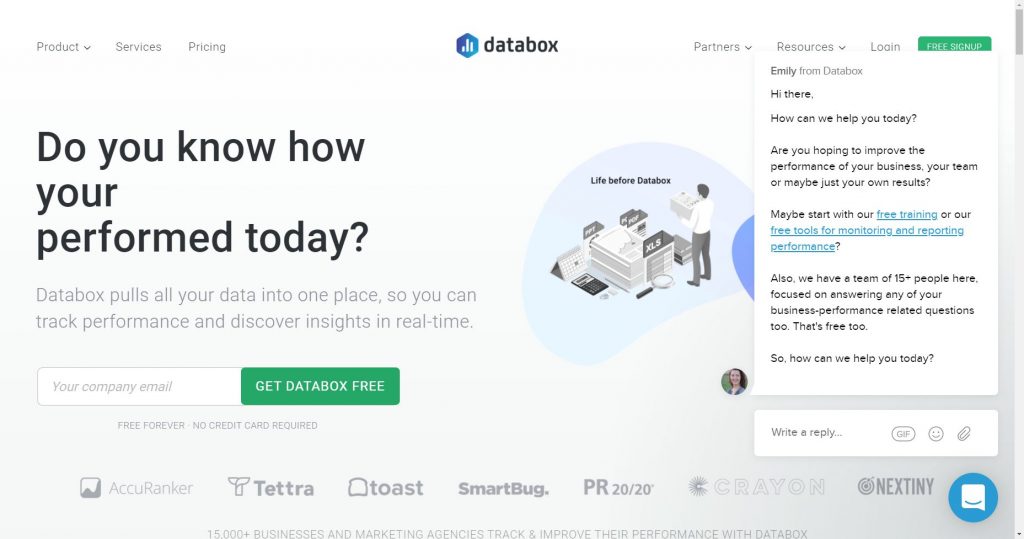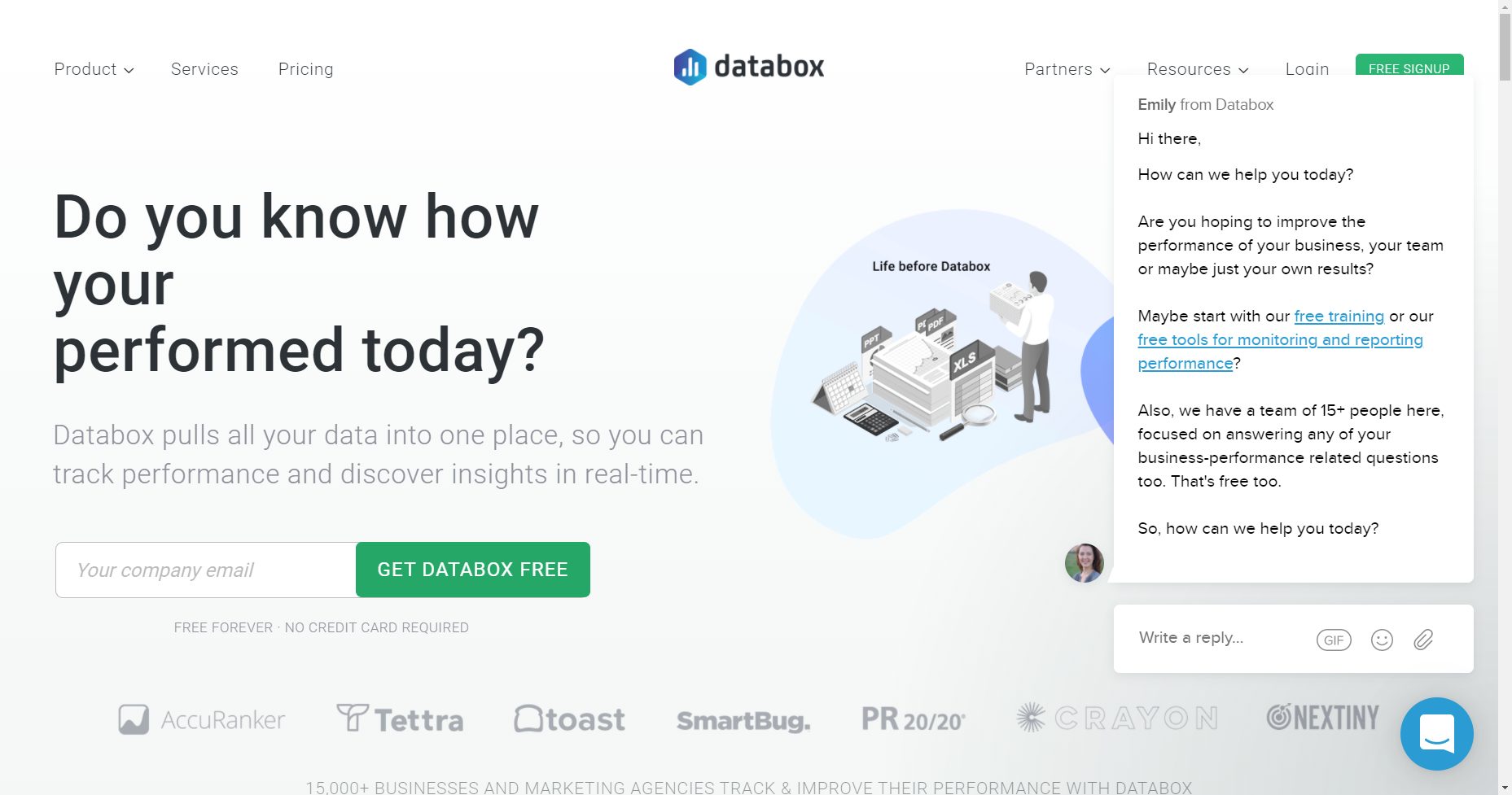 Chatbot Type: Educational/Content
Databox is a data aggregation platform that seeks to make it easy for brands to monitor, analyze, and improve performance in a single place. In this chatbot example, Databox focuses on providing educational content for visitors. Visitors can choose free training or free tools for monitoring and reporting performance, or they can speak to one of the 15+ Databox team members ready to help them with answers to business performance-related questions.
---
9. ClosedWon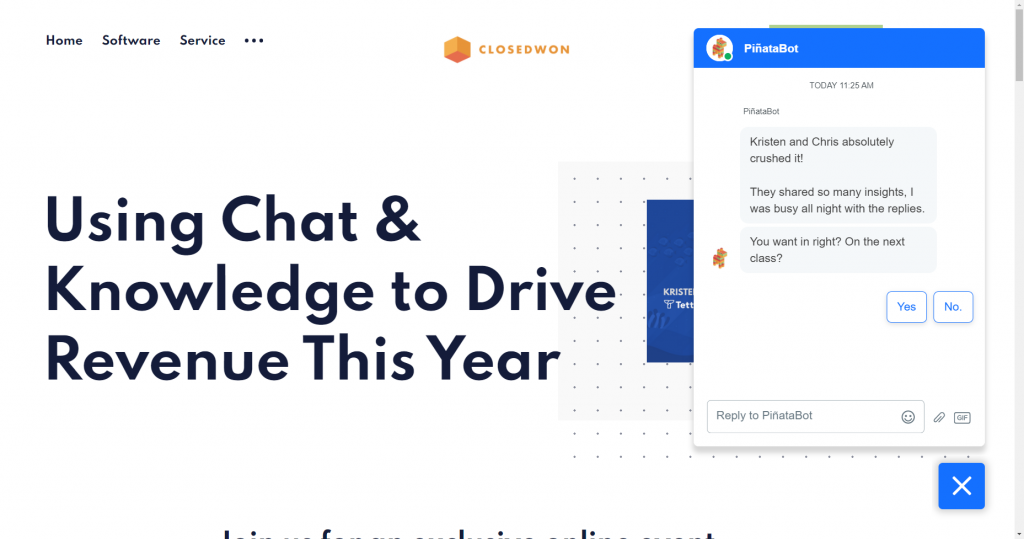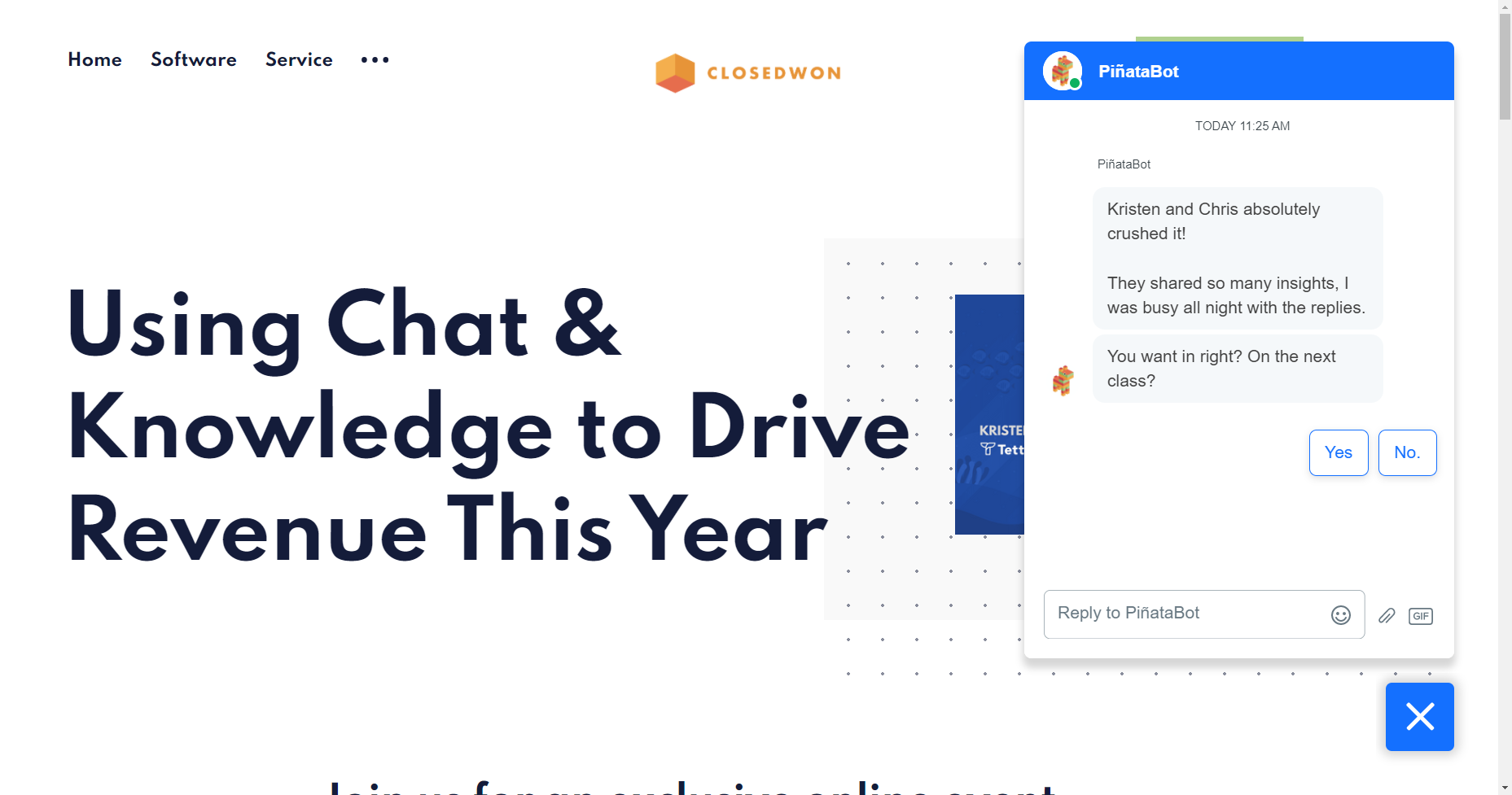 Chatbot Type: Registration
ClosedWon started as a small marketing consulting agency but has shifted to being a performance marketing firm that helps its customers earn more booked (paid) revenue. Their goal is to help customers get all the way through to the end of their sales cycle, hence the name "ClosedWon," instead of focusing on getting more leads. In this chatbot example, they congratulate two of their employees on their most recent webinar and ask visitors if they're interested in joining the next. This is a great way to inspire a bit of FOMO (fear of missing out) since visitors missed the most recent webinar, encouraging them to sign up to be notified of the next one. When a new webinar is available, this chatbot changes to a registration-focused chatbot that drives webinar registrations.
---
10. Sephora
Chatbot Type: Customer Service
Sephora is an industry-leading beauty and wellness retail company that champions diversity, inclusivity, and empowerment. They seek to foster belonging between clients and employees and focus on giving back to communities in the United States. Their chatbot, Kik, offers up tips, tutorials, and video clips that helps customers find the products that they want. Plus, visitors can use the chatbot to schedule makeup appointments in a simple, three-step booking process.
---
11. SalesRabbit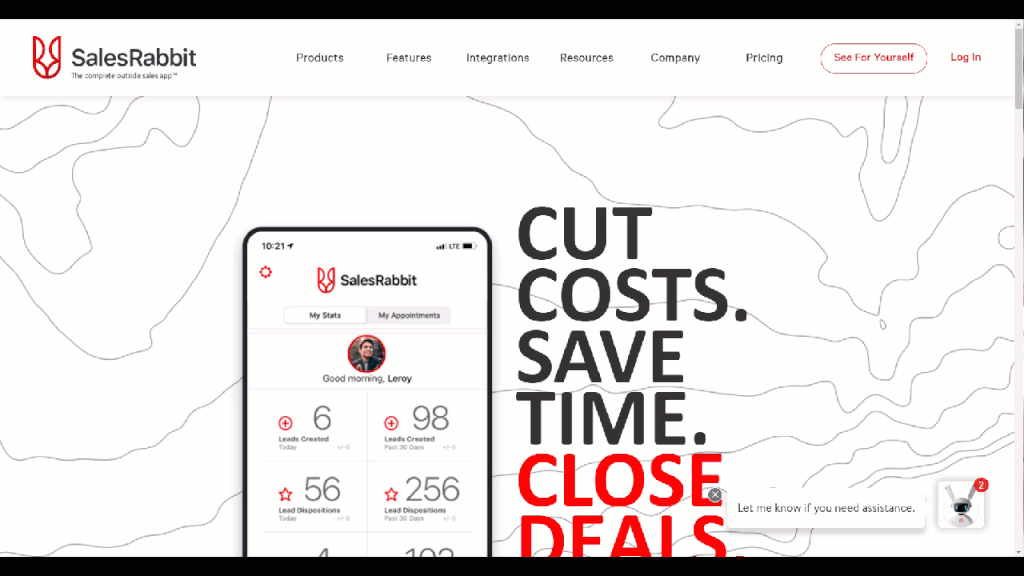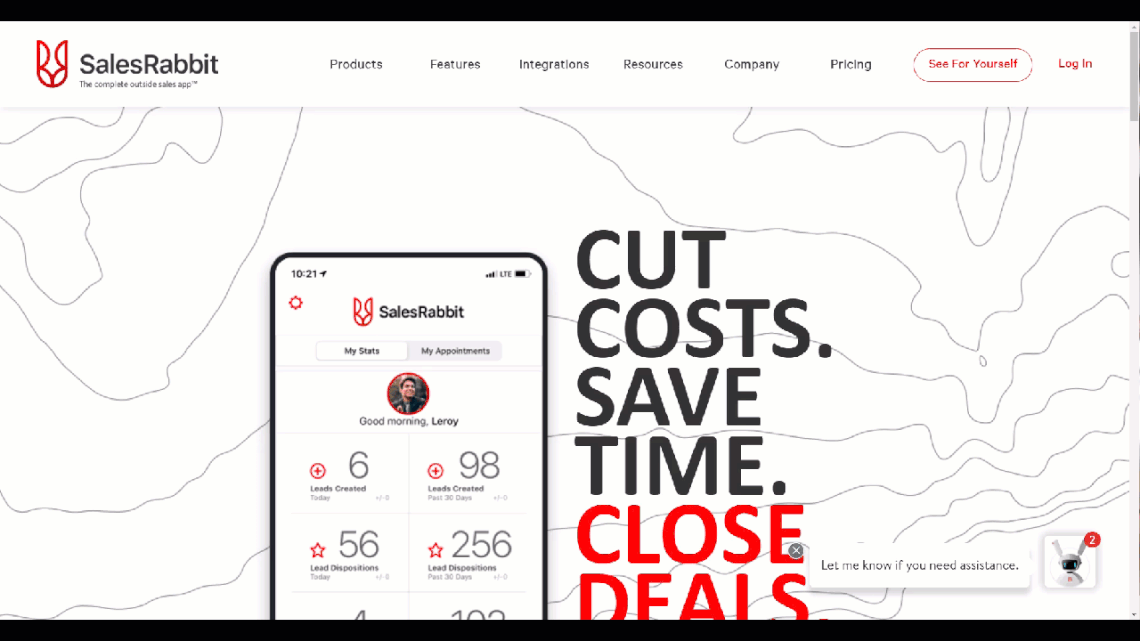 Chatbot Type: Sales/Customer Service
SalesRabbit focuses on solving the pain points of outside sales teams, helping them operate more efficiently through lead and area management, sales rep performance tracking, digital contracts, market data, lead generation, and more. They also offer add-on services like a geofenced marketing platform and training library. With their chatbot, SalesRabbit finds out if users are currently SalesRabbit customers. If you're not, you'll be given options to view a video overview, schedule a chat with an expert, and more.
---
12. Massage Envy
Chatbot Type: Service and Scheduling
Massage Envy is a nationwide wellness franchise that offers massage, stretch, and skincare services. As you can imagine, those services require booking appointments ahead of time. And that's exactly what Massage Envy uses this chatbot example to help visitors do. Giving visitors an easy way to book appointments at any time of the day, along with addressing questions they may have about services before they schedule, helps Massage Envy get more customers scheduled more easily.
---
13. Bench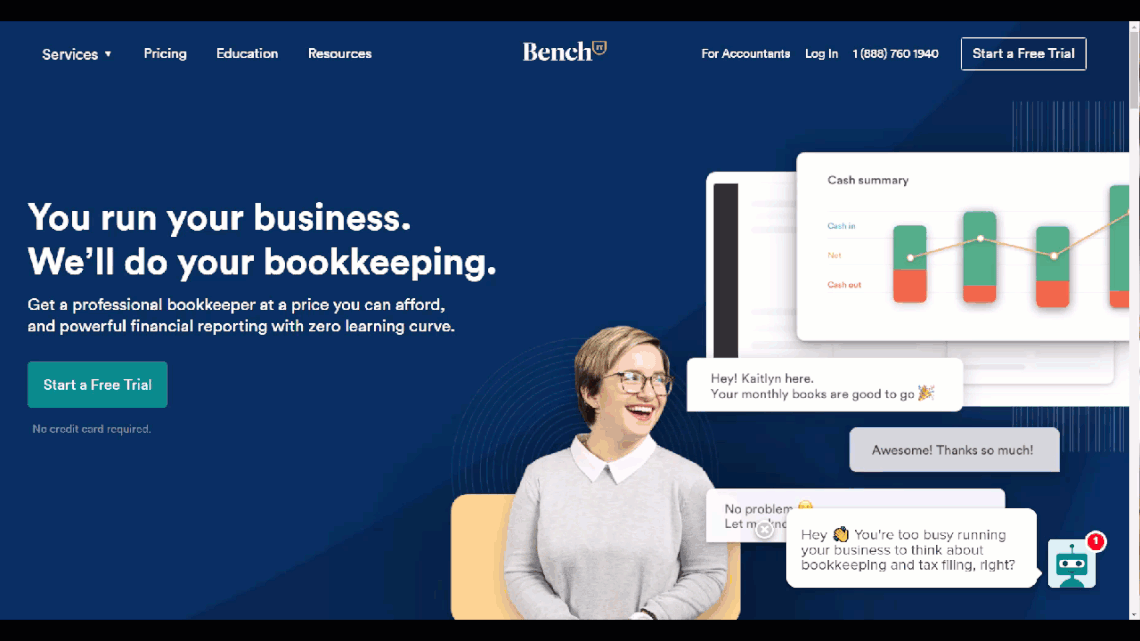 Chatbot Type: Homepage
Bench is a bookkeeping service for entrepreneurs. Their goal is to make bookkeeping easy for small business owners while also providing guidance those business owners can use to reach their goals. Bench uses a chatbot right on their homepage to segment visitors and starts them moving down the marketing funnel. Right away, visitors are asked a question that lets Bench know where the lead is in their journey to hiring an outside bookkeeper so the responses can be better targeted. When visitors say they're not interested in doing their own bookkeeping, Bench's chatbot offers them the chance to speak with someone right away or learn more about Bench.
---
14. Cheapflights
Chatbot Type: Travel Purchasing and Booking
Cheapflights is a global flight search and travel deals website that uses tech to make it easy for visitors to find the best deals for their travel needs. Cheapflights uses chatbots to make the travel booking process easy. The chatbot pops up, and you let it know where you want to go, when you want to travel, and how much you have to spend. The chatbot then returns the best, most economically efficient option. No scrolling through pages of results, the chatbot just tells you what to do.
---
15. Wistia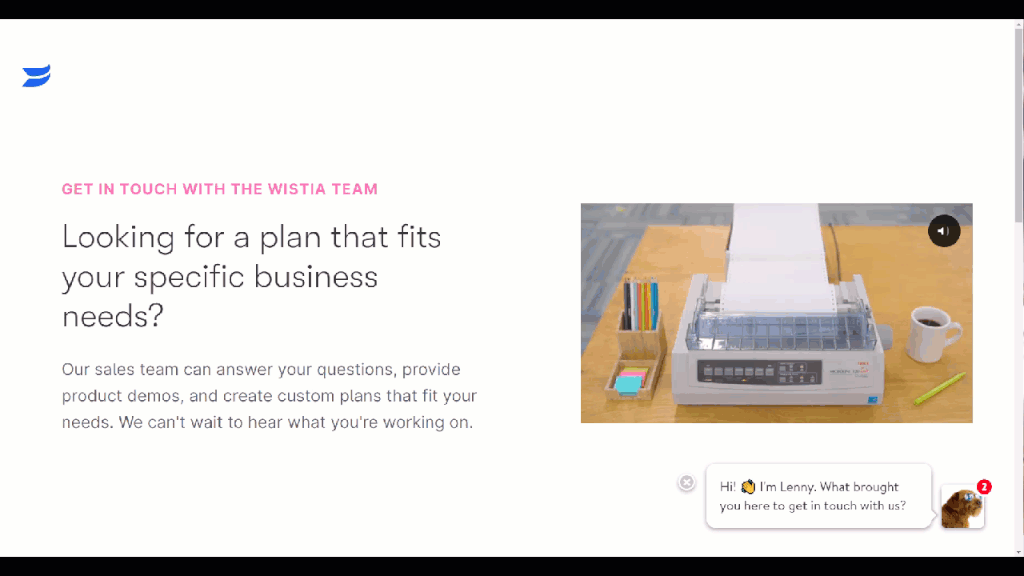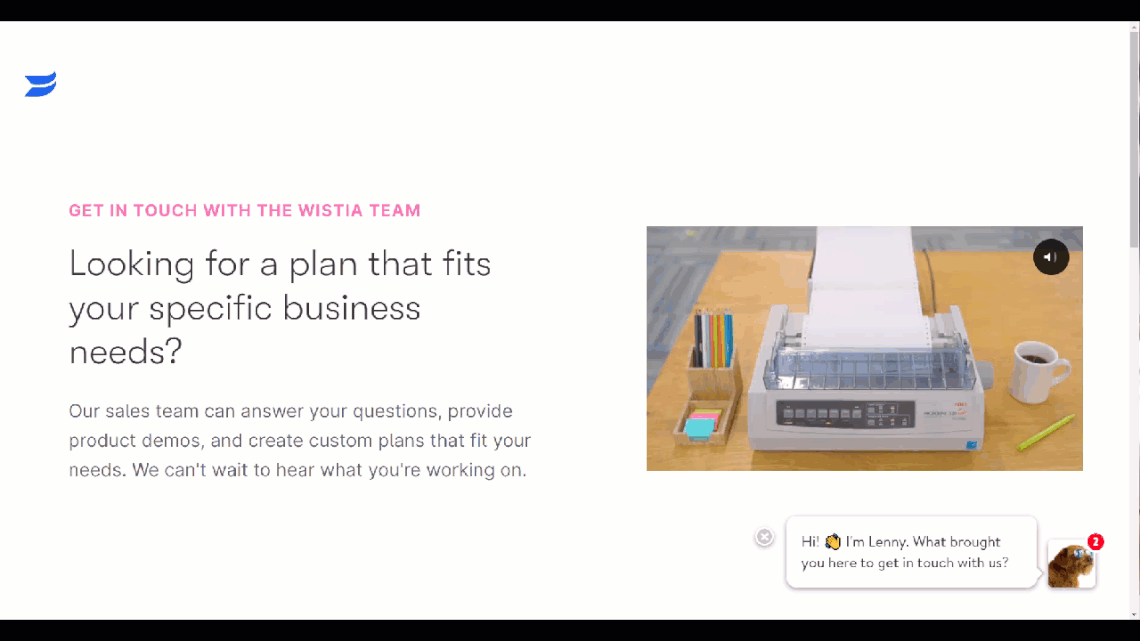 Chatbot Type: Pricing
Wistia is a video marketing software that was launched in 2006 by Chris Savage and Brendan Schwartz. On the pricing page, Wistia has a chatbot that's designed to help visitors find their best Wistia plan quickly and easily. The chatbot asks a few questions about the size of your video library and the marketing automation tools you're currently using. Based on those responses, you're directed to a Wistia team member who can get you set up.
---
Build the Best Chatbot for Your Brand
As you can see from the chatbot examples we've included here, chatbots are great for simplifying your repetitive business processes so you can scale your business while still creating meaningful relationships with your website visitors. The best part? Chatbots aren't hard to build and you can create them on multiple platforms. So, if you need a Facebook Messenger chatbot or a Whatsapp chatbot, you can do that. Not ready for chatbots? Why not give one of these live chat software solutions a try?
Frequently Asked Questions
What is a chatbot?
A chatbot is a software app that is created to engage with your website visitors by means of a human, conversational language with the help of natural language processing (NLP) technology that is used in tools like Siri and Alexa. While they are widely used for customer service, they are also becoming used more and more to generate leads, and clinch sales to mention only a few uses.
What are the advantages of using a chatbot?
Chatbots are becoming more popular as they are a great way to offer convenient customer service quickly. As they are also increasing in quality, you can rest assured that you will not sacrifice the quality. Another advantage is that you can free up your sales and customer service reps for the difficult questions that your chatbot might not be able to answer. They are also very easy to create as there are many chatbot platforms that let you create an advanced chatbot without any coding experience.
How does a chatbot work?
In a nutshell, a chatbot uses natural language processing (NLP). It is a type of technology that is used by well-known voice recognition systems that virtual assistants (VAs) such as Siri and Alexa are created on. They analyze the text entered by the user into logical syntactic components. Their responses are based on complex algorithms that identify what the user said and make inferences from what the user actually meant. The chatbot then selects the suitable response.
Are there different types of chatbots?
Yes, you can use a chatbot for various purposes. Some of the chatbot types and purposes that they are used for include account-based marketing, paid-ad converter, customer onboarding, customer service, scheduling, pricing, lead generation, registration, and to offer educational content for visitors.
What are some tips for creating chatbots?
It can actually be a good idea to highlight the fact that users are interacting with a chatbot and not a human. You can then set the expectation that if the user needs help with a more complex issue, a human will take over the conversation. For something completely different, you can, for example, let your chatbot use video. Even if the responses are pre-recorded, this can create the feeling that users are actually interacting with a real human.