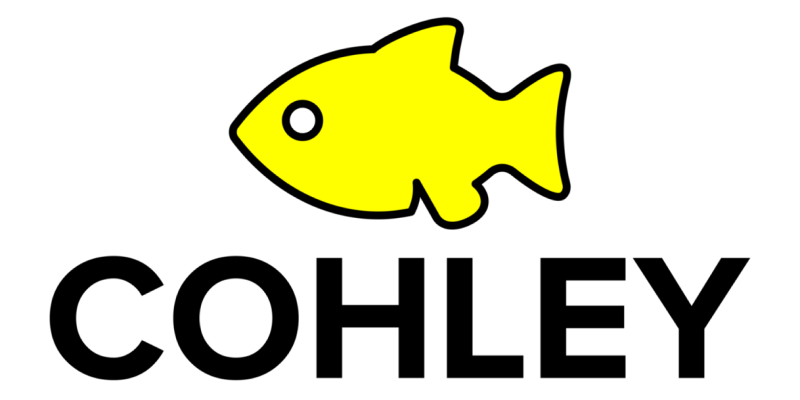 Best for:
Medium and Large e-commerce brands
If something smells fishy about the name of the platform, that's because it's an incorrect spelling of coley, a sweet-tasting fish often compared to cod. Why is it misspelled? Probably because some other person has owned Coley.com since 1996, according to a WHOIS search. But why a fish? Probably because the owners like fish. Their LLC is called "Goldfish," they call their up and coming creators "Nemos," they keep an aquarium at the office, and they say they'll know they've succeeded when they install their first shark tank. But really, the most interesting thing about the name is what's not there: no riff or variation or god-awful pun on the word influencer. And for that, there's a very good reason.
Cohley is a platform dedicated to content first. When it was launched in 2016, co-founders Tom Logan and Erik Graber understood that starting up yet another influencer marketplace was quickly going to turn them into more of the same old same-old. They saw content as being equally important to the influencers, recognizing they were mutually exclusive assets in a marketer's toolbox. Not every talented content creator is going to have influence and—let's be honest—not every influencer is making great content. Five years later, that vision is looking pretty prophetic, as marketers get more choosy about the influencers they'll work with while their thirst for content is a major factor in the emerging Creator Economy.
Cohley's platform connects brands with professionals photographers and videographers, with "Nemos" who are only starting to gain attention, and with full on influencers. In all of these cases, the content is the key to success. Brands retain licensed rights to their use, and analytics tell brands which content is performing well. At that point they can use, and re-use, their greatest hits across all their marketing channels, refining their use along the way to be more and more effective. And every time they reuse a photo or video, they're effectively lowering the cost of curating content for your campaigns.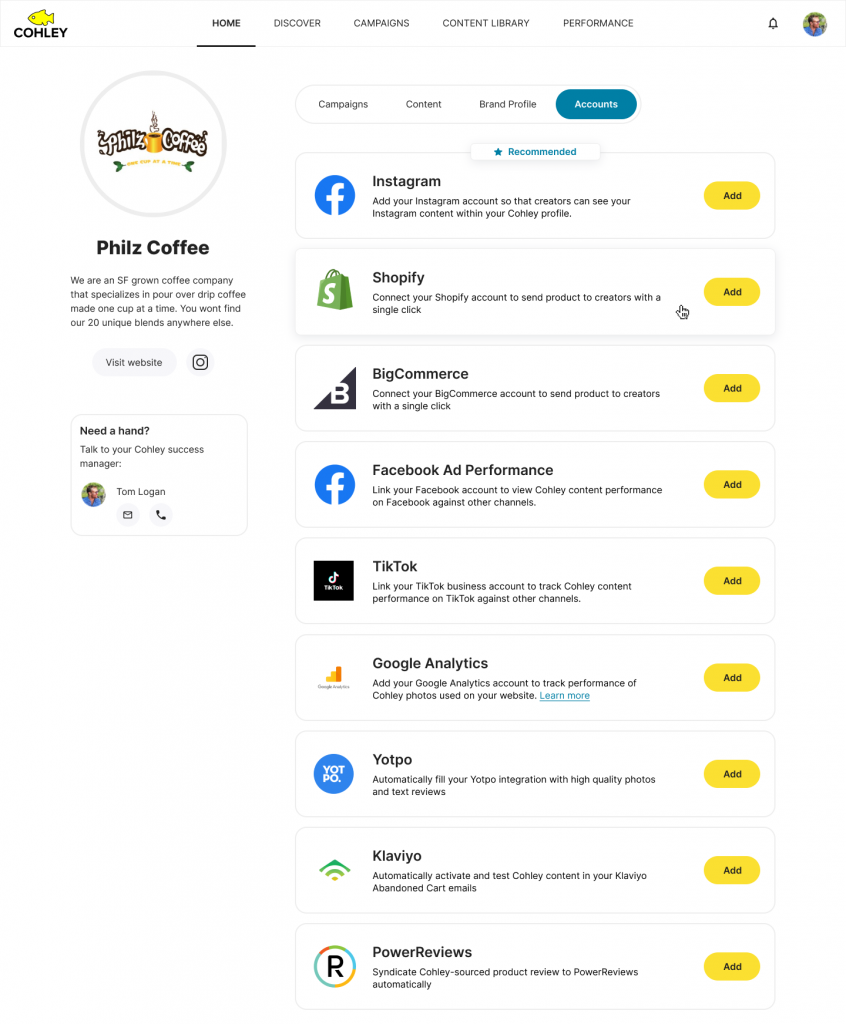 And there are many brands who will testify to that effectiveness. Brands as monolithic as Unilever, as well known as CVS or Ann Taylor, and as product-specific as Poo-Pourri are among the many names you've likely heard of that use Cohley. On the partnership side of things, Cohley integrates with all kinds of complementary platforms, like Facebook, Lumanu, Shopify, and Power Reviews. Cohley was even in the group of the first 20 companies asked to join TikTok's Business Marketing Partner Program. Knowing that, It's probably time to see what all the fuss is about.
---
Summary:
---
Pricing
Cohley doesn't make its pricing public, mostly because they don't have a one-size-fits-all approach to their product. Each potential customer's needs are assessed and a customised solution is devised to help them achieve their specific goals. It's also worth noting here that there's a strong bit of hand holding at the beginning, as the team at Cohley helps orient you on the platform and onboarding you into your first campaign.
---
The Details
When you start working with Cohley, you'll find that it has a similar feel to the Influencer Marketplaces this platform tries to distinguish itself from. You start by creating a campaign, but finding influencers to create content is only one way to go. Brands can also create campaigns where they're looking for Nemos to get them authentic User Generated Content, ideal for social campaigns, or they can look to professionals to supply visual assets for stuffier channels like websites. In all cases, as content starts pouring in from creators, the brand's content library fills up. It's all organized like a familiar file manager, with each campaign's content in its own folder.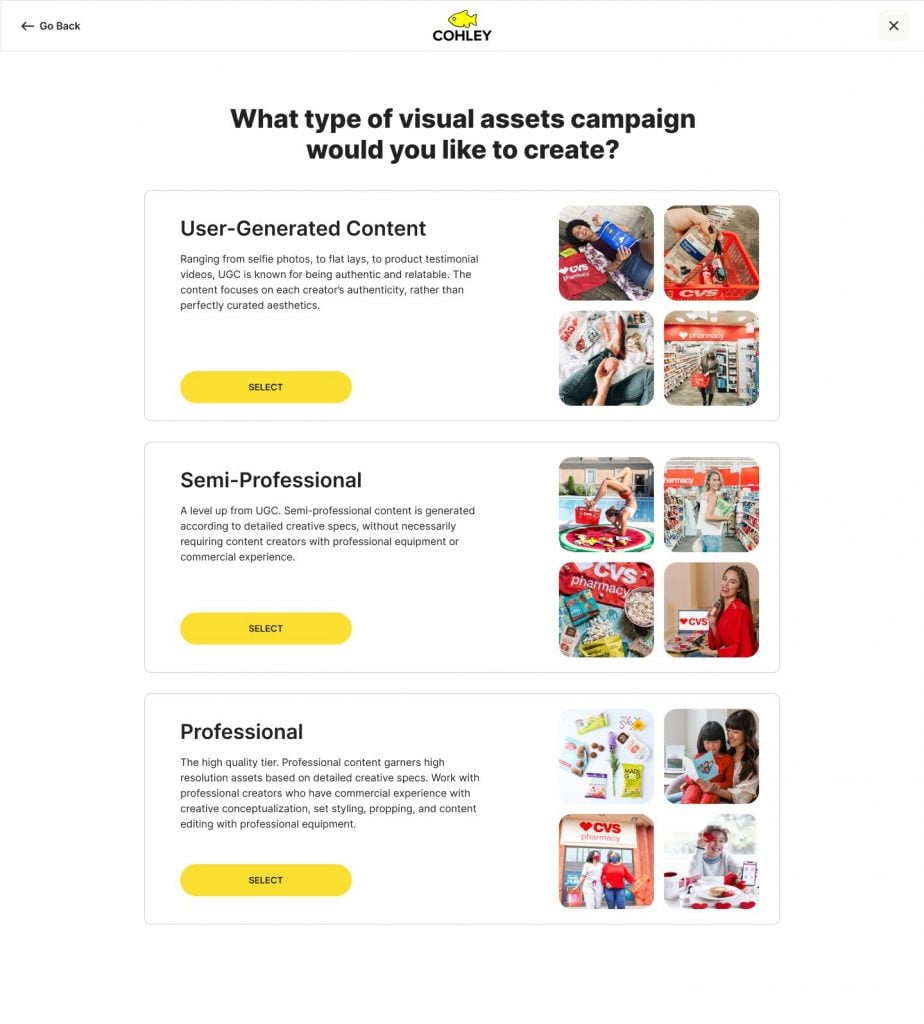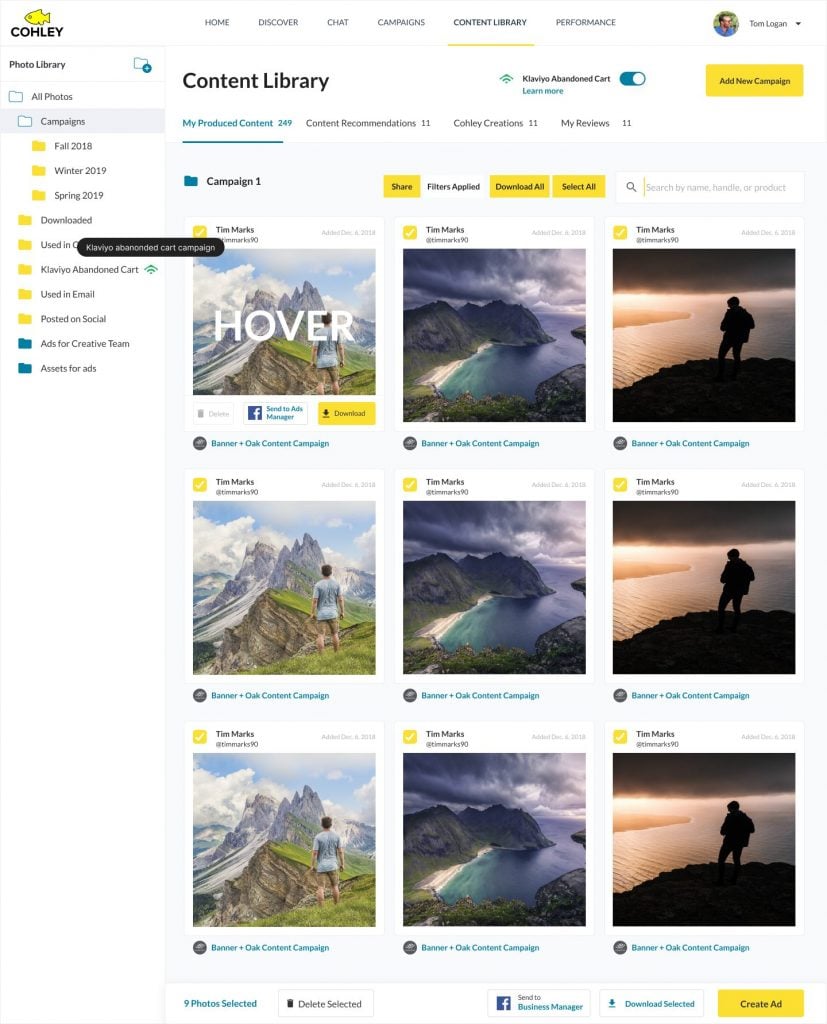 Now, for an influencer campaign, the process is a familiar one, and Cohley's approach to it is a fine one. We'd go into more detail on it if there wasn't so much else to get to, so it's enough to say it does everything you'd expect, does it all well, and that all the other aspects of the platform just make the influencer campaigns even more valuable. With the influencer's content stored in your library, you can start to repurpose it in unique and effective ways.
One way is through Cohley's integration with the email and SMS marketing platform, Klaviyo—specifically its abandoned cart feature. On its own, Klaviyo grabs images of products from the e-commerce site where the cart was abandoned. If you left, say, a pair of sneakers in a cart, and Klaviyo sends you an email to remind you, you're going to see the same picture of the sneakers you saw when you were shopping. Connected to Cohley, Klaviyo checks there first. Cohley can then pull from however many photos in your content library feature that pair of sneakers. This has benefits from a conversion perspective—a different image is sure to provoke a stronger reaction than something a customer's already seen—but that's not the end of it. Cohley also tracks the results, noting whether it results in a clickthrough. It's essentially A/B testing on a far grander scale, and leaves brands with the knowledge of the specific assets that deliver results (and should be used for other kinds of campaigns).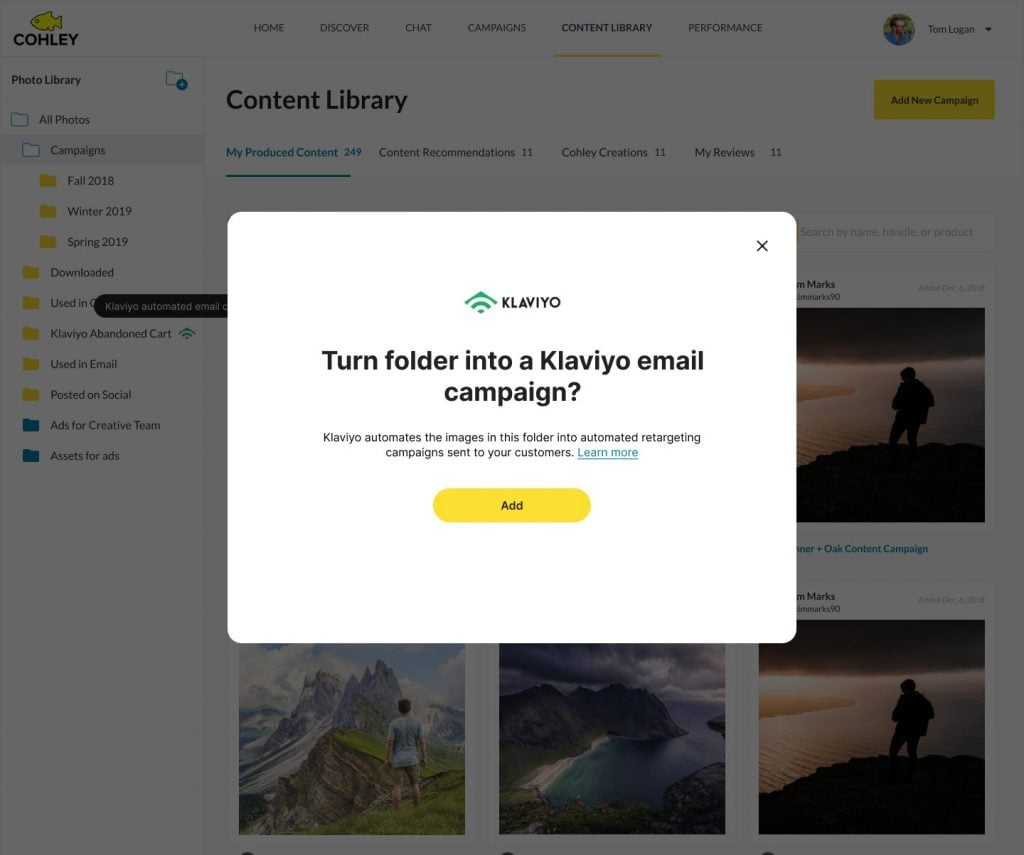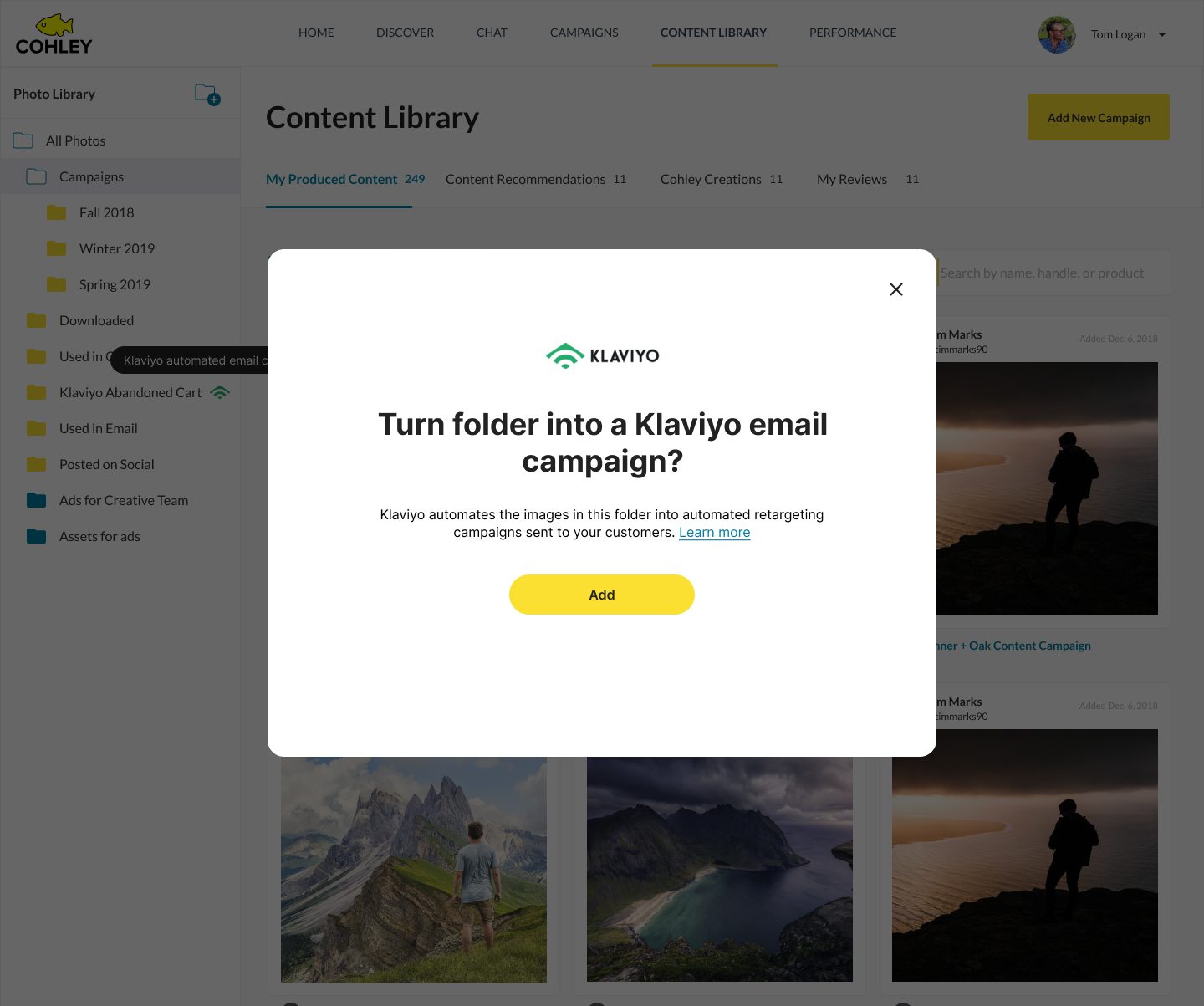 Another way that Cohley goes beyond the expectations of an influencer platform is with campaigns that require product to be shipped out. Actually it's more than one way. Gifting products to influencers, so they'll feature it in their feeds is an established practice, and Cohley's not changing anything about that. What happens before and after is an entirely different story. First, Cohley integrates with Shopify and BigCommerce to streamline the shipping and fulfilment process. If you're using one of those, you already have an established process for shipping items to people. By integrating Cohley with these platforms you leverage that existing process, which is already (presumably) efficient.
Taking the product exchange even further than a simple shout out, brands could require influencers, as part of their role in the campaign, to also write a product review like you'd see on Amazon. (You can also just have a campaign where the review is also the only requirement, but why not kill two birds with the same stoneware?) These reviews are submitted to Cohley, which then propagates them out to the associated product page on Yotpo or PowerReviews. Through this integration, these reviews can also be syndicated out to more than 2,000 online retail websites for companies you may have heard of, like Wal-Mart and Target.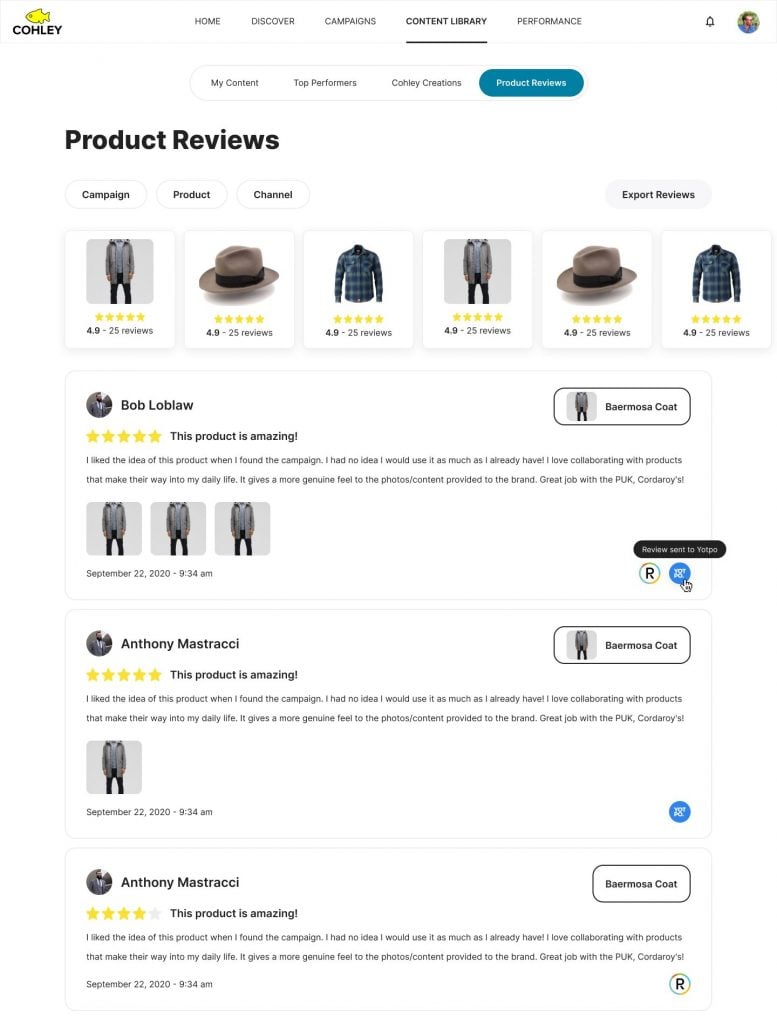 The final unique aspect of Cohley to cover is their data and analytics. You'll see the social metrics you've come to expect for the campaigns that fit that mold, but once again the platform's focus on content is where the real value is. All the testing that's done through the abandoned cart integration, as well as with photos on your website, your e-commerce platform, and your email marketing, yields what jargon speakers like to refer to as "actionable insights." The data on content is broken down by platform (like your website or your Instagram profile), and from there you can learn some pretty illuminating statistics, like how much revenue an asset generated, or how many orders and the average order value. You'll easily see which content is working best for you, and the insights will only get stronger in the future as they continue to fine tune this feature.
---
Conclusion
It feels odd to have glossed over the influencer marketing features of Cohley, given that we're reviewing it for inclusion on the "Influencer Marketing Platforms" section of influencermarketinghub.com. Seems like we should have talked about influencer marketing, yes?
Well, probably. But no.
It's a testament to how fully Cohley's founders realized their goal of standing out in a crowded field of influencer marketing platforms that we're reviewing their platform and don't have the room to fully cover the influencer part. The platform extends the use of your user generated content and forms a perpetual motion machine of marketing for you. You solicit for content, which gets distributed via influencer and more traditional kinds of campaigns and makes an impact. Then that content goes to a library, and the automation behind Cohley starts bringing that content out to the world in more specific and sales-oriented contexts, making an impact. That impact is measured, and the best performing assets can be put back to use in a more targeted way—a way that makes an impact. Meanwhile, that cycle is going round and round across multiple campaigns simultaneously, and your UGC is hitting all your marketing and sales channels.
Most platforms aim to market at scale, and they do. Cohley markets at scale, at scale.
Cohley
Features

Ease of Use

Reporting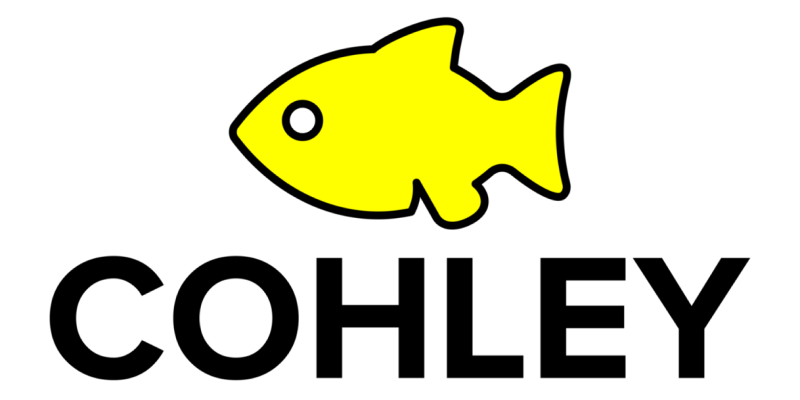 Best for:
Medium and Large e-commerce brands