Cryptocurrency paved the way for a decentralized banking system. Bitcoin was the first crypto created in 2009, and today, thousands of other cryptocurrencies, known as altcoins, have been created.
While many may still be on the fence about crypto investment, there's undoubtedly a steady growth in this industry. One of the biggest draws for this digital currency is that buying, and selling are executed without the governmental regulations found in fiat currency. Regulations have been criticized for benefiting the system more than the investors, and they usually get in the way of efficient transactions.
Businesses around the world are now accepting various forms of cryptocurrency in transactions. There's a continuous movement towards a decentralized financial system to counterbalance fiat currency. Crypto has continued to flourish as an alternative option for investors looking to diversify their portfolio.
We gathered some of the most crucial cryptocurrency stats for 2022 and 2023. Hopefully, these will prove useful for your next move in the crypto market:
---
Top Crypto Stats in 2022-2023:
---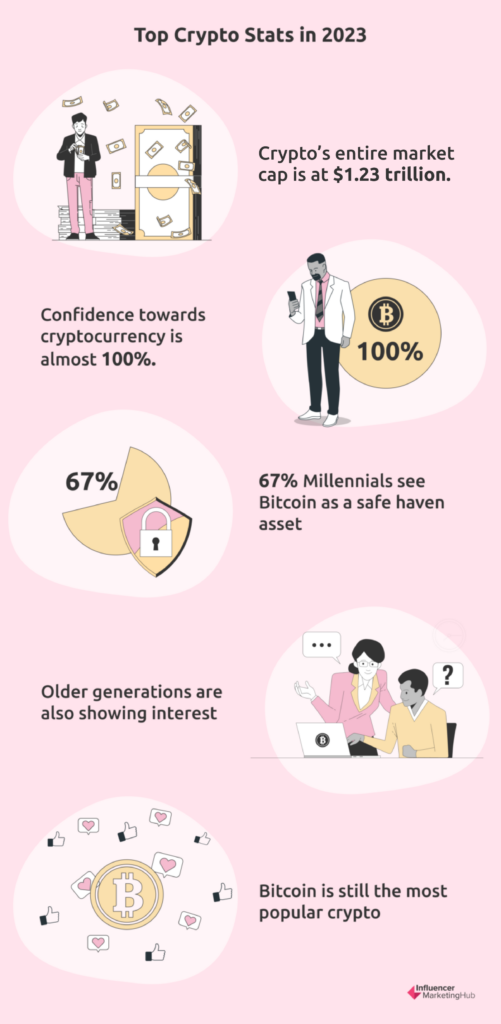 1. As of 1 July 2023, the global crypto market cap is $1.23 trillion
The crypto sphere is currently boasting a total market capitalization of $1.23 Trillion, reflecting a subtle 1.0% shift in the past day and a significant 32.34% surge from the same time last year. The market's volatility and investor sentiment are clearly reflected in these figures. Bitcoin (BTC), the pioneering cryptocurrency, holds a market cap of $591 Billion, accounting for a dominant 48.17% of the total crypto market. This dominance underscores Bitcoin's significant influence and standing in the crypto market. On the other hand, Stablecoins, known for their relative stability, hold a market cap of $128 Billion, making up 10.43% of the total crypto market cap. The market's dynamics and investor preferences are clearly reflected in these numbers. Despite the market's inherent unpredictability, there remains a sense of optimism for the future, with potential growth driven by institutional investors and market stabilizing factors.
New Cryptocurrencies Listed
---
2. Trading volumes of crypto investment products surge 127%
Digital asset investment products, including cryptocurrencies, saw a surge in trading volumes in November 2022. Trading volumes rose to $139 million, breaking the downward trend since the middle of the year. The FTX collapse is believed to have contributed significantly to this surge.
---
3. Confidence towards cryptocurrency is almost 100%
Over 60,000 respondents worldwide were asked about cryptocurrency and 97% of them consider digital assets, specifically cryptocurrency, as a safe and viable way of earning an income through investing. Both institutional and retail interest in major cryptocurrencies, like Bitcoin and Ethereum, rose exponentially since 2020.
Those who do not own crypto yet are also voicing willingness to invest in crypto in a year's time. In fact, 63% of adults in the U.S. are counted as "crypto curious"—they want to learn more and are interested in joining the market.
---
4. 67% of Millennials see Bitcoin as a safe haven asset
Safe haven assets are financial instruments that retain value even in the event of an economic downturn. While older generations considered gold as the biggest safe haven asset, things are different in today's digital era. Crypto statistics show that more than half of millennials consider Bitcoin as a secure asset to acquire, and they believe that the decentralized financial system is secure enough amidst economic uncertainties.
Globally, the majority of crypto owners are in the 18-34 age group followed closely by those in the 35-54 age group. The oldest age group accounts for only 12%, but their adoption is also slowly increasing.
---
5. Older generations are also showing interest
In the United States, 53% of crypto owners are ages 18-34, and 35% are 35-54. While millennials are the largest group to use crypto, adults in the bracket of 65 years and older are the smallest but the fastest growing group. The wariness toward crypto investing has waned, potentially due to major financial institutions now open to offering crypto as part of their investment options. In addition, the proliferation of apps has made it easier to invest in crypto now than ever before.
---
6. Bitcoin is still the most popular crypto
Over ten years since its development, Bitcoin still tops the cryptocurrency market as the most popular in the U.S. And even though there are numerous cryptocurrencies rising in popularity, Bitcoin remains dominant. One crypto adoption index estimates US crypto ownership to be around 37.7 million. Of these crypto owners, around 69% have Bitcoin in their wallets. Ethereum still ranks second when it comes to popularity, with 37% of crypto owners having ETH in their portfolio. Other popular cryptos in the United States are Dogecoin (24%), Litecoin (13%) and Shiba Inu (13%).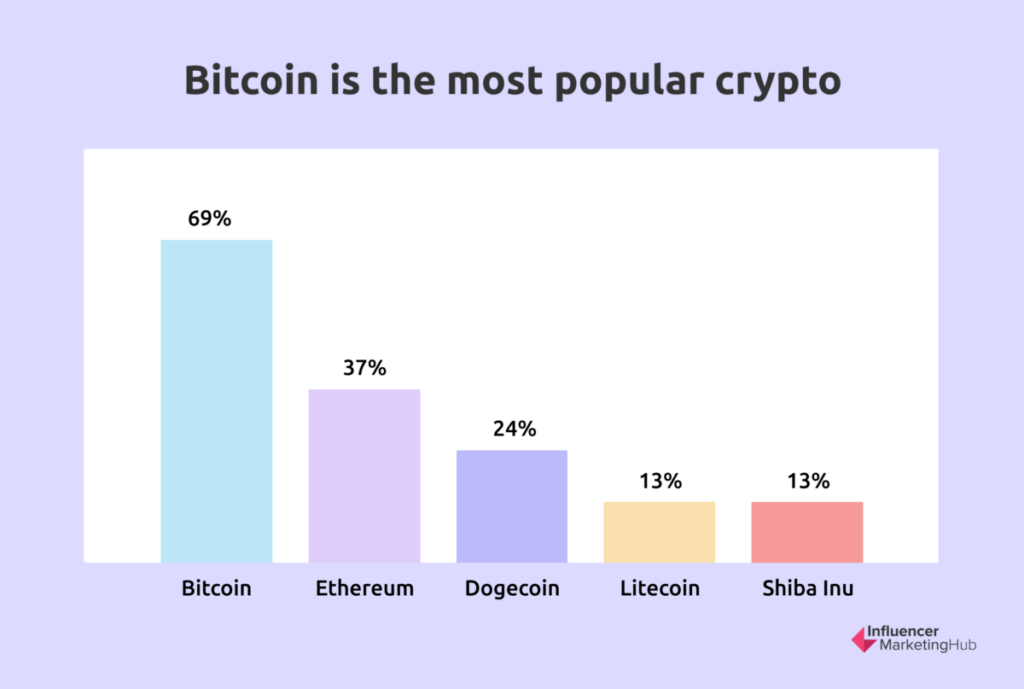 Although Bitcoin has a downward turn at the moment, it's still a promising currency to look into with positive forecasts in the coming years. The currency's growth, from being worth $500 in 2016 to 30,000 per coin in July 2023 speaks to its exponential growth capacity.
Check out the most current profit calculator for Bitcoin and other popular cryptocurrencies here.
---
7. Over half of crypto investors aim for income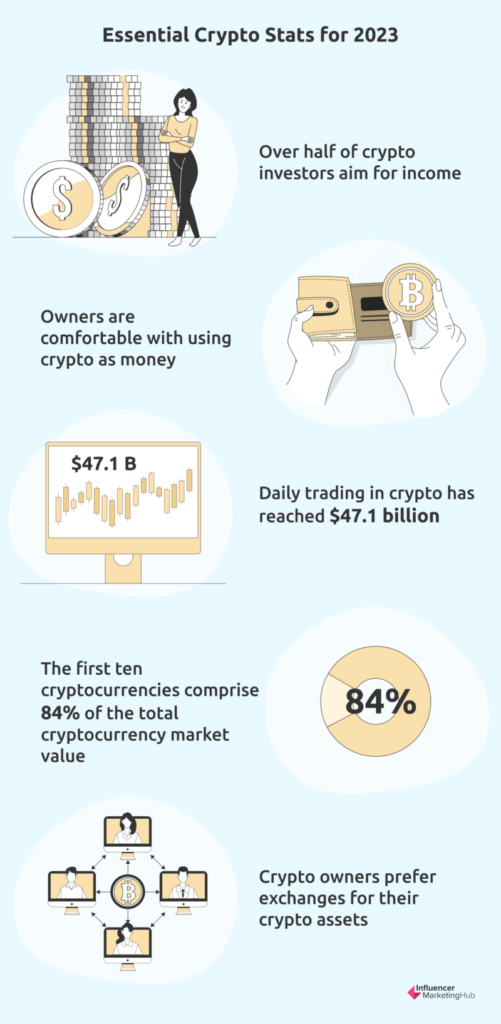 According to Binance Research, about 52% of crypto investors are not doing it as a hobby; it's a main source of income for most individuals who venture into the industry. In fact, about 15% consider crypto returns as their primary source of income.
There are top three reasons investors choose crypto. About 55% use it as a means of long-term investment strategy. Nearly half (38%) consider fiat currency as flawed and see crypto as an alternative against the current financial system; 31% view the market as a short-term trading opportunity.
---
8. Owners are comfortable with using crypto as money
As crypto owners continue to increase, it makes sense that digital asset becomes the mode for day-to-day transactions. Actual usage of crypto is at 38%, even though several owners still choose to hold their crypto assets (39%). About 22% of owners use it for staking and lending. But there is an 11% who are able to utilize crypto for payments.
Bitcoin was able to command about $6 billion daily online transactions. This is only surpassed by two U.S. longstanding institutional payment networks, namely Visa Card, which garnered $30.3 billion, and MasterCard, which had a total of $16.2 billion.
By 2023, the transaction value of cryptos is expected to exceed $16 billion as more people use cryptos to make purchases.
---
9. Daily trading volume in crypto is down to $62.1 billion
The numbers indicate how active the crypto marketplace is, and how it keeps on growing each day. The flurry of updates on social media may be at play, but the fact remains that people are recognizing the value of owning cryptocurrency and trading it.
At the beggining of July 2023, the 24-hour trading volume was at $62.1 billion. Granted, this is lower than the 2021 amount of $106.7 billion. But with more investors coming in, it's highly likely that crypto will enjoy an increase again in the next few years.
---
10. The first ten cryptocurrencies comprise almost 84% of the total cryptocurrency market value
For a novice investor who wants to get started on owning crypto, the ten strongest currencies include: Bitcoin, Ethereum, Tether, Binance Coin, USD Coin, Binance USD, Ripple, Dogecoin, Cardano, and Polygon. These digital assets make up the majority of the total crypto market value, while the rest of the currencies share only 16.63%.
Right now, over five thousand altcoins are circulating at present. Some have their unique blockchain, like what Ethereum has. But most new currencies are built on the Bitcoin and Ethereum blockchain.
Some investors may be wary of the crypto market due to its volatility. Indeed, it is designed in a way that not all digital assets will thrive. Last year, a total of 1,984 coins were off the market because of controversies, hacks, and lost perceived value.
Dogecoin may have a smaller market cap at $10.5 billion, but it's worth mentioning because of its dedicated community. It's now up by almost 40,000% since 2017. Of course, the caveat is that there is no limit on Dogecoin creation, which will inevitably affect its value as supply increases.
There may be thousands of cryptocurrencies on the market, but stats show that it's still wiser to go with established coins.
---
11. Crypto owners prefer exchanges for their crypto assets
Buying crypto is made easier with exchanges, which is why they are the go-to for individuals who want to own and trade these digital assets. 60% of users keep their crypto within exchanges. The biggest reasons are because exchanges offer security (28%), are relatively user-friendly (25%), and support fiat-for-crypto or crypto-to-crypto transactions (23%).
Statista reports that of the 300 exchanges presently operating, Binance is the largest crypto exchange globally with $16.91 billion / 24-hour volume. Other major exchanges include Deepcoin, Hotcoin Global, Ecxx, and BiONE.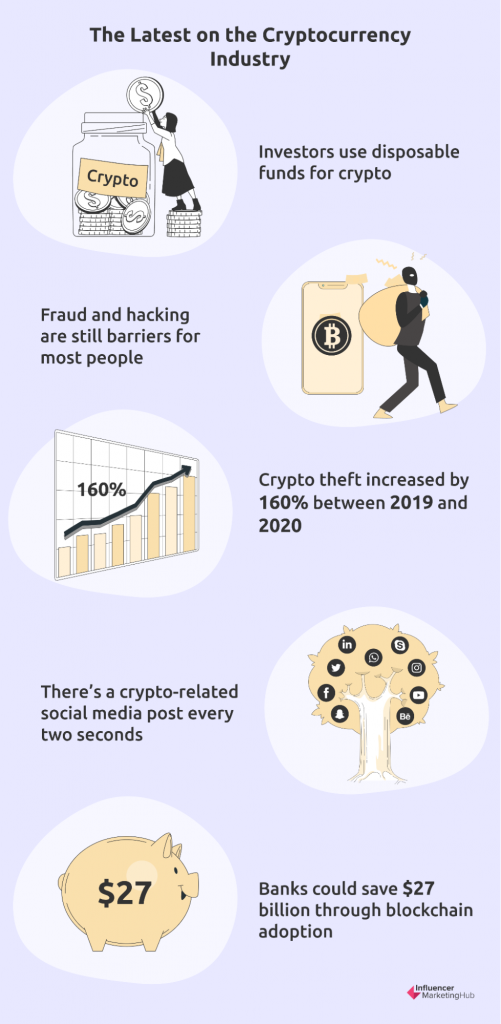 ---
12. Investors use disposable funds for crypto
Binance survey shows that individuals who venture into the crypto market tend to use disposable funds to buy crypto. Almost a third (63%) of investors understand the volatility of the market, and therefore allot disposable income for owning crypto.
Among countries, owners from China are the most likely to invest with borrowed capital (23%), while users in the Netherlands (only 3%) are the least likely to take out loans to invest in these digital assets.
---
13. Fraud and hacking are still barriers for most people
Crypto investing is still unfamiliar territory for many, and there are some people who feel that the risks outweigh the advantages in this decentralized financial system.
In a survey, 31% of respondents cited that fear of hacking or fraud worries them most, followed by "lack of knowledge" (27%) about the ins and outs of the crypto market. And while most crypto owners cite lack of regulation as an appealing aspect of crypto, about 22% of those who are on the fence about the virtual currency deem the deregulated nature of the market as worrisome.
---
14. Over the past two years, over $1 billion in crypto has been lost to scams and theft
Because crypto market is growing at a fast pace, many are trying to take advantage of the lucrative market. Crypto stats suggest that the frequency of crypto theft rose by as much as 160% between 2019 and 2020. From 2021 to 2022, 46,000 people have reported losing over one billion dollars in crypto to scams alone. The most common schemes employed by crypto scammers involve email phishing and investment scams.
Phishing is when a scammer sends unsolicited emails asking for personal login info at the guise of requesting updated data from the owner. They could also offer "rewards" or "prizes" and gather data in exchange.
Investment scams, meanwhile, create bogus trading platforms or use legitimate trading brands unlawfully to attract crypto investors. Of the crypto losses reported to the FTC, a whooping $575 million were due to bogus investment opportunities. While blockchain technology creates a more secure system for transactions, there will always be groups or individuals who will try to dupe the system. The best course of action is to never let yourself be forced to send cryptocurrency in advance and be leery of promises and big returns.
---
15. There's a crypto-related social media post every two seconds
Those who are digital savvy embrace cryptocurrency, and it shows in how the industry garners attention on social media. On Twitter alone, there are around 14,000 to 32,000 tweets per day that talk about cryptocurrency.
The exciting and evolving market is bound to generate new updates frequently, and so it's only natural that crypto investors and the crypto curious want to know what is going on in this space. Here are our top picks for crypto social media influencers to follow.
---
16. Banks could save $27 billion through blockchain adoption
Fiat-based banks have a lot of procedures to check for compliance and regulations. In the process, there is a considerable amount of funds spent for money laundry checks, transaction processing, reconciliation, compliance, and more.
Blockchain eliminates the need to do the traditional checks and balances, as it opens a secure but decentralized way of acquiring and transferring cryptocurrencies. A study by Juniper Research suggests that financial institutions could save as much as $27 billion by 2030 if they adopt the technology. That's essentially cutting the expenses by half, which could be a positive development for bank account holders who will no longer shoulder transaction expenses.
---
17. In the United States, men are 3.5x more likely to own crypto
Finder Crypto Adoption Index reveals a wide gender split in crypto ownership. Approximately 78% of crypto owners are men while women account for just 22%. This indicates that men are more likely to own cryptos than women.
---
18. Emerging markets dominate crypto adoption worldwide
Countries in the lower middle and upper middle income levels dominate The Global Crypto Adoption Index. A report by Chainalysis shows that 10 of the top 20 ranked countries in the index are from lower middle income countries with Vietnam, the Philippines, Ukraine, and India topping the list. The only high income countries in the top 20 are the United States (5th) and the United Kingdom (17th).
---
19. There were nearly 9,000 cryptocurrencies
As of 2023, the crypto landscape is home to close to 9,000 digital currencies, a number that was even higher in the early stages of 2022. However, it's important to recognize that a substantial fraction of these cryptocurrencies may not hold much significance. The process of creating a cryptocurrency is relatively straightforward, leading to an influx of new digital coins.
---
Final Thoughts
Cryptocurrency is the asset to navigate an increasingly competitive and digitized financial landscape. It offers a decentralized, secure alternative to fiat system, which several individuals and institutions find too limiting.
More businesses, investment firms, and governments are accepting cryptocurrency as a viable option for payment and asset management, and it's only going to be more active from here. If there will be increasing demand for global remittances, which is made easy by blockchain tech, crypto is the present and future of finance.
Frequently Asked Questions
Where do I find my crypto stats?
You can use CoinStats to find your crypto stats on the most popular cryptocurrency platforms, including Binance, Coinbase, and more than 400 other platforms. One dashboard will help track everything from your assets to your portfolio growth.
What crypto has the most users?
Bitcoin has the most users. Bitcoin (BTC) was the first cryptocurrency and is the most popular and highly valued cryptocurrency, despite high volatility over its history.
What are the top 3 crypto coins at the moment?
These are the top crypto coins in 2023:
Bitcoin (BTC)

Ethereum (ETH)

Tether (USDT)

U.S. Dollar Coin (USDC)

Binance Coin (BNB)

XRP (XRP)

Cardano (ADA)

Binance USD (BUSD)
What is the #1 crypto currency?
Bitcoin is the #1 crypto currency. Bitcoin (BTC) is the original cryptocurrency and remains a top leader in the cryptocurrency space.
Are coin stats free?
CoinStats is the top #1 cryptocurrency portfolio management and DeFi wallet app on the market. You can use your local currency and sync your transactions to your wallet so you don't have to manually add your transactions. The app is free but has in-app purchases.