The e-learning industry is one of the fastest-growing around. Today, it's valued in the billions with amazing projected growth potential within the next decade. And this matters to serious creators. Understanding how the industry is shaped, where it's coming from, and where it's going, you're able to carefully determine how to better position yourself, your brand and online courses.
To give you the very best insights on the e-learning industry, we have collected 38 of the most telling online learning stats available today. These range from global e-learning industry statistics, how e-learning is influencing the corporate market, how it's received by students, and more. Here's a look at all the stats you should know to get and stay ahead in the e-learning industry.
---
Top 38 Online Learning Stats Every Serious Creator Should Know:
---
Global E-Learning Industry Statistics
Global e-learning stats hint at tremendous tremendous growth. This growth is not just about the industry as a whole but also touches on new technologies like augmented reality and virtual reality, and how they are set to influence the space. When it comes to growth from a technology perspective, it also carries through to how well the platforms creators use to deliver courses might evolve. Learning Management Systems are projected to experience growth surges that analysts don't foresee slowing down anytime soon. Here's an outlook at the global e-learning industry.
1. According to Statista, the global e-learning industry is projected to surpass $243 billion by 2022. Statista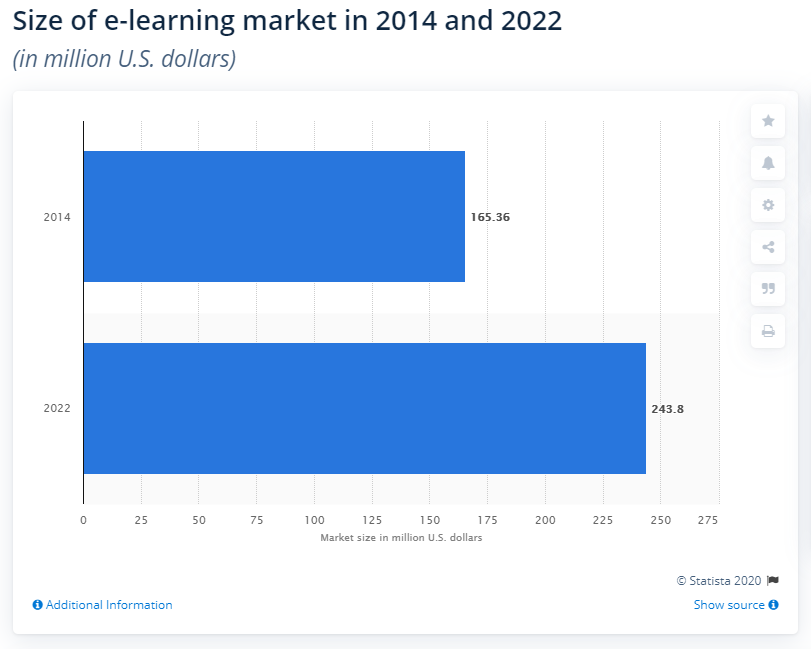 2. Augmented Reality and Virtual Reality technologies are set to be key contributors to e-learning and two of the most pivotal innovators of the industry during this decade. Research & Markets
3. The global e-learning industry is set to expand to $336.98 billion in value by 2026. Research & Markets
4. The global Learning Management System (LMS) market is projected to grow to $29 billion by 2026. It's also forecast to grow by 19.1% every year after. Fortune BI
5. Online student enrollments in the U.S have increased for 14 consecutive years. In contrast, college enrollment in the U.S has seen a steady but noticeable decline over the last 10 years. Taylor & Francis
6. As much as 63% of American high school students use digital learning tools daily. Statista
7. In Europe, Germany has the highest e-learning market share. Business Wire
8. Online courses are growing in popularity in the U.S. More than 30% of American students sign up for at least one online course a year. Taylor & Francis
9. The e-learning industry has expanded by a staggering 900% since 2000. Small Business Trends
10. The e-learning industry was valued at $176 billion in 2017 and is projected to grow to $398 billion by 2026. E-Learning Global Market Outlook Report
11. Almost 50% of the students signed up for at least one online course within the last 12 months. Statista
12. Udemy is one of the most popular and largest online learning platforms globally. It's the choice of over 50 million students. Udemy
13. 20% of all online students enroll with the 10 largest educational institutions in the world. EdSurge
14. 22 of the top 25 U.S universities now offer online courses for free. Mordor
15. Cloud-based educational collaboration tools are used by 72% of K-12 students. Project Tomorrow
While globally e-learning appears to be on the rise, they are areas of the world that have been left unexplored. Countries in Africa enjoy considerable mobile device penetration, however, very few easily accessible stats show what the impact of e-learning is on the continent. While Asia is a highly technological global player, a deeper look at e-learning in Asia, we believe, will provide an interesting perspective on how online education and the ways it is delivered has evolved.
---
Corporate E-Learning Statistics
Corporate e-learning isn't a new concept. It's been used since the late 90s is a powerful tool for training staff. Today, it's morphed into a cost-saving option for forward thinking organizations. E-learning in the corporate space has seen gigantic leaps in growth, and employees have jumped onboard. Here are corporate e-learning stats you should be aware of.
16. The global corporate e-learning market size is forecast to be worth $50 billion by 2026. Annual growth of the market is also set to fair at a rate of 15% from 2020 to 2026. This growth will be driven by the corporate market. BusinessWire
17. According to KPMG, 95% of employees value e-learning as it can take place within a private space, while 84% appreciate the lack of travel. KPMG
18. For every dollar invested by companies in online learning, they realized an ROI of $30 in productivity. Docebo
Corporate e-learning is a powerful addition in one organization should explore. The good news is that as more online platforms emerge, they bring dedicated products for corporations. Take Udemy. The platform offers businesses a chance to enroll teams into learning programs. Udemy also offers a complete tracking system where facilitators contract employee participation.
---
Statistics on The Benefits of E-Learning
The impact of e-learning for learners is significant. It's led to increases in retention, the decrease in the amount of time it takes to learn more, and even a more positive outlook on learning altogether. E-learning has also provided benefits for the environment. Here are statistics on the benefits of online learning.
19. Where lifestyle balance is concerned, 60% of internet users find online courses a better fit for their schedules. SkillScouter
20. Online learning allows students to learn as much as 5x more material in less time than offline learning methods. eLearning Industry
21. Online learning has a positive impact on employee engagement, boosting it by as much as 18%. Schoox
22. E-learning can improve student retention rates by between 25% to 60%. Forbes
23. 94% of students are satisfied with e-learning and believe that it has or will result in a positive ROI. Online Education Trends Report
24. 42% of companies reported that eLearning has resulted in significant bottom-line growth, proof that learners elevate performance with new skills. Shift Learning
25. Online learning has a positive impact on the environment, decreasing energy consumption by 90% and CO2 emission by 85%. Shift Learning
While the benefits of e-learning prove that we stand more to gain from this method of instruction, there's still much to be learned about additional psychological effects of e-learning on students. E-learning is, by nature, is an individual experience. Spending extended amounts of time alone and in front of a computer can lead to antisocial behavior, something that can result in more serious mental health issues like anxiety and depression if not managed effectively.
---
Mobile E-Learning Statistics
Mobile devices are powerful. When it comes to e-learning, they enable mobile users to capitalize on time while on the go. Stats show that access to mobile devices is favorable, that students with mobile devices are more inclined to search for new online education programs, and that mobile device learners experience greater levels of productivity.
And due to the nature of mobile devices, these results are to be expected. Mobile devices enjoy greater penetration across the globe, offering many nations that were previously excluded from the web due to lack of connectivity access to online learning platforms. While there are still challenges that mobile uses face, like the increasing cost of mobile data, smart solutions providers are finding new ways to bridge the gap.
Udemy, for example, offers a mobile site that consumes for this data than their desktop site. They also offer Android and iOS apps that allow students to download entire courses and watch them on the go without the need for a dedicated link to the web. Here are key mobile e-learning statistics to pay attention to.
26. The mobile learning market is expanding at a compound annual growth rate of 36.3% and is forecast to grow to $38 billion in 2020. Docebo
27. Smartphone users leverage devices for e-learning with as many as 89% downloading one or more apps. Towards Maturity
28. 64% of learners find accessing mobile devices as an essential tool for online learning. Docebo
29. 43% of learners recognize boosted productivity levels compared to non-mobile users. Docebo
30. 87% of students use mobile devices to search for new online programs. Learning House
---
Social Learning Statistics
Social learning has its foundations in psychology. It proposes that learning the social context can be highly beneficial. The act of social learning involves observation and direct instruction, making for a more practical approach than traditional learning models. And the results of social learning in an e-learning context are impressive. More employees are learning more in organizations, and more learners are completing online courses. Here is a look at the impact of social learning delivered online.
31. 60% of companies use some form of social learning intervention and 82% want to increase usage in the future. Origin Learning
32. Social learning is responsible for at least 75% of the knowledge people gain in the workplace. Topyx
33. Social learning approaches have a 75:1 ROI ratio in comparison to formal web-based training. Docebo
34. Introducing social learning increased course completion for HBS Online by 85%. eLearning Industry
---
E-Learning Gamification Statistics
Gamifying education is a powerful approach to engagement. In an e-learning context, it involves creating programs that are not only challenging but rewarding for learners, too. And e-learning provides proof that the industry is poised for growth. E-learning gamification is effective. It's shown to boost employee motivation and has led to greater interest in e-learning programs that include gamification.
35. The e-learning gamification market size is expected to grow to $1.8 billion by 2023. Gamification in Education Market Report
36. 83% of employees who go through gamified learning experience an increase in motivation while the number is just 33% who don't use gamified learning programs feel bored and disengaged. TalentLMS
37. 33% of employees want to experience more gamification in their organization e-learning programs. TalentLMS
38. By the end of 2020, the education gamification market value is estimated to reach $1.5 billion. Statista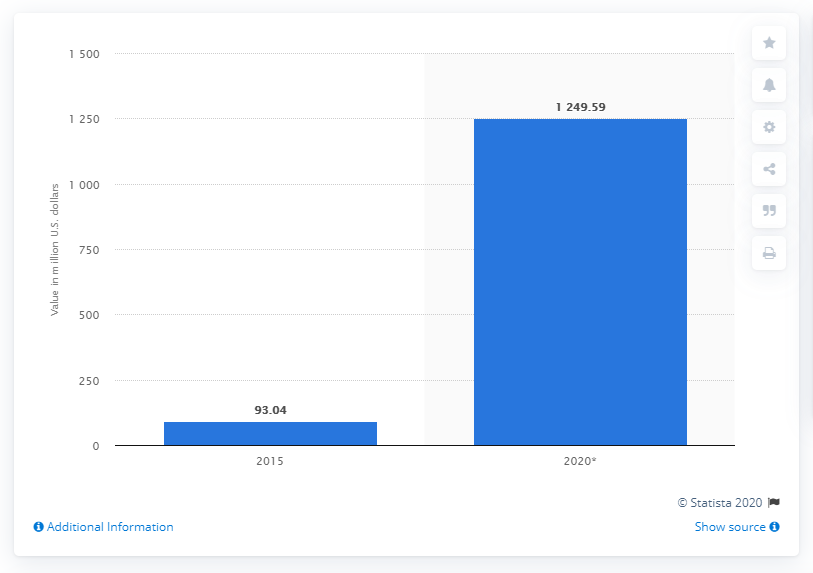 ---
Defining E-Learning
E-learning is the use of electronic platforms to distribute educational content. Today, e-learning can take place in various formats and via various platforms. Technically speaking, e-learning takes place whenever knowledge is shared electronically. In more formal e-learning environments, learners enroll for courses to gain access to content and material which they can consume from almost any location.
While e-learning can take place in various formats (including text and audio), with the growth of online video, more e-learning courses are administered through web or application-based platforms in video. These host video-based courses along with additional resources for students.
Video seems to be a winner as it is more engaging than text or audio. Because more people are visual learners, video is able to convey stronger messaging, making it possible for learners to easily absorb information. And as explained in the social learning section, by creating more direct instruction and observational course material, learners are able to acquire knowledge easier. Video is also far more personable that text or audio content. The ability to see your instructor makes it easier for people to relate to course content and form clearer links between information learned.
---
It's a Wrap
E-learning is an amazing and exciting space. It's proven to be a high-growth industry and has tons of opportunity for savvy course creators. A look at these stats shows that e-learning is evolving and that it's well-received. While technologies like augmented reality and virtual reality have a little way to go before they can be incorporated into the learning industry, pay attention to news about them. AR and VR are set to change other industries, and as they are integrated into various applications, the e-learning industry will experience a quickening in the pace at which these technologies will be incorporated.
Use these stats as a guide. They point to valuable insights about the nature of e-learning, where it's going, and how elements like social learning and new technologies can be incorporated into course material to improve the e-learning experience.