One of the problems early users of text-based social media discovered was that it was difficult to express emotion in words. It is all too easy for the message the receiver thinks they have received to be totally different from the message the sender delivered – even though the words are entirely the same. As a result, people started to insert emojis into their messages to give a guide to the emotions they intend to express. They also discovered that emojis could be fun and add personality to a wall of text.
You could consider emoji a modern version of the old-style pictograms used by ancient Egyptians and other classical civilizations. However, today's emojis date back to 1999, when the Japanese cell phone company, NTT DOCOMO, included a set of 176 emojis on its mobile phones and pagers.
Over time, using emoji has evolved to become standard. We have highlighted some of the better-known ones in our Ultimate List of the Most Popular Emojis. According to our Free Real-Time Emoji Tracker, the most popular emoji for some time has been Face with Tears of Joy (Unified ID - 1F602, Shorthand - :joy:). Notably, most of the top slots belong to faces and hearts.
---
How to Create Your Own Emoji:
---
Don't Restrict Yourself to Pre-existing Emoji – Create a Custom Emoji
However, the whole purpose of emojis is to show your individuality. If you restrict yourself to just a few popular emojis, you are really just extending the number of letters in your everyday alphabet. You can make your own emoji, and as long as you aren't too subtle in your designs, people should be able to understand your meaning when you use them.
---
Our Free Emoji Maker Tool
We can help you make an emoji you can use in your social messages with our free emoji maker tool. While you can't create an emoji from scratch, you can mix and match a selection of faces with the background of your choice. Then, when you're satisfied, you can download it to use in your social posts.
You can create each emoji in a three-step process:
Select the overall shape and color of your emoji

Pick a face for the picture in your emoji

Download your emoji, ready to use in your messages
---
Step 1: Select the Overall Shape and Color of Your Emoji
You have several options here. For example, you can make your emoji square or circular. You can even upload a shape to use as the background for your emoji.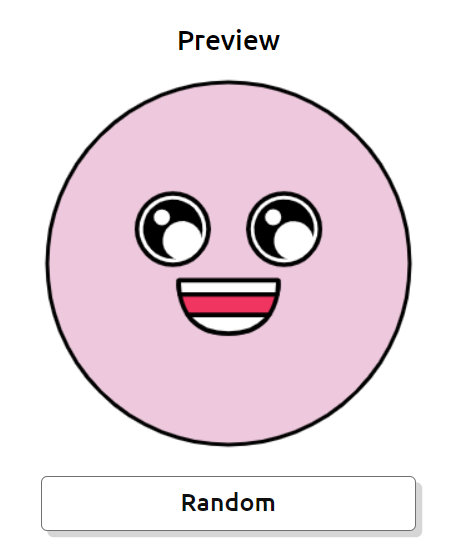 If you select a square or circle emoji, you can set the color to go inside your emoji. You will notice the box with a # symbol and a combination of six letters and numbers. This shows the hexadecimal code for the color you wish to use. The smallest code is #000000 (black), and the largest is #ffffff (white). Hexadecimal codes are made from the digits 0-9 and the letters a-f, and different combinations result in different colors.
You don't have to guess your color codes, however. Instead, you can experiment on a color code website to find the precise color you want. Alternatively, you can click on the small color swatch square to the right of the code in our Emoji Maker Tool, which will bring up a box where you can drag a slider to find the color of your choice.
---
Step 2: Pick a Face for The Picture in Your Emoji
You don't have the opportunity to make or upload the design for the center of your emoji. However, you can select from a collection of faces to depict the emotion you want your emoji to represent. For example, do you want a frowny, crying face, a happy live-sick face, a blank, emotionless neutral look, or a knowing smirk? Pick the face that best meets your needs.
You will see a preview pic of your completed emoji, with your preferred face in the colored shape of your choosing.
Of course, sometimes you can't make up your mind and prefer someone to decide for you. In that case, click on the Random button to see what combination awaits you. If you don't like the result, keep clicking until you find that perfect emoji.
---
Step 3: Download Your Emoji, Ready to Use in Your Messages
Finally, you're ready to download and use your emoji. Click on the Export button, and our Free Emoji Maker Tool will download your creation as a PNG file.
You can optionally set a custom width (in pixels) if you prefer. It may be worth experimenting with numbers here to see what you like. A tiny number creates a small emoji lacking detail. Conversely, a large number like 500 gives you a clear emoji image that is probably too large to use in any practical sense. Emoji makers typically save their emoji at a width of 180.
If you like the color and shape of your emoji, you could create a set of related emoji showing different emotions, i.e., using different faces in Step 2. You can then select Export Set, which downloads a zip file with your collection of up to 24 emojis.
You must notice where you download your PNG emoji files, as you will need to find them later when you want to use your emoji.
---
Using Your Emoji in a Chat
How you use your custom emoji will depend on where you want to use them. It can be challenging to use custom emojis in some apps. Sometimes you can use them as stickers rather than as genuine emojis. Surprisingly the easiest place to use your emoji is in the communications app Slack, which has an Add Emoji button in its emoji menu. When you click on that, it asks you to upload your emoji image.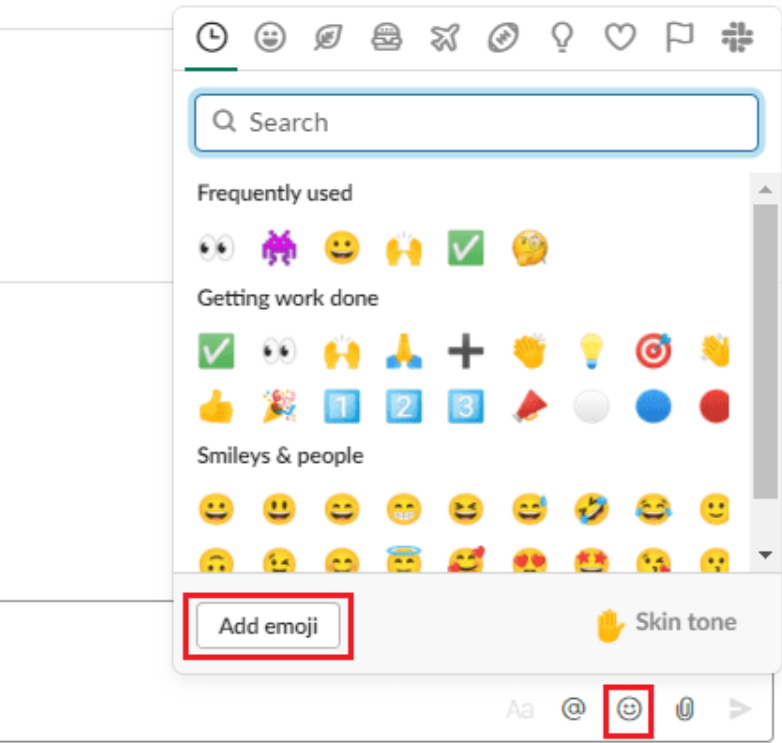 Some Android apps allow you to upload keyboards that can include your custom emoji. For example, if you use Gboard, you can add custom emoji on your desktop from images in JPG, GIF, or PNG format. You do this by clicking on the smiley face icon in your message field, which opens your emoji menu. Then click on Add Emoji, and Upload Image. Next, select your emoji file and give your emoji a name. Finally, click Save, and you have it available to use in apps on your phone.