At Fanbytes by Brainlabs, we believe that the ultimate time for fashion brands to be on TikTok was last year, but the second best time is right now. Over the past year or two, we've witnessed an increasing interest and presence of fashion content on the platform, as well as an explosion of conversation in the wider digital world commenting on the power of TikTok on consumer behaviour and trends within the fashion industry.
Not only has Google trends revealed that global searches for the keyphrase 'TikTok fashion' are up by 195% since January 2020, but TikTok has begun to inspire purchases. It only takes a few scrolls on TikTok and the internet to bear witness to the 'TikTok made me buy it' headlines and comments.
From popularising the #cottagecore aesthetic, inspiring users to upcycle their old clothes (#upcycling) or showing users how to 'become a gucci influencer' in the #guccimodelchallege, TikTok fashion has succeeded in making waves beyond its platform.
This is why, in 2023, fashion brands are navigating to the platform to get even a small chunk of it. At Fanbytes by Brainlabs, we wanted to remain at the forefront of this so are now widely recognized for implementing blockbuster Gen Z influencer activations for prominent fashion brands on social media such as Vestiaire Collective, Boohoo & River Island.
Through our experience working with fashion brands, we have discovered some of the best hacks for disrupting the TikTok space. This article connects fashion brands with these valuable expert insights that we've collected from our experience running 200+ successful Gen Z campaigns and from our time studying user behaviour amongst fashion content on social media.
---
3 Ways Fashion Brands Can Leverage TikTok In 2023:
---
1. Collaborate with influencers & boost with paid ads
TikTok challenges has been effective at sending the likes of Gucci to JW Anderson's 'Harry Styles cardigan' viral in 2020. Imagine what would be possible if these popular content formats were combined with TikTok creators and boosted with paid ads?
We don't have to imagine. We have helped hundreds of brands capitalise on organic viral trends utilising our award winning influencer network and with the help of our specialised paid ads team. From creative ideation, expert influencer selection to boosting, we cover campaigns from all angles to ensure 100% optimisation.
A great example comes from our work with Vestiaire Collective; an app that was designed to buy and sell pre-loved fashion items. Their core approach is sustainability, where you buy less but better. In our work with Vestiaire, we asked 8 influencers to show off their personal style, wearing items purchased from Vestiaire Collective. They then resold these items, showing off two core features of the app: how easy it was to buy and enjoy luxury goods at 70% off, and how easy it was to re-sell them.
Influencers used native TikTok effects like the 'green screen' to maximize engagement, putting strong calls-to-action to drive installs with text in the video. In doing so, we drove a huge 1,000+ organic installs and a 17.5% ad conversion rate. We wanted to ensure the most cost-effective CPI for our clients, so A/B tested these creatives, leveraging the best-performing as paid ads. Consequently, our ads drove a further 4,000+ installs and we reduced the clients CPI by 50% when compared to other channels such as Instagram and Youtube.
The overall campaign drove a mammoth 1,307,200 views and Vestiaire Collective were so ecstatic with the results that they decided to run a 2nd US campaign which delivered 2.6M views whilst maintaining a similar CPI. Furthermore, we've since become their official TikTok partner, and have activated in other territories such as the UK & EU where we have been able to achieve record-breaking CPI's of £0.40!
We utilise influencers and paid ads as a core part of the marketing funnel and perceive them as being integral to the delivery of measurable results. To find out how we can generate similar results for you, get in touch.
---
2. Tap into sustainability initiatives
Sustainability is a word that has been propping up everywhere recently. If it's not being plastered on ad campaigns and articles, it's blowing up on TikTok. Gen Z, who are a community of conscious consumers, make up 60% of the user-base on TikTok. Data from the Sustainable Investment Group said 73% of Gen Z said they would pay more for a brand if they knew it was sustainable.
As a result, TikTok has been responsible for creating a space and platform for sustainability creators and trends that have resonated with its users. TikTok has become a more "serious" platform after making a move towards educating its users, highlighting important issues and tackling misinformation.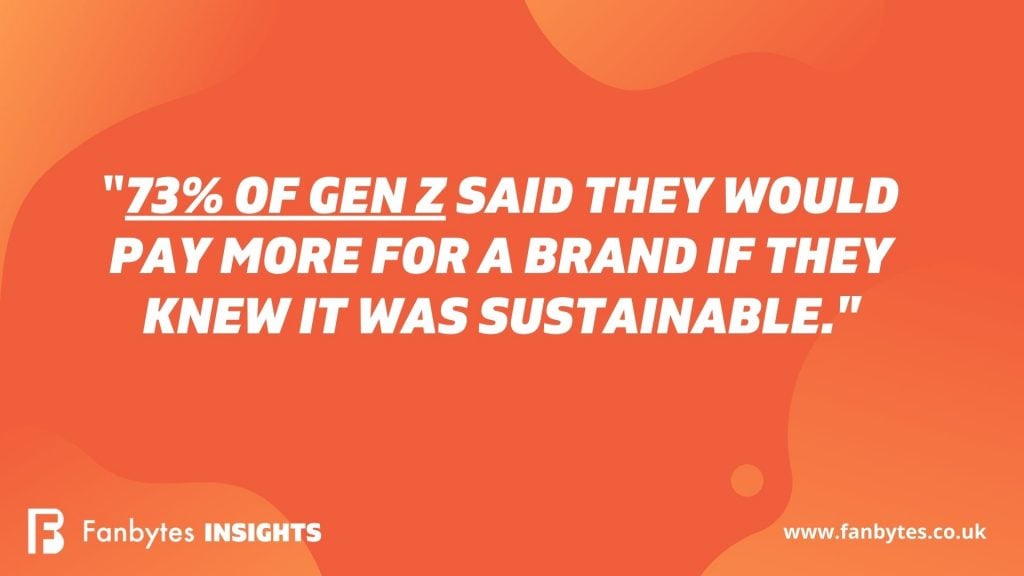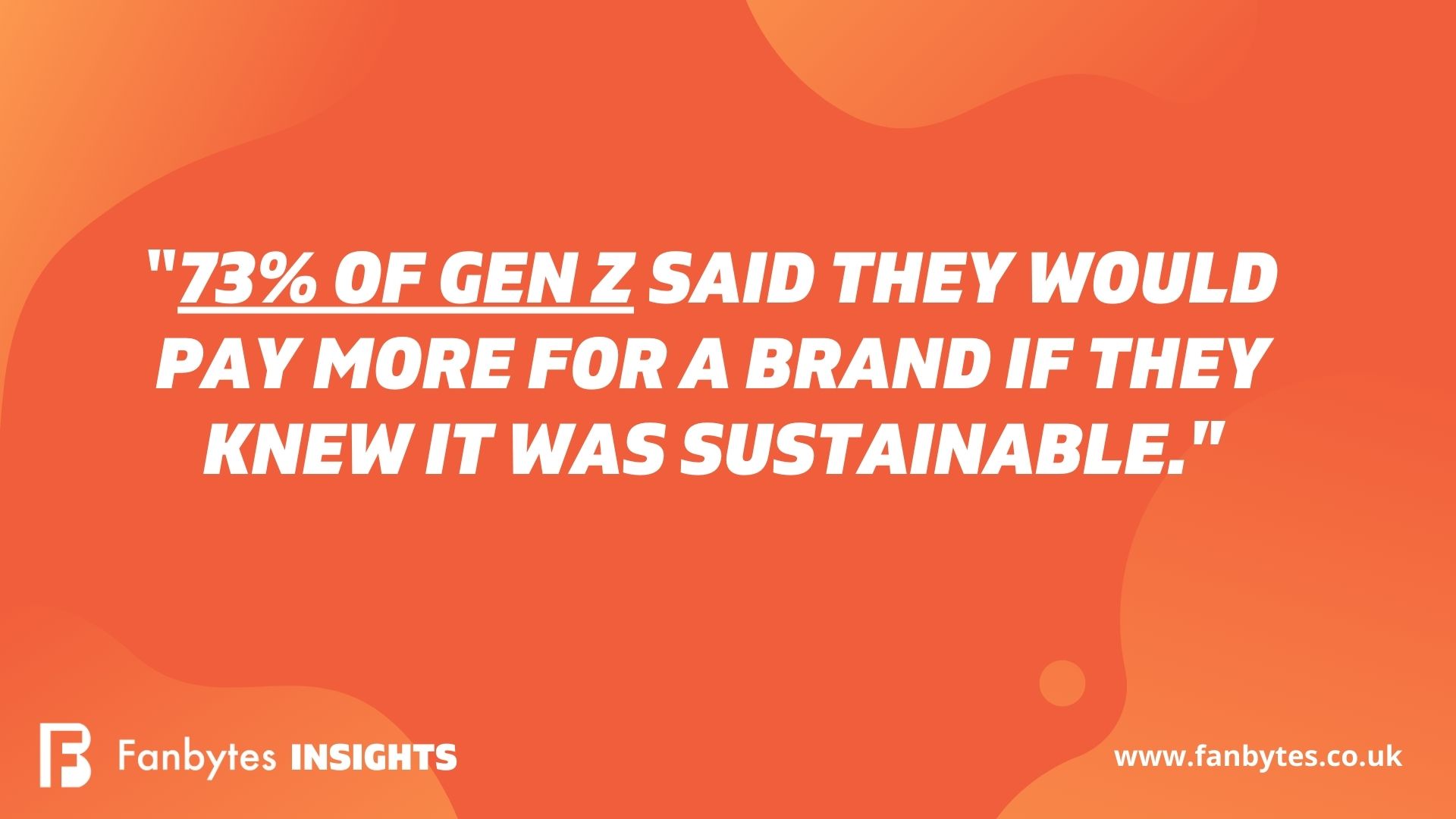 This move has enabled the sustainability/ wellness space to thrive on the app with hashtags such as #sustainablefashion (846.5 million views), #upcycling (4.8 billion views) & #diy (79.5 billion views) driving millions to billions of views. Even TikTok's infamous #cottagecore trend, which has garnered 5.6 billion views, led to a 900% increase in searches for the term on Depop when the trend was in its peak, showing tiktok has a real influence on their choices.
The #cottagecore trend is also underpinned by sustainability and DIY, which led to the viral #strawberrydress trend where users would recreate their own. Ultimately, when it comes to sustainable fashion on TikTok, users enjoy the highly visual content that shares 'how-to' video tutorials and tips on maintaining lower impact wardrobes, alternatively to the specifics and details regarding supply chain ethics.
This is also because of TikTok's 60-second time limit on their videos. It provides creators little time to waffle or over-compensate, and instead forces creators and brands to relay the core messages and tips they want to hear within that window.
@tristan_detwiler, founder of sustainability brand STAN clothing, has even been able to grow his brand by utilising TikTok. He boasts 135k followers, 1 million likes and shares that "TikTok has allowed me to expose STAN so organically and with so much positive reception. I have grown an audience that believes in sustainability and storytelling, in a very short time. I get replies with such inspiring and loving comments from true fans who often convert to followers on Instagram and subscribers on my website STAN. I truly recommend that any brand, business, or creative uses TikTok to promote sustainable awareness."
Luxury sustainability brand @andagainco has followed in the same footsteps. The brand account currently has 201.9k followers, 4.7 million likes and has built a powerful reputation on the platform from creating behind-the-scenes style videos. The founder shares her thoughts on why this works: "Nowadays, it seems that everything brands do is behind closed doors but when people are asking for sustainable and ethical practices in business, the only way to verify this is through radical transparency."
---
3. Capitalise on meme culture
TikTok differs dramatically from other platforms as it is driven by user-innovation, meaning its trends are ever-changing and fleeting. This is why it's important to create content that taps into something so cemented in Gen Z culture: memes, the language of Gen Z.
So fun fact: Gen Z accounts for nearly 50% of Gucci's total sales. This means that Gucci really has to find unique and original ways to connect with their audience on the platforms that they feel their best. Gucci was quick to embed themselves within meme culture by tapping into an organic viral TikTok trend poking fun at the stereotypical look of a Gucci model.
In responding and becoming a part of this conversation, they broke down the barrier and stigma of exclusivity and 'snobbery' that is usually attached to luxury brands and humanised their brand. This enabled them to become an insider on the platform, alternatively to an outsider looking in. They capitalised on this trend by taking that storyline and extending across new content ideas which performed exceptionally well.
This worked particularly well because Gucci is a luxury brand that was able to utilise memes to demonstrate to users that they're able to strip away the 'exclusivity' and 'seriousness' associated with luxury brands and take off the mask. This goes a long way on TikTok and with Gen Z.
Luxury fashion brands, in particular, need to adopt a similar accessible attitude if they want to win the hearts of this digitally-savvy and aware audience. The 'you can't sit with us' mindset just doesn't cut it anymore.
---
What are you waiting for?
If it wasn't obvious a year ago that the fashion industry is starting to be dictated by TikTok & Gen Z, then it definitely is now. Models are being scouted on TikTok, the first digital runways are being held on the app, and TikTok creators are now setting global fashion trends. There is a fashion fanfare exploding on the app right now, and it's up to you to take full advantage. To gain more insights on how your fashion brand can fully utilise TikTok, click here for our dedicated fashion page.
Author Bio:
Frequently Asked Questions
What brands are popular on TikTok?
The most popular brands on TikTok include:
Chipotle

Guess

NoGood

San Diego Zoo

NBA

Gymshark

The Washington Post

Red Bull
How fashion brands use TikTok?
Fashion brands use paid partnerships with super-influencers and smaller creators on TikTok to grow their audience. TikTok will encourage brands to use the platform more playfully to match with the tone and better engage with a broader audience. This helps come off more authentic.
What luxury brands are doing on TikTok?
Luxury brands create content directly on TikTok to communicate with their users and potential clients. Some of the leading luxury brands include Gucci, Louis Vuitton, Burberry, and Alice + Olivia.
Where do influencers shop clothes?
These are the best trendy Instagram boutiques for influencers right now:
Liv3

12th Tribe

Piper and Scoot

Shop Ressurrection

Chinti and Parker

Hiptique