Jeremy Boissinot, one of the founders of Favikon, is very adamant in pointing out that his company offers an influencer marketing "tool"—not a platform. This word choice isn't meant to downplay its capabilities so much as it keeps the focus on why he and co-founder Joni Shkurti conceived of Favikon in the first place: to make the process of finding and working with influencers easier and more transparent. More specifically, they had a mind of achieving this goal for the smaller businesses out there, the ones that get shut out of the higher end, all-in-one platforms that dominate the influencer solutions landscape.
Towards that end, Favikon is an influencer discovery and auditing tool. There are several areas of running a campaign where an ad-hoc or makeshift solution will do. Excel spreadsheets aren't exactly the gold standard for managing your activated influencers in live campaigns, but it can be done just the same. Post campaign reporting on basic metrics like reach and engagement are easy to come by, as well. The truth is, most of influencer marketing can be done without specialized software, especially at the small business level where scale isn't quite an issue. Again, it's not ideal to do it this way, but it's possible.
This isn't so with data: no one can cobble together an exhaustive look at an influencer's profile using free tools. Boissinot and Shkurti made the decision to focus on influencer auditing (with discovery being a natural offshoot of that: if you can find data for influencers, you can find influencers using data). There are plenty of low cost solutions for finding influencers and managing campaigns, but those often don't come with much degree of quality control. With a robust auditing tool, marketers can ensure they're making the most informed decisions possible.
And that's exactly what more than 5,000 marketers have been doing: using Favikon to improve their campaigns simply by learning real information all about the influencers they want to work with. Companies like Kombo, Don't Call Me Jennifer, Decathlon, and Mapstr all count themselves as proud Favikon customers who are getting more out of their marketing because of it. Never heard of these companies? I haven't, either, but that's the point, isn't it? Favikon is going for small fish in a big pond, and as one of the few doing that (and doing it well) they've been very successful.
---
Summary:
---
Pricing
Favikon's pricing is extremely reasonable, but this is no surprise given its mission of making influencer marketing a reality for companies of any size. All plans include the following features: an advanced search tool, influencer contact info, export contact info to CSV, and public reviews of the influencers themselves.
The plans then break down as follows:
Pro, 79€/mo —

1,000 searches, 10 lists, 500 influencers per list, 500 audits per month, Matcher and Watcher tools

Business, 129€/mo —

2,000 searches, 20 lists, 1,000 influencers per list, 1,000 audits per month, Matcher and Watcher tools
---
The Details
When looking at a platform (sorry: tool) that offers deep analytics, my presumption is that they're the result of first party data. That is, they come directly from the source—the influencer, who gives access to the platform by way of signing up for an account. Brands looking for influencers on platforms like these are therefore searching through a shallower pool of talent. Favikon's use of AI to parse through and understand publicly available data means a much deeper pool, with more than 6 million profiles and counting. All these profiles are based on the influencers' Instagram accounts—their content, their performance, and their audience serve as the source data for the analysis you get. Boissinot says that data from Twitch and TikTok are coming soon.
Whether you're looking to audit a single influencer or you're conducting a general search, Favikon has you start with its Matcher tool: here, you're simply adding some info about the kind of influencer you're looking to work with—you can supply relevant hashtags, location, and other attributes to streamline your search. What's cool about this is it doesn't restrict your search results to 1:1 criteria matches. Instead, how well or not an influencer matches with your criteria is included in an influencer's profile.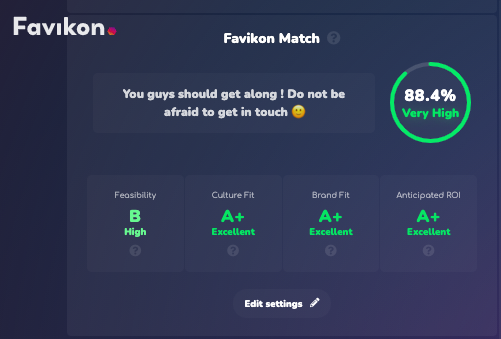 These sorts of criteria often aren't binary yes-or-no propositions, and this little detail show the thoughtfulness behind Favikon's approach to data analysis. But I'm jumping ahead. After you've entered your criteria in the Matcher, you're on to the search itself. There are plenty of search attributes to choose from, so much so that I needed my 1.75x readers to see the text in each box.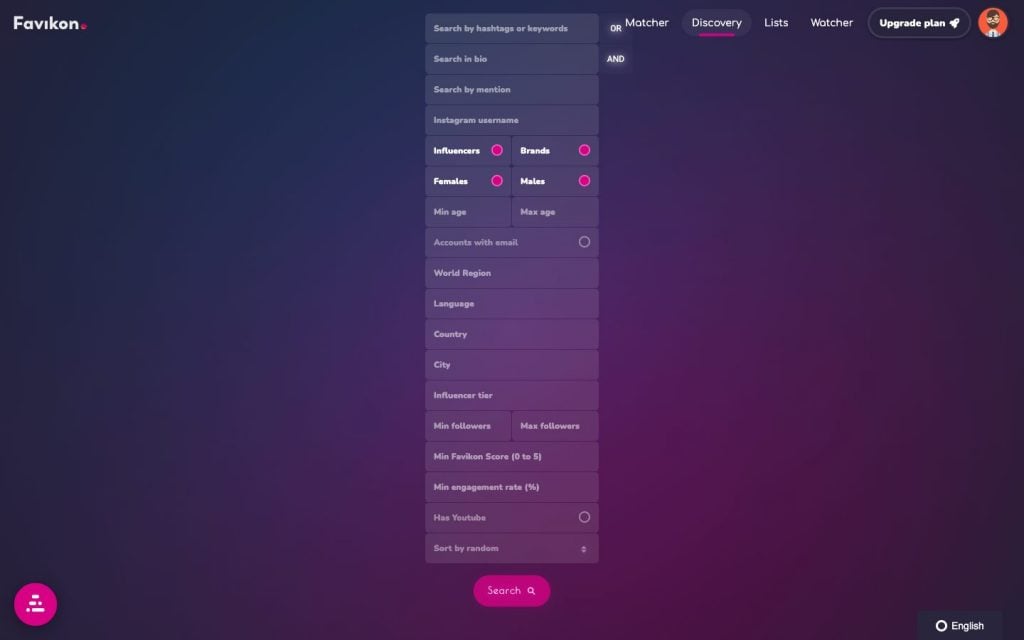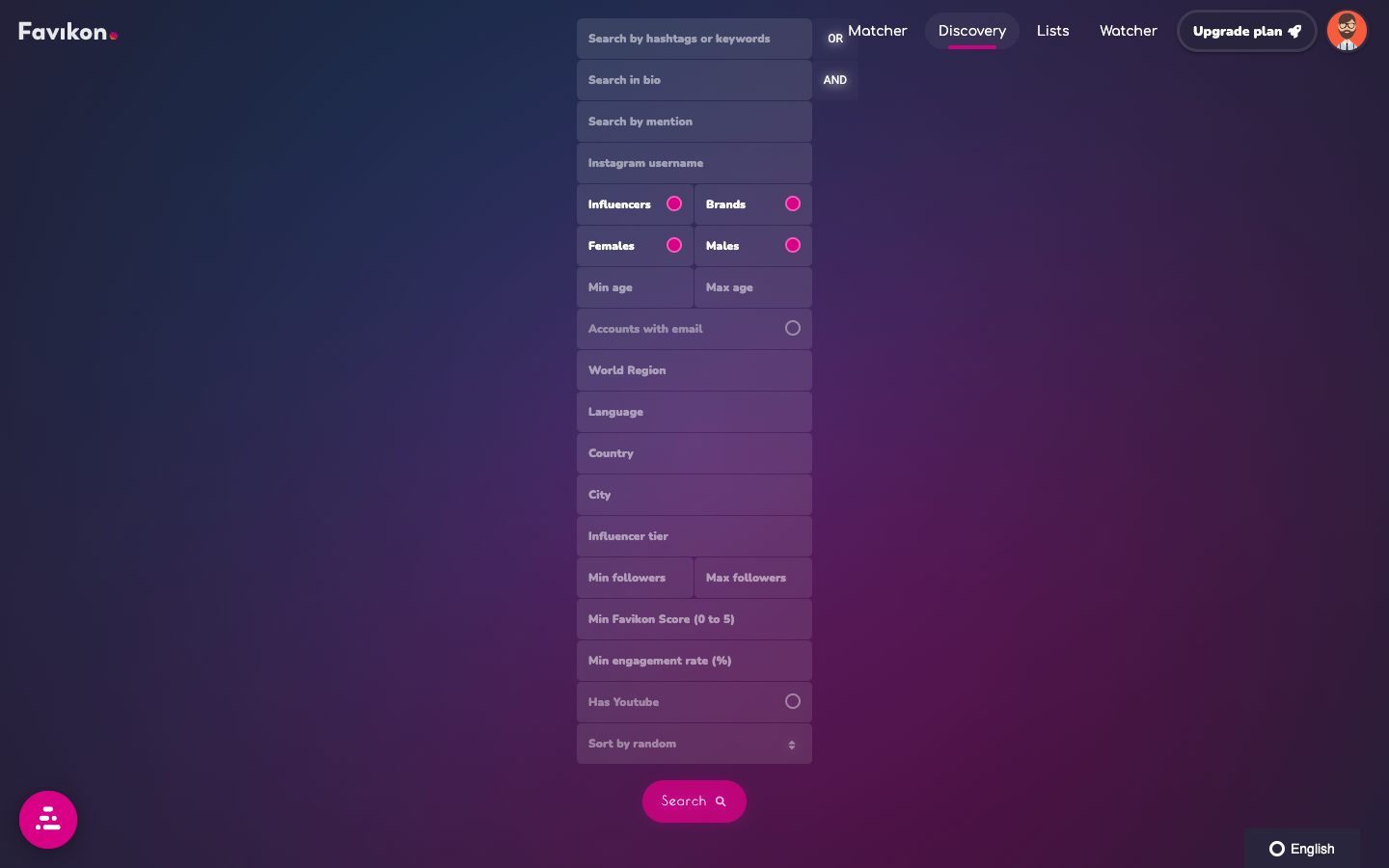 On the one hand, the visual design here isn't great, preferring to leave 80 percent of the screen blank while the farsighted among us strain to read the page. On the other hand, this might be my only complaint about Favikon. It might be. We'll all learn at the end of this whether that's the case.
From hard-to-read search queries, though, users get understandable-at-a-glance results. You're not meant to know much more here than whether you'd like to learn more, and toward that end Favikon keeps it simple: a profile pic, instagram handle, total followers, home country, and a Favikon Score. The score is assessed and assigned by the AI, based off more than 50 different criteria, and rates influencers on a scale of 1 to 5. The numbers follow the standard red-to-yellow-to-green color scale from bad to good, so your eyes naturally go right for the results with those green scores at the top right. You can also filter based on the score, if you want a sea of green.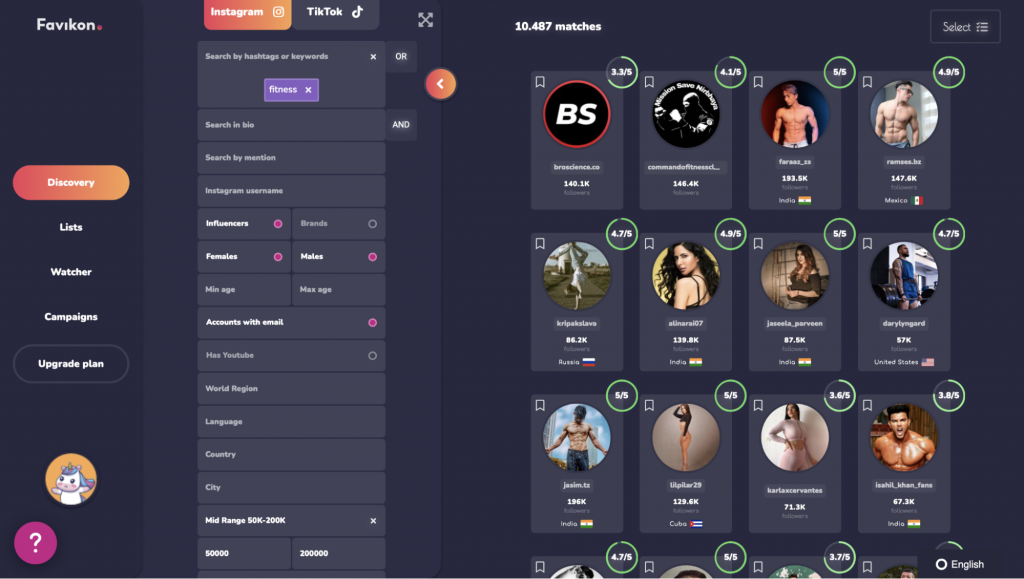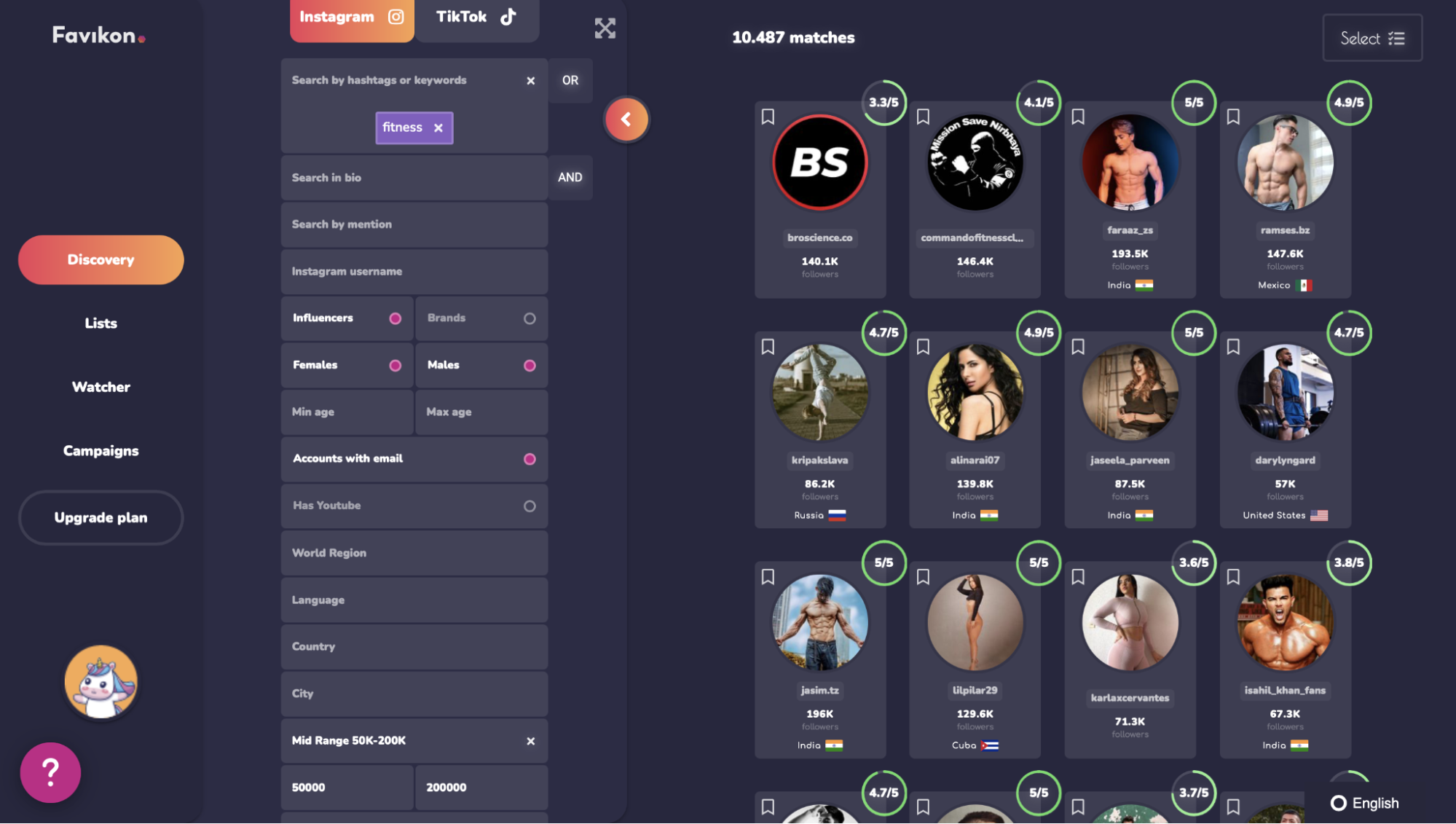 Digging in deeper to an influencer profile is where the real fun starts. Favikon presents what the people of Paris call a "shit-ton" of data analysis. That's Paris, Texas—I should have been more clear. Apart from the quantity of information, there's also a great deal of quality to it, in terms of both its inherent value and in the way it's presented. Everything is easy to read, and easy to digest, with a natural language summary of each influencer. Equally easy to understand is the contextual help that defines each data point with a mouse hover.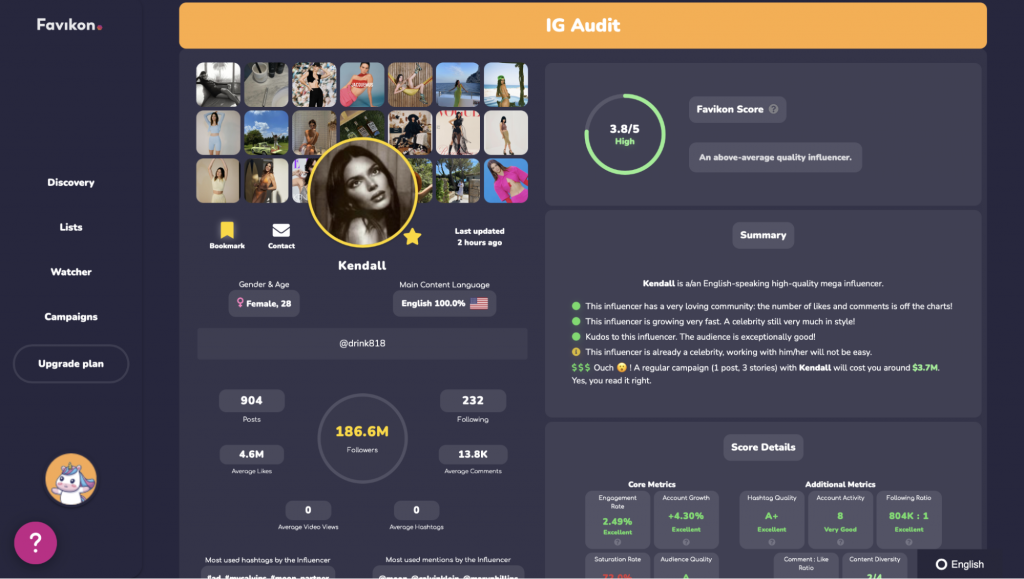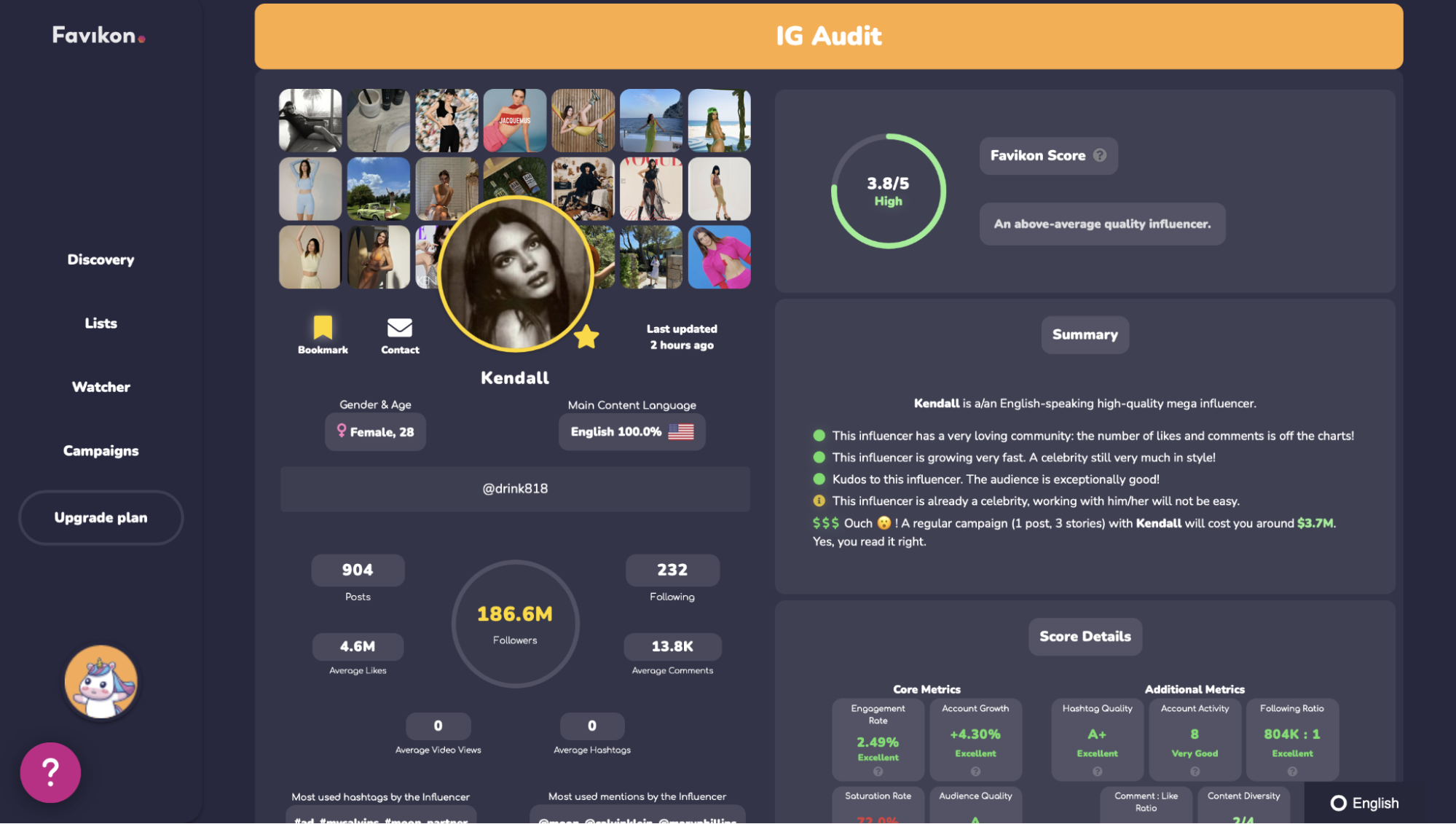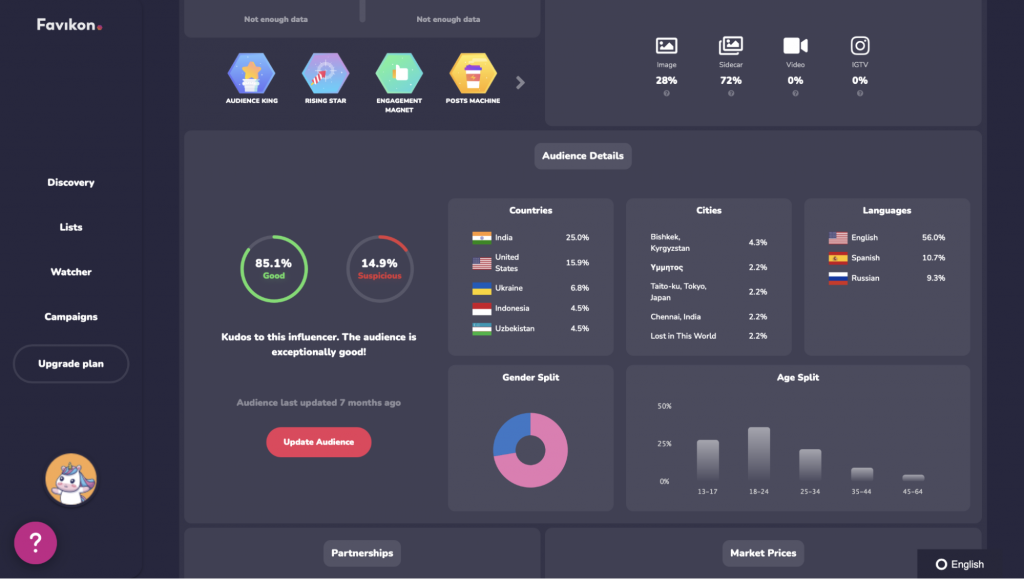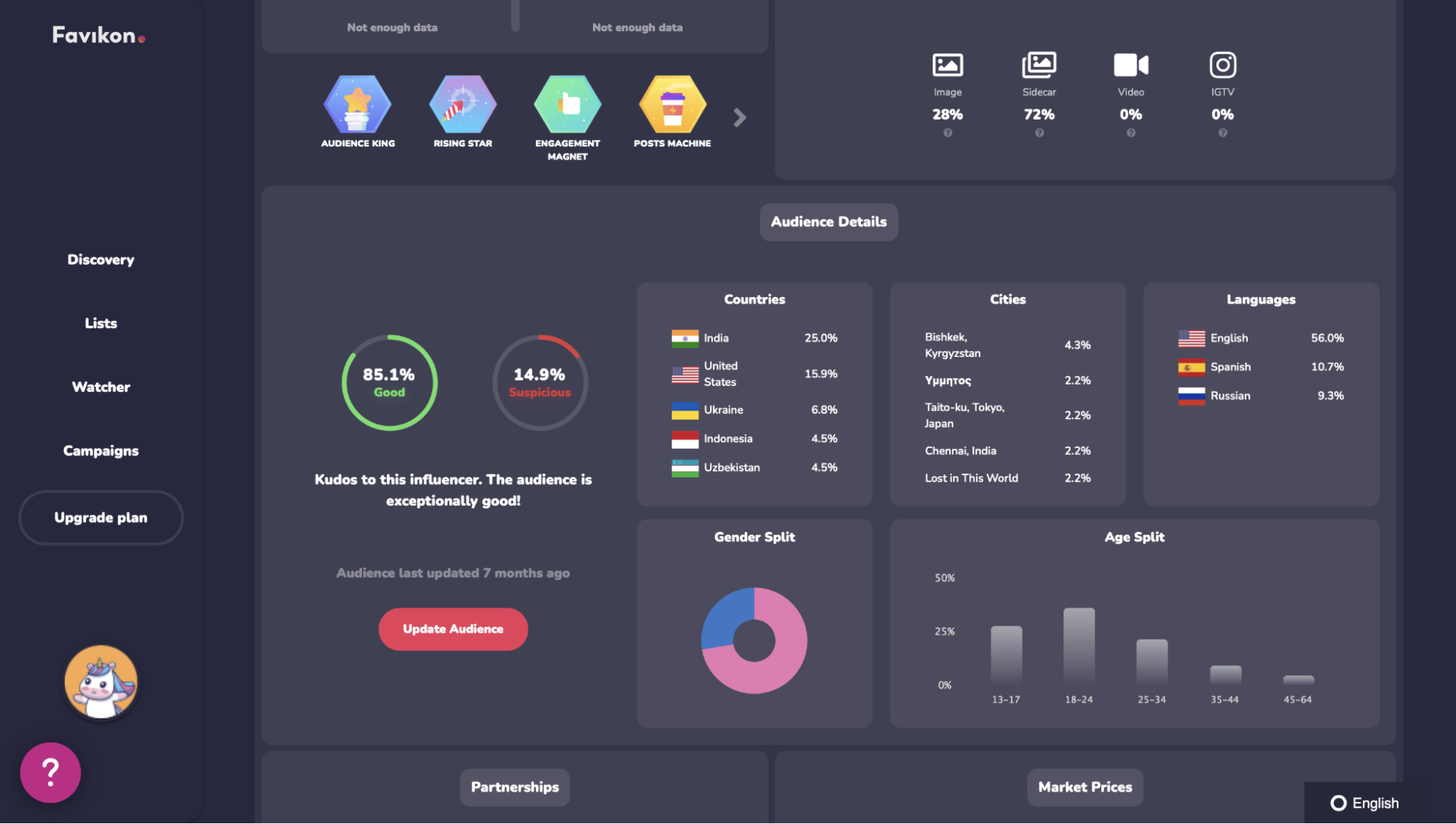 If you're like me, you looked at the above image and when you saw Saturation Rate and thought to yourself "What is Saturation Rate?" Just direct your mouse pointer over to it and you're instantly informed: "The saturation rate is the ratio of sponsored vs organic content posted by the influencer. The higher the percentage, the more saturated their audience is, which in turn will lower the efficiency of any future collaborations with the influencer." This is help that's actually helpful, not only informing you of the greater meaning but guiding you in how to interpret and act on this information.
There's more for all these reports, available for all 4 million-plus influencers on Favikon, filled with equally valuable insights: Who have they worked with? How do their sponsored posts do? Who are similar influencers? How has their account grown? What are they worth?
Once you've gotten a feel for who you'd like to work with you can organize them into lists. These lists can be categorized any way you want, and serve mostly as a way to just stay organized. But there is one more use you can get out of them: With Favikon's Watcher tool, you can track the influencers on your wishlists to see if they're working with or mentioning other brands. If they are, they'll show up in the Watcher section, along with the actual piece of Instagram content—posts and stories.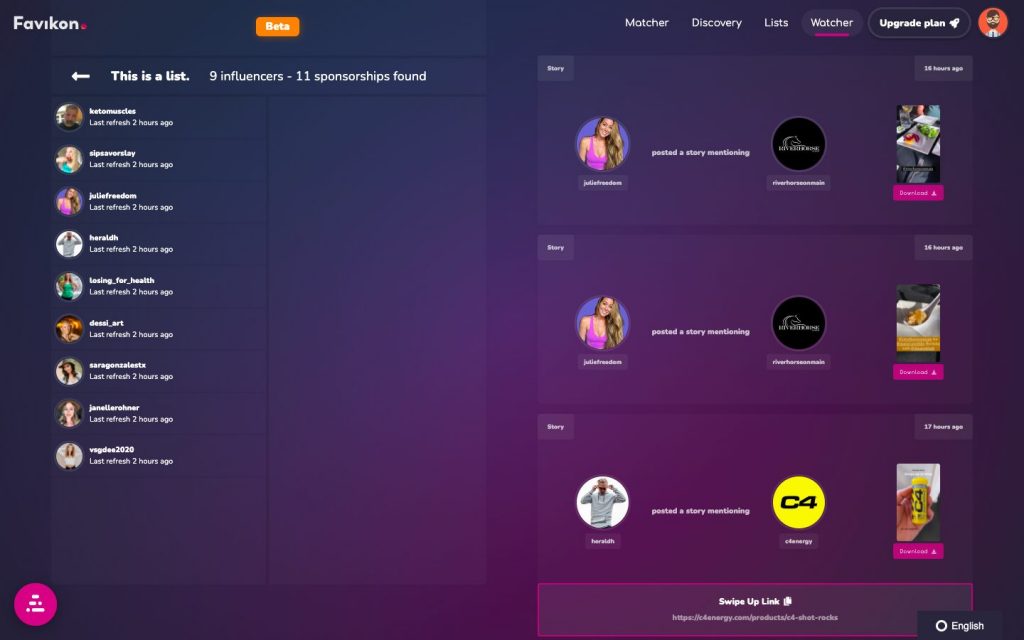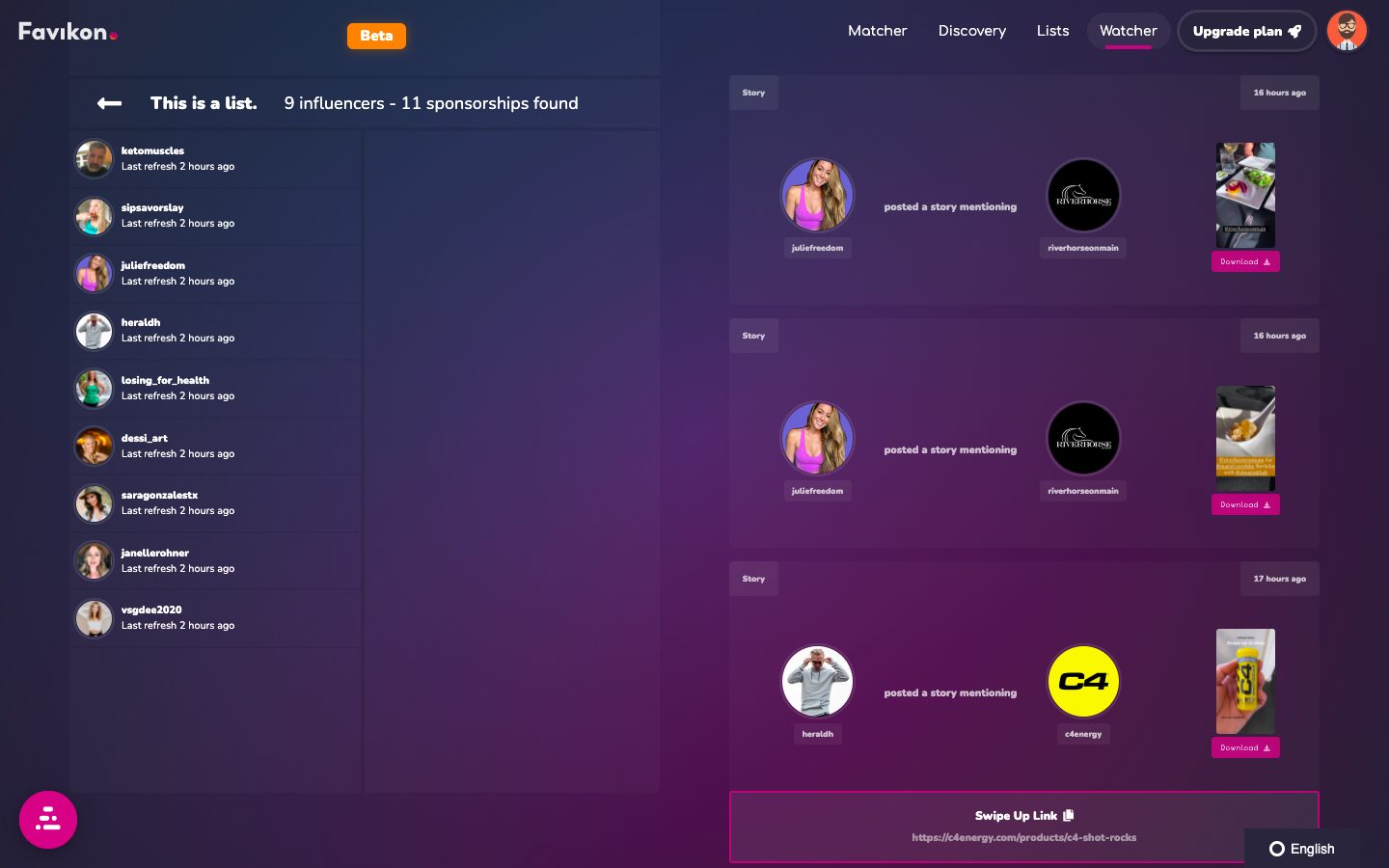 Yup, the small text was my one complaint.
Finally, the campaign feature is just the icing on the cake. Favikon loves to rate things, and of course campaigns are no exception. With this feature, brands are able to follow in real time if the campaign is working smoothly or not. Honestly, this is something I haven't seen on other platforms, and it can be a game changer in the industry.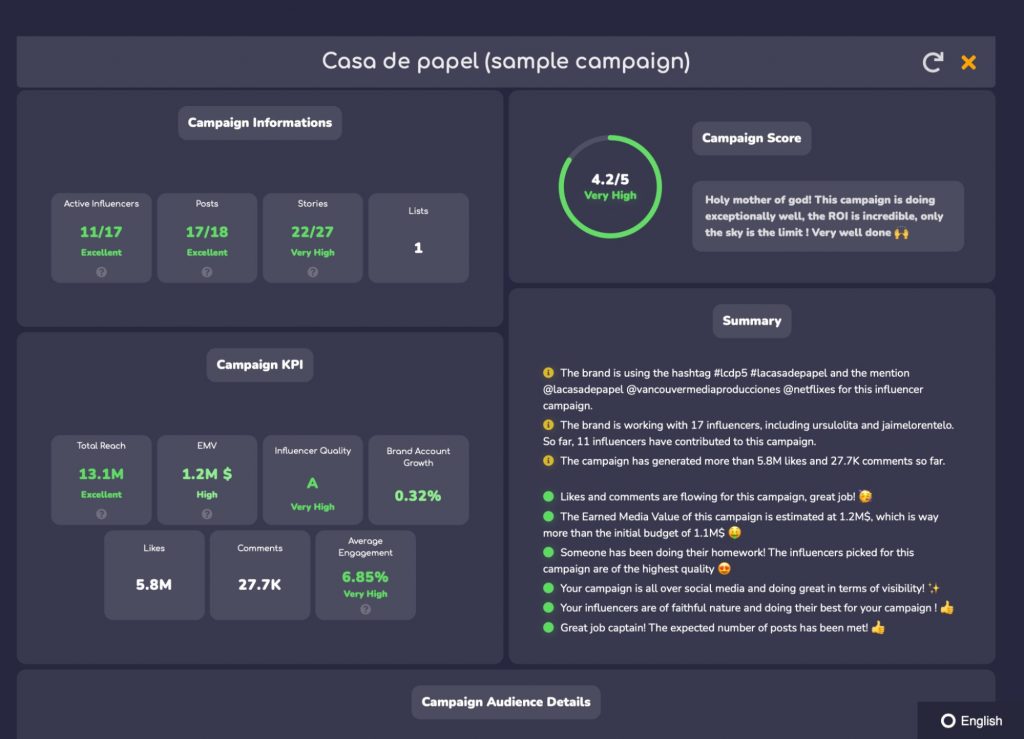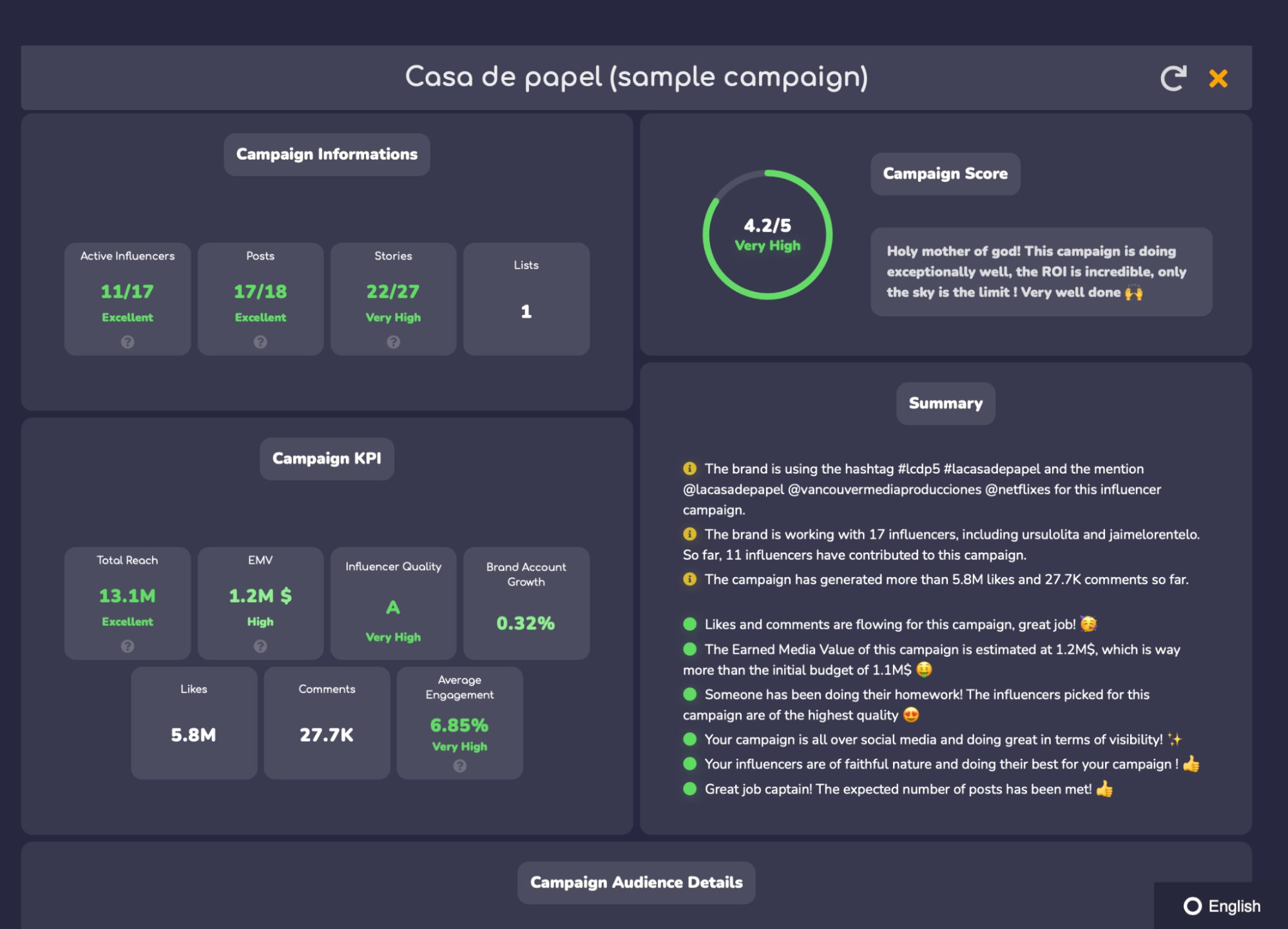 ---
Conclusion
We've seen many marketplace platforms that offer lots of data on limited amounts of influencers. We've also seen many purpose built discovery tools that more limited data on huge amounts of influencers. Favikon belongs to that third, smaller group: lots of influencers, lots of data. And within that group Favikon stands out as a top pick. The scope and depth of the data, combined with natural-language analysis that would put any non-marketer at ease, all makes for a very powerful marketing tool.
That it comes at such an affordable price is astounding. There was a lot of talk a few years ago about how influencer marketing could really democratise marketing. Favikon is evidence of that happening.
Favikon
Features

Ease of Use

Reporting