One of the great promises of influencer marketing was its potential to be an equalizing force in marketing. The success of word-of-mouth advertising, more so than celebrity endorsements, meant that you didn't need to be famous to be someone a brand would want to pay for an endorsement. That, in turn, set up a much lower cost-of-entry for brands, theoretically opening up an entirely new marketing paradigm where small companies could enjoy a level of reach and effectiveness previously only available to big companies with budgets in the millions. It was this potential that helped launch influencer marketing as the multi-billion dollar industry it is now.
That promise has since faded some, in large part due to the fact that early influencer marketing attempts were cumbersome to manage at scale. This spawned a cottage industry of software to assist with or even automate discovery and campaigns for brands. This software comes at a price, which only businesses of certain sizes can afford—and which has had the net effect of driving up competition for the influencers themselves. And so, the current state of influencer marketing is in fact working against its early promise. Needing large sums of money to effectively manage influencers and campaigns—all of which have seen their price tags go up in recent years—means there simply isn't a way for small business to compete in this landscape.
Or, there wasn't. Enter Fourstarzz.
Founded in early 2016 by Dennis Doerfl and Daniel Troesch, the platform came to life with one overarching vision: filling a void where a low cost, high-quality software package should be. At the time of Fourstarzz's launch, there was a discrepancy between the number of brands who wanted to get in on influencer marketing and the number of brands who actually were. "Investments are lagging behind the intent," Doerfl told Silicon Prairie News in 2017, "We want to try to close that gap from intent to actual impact."
To do that, Doerfl and Troesch built their platform with that key audience in mind. That hasn't stopped bigger name brands from checking them out, though, and the company has attracted top tier clients like Expedia, Phillips, Daimler, BMW, and Groupon to their managed service. Those are all well and good, but it's still small businesses and startups that Doerfl and Troesch have their eye on. That's the sector they're truly passionate about serving, and that sector would do well to keep its collective eye on—and their marketing budgets in — Fourstarzz. There's a reason it was named one of the 10 most innovative influencer marketing firms by Gartner in their 2018 Marketing Technology Vendor Guide. That same year, they were also invited to join the Forbes Agency Council. They're switching up the status quo by offering some very high tech tools to companies big and small, and it's the small ones with the most reason for excitement.
---
Summary:
---
Pricing
Access to the self-service platform is offered through a SaaS subscription. The monthly cost is more or less in the league with some other platforms trying to court the SMB sector, but with a couple of key differences. First, there are no restrictions on features—the smallest business gets the same tools the biggest business does, without restriction. Second, most platforms aimed at small businesses are marketplaces, which is an entirely different service than what Fourstarzz offers. So what do they offer, and for how much?
The Monthly Plan, $59/mo —

The monthly plan gets you everything Fourstarzz does, and unlimitedly so: Influencer Discovery, Influencer Management, Campaign Management, and Influencer Analytics

The Annual Plan, $531/yr —

Same as above but you pay for the year upfront, which ends up being a monthly cost of $44.25.
---
The Details
The key to all that is good about Fourstarzz lies in its data. It's also the platform's one major weakness, a paradox that will make more sense as you read through this review. But let's start with the good: when you're trying to find an influencer who's a good fit for your brand, you have no better ally than their data—and Fourstarzz gives you all the background you'll need to make an informed decision.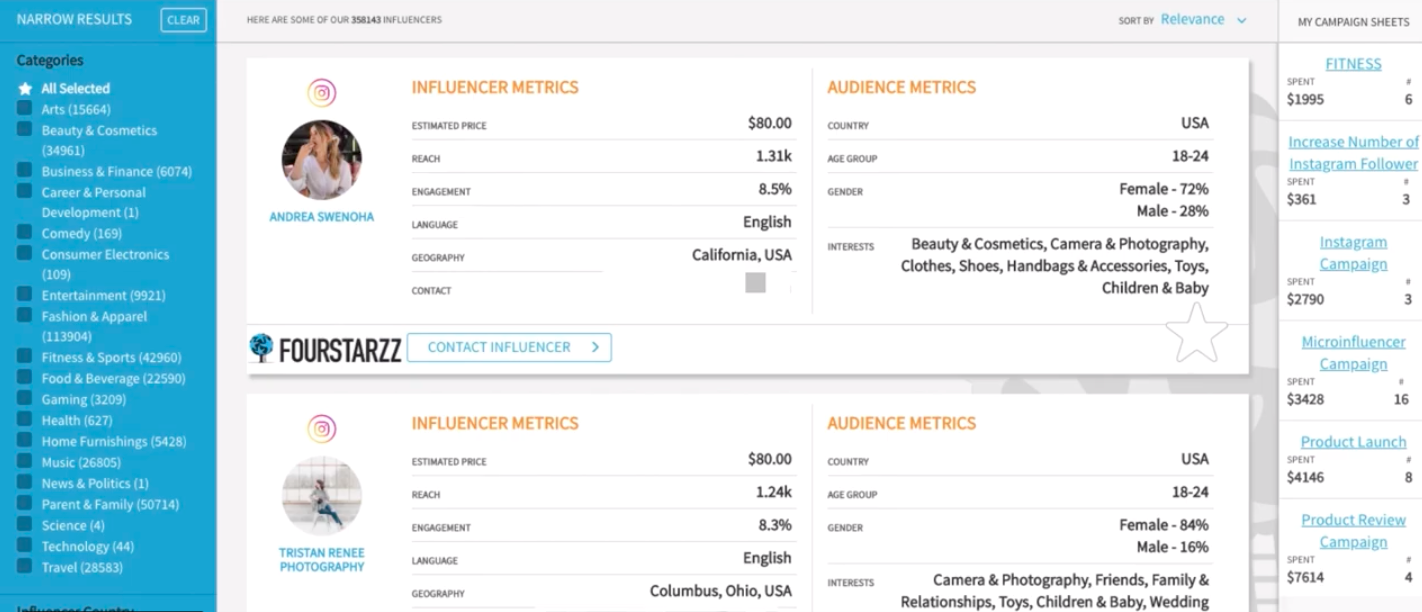 Discovery works like it should, with a variety of ways to search and filter your results. Filters are based both on influencers themselves and their audiences. For any results that look interesting, you can add them to lists or campaigns that you've already defined. The interface is attractive and easy to work with, and you'll find no learning curve is needed to start—and finish—your research. But then you'd be missing out on some of the real magic with Fourstarzz, what they call the Campaign Navigator.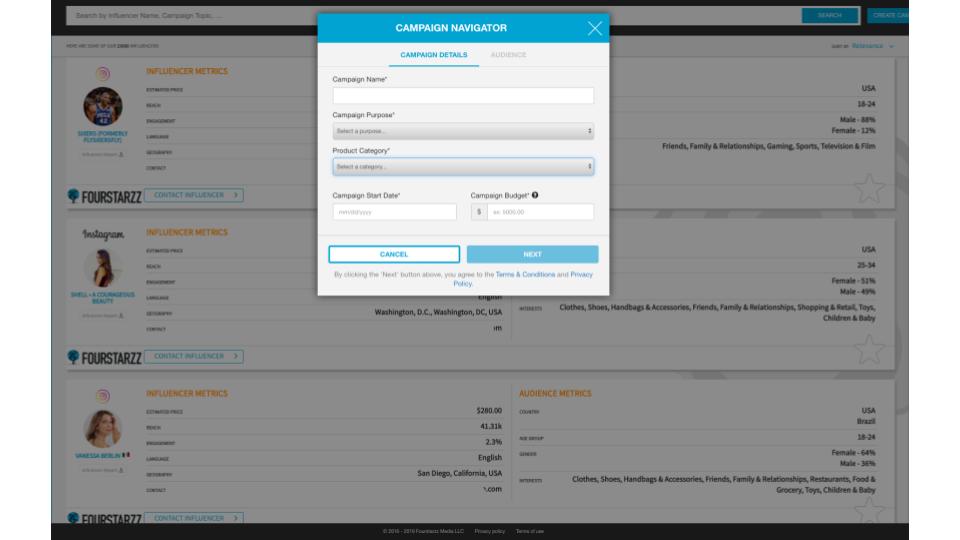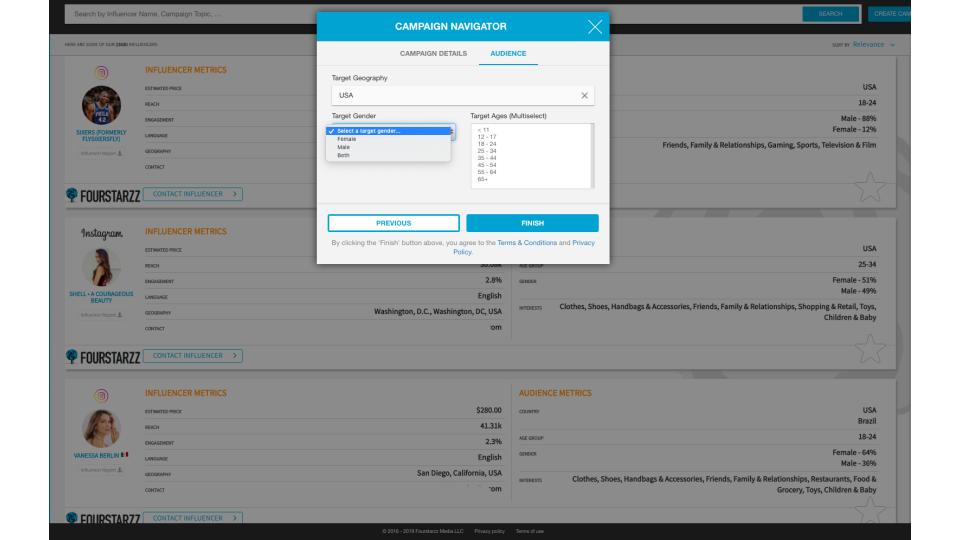 With this automated tool, you simply tell Fourstarzz some information upfront about your campaign—the objective, the product category, budget, and details on the audience you're trying to reach. The platform will then make recommendations of influencers who fit the criteria, which you can then scroll through and organize into lists. For each list, you'll also get some helpful projections on campaign performance. If you're launching an awareness campaign, you'll see your projected earned media value based on the influencers you've assigned to that campaign. If it's sales-based, you'll get a prediction on your ROI. The AI that's at the heart of these predictive analytics just wouldn't be able to function well without a wealth of data to analyse and learn from, which is why I said that the key to Fourstarzz is the data it has on each influencer.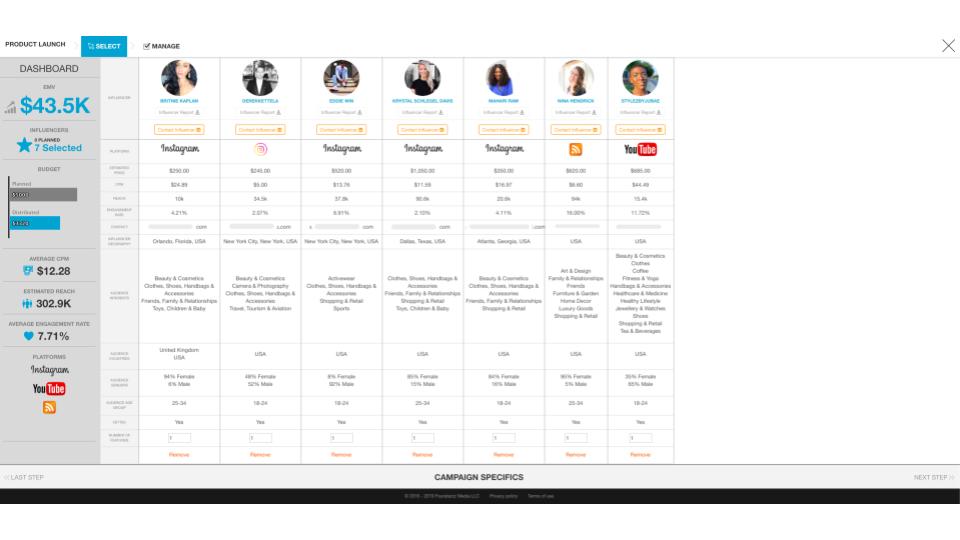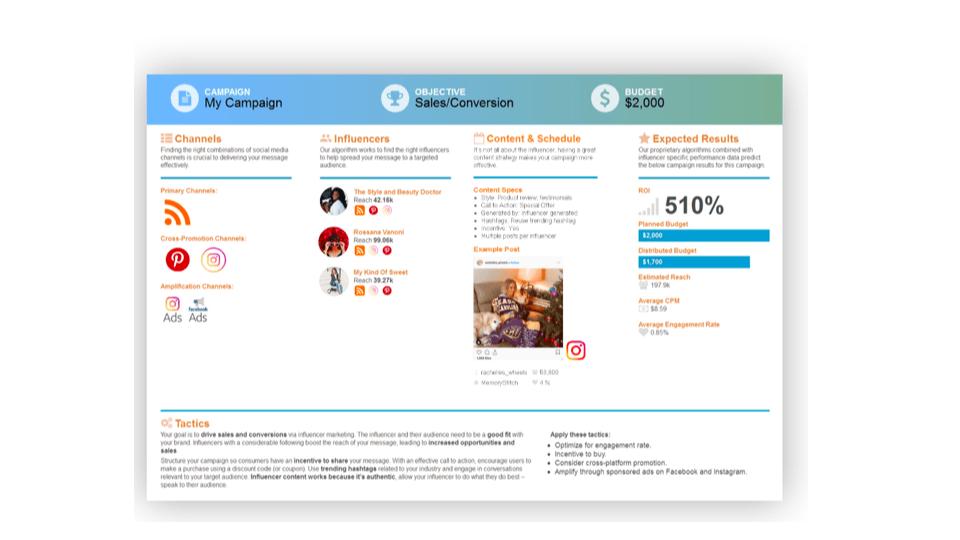 The weakness I mentioned has to do with the fact that there are no post-campaign metrics at all to measure results. This is all part of the design, says Fourstarzz's makers. It's a small business tool, designed to help people get started with a low cost of entry. And that makes sense, to a degree. This is all fine if it's a sales campaign, as the proof is in the payout. If you aimed to sell, say, $10,000 worth of product, it's not hard to know whether you reached your goal or not. Just look at the sales reports; there's no searing need to understand reach and engagement. For an awareness campaign, however, the lack of even basic metrics designed to measure performance is a glaring omission. Predictive analytics are great for making an educated decision on whether to move forward but they are, as the name suggests, just predictions. They can help justify decisions, but real data is needed to justify the spend (and future collaborations with those influencers you chose). That's information that even small businesses need. Especially small businesses, actually, because they're walking a much finer line when it comes to money spent.
Still, it's a testament to just how good Fourstarzz is that they continue to attract recognition and new clients even without this feature. It's an even bigger deal that they still attract big names, despite positioning themselves as a small business solution. Which leads me to another key difference in Fourstarzz's approach: the influencers themselves.
The platform boasts a roster of over half a million influencers, no small feat considering they don't scrape the web for data or recruit influencers to sign up themselves. Instead, they partner with talent agencies and work with them to populate Fourstarzz. This explains how they can get so deep into the data side of the profiles, but it also means something more important. The influencers here are all vetted and verified by humans—humans who've worked with them already. Credibility is not something that you need to worry about here.
---
Conclusion
Innovation is a lofty term to through around, and when a firm like Gartner, Inc. names your company as one of the ten most innovative in a certain sector it's something to be taken seriously. Fourstarzz' innovation isn't exactly a technological one—the platform doesn't do anything new as far as influencer marketing software is concerned. What they have done, and what makes the Gartner shout-out all the more valuable, is figure out a way to bring high cost, high tech tools to brands who otherwise would be shut out of the landscape entirely.
Are other companies giving their customers similar business intelligence in campaign planning? Yes, but at 10x or more of the cost that Fourstarzz does. For transactional, sales-based campaigns—which are going to be the bread and butter of a smaller business trying to establish itself via revenue—there's no better option for those on a tight budget. But awareness campaigns have, for obvious reasons, an important role to play in the growth of a company. Let's hope that Doerfl, Troesch, and company start adding in some ways to assess campaign performance with traditional influencer metrics. Were it not for this one thing, Fourstarzz would get five stars.
Fourstarzz
Features

Ease of Use

Reporting