Best for:
Medium sized brands with a big e-commerce presence
As influencer marketing becomes a more focused marketing strategy, we're seeing a lot more platforms purpose-built towards tangible goals and outcomes. By "tangible," we mean the money that you can touch when you make a sale. Five years ago, a platform needed only to tout its ability to "build awareness" or "forge authentic connections" or say any other feel-good word salad meant to distract you from the fact there was no way to measure whether you got your money's worth. It's not that awareness isn't important: it is. Essential, even. But it's only step one. Imagine wanting to buy an all wheel drive car and meeting with a salesperson who boasts "You know, Subaru is a company that makes what you're looking for" and then walks away from the conversation forever. This is what solely building awareness gets you. Converting awareness to sales, on the other hand, requires more strategy—and the tools to implement that strategy.
Gen.video is a relative newcomer to the influencer marketing industry, but its parent company—Expo Communications—has nearly twenty years experience at the intersection of marketing, user-generated content, and e-commerce. The only thing missing from the equation was influencers, but you could forgive them for not diving into that when they launched. Expo Communications pre-dates influencer marketing by about a decade. And it's a testament to the company that, rather than resting on its already impressive achievements, it recognized an opportunity to serve a new niche.
Gen.video has made the most of this opportunity, essentially taking the best of what influencer marketing has to offer and integrating it into a content syndication network that regards social media channels as a salesperson would the concept of awareness: it's essential, but only the first step in a much longer process. This means that, using gen.video, when brands pay for UGC, they're amassing a library of marketing assets that can be deployed out to channels well beyond social media. How far beyond? Read The Details and find out.
---
Summary:
---
Pricing
Gen.video doesn't make its pricing public, though they do say they are targeting mid-market brands with an e-commerce footprint. Access is provided in one of three ways:
Self-service —

The gen.video team will work with self-service customers to adequately onboard and then hand control of the reins over to them. Licenses are sold on annual basis.



Managed Services —

Exactly what it sounds like, also offered on annual basis.



One-off Campaigns —

Not something they make an effort in pushing, but sometimes customers come to gen.video wanting to just run a single campaign. The pricing for this would be highly customized.



---
The Details
The most fully featured influencer marketing platforms available like to bill themselves as end-to-end, and gen.video certainly falls into that category. Because of how robust the content syndication features are, it wouldn't be a stretch to say that it's an end-to-end-to-end solution. But that's jumping ahead.
At first glance, gen.video looks like any influencer marketplace, with a workflow that starts at the campaign level. Because I just used the word "marketplace," it's important to point out here that gen.video is not that. There's no database of influencers for Discovery, no broadcast out to a community for recruiting purposes. This is just not where the focus is for this platform, and as you read on you'll see why that is—the platform doesn't feel any lighter or more lacking for not including this feature (and, in fact, more and more platforms are shedding the computational overhead of search and discovery in favor of more practical features). Suffice it to say that you're expected to bring your own roster of influencers (or discover them elsewhere); gen.video provides excellent tools for relationship management and providing the data for you to refine that roster moving forward.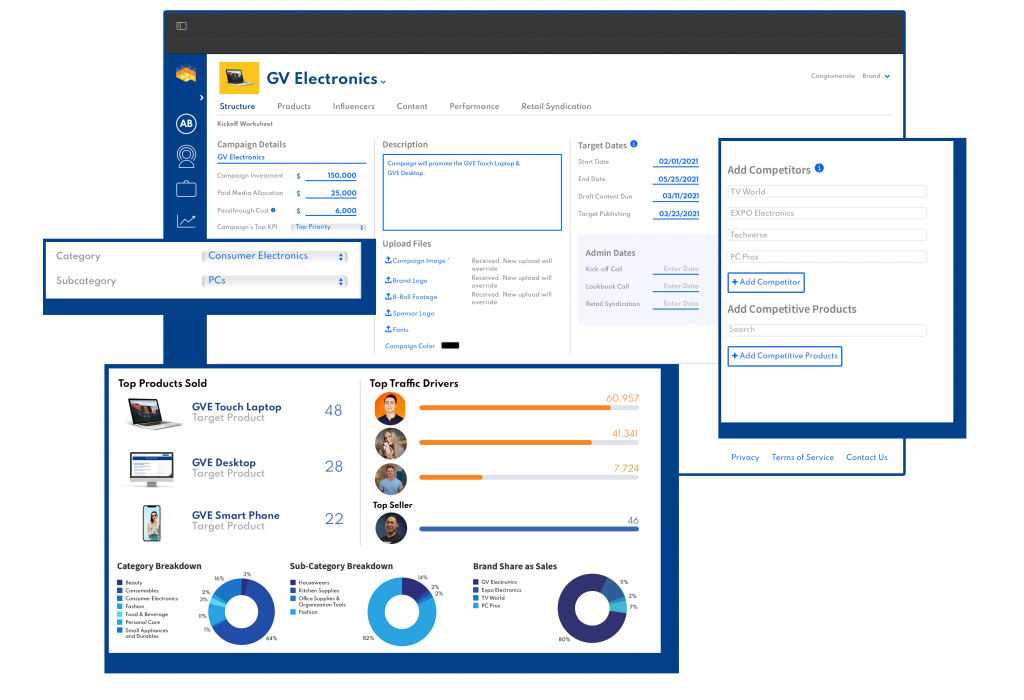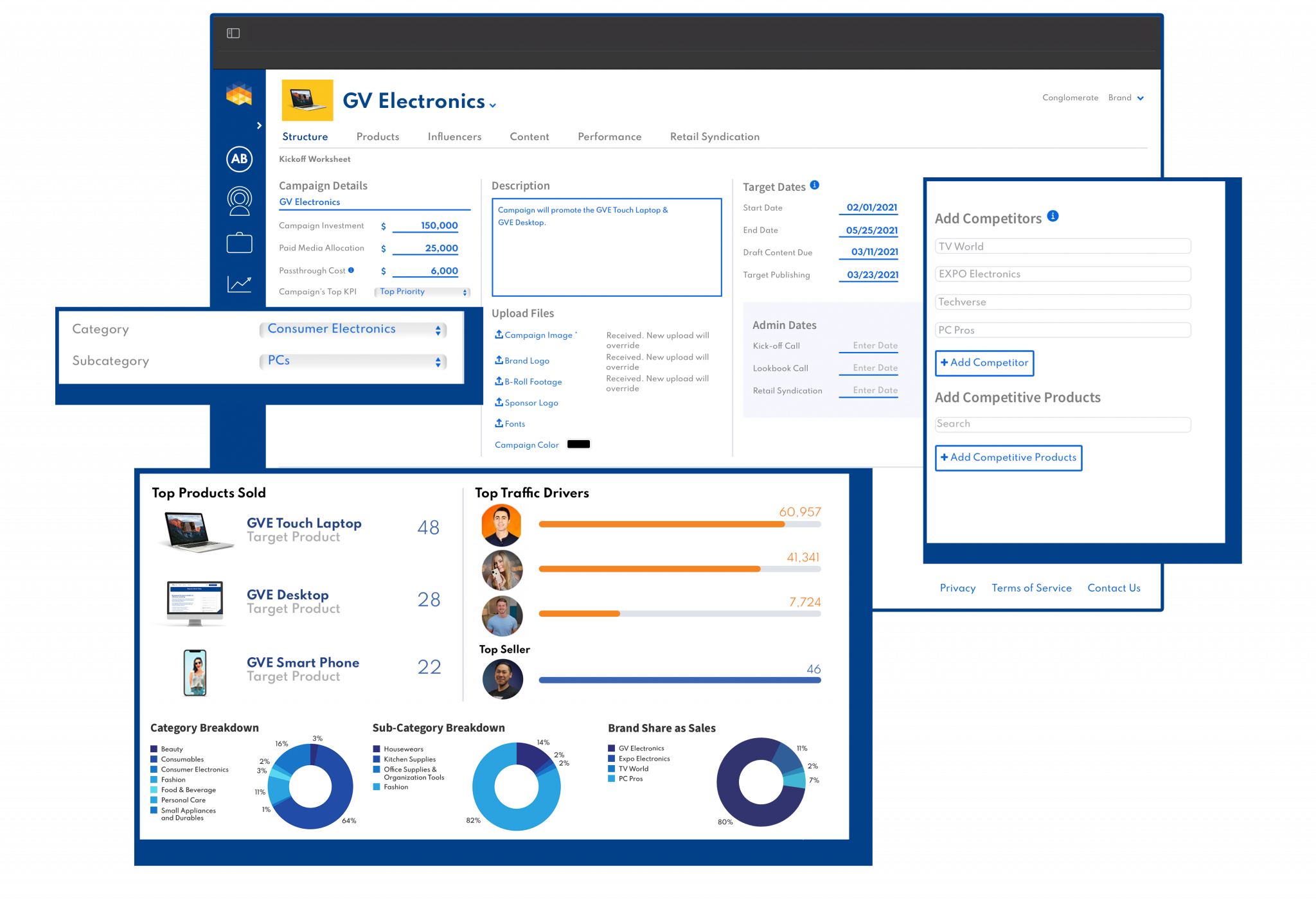 So, with that out of the way, back to the campaign creation: because the platform is purpose built for sourcing video content tied to a specific product, the way you define each campaign gets remarkably—you guessed it—specific. Like with other marketplaces, you'll enter your budget and then allocate portions of it to your paid efforts and costs for free products. You'll do all the brief-y kind of things you'd expect, like describe the goals, upload visual collateral (including b-roll footage for influencers to edit into their videos), set dates, and define the deliverables you're looking for.
Where this goes beyond expectations is how this ties into the sales reports once things go live. Gen.video pulls in data from just about anywhere your product is sold: your own website, of course, but also major retailers like Amazon, Wal-mart, and Target in the form of affiliate marketing data. Toward this end, part of the campaign setup includes defining categories, subcategories, competitors, and their products. All of this comes back to you in reporting that doesn't just report on sales, but gives a birds eye view of your product and brand in the larger retail landscapes you're a part of.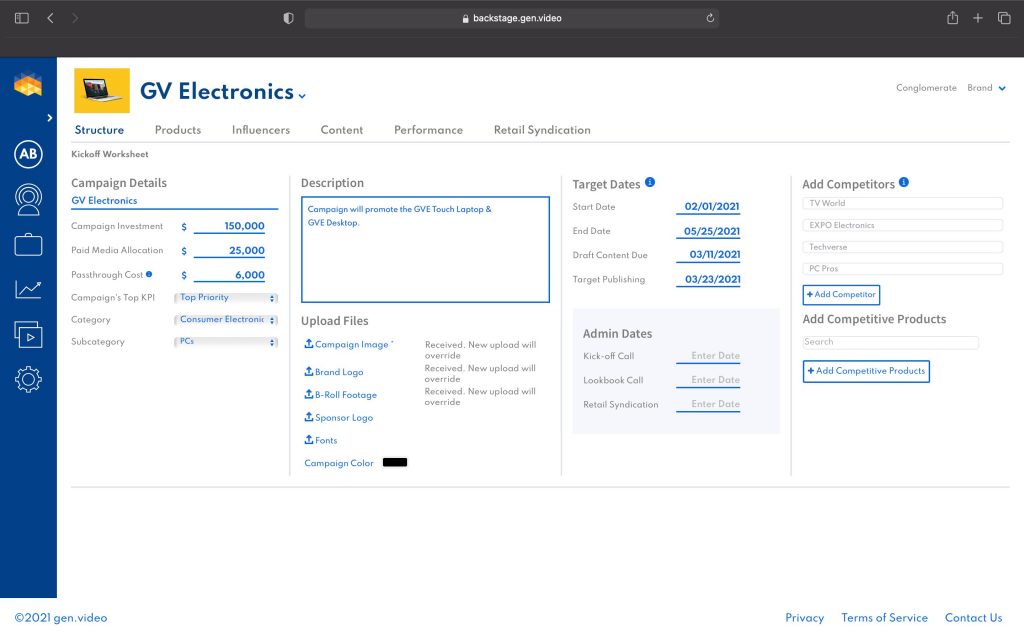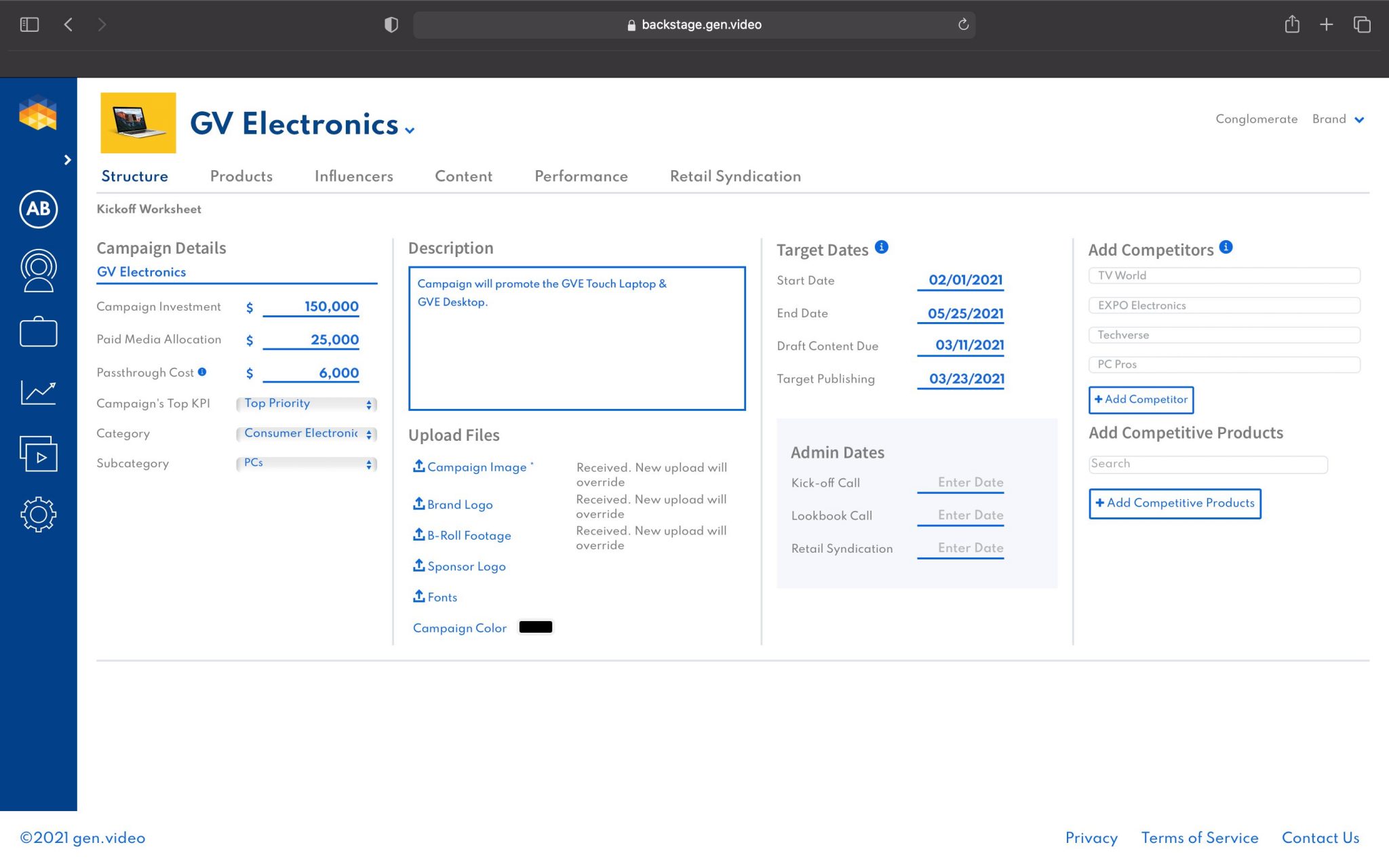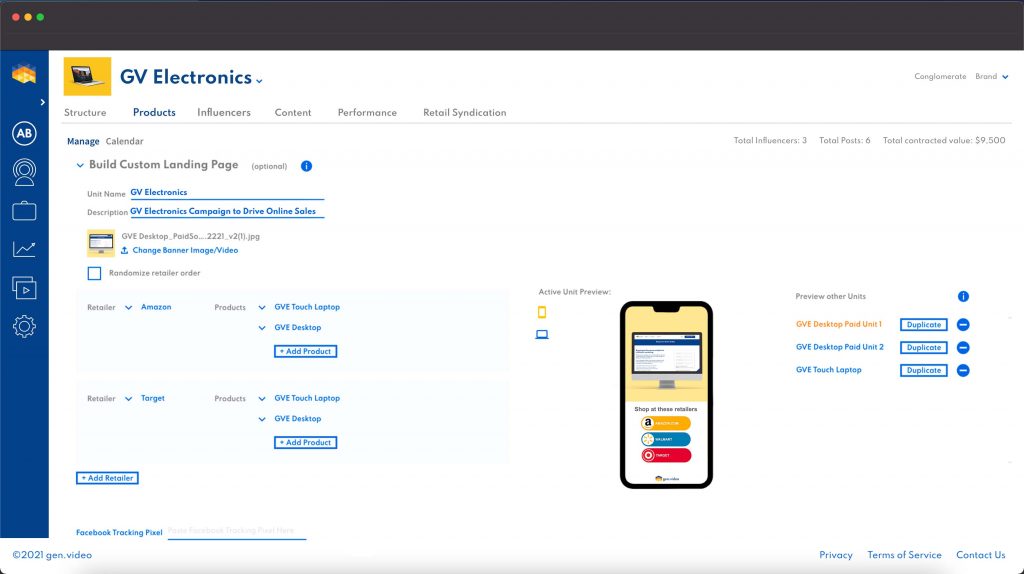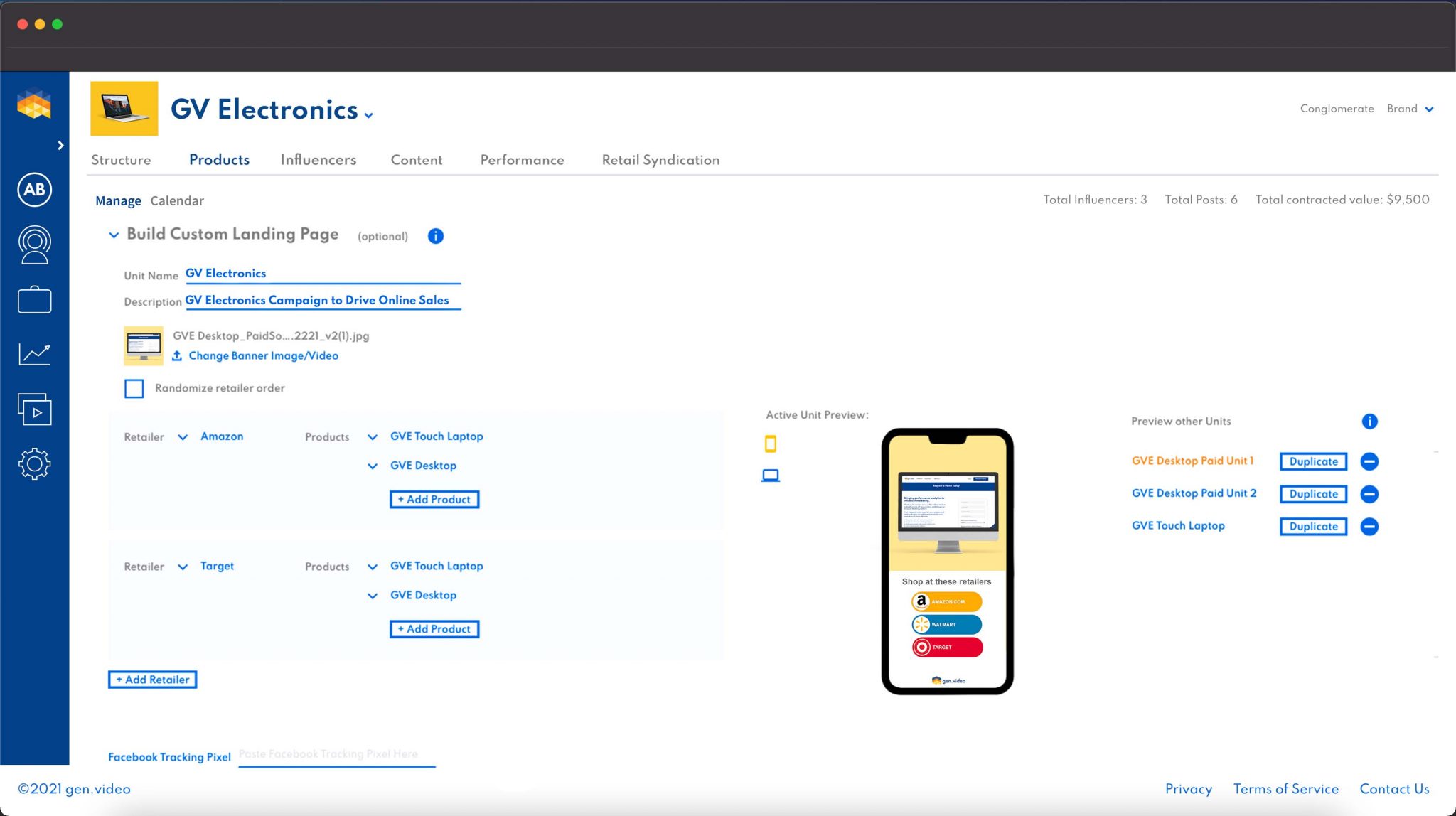 Deeper into the campaign setup, you're creating specific profiles of the product or products you're promoting. You'll upload images of each, along with a link to the product page at any of the retailer websites you can find it on. With this information, and at the click of a button you can create a landing page for the product, the link for which gets served up to your influencer's audiences (trackably, of course) as part of their posts. From that page they can select their retailer of choice in order to buy the product.
With the campaign having been fully setup, you can go ahead and start adding influencers from your roster to it. It's in the management of these influencers that you can see another way in which gen.video excels. It's as thorough an IRM as you can get, making it simple to manage: contract templates, rights to the content, payment agreements, shipping logistics (for free products), posts they've made, tracking links—even inventory alerts for the product associated with that link.
In the content management module, where the library of all content that's been submitted by your influencers, gen.video once again surpasses expectations. Because these videos are conceived of as having a use beyond the initial social media post, there's a higher level of professionalism to the tools used for the approval process. Comments and feedback can be left at specific points in the video, so there's immediate context for what's being said. A built in speech-to-text tool makes this possible, where feedback can be give along with some highlighted portion of the video transcript (That speech-to-text feature also automatically generates the closed captioning file that most retailers require along with product videos). There's also a very advanced version management aspect to this, so multiple versions of the same video can be tracked, noting with the notes serving as a guide to what's been changed.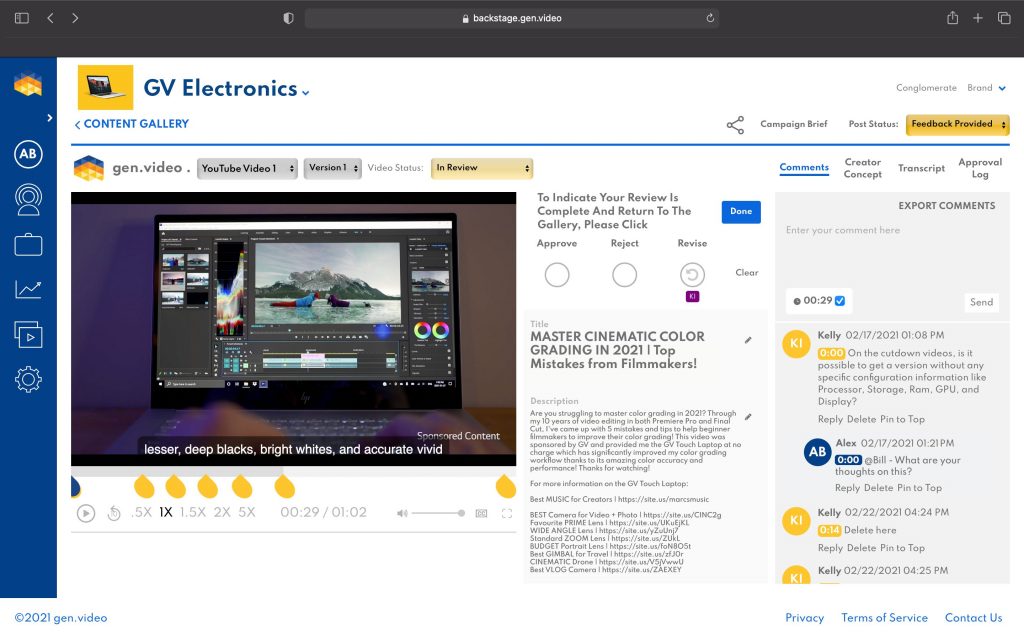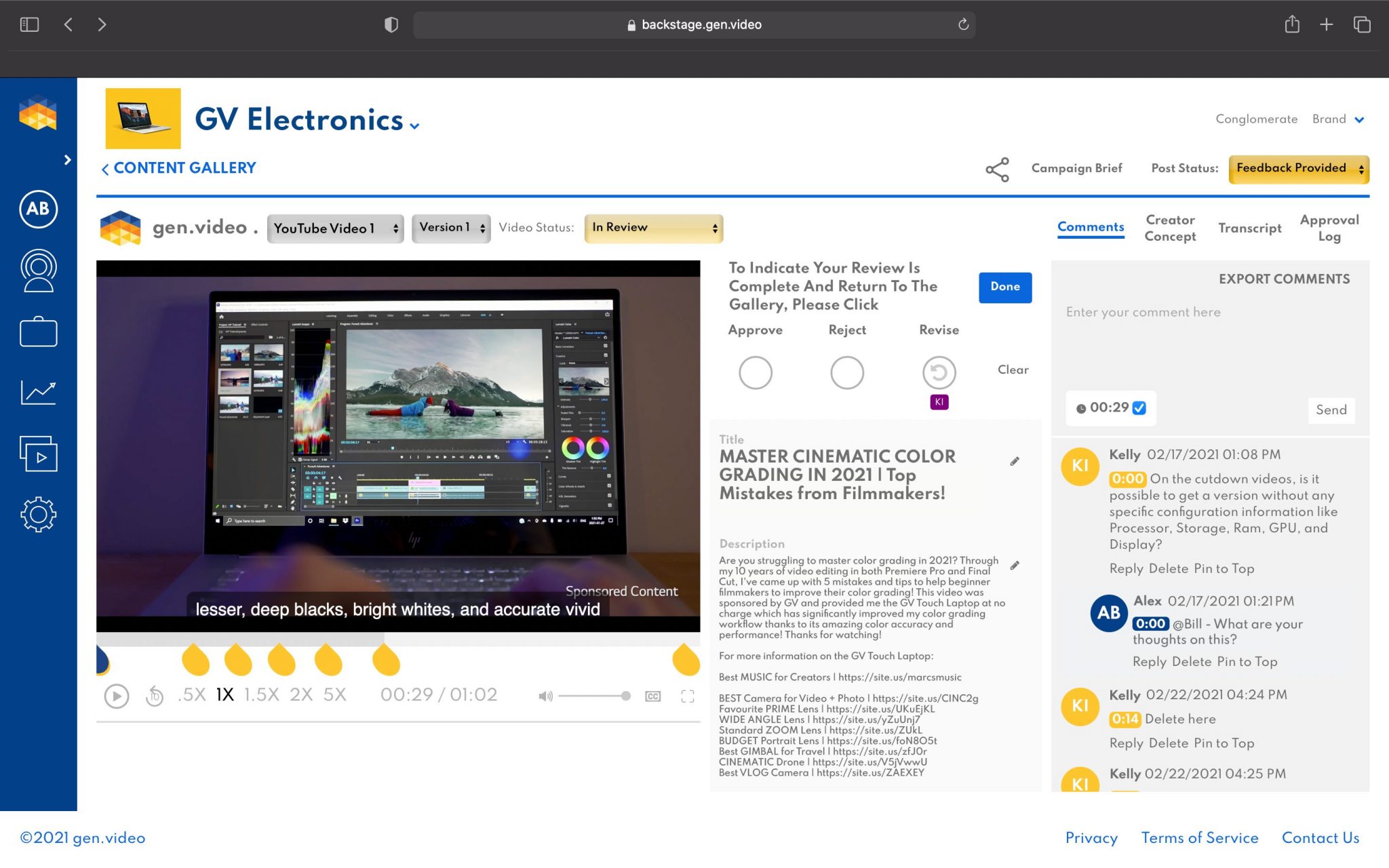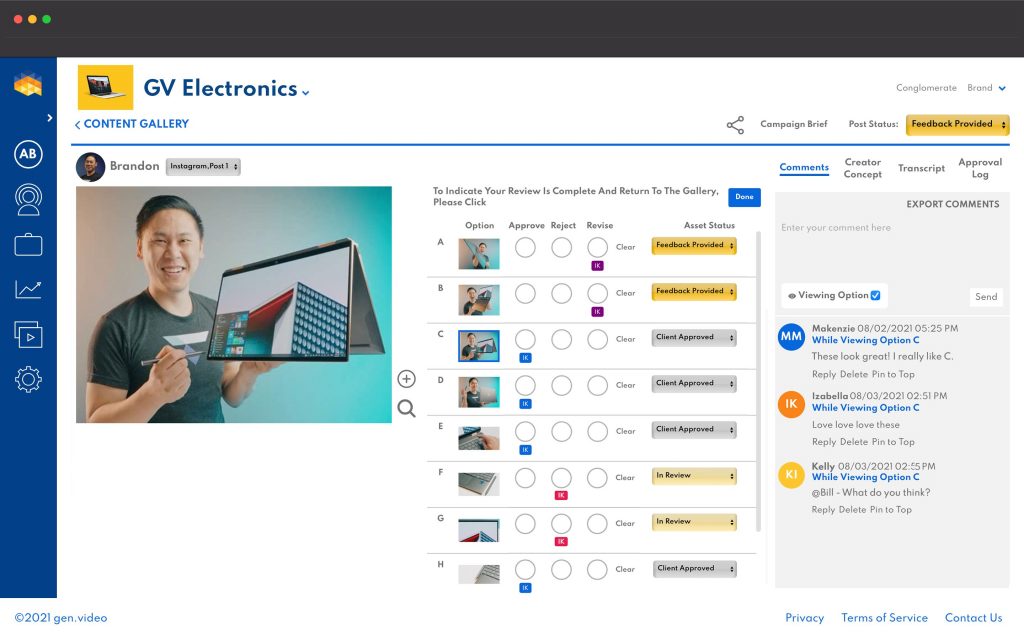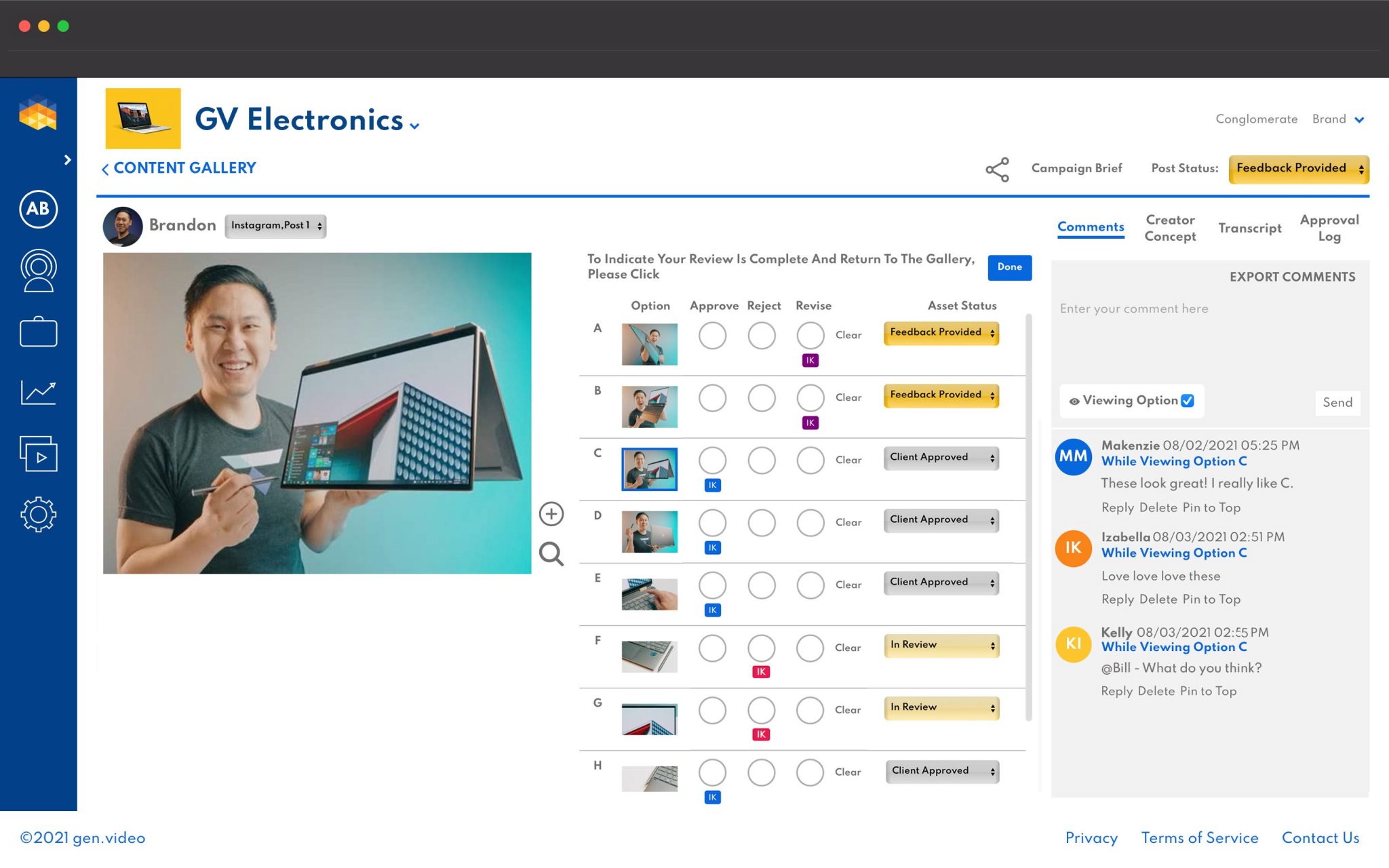 With all this specificity going into the campaigns, it's no surprise that the reporting that comes out the other end is just as thorough. You can swap through four different views of campaign outcomes:
An overall summary breaks down performance against predetermined KPIs: reach, impressions, engagement, sentiment analysis, cost per click, click-through rate, and more. You'll also see a post by post rundown showing, among other things, how much you spent for the post, and how much traffic and revenue you're getting from it.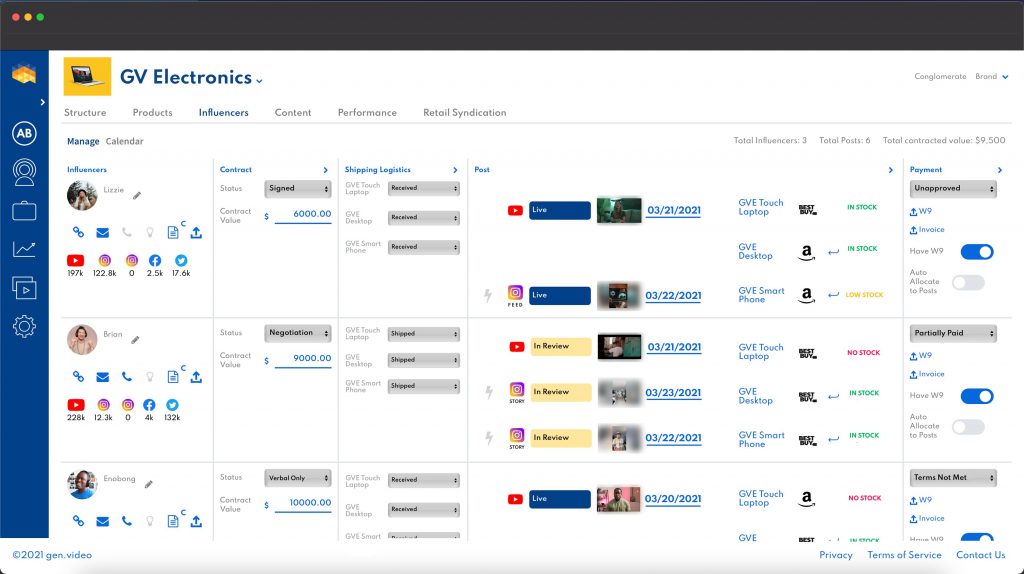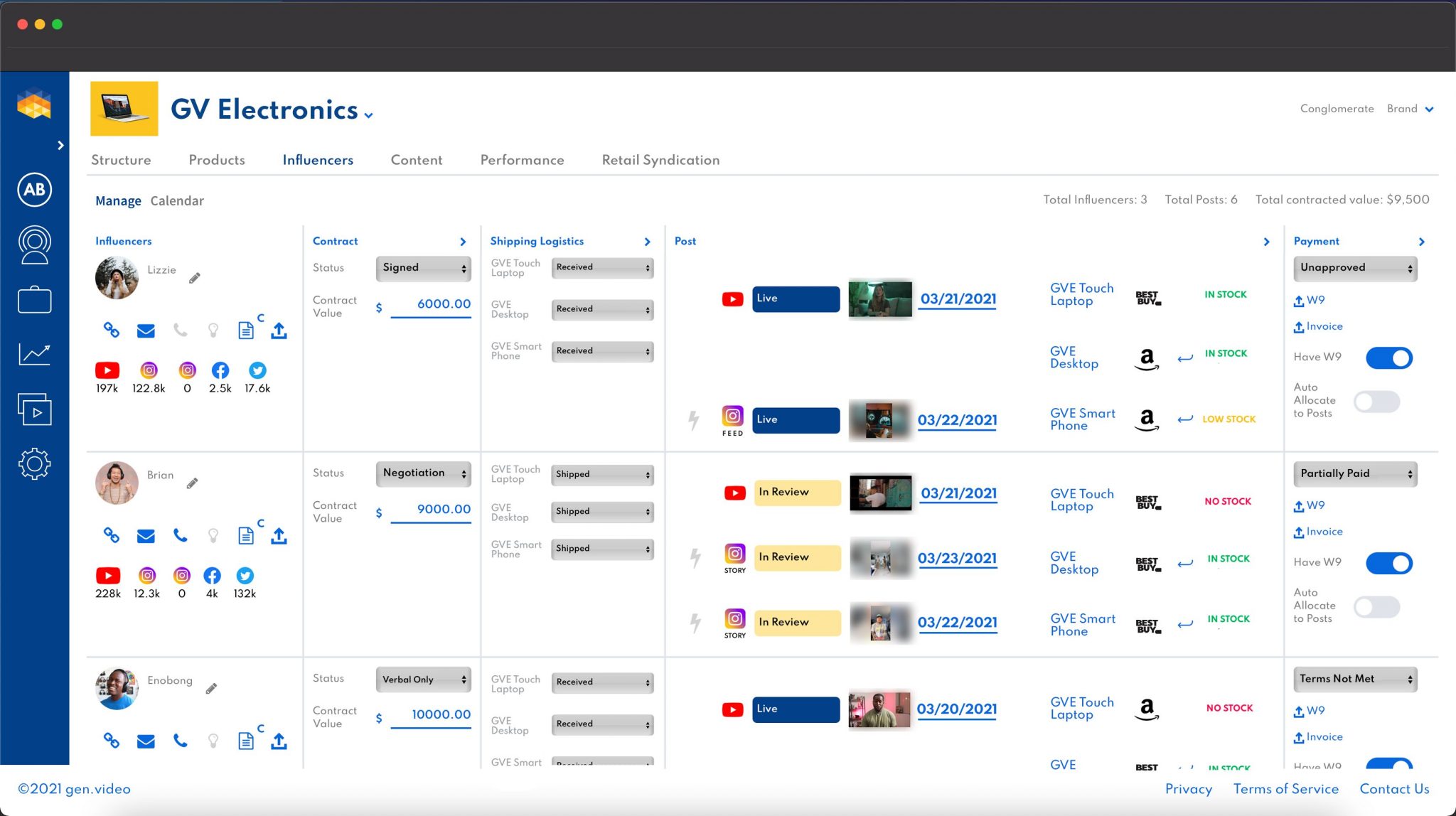 A summary of influencer performance that makes it immediately clear which creators you're getting your money's worth from, and which might not be worth the investment.

The retail summary shows the sales and traffic performance for each retailer separately. How many shopped at Amazon vs Target? What's the click through rate for each? Which products? These are among the questions answered here.

The platform summary shows similar metrics, except it's broken down by the social channel.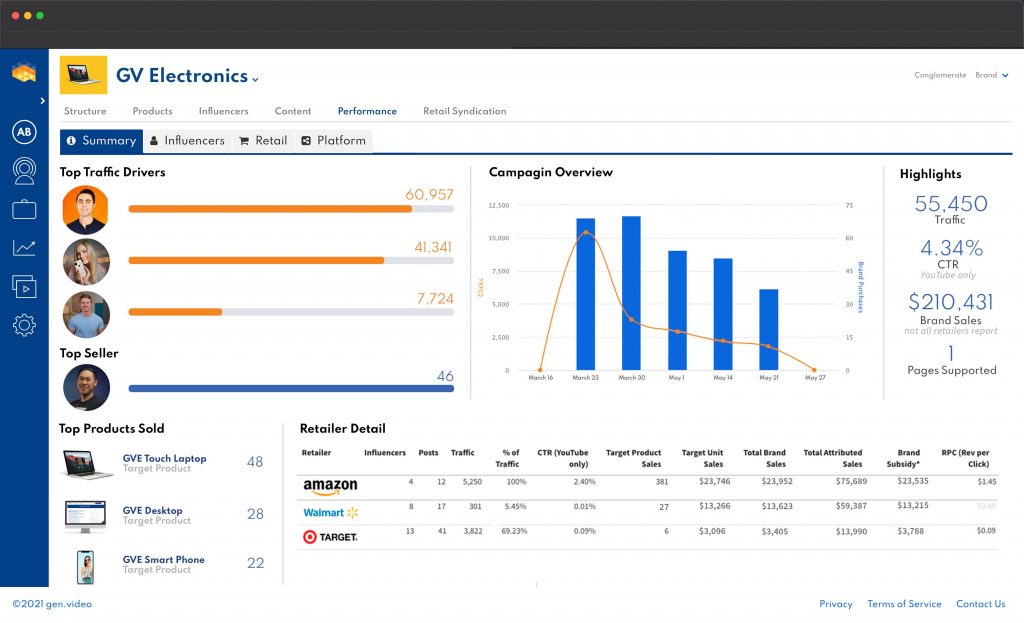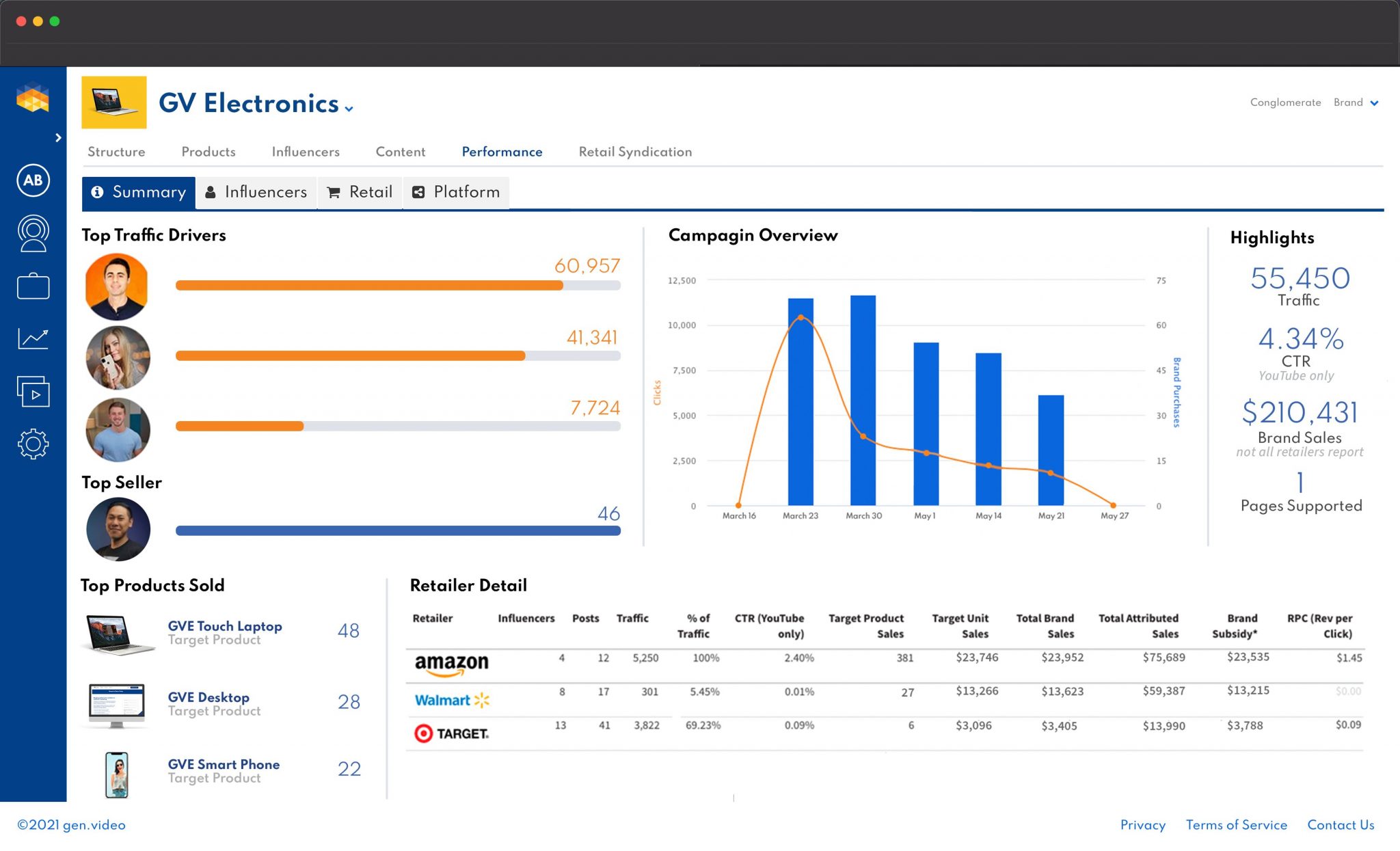 The one gripe I could make, if I had to make one, is the lack of audience data provided along with the campaign reporting. It makes sense that gen.video doesn't show this to you up front; this kind of influencer and audience analysis is generally done as part of the data ingestion for a Discovery module. It is helpful to know after the dust settles on a campaign who in the audience is engaging and buying. That only makes it easier to refine your influencer roster accordingly. This is a pretty minor critique, though, of what is an impressive and unique platform.
---
Conclusion
As influencer marketing platforms shift their focus away from its early beginnings of ephemeral metrics such as likes and engagement, gen.video stands out in the new crowd of software that's finding new ways for brands to benefit. For mid-sized brands that have at least a few toes in the e-commerce pool, this platform is an all-in-one tool that brings marketing and sales together and finds ways to grow both efforts.
Gen.video lets these brands capitalize on the organic, feel-good social media strategy that is a modern day business requirement, and then gives them a way to manage it all on the back end, converting good will and great content into more traffic and sales.
Gen.video
Features

Ease of Use

Reporting

Best for:
Medium sized brands with a big e-commerce presence