What if what you've been looking for has been right in front of you all along?
No, this isn't the plot for a rom-com-- we're talking about the secret to more authentic influencer marketing, the untapped mine of personalities that contain your brand's strongest advocates, the influencers in your customer base!
In today's world, it's safe to assume that consumers have some form of social media… and nothing is stopping a savvy brand from finding (and engaging) the most influential ones among them. With the advent of influencer technology, it's easier than ever to cherry-pick organic advocates straight from a customer base. That's exactly what we do here at Upfluence when it comes to ambassador and influencer identification, and we'd like to share our insights with Influencer Marketing Hub. This article will map out the why, how, and when to turn customers into influencers.
---
How Brands Can Turn Customers Into Influencers:
---
Why brands should leverage customers as influencers.
We deep-dived into Live Capture, Upfluence's newest tool designed for e-commerce brands, and paired that insight with that of our influencer analysts, who help clients identify and activate key personalities among their customer base. Here's what we've discovered in terms of benefits: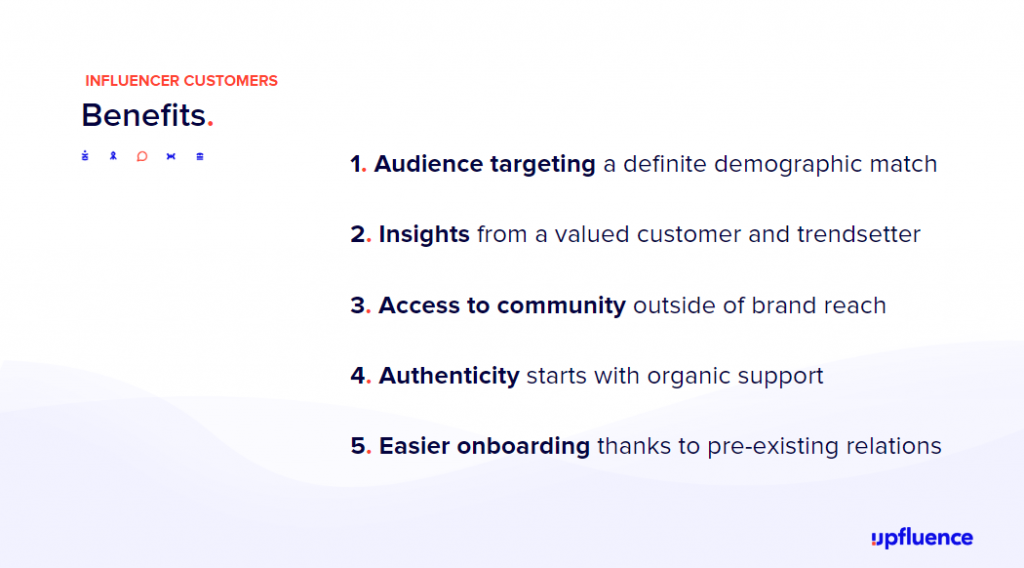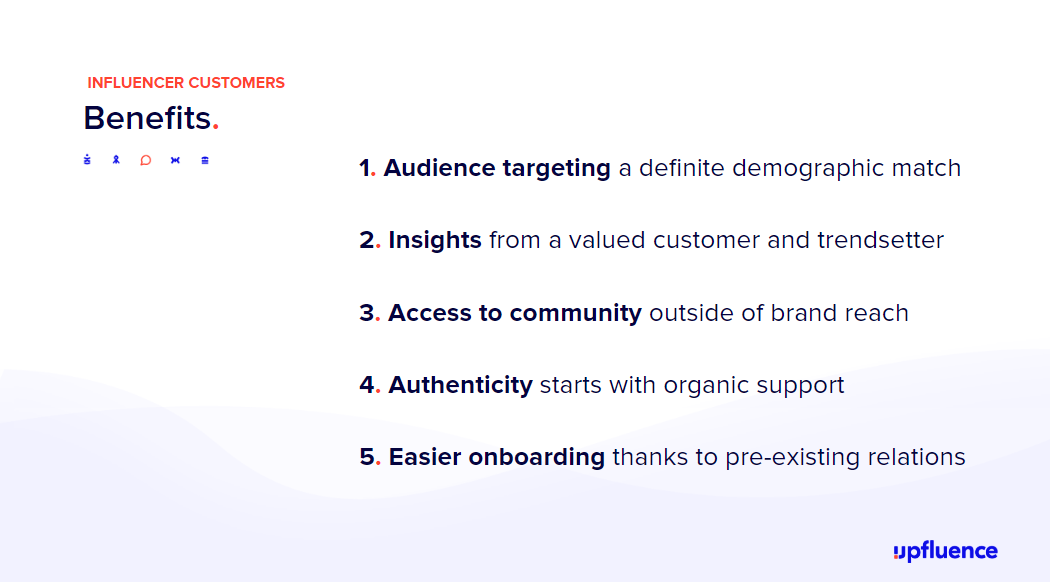 Working with influential customers is a hack for audience targeting.
In Influencer Marketing, it's typical to let customer demographic data (such as what is available through Google Analytics) inform the selection of influencers. The goal is to pick an influencer who has followers in your target audience. Yet, the major benefit of working with influencers from your customer base is that you're guaranteed to be working with someone who truly gets your target audience. Both in terms of demographics (things like age, sex, location) but also psychographics (the mindset and affinities of your costumer). They are one after all! The goal is to help you identify and reach out to your next generation of brand ambassadors.
Insights, insights, insights.
As trendsetters and valued customers, influencers are definitely someone to learn from. They can offer perspective into where your brand shines, where it could improve, and how it lives out in the world. We've found that working with influencers who have already endorsed a brand (organically) offers more versatility in terms of partnerships. There's extended common ground for mutual learning. Marketers should take the opportunity to really get inside their heads: encourage feedback, learn about their lifestyle, and build a better profile of their customers in the process.
Customers provide access to smaller, more tight-knit communities.
Everyone's preaching "community" these days but what does that mean in practice? Small online communities (like group messaging, follower polls, tagging friends in posts, etc.) are more often than not the real source of inspiration for consumer decision-making. As a brand, it can be hard to tap into these "dark" areas of contact. They're practically untouchable! This is why it's essential to find and incentivize organic brand advocates which can do the heavy-lifting for you. They're the ones which will start dialogue in the private spheres of internet communication… the unseen backbone of social media engagement.
Working with influential customers can be more authentic.
"Do influencers even use the products they're promoting?" This is, unfortunately, amusing we're encountering more frequently. Of course, when you see some of the unrealistic partnerships out there (for example, influencers promoting something they can barely describe) one begins to understand why consumers might be cynical. An influencer should be compatible with their brand partner or else the collaboration risks coming off as inauthentic. Of course, working with influencers who are ALREADY customers helps resolve this skepticism around promotion. If they've used the products or service in the past, by de facto they're much more believable advocates. Not only is this more genuine for consumers, it facilitates the briefing process during recruitment.
Influencers who already support your brand are the easiest ones to recruit.
Upfluence analysts found that influencers who have expressed brand affinity (for example, a positive brand mention on social media) have the highest open rates during the outreach phase. This means that working with customer influencers can reduce time spent on outreach, expedite the recruitment process, and improve ROI (as monetary offerings can be supplemented with coveted samples/brand experiences… but more on that later.) Even if they didn't like your product or service the first time around, there's an opportunity to re-convert them via one-on-one communication. All of this just goes to show that a pre-existing relationship is full of potential for tactful brands.
Finding influencers in your customer base.
Now, thanks to software like Live Capture, it's easier than ever to pinpoint "organic advocates" or influencers among your consumers. We suggest two approaches to brands: looking back to find past influencer customers and looking forward to catch future influencer customers.
For illustration purposes, let's take a look at Hydro Flask: do they have influential customers? How might they identify them proactively and retroactively? (As a disclaimer, Upfluence has no professional relation to, or partnership with, this brand.)
Retroactively identifying influential customers:
Using social listening tools to find influencers who have mentioned your brand online.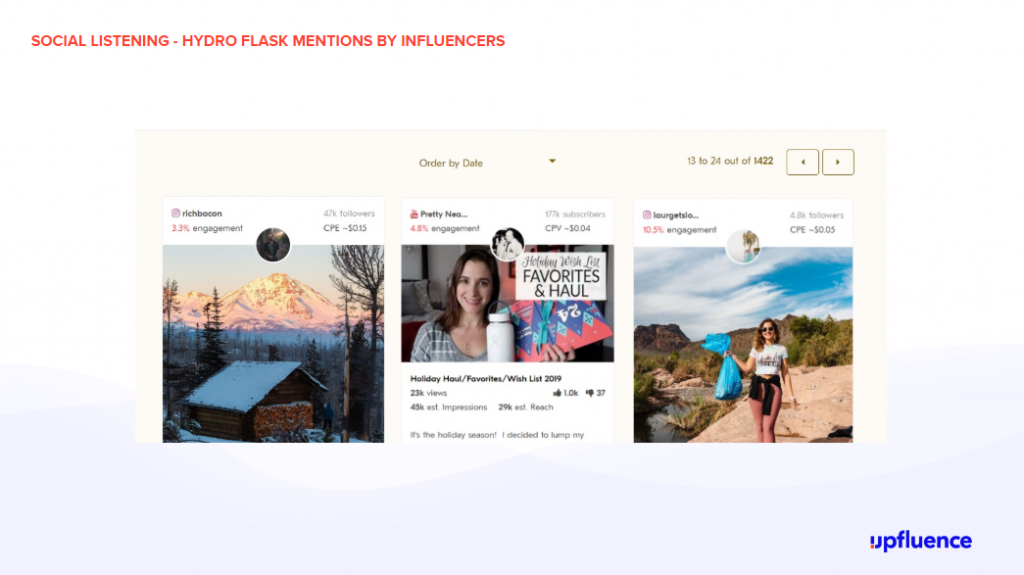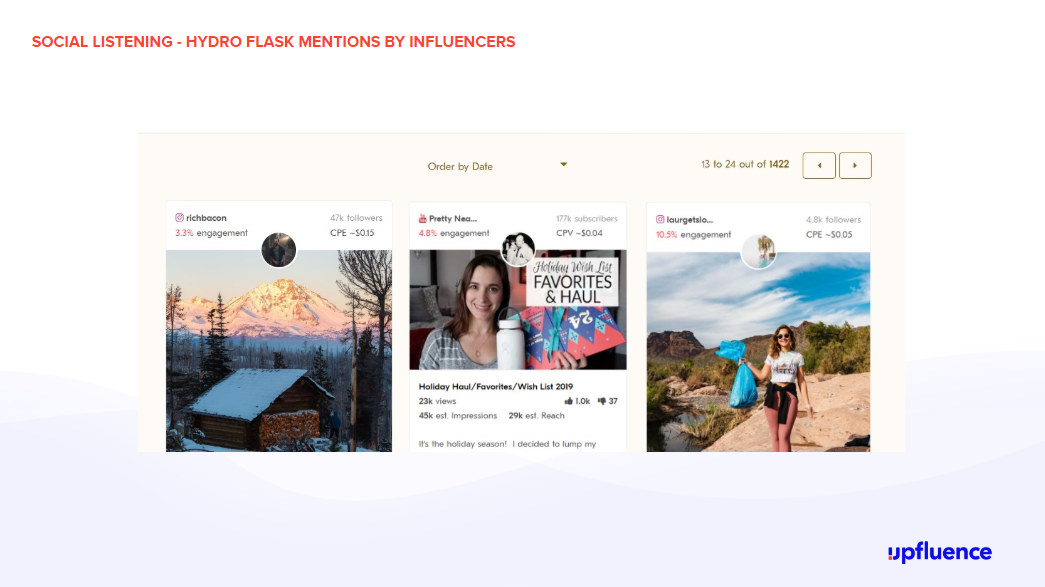 Analyzing your existing social media following for influencers.
Proactively identifying influential customers:
Finding a personality that fits your brand values and authentically promotes your products and services can be a daunting task. Imagine identifying your most influential customers and engaging them in an influencer marketing campaign for a brand they already know and love? How about that for authenticity?
Asking customers to share their social media at checkout for special benefits.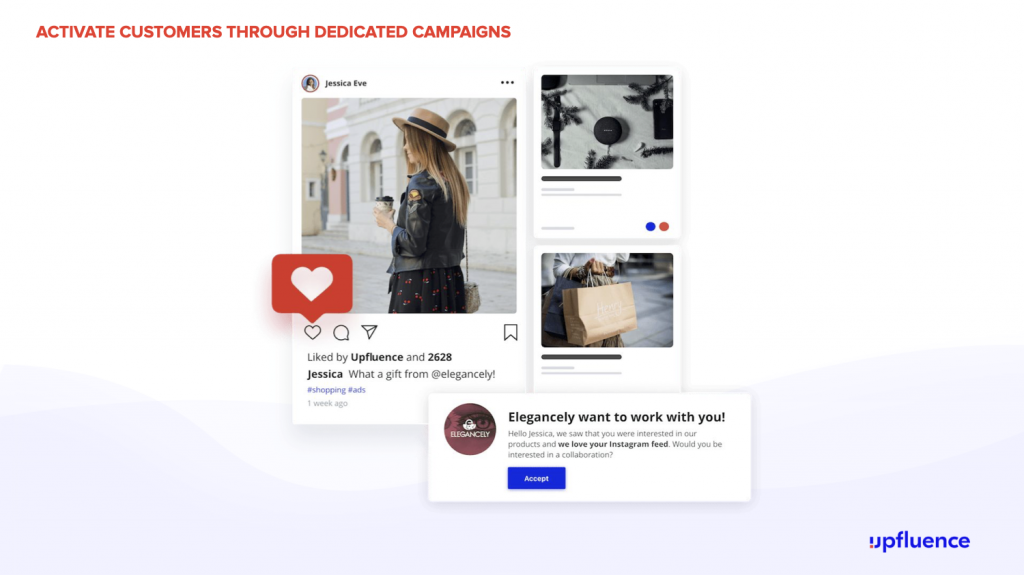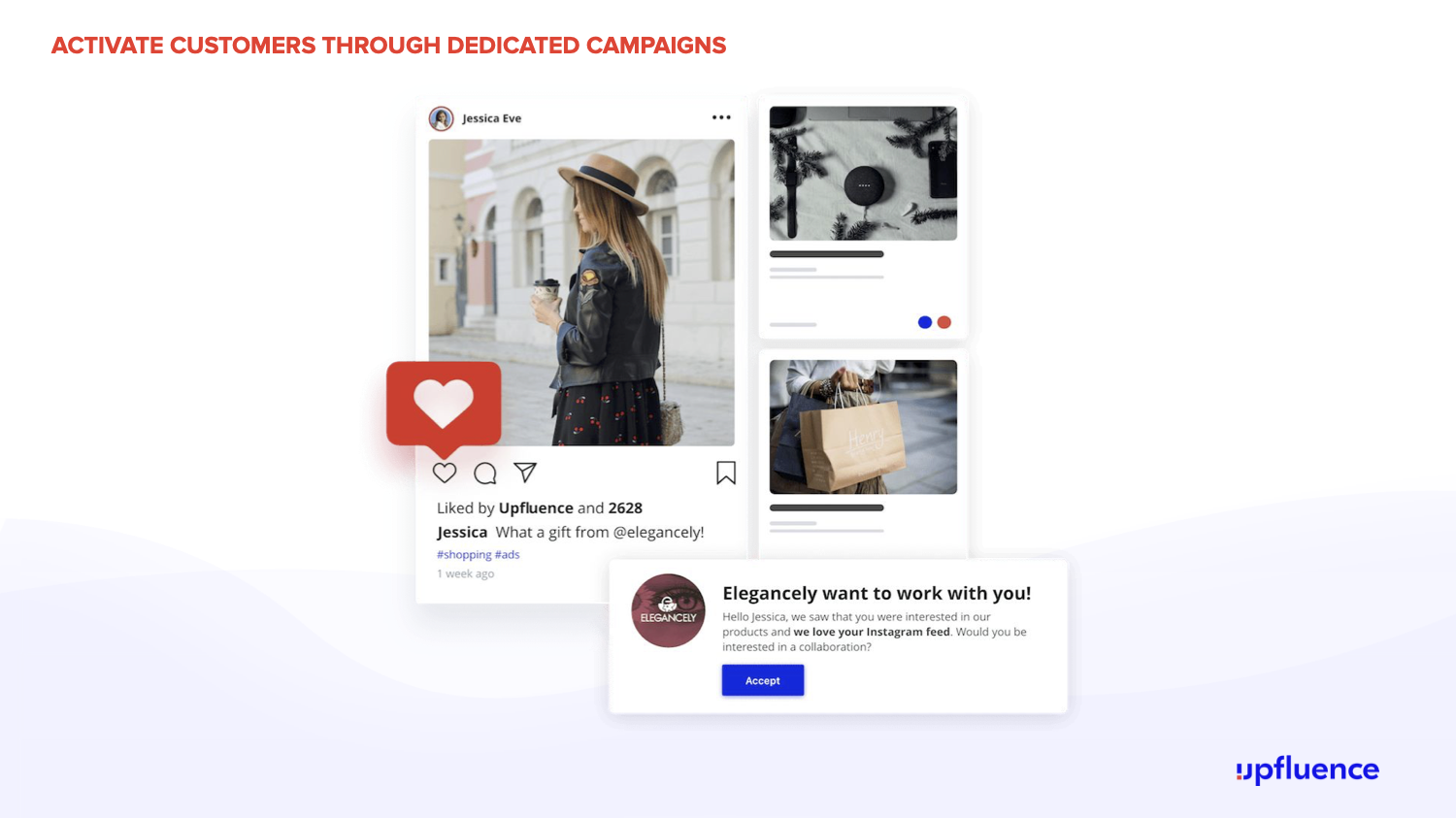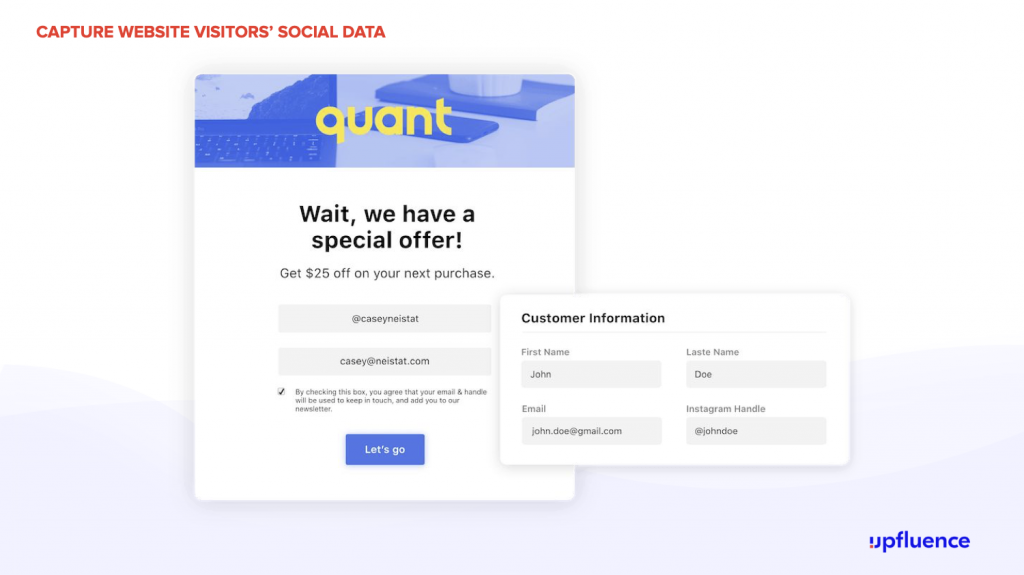 Influencer relations may soon be incorporated into the very infrastructure of our shopping experiences. Be it in-store or online, the option to share one's social media account with a brand could become as commonplace as subscribing to promotional newsletters or loyalty cards.
Promoting ambassador opportunities on social media, newsletters, and via dedicated landing pages.
---
How to activate influential customers
Influencers who already support a brand are uniquely suited for ongoing mutual partnerships.
They know what the brand offer is
They can be incentivized by product
They're confident referring it to others
We recommend that brands leverage their influencer's "organic affinity" by mixing and matching aspects of referral, affiliate, and brand ambassador programs. The idea being to create an offer that influencers can't turn down. It should be fun, on-brand, and mutually beneficial.
This infers that influencers will have ample opportunity to be involved in the brand mission. For the content to be genuine, it's important that they feel like partners. Some brands incentivize their influencers with experiences like inviting them to launch parties, sending them new product to test before it goes live, even offering influencers an allowance to their online stores. Since the influencer is already a customer, it's good to mix payment with non-monetary value… diversifying the offer keeps the influencer involved and differentiates your brand from another that may only offer money. Remember that influencers need new content opportunities (and "clout") in order to stay influential,... and brands can offer that through experiences. What's more, an influencer who has been involved with a brand over time has much more to share with their community. If the goal is to create more authentic content, nurturing ongoing relations (outside of just money) is the only way.
Finally, the common point among all these different offers is that they're designed to engage the influencer in the brand mission (more so than a "one-off" post). Whether it's through referral, affiliate, or brand ambassadorship, increasing influencer involvement results in greater authenticity.
---
Conclusion
Up until now, brands have sought influencers based on compatibility, performance, and other qualities which permit collaborations to be coherent for consumers and synergistic for partners.
Customers as influencers seems like an obvious next step for brands who want better partnerships. From what we've seen at Upfluence, exploiting pre-existing relationships has benefits at each stage of the influencer process: from identification and performance to program longevity. By working with customer influencers, brand can expect:
Easier onboarding
Greater audience-match
Longer term, more dynamic partnerships
Better content
All of which imply better ROI because,
Reduced time and resources are being spent on outreach and negotiation
Correct audiences are more likely to convert
Ambassador programs rely on a mix of monetary and non-monetary compensation
Valuable content can be repurposed in future marketing materials
Most importantly, though: influencers who have organic interest in a brand make for more authentic advocates in the eyes of consumers.
At some point, the days of thoughtless, #ad posts have to end. This industry cannot sustain itself if consumers are made to ask whether or not influencers are "even using the products they're promoting".
Of course, each strategy presents its own set of challenges: what do brands do if the influencer wasn't a happy customer in the first place? How does a brand engage influencers without alienating other clients? Those that adapt to these hurdles have much to gain, though.
We're not suggesting that brands pull influencers exclusively from their customer base… (It is possible to find compatible personalities who've never heard of a brand before). That being said, we urge brands to add this strategy to their toolbox moving forward.
Working with customer influencers is surely a step towards more authentic influencer marketing-- a critical edge in today's saturated ads landscape. So if there are influencers in your customer base, now is the time to activate them.