Influencer marketing is one of the few online business practices that have thrived throughout the pandemic. As the world and its regular rhythms turned upside down, content creators became more vital than ever before.
While brands were trying to figure out how to react to the current events and adjust to the new circumstances, influencers were (almost) on the same page with their followers. Out of a sudden, they were stuck at home, stressed and confused just like everyone else. Sure, there were some pretty ugly situations, but for the most part, content creators managed to be more authentic and relevant, while also providing both entertainment and support to the eyes that focused on their posts.
However, it does not mean that all businesses managed to benefit from collaborating with them. To avoid the same negative outcome for your business, let's explore some of the approaches that can help you bring your marketing strategy to the next level.
---
How to Achieve Better Results with Influencer Marketing:
---
Stop relying on manual search
Being an influencer has become one of the most appealing career choices for people all over the world, especially among Millennials and Gen Z demographics. Apparently, there were over 500,000 influencers on Instagram last year. And even though having a lot of options is great for your marketing strategy, there can definitely be too many of them.
So it is time to stop relying on manual search and use software instead. Insert key data points that distinguish those influencers you need the most from everyone else and find them right away. Save your money and time, find more suitable options, achieve better and bigger results.
This is exactly what AeroCool, one of the leaders in the gaming performance product industry, did. They did not want to waste their resources on expensive PR databases and inefficient communication with creators found one by one anymore. Their marketing team aimed to build successful long-term partnerships. But to make that happen, they had to find the right people first.
Thanks to social media intelligence software, their marketing team could stop trying to monitor the whole Internet manually. They did not need to waste an extraordinary amount of time on looking for relevant profiles, analyzing their content and results anymore. They were able to use data to discover relevant creators and their contacts, then they got a 100% response rate which is unheard of in the marketing world. Have you ever had such an outcome?
After being in touch with several dozens of tech influencers from those geographical areas where they wanted to increase their brand awareness and sales, they chose ten to partner with. Six months later, they are more than satisfied with the results and continue their collaboration with almost everyone from that list. This is what technology is capable of providing when you implement it in your strategy well.
---
Focus on engagement instead of scale
Let's say you represent a skincare company based in the US. However, instead of going the traditional route, you are interested in working with male content creators. Not a problem! These are the top three results in terms of influence based on these requirements.

Pay attention to the difference in engagement among Ivan Lam who has 496,000 readers and Issac You with 90,800 followers. Yes, 5 times more people subscribe to Ivan, but the engagement is twice as high under Issac`s posts. And you can have all of this data is right in front of your eyes in just a few clicks instead of a long search all over the place.




It would be much more expensive to work with Ivan because we are still used to evaluating influencers based on their number of followers. Does it mean that it would also be more effective though? Based on the data in front of your eyes, the answer is probably no.
This is why there is no point in chasing people with the highest number of followers. Instead you could reach out to content creators with smaller audiences but higher engagement rates and use your budgets better. Sure, we have known that this was a valid option for a long time, but actually seeing these numbers next to each other makes you realize how big of a deal this is.
To make the search process easier, use various filters. For example, turn on the word of mouth (WOM) category and turn off promotion to avoid paid posts.
---
Use software to track results
Obviously, the job is far from over when you have your desired list of relevant influencers and even signed deals with them. There is a whole lot to be done and a complex ongoing process to overlook. Unfortunately, it is still relatively common to monitor content creators and their output, as well as results manually. However, this outdated approach is not your only option today.
To prove my point, I would like to go back to the example of the client that I have previously mentioned. In the past, they would waste long hours on opening endless tabs, checking pages, posts, descriptions, comments. The whole thing was inefficient and exhausting. But it was all over and different when they began implementing technological solutions.
As soon as they did, they could open a tab or two and see an overview of what had been happening. Thanks to social media intelligence software, they are now able to find out whenever a new post about them is published, as well as what people in the comments and their actual consumers think. Engagement rate, sentiment analysis and much more is available to them 24/7 and easily accessible.
I would like to mention another successful case of this client`s usage of social media intelligence software which is not directly linked to influencers before I move on to my next point. In short, they had a product that they were not promoting anymore. They were planning to stop selling it and release a different one soon. However, social media listening has helped them see that people loved the one that they had given up on. They had no idea before. So, instead of killing it, they kept it.
---
Pay attention to visual insights
Let`s do another search query. This time it includes only posts featuring Nike
published by women on Instagram. Again, WOM only and no promotion. Have a closer look at Melissa Cantey with 30,424 followers and engagement rate at 5,291 and Kirsty Less with 323,347 followers and engagement rate at 3,935. The numbers are impressive, aren't they?


Moreover, Melissa`s content turned out to be both appealing and high-quality. This would be a perfect opportunity for a collaboration with Nike which, by the way, do not shy away from working with micro-influencers.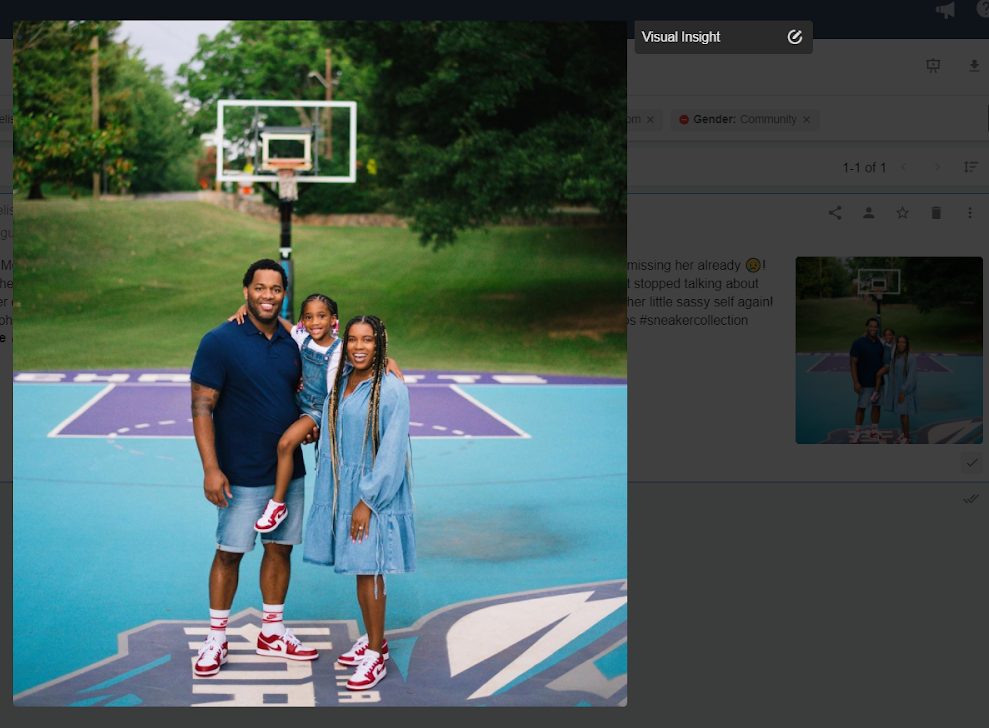 Our next example is another adorable couple that shared a personal post that had nothing to do with Nike or Ray-Ban, but both brands are clearly visible in the photo and attract the attention of potential customers.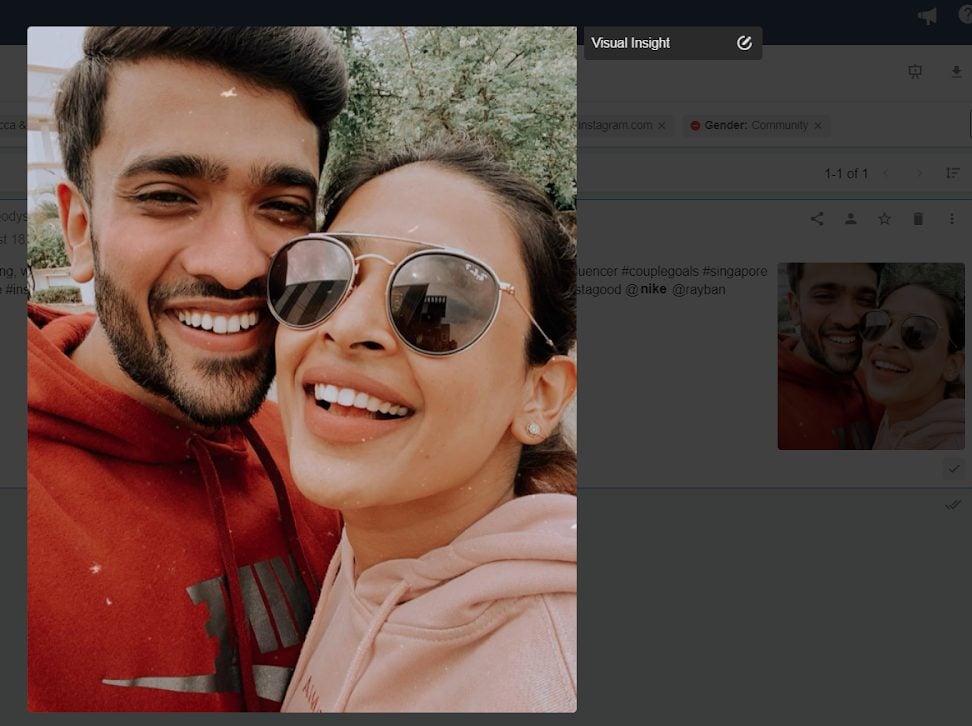 ---
Start monitoring TikTok
Overall, TikTok has been downloaded more than 1,5 billion (!) times. It is the seventh most popular app of the past decade. It is reported that it currently has 800 million active monthly users, and this number is constantly increasing. On top of that, the engagement rate is higher there than it is on any other social media platform which says a lot. Given these numbers, do you have any doubts about the need and potential value of monitoring TikTok?
The reality is that social listening on TikTok was impossible not that long ago. However, this is not the case anymore. This opportunity is finally available and it is one I highly recommend to take up as soon as possible. Our research has shown that some brands can miss around 40% of their mentions on social media platforms if they do not include TikTok in their monitoring activities. That is a lot of user-generated and influencer-generated content that they miss out on.
At the moment of writing this article, the most popular TikToker is Charli D'Amelio. She has 88,500,000 followers on the platform right now. She has published 1,543 videos and she has received 6,700,000,000 likes. Yes, that is the correct number of zeros. And keep in mind that she is only 16 years old. Imagine, what`s to come. Addison Rate and Zach King are right behind Charli on the top list with 61,600,000 and 49,700,000 subscribers on TikTok respectively.
Speaking of creators on TikTok, its $1 Billion Creator Fund is one of many reasons why we can rest assured that creative people from all over the world will continue to join this community and actively express themselves there. The Fund`s goal is to support creatives on the platform. Back in August, the first batch of 20 recipients was announced. And TikTok representatives claim that they plan to keep on supporting creators and giving away more money to them. Do you know any other platform with a similar initiative?
By the way, celebrities are also on TikTok. The long list includes Cardi B, Ed Sheeran, Camila Cabello, Justin Bieber, Miley Cyrus and many others. Try to guess who is doing the best. Take a moment. The answer is both surprising and not at all because it is Will Smith himself. He has 36,800,000 subscribers and 44 videos there right now.
Trends come and go, but this one seems to be pretty stable and relatively long-term. So, if you do not want to miss important insights about your brand that appear on TikTok every day, social media listening is the solution you need.
The famous video-sharing app remains a love-it-or-hate-it type of phenomenon, but this factor only makes it even more important for business.
---
Find and reach out to genuine consumers
Any influencer marketing strategy is both more effective and successful when it does not only feature professional content creators, but also people who genuinely use and love your products, and happen to have a few more followers than just family and friends. For example, this Twitter user with 41,9 thousand followers who bought his wife a KIA car and then received 1 thousand likes under the post.
We were able to find this tweet because of the logo detection feature. Otherwise, it would have been lost among over half a million tweets that are published every day. This is yet another example of numerous benefits that using social media intelligence software can provide you with. Instead of looking for a needle in a haystack, you could make the search process much more nuanced, focused and efficient.
Finding your brand ambassadors is a big deal, and it makes a lot of sense to keep an eye on what they do and build long-term relationships with them. Yes, they might have less influence, but their smaller audiences might trust them much more which is extremely valuable in the long run. Being in touch with some of them might be a brilliant way to create a closer and stronger connection with your actual consumers, as well as those people who could become them in the future.
---
More Effective Influencer Marketing in a Nutshell
The important truth is that our world will never go back to what it used to be before 2020, so instead of laying low while waiting for it to happen, it is crucially important to start a new chapter of your influencer marketing strategy. This is the time to bring the relationship you have with your existing and potential customers online to the next level, and technology can help you make it happen.
Using a social media monitoring tool will enable you to go through thousands of influencers, find those that focus on the topics that are relevant for you, then filter out the ones that have high engagement rates instead of just tons of fake or passive followers, and make informed decisions about your future collaborations.