Have you ever wondered why some brands are so successful with influencer marketing while others execute lackluster campaigns that hardly yield results? The difference lies in the fact that some brands are wise enough to build strong influencer relationships.
---
How to Build Better Relationships and Make Influencers Fall in Love with Your Brand:
---
Find an Influencer Who Fits Your Brand
The importance of working with an influencer who fits your brand perfectly cannot be stressed enough. An influencer who has an interest relevant to what you're selling is more likely to develop a genuine love for your products than one who talks about a completely different topic.
And if there is a genuine appreciation for your products, there is a good chance the influencer will eventually develop a love for your brand as well.
This is one of the most vital steps to build a lasting relationship with the influencers you work with as it is mutually beneficial. The influencer can continue to engage their audience by talking about a product or service that is relevant to their usual niche. In other words, they're not straying from their usual topic when they promote your brand. This helps them retain their audience's trust, which is ideal for them.
In fact, a survey by Crowdtap found this to be the biggest reason why influencers want to work with brands. 44% of influencers in the survey said that they are most motivated to work with a brand when the opportunity is relevant to their audience.
It will also be beneficial for you in that you will be able to reach a highly relevant audience with an extremely genuine message. And you'll always have these influencers to back you up in your future campaigns as well. Sometimes, influencers may even create content about brands and products that they really love even if they weren't paid for it.
You should make sure that your influencers love your brand so much that they will want to keep talking about you even after your campaign has ended.
Fashion and lifestyle influencer Kate Lavie, for instance, created the following post to promote a bag from Mansur Gavriel. This is a highly relevant partnership since the influencer is a huge bag lover, as apparent from her Instagram timeline.
It's clear that she loves the bag because you can see it featured in several other posts, even in ones that are created to promote other brands. Here's an example of one such post:
And here's another post in which she showcases her current wardrobe favorites. If you go through her posts, you can see that she has featured the bag several other times, suggesting that she genuinely loves it. This is the perfect example of how partnering with an influencer who is the perfect fit can yield long-term benefits for brands.
---
Get to Know Your Influencers
Here's the problem with a lot of brands and their approach with influencer marketing – they solely categorize influencer relationships as business alliances. Their interactions with their influencers tend to be very formal and impersonal. This is a huge mistake if you want to make sure that your influencers fall in love with your brand.
If you consider your relationship with influencers only as a business agreement, your influencers too will feel the same way. Your brand will have no value to them except for bringing them monetary gain.
That's why it's crucial that you get to know your influencers better before you even begin your campaigns. Go through the content created by each of the influencers you're planning to work with, and study it carefully. What kind of voice are they using? Do they like humor or are they more serious? Are there any causes – environmental, social, or political – that they seem to care about?
The goal is to find common ground, and to understand your influencers better. This will help you gain a better idea exactly how to approach them, and how you can nurture your relationship with them. It will also help you make better decisions on which influencers fit your brand values perfectly.
You can see this being practiced in the partnership between Daniel Glass water bottles and food and travel writer, Jenna Beaugh (@eatliverun). The brand donates 10% of their profits to the preservation of oceans, which means they needed to work with an influencer who loves the ocean.
Jenna perfectly relayed their message with a sponsored post in which she talked about how one of her sons developed an interest with oceans. She also mentioned how his favorite part of their visit to the aquarium was the exhibit about keeping oceans clean. So you can tell that this is a cause that the influencer genuinely supports, which helps ensure authenticity.
She created several other sponsored posts for the brand in which she followed the same theme. All of the pictures were taken on the beach or by the lakeside, so as to consistently portray her love for water bodies and to continue spreading the brand's message.
---
Give Them the Freedom to Create
Another vital step to building lasting influencer relationships is to provide your influencers with the freedom to create what they want. Many brands feel like they have the right to control every aspect of the influencer's content just because they're paying them. While this is technically true, it's not the best way to go about things if you wish to form better relationships with influencers.
You should definitely have a say in some aspects of the influencer's content. You need to clearly communicate the basic guidelines and expectations of the campaign. Make sure they have a proper understanding of what they're promoting, what your messaging is, and what your goals for the campaign are.
And based on these guidelines, you should give them the freedom to come up with their own ideas for the campaign. Most influencers have earned their influential status because they know how to create content that engages their audience. They know how to speak about their topic of choice in a way that will keep their followers entertained. So you can trust them to create content that will effectively promote your products without losing their voice and authenticity.
This can significantly pave the way to a lasting relationship with the influencers you work with. In fact, the previously-cited Crowdtap study found that influencers are more open to a continued partnership with brands that provide them with creative freedom. 77% of influencers in the study said that there's a good chance they'll partner with a brand more than once if they get creative freedom from the brand.
When you entrust influencers with the freedom to create what they want, you're displaying your trust in them and their ability to be creative. This can go a long way in winning over influencers, who wish to be appreciated for their creativity. Show them that you value their ideas, and you're on your way to forming a lasting relationship with them.
Audible has been partnering with the hilarious YouTuber, Jack Douglass (jacksfilms) for almost three years. And for each piece of sponsored content he creates for them, he infuses his originality and creativity into it.
One of the sponsored videos is part of his video series called #JackAsk, in which he answers fan questions. Towards the end of the video, he talked about how the video was sponsored by Audible, and told his viewers they "audible-ieve" he has a sponsor. This is perfect as the creator is known for infusing cheesy puns into his content.
He also created a humorous acronym for the name Audible, which suits his usual content because he frequently creates videos about odd acronyms. The brand gave full creative control of the sponsored content to the YouTuber, which has resulted in the lasting relationship between the two of them. Till date, Jack continues to create sponsored videos for Audible.
---
Always Provide Suitable Compensation
Compensation is another aspect that a lot of brands get wrong with influencer marketing and influencer relationships. Some brands feel that free products alone will be enough to win over the hearts of influencers.
This may work on micro-influencers and influencers who genuinely love your products. It may also work with expensive products that cost hundreds of dollars. But it doesn't necessarily guarantee you a proper relationship with influencers.
Influencers love to be appreciated for the work they do. So if you wish to win them over, you need to provide them with monetary compensation that befits the quality of their work. This will show them just how much you value their time and effort.
According to the Crowdtap study, 68% of influencers are likely to partner with a brand more than once if the brand offers them competitive compensation. This alone should be enough to establish the importance of compensating influencers for the work they do for you. Don't just expect them to work for you for free.
The same study also showed that the biggest misconception brands have about working with influencers is that the influencer will work for them for free or for free samples alone. 40% of influencers in the study agree that brands have this misconception.
You need to carefully assess the worth of each influencer you plan to recruit for your campaign. For this, you can use tools like the YouTube Money Calculator. This tool will take into consideration factors such as total number of subscribers, number of video views, etc. Based on these factors, it will calculate the average earnings per video, which will give you a fair idea how much you should be offering the influencer.
There's also the Instagram Money Calculator, which assesses an influencer's worth based on their Instagram profile. This tool makes calculations based on metrics such as total follower count, total number of likes and comments, engagement rate, etc. It will then give you some idea how much each post by a certain influencer is worth.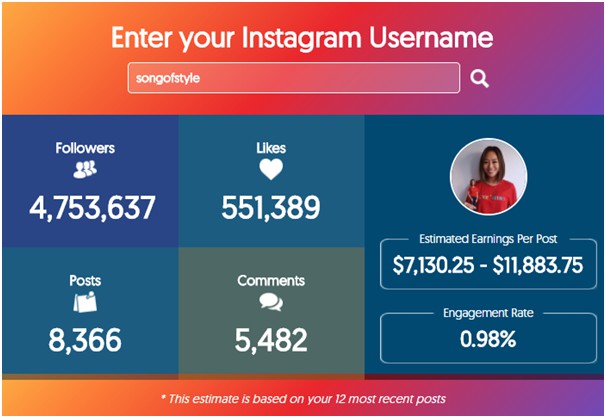 It's important to have a fair idea how much to offer your influencers as compensation before approaching them. That's because you could come off as low-balling them if you offer them too less. This could immediately dissuade an influencer from working with you, as they may feel like you're not valuing their time and effort enough.
Similarly, you could also end up offering too much. This could be bad for your campaign, as you may end up spending more for less. Your campaign may go way over budget while yielding minimal results if this happens. So it's crucial that you properly assess how much you should be paying your influencers to ensure a lasting relationship between the two of you.
---
Conclusion
These are some of the essential steps to help you build better relationships with the influencers you work with. Start out with these tips to ensure that your influencers fall in love with your brand. You should always remember that influencers are people too. And the connections you try to form with them should go beyond a business agreement. This could prove to be beneficial for both you and your influencers.