People have been creating online content for years. But it is only in the past few years that it began gaining momentum as a thriving economic model. Many of the creators who did influencer marketing in the 2010s dwindled as influencer fatigue set in and brand partnerships started to feel inauthentic for viewers.
A decade after, content creators now have new tools and strategies to work with to build brands and engage communities. Further bolstered by the pandemic, this industry gave rise to the creator economy. While revenues are on the uptrend in the creator economy, it looks like there is a wide gap in the wealth distribution within the industry.
There are clear inequalities in the level of revenues generated by the various types of content creators. While the matter of gender is one of the usual suspects when it comes to inequalities, there are other factors that figure in the revenue distribution disparity in the creator economy.
In this report, we consolidated statistical data to get a clearer view of the current status of the creator economy. We also drew insights to project upcoming trends and help creators identify and grab opportunities for growth within their markets.
---
Shedding Light into the Income Disparity Distribution in the Creator Economy:
---
Current Market Size of the Creator Economy
There are over 50 million content creators today on various platforms and social media networks. In 2021, the market size is pegged at $104.2 billion according to both NeoReach and the Influencer Marketing Hub. The industry is composed not only of those who make their own online content, but also bloggers, curators, influencers, and videographers who monetize their content.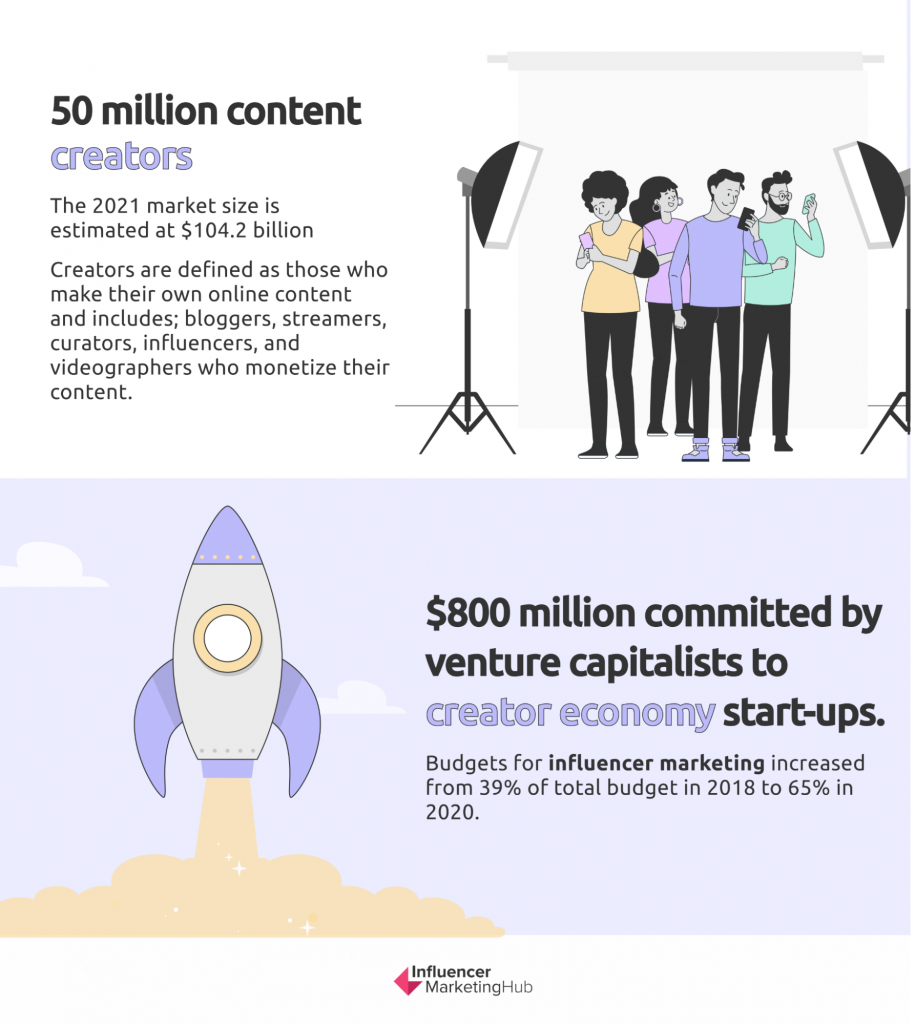 Revenues mainly come from marketing budgets that have shifted from traditional multi-media campaigns to social media and influencer marketing for brand awareness and customer engagement. In fact, a MediaKix marketing survey showed the spike in planned budgets for influencer marketing, from 39% in 2018 to 65% in 2020. NeoReach's study also cited $800 million committed by venture capitalists to creator economy start-ups. This indicates more revenues for the content economy in the next few years.
---
Who's Raking in More Money – Amateurs or Professionals?
There are several 'players' involved in the creator economy. Statistically, they are categorized by level of expertise as well as age and gender demographics. SignalFire breaks the total population into about two million professionals who are making content on a full-time basis and over 46 million amateurs who are monetizing content as part-timers.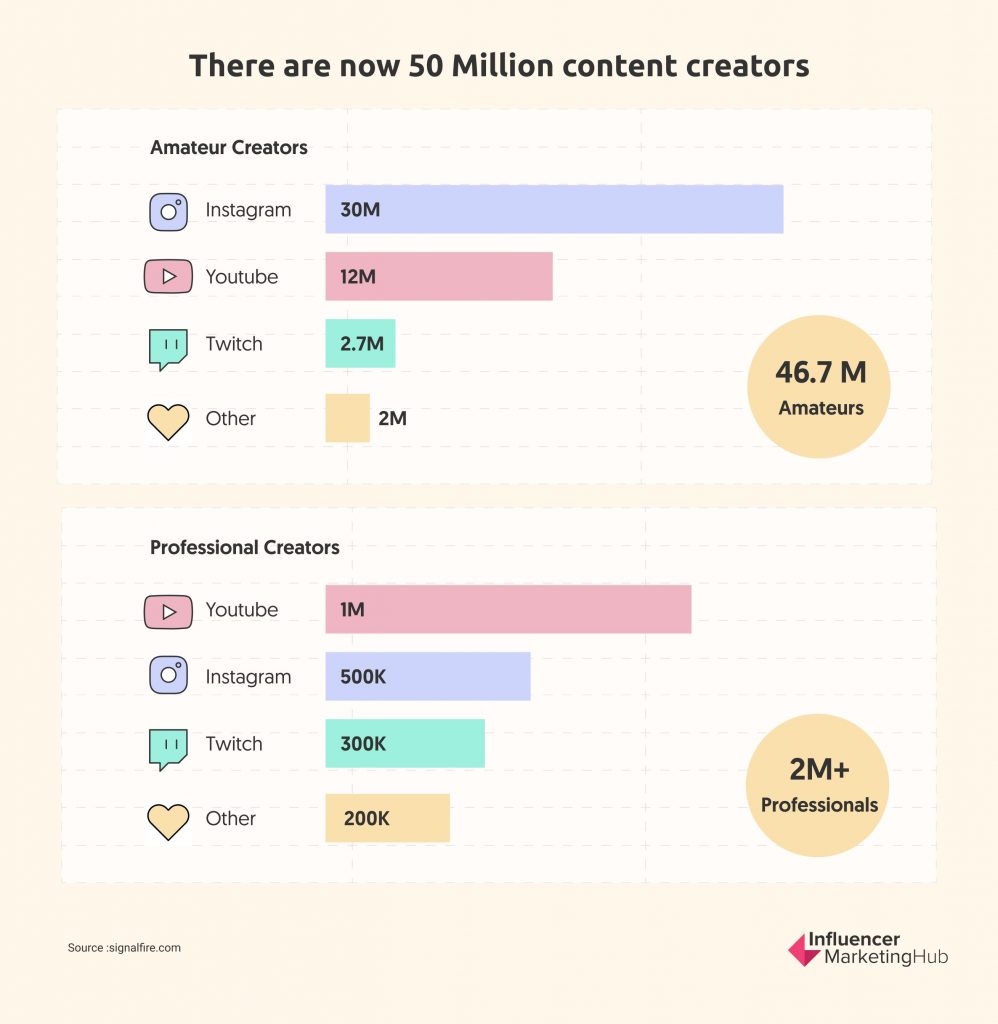 Most professional individual creators are on YouTube, with approximately one million creators having over 10 thousand subscribers on the platform. This is followed by around 500 thousand active influencers on Instagram and 300 thousand creators having a partner or affiliate status on Twitch. The rest of the 200K that make up the two million count are podcasters, musicians, writers, illustrators, and other artists.
On the other hand, the majority of the 46 million amateur creators are on Instagram. There are around 30 million creators who are monetizing their content on the platform and have between 50 thousand and 100 thousand followers. On YouTube, there are only about 12 million amateur creators with 100 to 10 thousand subscribers. The rest of the amateur creators monetize their content on Twitch and other platforms.
In terms of income, professionals understandably make more money than amateurs annually. In the NeoReach study, 78% of full-time creators declared earnings of over $23,500 per year. The same study also found that nearly half of those creators who are able to build growing communities for the past four years rake in earnings within the same range of over $20,000 per year. Earnings, it appears, are influenced by experience and follower or fan base as in the case of influencers and brand ambassadors. Most of the revenues also come from brand deals.
---
The Gender Divide
Although the creator economy is booming, the revenue distribution is skewed by multiple factors. One of these is the matter of gender. The influencer industry is composed of more women than men. There was a slight decrease, in fact, in the percentage of male influencers, from 23% in 2019 to 16% in 2020.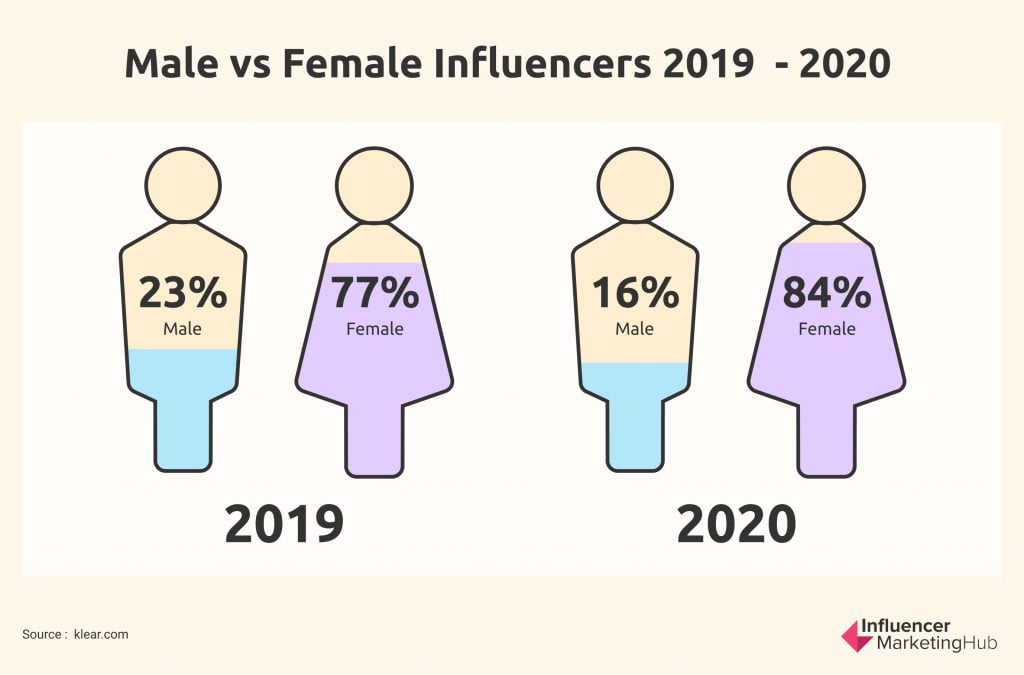 Aside from the wide disparity in numbers, there is also a strong gender split among the various niches in the creator economy. Female content creators are particularly dominant in the DIY, Parenting, Beauty, and Fashion niches. Male creators, on the other hand, are more common in the Photography, Travel, and Fitness niches.
In general, there is a pay gap of around 25% between male and female influencers, with male creators getting a bigger chunk of the revenues. This may also have been affected by the drop in rates in the Beauty and Fashion industry in 2020 where female influencers are stronger.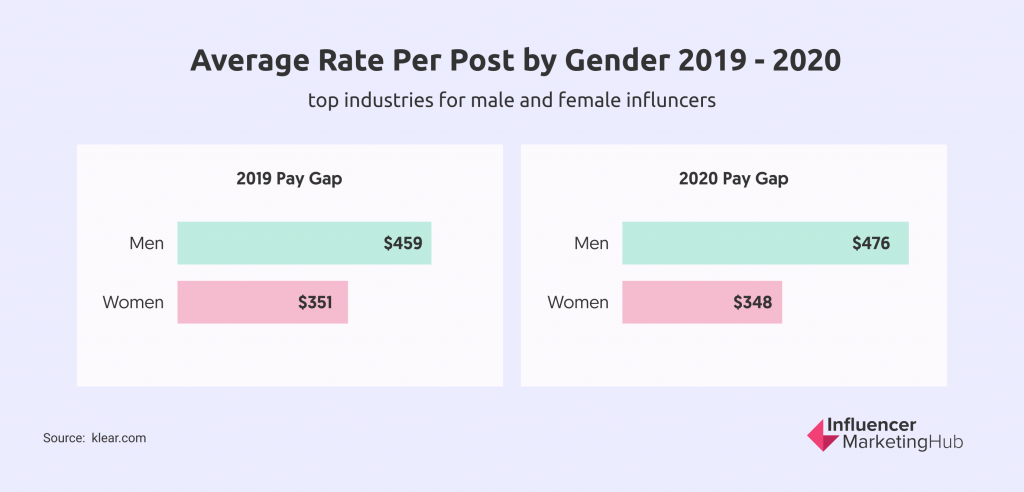 In Instagram however, HypeAuditor cites only a scant difference in the number of female and male creators worldwide. With 50.5% and 49.5% female to male distribution, it is almost an equal number for each gender. Pay figures, however, show an inverse difference, with females getting paid less than their male counterparts. Per post rates for males are at around $1,411 as compared to $1,315 for females. Male rates are seen at an average of 7% higher than female rates.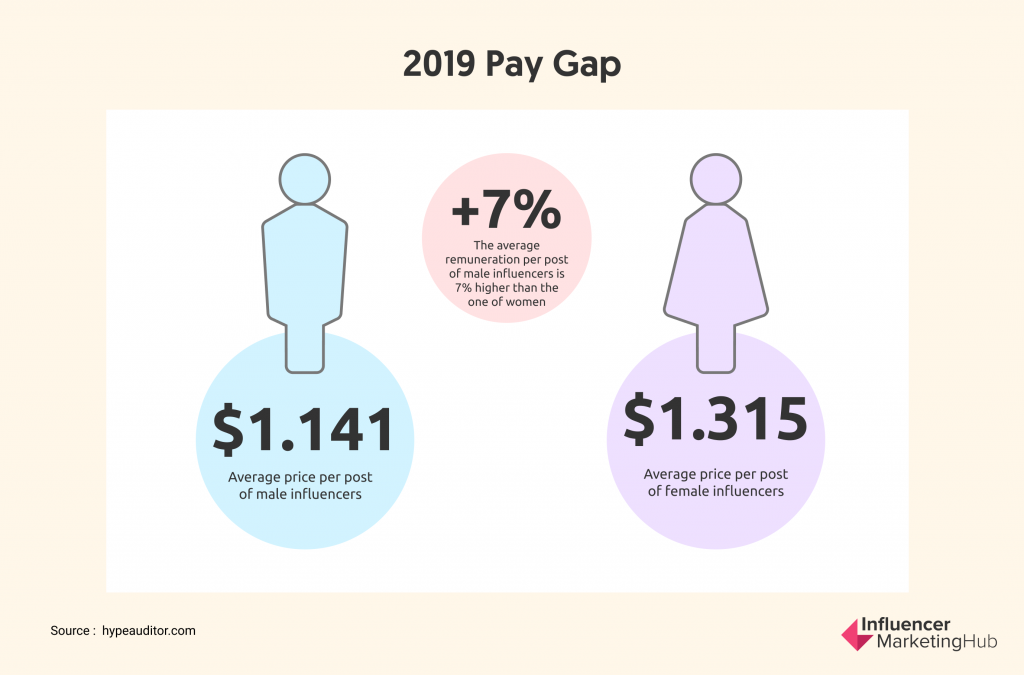 The gender pay disparity is more apparent in figures based on follower base. For the higher tier ranges of 100 thousand to over 1 million followers, the per post rates are $2,643 and $2,420 for males and females, respectively. In the 'Post, Story, and Video' rate comparison, the average pay rates are $4,042 for male creators and $2,704 for female creators. For influencers with over 1 million followers, these numbers go up to $9,090 and $7,274.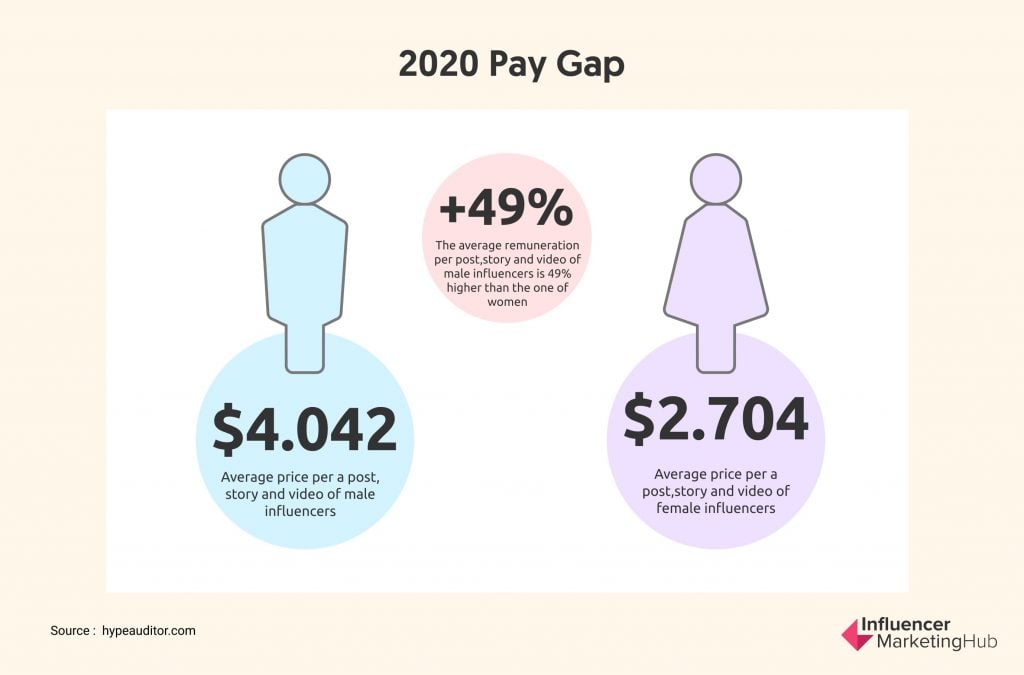 ---
Does Celebrity Status Have an Impact on Revenue?
The creator economy opened the world of content creation to everyone. Virtually anyone can publish their content on various platforms and monetize them. However, it seems that being a celebrity still does have its merits. A celebrity status gives creators more clout, and thus, more moolah.
Instagram influencers who are considered of celebrity status earn considerably higher than regular rates. 2020 rate sheets indicate a regular rate of $370 per post, but the celebrity rate is a staggering $2,738 per post.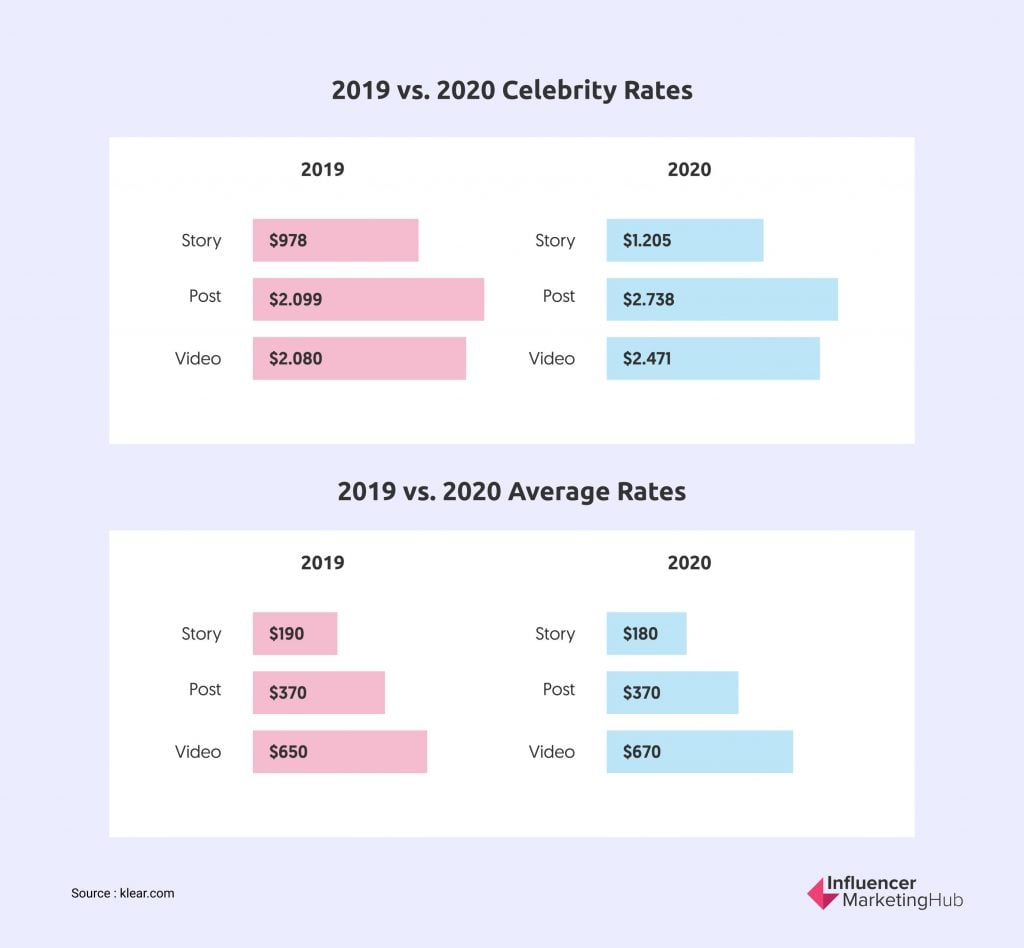 ---
Age Does Matter Even in the Creator Economy
Born in the digital age, the Gen Zs are raking in the most revenue across all content types. Creators aged 18 to 24 years old are getting paid around $520 per post, $807 per video, and $245 per story on Instagram. They are followed closely by Millennials who earn $448 per post, $796 per video, and $229 per story. The revenue gap becomes more substantial when compared with Gen Alphas and Gen Xers who earn only around $200 per post, less than $300 per video, and around $100 per story.
Aside from being tech-savvy, the Gen Z generation has also changed the way people view life and success. They are trendsetters and rule-breakers who do not conform to traditional societal molds. Bolstered by their passion and leveraging their unique skills, they are able to create among the most interesting, catchy, and revenue-making content.
---
UK, Canada, and US Creators Are Winning the Numbers Game
In 2020, creators from the UK, Canada, and the US garnered the highest rates for creating content. With a majority of social media users residing in these countries, they are expected to retain the top rates this year and in the upcoming years.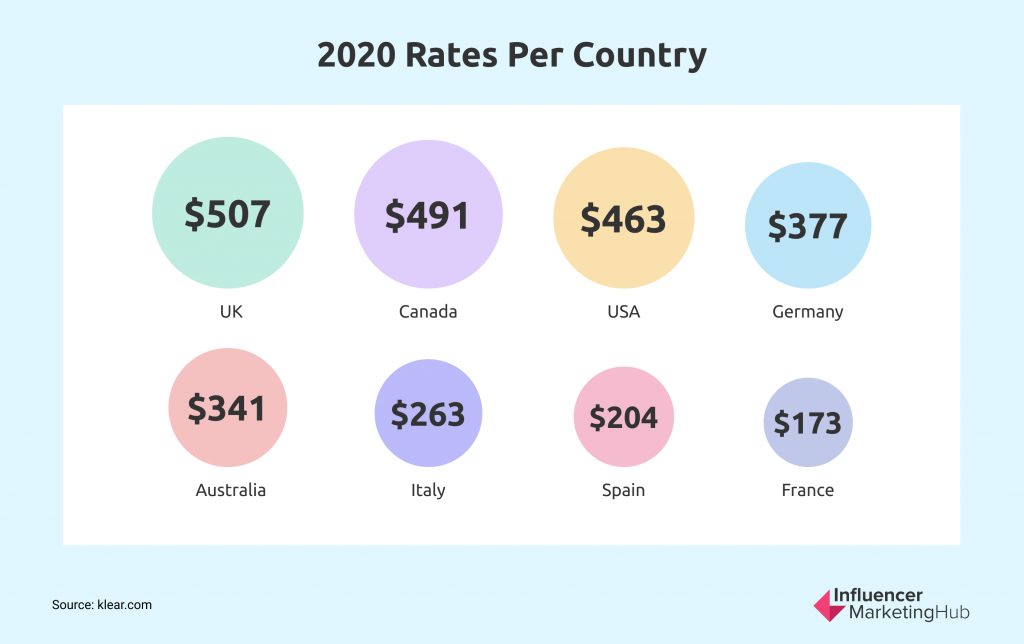 ---
The Not-So-Invisible Line That Divides the Creator Economy
Enabling everyone and anyone to establish a career using their unique skills and talents, the creator economy is inherently diverse, inclusive, and equitable. However, it did not escape the old prejudices in traditional economies. Minority ethnic influencers are still subjected to discrimination, which is very apparent in the pay disparity between ethnicities.
Just this July, creators of color held an on-app protest on TikTok, abstaining from creating a new dance trend when Megan Thee Stallion released a new song. This strike brings focus to the disparate gap in compensation and lack of recognition given to creators of color who are among the driving forces behind the popularity of many social media platforms.
The racial pay gap is not exclusive to TikTok. For a few years now, creators of color have been voicing their frustrations and anger at the disproportionate treatment they receive from brands and marketing agencies. There have been instances where white creators were paid for a campaign but Black creators were merely gifted with products to review. There have also been reports of how white creators can easily negotiate rates while creators of colors often cannot.
Discrimination can be hard to identify. Brands, marketers, and social platforms may unconsciously grant certain groups more privileges. However, this does not mean that the creator economy should turn a blind eye to any form of discrimination, prejudice, or bias.
In the next few years, we expect to see a significant decrease in the racial pay gap as stakeholders in the creator economy push for equity, diversity, and inclusivity within the industry. Issues that disparage minor ethnic creators must be addressed if the creator economy were to continue to flourish in the future. At the least, we should see a more even distribution of creator revenue across all races, ethnicities, and genders.
---
Following the Money
Further industry studies on the creator economy paint a clearer picture in terms of wealth distribution among creators in general, notwithstanding gender and age demographics. These studies indicate a disproportionately top-heavy economy, with only a small percentage of creators getting bigger paychecks. The 80/20 rule is actually pushed up to 95/5 where 95% of the revenues go to only 5% of influencers. The rest of the population make do with so-called standard rates and simply work on the regularity of their income. The lower level income earners in the content economy quickly adapted and found platforms that allowed them to maximize their earnings and improve monetization.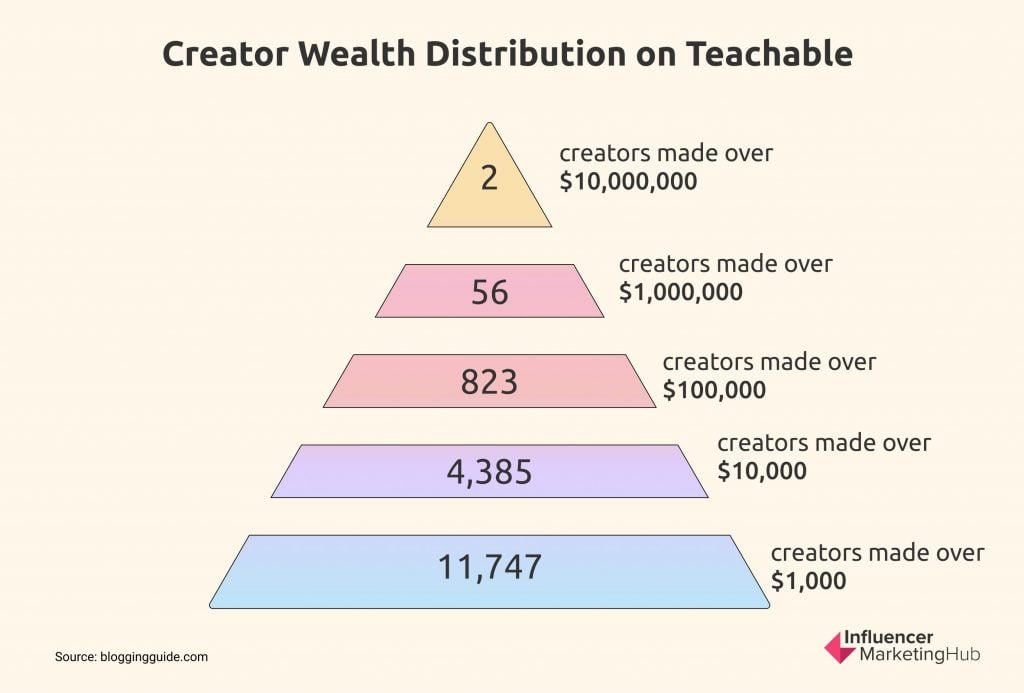 The top-heavy wealth distribution is evident in the 2020 statistics of Teachable. Only two creators earned a monthly income of over $10,000,000, while some 11,747 creators earned only around $1,000 per month. The next lowest tier recorded 4,385 creators in the over $10,000 monthly income bracket. Roughly the same distribution is seen on Substack, with only their top 10 writers collectively generating annual revenues of over $15 million. These writers average an annual income of around $160,000.
Survey studies on the bigger platforms provide great insight into the wealth distribution in the current content economy. In Patreon, the top 15 creators were revealed to enjoy earnings of around $200,000 in 2020. Citing one of its top creators, Patreon revealed that Chapo Trap House earned revenues of over $150,000 per month this year. Another study by Graphetron also showed modest income even for Patreon creators with the fewest patrons. Those with around 1600 patrons garnered an estimated $9,000 in monthly revenues.
In the case of Medium, a platform specializing in journalism and publishing, hundreds of writers earn more than $1,000 monthly. Content creators earn on fresh content as well as on royalties. On record, their highest paid amount to an author for a single story is $16,685.50. The highest payment to a single writer for multiple stories, on the other hand, was reported at $49,705.40.
---
Thriving Business Hubs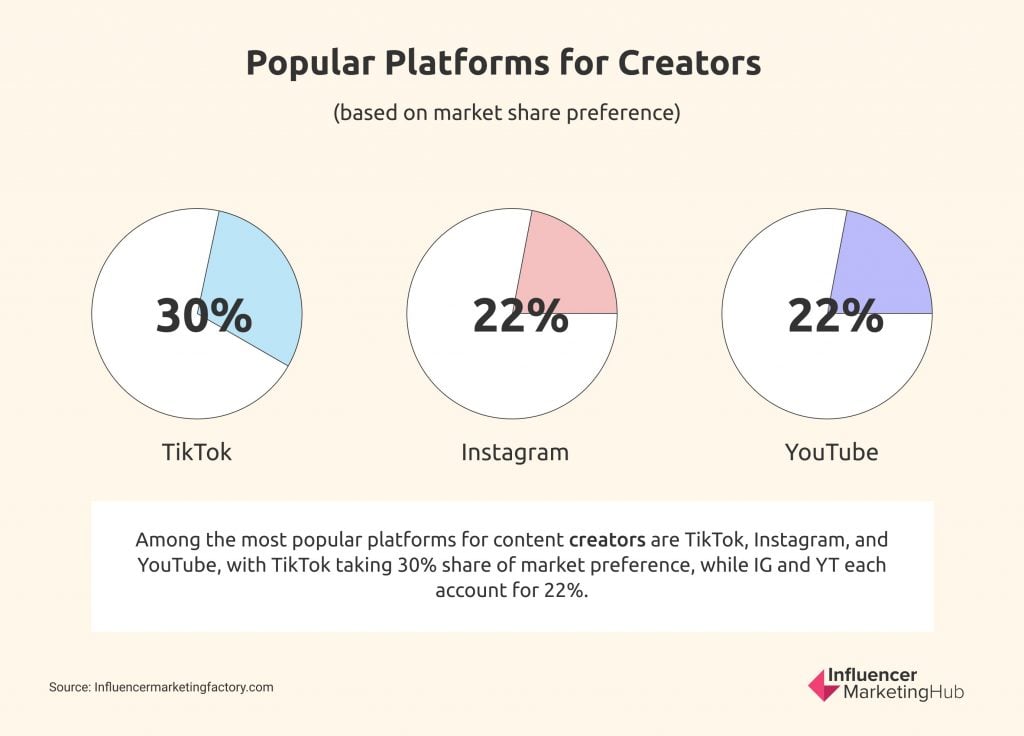 Among the most popular platforms for content creators are TikTok, Instagram, and YouTube, with TikTok taking 30% share of market preference, while IG and YT each account for 22%. This preference could perhaps be attributed to the fact that these platforms also generate the most income for creators. Age-wise, the Influencer Marketing Factory shares that there is a preference for TikTok among the younger set, while those above 54 years old go for YouTube.
SignalFire stats indicate that of the various online channels available, Instagram, YouTube, and Twitch have the largest number of content creators present on their platforms. Over one million professional creators are on YouTube, and Instagram continues to be a strong leader in influencer marketing with over half a million professional creators present. There is also a good number of professional creators with Partner or Affiliate status who are making waves on Twitch.
Today's creator economy is driven by tech-powered subscription platforms, such as Patreon, Substack, and Teachable. In these platforms, creators are able to make their content accessible to their audiences. More than 50% of audiences, according to the Influencer Marketing Factory, were found to be willing to pay as much as $15 for access to their favorite creator's content. According to the survey, there are several reasons why users purchase content: to support creators, because the creator inspires them, and because they trust the creator and would want to purchase anything they advertise. Some 63% of users have also revealed that they have given tips to creators, with the majority giving around $10 to $20 per tip.
---
Creating Revenue Streams
Although there are disparities in wealth distribution in the creator economy, nothing is holding creators back from exploring revenue streams within the model in order to increase their share. Generally, creators make money through ads, brand partnerships, donations or tips, and selling. There is a gamut of creative ways and activities to make money under these broad categories.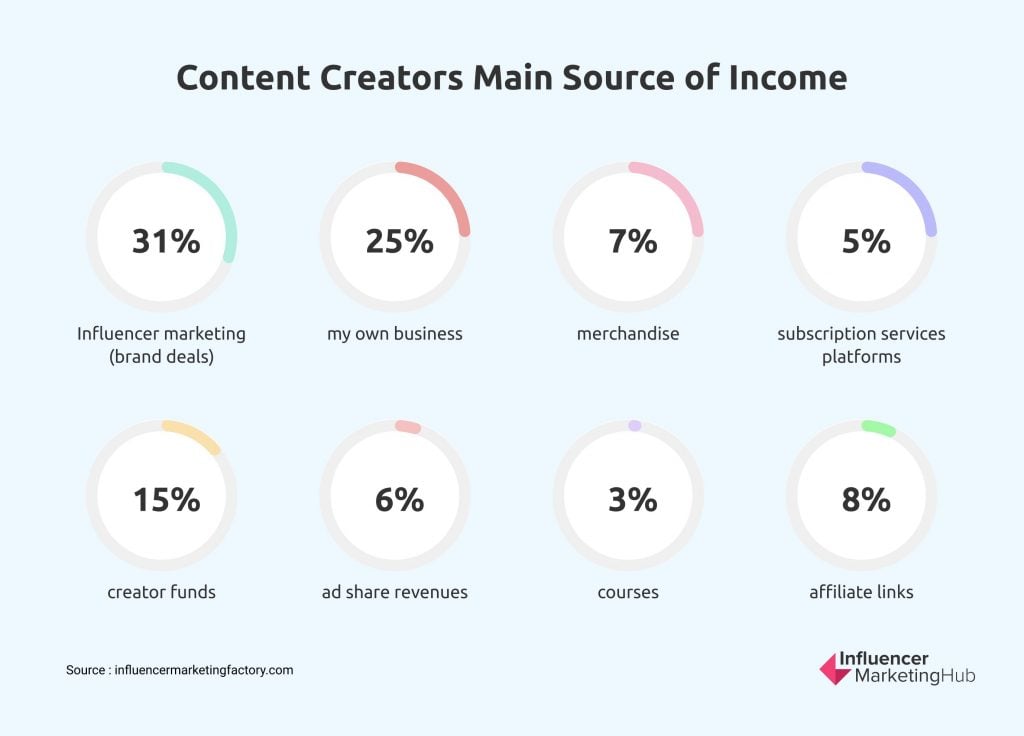 According to creators, most of their revenue is from deals with brands. In fact, brand deals account for approximately one-third of creator revenue. With the creators able to build a community of audience who trust them and believe what they say, they consequently exert a significant influence on audiences' purchasing decisions. Brands leverage this clout and partner with creators through sponsored content and brand partnerships.
The Influencer Marketing Factory revealed that 31% of the creators they surveyed get their main income from brand deals. These partnerships pay a flat fee or a retainer fee in exchange for promotional content about their brand either for a specified period or in an open arrangement. Creator endorsements are now considered to be more believable and personal and thus result in better conversion and ROI figures for brands. More opportunities are arising to connect creators and influencers with brands and to forge partnerships and collaborations.
Mediakix projects that the total available market for influencer marketing will grow to $15 billion by 2022. As such, we can expect creator revenue from this segment to grow massively in the next couple of years. However, creators must judiciously choose which brands to work with, as working with the wrong ones can ruin their credibility, erode their audience's trust, and hinder their growth.
Running a business and/or selling merchandise
This category is so broad that it covers almost everything and anything. A creator can earn money selling any product or service. 25% of the creators surveyed indicated that they earn income from products or services that they offer in their own business. Another 7% generate income by selling various merchandise.
Earning by running a business or selling merchandise is not as easy as it sounds, though. Monetization succeeds only when the creator's audience actually listens to and trusts them. Engaged audiences are more likely to make a purchase, whether it is from another company selling on their page or from the creators themselves. Creators can sell not only physical products, but online products as well. This, in fact, is what a lot of creators are engaged in.
In mid-July 2020, TikTok launched its Creator Fund Program where creators are rewarded for videos that go viral. It was intended to help TikTokers turn their creativity into lucrative careers. Consequently, it encouraged more users to create viral content and increased user engagement in the platform. With the success of TikTok's Creator Fund Program, other platforms followed suit and now have their own creator funds to keep creators active and platform users engaged.
Today, Facebook has a staggering one billion US dollars in its Creator Fund, while YouTube has allocated one hundred million dollars for top creators of "Shorts." TikTok intends to steadily grow its $200 million fund in the United States to one billion dollars. Other platforms are also shelling out hundreds of thousands of dollars in their creator funds.
While earnings from these creator funds are based mostly on the number of followers or subscribers, they still serve as a regular passive income stream for most creators. About 15% of content creators today earn their income from these funds.
Only 6% of creators indicated ad revenues as their main source of income. While advertising is quite simply understood and upfront, the revenues can also be really low or outrageously high. Some clicks and impressions earn mere cents, while ads from brand deals and endorsements can amount to hundreds of thousands in dollars.
Promoting third-party businesses or individuals can take many forms too. Google's AdSense has been providing revenue streams since 2003. With this program, creators are able to monetize traffic to their page or channel by serving advertising materials from Google. This is a good way for creators with established communities and high levels of traffic to make passive income. The downside is that Google takes about 50% of the revenues from AdSense.
Using affiliate links is another way for creators to make money through advertising. Using links that are posted within the content of their page, a creator helps drive traffic to the advertiser. Amazon is one of the big brands that lead the pack in affiliate marketing. Creators earn revenues when the traffic they drive toward the Amazon page actually buys the product they are advertising. The downside is that there is no guarantee that a click to the affiliate link will lead to a sale. In most cases, people do not actually buy. There is a better chance of making a sale if the product is niche-relevant and is of actual value.
There are platforms today that allow fans to donate a certain amount to show their support or appreciation for a creator. Especially with the mobility restrictions of the pandemic, artists have shifted to receiving donations for their work or performance as a way of earning income. In some platforms like Patreon, this is a built-in feature that allows creators to set up membership programs for their fans. There is a set subscription fee for their patrons to be entitled to exclusive fan perks.
Tip jars are also effective although they are not likely to be in big amounts. They are now popular on social media, like Facebook's Stars. The challenge for creators is to come up with content that will make their audiences happy enough to give them tips. Tipping is actually a good way for creators to find out what their audiences like the most.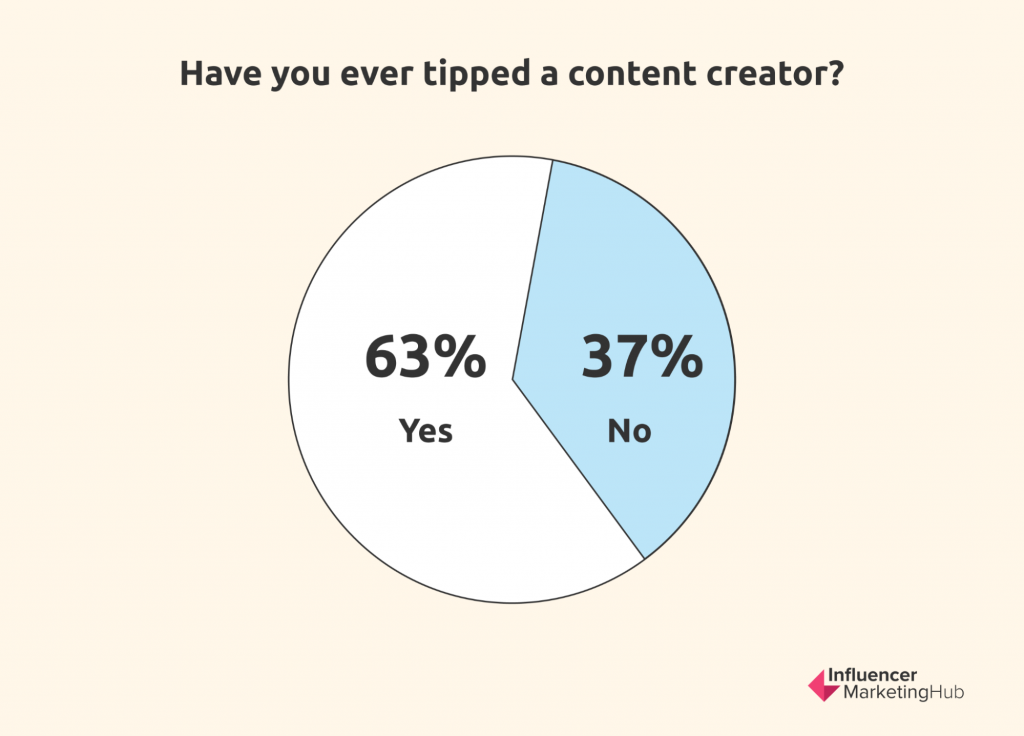 According to Influencer Marketing Hub, 63% of social media users have tipped a content creator. Majority of those who tipped gave amounts ranging from 5 to 50 US dollars. Only about 5% tipped more than $50. The same Influencer Marketing Hub survey also shows that users are more likely to tip or subscribe to content creators on YouTube, Instagram, and TikTok.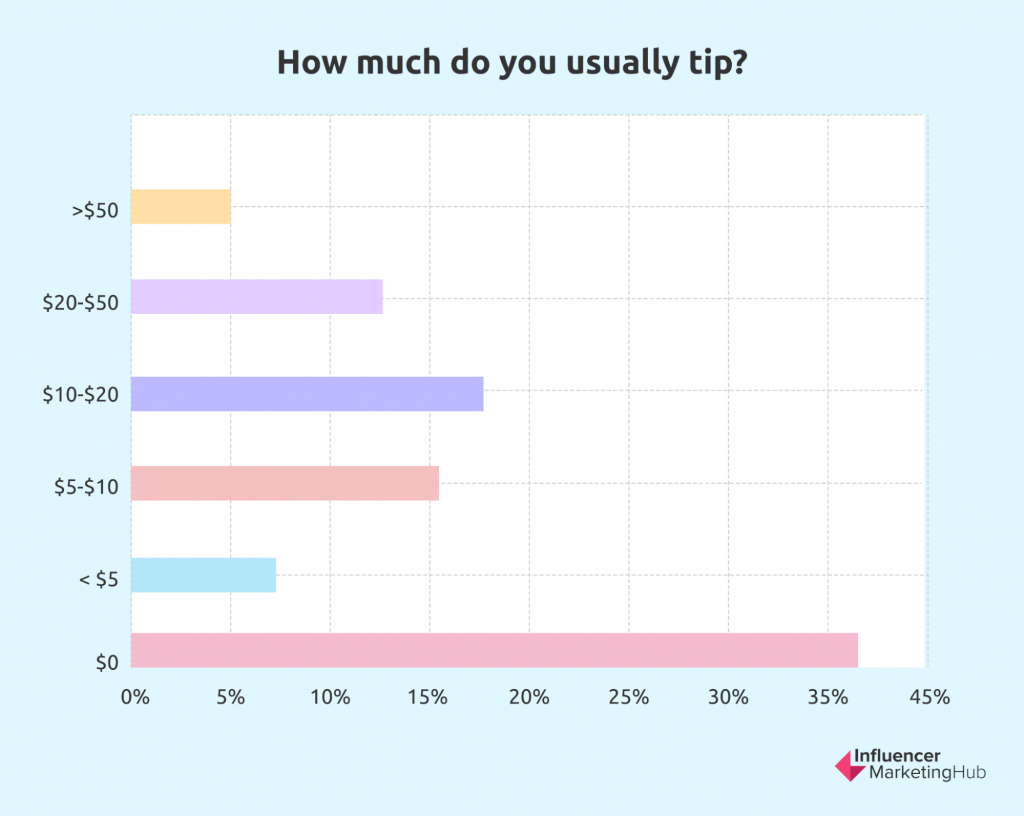 With subscription platforms, creators can sell their products directly to their followers and fans. Those who already have an established and engaged community of followers will have a clear advantage, as they already have a ready market to sell to. In Teachable, for instance, the top 10 successful teachers were able to create and sell courses through the platform and collectively earn a total of more than $100 million. Services like teaching, coaching, and virtual assistance are also on demand online and can be good sources of revenue for specialized creators.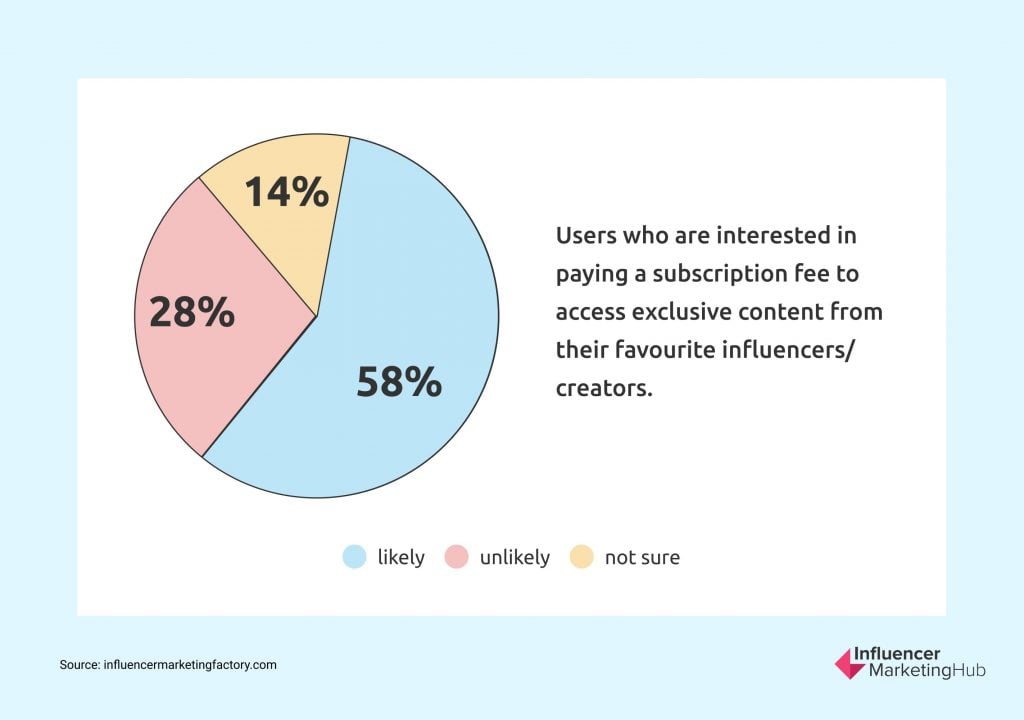 The Influencer Marketing Factory survey says that more than half of the respondents were willing to pay a subscription fee to gain access to exclusive content from their favorite creators. However, only about 21.5% of those surveyed said they were willing to pay more than $30 per month. To get a chunk of the market, creators may want to set their subscription rates at less than $15 per month.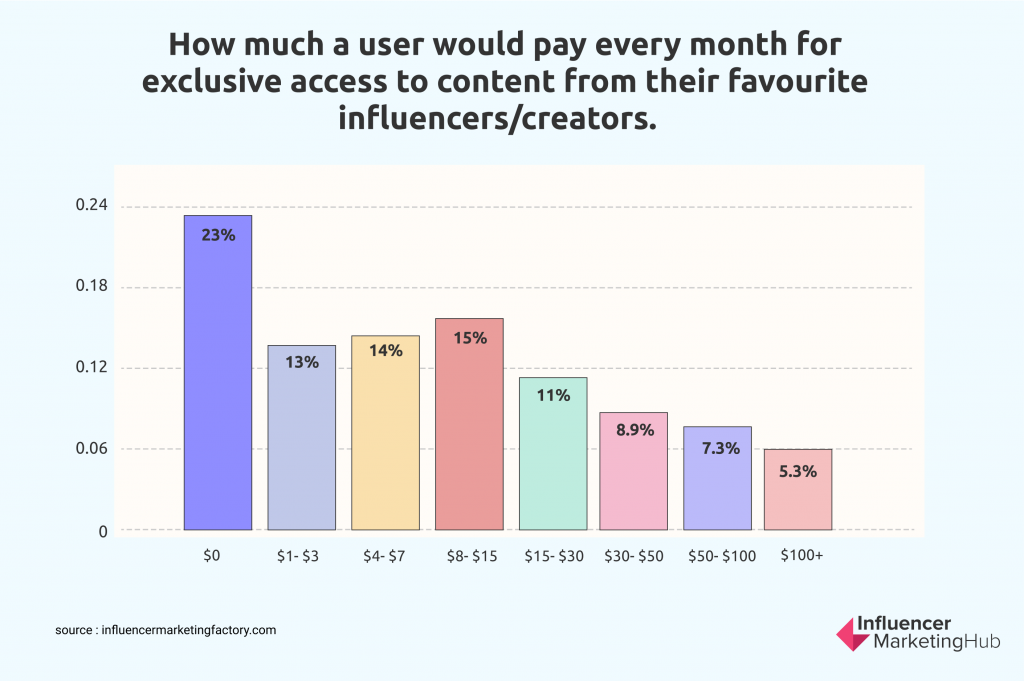 ---
How Creators Get Support from Followers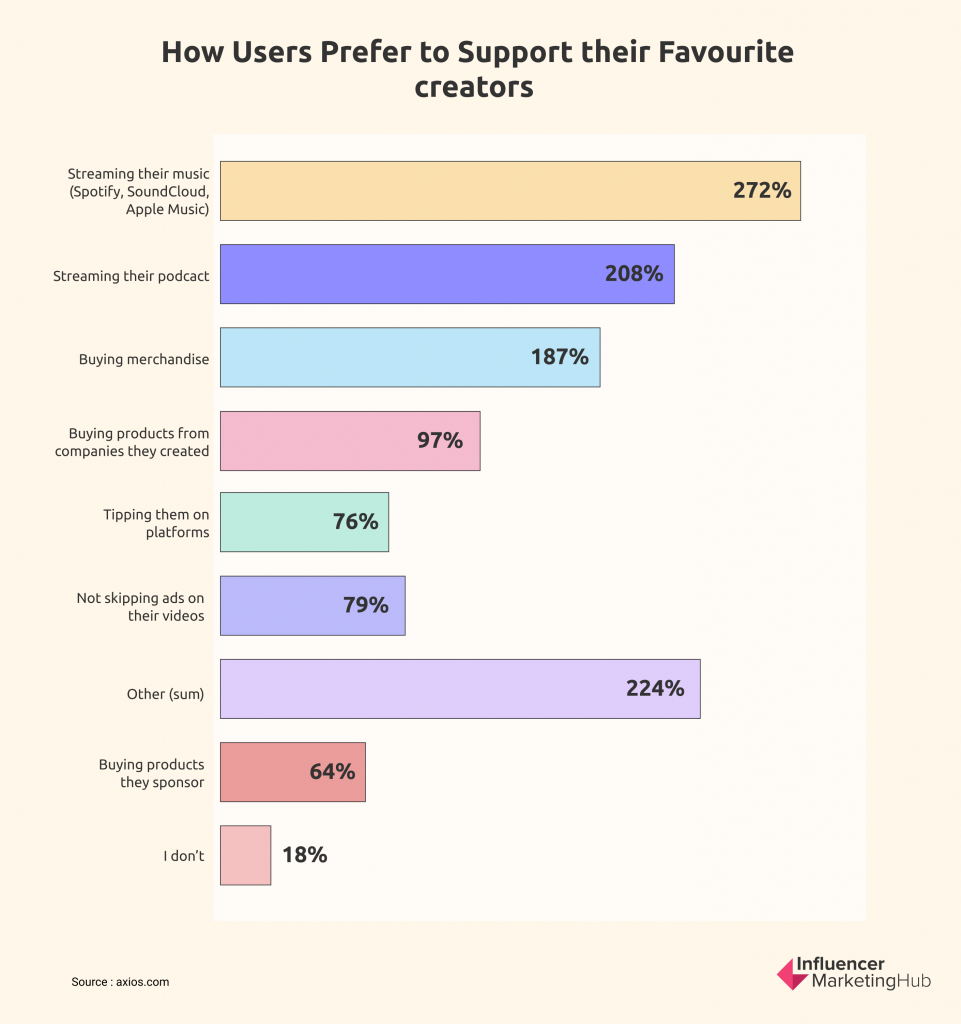 Creator income is impacted by how the audiences or platform users support the creators. More than one-third of them show their support by streaming music or podcasts on Spotify, SoundCloud, and other streaming platforms. Only about 23% buy merchandise or products from a creator's own company. Meanwhile, only 6% tip creators on platforms, and 5% purchase sponsored products.
---
What Leading Platforms Offer Their Creators
An Axios research report gives us a bird's eye view of what leading platforms offer their creators in terms of revenue streams. Facebook has the most diverse sources of revenue—tipping, creator fund and grants, ad revenue share, subscription revenue share, and a creator marketplace. Instagram and TikTok offer the same revenue options except for subscription shares.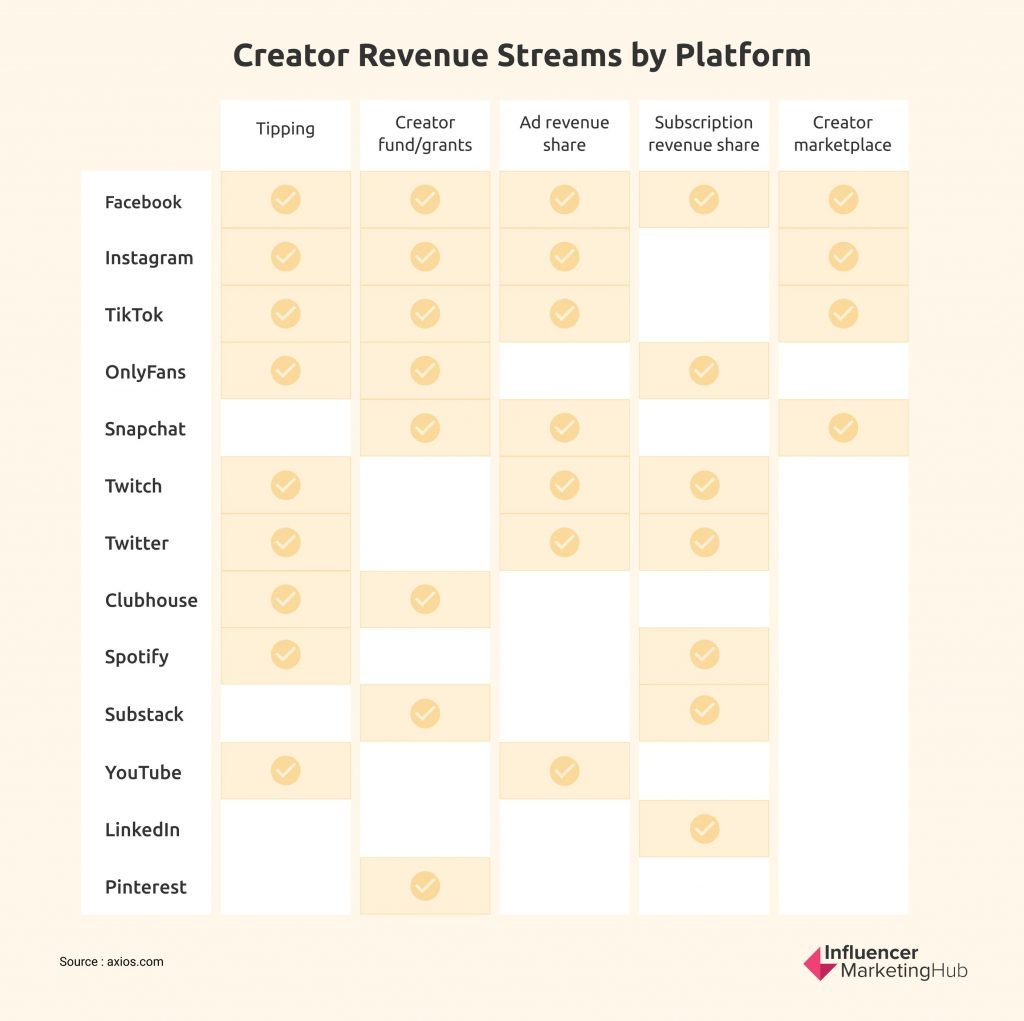 ---
Software and Platforms That Facilitate Payments in the Creator Economy
How creators receive their earnings varies in each platform. Generally, they are given various options including check payments, electronic fund transfers, and wire transfers. Online payment platforms are often used to facilitate faster payouts, the most popular of which are PayPal and Stripe.
Both platforms are free to use with no membership fees and maintaining balance. However, Stripe setup requires a bit more tech-savviness than PayPal. It does have customized payment options, but these may be more suitable for eCommerce businesses. For individual creators, PayPal offers ease of setup and familiarity. Virtually everyone has a PayPal account today, making it the most recognizable among all online payment platforms.
Another way creators can generate income is through subscription platforms, one of the most popular of which is Patreon. With the option to create different membership types, Patreon enables creators to engage with audiences from different income levels. It also helps creators make it easy for their supporters to subscribe to their channels, fund projects, or gain access to exclusive content.
---
Dealing with the Disparity in Creator Wealth Distribution
Disparity and pay gaps are not unique to the creator economy—there is inequality in the real world too. This issue is not something that is impossible to remedy, however. There are ways to narrow the gap or to erase it completely. What is certain is that the creator economy will continue to thrive and could further expand in the coming years.
The creator economy is still in its infancy, but there is much potential for growth. Investors are stepping into the space, and even media enterprises are seen introducing opportunities for creators to gain revenues with monetization tools and audience engagement platforms. There is going to be more wealth to go around in the creator economy in the coming years, and creators should start tooling up to be prepared to grab these opportunities.
Sources:
https://bloggingguide.com/creator-economy-statistics-top-earning-creators-by-platform/
https://www.business2community.com/strategy/zooming-in-the-creator-economys-growth-in-2021-02418389
https://hypeauditor.com/blog/does-the-pay-gap-exist-on-instagram-remuneration-of-male-vs-female-creators/
https://www.socialmediatoday.com/news/new-report-finds-pay-gap-disparity-between-male-and-female-influencers-on-i/570244/
https://www.cosmopolitan.com/uk/reports/a35352031/race-inequality-influencer-pay-gap/
https://www.instagram.com/influencerpaygap/
https://www.creatoreconomy.us/p/inequality
https://www.vox.com/the-goods/22630965/influencer-pay-gaps-privilege-creator-economy
https://later.com/blog/how-content-creators-make-money
https://www.digitalmarketing.org/blog/how-to-make-money-as-a-content-creator
https://bettermarketing.pub/the-only-3-ways-to-make-money-as-a-content-creator-fcf5e0e2398d
https://signalfire.com/blog/creator-economy/
https://finance.yahoo.com/news/creator-economy-survey-influencer-marketing-150000260.html
https://influencermarketinghub.com/creator-economy/
https://www.cbinsights.com/research/report/what-is-the-creator-economy/
https://www.forbes.com/sites/kianbakhtiari/2021/04/18/the-creator-economy-nfts-and-marketing/?sh=26797d4c1204
https://www.bigcommerce.com/blog/influencer-marketing-statistics/#the-biggest-influencer-marketing-challenges
https://imad-elfay.medium.com/the-influencer-evolution-cd4ed509d1a1
https://talkinginfluence.com/2021/09/03/are-creators-hesitant-about-creator-funds-pros-and-cons-from-a-creator-perspective/
https://www.nbcnews.com/pop-culture/pop-culture-news/tiktok-strike-highlighted-issues-compensation-race-creator-economy-n1272903
https://www.axios.com/creator-economy-revenue-content-b704fef1-af40-467b-91d3-88ed7e200cec.html
https://theinfluencermarketingfactory.com/
https://mediakix.com/influencer-marketing-resources/influencer-marketing-statistics/
https://klear.com/blog/the-2020-influencer-pricing-report/