2017 is motoring along and influencer marketing has now reached the point where most people consider it to be a valid, indeed important, method of marketing. It is now sufficiently mainstream for there to be a wide range of brands, large and small, actively involved in it.
The first quarter of 2017 saw a number of important news items occur that have had an impact on influencer marketing progress. Most of these were positive, however, there were a few warning signs, reminding us that influencer marketing is not infallible. It is not the panacea to every firm's marketing woes, but many businesses certainly find that it helps them move towards meeting their goals.
---
Influencer Marketing Roundup:
---
1. Dovetale's New Influencer Marketing Platform
There's a new entrant to the online influencer marketing platform community, designed to make the process of influencer marketing easier for all involved. Dovetale is described as an influencer marketing platform built for the masses.
Influencer Marketing can be daunting, particularly for brands who have no real idea as to who influencers are, (or perhaps only think of influencers as being famous celebrities). Even if a business has a good idea as to who is influential, brands often have no idea how to contact them. Over the last few years, quite a few platforms have sprung up with the specific aim of matching brands and influencers.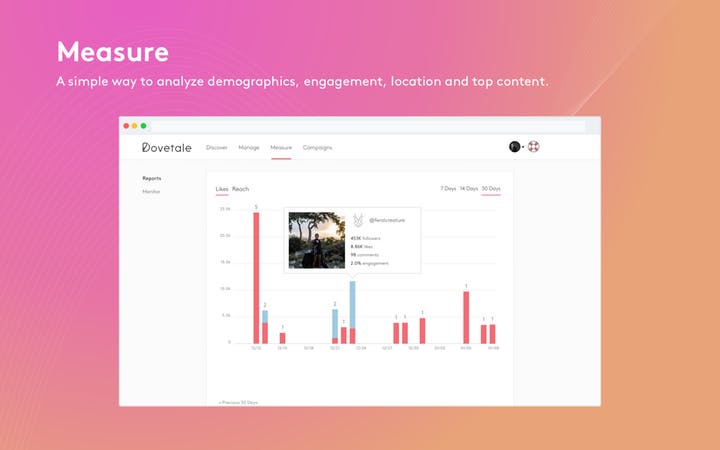 Dovetale has graduated from the startup program, Expa Labs. Its aim is to be a self-service platform covering all stages of influencer marketing, which Dovetale call Discover, Manage, Measure and Pay, consolidating all of the steps that brands normally have to do separately.
Brands can use Dovetale to search for influencers who work with specific demographics. In the Discover section, a brand can upload a picture they like, and Dovetale will provide a list of influencers who share images like that sample photo.
Dovetale charges brands a monthly fee to use the platform, at one of three tier levels. The lowest fee is $199 per month, which is cheap enough to allow small businesses to find and work with influencers across any social media network without any need for them to use an advertising agency or have a large marketing budget.
---
2. Influencer Marketing Budgets Continue to Increase
New research from Bloglovin' indicates that influencer marketing is still rising in popularity. 63% of the marketers surveyed increased their influencer marketing budgets this year, although many of the budgets are still relatively small, indicating firms often use influencer budgeting to stretch their marketing budgets further.
32% of the firms surveyed believed influencer marketing to be essential to their strategies, while 41% stated that they saw more success with their influencer marketing campaigns than with traditional marketing.
Interestingly, many of those surveyed chose to spread their influencer campaigns over many channels - 33% used at least three social media channels per campaign. There appears to be a shift towards multi-channel campaigns, often utilizing an influencer over all of their social media accounts.
---
3. Amazon Launches Influencer Marketing Platform
When it comes to marketing online Amazon can certainly claim to be a pedigree of experience. Therefore it is interesting to see that they have now embraced influencer marketing, to some extent at least.
They have recently launched the "Amazon Influencer Program", admittedly without fanfare, and at the time of writing it is still in beta.
Amazon recognizes that social media influencers are a cut above the bulk of people who sign up as Amazon Affiliates, so the Amazon Influencer Program rewards them. If you want to become a member you must apply and go through a vetting process, so that Amazon can determine that you really are an influencer. Amazon will only accept applicants with large followings, although they also look closely at fan engagement.
Amazon claims that their program will cover the full gamut of social media channels, across a wide range of niches, both large and small.
They give each influencer an easy-to-remember vanity URL on their domain. The influencers' supporters can browse through a selection of curated products recommended by the influencer. At this stage, the products selected for promotion on each influencer page are entirely the influencer's personal choice.
---
4. Influencer Marketing Becomes More Regulated
Lawmakers have made a close scrutiny of influencer marketing over recent times. The FTC in the USA introduced guidelines giving their expectations of brand transparency in 2016. Although firms were slow to take heed of these guidelines they have become more widely publicized in Quarter 1 2017, and influencers are making advertising material much clearer with their audiences. The key point of the FTC guidelines is that an influencer gets the message across to his audience when a brand is compensating him for a post.
Regulatory authorities in other parts of the world are now also showing an interest in influencer marketing. In the UK the Committee of Advertising practice (CAP) has recently produced new guidelines for brands working with influencers. Again, the emphasis here is on ensuring that end users know they are reading or watching sponsored material. The guidelines emphasize the need to make this clear to the browser before he or she reads an article, looks at an image or clicks on a video. The CAP recognizes that different social media channels operate in different ways, and they have tried to write their guidelines loosely enough to be suitable for every current (and indeed future) situation. Basically, brands and influencers are required to ensure that consumers know that they are encountering sponsored content in situations, so they can make an informed choice.
The Australian Association of National Advertisers (AANA) has also brought in Influencer Marketing rules from March 1st requiring transparency. These cover all social media platforms, and any kind of social media user. In many situations, influencers are required to use the hashtag, #ad, with their sponsored posts.
---
5. PewDiePie Loses Favour
We recently profiled YouTube sensation, PewDiePie in How Much Does PewDiePie Make? However, the first quarter of 2017 has not been a great time for the Swedish video making game player.
His videos usually consist of him screaming (and indeed swearing) a lot as he plays games, often spouting quite nonsensical statements. His fanbase generally relates to his quirky sense of humor. He quite often uses Nazi imagery in his videos, and sometimes these are seen as anti-Semitic.While these may have been cringe-inducing in the past, they haven't caused any real concerns.
In January, however, people complained about a video where he paid two Indians, who apparently did not understand English, to display a sign "Death to all Jews" in a video that mocked the service of freelancing site, Fiverr. The Wall Street Journal had already started an investigation into his videos and found that since August 2016 he has posted nine videos containing Nazi or anti-Semitic imagery.
As a result of this controversy, PewDiePie's main sponsors withdrew their support, and Disney-owned Maker Studios, the multichannel YouTube network he worked with, dropped him from their roster. YouTube, in turn, dropped the second season of his reality show, Scare PewDiePie, and removed him from their Preferred-Advertising Program.
This is clearly a case of influencer marketing with brands who were happy to pay an influencer to promote them but who had no creative control and took no interest in the content he produced.
On 20 March, PewDiePie uploaded a video called GOING TOO FAR?. In this, he referred to how his network Revelmode, which was part-owned by Maker, was being shut down. He referred to losing Revelmode as being "probably the worst thing with this whole thing going down".
By the end of March, he was back in another feud with the Wall Street Journal. This battle is by no means over yet.
---
6. Grapevine Sold to Chinese Media Mogul
Grapevine is a Boston-based influencer marketing platform, which works with influencers on YouTube and Instagram. It recently announced that it was selling a majority company share to Chinese media mogul, Bruno Wu.
During 2016 Grapevine went through TechStars Boston, a startup accelerator, and also went through MassChallenge. It currently has 94,000 content creators and includes big-name clients such as L'oreal, LG, Walgreens and Qdoba among the firms who it works with.
Bruno Wu is the founder and CEO of Sun Seven Stars Entertainment & Media Group Ltd, a huge media and investment conglomerate in China. He launched a $1.6 billion film and television fund in 2015.
Wu said that "social content is a global phenomenon that has changed the way consumers discover and purchase products. The Grapevine platform enables streamlined social content development and distribution for our network of partners."
With Bruno Wu's network of connections, there is likely to be an even larger selection of influencers available on the Grapevine platform. It also gives Grapevine an opportunity to expand into the Asian markets.
---
7. Time Inc Launches Influencer Marketing Network
This item strictly belongs to Q2 2017, as it was announced on April 5, but most of the setting up work for it would have happened in the first quarter.
Time Inc has announced they will enter the influencer marketing fold with their own influencer marketing network called Time Inc. Connect. Time's partner is Speakr, whose technology will power the network.
Time Inc. Connect will help marketers identify the influencers who best fit their campaigns, based on things like tone of content and audience demographics.
The initial influencers were vetted by members of the Time Inc editorial team and will work to promote Time Inc, creating content and disseminating it via their social media channels.
---
8. Influencer Marketing Hub Conference
The Influencer Marketing Hub Conference may not happen until Quarter 3 2017, and there is still plenty of time for you to look forward to it, however, a huge amount of planning for it did occur in this article's timeframe.
We are going to get some of the biggest names in the industry, put them all under one roof, and host the first-ever Influencer Marketing Hub Conference in London this fall.
We're assembling a roster of speakers and guests to appeal to anyone on the influencer marketing spectrum. From platform developers like TapInfluence, Onalytica, and Hypr to brands like M&S that successfully campaign via influencers, you'll learn what it takes to take your marketing efforts to the next level.
As we have seen, much has happened in influencer marketing over the last three months, imagine what will occur over the next six. You will discover it all at the Influencer Marketing Hub Conference.
With more than 800 pre-registrations already in, space will fill up fast. If you haven't already, register your email to stay up to date on all the details as we release them—and be among the first to know when tickets go on sale.