When COVID hit in early 2020, it sent nearly all in-person events to online versions in an effort to keep attendees healthy and protected. At first, rushing in-person conferences and events to a virtual format was messy, but we quickly learned how to adapt and make some of these virtual events just as valuable as they would have been in person.
But one of the bigger struggles was how to market a virtual event so that you still generate the same attendance. What we discovered is that influencer marketing can have a great impact on virtual event attendance—you just have to implement the right strategies.
Throughout this article, we're going to cover why you should use influencer marketing to promote virtual events along with several strategies for doing so.
---
How to Use Influencer Marketing to Promote Virtual Events:
---
Why Use Influencer Marketing to Promote Virtual Events
There are many different ways to promote your next virtual event, many of which you may already be building strategies for. However, if you haven't considered creating influencer marketing campaigns for your upcoming event, it's time to add this option to your digital marketing repertoire.
First of all, influencer marketing is extremely popular. To prove this, we've found that 93% of marketers have worked with influencers in some capacity before.
In addition to that, 90% of marketers believe that influencer marketing is effective—which explains why it's such a popular strategy.
Just 16% of marketers state having difficulties when it comes to finding the right influencers to work with, but that can easily be resolved with a bit of research and ensuring the influencers you partner with match your target audience.
Another reason you should consider using influencer marketing is because, well, it works. 80% of consumers have bought something based on an influencer recommendation. And you can get similar results for your virtual event.
---
Types of Influencers to Work With
When looking to work with a social media influencer, it's important to know the different types of influencers. They're categorized based on the size of their audience, and rates tend to increase as you move through each category, as well.
Let's walk through the various influencer types so you'll know which you can likely afford and ensure you get the most bang for your buck.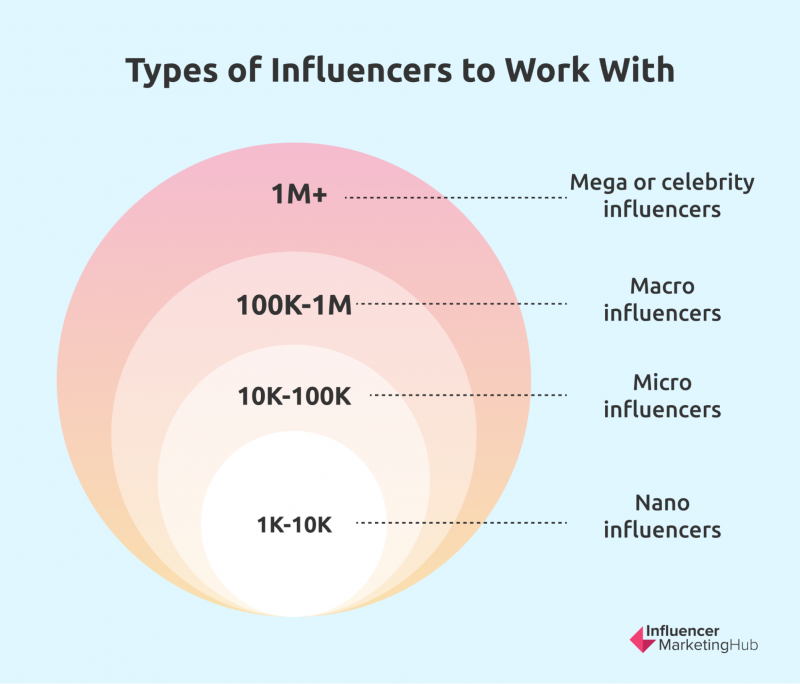 Nano-influencers:

1K-10K followers

Micro-influencers:

10K-100K followers

Macro-influencers:

100K-1M followers

Mega or celebrity influencers:

1M+ followers
Nano and micro-influencers are cheaper to work with, and micro-influencers tend to have more engaged audiences. However, you'll be able to reach more people through macro and mega-influencers.
Pinpoint your budget so that you know how much you have to spend. Base the influencers you choose to work with on that budget. You'll want to compile a large list of potential influencers to work with—without going over budget.
---
How to Use Influencer Marketing for Your Virtual Event
There are a number of types of virtual events you might host—a webinar, virtual conference, online workshop, Facebook Live event, and more—but your first task is to build up an interested audience.
Online events are different from in-person events. While many do still sell tickets, many more are free events. This means, even though someone may have registered to attend, they have much less skin in the game having no financial investment. This means you need to generate a much larger list of registered attendees to ensure a good actual turnout.
And one great way to do this is by utilizing influencers. Create an influencer campaign that has your influencer partners create social media posts, blog posts, and more to promote your upcoming event. You may even have some of your influencers speak at the event as industry experts.
If you're unsure how to go about this, we've put together some key tips for using influencer marketing for your next online event.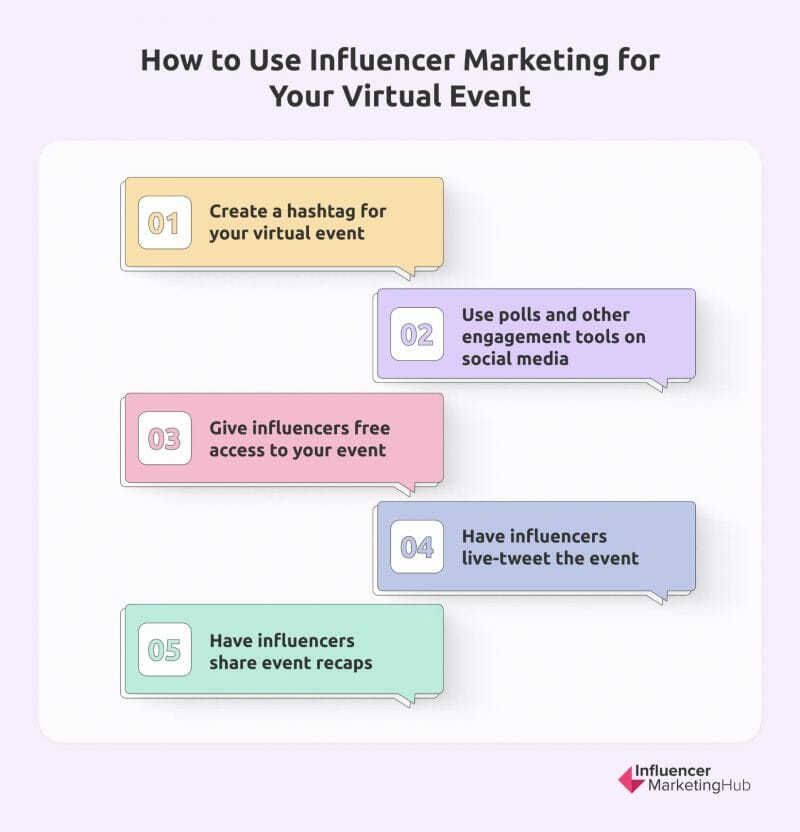 ---
Create a hashtag for your virtual event
First things first, your online event needs a hashtag. Because the event is going to take place virtually, social media and online messaging channels are going to be the main place for discussion and helping potential attendees find your event.
Plus, it gives influencers a cohesive hashtag to utilize as they work on event promotion.
So create a hashtag that you, your marketing team, your attendees, and your influencers can all use. It might be your event name + year, abbreviated event name + year, or something similar. You want it to be unique but still make sense for your event.
So for example, an event called Influencer Marketing Con 2022 might have the hashtag #IMC2022. This way it's digestible but still relates back to your event.
Use this hashtag for every post you share about your event and have all influencers and event advocates do the same.
---
Use polls and other engagement tools on social media
Instagram stories and other social media marketing platforms provide your team and your influencers with a number of engagement tools for grabbing attention and getting potential attendees from their audience to interact.
Instagram stories and reels are going to be two of the best places to have your partners share promotional content. Reels are favored by the Instagram algorithm at the moment, and Instagram stories provides you with a number of stickers to engage your audience with.
Here's an example of what a poll from a potential influencer could look like:
They can pop a sticker like the one above over a video of themselves talking about the event and what attendees will do/learn while watching or participating.
Put together some existing creative assets within a media kit to share with your influencers. This may include graphics made to promote the event, photos or videos of your team or the speakers who will be participating, and more.
This helps keep the promotional materials consistent and gives your influencer partners a jumping-off point when they create their own content.
---
Give influencers free access to your event
Ask your influencer partners to attend the event as well, of course giving them free access. You can also put together a swag bag—either physical or virtual—to send to influencers and content creators as well.
Some ideas for a physical swag bag include:
T-shirts with your company and/or event logo

Canvas tote bags

Reusable water bottles

Coffee mugs

Phone chargers

Sunglasses
The above should, of course, all have your company logo on it.
You can also consider virtual "swag bags." Some ideas for these include:
Online subscriptions

Online gift cards

Ebooks

Food delivery vouchers
Providing your influencer partners with additional goodies helps them feel even better about your partnership and promoting your event—plus some of the physical items are perfect for including in their promotional photos and videos.
---
Have influencers live-tweet the event
During the event, make sure your influencers are at-the-ready to live-tweet or live-stream parts of the event on social media platforms like Twitter, Instagram, or even TikTok. This can help bring in some last-minute attendees as well as keep current attendees engaged.
Due to the nature of a virtual event, attendee engagement is a bit more difficult. But having influencers share clips or quotes from the event in real-time as well as engage online with other attendees (using the hashtag, of course), you can still create an in-person, networking vibe.
---
Have influencers share event recaps
Once the event is over doesn't mean that the promotion or partnership is over! This is especially true if you plan to hold your event annually and you want to generate buzz for the next year's event for those who may not have made it this time. Plus, event recaps give you more content to post throughout the year as you start teasing your next event.
Event recaps also help keep the event alive for a longer period of time, keeping both ears and eyes on your business. And more attention never hurt, right?
These recaps might take the form of video clips from speakers at the event, influencers sharing information about what they learned or what they thought of the event, or influencers showcasing how they plan to implement what they learned at the event.
---
Start Promoting Events With Influencer Marketing
Bringing influencers into the fold whenever you host an event, either online or in-person, can be a great way to spread the word. You can also take advantage of an event marketing agency to make sure you get the best possible turnout for your next event.
Frequently Asked Questions
How should you market your virtual event?
There are a number of ways to market your virtual event and increase attendance. Some of our favorite strategies include:
Influencer marketing (of course)

Email marketing

Digital advertising

Event sponsorship
How do you find influencers for your event?
First, do your research and find influencers within your niche. Keep an eye on the types of content they share to see if promoting your event seems within the realm of their preferred content. Then, reach out to discuss a partnership for promoting your event.
You'll want to create a large list of influencers as you won't get a 100% response rate, nor will you get a 100% success rate from those who do respond. Making sure you have a large enough list will help you maximize your influencer marketing strategy.
Why is working with influencers important?
Working with influencers is an organic way of promoting your business or event. Rather than seeing your business's advertisements everywhere, influencer followers are able to learn about your event as a word-of-mouth strategy, making them more interested in attending.
What is influencer marketing?
Influencer marketing is the act of working with popular social media influencers or content creators to promote your business and its products or services. Influencers might showcase some of your products or utilize your services and share snippets on their social media channels or website as a way for their followers to discover your business.
How much does influencer marketing for events cost?
The cost of influencer marketing depends on a few different factors: the size of their audience, how much promotion you're looking for, industry, engagement rate, the platform they're creating content for, and more. However, you can expect to spend anywhere from $100 for micro-influencers to $10,000 for macro-influencers.