Influencer amplification is one of the hottest topics in the influencer marketing industry in 2020, with 39% of marketers saying their biggest priority with influencer marketing is user generated content and content amplification. If you've already read how to deliver influencer marketing ROI with paid media through dark posts and are ready to amplify your influencer posts then this is the article for you.
There are a few phrases commonly used when discussing influencer + paid media:
Whitelisting

= obtaining the appropriate permissions from influencers to run paid ads through their identity. All ads can be created in your ad accounts.

Advertising access =

can be used interchangeably with "whitelisting".

Dark posts =

Facebook and Instagram ads that are unpublished posts, they do not show up on the news feed and profile of the handle running ads (in this case, your influencers). Dark posts are targeted ads which can be shown to specific audiences. See examples of dark post variations on Facebook and Instagram below.
All three of these terms are part of the foundation for amplifying influencer content with paid media, which is quickly becoming the answer for marketers looking to deliver and measure ROI through influencer campaigns. Instagram dark posts are quickly becoming a not so secret weapon savvy marketers are using to deliver compelling and authentic content to the audiences they want to reach (and solving the declining organic reach problem of organic posts on social media).
So what do dark posts look like to the end user? Sponsored content from influencer handles that show up as Facebook ads or Instagram ads:
The challenges that are common with relying on organic posts for influencer marketing campaigns naturally don't go away when incorporating paid media. There are additional things to take into consideration when planning to incorporate Facebook advertising into an influencer campaign. Additionally there are new challenges that you'll have to deal with due to permissions and usage rights.
---
8 Things You Need To Know About Influencer Whitelisting:
---
1. Identifying the right set of influencers for a campaign.
When planning to support an influencer campaign with paid, the influencers you work with must have a business profile, creator account, or a verified account on Instagram. This typically only becomes an issue with nano / micro influencers and more of them are realizing in order to work with brands they need to upgrade from a personal profile. When getting the right level of permissions, you are able to target influencer audiences and build lookalikes (more on this later) so it can be important to spend a little extra effort verifying audience data to reach your target audience. At the end of the day you are identifying influencers to power your ad campaigns:
---
2. It takes time to execute an end to end campaign.
While the time of running an influencer campaign from reaching out to influencers, sending product, and waiting for content isn't likely to change much, adding paid support means all of that work ends up paying much larger dividends. The amazing part about supporting campaigns with paid media is the content has a lot longer lifespan (especially IG stories which will live for weeks instead of 24 hours). The content will be seen by a much larger audience and you will get a lot more out of content you and your influencers work so hard to launch for each campaign.
---
3. Figuring out how much to pay each influencer.
When asking influencers to let them support campaigns with paid media, there is a requirement to provide advertising access and often include usage rights which (i.e. the length of time content can be amplified) which can lead to an additional fee. This fee is usually well worth it for both parties. If you want to learn more, here is an in depth article on how influencers charge for whitelisting and usage rights.
Protip: Have influencers create additional creatives for use in dark posts.
---
4. How to measure success and calculate ROI.
Paid media doesn't solve the pain of measuring the organic component of the campaign (so no help there). However, with paid social support, many brands view any organic results as a nice bonus. All paid ads will run through ads manager and 100% tracked and measured from impressions and clicks down to add to carts and conversions. You are able to add UTM parameters to all call-to-action buttons and IG story swipe-ups in dark posts so that you also have full funnel visibility in Google Analytics along with conversion tracking. If you aren't currently running dark posts, ask yourself how cool it would be to see these stats for all influencer content: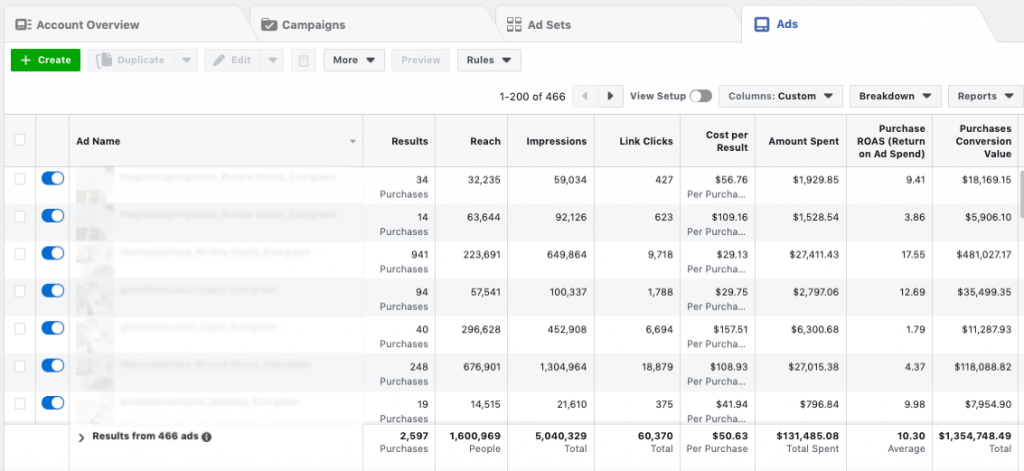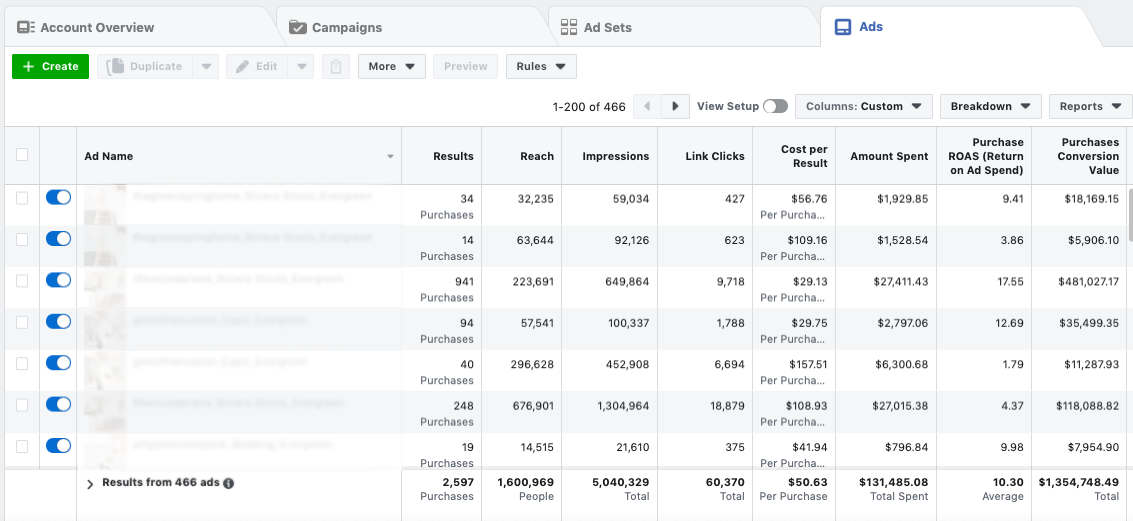 ---
5. Facebook's Branded Content Tool lacks power of Facebook dark posts
The Branded Content Tool is great for initial testing, but is difficult to scale an influencer media program and doesn't allow performance marketers to optimize for performance. The largest limitations around scale are the overall availability across all influencers, the limitation on content types (e.g. carousel posts), and inability to run across multiple placements. The biggest limitations that impact performance are the inability to make any edits to the content itself or test different headlines and call to action buttons, and lack of ability to access influencer audiences for targeting (after all don't you want to target people likely to have a positive response to influencer content?!).
For these reasons, obtaining advertising access (i.e. whitelisting) in order to create influencer dark post ads is becoming the standard for incorporating paid social into influencer marketing programs. At the end of the day you are going to want to be able to reuse influencer creative to create different ads and target different audiences across ad sets.
Here's an example of a tactic which can't be executed using the Branded Content Tool:
---
6. Walking influencers through the process of granting advertising access (whitelisting permissions).
The process of granting an advertiser the permissions to run ads through a Facebook page and/or Instagram handle is not easy. The steps vary based on how the influencer's account is set up: if they have a business manager, if the account is a creator or business profile, and how the permissions are granted (through Instagram or Facebook page). There is no way to create a one-size-fits-all walkthrough deck to handoff to influencers. As a rule of thumb, brands often plan for at least 30 minutes "live" with each influencer (which is as much work coordinating as it sounds like). Software solutions like Lumanu offer one-click automated whitelisting solutions for influencers to grant advertising permissions. Another option for brands looking outsource the process of managing permissioning and approval is to go through an agency who will do the grunt work on behalf of their clients.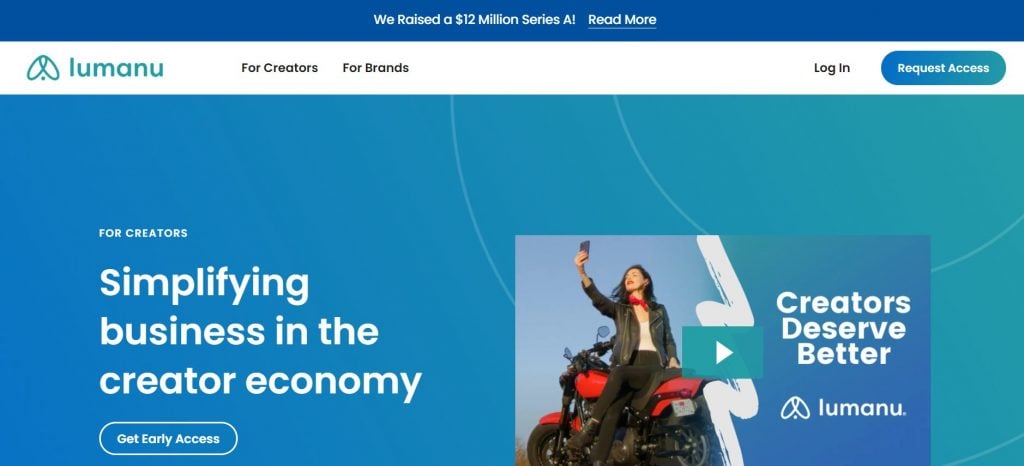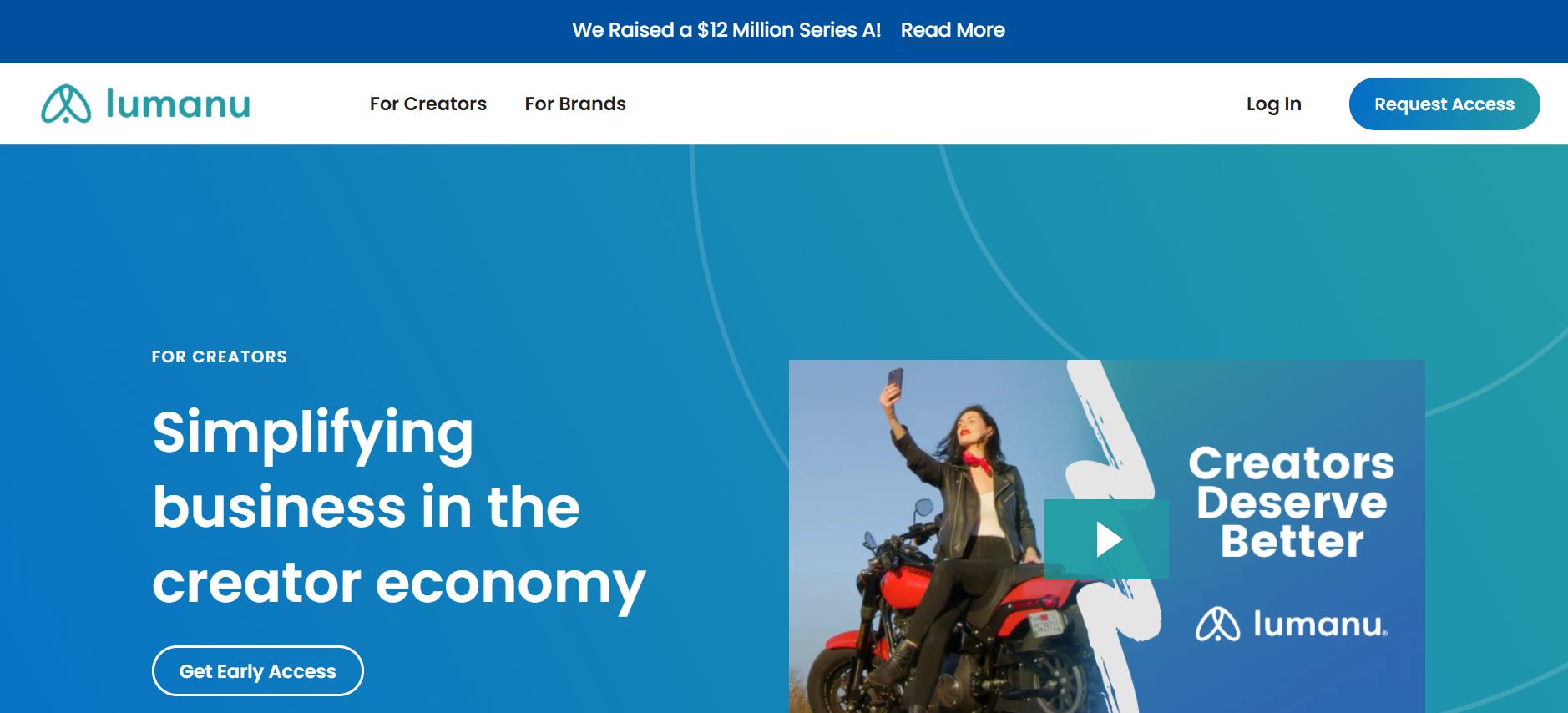 ---
7. Ad approval process for edits and changes.
Can the brand create several variants when they create posts?
What does the approval process for changes look like for new ads?
Can words be deleted?
Can wording be changed or modified?
Can additional images be added for carousel posts or slideshows?
Can different headlines be tested?
If there is an approval process, what is the expected response time?
You get the idea…
Some of these questions can be agreed on ahead of time. However, minor updates are often needed to run split or a/b testing in line with a performance marketer's Facebook marketing strategy.
Protip: Remove clickable hashtags in copy for dark posts ads, these drive overall clicks but reduce traffic to the brand website.
---
8. Contract language confusion.
From the influencer perspective, there are no standard influencer contracts. The current situation is that a contract is often misunderstood but signed anyways. The contract may vaguely mention providing whitelisting permissions, without giving explicit detail as to the level of permissions. There are often disagreements about obtaining admin access, which is not needed for amplification and allows for much more control versus advertising access. Confusion in contract language can lead to a contract seen as adhered to by one side and broken by the other, often ending up with a nasty email chain or even a lawsuit. On the brand side, it is often very difficult to keep track of which content is allowed to be used where and for how long. The entire industry is often spending more time talking about whitelisting (and working out the kinks) than actually running dark posts to drive results.
The big question is, considering the challenges and work, is it still worth it? Given the explosive growth in influencer marketing and influencer dark posting we think it's fair to put a stake in the ground and say "yes" for any brands looking to improve performance of their paid social campaigns. In spite of the challenges the fact is that influencer dark posting is growing and being adopted by ad performance-oriented marketing teams. This powerful tool is changing the game of influencer marketing, moving the focus from organic content and social engagement metrics to measurable ROI.
---