Best for:
Medium and Large brands
Overview
The world of influencer marketing is awash with platforms of all kinds: There are influencer marketplaces, influencer relationship platforms, analytics platforms, and end-to-end suites that cover just about everything. What the industry is lacking is a decent, streamlined tool, the kind of purpose-built app that requires no learning curve to use and isn't trying to be all things to all people.
If this review were a meme, now is the time when we'd say "InsightIQ has entered the chat." InsightIQ is a brand new tool designed to do just three things: creator discovery, campaign tracking, and ROI measurement. And it does all these things using an AI algorithm that ingests and analyzes a boatload of first-party data from creators across multiple social channels. InsightIQ gathers the influencer data through an API connection with social media channels; it's not the standard public-data scraping algorithm that many influencer platforms tend to rely on.
While there are many other platforms that do what InsightIQ does, there aren't that many tools. InsightIQ's biggest selling point is the fact that it doesn't do much else besides ingest and analyze data. If you're using a platform that only has third-party and anonymous data—but you're otherwise happy with it—something like InsightIQ is the perfect, complementary solution. A streamlined tool is exactly what you need, and InsightIQ is exactly that tool.
---
InsightIQ Review:
---
Pricing
InsightIQ access is sold on a subscription basis, though the pricing isn't made public. What we can tell you is that we don't love their approach here, at least not without knowing exactly what the costs are. Rather than set up different levels of access that offer more features as the price increases, InsightIQ instead offers a single plan that gets you access to the platform and (nearly) everything it does.
The one thing missing is in-depth analytical reports on creators and their audiences. For that, you'll have to ask for the feature to be turned on, and then pay extra for each report you generate. We're not saying InsightIQ shouldn't earn more for giving more; these AI driven analytic reports require intensive computing power and are more costly to run. What we are saying is that self-service software should be self-service software, especially one that's purpose-built to do one or two things like this one. And if you're working off a monthly subscription model, then bundle features into different levels of subscription. Charging a base price plus a per-use charge for a common feature is less than ideal.
---
The Details
Given its focus on data and analytics, InsightIQ's developers built a tool that achieves marketing goals more concrete than finding "ambassadors" to build "brand awareness." No, InsightIQ is more concerned with answering the kinds of questions that C-level executives and brand shareholders are interested in: how much money is this making us?
Toward that end, InsightIQ operates with two goals in mind: to deliver ROI to marketers, and to measure that ROI with real world data. The methods used for the former involve finding great influencers that match your brand—the Jordan to your Nike, as they put it on their website—and tracking their performance on your campaigns. As for the latter, measuring ROI, that's all in the numbers.
So how does InsightIQ make good on its promise to deliver perfectly matched influencers? It starts with choice. A huge amount of choice. InsightIQ's database has over 350 million profiles from Instagram, YouTube, and TikTok (with LinkedIn as an interesting—and smart—choice to be the next supported channel). The database is updated once a month, with newly qualified creators added while those already there have their data updated. At the same time the algorithm is adding and updating, the AI is analyzing. Some of the results of this analysis come in the form of reports that are available from the creator search screen: Fastest Growing Creators w/ Under 100k Followers, or Accounts in Beauty & Cosmetics with Engagement Rate > 5% are a couple of examples.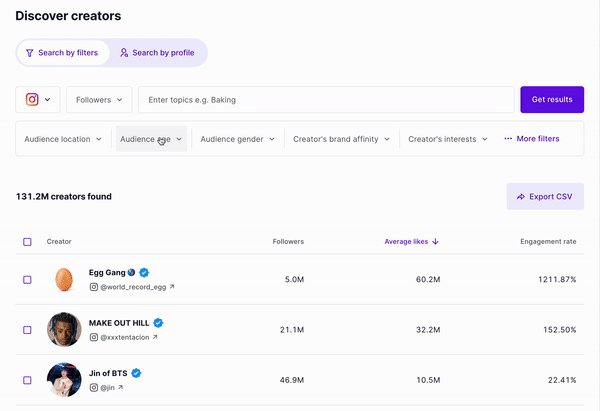 These reports are a nice supplement to the discovery features, but for most users they're going to find the bulk of their creators using InsightIQ's search functions. It's the standard mix of keyword searches and results filtering, but InsightIQ manages to take this common method very deep. For one thing, you can search against an influencer's attributes, or the audience's. You can search for topics and the results will be people whose content matches the topic—and we're not just talking keywords in captions here. The AI analyzes images as well, and can understand whether this topic is key to a creator's profile as a whole. Filtering is remarkably specific: would you like to find an influencer who posts about fitness, whose audience is mostly male and has a brand affinity for VR gaming and has been growing at a rate of at least 20% a month over the last year? If those creators exist, you'll find them.
The sheer number of filters and search variables that InsightIQ offers gives you a little hint about the data you'll see on the other side of your search. Once you've found some creators, you'll spend some time digging into their profiles. Or you won't: the profile pages are set up in such a way that you'll get a quick understanding of whether this is someone worth digging into. Some of the most telling data is presented above the fold, so to speak, telling you who the person is, where they are, their age, and languages. You'll see how many followers they have and, for added context, what percentage of them are actually real people. This is something that InsightIQ does very well: adding context to the numbers (further down the profile, you'll even get a breakdown of these real people, sorting them into buckets based on their own audience size).
Right below this is an important area where we see this contextual dynamic at play: the content itself. The profile shows you the most relevant content to their profile, giving a good representation of the creator, her aesthetic, and how the content performs. That's all par for the course, but InsightIQ then adds the context: organic and sponsored content are split up, and there's a statistic showing how the sponsored posts perform compared to organic. From these first bits of information, you may not know if this is the right influencer, but you will know quickly whether they're wrong for you, saving a lot of time.
As you go deeper into the influencer's profile, you'll get great information from InsightIQ's comment analysis. There are plenty of platforms out there that analyze the comments from an audience and let you know whether they're positive, negative, or neutral. You'll get that here, of course, but also a little bit more: the algorithm looks at the comments for an influencer's sponsored posts and measures the percentage of the audience that's showing purchase intent. If an influencer has many sponsored posts along with a high rate of engagement and purchase intent in their audience, you can invite them to your campaign with a high degree of confidence they'll perform for you.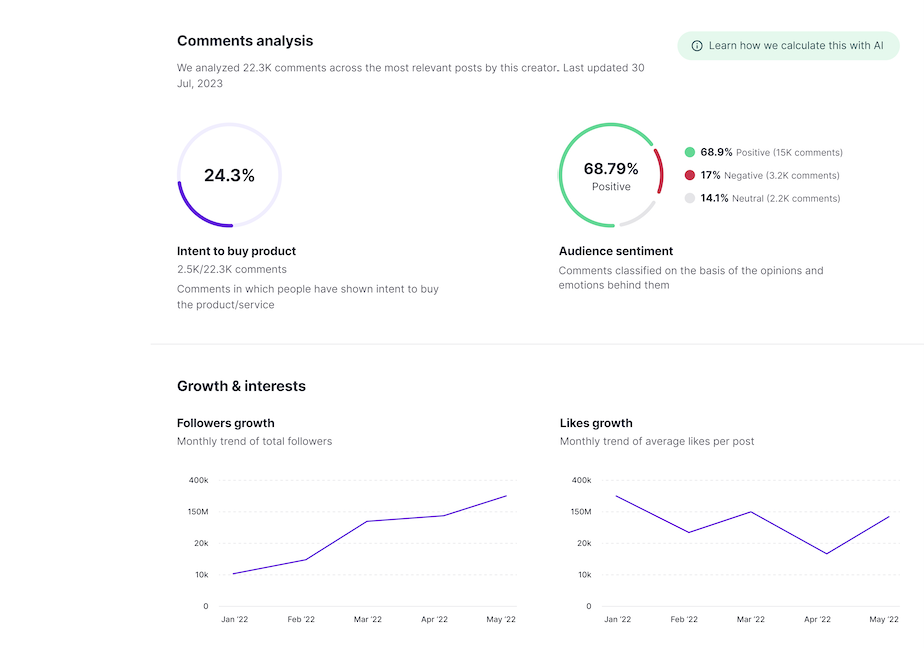 This same analysis of "purchase intent" is offered during the post campaign reports, too, though it's a bit unnecessary if you're using UTM tracking links with InsightIQ's Shopify integration: that tells you about actual, concrete purchases that were made. But, if your ecommerce is run off of any other platform, the purchase intent statistics can be cross-referenced with actual purchases to get a decent idea of how much impact a campaign might have had.
The rest of the campaign tracking is as you would expect of an analytics tool. The metrics are well organized into different categories. The Social performance tab doles out the standard engagement metrics—reach, impressions, likes, comments, etc.—while the Monetary tab tells you the impact of your campaign in terms of your ad spend. Cost per mille, cost per view, and cost per engagement are broken out while also giving you a total media value of the campaign. A third section analyzes the comments themselves, giving you the breakdown of relevance, as well as sentiment and purchase intent of those relevant comments. All of this information is available at the post level, as well.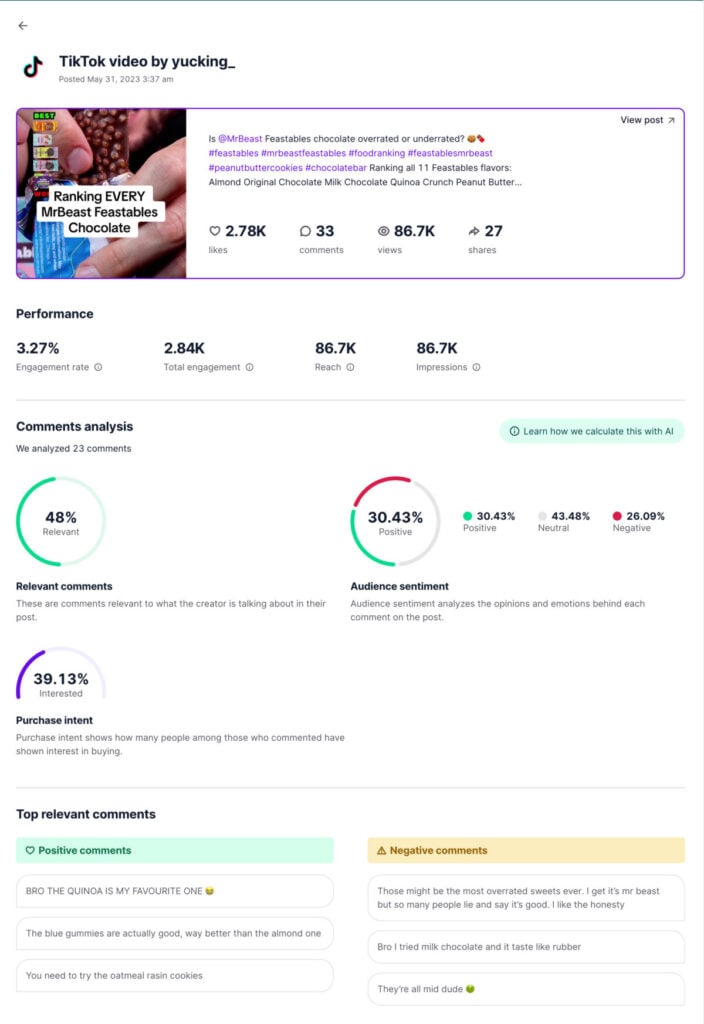 Missing from these analyses is any kind of data—demographic, psychographic, or otherwise—about the audience that engaged with the post. It is possible to get this information, through a report that you request and pay for separately. This is what we referenced in the pricing section—it would be great to make this totally self service and included as a feature of a subscription tier, even with a limit on the number of reports, this would be better than the current setup.
Finally, the campaign reporting is also able to get more detailed reports around ROI than is generally available on other, similar platforms. InsightIQ gives you more than a few ways to look at your investment and the outcomes of it. And this all makes sense. If they're going to help you deliver returns on your investments, then of course they'll make sure you know exactly what that return is.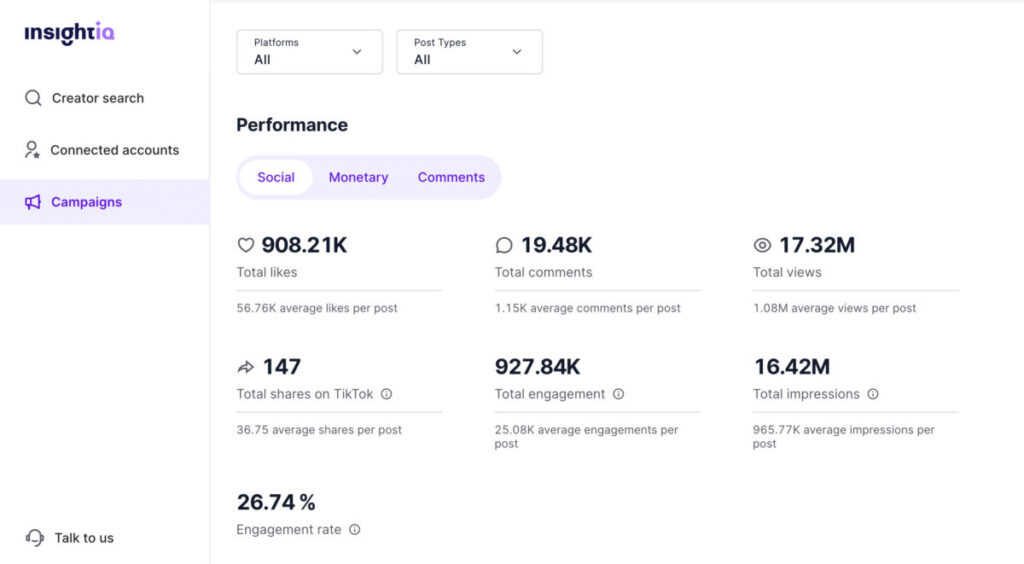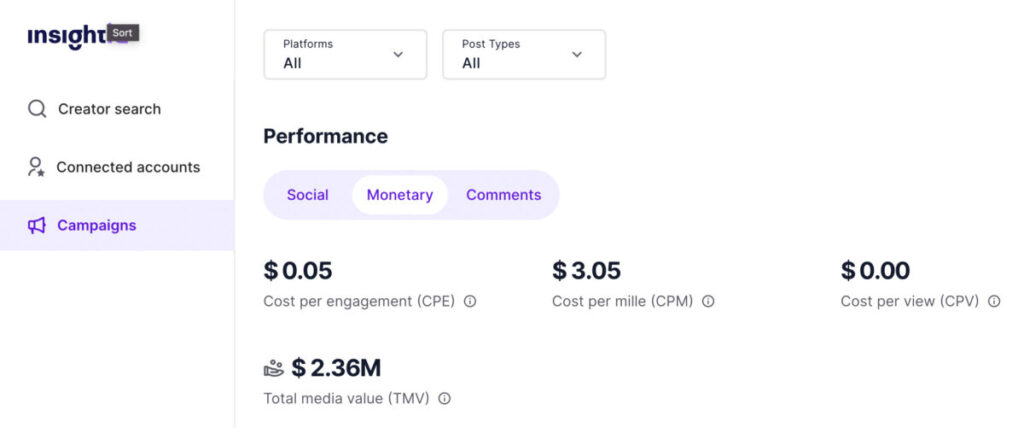 ---
Conclusion
Though InsightIQ is a relatively new player to the influencer analytics game, the tech that powers it has the feel of a mature product. InsightIQ's API is the magic behind the scenes, pulling first-party data directly from top social channels. And the AI-powered insights give context to all the data.
As an analytics tool, there's only so much it can actually do beyond providing its users with a bunch of data and insights. What's here is already impressive, and we know that its makers have a detailed roadmap for where they're going to take the software. We can't wait to see what comes next.
Rating
Features

Ease of Use

Reporting

Best for:
Medium and Large brands