Best for:
Small to medium-sized businesses
For most users, Levuro provides an easy way to publish and schedule your posts and Stories across a range of social media platforms. It places much emphasis on ease of use, making it particularly easy to create posts, customized for each of your social platforms.
It allows you to work with and manage a team of users on all plans, including the free one. This could be particularly worthwhile for organizations currently paying "per user" on some of the competing platforms.
If you are large, however, or can negotiate a reasonable price for the Enterprise plan, you will find a couple of really useful features that will be invaluable to some users. Levuro is the first platform I've reviewed that caters to live streaming. Live Studio looks particularly promising and may be ideal for regular streamers on popular live-streaming channels wanting to promote their streams. Similarly, enterprise users have better image and video editing tools than Levuro's other customers (who can only access extremely basic image editing tools without using an external program) and can create a brand kit to simplify post-creation.
While you can't use Levuro to schedule your TikTok videos yet, the platform has indicated that it will be catering to that social video app soon, along with the more established Pinterest.
---
Summary:
---
Pricing
As a SaaS platform, access to Levuro is sold on a monthly basis. Levuro offers 5 paid plans, with subscriptions based on your number of profiles, posts, workspaces, storage, and access to features. All paid plans can be paid on a monthly or yearly basis. They offer a discount of approximately 20% for annual payment. The prices quoted below are for monthly plans.
Free, €0/mo – unlimited users, 3 social profiles, 20 posts per month, 1 workspace, 1GB storage (for your videos and images). No publishing/scheduling to Instagram/Facebook Stories. Post insights.
Starter, €14/mo – unlimited users, 5 social profiles, unlimited posts per month, 1 workspace, 20GB storage (for your videos and images), Instagram/Facebook Stories. Post insights.
Pro, €24/mo – unlimited users, 8 social profiles, unlimited posts per month, 1 workspace, 60GB storage (for your videos and images), Instagram/Facebook Stories. Post insights and more detailed analytics.
Business, €99/mo – unlimited users, 35 social profiles, unlimited posts per month, 4 workspaces, 240GB storage (for your videos and images), Instagram/Facebook Stories. Post insights and more detailed analytics.
Enterprise, Contact Sales for pricing – unlimited users, custom number of social profiles, unlimited posts per month, custom number of workspaces, custom GB storage (for your videos, images, and live stream clips), Live Studio (and related plugins). Twitch in addition to other social profiles, Instagram/Facebook Stories, image and video editor, brand kit. Post insights, more detailed analytics, and analytics livestream recording.
All plans offer a 14-day free trial.
---
The Details
Setting Up Levuro
As with many of the newer social media management platforms, Levuro has made ease of use a point of focus. You begin by connecting to your social platforms. Although the free plan only permits three social profiles, you can connect to many more on the paid plans (as explained in our Pricing section). Note that Levuro offers a 14-day free trial of any plan, so you could experiment by trialing one of the higher tiers, before narrowing your selection of social profiles to match the number permitted on the plan you ultimately intend to use.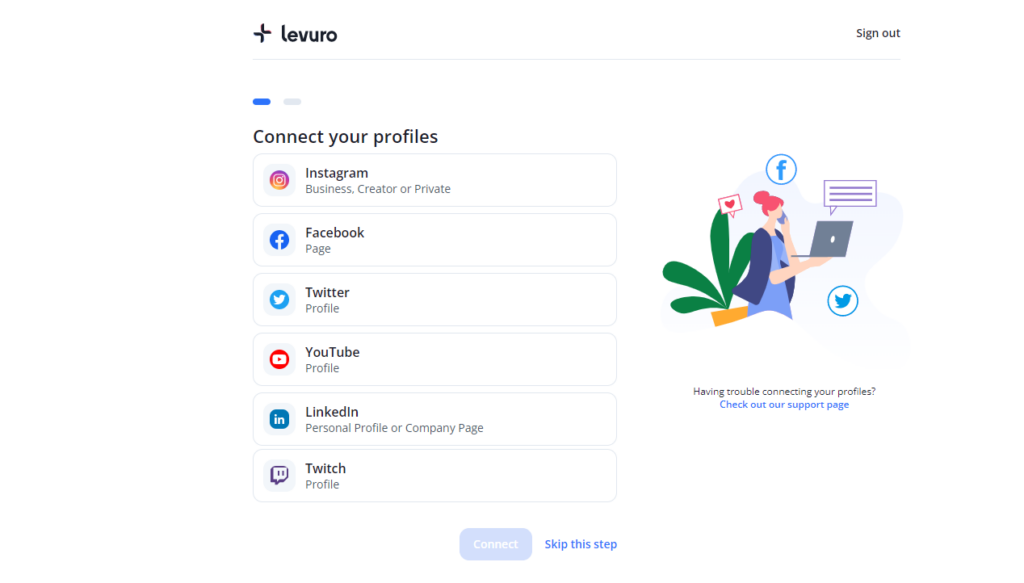 Levuro lets you connect to your:
Facebook Page
YouTube Profile
Twitter Profile
Instagram Creator
Instagram Business
Instagram Private
LinkedIn Company Page
LinkedIn Personal Page
In addition, with the Enterprise Plan (which includes Live Studio to assist with streaming and promoting your streams) you can connect your Twitch account, so you can use a custom RTMP URL to re-stream to Twitch.
Levuro has also signposted that they will be adding Pinterest and TikTok to their social roster, shortly.
The platform makes it easy to add your social accounts. Levuro gives you the option to publish directly to Instagram. However, if you intend to use Levuro for multi-image posts/carousels or Stories you will also need to use push notifications so you can publish to Instagram manually.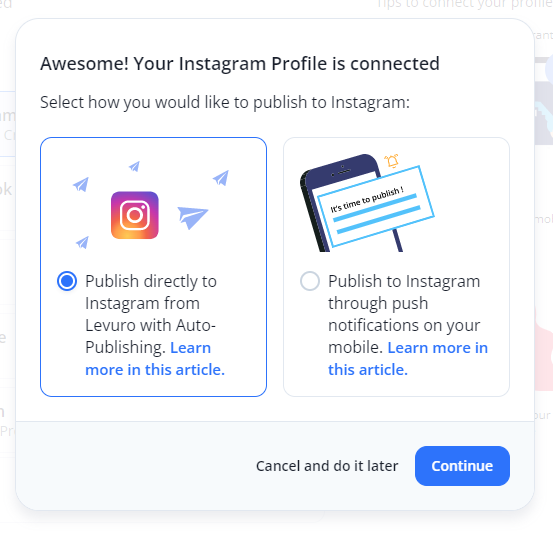 Once you've added the social profiles you want to connect to, you are taken to the home page of your Levuro app, which is a calendar that will show your scheduled posts.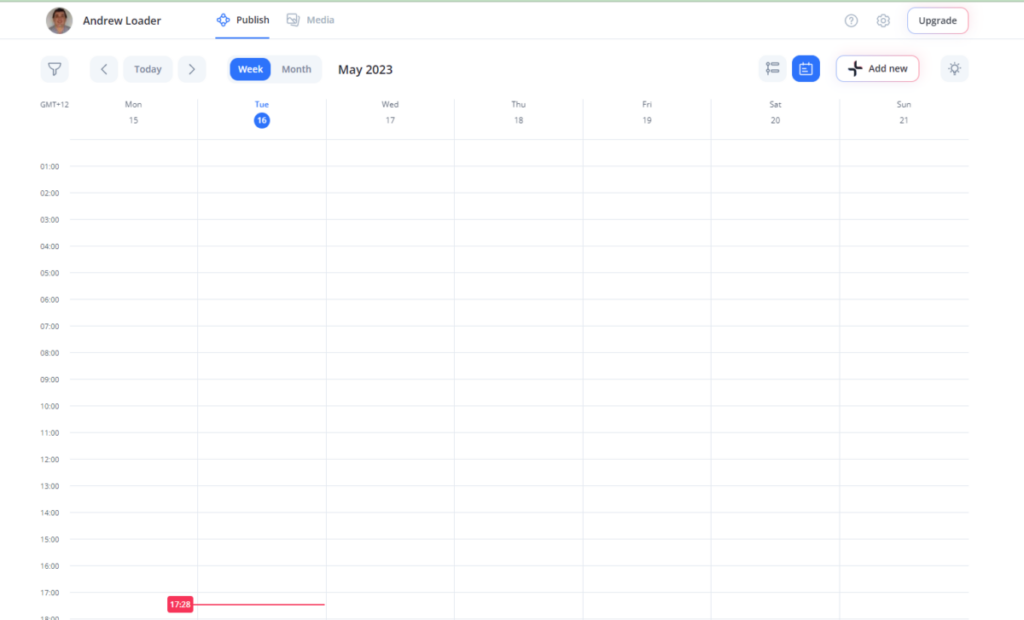 Near the upper right of your screen, you will notice an Add New button, and when you click on that it gives you options to add a new post, Story, or social profile.

You may have noticed the blue button to the left of the Add Now button.

This indicates that you are viewing Levuro in the Calendar view. The Calendar View gives a quick overview of all of your posts planned for the next month.
Alternatively, you could click on the button to the left of this to change Levuro to Feed View.

Feed View lists all your drafted, scheduled, and live posts in order of creation. You can see your entire posts with the full text and images in Feed View. Although the following image looks blank, you will begin to fill this up once you start creating new posts/Stories.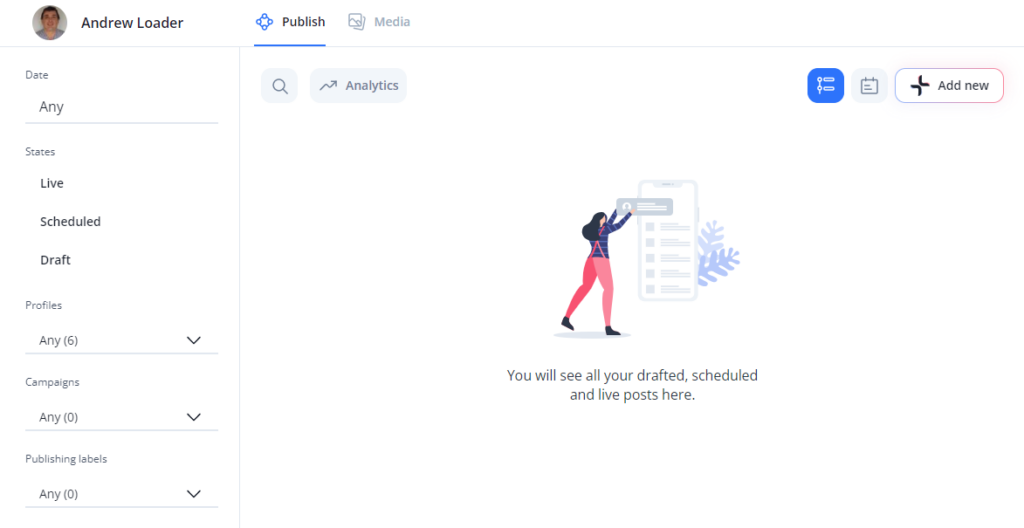 Note that the Add New button is just as visible in the Feed View as it is in the Calendar View, making it easy to create a post or Story (paid plans only), no matter where you start from.
Although I wrote this review as a "one-man band", using Levuro by myself, you may have noticed that with all plan levels, you can invite unlimited team members to your workspace. You can create your team by first going to your Settings (click on the gear icon in the top right corner).
Once there, select Workspace in the left menu and then Team Members. This will bring up a list of your existing team (probably just you at the start). You can then click on Invite a User in the top right-hand corner.

At this point, you enter the email addresses of your intended team members and Levuro will send an invitation to them. You can then manage each team member's Permissions.
---
Using Levuro
One of the key purposes of using a social media platform, like Levuro, is to publish to multiple platforms at once. You can create a generic post and customize it for each profile.
You begin creating a post by clicking on Add New → Post
This takes you to a screen showing all the profiles you've added to Levuro. Select those profiles you wish to use for this post.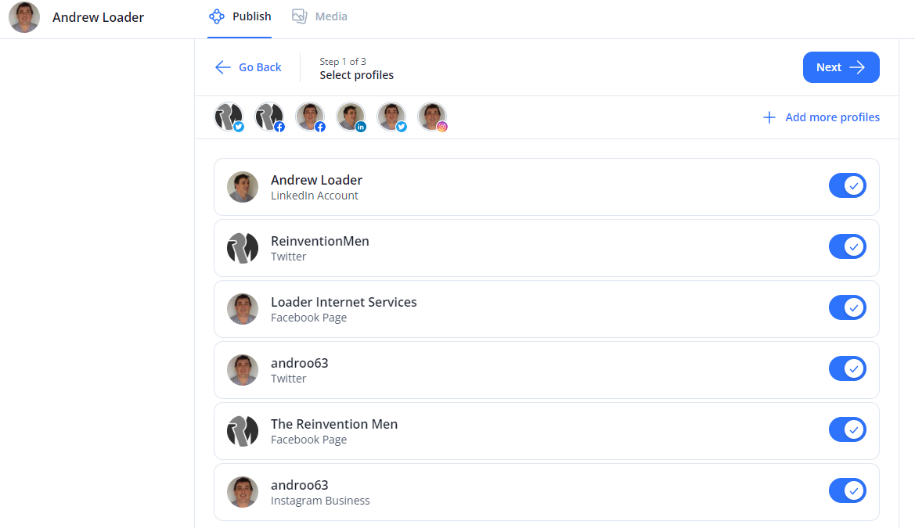 At this stage, you can write any generic content that will appear in all versions of your post. It's important to remember the limitations of your profiles here, and not include things in the generic content that won't work on one or more of your selected profiles. For instance, if you intend to share this post as a tweet, you will need to ensure that you don't have more than 280 characters in your generic content.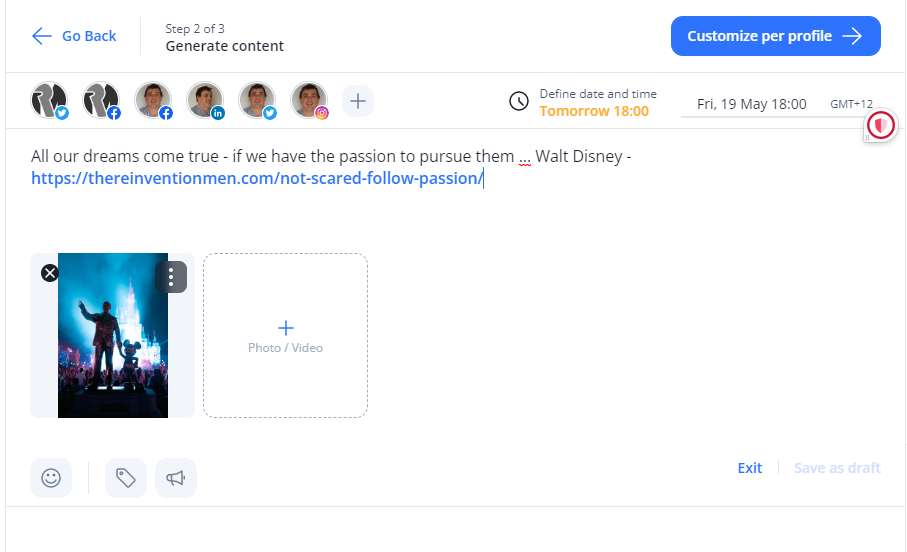 Remember to click on the section to the right of your selected social profiles to select the date and time for your post.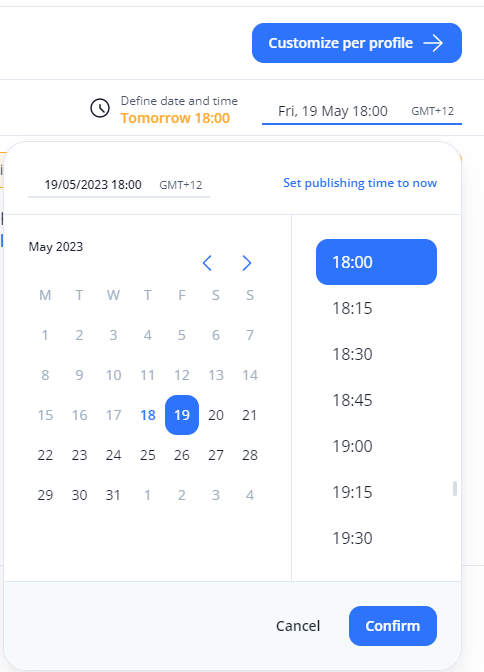 At the next stage, Levuro gives you a chance to customize your post for each of your selected social profiles. In the above post, for example, Levuro spotted that the image I selected was the wrong size to post on Instagram and tells me what I will need to do to make it workable for that platform.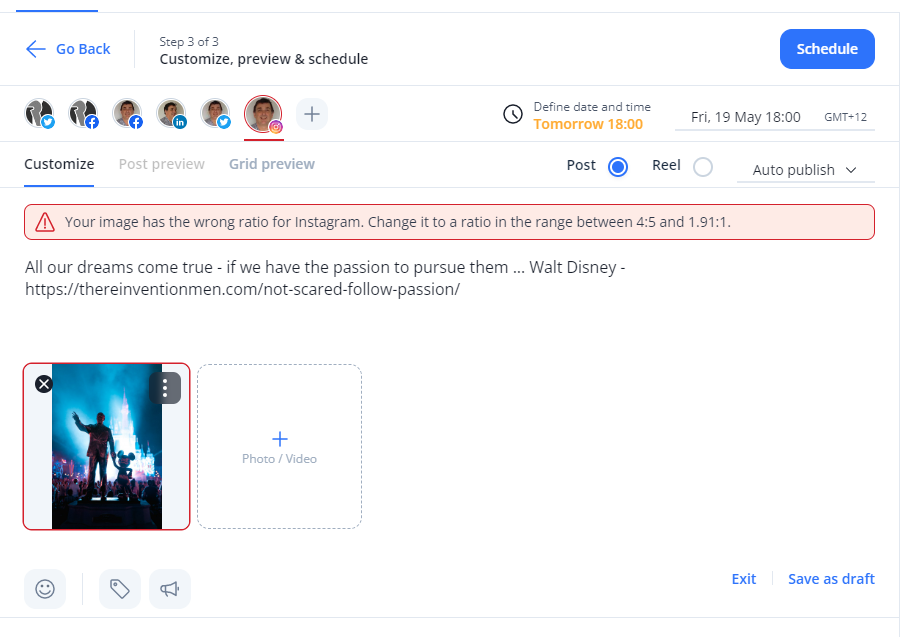 By clicking on the three-dot icon at the top of the picture, Levuro takes you to its image editor, where you can crop the photo to bring it within Instagram's accepted limits. Unfortunately, this is the limit of image editing tools for most of Levuro's users. You gain additional editing tools if you opt for the Enterprise plan, however.
When ready, click on Schedule, and you'll see your new post in your calendar (in Calendar view) and Feed (Feed View).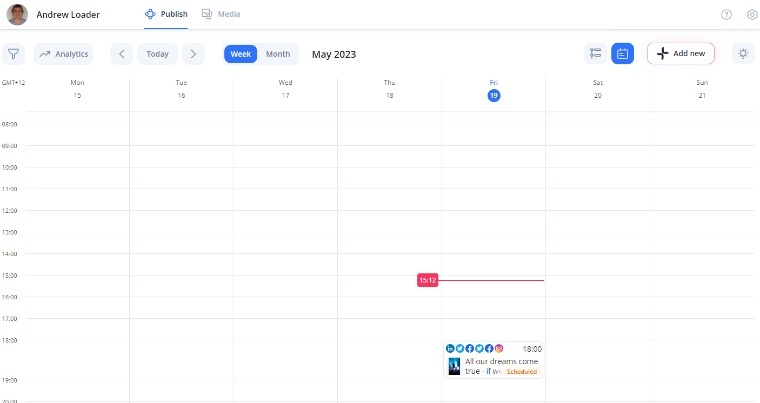 So far, we have spent most of our time on Levuro's Publish screen. However, you can easily change to the Media screen by clicking on the appropriate button at the top of the screen.


This shows all the media you have uploaded to Levuro. You can select either Images or Video in the left-hand menu.
---
Scheduling and Publishing Stories for Instagram and Facebook
If you have one of the paid plans, you can schedule Stories to Instagram and Facebook – as long as you're using Levuro's web app, rather than its mobile app.
To create a Story, select Add New → Story (not Post as usual). Select the profile you wish to publish on – however, you can only create an Instagram Story or a Facebook Story, not both. You can add up to 10 media items and write any relevant text. In addition, you can reorder your media by drag and drop.
Schedule your story by selecting a date and time.
Unlike with posts, you will need to set up mobile notification publishing when creating Stories (both for Instagram and Facebook). Indeed, you will also need to do this if you want to create posts including multiple photos or videos on Instagram.
You will need to select Send Notifications for the publishing method.
Levuro will send you a notification on your phone once it's time to publish. When you click on the notification, the app will direct you to a page with the button Open the Instagram/Facebook app. It will open your Instagram (or Facebook) app. All the media will be copied to your phone gallery. Within Instagram (or Facebook) select all your media for your Story/carousel and paste the text you wrote.
---
Recording a Live Stream
One reason you might consider opting for the Enterprise Plan (even if you don't consider yourself large enough to be classified as an enterprise) is Levuro's Live Studio. As I trialed the Business plan (and don't regularly live stream), I didn't have access to Live Stream to test it personally. Levuro does allow you to try live-stream recording for free for 14 days, however, if this sounds like something that would interest you.
To record a live stream, you need to use software or an input signal that is capable of broadcasting your content to Levuro. You can preset beginning and end times for your stream, and Levuro will record it within that time frame.
You create a live stream recording by going to your Media page, clicking on Add New, and then Live Stream Recording. Enter a name for your stream, along with start and end times, the streaming link type, and if you're using a saved link, select the appropriate one. Select a region close to your streaming location, as it helps reduce the latency/delay between your live stream and what is displayed to viewers.
Once your recording has started, you can click on it and play it live.
You can also use Live Studio to create clips of important moments to share on your social media platforms.
Once you've created a clip, you can select the More menu on your clip thumbnail and click Publish. You then select your relevant social profiles and create your post, just like you would any other.
You can stream your live stream recordings to YouTube, a Facebook page, Twitch, or a custom RTMP URL.
---
Creating a Brand Kit
Another Enterprise plan-only feature is the Brand Kit. Levuro encourages you to create a brand kit containing the elements of your brand identity, e.g., your logos, overlays, video openers, closers, and transitions. You can then use these elements when you create videos, streams, etc.
You do this under Settings → Workspace → Brand Kit (if you don't have the Enterprise plan this option won't be visible).
You then click +Image/Video to add your assets to each relevant category. This puts all your branding elements close at hand when you want to add them to your videos.
---
Conclusion
Levuro seems to target a somewhat unusual combination of users. On the one hand, it has a free plan (and inexpensive low-end paid plans), letting users sign up their whole team, no matter what plan they opt for. These lower-level plans offer a few well-formed features, with much emphasis on ease of use.
On the other hand, Levuro offers a few unique features that make them stand out from the competition. However, they restrict these to their Enterprise plan, despite many of the most obvious users being much smaller than enterprises.
Hopefully, they are keeping a close eye on their users' needs and may consider moving some of these Enterprise-only features to plans that smaller, yet highly relevant users are more likely to opt for.
The upcoming catering to TikTok (and to a lesser extent Pinterest) may be enough to change the minds of some of those currently sitting on the fence about changing to Levuro, particularly if the platform makes its live streaming and in-depth graphical capabilities available to a wider selection of customers than at present.
Rating
Features

Ease of Use

Reporting

Best for:
Small to medium-sized businesses