It can be challenging to ensure that your team meets every milestone of your marketing projects, particularly if you have multiple projects on the go. Some marketing project managers keep elaborate spreadsheets, color-coding them, and editing the grids every time a team member meets a milestone or some deadline changes. Some still rely on more manual methods, perhaps using a whiteboard and colored squares of paper. However, these can easily become unwieldy, particularly in a busy firm.
Specialist project management software can streamline the tasks that a marketing manager needs to achieve. They help you inadvertently skipping a task, which may have tremendous flow-on effects on an entire project. They also help you balance the tasks between your team members to best suit your business's overall needs. You can usually spread the necessary tasks across your team and then customize each member's workflow.
There is a surprisingly large selection of marketing project management software available. We have looked at a selection of apps and platforms that should keep your creative team organized and understanding what you require of them.
---
Top Marketing Project Management Software:
---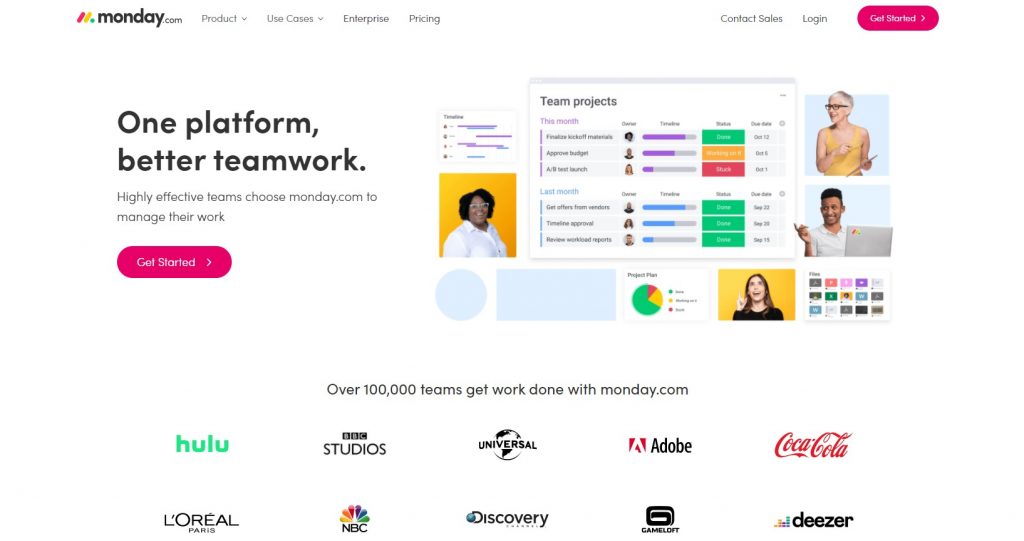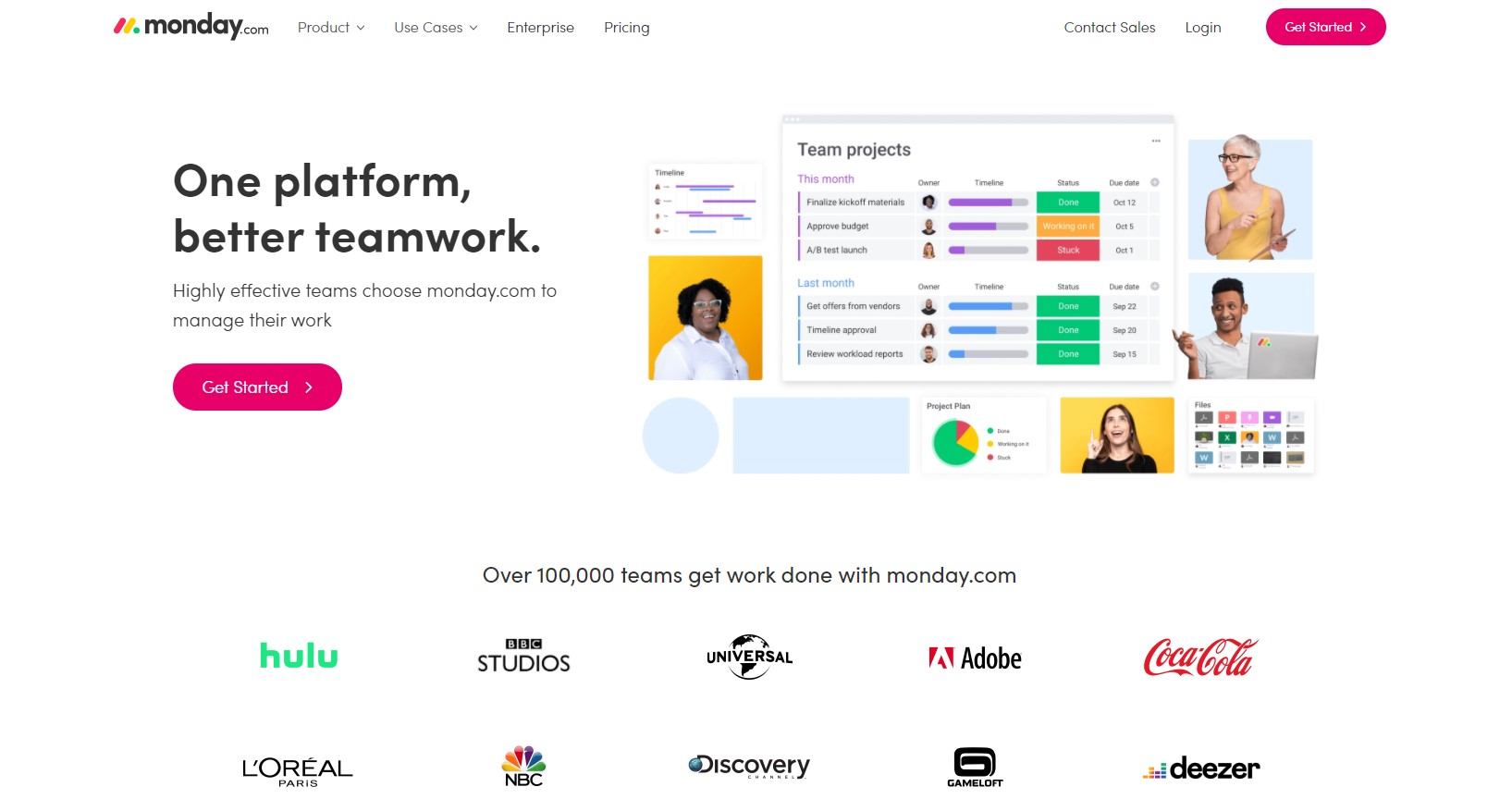 Monday.com's primary focus is on improving the efficiency and workflow of your team. You build boards that represent your workflow and then add code-free automations to them to minimize the chance of human error.
You can build as many boards as you like for any project. Monday.com includes numerous templates to give you a starting point. Boards are highly customizable, so you can quickly create a workflow to meet your exact needs, no matter your business or industry. You can easily move tasks between team members and even between boards.
A valuable part of using Monday.com is the ability to add Automations and Integrations. Automations are rules based on some action that occurs within the site. Integrations enable your Monday.com board to interact with some other software platform.
---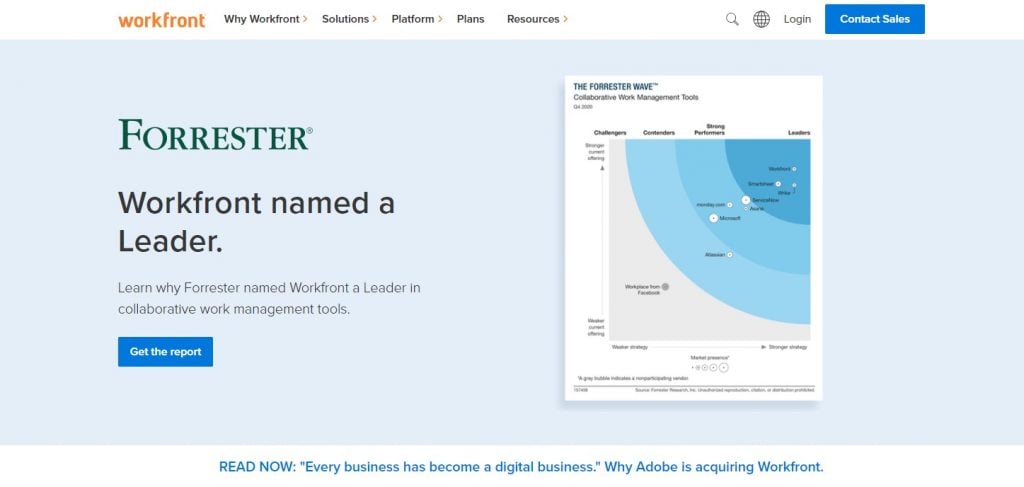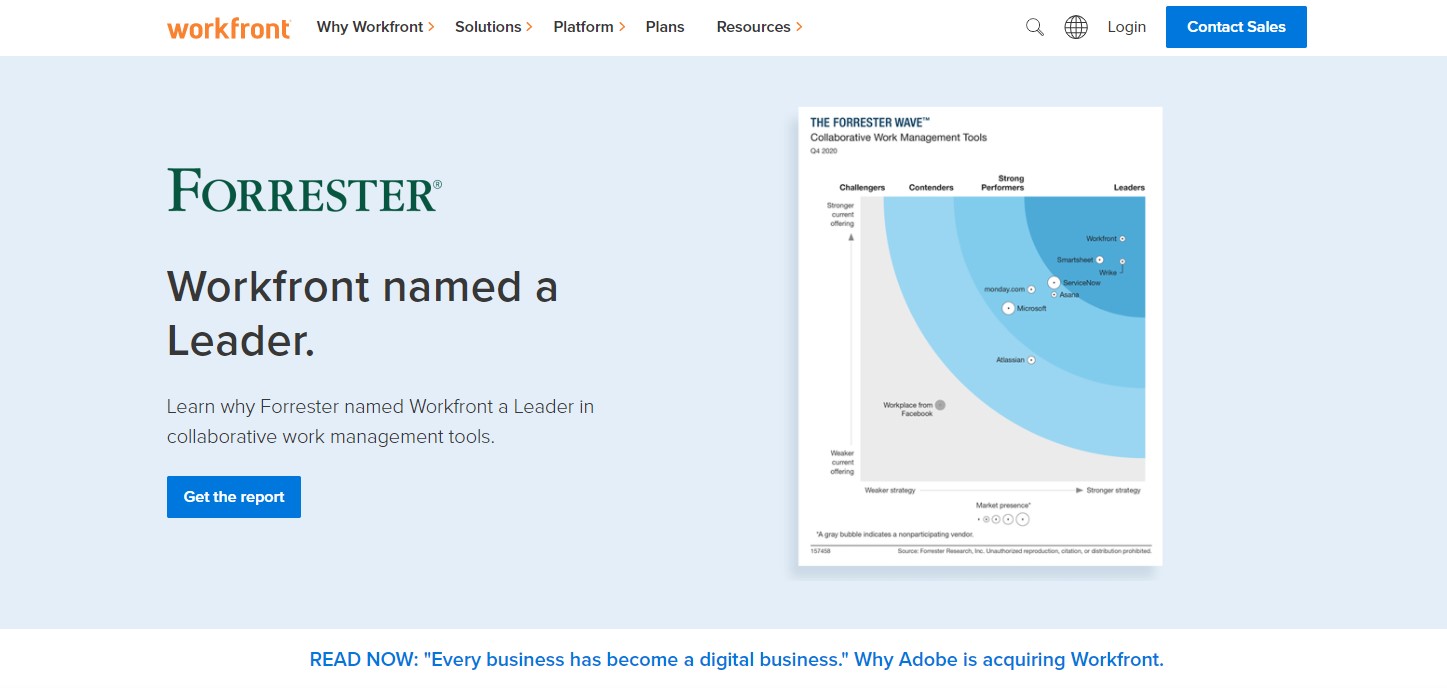 Workfront is a work management platform designed to keep companies running efficiently. You can connect strategy to work, integrate your tech stack, and facilitate digital collaboration.
You can use Workfront to keep your teams and work aligned. Custom smart forms and real-time notifications enable teams to seamlessly collaborate, no matter where they are. Your managers can strategically plan all their work using Workfront. Dashboards and reports accurately prioritize work and allocate resources for optimal work productivity. Resource management, configurable dashboards, and native integrations help you iteratively plan and optimize your team's work. Workfront aligns teams focusing on the most critical work to reduce added costs and deliver to the market faster.
Workfront integrates with top collaboration and productivity tools, e.g., G-Suite, Microsoft Outlook, Teams, and OneDrive, Slack, JIRA, Salesforce, and more. Adobe must have been impressed by Workfront's integration with their Adobe Creative Cloud because they have just announced that they are purchasing the platform.
---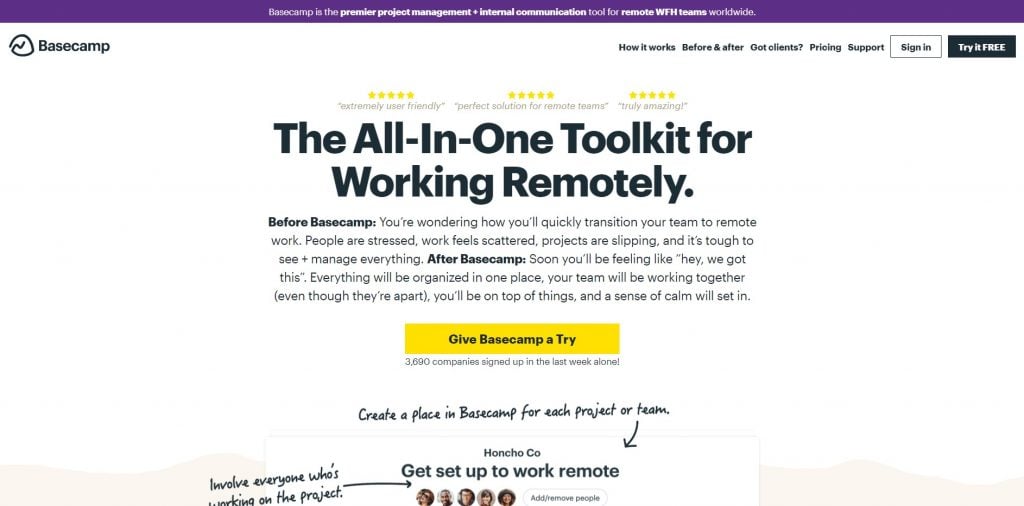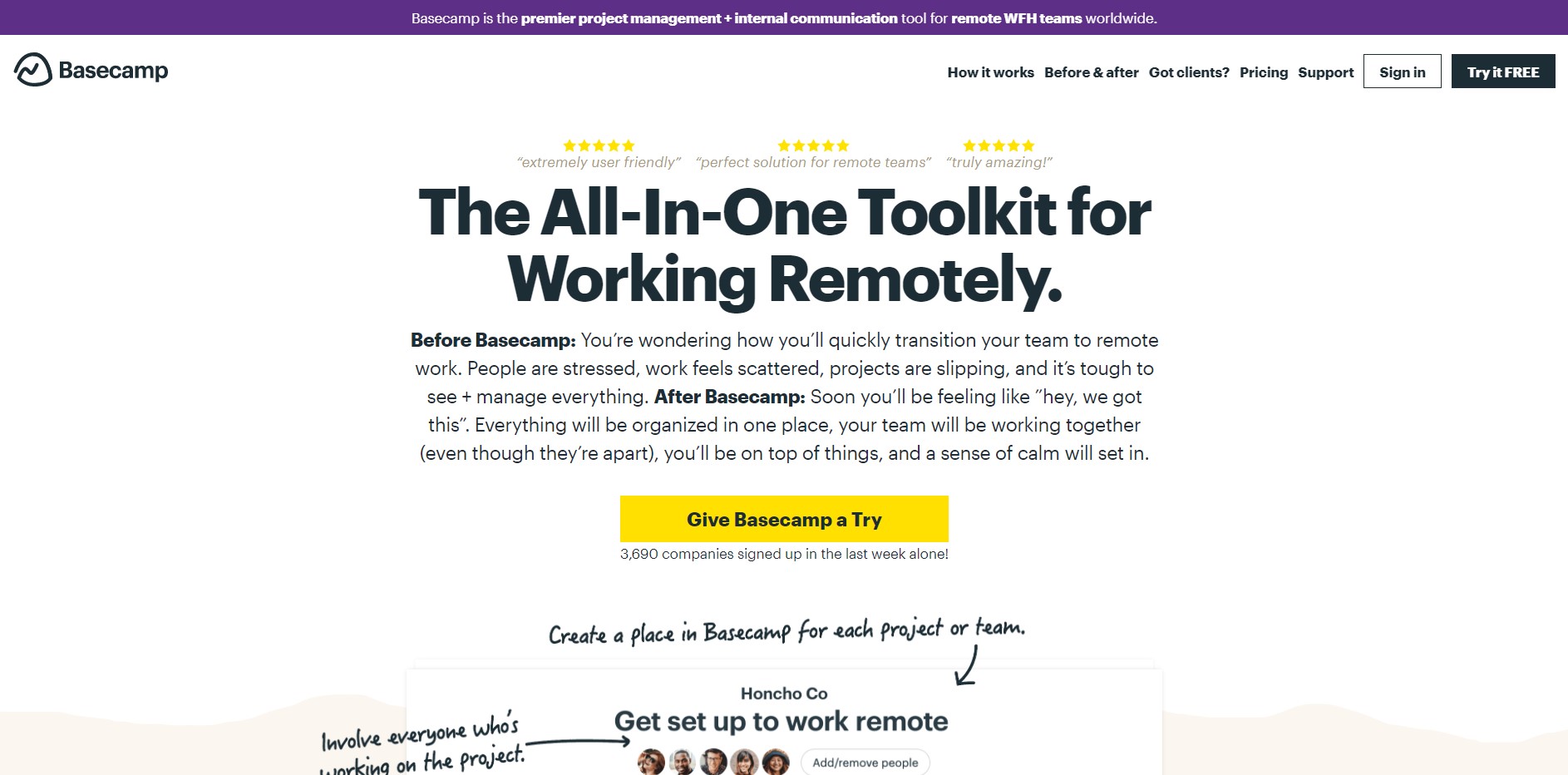 Basecamp was one of the earliest online project management platforms. It is particularly ideal for companies that choose to operate remotely.
With Basecamp, you break up your work into separate projects. Each project contains everything related to it: relevant people, every discussion, every document, file, task, important dates, etc. Any item of communication relating to that project connects to it. Each project also includes all the necessary tools your team will need: message boards, to-dos, schedules, docs, file storage, real-time group chat, and automatic check-in questions. This removes the need to use separate tools for different tasks and helps keep everything related to a project together.
You can use Basecamp to centralize your notifications, making it easy to keep on top of things and minimize interruptions.
---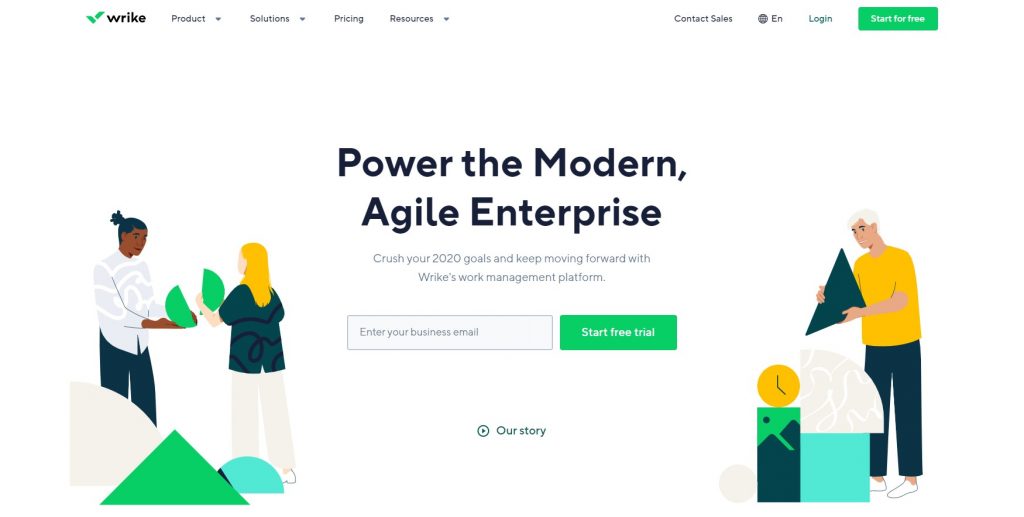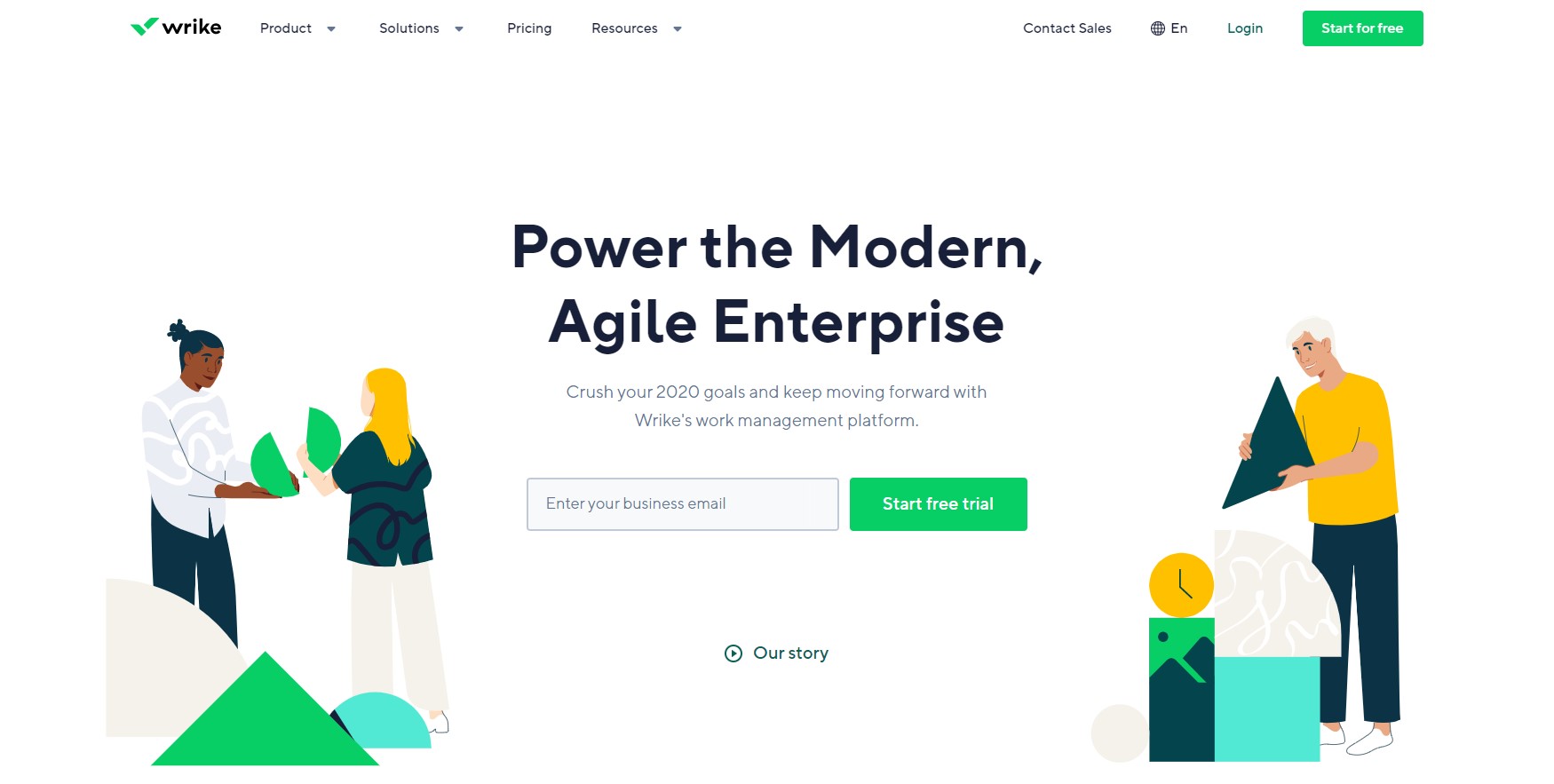 Wrike is a collaborative work management platform. They claim to increase productivity by 50% and cut down on email by 90%.
Wrike uses a customizable workspace that you can adjust to ensure that you get started with your highest priorities each day. It features customizable dashboards, shared calendars, and multiple ways to organize information.
Wrike makes it easy to collaborate with your team. You can collaborate on tasks and projects together with live editing. It features built-in approval and editing features, useful if you have a team of writers producing marketing content for you.
Wrike Analyze gives you the insights you need with visual, dynamic reports you can easily share with your stakeholders.
Wrike Integrate lets you connect Wrike to as many apps as you need, better enabling you to sync data and fully automate your workflows. It features more than 400 pre-built connectors to cloud and on-premises enterprise applications. You can connect Wrike to thousands more using universal connectors to apps with accessible APIs.
---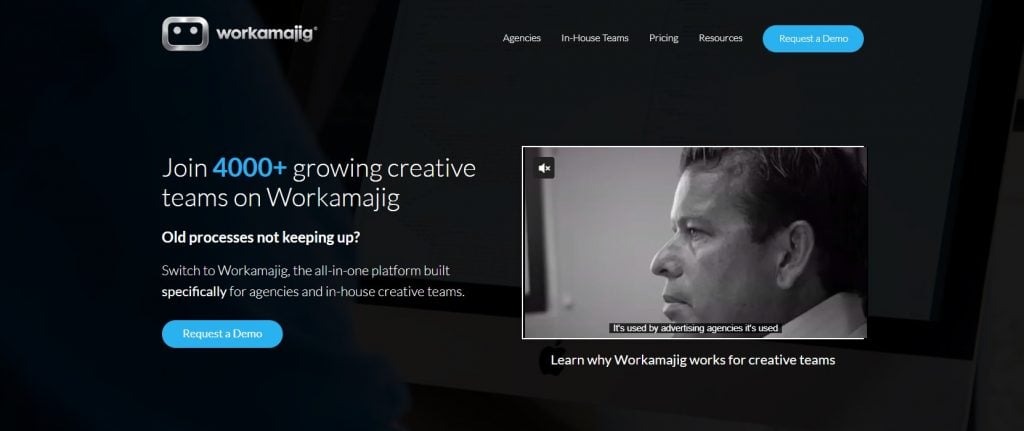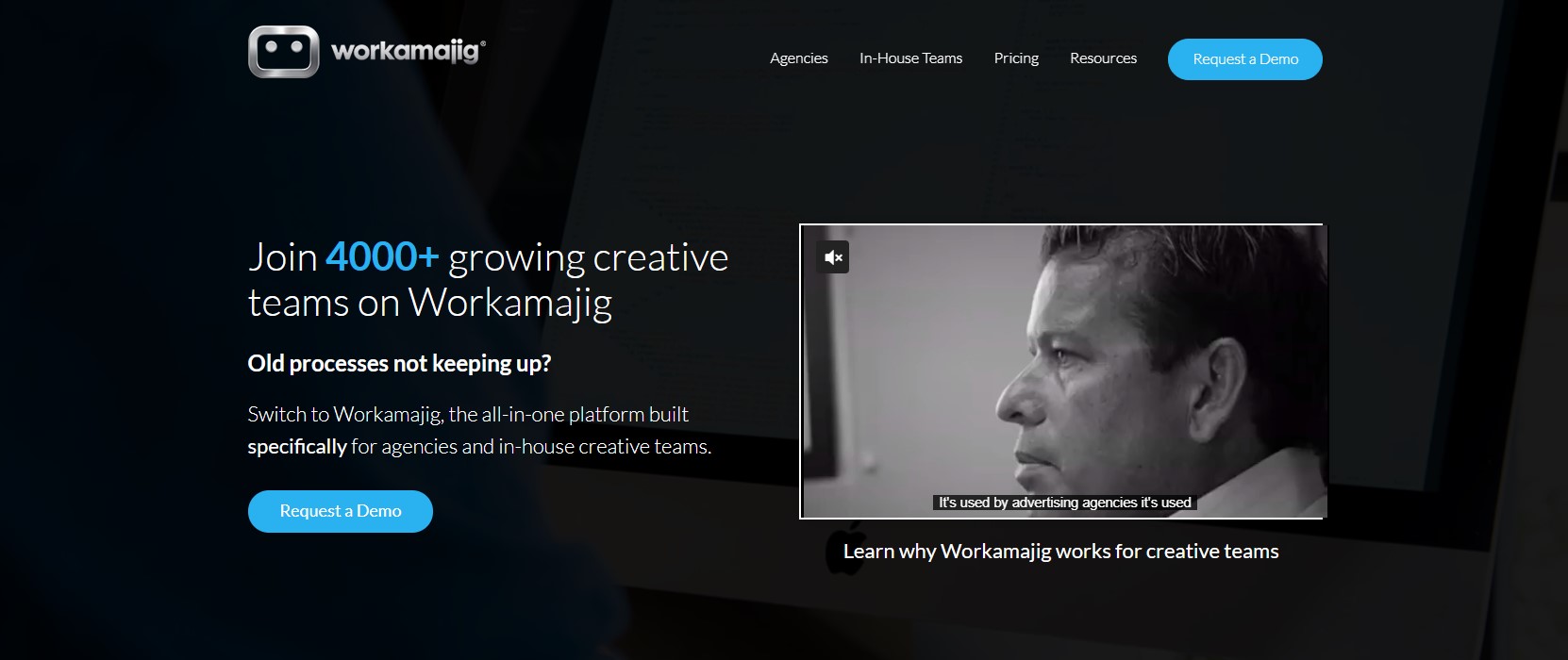 Workamajig is an all-in-one platform built specifically for agencies and in-house creative teams. It features everything creative teams need, including project management, sales CRM, time tracking, resource scheduling, client billing, finance, and reporting. All of this is stored in one place.
Workamajig efficiently manages projects end-to-end. All billable time is captured and invoiced, so staff are accountable for tasks and budgets.
Workamajig enables creative teams to say goodbye to fragmented, flavor-of-the-month project management tools, and finally, get everything in one place – discussions, approval flows, briefs, tasks, calendars, reports, and more. It features an intuitive interface that works on any device, from any location, along with real-time dashboards that provide deep insight into KPIs, projects, budgets, and expenses.
---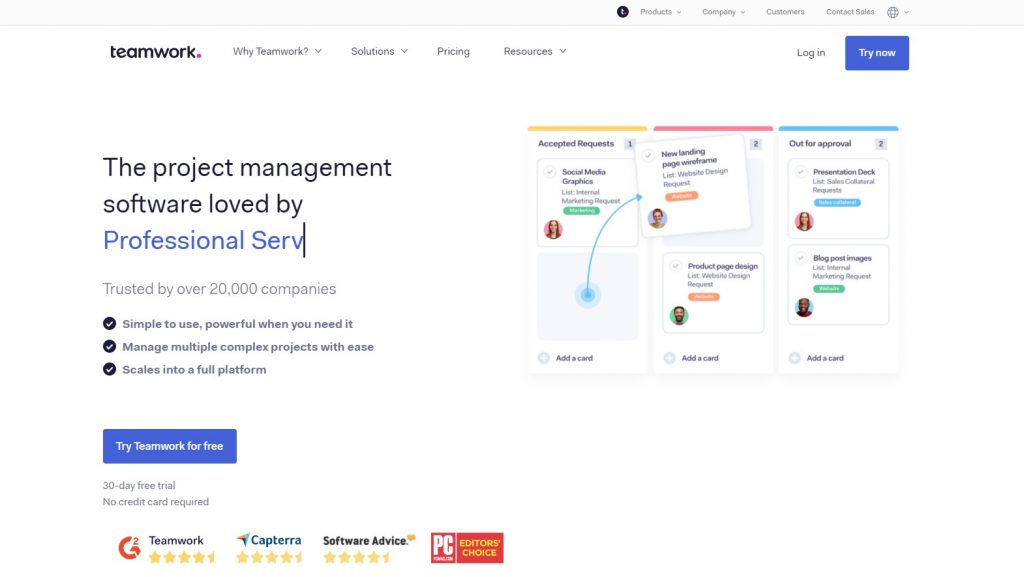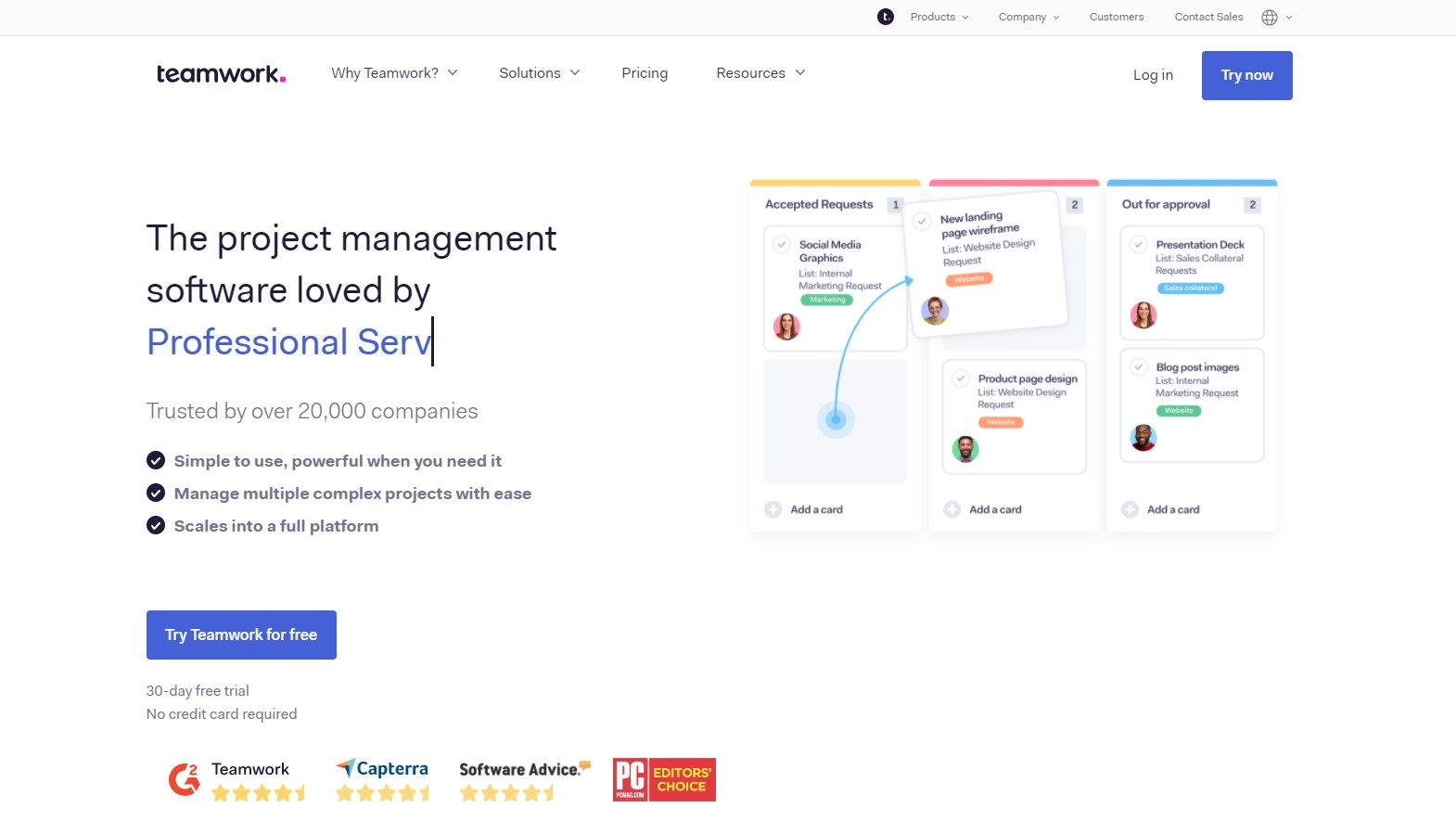 Teamwork is project management software trusted by over 20,000 companies. You can use it to manage multiple complex projects with ease. It scales into a full platform.
The software contains all the project management essentials you need. You can easily create tasks and projects, upload files, and add comments. Teamwork keeps everything in one central location. It has all the advanced features you need as you scale: Gantt charts, board view, Portfolio management, time tracking, reporting dashboards, workload management, and many more.
---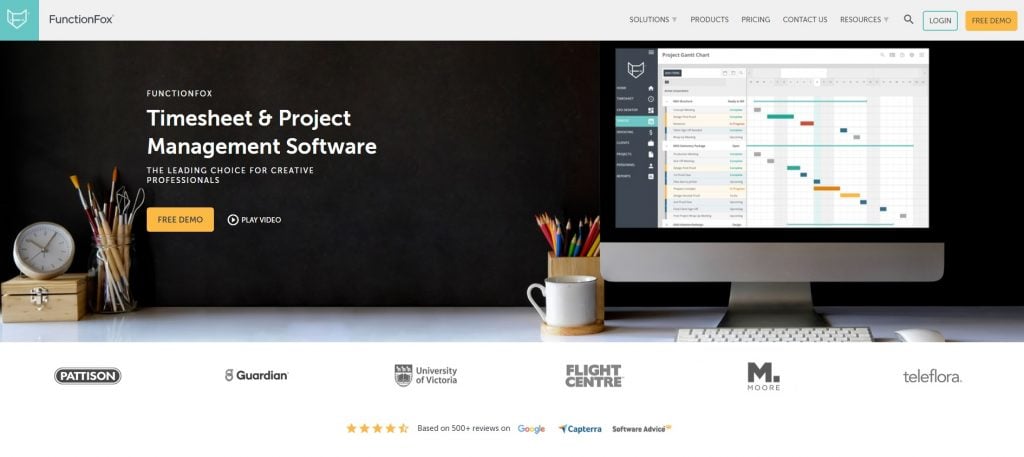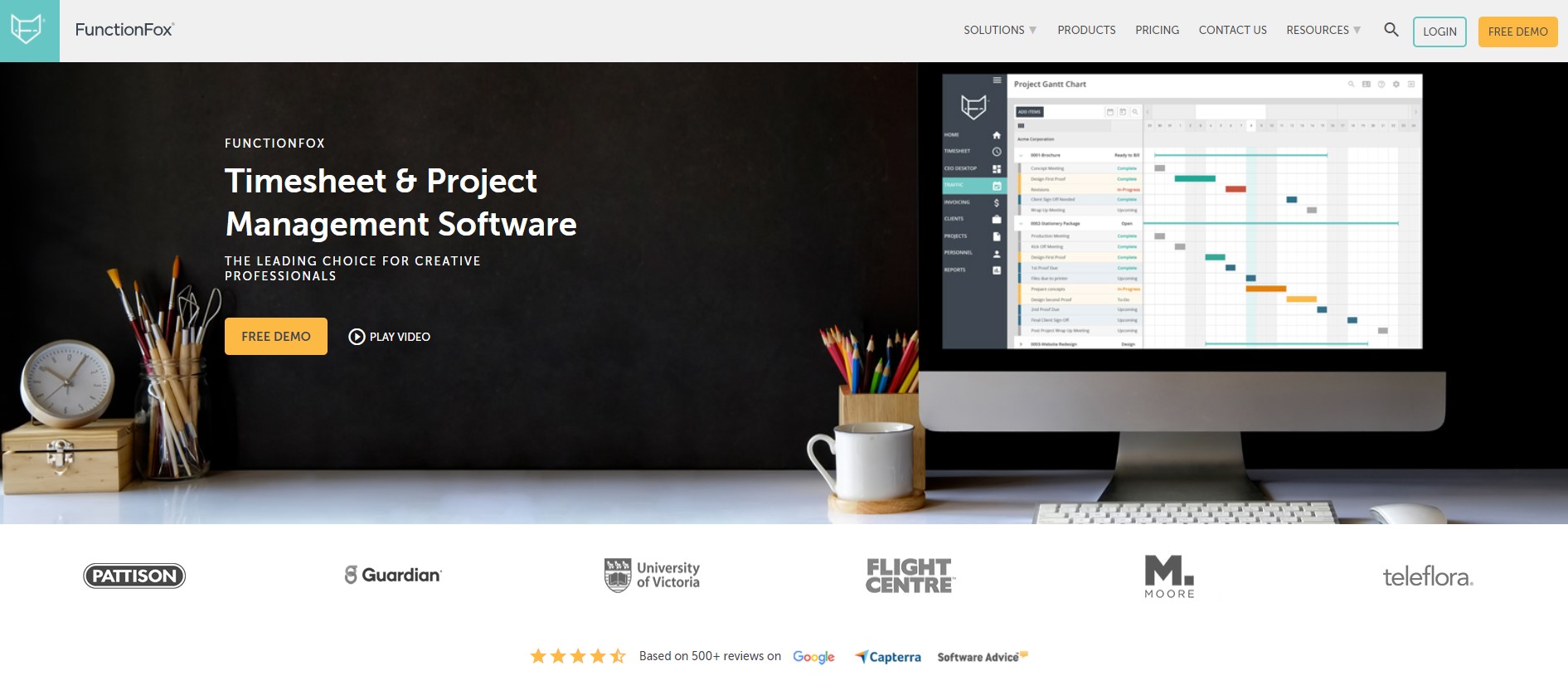 Whether you're looking to streamline internal planning, keep multiple projects on track, forecast workloads, reduce communication breakdowns, or stay on top of deadlines, FunctionFox has the platform and features to help your business succeed.
It comes in three versions: Classic (timesheets and project tracking), Premier (advanced project management), and In-House (targeting in-house creative teams). Premier includes everything in Classic, and In-House incorporates everything in Premier.
FunctionFox Classic focuses on simple time and expense tracking. It's simple to set up and extremely easy to use. You can track projects and expenses online and get real-time updates whenever you need them. It also features powerful, real-time reporting, interactive charts, and CEO Desktop.
FunctionFox Premier adds project schedules and Gantt Charts. Interactive Gantt charts, production schedules, project email alerts, and progress reports help you keep everything on track. Task and action assignments let you know who can take on more work, who is working flat out already, and which projects need extra resources. Internal project blogs to keep everything in one place and everyone on the same page.
In-House adds online request forms, advanced forms, and additional project management capabilities.
---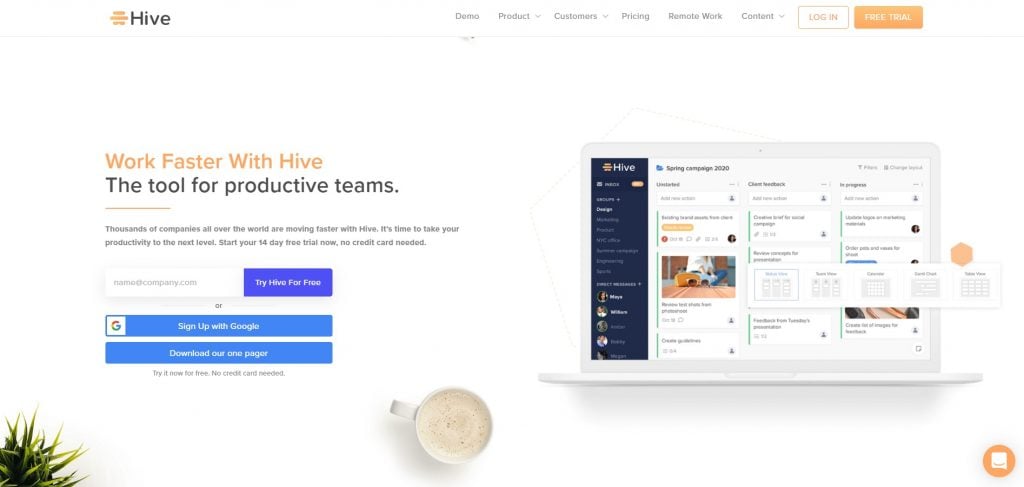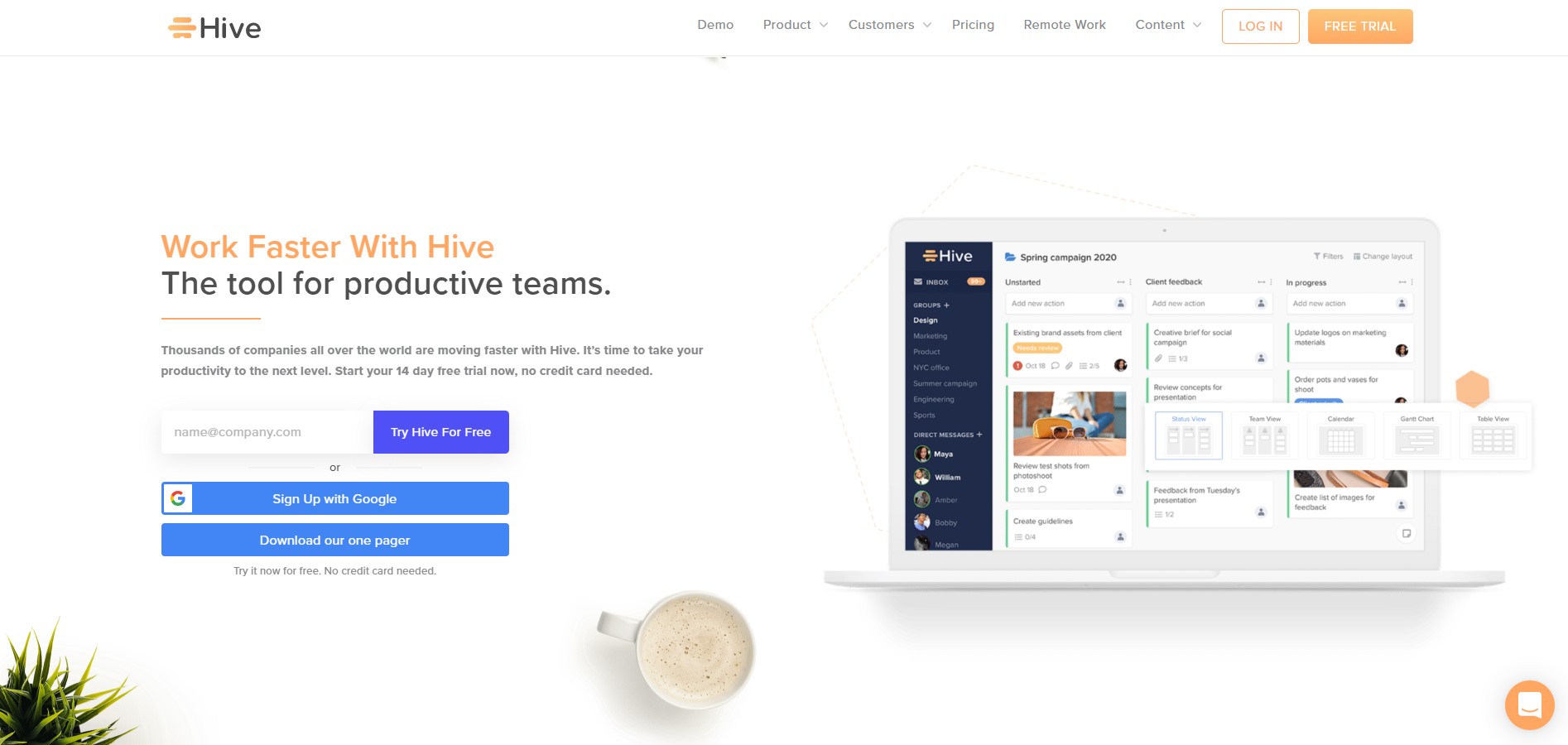 Hive offers a centralized platform where your team can plan projects, track work, and execute flawless campaigns. It features multiple project views, including Kanban, Gantt, portfolio, calendar, table, and summary view. You can easily customize the platform to meet the needs of your team.
You can view all actions assigned to you in one simple list, called My Actions. You can break actions out by project and separate out current, future, completed, and "assigned by me" tasks.
Hive includes numerous forms and templates. You can use the forms to gather and parse data and the templates to create repeatable tasks and projects that you intend to duplicate in the future.
It includes seamless automation. You can create buttons that trigger the completion of a workflow, for example, moving a card to a different project, changing an assignee, adding labels, subactions, or even applying a template.
Hive Mail integrates your Gmail and Outlook inboxes into a centralized Hive inbox. You can also chat internally, using Hive Chat, or integrate your existing Slack channels.
---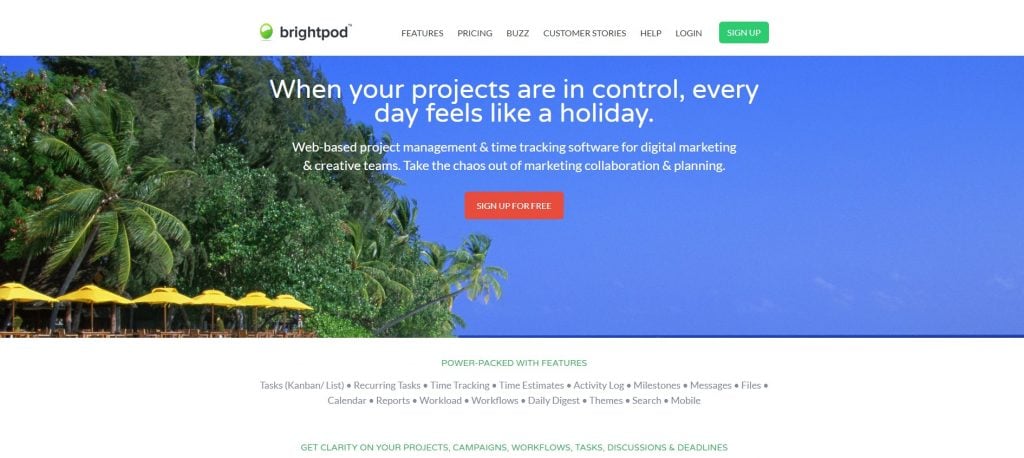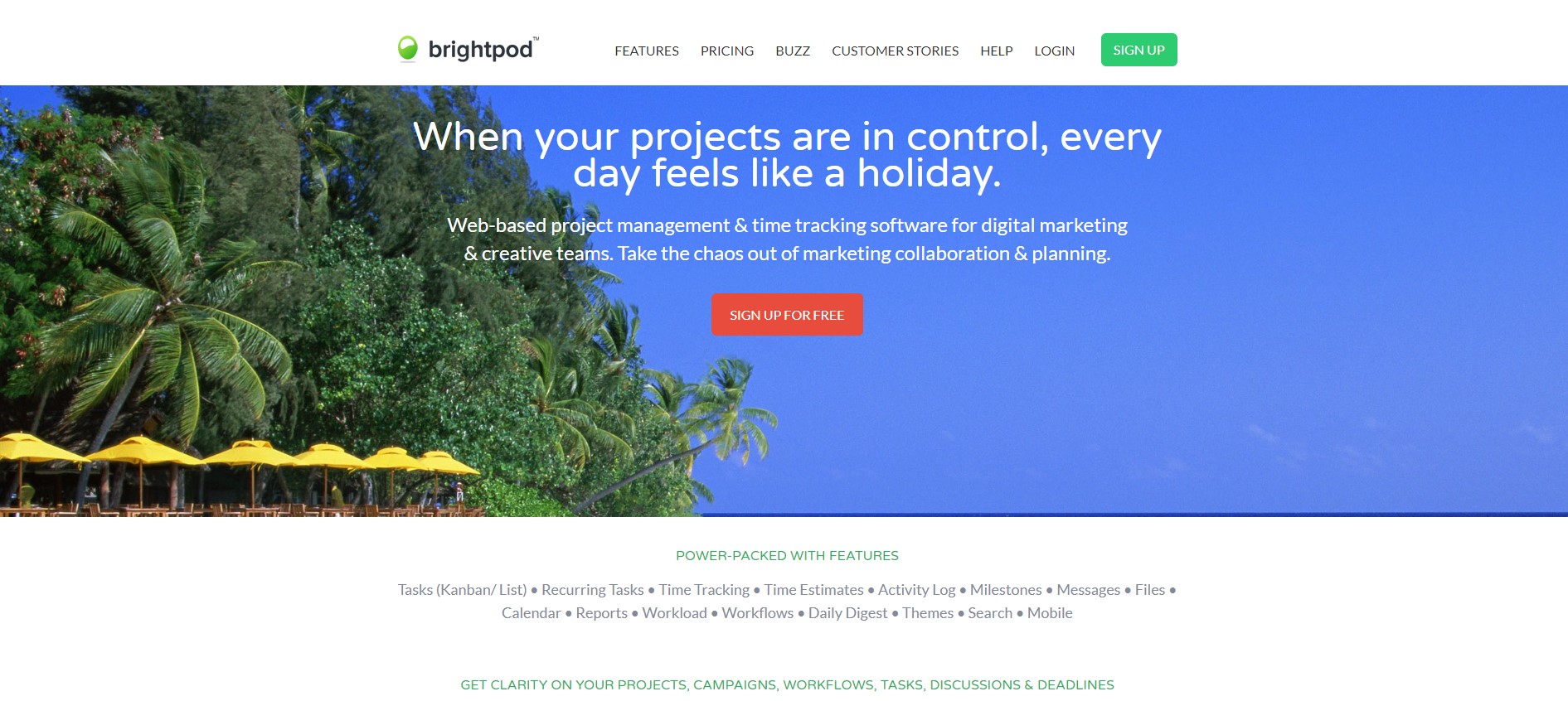 Brightpod describes itself as being web-based project management and time tracking software for digital marketing and creative teams. You can use it to organize, manage, and track all your SEO, social media, blog strategy, and content marketing projects from one place to save time. You will always know what's going on and the current status of your projects.
Brightpod also helps you get on top of your social media and blogging calendar. With it, you can see everyone's tasks, content, publish dates, and events on a shared calendar. It also makes it simple to track deadlines and recurring tasks, such as recurring ads, campaigns, email newsletters, etc.
The app is 100% cloud, with nothing to download. It integrates with Harvest Time Tracking, Google Drive, Dropbox, and Box, with more integrations to come.
---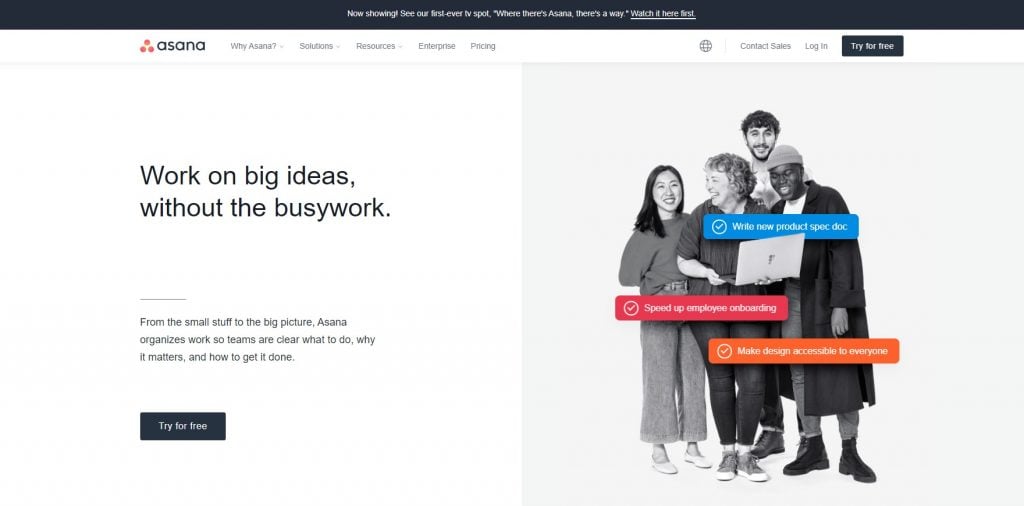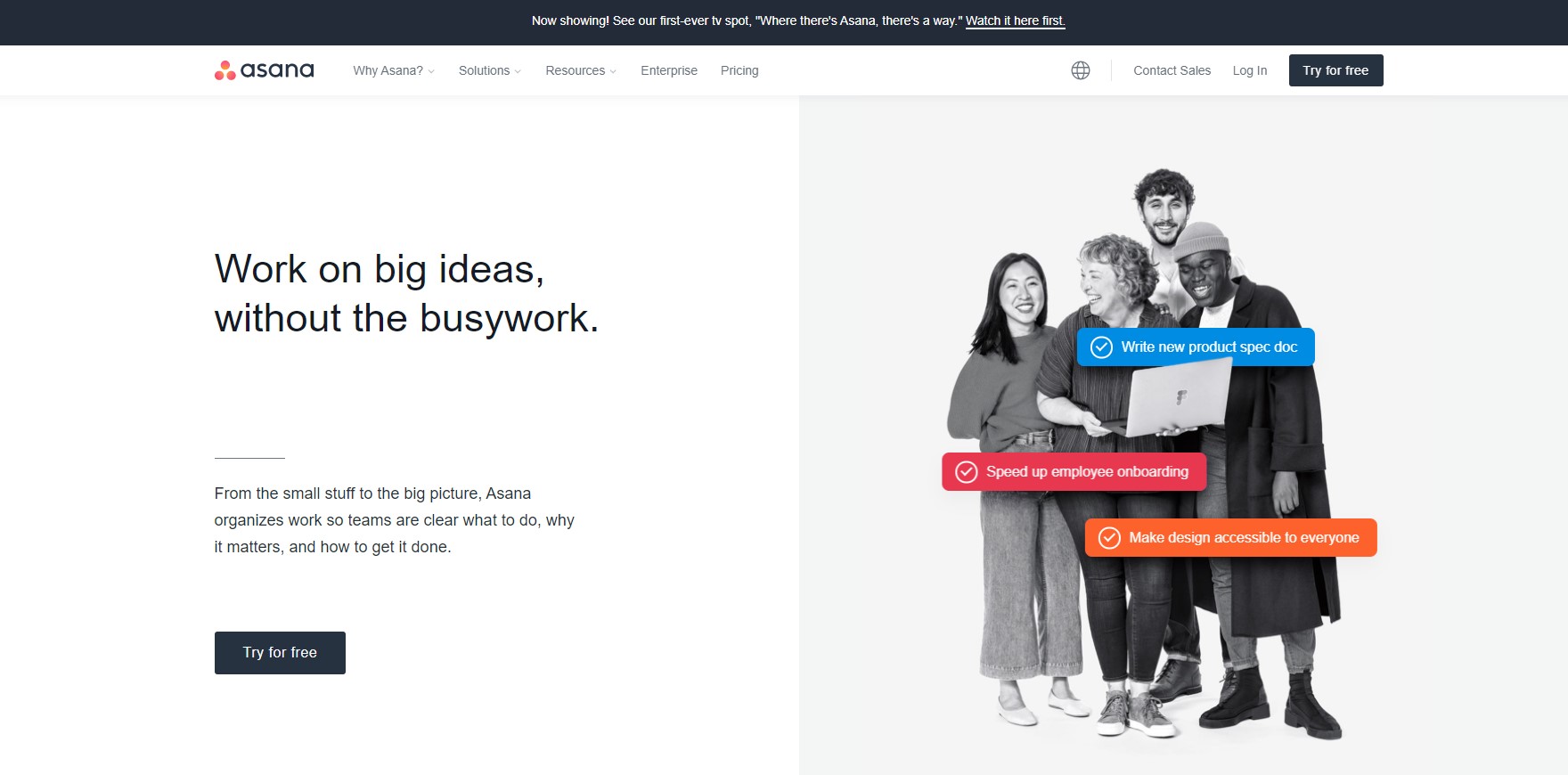 Asana is project management software to help you stay in sync, hit deadlines, and reach your goals. You can use it to map out each step and organize all the details of your work in one place.
Asana features a dashboard that gives an overview of your tasks, conversations, calendar, progress, and relevant files. It includes an overview of all your team's projects. You can gain more details on any project simply by clicking on the project's name. Projects allow you to organize all of the tasks related to a specific initiative, goal, or big piece of work into a list or board.
You can use Asana's project views to sort and filter your list of tasks, view tasks with due dates on a Calendar, or filter for only attachments. If there is a specific way you and your team prefer to sort tasks in a project, you can save it as the default view for everyone. Asana provides a variety of ways to sort and filter your list of tasks. Some people like to manually set the order, while others want tasks to be automatically sorted by a characteristic like due date or assignee.
An essential view in Asana is Boards. Boards let you organize your work like sticky notes, and you can move them across sections.
---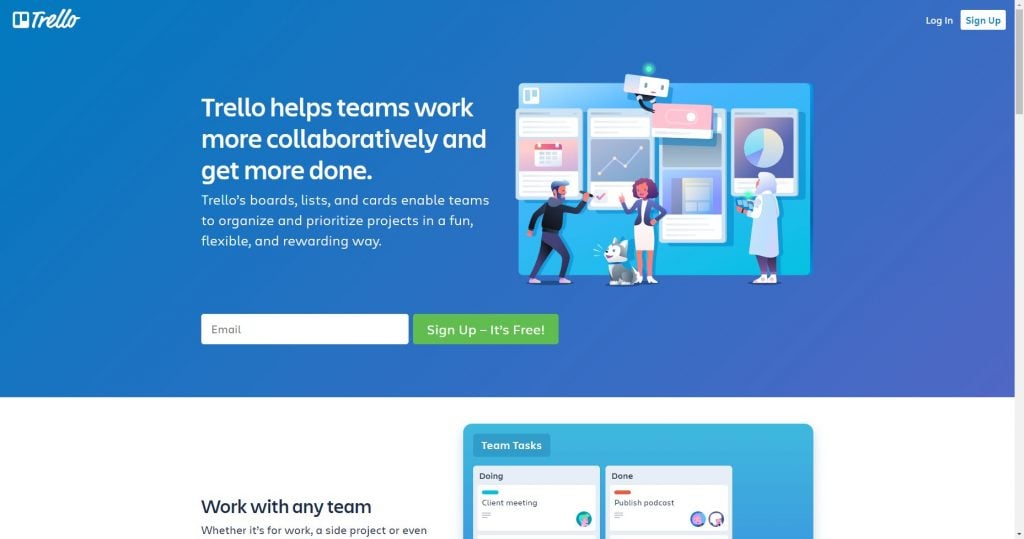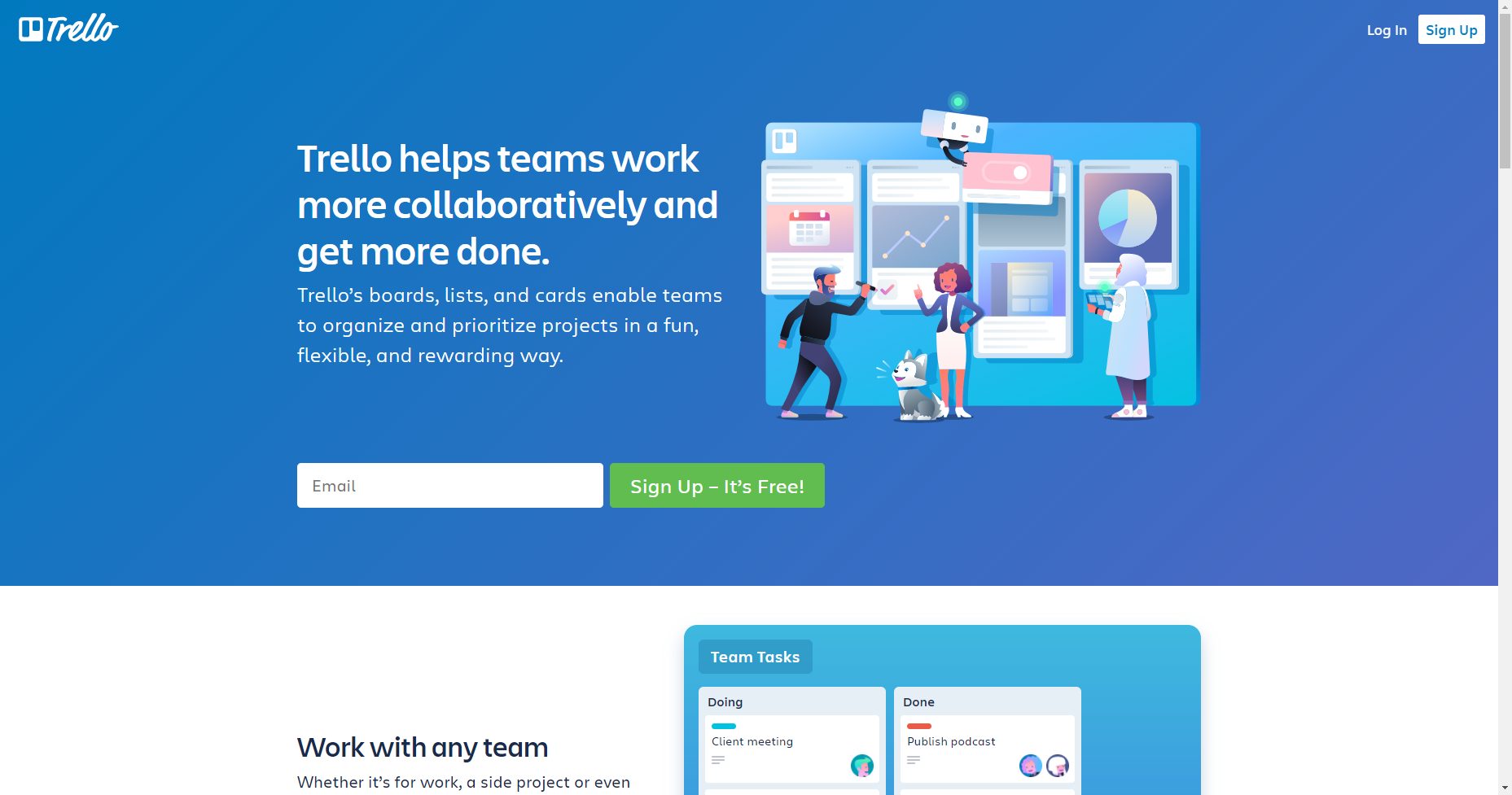 You can use Trello as a collaboration tool to organize your projects. You split your projects into boards. It is easiest to visualize Trello like a giant electronic whiteboard with lists of sticky notes, albeit a whiteboard you can stick in your pocket if you're using the mobile Trello app. Although different firms use Trello differently, you can think of each column (list) on your board as representing a significant milestone. You then create a series of cards on each list, representing the specific tasks you need to perform to reach each milestone. Trello's boards, lists, and cards enable teams to organize and prioritize projects easily.
You can add comments, attachments, due dates, and more directly to Trello cards. Trello includes automation with Butler. You can use Butler to remove tedious tasks from your to-do lists with rule-based triggers, custom cards & board buttons, calendar commands, and due date commands.