Advertising Disclosure
Advertising disclosure:
Our partners compensate us. This may influence which products or services we review (also where and how those products appear on the site), this in no way affects our recommendations or the advice we offer. Our reviews are based on years of experience and countless hours of research. Our partners cannot pay us to guarantee favorable reviews of their products or services.
In 2023, the worldwide eCommerce market is anticipated to attain $6.3 trillion and exhibit persistent growth in the upcoming years, highlighting the fact that online shopping has transformed into a progressively profitable choice for businesses across all industries.
Retail eCommerce sales are expected to stay on an upward trajectory in the coming years. In 2021, worldwide sales were over $5.2 trillion, which also grew the next year, when global sales hit $5.7 trillion. It's predicted that by 2026, global retail eCommerce sales will grow to more than $8 trillion.
---
Your Guide to Marketplace Intelligence:
---
The Growth of Digital Marketplaces
We saw the unprecedented growth of digital commerce in 2022. The global e-commerce market witnessed a sales volume of $5.5 trillion in 2022, out of which the top 100 marketplaces accounted for 63% of the online sales. It is projected that the proportion of online sales through marketplaces will keep increasing and will touch $8.8 trillion by 2025.
In 2022, the leading online marketplaces achieved a sales volume of $3.25 trillion, with third-party sales on platforms such as Alibaba, Amazon.com Inc., and eBay Inc. accounting for 77.5% of the total gross merchandise value among the Top 100 companies listed in the 2023 Online Marketplaces Database.
---
What Is Marketplace Intelligence?
Marketplace intelligence is how you collect and make use of data from different marketplaces, such as Amazon and eBay, and using those insights to get a bigger picture of the competition as well as get insights into your operations to optimize overall performance. Vital components that you can monitor with marketplace intelligence include SEO, paid advertising, and product experience.
Additionally, marketplace intelligence takes stock of customer feedback, lets you conduct competitive analysis, and helps you improve product and service development.
---
Tools to Boost Your Marketplace Intelligence
eCommerce marketplace management tools simplify the way you do business. They can give you insights, by way of reports and analytics, into your online store's performance, which can help you improve its management. Furthermore, such tools are scalable, so you can continue to use them even as you expand your operations or offerings.
Additionally, marketplace management tools can help you improve your marketing strategy, manage different marketplaces, streamline operations, and optimize your products and campaigns. Such tools also offer solutions for marketplace intelligence. Some platforms are designed as end-to-end solutions that offer transparency through comprehensive data and insights, as well as audits. Others may offer a robust marketplace intelligence management system that includes assessments for total market sizing, pricing intelligence, channel compliance, and competitor intelligence.
Not all marketplace management solutions are made the same. Your business goals and needs play a major role in determining which tool you'll end up choosing. Factors, such as ease of use, customer support, compatibility with existing software, and budget, can also influence your decision. Finding the best marketplace management solution can be tricky, so with that in mind, we're sharing three of our recommended tools.
Top
marketplace intelligence
2024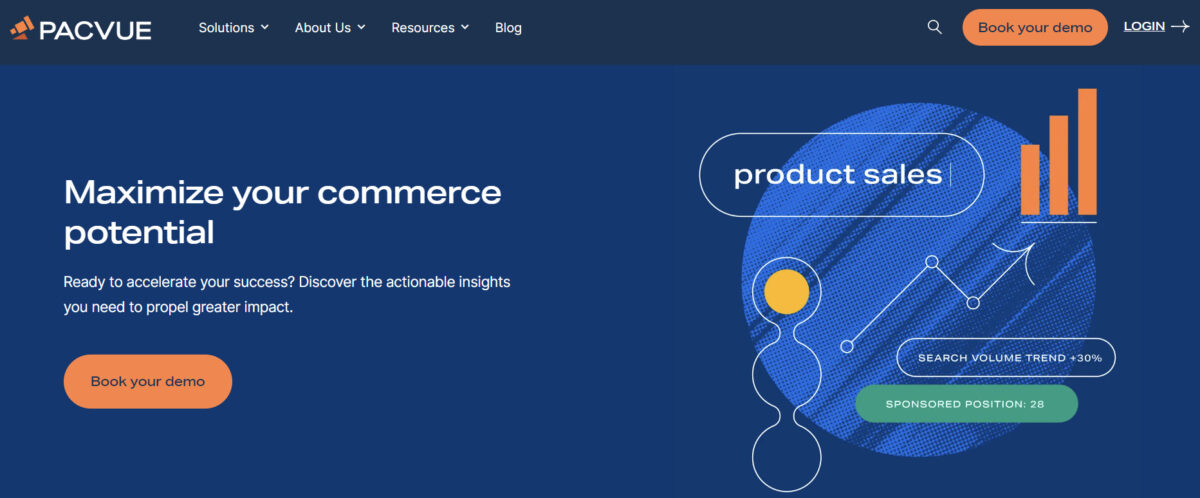 Pacvue is an enterprise software solution that's designed to help eCommerce businesses succeed by optimizing marketplace advertising, sales, and intelligence for marketplaces like Amazon, Walmart, and eBay.
It leverages algorithmic management and AI automation, giving businesses a better way to control and chart their growth. It's a holistic solution that's capable of helping brands and sellers improve their campaign performance, optimize digital shelves, discover different opportunities across various digital marketplaces, grow their market share through increased share of voice and competitive intelligence and benchmarking, and enjoy easily accessible comprehensive and customized reports.
Pacvue enables eCommerce businesses to identify and leverage critical business opportunities. It also gives users access to retail media campaign management across various marketplaces. This particular feature utilizes retail analytics intelligence, empowering you to make more informed business decisions.
It's also equipped with Competitive Intelligence capabilities, which allow brands to create more strategic pricing for their goods or services and help them monitor shelf gains and losses. When it comes to digital shelf optimization for enhanced eCommerce presence, Pacvue lets you create optimized content for product pages, monitor inventory levels and health, and access intelligent pricing features—all of which are designed to help you drive increased sales from different digital marketplaces.
Some of Pacvue's other notable features include:
DSP Automation
Campaign Recommendations
AI Automation
Category Intelligence
Sales Forecasting
Profit and Price Calculation
Bulk Optimizations
---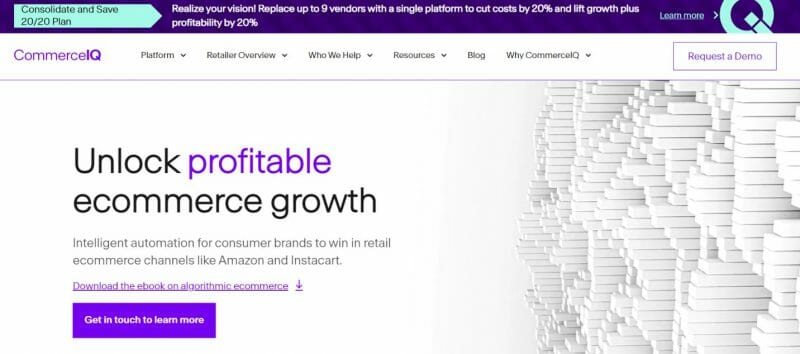 CommerceIQ enables intelligent automation for consumer brands who want to succeed in major digital marketplaces like Amazon and Instacart. It applies machine learning and automation to help brands gain more profitable market shares.
The platform has digital shelf analytics capabilities, giving businesses access to real-time and AI-driven digital shelf intelligence for marketplaces like Amazon and more than 400 other retailers. It also has other features that let you monitor share of voice, track sales trends and performance, optimize promotions, and get insights on customer ratings and reviews.
---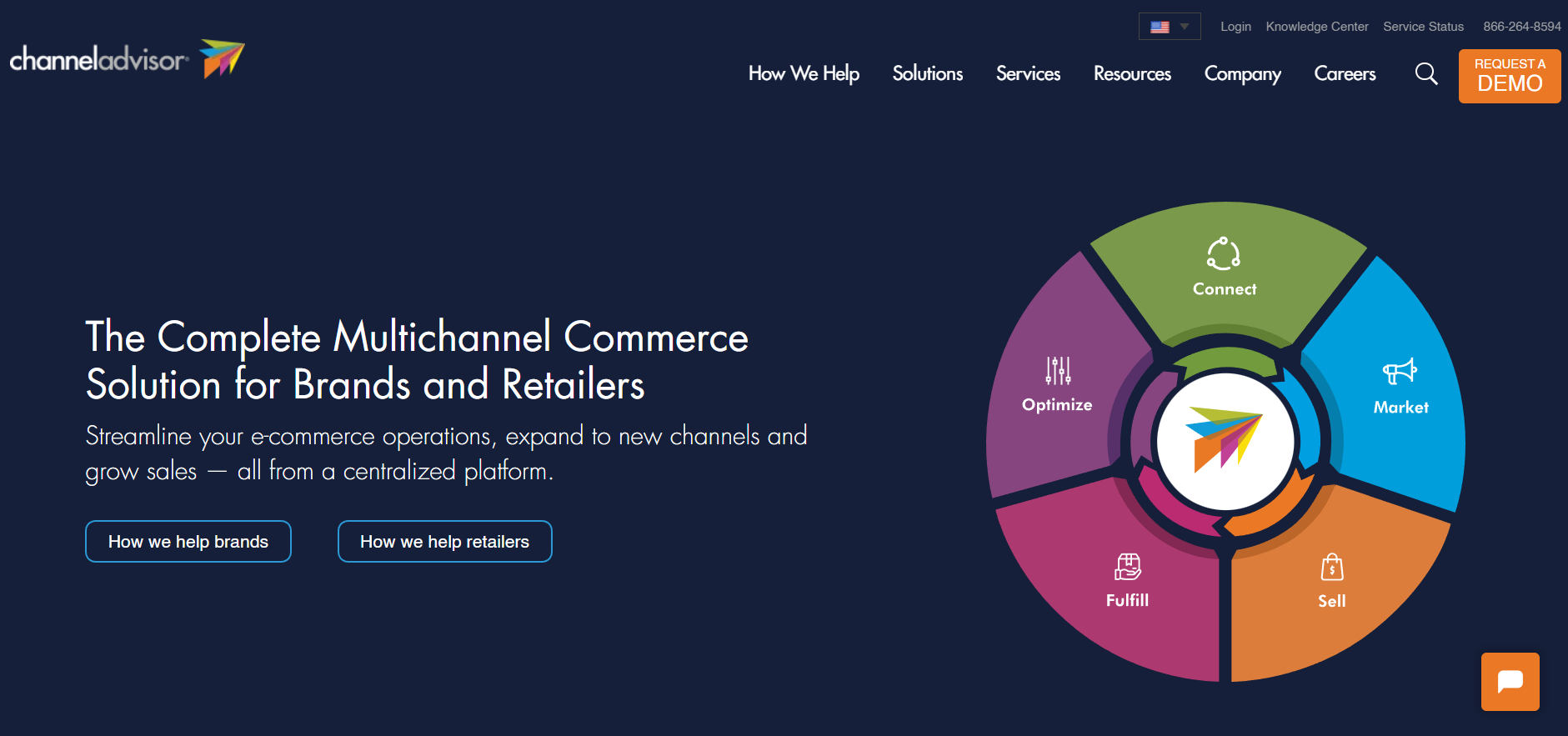 ChannelAdvisor is a multichannel commerce platform that gives users access to a powerful Marketplaces, Webstores, and First-Party Channels solution. It helps brands discover new customers based on their shopping behavior, improve brand visibility through competitive intelligence and strategic repricing capabilities, uncover growth opportunities through comprehensive reports and analytics, and optimize product content, thus allowing you to tailor them according to each marketplace's requirements.
The platform also gives users access to its Retail Media capabilities designed to boost product visibility and enhance advertising campaigns using sales data from your brand's marketplace listings. It also drives ad spend effectiveness through keyword bidding and automation capabilities. Lastly, this feature lets you access a single interface where you can manage all your retail site advertising for Amazon, eBay, and Walmart.
---
---
The Benefits of Marketplace Intelligence for eCommerce Businesses
You can leverage marketplace intelligence to improve the performance of your campaigns on different digital marketplaces, automate redundant daily tasks, and optimize your digital shelf for better organic visibility and to drive more sales. You can even use it to uncover trends and growth opportunities on different channels. Furthermore, it's a crucial practice that allows you to create a sounder business strategy, taking into consideration your competition and various marketplace opportunities for growth.
Marketplace intelligence covers all components of your product detail pages, including ad intelligence, pricing intelligence, performance tracking, and product content and quality. Moreover, you can use marketplace intelligence to penetrate new markets for expansion, nurture growth within your niche, reduce potential risks, and create a better brand image and reputation.
Marketplace intelligence can improve digital shelf visibility, allowing you to get a granular view of your digital shelf throughout a buyer's journey. You can access enhanced product and pricing visibility across various details, including size and SKU. You can also gain visibility on different ad types and get insights into product and content performance i.e., how well they're selling and how well they're ranking.
When combined with product intelligence and search intelligence, you get unified marketplace intelligence, which can help you create more informed business decisions, improve your share of voice, and implement MAP compliance.
---
Growth in Today's Digital Marketplaces
We've already established that marketplace intelligence is vital for business growth. Aside from embracing marketplace intelligence and using marketplace management tools, what other strategies can you consider to stay competitive in today's ever-evolving eCommerce landscape?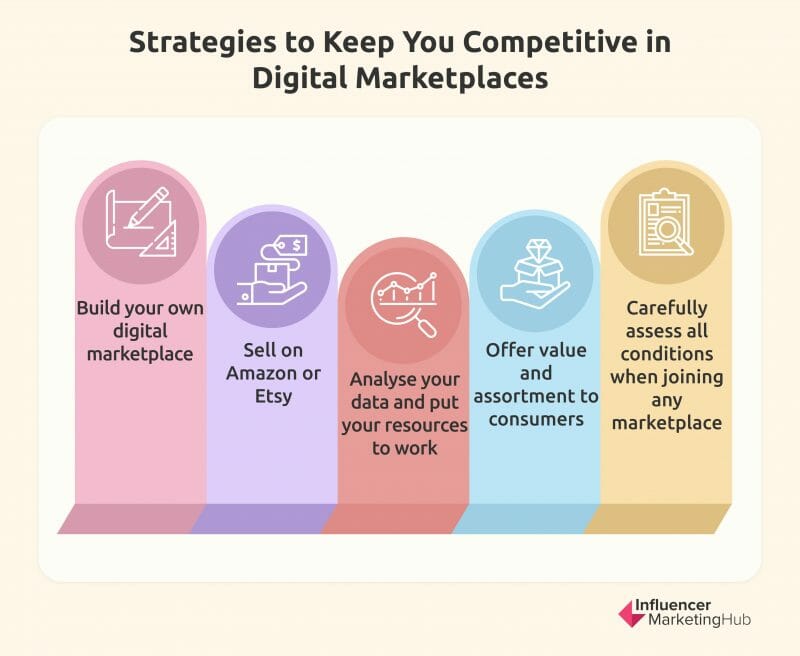 Consider building your own digital marketplace if you haven't already yet. Prior to jumping the gun, you need to think about how you will be curating your marketplace. What goods or services in what niches will you be accepting? How can your marketplace benefit sellers? How will it affect your business's existing processes? Also, think about how expanding to a marketplace may affect your relationships with your stakeholders and customers.

For smaller brands looking to expand operations, you can consider selling on marketplaces like Etsy or Amazon first before creating your own marketplace. One of the biggest challenges small brands face is damage to their reputation. Make sure that you have enough supply, so you can meet potential surges in demand, especially if you're planning on expanding your reach on a global scale. Also, considering that you'll most likely be up against other players, how can you protect your price point while staying competitive and raking in ROI?

Make the most out of your data and put your resources to work. Find out what shoppers want, and study search and traffic trends. Is your marketplace capable of addressing your customer's pain points? What about your sellers—are they exhibiting strong performance, or are they failing to meet you and your customers' expectations?

When you decide to join a marketplace, you need to be ready to offer not only value but also assortment to consumers. This means you have to be very careful and selective when it comes to what products or services you will be offering for a particular marketplace.

When participating in a marketplace, you may encounter trade-offs when it comes to crucial aspects like pricing, marketing, and fulfillment. For example, some smaller marketplaces may let you have full control over your pricing. However, bigger players like Amazon may leave you with less control. Are you ready and equipped to handle such trade-offs should you encounter them in the future? Make sure that you carefully assess these conditions before joining any marketplace.
Frequently Asked Questions
How can marketplace intelligence help my business?
Marketplace intelligence uses data to give you better visibility into aspects like third-party sellers, digital shelves across digital marketplaces, and customer touchpoints at different stages. It promotes better brand consistency and visibility, lets you access competitive intelligence, and enables improved compliance.
What solutions can I use to boost marketplace intelligence?
One of the best ways to tap into marketplace intelligence is through marketplace management tools like Pacvue, which offers robust end-to-end solutions for marketplace advertising, sales, and intelligence.
What are some of the most popular marketplaces for eCommerce?
Here are the top 10 online marketplaces in the world in 2023:
Amazon
eBay
Etsy
Shopify
Alibaba
Rakuten
Wish
Newegg Marketplace
Walmart Marketplace
Given their immense scale, you may be facing some stiff competition. This is where marketplace intelligence comes in. It can help you optimize your product content, from titles and descriptions to categories, come up with more strategic pricing, and enhance your digital advertising strategies.
How can marketplaces benefit my business?
Whether you're building your own marketplace or looking into selling your products in one, digital marketplaces offer plenty of opportunity for growth. Many digital marketplaces have lowered their barriers to entry (or removed them altogether), making it easier for brands to start selling. In addition to that, these marketplaces already have an established customer base. This means you won't necessarily have to start from scratch to look for customers.
You can also promote special events and offers, which can help you attract new customers and strengthen the loyalty of existing ones. Perhaps one of the biggest advantages of digital marketplaces is that they offer a more streamlined way for you to do business. Marketplace operators can take care of operations-related tasks like warehousing and payment collection, as well as provide after-sales customer support. Lastly, many major marketplaces operate on a global scale, which essentially opens up your brand to a wider audience.