For a long time, most people accessed the internet via computer. Indeed it wasn't until November 2016 that mobile internet usage exceeded desktop. By February 2022, mobile accounted for 57.38% of global internet traffic, compared to desktop's 43.62%. Yet many marketers seem stuck in a time warp, still optimizing their marketing messages for people to view on their computers. If you're an affiliate marketer, you can't afford to make this mistake. Mobile affiliate marketing is now on the rise, and you should be ready to take advantage of it.
---
Mobile Affiliate Marketing Guide:
---
What is Mobile Affiliate Marketing?
Mobile affiliate marketing is more than merely ensuring that the marketing messages you send are responsive, working as well on the small screens of phones as on large computer monitors and TVs. Mobile affiliate marketing takes advantage of the unique capabilities of phones and tablets for promotional purposes to send potential customers through to sellers' sites.
While the goals of mobile affiliate marketing are identical to those of traditional affiliate marketing, some of the tactics used are different, as they take advantage of differences in technology.
Before smartphones, mobile affiliate marketing meant sending SMS messages to potential customers' phones. This required you to have a list of phone numbers. It limited your reach to those who had already expressed an interest in your product (much the same as email marketing) and to those comfortable enough with their phones to be using them regularly. Relatively few people used mobile phones daily. Those who did were basically youngsters growing up with technology, businesspeople who used their phones for work purposes, and people who had mobile phones strictly for communication. Most other people only used them occasionally, perhaps for emergencies.
With the advent of smartphones, everything changed. Even Baby Boomers discovered advantages in carrying around a small mobile computer in their pocket. And their touchscreens made them easy to use for even the least tech-savvy. As a result, marketers found they were no longer restricted to SMS messages. Instead, they could display the same information on smartphones as they did on their websites and using apps and social media could make their marketing even more interactive. Before long, affiliate marketers discovered that they could market to potential customers on their mobile devices as successfully as anybody else.
---
Why Should You Consider Mobile Affiliate Marketing?
The first and most obvious reason for affiliate marketers to consider mobile is usage numbers. With vast numbers of people using mobile devices to access the internet, why wouldn't you tailor your marketing to their needs? At the very least, you should make sure that any website you use to market your affiliate products is responsive and user-friendly to mobile browsing. Google has favored responsive and mobile-friendly web pages in its rankings for some years now.
We are Social and Hootsuite's Digital 2022 April Global Statshot Report reported that there are now 5.32 billion unique mobile phone users globally, 67% of the world's population. Of these, 5 billion use their phones to access the internet. Sure, some of these people also use computers, but for most marketers, the majority of their target customers use mobile internet regularly.
---
Pros and Cons of Mobile Affiliate Marketing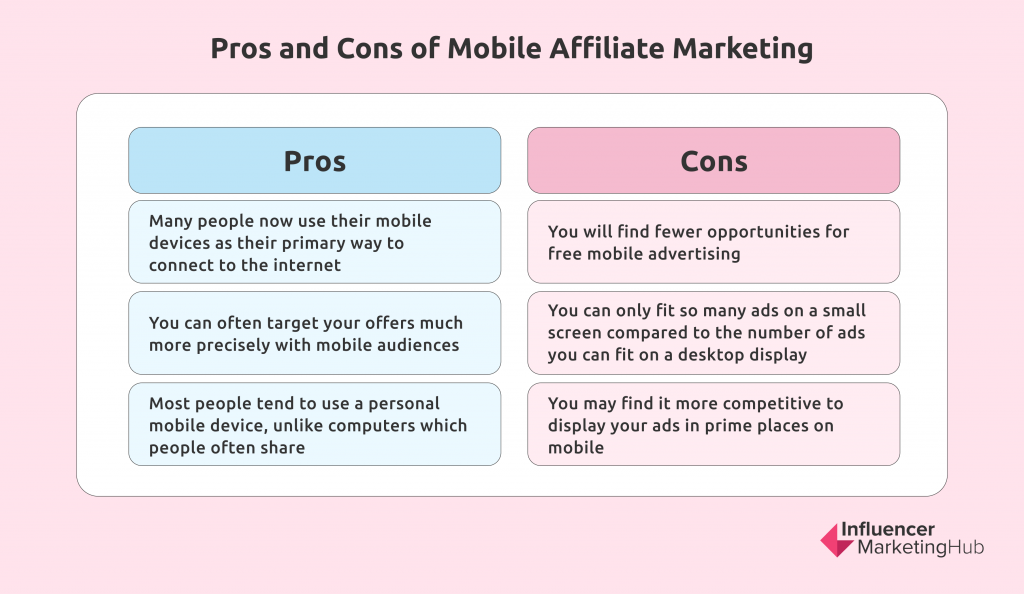 As we said above, the biggest pro of mobile affiliate marketing is that many people now use their mobile devices as their primary way to connect to the internet. So, depending on the types of affiliate products you promote, you will likely reach the majority of your target audience using mobile. Of course, there are some exceptions, particularly if you're targeting the elderly with your affiliate promotion.
You can often target your offers much more precisely with mobile audiences. By definition, mobile devices are movable, and they travel with their users, making it easier to target people by their location. Also, most people tend to use a personal mobile device, unlike computers which people often share. Therefore, the better you target your affiliate ads, the more likely you are to pique people's interest and the more likely they will follow through and purchase the promoted products.
There are some cons of mobile affiliate marketing, however. Firstly, mobile requires that you think more carefully about the design of your ads. You need to ensure that they look good on small screens. You're not going to make any sales if people can't see what you promote. You will also find fewer opportunities for free mobile advertising. Sure, you can create organic social posts as usual, but you'll get far better results with paid ads. You will probably have to pay a web designer/developer to make mobile-friendly landing pages and ads that work inside apps. And then there is the inherent disadvantage of mobile – you can only fit so many ads on a small screen compared to the number of ads you can fit on a desktop display. So, you may find it more competitive to display your ads in prime places on mobile.
---
Types of Affiliate Offers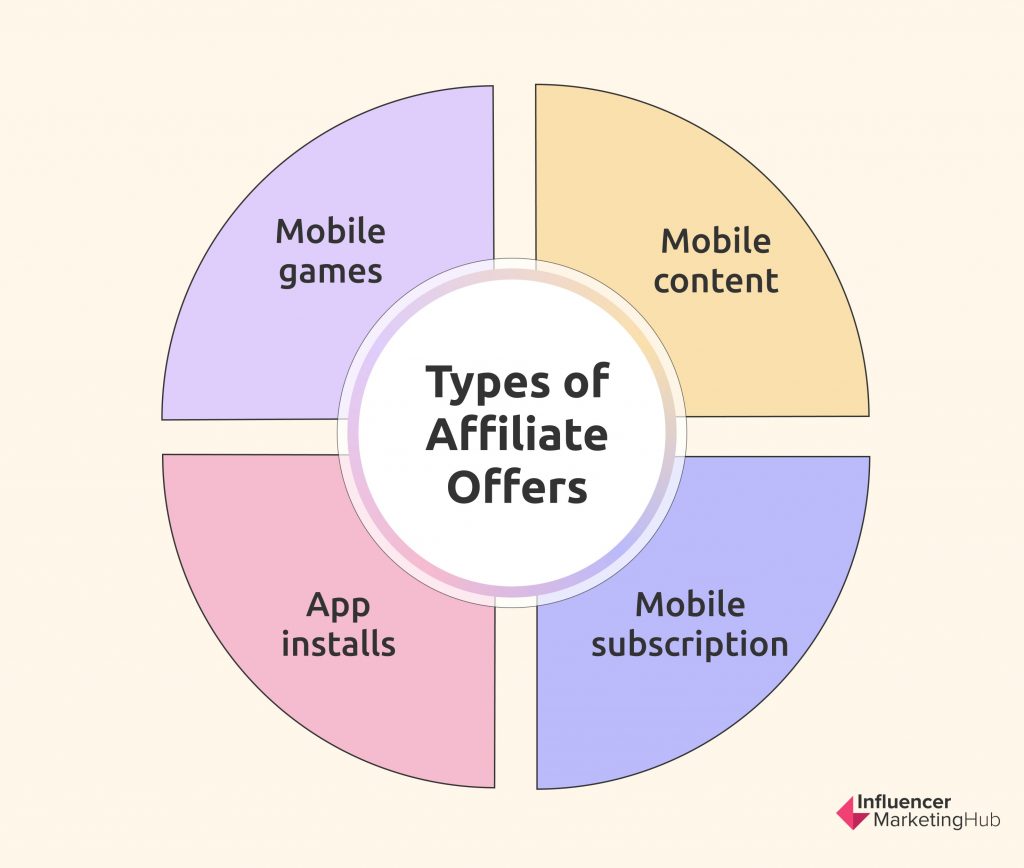 The arrival of mobile affiliate marketing has brought about a few new types of affiliate offers. Some of the more common ones include:
Mobile content

– affiliates target mobile devices when promoting digital products, such as eBooks, audiobooks, music, mobile games, and movies

Mobile subscription

– affiliates promote subscription-based products, for example, streaming services, digital magazines, and SaaS products

App installs

– Affiliates promote apps to a target audience, typically using a mix of paid ads and their social channels

Mobile games

– Affiliates promote mobile games much like they do other apps.
---
Mobile Affiliate Networks
As we have shown in our Ultimate Guide to Affiliate Marketing, there are typically three or four key players in affiliate marketing:
Affiliates: the people who promote the product

Sellers: the people who created or are selling the product

Consumers: end-users of the product

Affiliate Networks: networks managing the affiliates (optional)
Affiliate networks often put together a catalog containing a selection of products from sellers wanting to use the affiliate model to sell their products. Interested affiliates then look at this catalog and decide which affiliate products they wish to promote. In this model, affiliates work with the affiliate networks rather than directly with sellers.
Mobile affiliate networks have chosen to work with affiliates who use mobile as their primary sales promotion channel. Therefore, the products in their catalog are best suited for mobile promotion. The mobile affiliate networks act as a middleman between mobile advertisers and mobile-enabled affiliates.
---
Types of Mobile Marketing Channels
As stated above, mobile marketing initially meant sending texts/SMS messages to potential customers. And there are still situations where this can still work for a business. Dominos, for instance, uses it each Friday evening as people are beginning to feel hungry.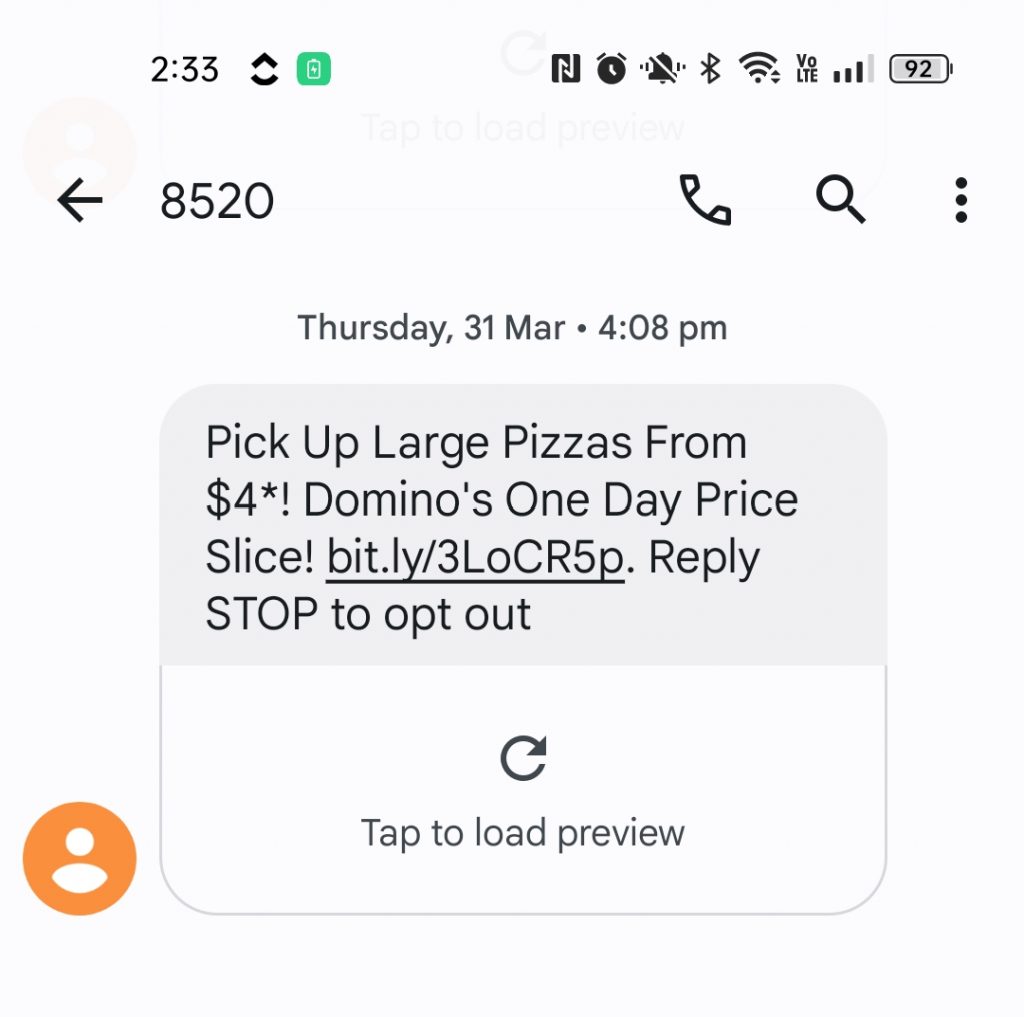 Domino's may not be affiliate marketing (they use a franchise model), but it is an example of how SMS marketing can still be viable.
However, SMS messages are still typically limited to plain text, and with the advent of the smartphone, marketers found ways to take better advantage of a smartphone's graphical capabilities.
Remember that marketing is marketing regardless of what you are trying to promote. What works for one type of marketer, e.g., a retailer or service firm will often be viable for another business model, e.g., affiliate marketing.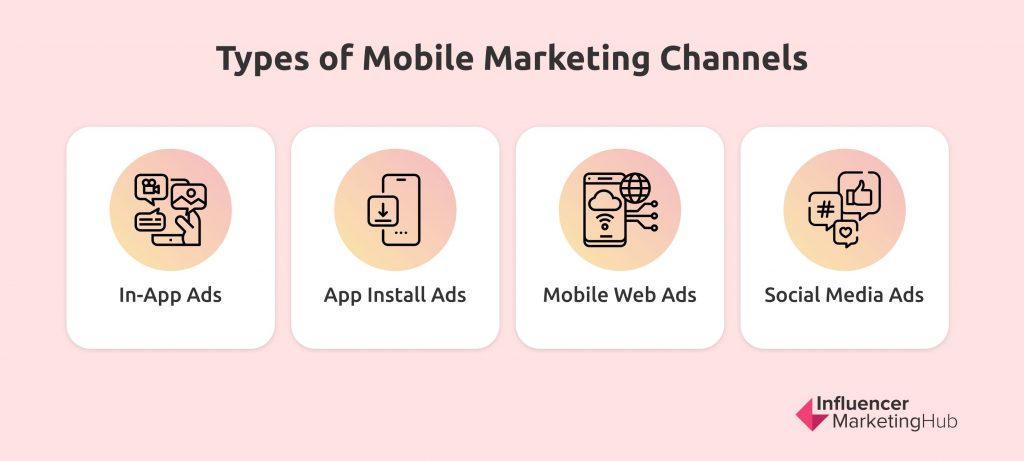 1. In-App Ads
These ads pop up in your favorite games and other mobile apps. You will see them in most freemium apps unless you pay to remove them. Advertisers can place these in most types of apps, even popular news apps.
People can usually click on these ads and be taken to a specific landing page. You can even customize these to collect email addresses or other data, so you can use other advertising methods to target those people willing to provide the requested data. For example, you can use an in-app ad to collect email addresses and then send discount codes via email to people who left their addresses.
Some affiliates use in-app ads to promote an affiliate product. Anybody who taps on the ad is taken to a sales page for the product. If they make a purchase, the sales company pays a commission to the affiliate who paid for the ad.
---
2. App Install Ads
App Install ads are similar to In-App ads but specifically encourage people to install an app on their devices. They usually take over the entire screen for a short period and then vanish when the user clicks on the Close button. They are prevalent in games promoting other games, although they can promote a wide range of app types.
Affiliates often receive two types of payment for these ads. First, they receive a small amount each time somebody plays the ad, keeping it on screen for a minimum time. However, affiliates receive a larger payment when somebody follows through and installs the promoted app.
---
3. Mobile Web Ads
Of course, people don't just use apps for everything they do on their phones. For a while, it looked like most businesses were going to build a custom app, but it soon became evident that this would be unworkable. Imagine if you had to open a separate app for every website you visited when using your phone. It wouldn't take long before your phone was cluttered with apps you'd only used once, and your phone's home screens would have an unmanageable number of icons.
Some of the most used apps on phones are the mobile-enhanced versions of internet browsers. More than half of the world's population uses a web browser, and most use Chrome on Android. However, Safari is the leading mobile browser on tablets, perhaps due to the dominance of the iPad (Apple controls over 70% of the tablet market). Interestingly, the United States bucks the trend of the rest of the world and prefers Safari (55.35%) over Chrome (35.37%) as their mobile browser of choice.
Often you will use the same mobile web ads as you use on people's desktop browsers. They may be text, graphical, or even video. However, just make sure that your ad is optimized for small mobile screens, and if you use it to take people to a landing page, that too is responsive or mobile-optimized. Also, many people look at their phones vertically, so make sure you have vertical versions of your ads, as well as the more traditional horizontal layout.
---
4. Social Media Ads
Social media has grown dramatically in importance over the last few years. Indeed, by April 2022, 4.65 billion people (58.7% of the world's population) considered themselves active social media users. According to the Digital 2022 April Statshot, this was an increase of 326 million people (7.5%) year on year.
However, perhaps even more incredible is that the report found that 96.5% of internet users aged 16 to 64 owned a mobile phone, with the vast majority (96.2%) being smartphones. Clearly, a very high percentage of those accessing social media do so on their smartphones.
There are two main ways that firms market via social media. Firstly, they set up social pages and profiles, create valuable content, and then promote it organically. Unfortunately, most social media companies have ruined (sabotaged?) the reach of organic traffic, particularly from businesses. Therefore, most companies, affiliate marketers included, have had to focus more on paid social advertising to reach relevant potential customers.
Most of the leading social media networks now have their own advertising networks. For example, if you wish to advertise on the Meta-owned social networks, such as Facebook and Instagram, you will use the Facebook Ads Manager (which caters to both social networks).

You can use this tool to create ads and bid for ad spots on both desktop and mobile. Meta even has an Ads Manager app for iOS and Android, so you can watch your campaign while you're on the go. We have previously written a Step by Step Beginners Guide on How to Create Facebook Ads, and affiliate marketers can use these ads as much as any other marketer.
Some of the newer social networks, such as TikTok, were invented with the mobile generation in mind, making it easy to design a mobile-specific ad for your affiliate products.