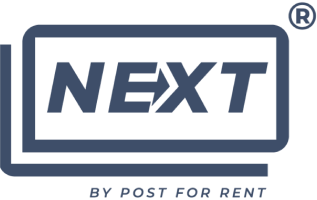 Best for:
Large Brands and Agencies
Back in 2016, the influencer marketplace Post For Rent launched and quickly distinguished itself. Marketplaces are very transactional in nature, and the name of the platform certainly doesn't do anything to dissuade you from thinking any differently. You have to use PFR to see what makes it unique: namely, its ability to transcend the not-quite-organic foundation of a marketplace and help brands create truly organic/authentic feeling campaigns with influencers.
In the wake of its continued success, the team at PFR asked a very pertinent question: What's next? The answer to that question is its latest product: NEXT. Or, NEXT Business Manager, if we want to use its full name.
NEXT plays in the same influencer marketing space as Post For Rent, but targets a different clientele. PFR is a programmatic approach to influencer marketing, allowing small teams to run full influencer campaigns with software that does the heavy lifting. It's perfect for small to mid-sized companies whose marketing aspirations are bigger than their departments and budgets. NEXT, on the other hand, is built for larger brands and agencies—those who have more money and resources than they do the time to manage it all.
NEXT users are running their own campaigns, many of them, simultaneously and for different brands. Some of the impressive tech found in Post for Rent makes its way here—discovery and analytics, for example. And this is as it should be: one of the things about PFR that impressed us was the sophistication of the data behind it all. The need for that doesn't change, and there was no reason for them to reinvent the wheel. Instead, they built a collaborative end-to-end marketing tool around these existing features and created a platform operating at a different level than PFR.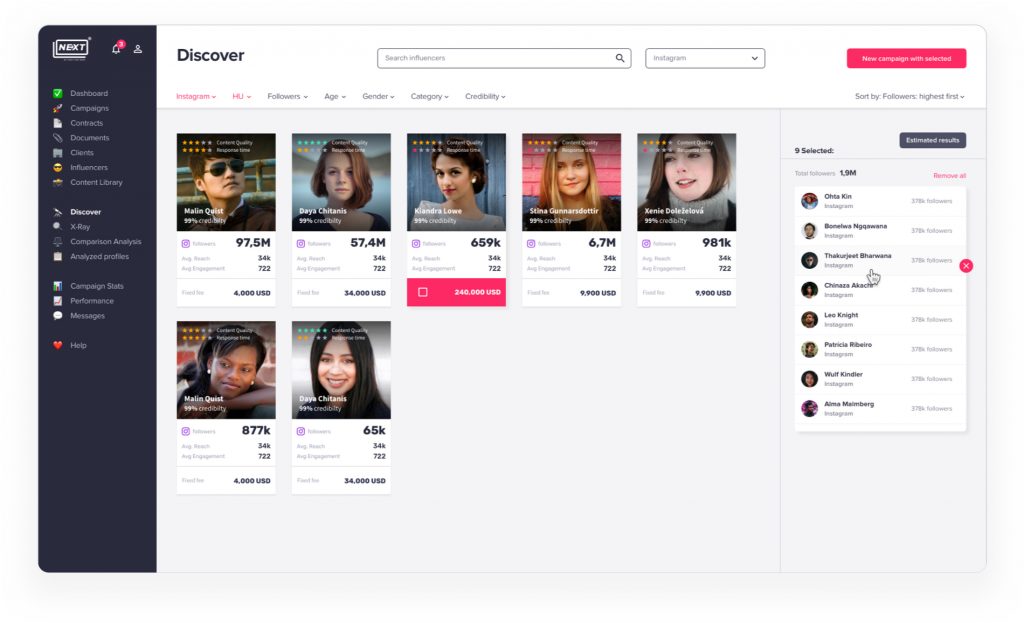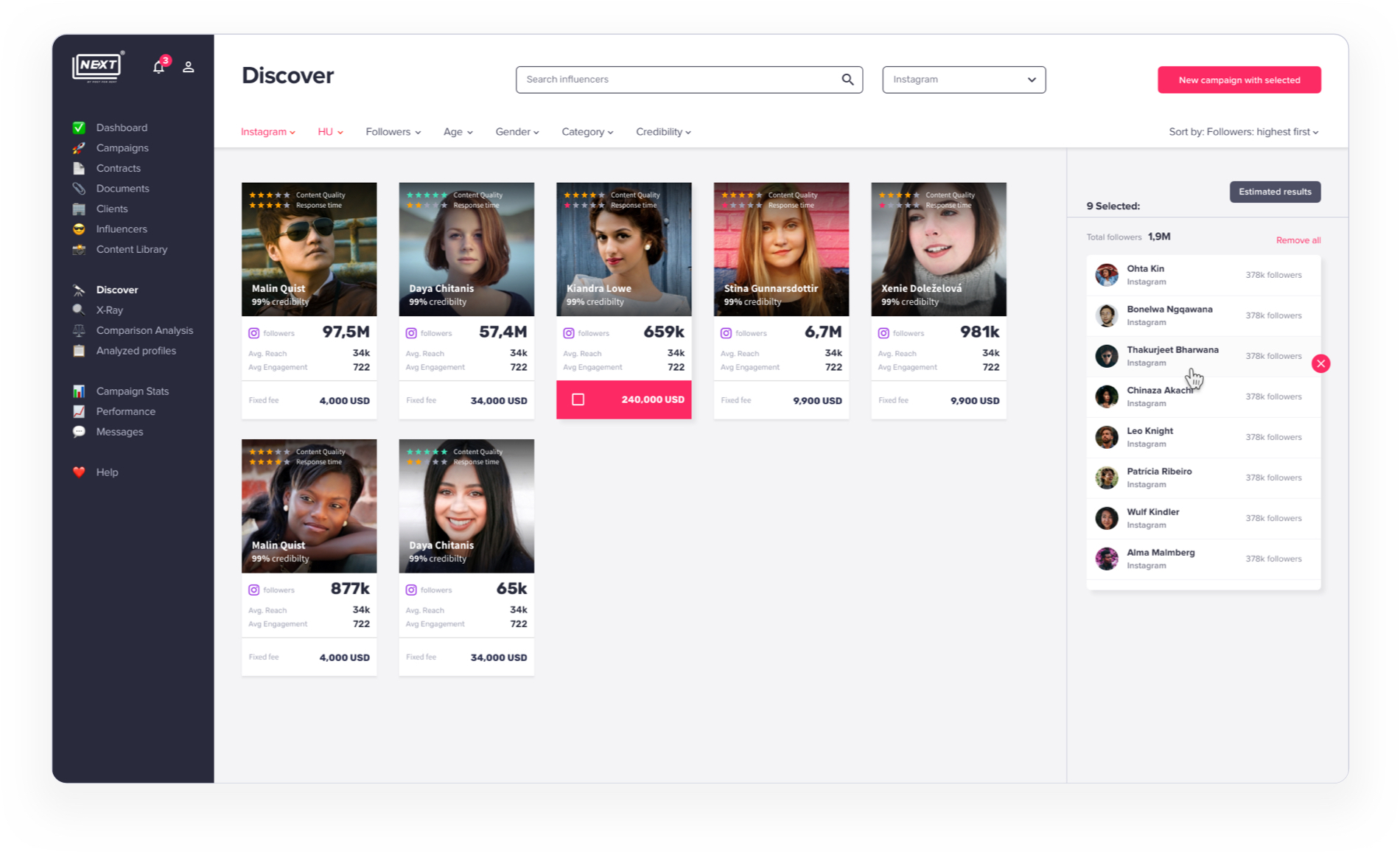 The result is something that's every bit as impressive and allows Post For Rent (the company) to exist in two different spaces within the landscape. NEXT puts them in the company of other high end influencer platforms, like Traackr or Tagger Media, and they seem to fit right in.
---
Summary:
---
Pricing
At the time of this writing, NEXT is not yet launched. It's fully operational, though in a beta testing sort of way. During this time, those who want to give it a whirl can do so for free—you can apply here for access. There are about two more months left before it launches fully, at which time the following pricing structure goes into effect:
Professional, $2,590/mo —

User accounts for 2 campaign managers, 1 finance manager, and 1 team leader; 10 campaigns/mo; 50 contracts/month; 1 contract template; 15 results for content library search; domestic influencer search, 10 campaign reports per month; 50 influencer reports per month; compare up to 5 influencers; 24/7 support

Enterprise, $4,890/mo —

User accounts for 4 campaign managers, 2 finance manager, 1 team leader, and 1 management usr; unlimited campaigns and contract per month; custom contract templates; 200 results for content library search; international influencer search; unlimited campaign reports per month; 150 influencer reports per month; unlimited comparisons; 24/7 support, dedicated success manager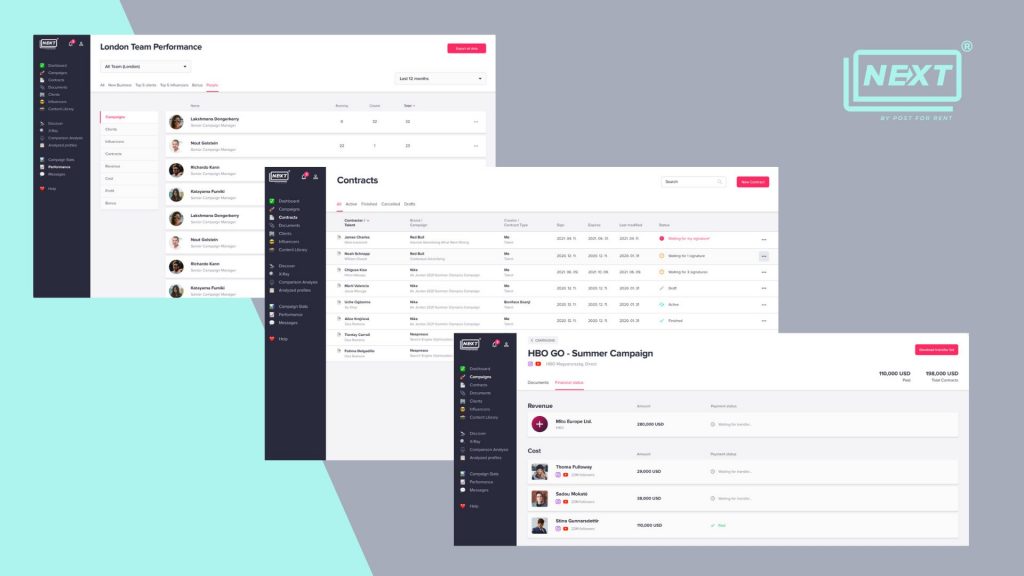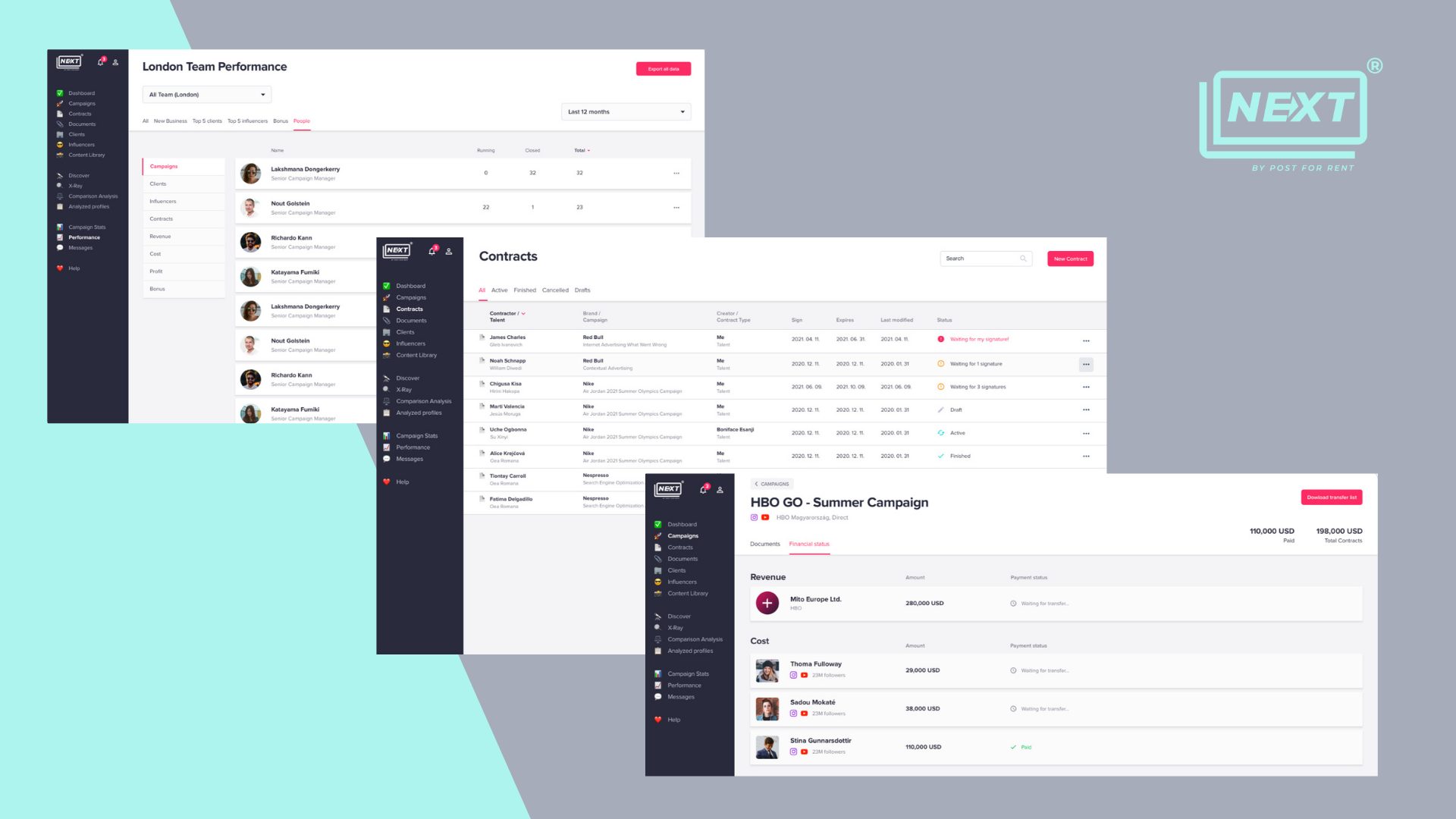 Additionally, NEXT offers some a la carte features on top of what's in the plans
Additional 100 reports, $199

Constant Anaytical Anaylsis, $599 per 1k influencer profiles
Import Client Data, $1,990
---
The Details
While NEXT is an end-to-end marketing tool, this review is going to skip over some of the more standard things, like discovery and analytics. Because these features are ported over from Post For Rent, you can read our review of that to get an understanding of how well they work. For NEXT, we're going to instead focus on probably the least sexy—but arguably equally important—facets of influencer marketing: paperwork, team communication, and administrivia.
In order to do any of this well, the platform needs to be very detail oriented, and it doesn't take long to see that it is. The navigation menu down the left side of the screen is chock full of options, from contracts to content to campaigns. Also, other things that don't start with the letter "C." To the right of the menu is the dashboard, which gives a breakdown of all outstanding tasks and who's responsible for them. Just this part of the dashboard is already improving team communication, and this sort of transparency is evident throughout NEXT. Because Post for Rent is also an agency, they were their own guinea pigs for the platform. The improved communication meant improved efficiency, cutting back from four to two weekly status meetings. They all knew too much about what everyone was up to; four meetings became overkill.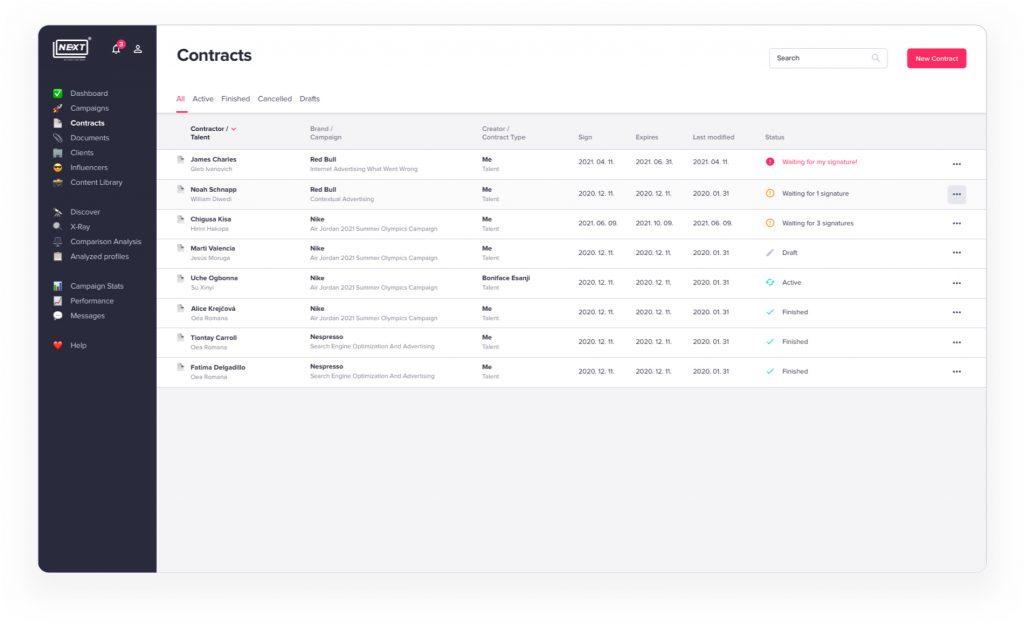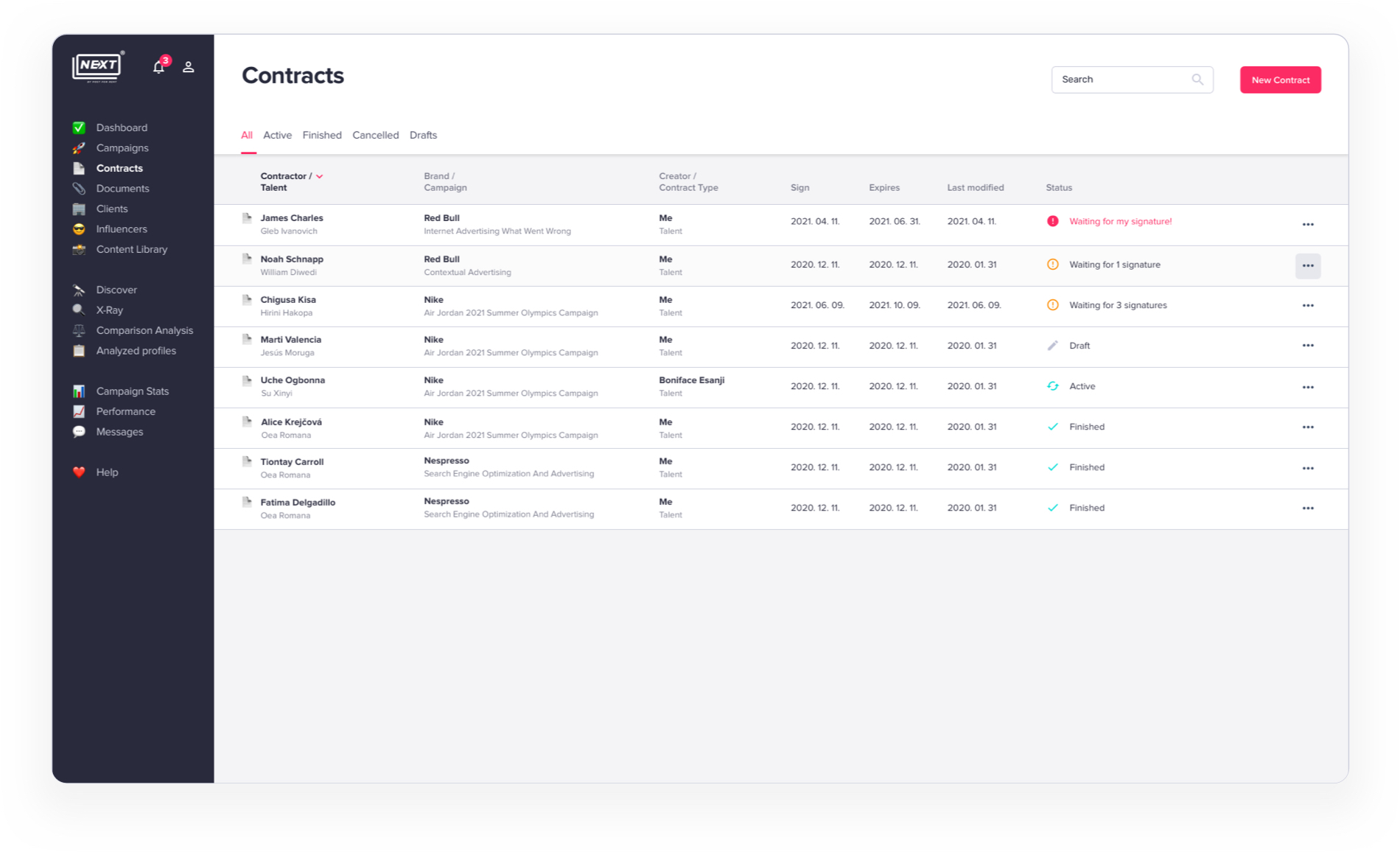 That isn't the only area where efficiency improved. They calculated that their contract management tools saved about an hour and half a day in paperwork administration. As a task done once, getting a contract signed isn't a huge deal. When you're working with hundreds of influencers across different campaigns—and with different brands, so different contracts—things get out of hand quickly. Using templates and drop down menus, new contracts can be created in a matter of minutes. But since we're talking about details here, let's stop for a moment on the detail of drop down menus. This is a rare misstep toward efficiency, clicking and scrolling through long menus to add influencers and companies is a lot more cumbersome than just typing some letters and having NEXT show matching names, like a Google autocomplete. It might seem like a nitpick, but there are several dropdowns for each new contract you create and we're wallowing in the details here.
Setting up campaigns works much like creating a contract: you roll through all the options, selecting brands from a dropdown list and defining the budget. It's all pretty standard until you get to the part about incentives. There's a button you can click on that instructs NEXT to calculate a bonus based on predefined criteria: Let's say you have a "New Client" bonus. The person who landed the account and is setting up this campaign flips the switch and adds her name to take the credit (and get the bonus!). Bonuses and commissions are found elsewhere in NEXT, as well. If your campaign is sales-based, NEXT handles all the financial tracking—sales from UTM links are measured against campaign costs and margin is calculated. From there, the platform makes easy work of calculating the bonuses for all who qualify. This "New Client" bonus can then act as a multiplier on top of the already existing commission structure.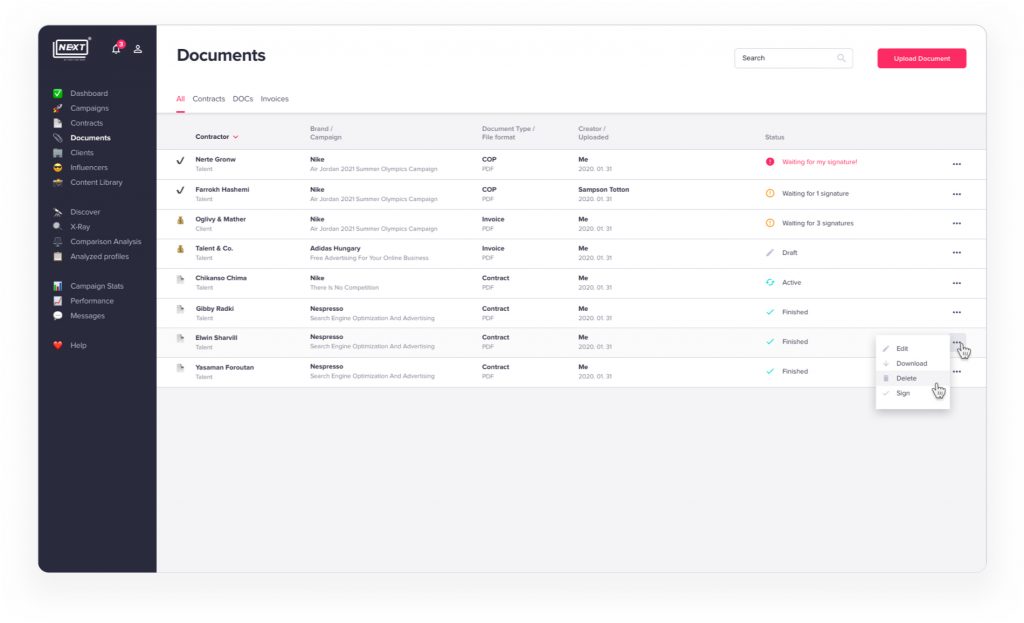 Once your campaigns and contracts are all set up, having spelled out the terms and requirements and payments, NEXT's integration with DocuSign helps to make it all official, and the contracts are stored within NEXT and accessible at the click of a button. You can find it in the Documents section of the platform, which is organized by document type: contracts, invoices, expenses, etc. And just to make everything even easier, NEXT integrates with G-Suite, so all these documents are copied to your Google Drive for safe keeping, organized into folders that match the headings of contracts, invoices, expenses, etc. All of these documents are linked within NEXT to the CRM features, which are fairly extensive for both brands and influencers.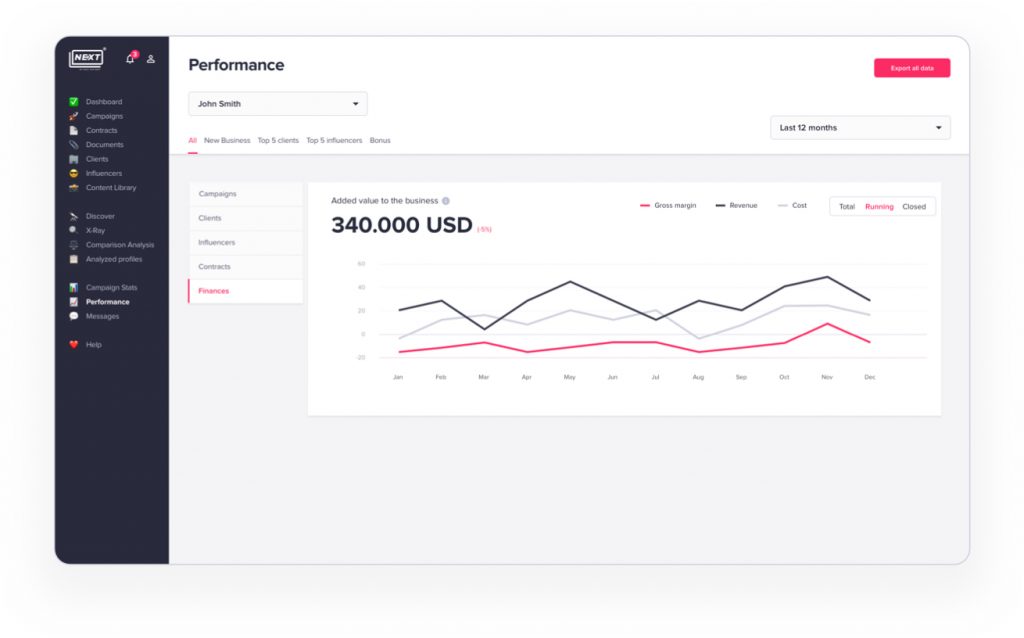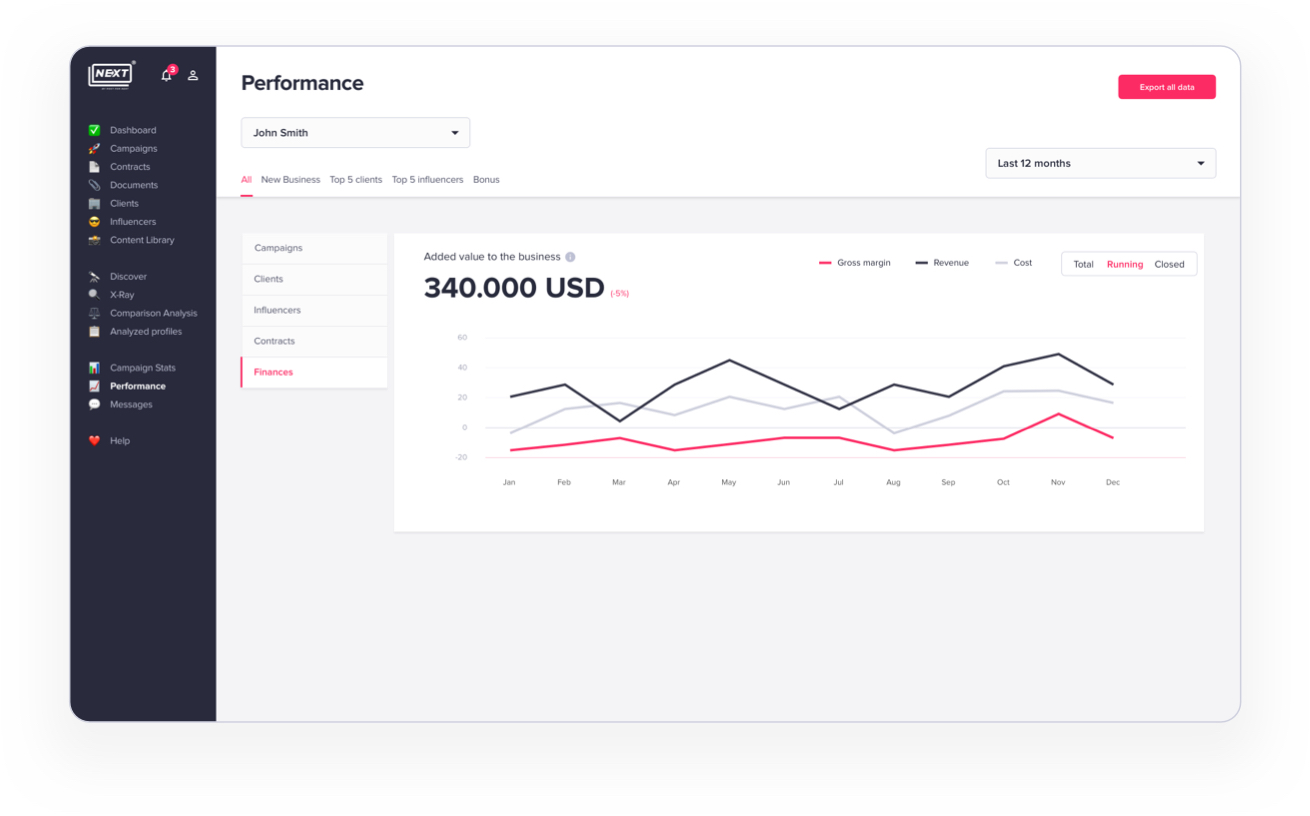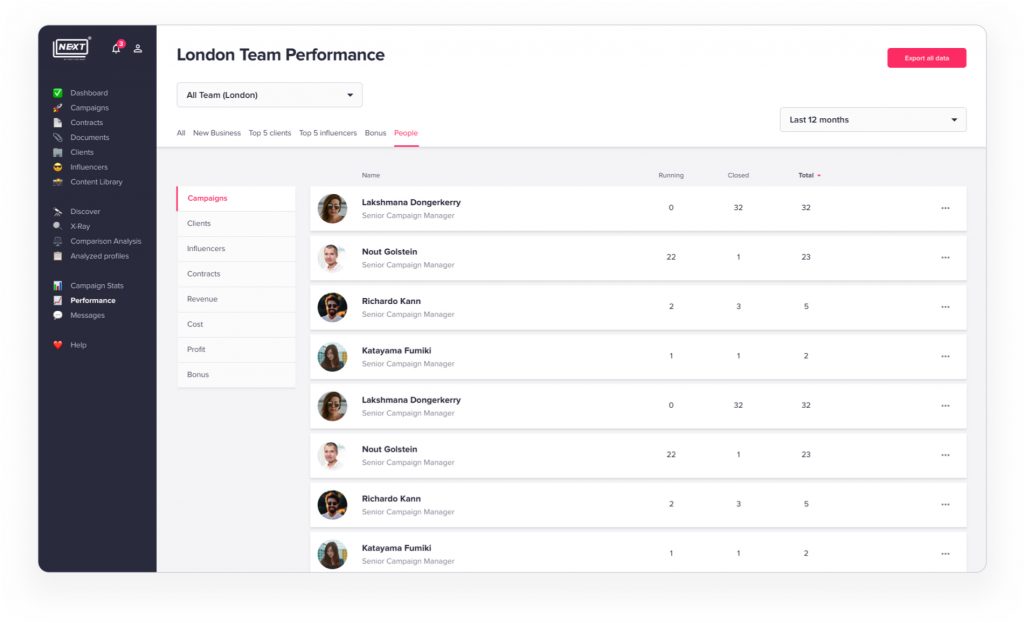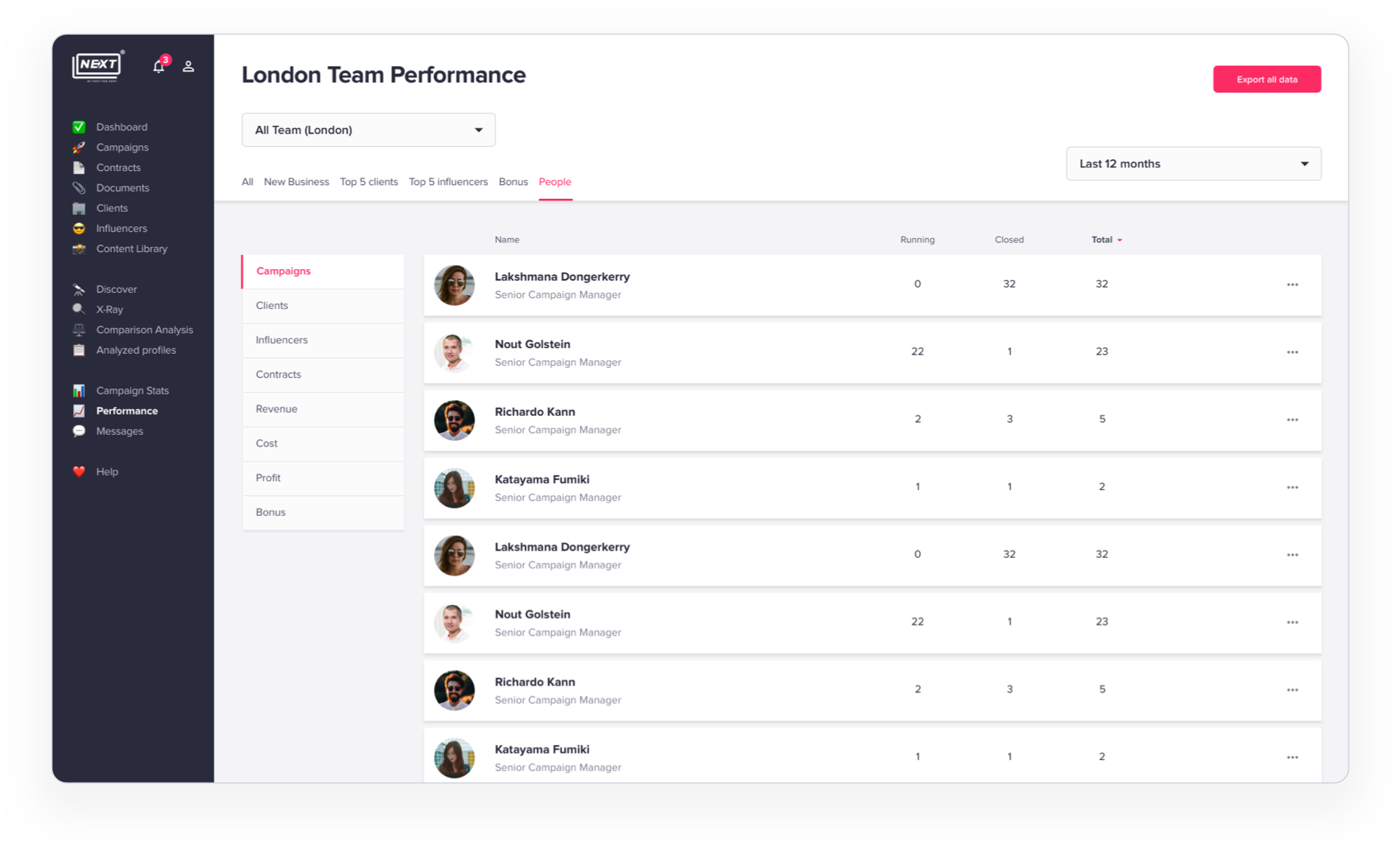 Within each campaign, you can dig into the performance stats and see how things went, but there's also a much wider view available. From the Performance section of NEXT, quantifying all the campaigns happening, along with the finances of each gives a big picture view of how things are going. You can see who your biggest clients are, who your most effective influencers are, and also get a rundown of the bonuses that are going to be paid out.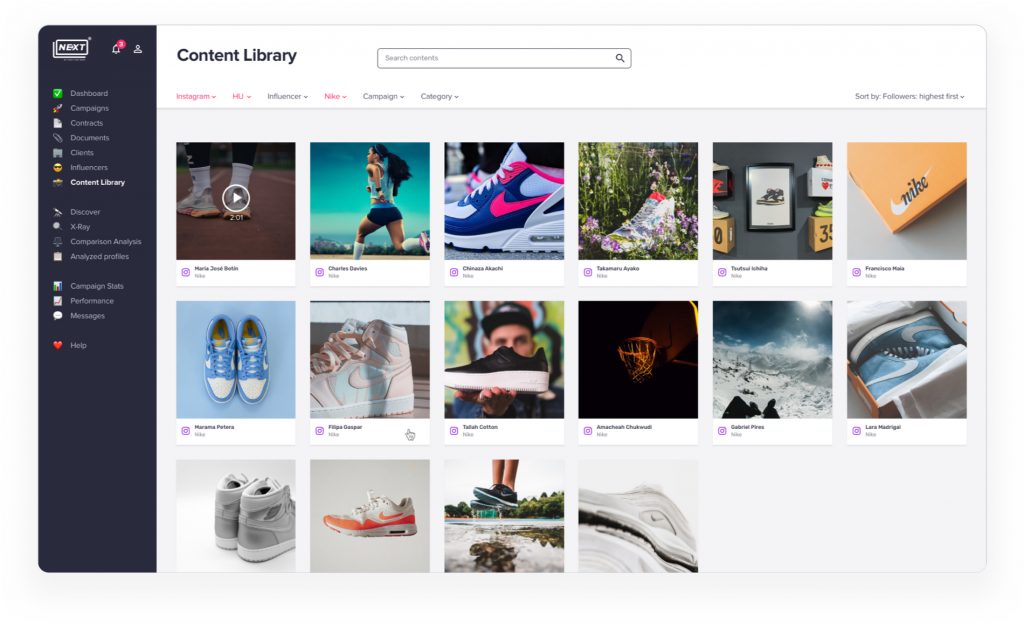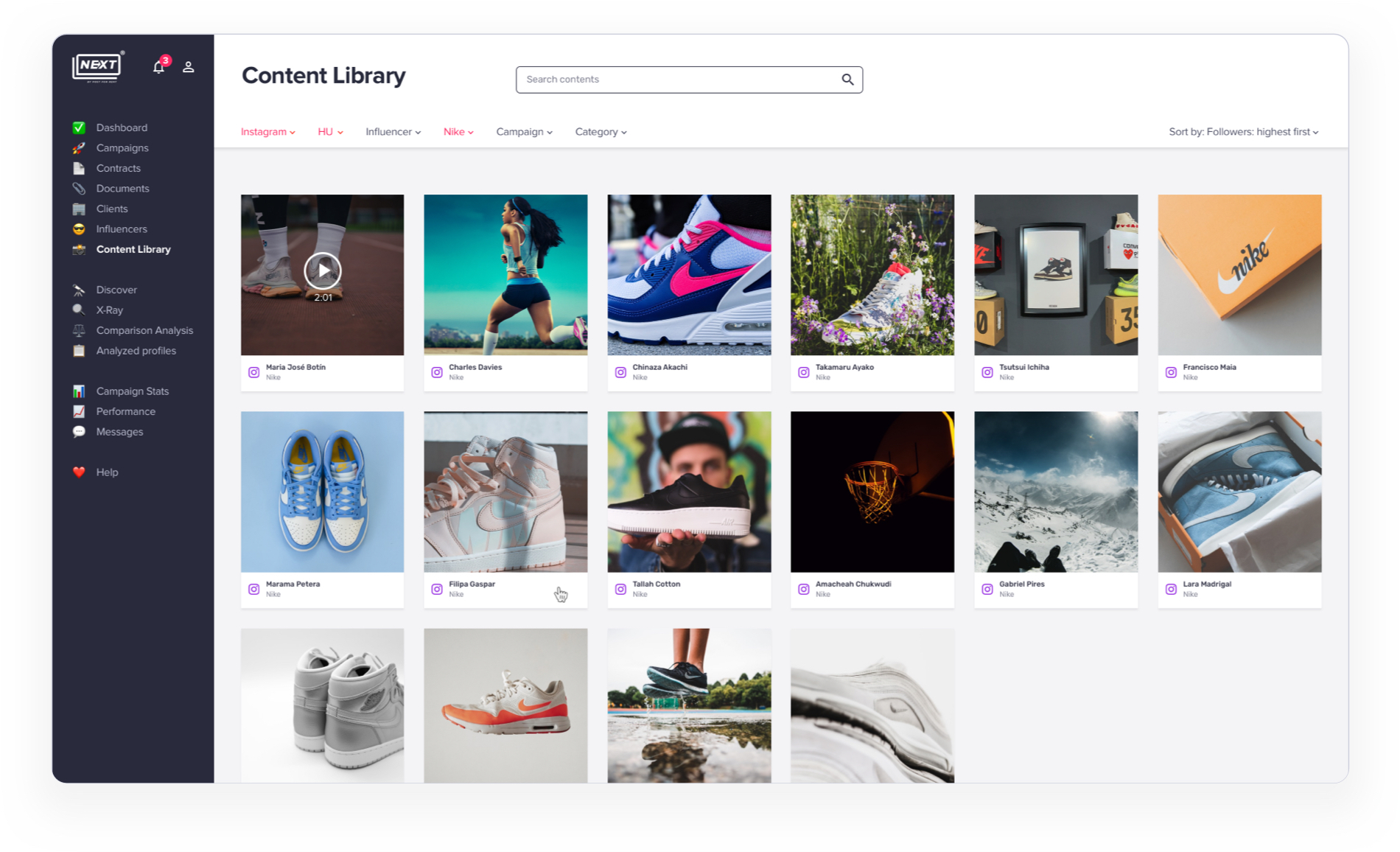 Don't forget that while the managers are sorting through all this information, and the admin team is handling all the paperwork and details, the creative team can use NEXT to find influencers for campaigns, and get all the data and analytics on their audiences. The platform also catalogs every last bit of content uploaded by users and influencers, making it dead simple to find any post at any time. And an integration with Slack keeps everyone informed every step of the way.
---
Conclusion
Software that's operating at this level of sophistication can either be very easy to review, or very difficult. It's easy to cover something like this if it sucks, because we don't bother to review it. We're all about highlighting quality, and so this review falls into the "difficult to cover" category.
As an end-to-end solution, NEXT is—by definition—filled with valuable features and analytics. We can't get to all of them, and it can be hard to discern what's worth mentioning, so we try our best to highlight that which is unique. The existence of a very good review for Post for Rent, the foundation of NEXT's discovery and analytics tools, made it easy to figure out what not to include here. We've already covered that. We thought this review would be easy to write then: we knew what we could safely ignore here.
But then, when we were left with what's unique and what stands out, we were still left with too much to cover. There's only so many words we can write before readers tune out. In a case like that, the details can often sound like a five year old telling story. "There's this part with the contracts and it integrates with DocuSign, and then the Documents get stored on Google Drive, and then campaigns start going and influencers are added to the CRM and then…" It's a lot of information to throw at you.
We were impressed by Post for Rent for making an influencer marketplace that stood out in a sea of competitors. And now we're equally impressed with their latest entry into the influencer marketing software landscape. This is high end software that competes with the best of them. We're curious to see what they do next.
NEXT Business Manager
Features

Ease-of-Use

Reporting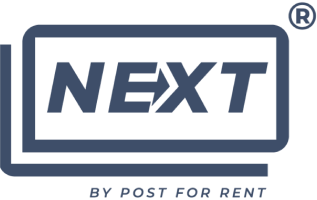 Best for:
Large Brands and Agencies