While non-fungible tokens (aka NFTs) might be confusing to many, one thing is clear (even to newbies) – NFTs are growing rapidly in popularity. Over the years, there were some interesting developments… Last year was a spectacular year for the sector, however, 2022 didn't replicate the same success.
If you're wondering what type of impact these digital assets really have, here are 22 statistics and facts about its growth. From the most expensive NFTs to the performance of NFT marketplaces, we'll get you up to speed about the main events in a matter of minutes.
---
NFTs Statistics - Sales, Trends and More [2023]
---
1. The "Most Expensive" NFT Sold for $532 Million

In October 2021, a CryptoPunk sold for $532 million. Now, CryptoPunks are renowned for selling for millions of dollars in some cases. That's not the issue. However, how it was bought has raised a few eyebrows. Basically, the person who bought this particular CryptoPunk (CryptoPunk #9998) bought it from herself/himself.
On Twitter and Discord, it was speculated that the whole sale was just a publicity stunt in an attempt to inflate the price of the NFT. In more technical terms, this is referred to as a wash trade (a type of market manipulation to create misleading activity).
The CryptoPunk in question is one of 3,840 female punks. She has wild white hair, black lipstick, and green clown eyes.
---
2. The Real Most Expensive NFT Sold for Nearly $92 Million
At the time of writing this article, the most expensive NFT ever to be sold is The Merge by Pak. It was sold for $91.8 million on Nifty Gateway in December 2021.
While the sale was less shady than that of CryptoPunk #9998, the jury is still out on if this can count as a single artwork or rather a series of artworks. Instead of selling it to a single buyer, multiple buyers had the chance to buy any number of tokens. The price per unit started at $575 and increased by $25 every couple of hours. At the end, it was sold to nearly 30,000 buyers for a whopping $91.8 million in total.
It wasn't Pak's only big sale to date. In April 2021, The Fungible was released on Nifty Gateway by Sotheby's and sold for nearly $17 million.
Previously (or still – you decide), the title of "The Most Expensive NFT Ever Sold" belonged to Everydays: The First 5000 Days by Beeple (formally known as Mike Winkelmann). It was sold in March 2021 for $69.3 million. As a matter of fact, it was the first purely digital artwork ever to be offered by a major auction house. What's more, the winning bidder, Vignesh Sundaresan (aka MetaKovan), added in an interview with CNBC that he was actually willing to bid even higher.
As the title suggests, it comprises 5,000 digital artworks and is a collage of his earlier work. So, you could probably claim that it's good value for money.
---
3. Beeple's First Physical Work Sold for Nearly $30 Million
Beeple's first physical work, HUMAN ONE, sold for $28.9 million at Christie's to Ryan Zurrer, founder of Dialectic. What makes it even more impressive is that it was estimated that it would be sold for "only" $15 million.
HUMAN ONE is described as a "dynamically changing hybrid physical and digital piece" by the auction house. Basically, it's a seven-foot sculpture that's made of LED screens. It displays dystopian images which Beeple will update from time to time via blockchain. The idea is that this way there will be a continuous conversation between the owner and Beeple.
Though, this hybrid artwork isn't gathering dust on the shelf (or, more correctly, floor). It has been displayed at the Castello di Rivoli in Turin. After all, art is to be shared, right?
---
4.People from China and Hong Kong Are the Most Interested in NFTs
According to Google searches, people from China and Hong Kong are currently the most interested in NFTs. Singapore is in third spot. While there was significant interest among people from Venezuela last year, they now don't even feature on the Top 10 list.
Also, somewhat surprisingly is that the United States doesn't even feature in the top 10 countries. This information was gathered by studying Google Trends for the past year.
---
5. 4% of the US Population Owns an NFT
According to Data shared by Nansen, a blockchain analytics platform, 4% of the population in the United States owns an NFT. This number doubled in the span of just a year. California is the state where residents buy the most NFTs.
One of the reasons why this percentage is so low is simply because of ignorance. The vast majority (70%) of the US population still don't know what an NFT is.
---
6. Interest in NFTs Has Dropped Significantly
Still staying with Google Trends… Figures show that global Google search interest in the term "NFT" has plummeted sharply. After hitting a peak in January 2022, interest has quickly declined. In the middle of September 2022, it recorded its lowest value — a score of merely 12 — in the last year.
---
7. The Most Expensive NFT Video Sold for Almost $7 million
Beeple created three of the 10 most expensive NFTs ever sold. Not only was his Everydays regarded as the most expensive NFT ever to be sold for quite some time in NFT terms, but his piece titled Crossroad is also the most expensive NFT video.
This short 10-second video sold on Nifty Gateway for $6.6 million in February 2021. It depicts former US president Donald Trump flat on his stomach while passersby casually continue with the rest of their day. Interestingly enough, Beeple created it in such a way that the video would change depending on the result of the 2020 US presidential election.
Fast-forward three years and no other NFT video managed to sell for that price tag.
---
8. The Most Expensive NFT Meme Sold for $4 Million
Doge, an image of a Shiba Inu, breed of hunting dog from Japan is one of the most famous memes. It's also the most expensive NFT meme after it sold for about $4 million on Zora in June 2021. In September 2021, the new owner, PleasrDAO, announced that the Doge NFT will be split into 17 billion pieces.
It's not the first time that this meme's journey to global comedy fame took a different turn. In 2013, the cryptocurrency Dogecoin was named after the meme.
Other well-known memes that were turned into NFTs include Disaster Girl, Overly Attached Girlfriend, Bad Luck Brian, and Nyan Cat. While not close to $4 million, Disaster Girl sold for over $573,000 at an auction.
---
9. The Number of NFTs Sold in the Art Segment Fluctuate
One of the challenges of finding up-to-date stats about NFTs is that the market is still volatile. This is particularly true for calculating the average monthly sales. In 2021 and 2022, the number of sales involving NFTs in the art segment fluctuated a lot. As of November 15, 2022, the total number of sales recorded on Flow, Ethereum, and Ronin blockchains over a period of a month was about 30,000.
In terms of money, these ±30,000 sales for this period amounted to more or less $36.1 million.
While the art segment isn't as strong as collectibles, according to NonFungible.com the crypto art segment is performing well compared to the overall market. The sales volume might be smaller than gaming, but when you measure volume traded in terms of dollars, it's triple as strong. In Q3 2022, the art sector generated more than $125 million compared to the gaming segment's almost $40 million.
---
10. The Number of Unique Wallets Declined by 17+%
According to data shared by Statista, the number of active wallets that were involved in NFT trading declined by over 17% between Q2 2022 and Q3 2022.
---
11. NFT Trading Recorded a Quarterly Loss for the First Time
According to NonFungible.com's Quarterly NFT Market Report Q3 2022, NFT trading recorded its first-ever quarterly loss. For Q3 2022, it had slightly more than $450 million in total losses.
---
12. More Than 12% of Affluent Asian Consumers Have Bought an NFT
As mentioned earlier, search interest in NFTs is higher in Asia. Though, does that interest actually convert to buying NFTs?
A survey completed among affluent consumers in Asia in 2022 revealed that 12.3% of participants have bought an NFT before. However, over a quarter (26%) weren't familiar with NFTs.
---
13. Crypto Punks Most Popular PFP NFTs
The Crypto Punks collection boasted the highest market cap among all profile picture (PFP) NFTs (aka non-fungibles that are commonly used as profile pics on social media accounts). As of September 2022, its market cap was worth about $2.24 billion. In second spot was The Bored Ape Yacht Club collection with a market cap of about $1.7 billion.
---
14. Most Game Developers Aren't Interested in NFTs Tools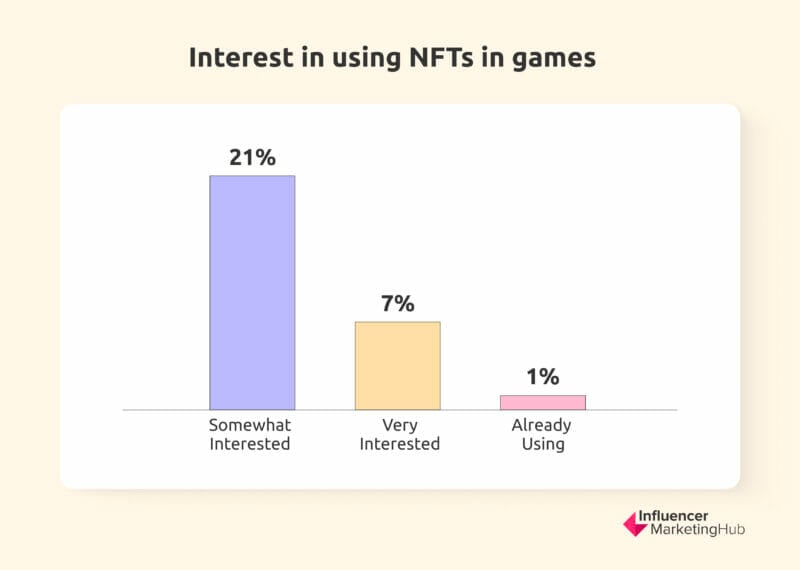 A survey completed at the beginning of 2022 has revealed that most game developers' studios aren't interested in NFTs. Only 7% are very interested, while 21% are somewhat interested. Only 1% revealed that their studios are already using NFTs tools in their games.
---
15. The Majority of NFTs Sell for Less Than $200
While a number of NFTs have sold for millions of dollars, the reality is that the average selling price is much less. According to research shared by NonFungible.com, the average price of NFTs was about $150 per NFT for Q3 2022.
---
16. The Average Price of NFTs Has Decreased by Over 80%
Between the 1 April 2022 and 30 September 2022, the average price of NFTs has dropped by a massive 87%. NonFungible.com explains that this huge decrease is caused by the drop in price of Ether and the fact that there's less hype around assets.
---
17. There Are More Buyers Than Sellers
According to data shared by NonFungible.com in their Quarterly NFT Market Report for Q3 2022, at the end of this period there were about 150,000 buyers for 110,000 sellers. This works out to a ratio of about 1.3 buyers to 1 seller. At the beginning of 2022, this ratio was slightly higher, though, at about 1.6.
---
18. Most Owners Prefer to Keep Their NFTs for a Long Time
In light of the poor global performance of NFT trading in 2022, most owners responded by holding their assets for a long time. As NonFungible.com puts it, it's more about "finding a way to limit your losses" than to keep generating money.
Those who were forced to re-sell, most of the time, sold it for less than what they paid.
---
19. Twitter Founder Sells the First Tweet via an NFT Marketplace
If you thought that NFTs are only for contemporary art sales, you would be very much mistaken. From sound effects to clips from sporting events, there are many different types of NFTs that are sold for millions. There's even a market for tweets.
Jack Dorsey, the founder of Twitter, sold his very first tweet by means of Valuables, an NFT marketplace. Fifteen years after he tweeted, "just setting up my twttr", this very tweet was sold for more than $2.9 million.
The winning bidder, Sina Estavi, shared in an interview that he wanted to encourage engagement between charities and the crypto space. This goal was achieved when Dorsey announced that all the proceeds from this sale would be donated to GiveDirectly to help with Africa's response to COVID-19.
Fast-forward about 2 years and it has lost nearly all of its initial value. Entrepreneur reports that in October 2022 it received a bid of only $132.72. While it has received a "higher" bid, that bid was for about $280.
---
20. NBA's Top Shots Has Already Recorded $1 Billion in Transactions
In 2019, basketball trading cards took on a different form when the NBA partnered with Dapper Labs to create NBA's Top Shots, a blockchain-based trading card system. According to the website of Dapper Labs, NBA's Top Shots has already generated about $1 billion in transactions and have attracted over 1.5 million users.
The top sale to date is a highlight of LeBron James which sold for $230,000 at the end of August 2021. In fact, all top three sales to date feature LeBron James. What's more, according to data shared by Statista, NBA Top Shot moments that feature LeBron James were bought and sold for a lot more than that of many younger NBA stars combined.
---
21. A Third of Sports Fans Have Bought an NFT or Cryptocurrency
A poll completed in May 2022 has revealed that about a third of US sports fans have bought cryptocurrency and/or NFTs. As for casual sports fans, this percentage was slightly lower at about 20%.
---
22. The NFT Sector's Market Cap Will Exceed $230 Billion by 2030
While 2022 was a tumultuous year for the NFT space, a report published by Verified Market Research (VMR) anticipates that the NFT space's total market cap will increase to $231 billion by 2030.
---
Wrapping Things Up
While the average NFT selling price might only be a few hundred dollars, it for sure remains a promising industry to keep your eye on (particularly if you're into collectibles). From the "more traditional" digital art to album cover to tweets to memes, nowadays basically anything can be turned into and sold as an NFT. Considering just how much this niche has evolved in the last few years, it will be interesting to see what the future holds for NFTs.
Sure, 2022 might not have been the best year for the sector, but if Verified Market Research's prediction is anything to go by, there's still many exciting events to look forward to.
Frequently Asked Questions
What are NFTs?
Non-fungible tokens (or simply called NFTs) are unique digital assets similar to cryptocurrency that are managed on a blockchain. From video clips to cover art, they can be anything as long as they're digital. Unlike standard cryptocurrency, such as Bitcoin or Ethereum, which are fungible, each NFT is unique and can't be replaced/exchanged with something similar. While some NFTs may have some similarities, each one is inherently unique.
What's OpenSea?
OpenSea claims on its website that it's the biggest NFT marketplace. It offers a big selection of non-fungible tokens that include art, virtual worlds, trading cards, and collectibles. The site features millions of collections and NFTs and lets creators create their own items on the blockchain by means of the site's item mining tool. If you're selling items on OpenSea, you can sell it for a fixed price, create a declining price listing, or set up an auction listing.
What are the best NFT marketplaces?
There are a few NFT marketplaces that creators can use to sell their NFTs. Most of these platforms require buyers to have a digital wallet and use cryptocurrencies to pay for their purchase. You can, for instance, try OpenSea, Rarible, SuperRare, and Myth Market. These are regarded as some of the best NFT marketplaces for creators looking to sell NFTs.
What's the most expensive NFT ever to be sold?
Currently, the most expensive NFT ever to be sold is a contentious issue. In October 2021, CryptoPunk #9998 sold for $532 million. However, the person who bought this particular NFT bought it from herself/himself. In December 2021, The Merge by Pak sold for $91.8 million. Though, the jury is still out on if this can count as a single artwork or rather a series of artworks as it was sold to multiple buyers.
Who are some of the top NFT creators?
Some of the top-selling NFT creators are:
Beeple (formally known as Mike Winkelmann)

Grimes

Maddogjones (formally known as Michah Dowbak)

Hackatao

Slimesunday (formally known as Mike Parisella)