While non-fungible tokens (aka NFTs) might be confusing to many, one thing is clear (even to newbies) – NFTs are growing rapidly in popularity. Over the years, there were some interesting developments, but as you'll see from our list of statistics, 2021 (particularly the month of March) has delivered a number of noteworthy statistics.
If you're wondering what type of impact these digital assets really have, here are 17 statistics and facts about its growth. From the most expensive NFTs to the performance of NFT marketplaces, we'll get you up to speed about the main events in a matter of minutes.
---
NFTs Statistics - Sales, Trends and More [2021]:
---
1. The Most Expensive NFT Sold for Nearly $70 million
In March 2021, the most expensive NFT ever was sold for $69.3 million. As a matter of fact, it was also the first purely digital artwork ever to be offered by a major auction house. What's more, the winning bidder, Vignesh Sundaresan (aka MetaKovan), added in an interview with CNBC that he was actually willing to bid even higher.
The NFT, Everydays: The First 5000 Days, was created by the digital artist Beeple (formally known as Mike Winkelmann) and is a collage of his earlier work. As the title suggests, it comprises 5,000 digital artworks. So, you could probably claim that it's good value for money.
---
2. The Most Expensive NFT Video Sold for Almost $7 million
Beeple created three of the 10 most expensive NFTs ever sold. Not only is his Everydays the most expensive NFT ever to be sold, but his piece titled Crossroad is also the most expensive NFT video.
This short 10-second video sold on Nifty Gateway for $6.6 million in February 2021. It depicts former US president Donald Trump flat on his stomach while passersby casually continue with the rest of their day. Interestingly enough, Beeple created it in such a way that the video would change depending on the result of the 2020 US presidential election.
---
3. The Most Expensive NFT Meme Sold for $4 million
Doge, an image of a breed of hunting dog from Japan is one of the most famous memes. As of June 2021, it's also the most expensive NFT meme after it sold for about $4 million on Zora.
It's not the first time that this meme's journey to global comedy fame took a different turn. In 2013, the cryptocurrency Dogecoin was named after the meme.
Very much deserved and a big congratulations to @kabosumama , @knowyourmeme, and @ourZORA for the original Doge NFT auction which sold for 1,696.9 ETH (~$ 4 Million) to @PleasrDAO 🥳

おめでとうございますかぼすちゃん ! 🐾🎊 pic.twitter.com/C2uxaMcBYe

— rin 🦚 (@RinsArt) June 11, 2021
Other well-known memes that were turned into NFTs include Disaster Girl, Overly Attached Girlfriend, Bad Luck Brian, and Nyan Cat. While not close to $4 million, Disaster Girl sold for over $573,000 at an auction.
---
4. The Majority of NFTs Sell for Less than $200
While a number of NFTs have sold for millions of dollars in 2021 alone, the reality is that the average selling price is much less. According to research completed about primary sales by an artist, Kimberly Parker, and an anonymous data scientist, 53.6% of NFTs that were sold on OpenSea in March 2021 were for less than $200. In fact, the duo found that more than a third of NFT sales during a 7-day period were for under $100. Only 2.5% of the sales were for $600-$700.
---
5. Each Day 1000s of NFT Sales Are Made
According to data collected by NonFungible.com, NFT sales can currently range anywhere from 15,000 to 50,000 per week. Before a big boom in the latter part of 2017, there were merely 100 sales per week. So, this new number alone shows how much the NFT market has grown in just a couple of years.
---
6. NFT Sales Amount to Millions Per Week
NFT sales on average tend to range anything between $10 million to $20 million per week, according to data shared by NonFungible.com. Though, there's been some wild weeks in 2021 where the weekly sales added up to more than $170 million.
For example, between the end of April and the end of May, the weekly volume traded increased from $50 million to almost $200 million. This works out to an increase of 300%!
---
7. There Were Close to 40,000 Unique Buyers in March 2021
According to more numbers crunched by NonFungible.com, March 2021 boasted 39,000 unique buyers. This number is more or less in line with the previous month's number (30,000).
Compared to 2020, it's a huge boost. For the most part of 2020, the average number of unique buyers per month was fewer than 10,000. NonFungible.com specifically compared Q2 2020 to Q2 2021 and it worked out to an increase of over 450%.
---
8. The NFT Market Grew Almost Tenfold in Two Years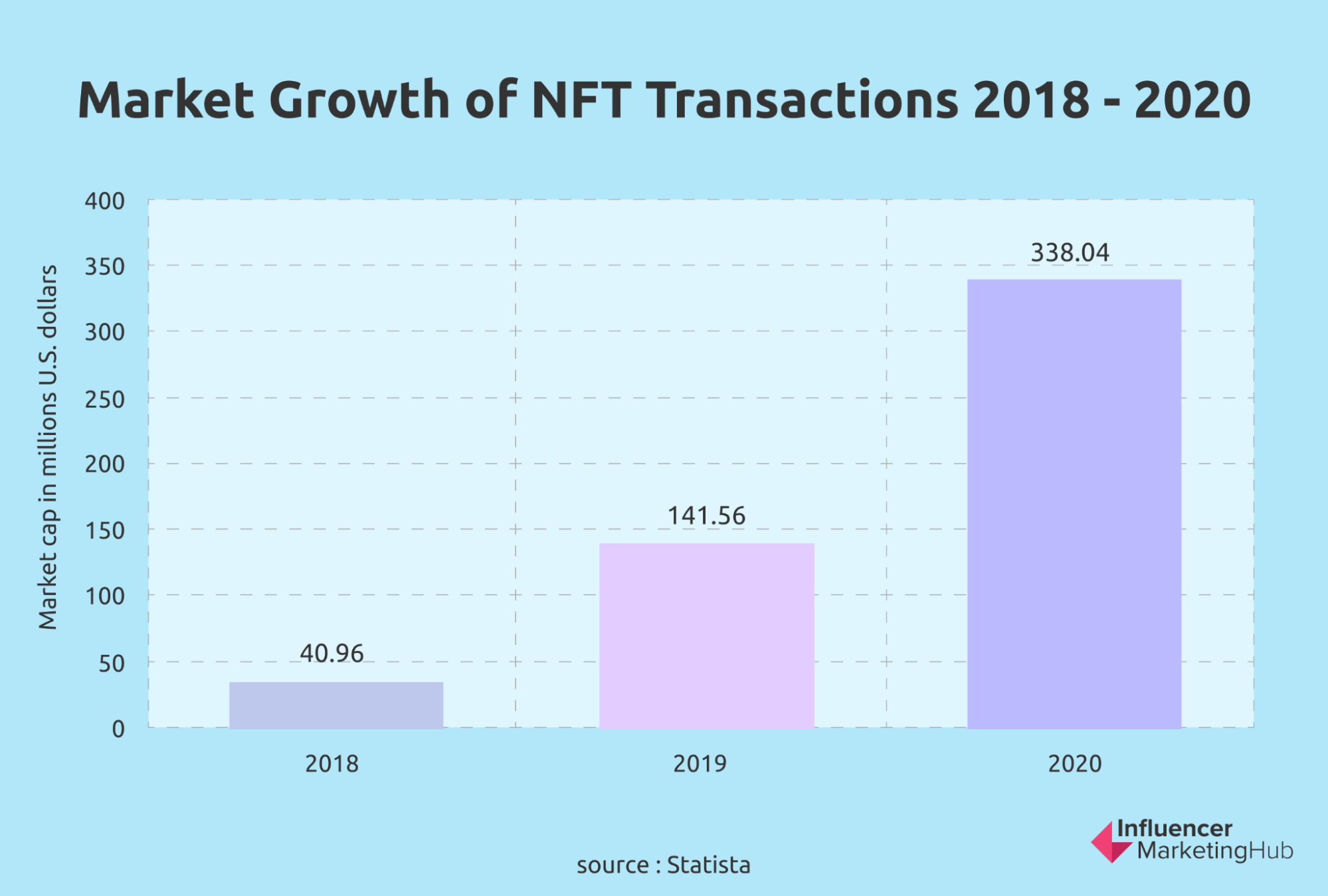 Data gathered by Statista shows that the market cap of non-fungible tokens enjoyed almost a tenfold increase between 2018 and 2020. What's more, these numbers are still considered to be conservative as it's rather challenging to collect data about such a new and volatile market. Needless to say, one thing is crystal clear - the NFT market is for sure growing rapidly.
---
9. NFT Sales Amounted to Over $2.4 Billion in the First 6 Months of 2021
Data by DappRadar reveals that the sales for the first half of 2021 added up to $2.47 billion. Though, NonFungible.com estimates this at only $1.3 billion. Whichever data you look at, it's still billions of dollars and a huge increase compared to the previous year. In 2020, the NFT sales for the same period added up to "only" about $250 million according to Cloudwards.
---
10. OpenSea's Trading Volume Increased by 800+%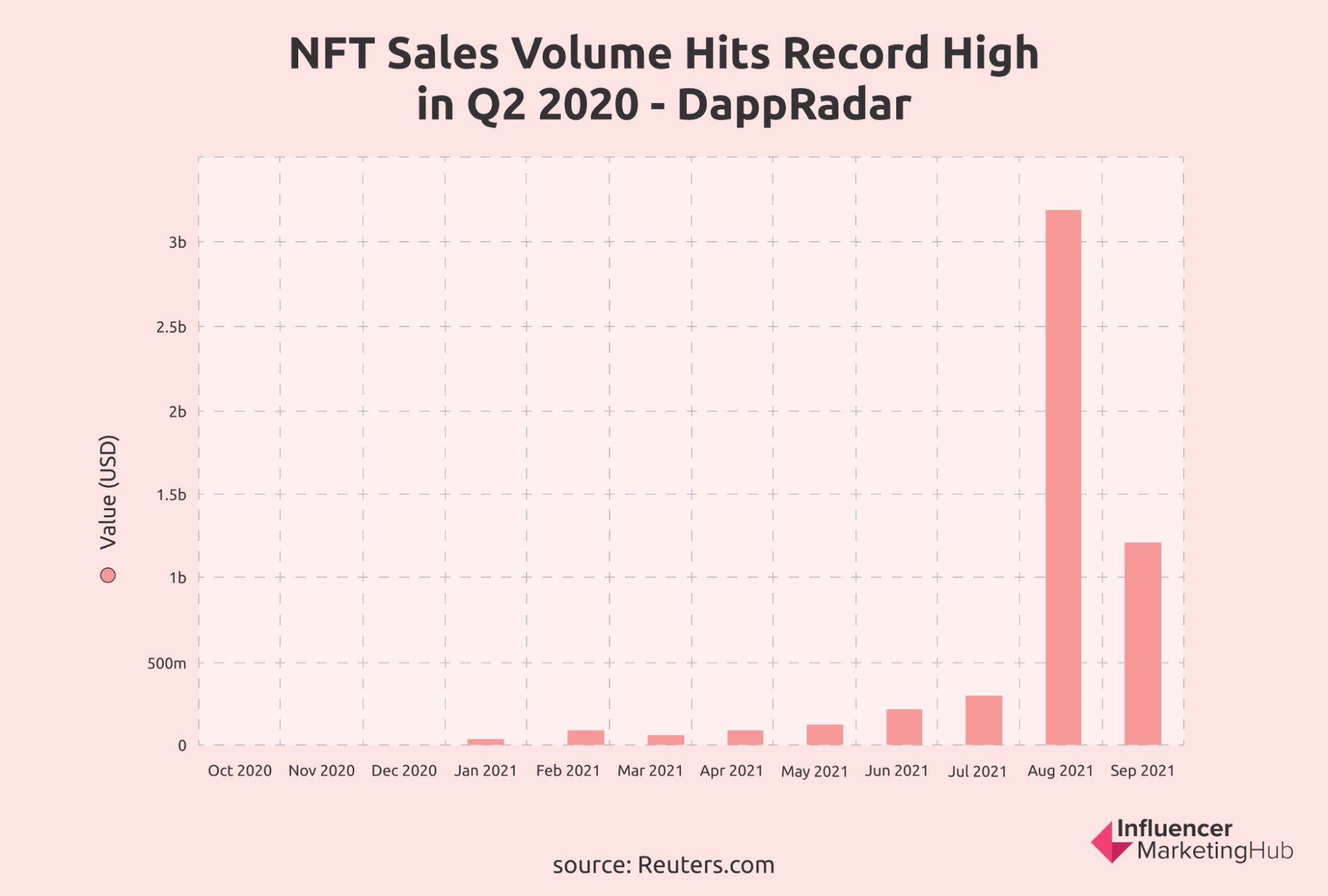 OpenSea, the biggest digital marketplace for crypto collectibles and NFTs across the globe, boasted more than $3 billion in trading volume in August 2021. What's arguably more impressive is that it's an increase of more than 800% compared to the previous month's volumes.
Part of this spike can be attributed to the launch of the Mutant Apes collection by Bored Ape Yacht Club's NFT project. After this launch, the daily trading volume on the marketplace reached an all-time high of over $320 million.
To put this into even more perspective. At the beginning of the year, OpenSea's monthly sales for January 2021 added up to "just" $8 million, while in 2020 it completed about $20 million for the whole year.
---
11. Twitter Founder Sells the First Tweet via an NFT Marketplace
If you thought that NFTs are only for contemporary art sales, you would be very much mistaken. From sound effects to clips from sporting events, there are many different types of NFTs that are sold for millions. There's even a market for tweets.
Jack Dorsey, the founder of Twitter, sold his very first tweet by means of Valuables, an NFT marketplace. Fifteen years after he tweeted, "just setting up my twttr", this very tweet was sold for more than $2.9 million.
The winning bidder, Sina Estavi, shared in an interview that he wanted to encourage engagement between charities and the crypto space. This goal was achieved when Dorsey announced that all the proceeds from this sale would be donated to GiveDirectly to help with Africa's response to COVID-19.
---
12. NBA's Top Shots Has Already Made $700+ Million
In 2019, basketball trading cards took on a different form when the NBA partnered with Dapper Labs to create NBA's Top Shots, a blockchain-based trading card system. According to the website of Dapper Labs, NBA's Top Shots has already generated more than $700 million in total sales.
The top sale to date is a highlight of LeBron James which sold for $230,000 at the end of August 2021. In fact, all top three sales to date feature LeBron James.
---
13. NFTs for Gaming Declined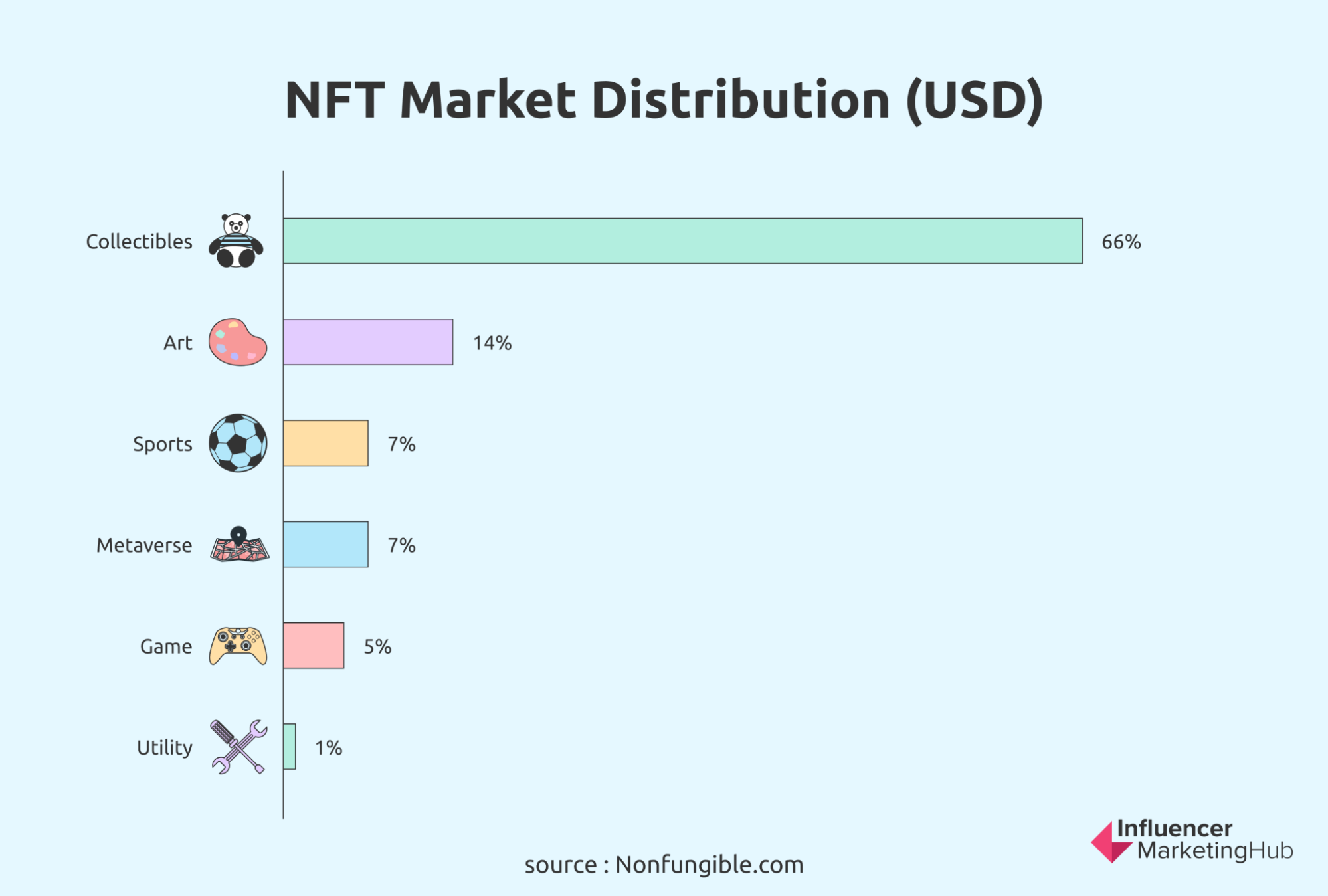 While the overall NFTs sales in 2021 are enjoying a significant spike, the value of NFTs for gaming decreased. On the other hand, the value of NFTs for arts increased.
Though, it still doesn't come close to the popularity that the Collectibles segment enjoyed in Q2 2021. According to NonFungible.com's Non-fungible Tokens Quarterly Report Q2 2021, Collectibles was responsible for 66% of all the volume traded during this quarter.
This popularity can partly be attributed to CryptoPunks. For example, in 2021 alone, 6 of Larva Labs' CryptoPunks sold for millions of dollars, with CryptoPunk #7523 being the second most expensive NFT ever to be sold at a whopping $11.7 million.
---
14. Kings of Leon Released an Album as an NFT
A lot of NFT milestones happened in March 2021. Another such first was when Kings of Leon released their new album, When You See Yourself, as an NFT to become the first band ever to explore this route. In fact, the band offered three types of NFTs as part of their "NFT Yourself" series. In addition to the special album package, they also released perks for their live shows as well as exclusive audiovisual art as two other types of tokens.
The band managed to generate more than $2 million by means of the NFT sales. More than $500,000 of the proceeds were donated to Live Nation's Crew Nation fund to help live music crews during the COVID-19 pandemic.
---
15. Taco Bell Released 25 NFTs
If bands can sell NFTs, so too can fast-food chains. In March 2021 (yes, that's one more event on the NFT calendar for that month), Taco Bell became the first fast-food chain to sell NFTs. "NFTacoBells" consisted of 25 pieces of digital art in total which were sold in less than 30 minutes on Rarible. The piece that received the highest bid was sold for more than $3,500. All of the profits went to Taco Bell's Live Mass scholarship.
---
16. More Than a Third of E-sports Fans are Interested in NFTs
In the middle of March 2021, 2,200 respondents were surveyed about their interest in collecting NFTs either as a hobby or an investment. The results revealed that e-sports fans were the most interested in collecting NFTs. Slightly over 20% stated that they were very interested, while 35% indicated that they were somewhat interested.
With regards to the age group, millennials were the most likely to invest in NFTs (23%). Only 2% of baby boomers indicated that they collected NFTs.
---
17. Men Are the Most Likely to Collect NFTs
The same survey found a significant difference between men and women too. According to its findings, 15% of the male respondents indicated that they collected NFTs. On the other hand, only 4% of the female respondents stated that they collected NFTs.
---
Wrapping Things Up
While the average NFT selling price might only be a few hundred dollars, it for sure remains a promising industry to keep your eye on (particularly if you're into collectibles). Not only are 1000s of NFTs sold on a daily basis, but there's a demand for a variety of different types. From the "more traditional" digital art to album cover to tweets to memes, nowadays basically anything can be turned into and sold as an NFT. Considering just how much this niche has evolved in the span of two years and the enormous growth it generated in 2021 alone, it will be interesting to see what the future holds for NFTs.
Frequently Asked Questions
What are NFTs?
Non-fungible tokens (or simply called NFTs) are unique digital assets similar to cryptocurrency that are managed on a blockchain. From video clips to cover art, they can be anything as long as they're digital. Unlike standard cryptocurrency, such as Bitcoin or Ethereum, which are fungible, each NFT is unique and can't be replaced/exchanged with something similar. While some NFTs may have some similarities, each one is inherently unique.
What's OpenSea?
OpenSea claims on its website that it's the biggest NFT marketplace. It offers a big selection of non-fungible tokens that include art, virtual worlds, trading cards, and collectibles. The site features more than 700 different projects and lets creators create their own items on the blockchain by means of the site's item mining tool. If you're selling items on OpenSea, you can sell it for a fixed price, create a declining price listing, or set up an auction listing.
What are the best NFT marketplaces?
There are a few NFT marketplaces that creators can use to sell their NFTs. Most of these platforms require buyers to have a digital wallet and use cryptocurrencies to pay for their purchase. You can, for instance, try OpenSea, Rarible, SuperRare, and Myth Market. These are regarded as some of the best NFT marketplaces for creators looking to sell NFTs.
Are NFTs risky?
There are a number of potential risks that you need to pay attention to when you're dealing with NFTs. Not only is the pricing volatile, but there's also the risk of a work decreasing in value.
Who are some of the top NFT creators?
In 2021, some of the top-selling NFT creators were:
- Beeple (formally known as Mike Winkelmann)
- Grimes
- Maddogjones (formally known as Michah Dowbak)
- Hackatao
- Slimesunday (formally known as Mike Parisella)