While non-fungible tokens (aka NFTs) might be confusing to many, one thing is clear (even to newbies) – NFTs are growing rapidly in popularity. Over the years, there were some interesting developments…
If you're wondering what type of impact these digital assets really have, here are 22 statistics and facts about its growth. From the most expensive NFTs to the performance of NFT marketplaces, we'll get you up to speed about the main events in a matter of minutes.
---
NFTs Statistics - Sales, Trends and More [2023]
---
1. A Look Back to the 2022 NFT Market
In 2022, the NFT market saw approximately $24.7 billion in trading volume across different platforms. Although this is significant, it fell short of the $67.8 billion generated by traditional art sales during the same year. Among the top-selling NFT projects was Ethereum's Bored Ape Yacht Club, which achieved a trading volume of nearly $1.6 billion, according to CryptoSlam.

---
2. The Most Expensive NFT Sold for Nearly $92 Million
At the time of writing this article, the most expensive NFT ever to be sold is The Merge by Pak. It was sold for $91.8 million on Nifty Gateway in December 2021. The NFT broke the record for the most expensive artwork sold by a living artist. However, the title of the most excostlyFT is debatable, depending on whether Merge is viewed as one single piece.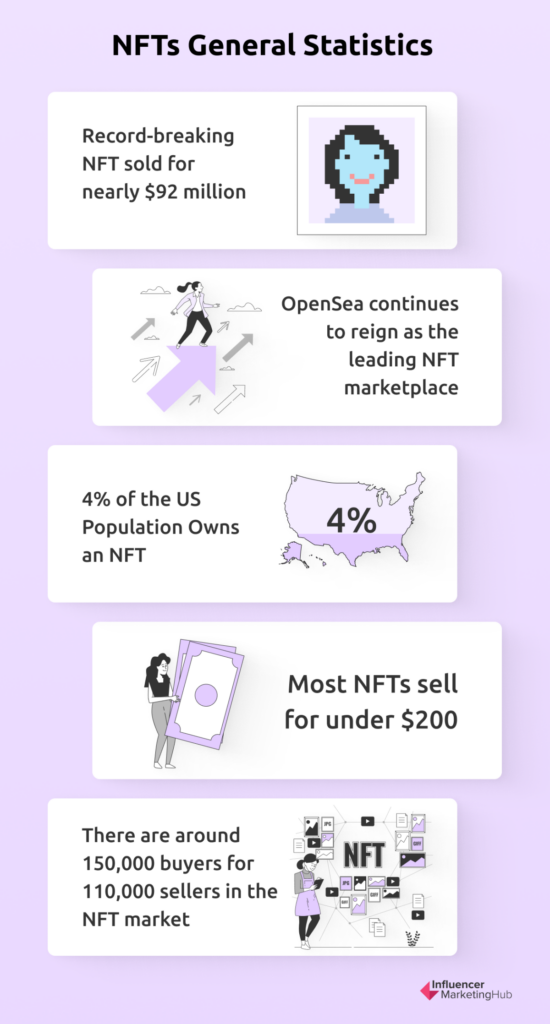 Instead of selling it to a single buyer, multiple buyers had the chance to buy any number of tokens. The price per unit started at $575 and increased by $25 every six hours. At the end, it was sold to 28,983 buyers for a whopping $91.8 million in total.
It wasn't Pak's only big sale to date. In April 2021, The Fungible was released on Nifty Gateway by Sotheby's and sold for nearly $17 million.
Meanwhile, Beeple's artwork called Everydays: The First 5000 Days holds the record for the highest-priced NFT purchased by a single person. This digital artwork consists of 5000 unique images that Beeple created throughout his career and was sold at Christie's auction house for a staggering $69.3 million.
---
3. While OpenSea Remains The Dominant NFT Marketplace, A Rising Competitor Is Gaining Ground
OpenSea, a decentralized marketplace for NFT trading, has emerged as a major platform for purchasing "crypto art" and has experienced a surge in popularity throughout 2021. New collections and artists can be discovered by users, who also have the option to purchase and sell NFTs.
However, its position as the market leader has been challenged since 2022 with the emergence of Blur. According to data provided by NFTGo.io, a prominent blockchain explorer, it has been reported that Blur has outperformed OpenSea in terms of daily transactions on the Ethereum blockchain since early 2023.
Despite facing competition from platforms such as LooksRare and X2Y2, Blur's implementation of a zero-transaction fee policy has garnered attention and resulted in a notable increase in trading volume when compared to OpenSea. This success has firmly established Blur as a prominent player in the market.
In a recent move to stay competitive, OpenSea has announced eliminating marketplace fees for a limited time. Additionally, creators now have the option to choose whether or not to receive royalties.
---
4.People from China and Hong Kong Are the Most Interested in NFTs
According to Google searches, people from China and Hong Kong are currently the most interested in NFTs. Singapore is in third spot. While there was significant interest among people from Venezuela last year, they now don't even feature on the Top 10 list.
Also, somewhat surprisingly is that the United States doesn't even feature in the top 10 countries. This information was gathered by studying Google Trends for the past year.
---
5. 4% of the US Population Owns an NFT
According to Data shared by Nansen, a blockchain analytics platform, 4% of the population in the United States owns an NFT. This number doubled in the span of just a year. California is the state where residents buy the most NFTs. Approximately 4% of men in the US claim ownership of an NFT, while only 1% of women report the same.
One of the reasons why this percentage is so low is simply because of ignorance. The vast majority (70%) of the US population still don't know what an NFT is.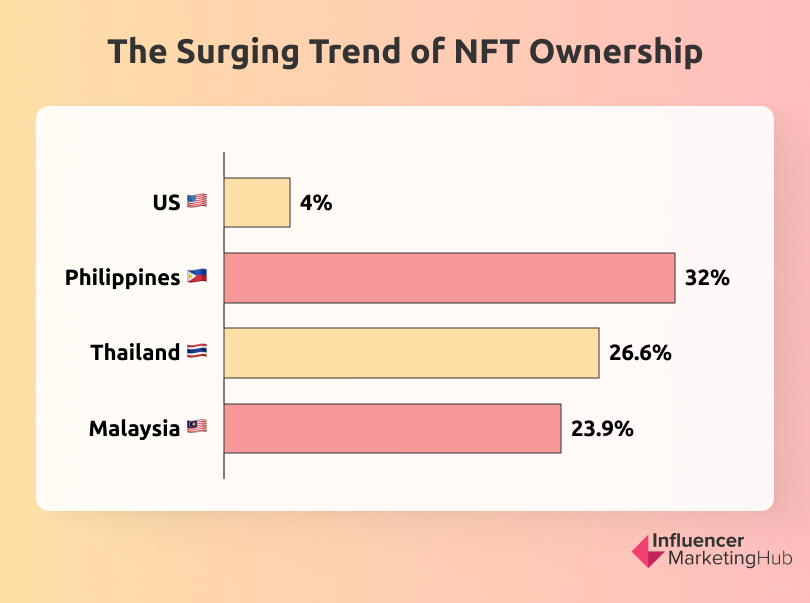 On the other side of the globe, however, the ownership of NFTs is experiencing a surge in popularity. Various countries across Southeast Asia are increasingly embracing this digital asset. In the Philippines, approximately 32% of the population has adopted the ownership of NFTs. Meanwhile, in Thailand, 26.6% of the population has also joined the NFT trend, indicating a significant level of interest. Similarly, in Malaysia, around 23.9% of the population has shown enthusiasm for NFT ownership.
---
6. Interest in NFTs Has Dropped Significantly
Still staying with Google Trends… Figures show that global Google search interest in the term "NFT" has plummeted sharply. After hitting a peak in January 2022, interest has quickly declined. In the middle of September 2022, it recorded its lowest value — a score of merely 12 — in the last year.
NFT interest declines not only in Google searches. NFT interest has been continuously falling, leading to a drop in the base prices of prominent NFT collections this year. The Doodles collection, for example, has experienced a significant decrease of 90% in its base price, with the current price reaching an all-time low. Doodles experienced a substantial decline in sales volume, plummeting from $53 million in April 2022 to a mere $2.4 million in April 2023.
Similarly, the Moonbirds collection has seen a massive drop of 94% in its base prices. The sales volume of Moonbirds dropped from an impressive $484 million during its initial launch in April 2022 to just $3.1 million in April 2023.
Goblintown, once highly sought after, has also witnessed a sharp decline in its floor price. These market fluctuations indicate that individuals are selling off their NFT collections, possibly due to inflated projects or strategic bid farming.
---
7. Despite Facing Challenges, There Are Still Successful NFT Projects That Have Emerged
NFT projects are collections of unique digital items released by a group. This year, the top four NFT projects are Otherside, Bored Ape Yacht Club, Mutant Ape Yacht Club, and CryptoPunks. Yuga Labs, a major player in the NFT industry, owns these projects.
Otherside is not a collection of profile pictures but instead focuses on virtual real estate in a gamified metaverse. It aims to create an evolving world influenced by player input.
Bored Ape Yacht Club gained fame when many celebrities started using their apes as profile pictures on Twitter, and it has become a prominent name in the NFT space.
Mutant Ape Yacht Club offers benefits to Bored Ape Yacht Club holders and has a collection of 20,000 mutant apes.
Lastly, CryptoPunks, the original NFT collection, has set the standard for profile picture NFTs and inspired many other successful projects.
---
8. NFT Invades the Gaming Industry
NFTs have gained significant popularity and are reshaping the gaming industry with their broad range of possibilities. Ubisoft, a well-known French video game developer, has jumped on the NFT bandwagon by introducing in-game NFTs called Digits. They also launched their own NFT platform called Ubisoft Quartz. GameStop, the videogame retailer, saw a surge in its shares when it announced plans to develop an NFT marketplace and establish partnerships in the cryptocurrency space.
Additionally, integrating NFTs in gaming has given rise to a new model called play-to-earn, where players can earn tokens for their participation. This has become particularly popular in developing countries, as users can generate income through blockchain games.
---
9. The Number of NFTs Sold in the Art Segment Fluctuate
Between April 2021 and April 2023, art-related NFT sales underwent significant changes. In April 2021, around 28.4 thousand NFTs were sold in the art segment within a month. The sales reached their highest point in August 2021, with approximately 117.4 thousand NFTs sold. However, sales gradually declined in the subsequent months. By April 2023, the total number of NFT sales across the Ethereum, Ronin, and Flow blockchains in 30 days was around 7.7 thousand.
---
10. The Figures for Active Wallets are Somewhat Average
Over 10,000 active wallets are participating in NFT transactions daily, and around 6,000 unique buyers are involved in purchasing NFTs. In 2022, the gaming segment had the highest number of active wallets, making up 51% of the total. The collectibles segment followed with 32%, while the utility segment came in third at 9%. The art segment accounted for only 6% of the active wallets, and the Metaverse segment had the smallest share at just 2%.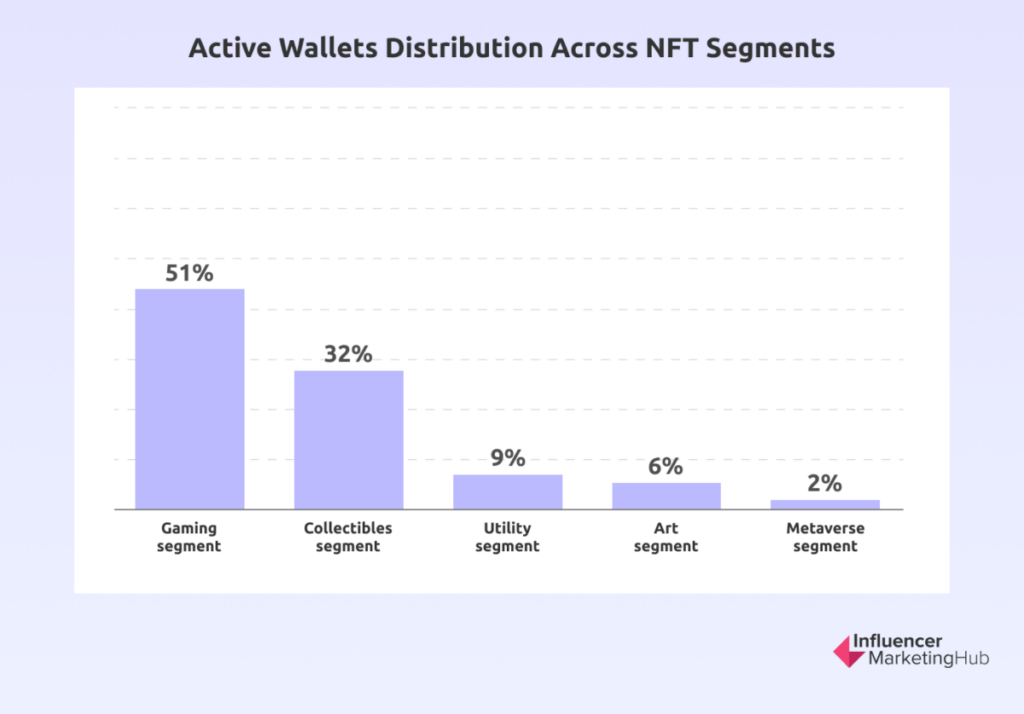 These figures indicate that 9% of the community holds 80% of the NFT-based items, which could be better but not highly unbalanced either. It's important to note that a single user can have multiple unique wallets, so the actual ratio may be even more skewed than it appears at first glance.

---
11. NFT Trading Recorded a Quarterly Loss for the First Time
According to NonFungible.com's Quarterly NFT Market Report Q3 2022, NFT trading recorded its first-ever quarterly loss. For Q3 2022, it had slightly more than $450 million in total losses.
---
12. More Than 12% of Affluent Asian Consumers Have Bought an NFT
As mentioned earlier, search interest in NFTs is higher in Asia. Though, does that interest actually convert to buying NFTs?
A survey completed among affluent consumers in Asia in 2022 revealed that 12.3% of participants have bought an NFT before. However, over a quarter (26%) weren't familiar with NFTs.
---
13. Crypto Punks Most Popular PFP NFTs
The Crypto Punks collection boasted the highest market cap among all profile picture (PFP) NFTs (aka non-fungibles that are commonly used as profile pics on social media accounts). As of September 2022, its market cap was worth about $2.24 billion. In second spot was The Bored Ape Yacht Club collection with a market cap of about $1.7 billion.
---
14. Most Game Developers Aren't Interested in NFTs Tools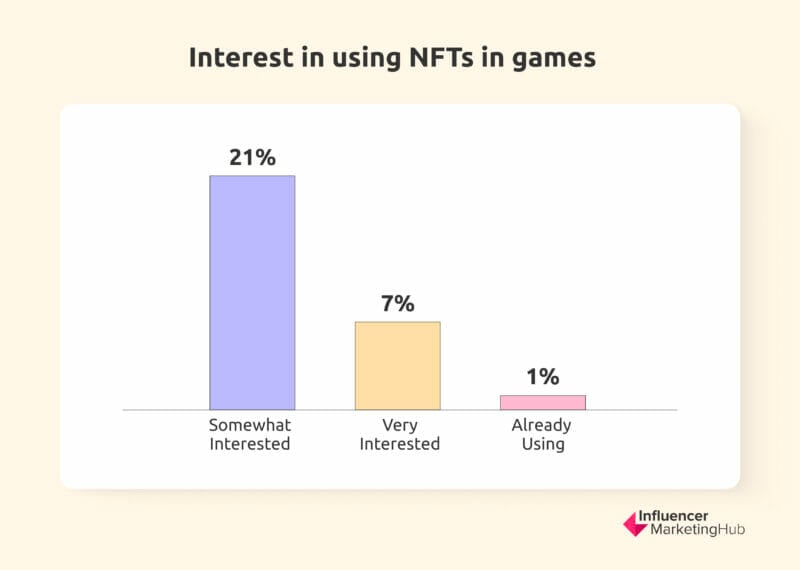 A survey completed at the beginning of 2022 has revealed that most game developers' studios aren't interested in NFTs. Only 7% are very interested, while 21% are somewhat interested. Only 1% revealed that their studios are already using NFTs tools in their games.
---
15. The Majority of NFTs Sell for Less Than $200
While a number of NFTs have sold for millions of dollars, the reality is that the average selling price is much less. More than one-third of NFT sales are priced below $100, and a majority of them (53.6%) are sold for less than $200. According to research shared by NonFungible.com, the average price of NFTs was about $150 per NFT for Q3 2022.
Creating and selling an NFT, also known as "minting," typically incurs a cost ranging from $70 to $150, and sometimes even more. This means that many artists end up losing money when they attempt to create these digital assets.
---
16. Global Market for Music NFT is Projected to Reach a Value of $6.002 Billion by 2028
The global music NFT market in 2021 reached a valuation of $1.350 billion. Experts predict this market will expand at an impressive rate, with an estimated value of $6.002 billion by 2028. These figures highlight the increasing popularity and potential of music NFTs as a lucrative investment opportunity in the coming years.
Several popular musicians, including Snoop Dogg, Eminem, Mike Shinoda of Linkin Park, Shawn Mendes, 3LAU, Kings of Leon, and Ringo Starr, have already launched their musical NFTs. The key players in the global music NFT market include Global Inc., Rarible, OpenSea, Sony Music, Opulous, ROCKI, and Amuse.

---
17. There Are More Buyers Than Sellers
According to data shared by NonFungible.com in their Quarterly NFT Market Report for Q3 2022, at the end of this period there were about 150,000 buyers for 110,000 sellers. This works out to a ratio of about 1.3 buyers to 1 seller. At the beginning of 2022, this ratio was slightly higher, though, at about 1.6.
---
18. NFTs Meet K-pop
In March 2023, famous Korean artist G-Dragon introduced his first-ever NFT collection called Archive 2016. This collection showcased a painting representing G-Dragon's brand, PEACEMINUSONE, and reflected key aspects of his life and career. The demand for these NFTs was incredibly high, as they were all sold out within a few hours of the sale starting.
G-Dragon is not the only K-pop celebrity venturing into NFTs. LINE, a South Korean company dedicated to developing the NFT ecosystem, launched the AVA entertainment NFT platform. They collaborated with popular K-pop boy groups TREASURE and ATEEZ to offer Crystalsand special NFTs that allow fans to save and relive memorable moments with their idols.
MOMENTICA, a digital company, also released a new NFT collection for the K-pop boy group SEVENTEEN. Known as the 'DREAM' Digital Collectibles, this collection allows fans to purchase a 'Special Video Pack' containing three photo NFTs of the group members.
Sotheby's New York unveiled an NFT collection featuring the Korean girl group Aespa. This all-female group collaborated with 3D artist Blake Kathryn in 2022 to create their NFT collection.

---
19. The Beauty Industry Ventures Into the Exciting World of NFTs
In early 2023, NYX, a cosmetic brand owned by L'Oréal, launched GORJS, the world's first beauty-focused DAO. The purpose of GORJS is to highlight creators who are building beauty experiences within the Web3 ecosystem. As part of this initiative, NYX also released 1,000 Ethereum NFTs called the "FKWME Pass." These NFT passes were made available to the public on February 1 and were priced at 0.19 ETH, which is approximately $290 each.
In the previous year, NYX collaborated with inclusive avatar company People Of Crypto (POC) and The Sandbox to organize a week-long celebration for Pride Month. The event showcased gender non-conforming NFT avatars wearing makeup designed in a pixelated style that represented the colors of the Progress Pride flag.
Moreover, Shiseido, a Japanese beauty giant, embraces the metaverse to mark its 150th anniversary. In collaboration with CULT, Shiseido launched the #AliveWithBeauty campaign featuring a limited collection of 150 exclusive NFTs that capture the essence of beauty.

---
20. NBA Top Shot is Revolutionizing Basketball Collectibles with Digital NFTs
NBA Top Shot is an online marketplace where basketball fans can buy, sell, and trade video clips of NBA moments. It was launched in 2020 as a collaboration between the NBA and Dapper Labs, the creators of CryptoKitties. The platform has gained significant popularity, with over 1 million registered users. According to data from DappRadar, more than half a million NBA Top Shot users have exchanged nearly $1 billion video clips on the platform.
Moments, or video clips, are sold as NFTs and function similarly to traditional sports trading cards. The value of a Moment increases based on its rarity. One of the most valuable Moments on NBA Top Shot is a LeBron James dunk from a November 15, 2019, game with only 49 copies. One of those copies is listed for sale at $1 million. However, not all Moments are expensive. NBA Top Shot offers starter packs of Moment NFTs for $9, which gives buyers a slight chance to obtain a more valuable "Legendary NBA All-Star Classics" Moment.

---
21. A Third of Sports Fans Have Bought an NFT or Cryptocurrency
A poll completed in May 2022 has revealed that about a third of US sports fans have bought cryptocurrency and/or NFTs. As for casual sports fans, this percentage was slightly lower at about 20%.
---
22. The NFT Sector's Market Cap Will Exceed $230 Billion by 2030
While 2022 was a tumultuous year for the NFT space, a report published by Verified Market Research (VMR) anticipates that the NFT space's total market cap will increase to $231 billion by 2030.
---
Wrapping Things Up
While the average NFT selling price might only be a few hundred dollars, it for sure remains a promising industry to keep your eye on (particularly if you're into collectibles). From the "more traditional" digital art to album cover to tweets to memes, nowadays basically anything can be turned into and sold as an NFT. Considering just how much this niche has evolved in the last few years, it will be interesting to see what the future holds for NFTs.
Sure, 2022 might not have been the best year for the sector, but if Verified Market Research's prediction is anything to go by, there's still many exciting events to look forward to.
Frequently Asked Questions
What are NFTs?
Non-fungible tokens (or simply called NFTs) are unique digital assets similar to cryptocurrency that are managed on a blockchain. From video clips to cover art, they can be anything as long as they're digital. Unlike standard cryptocurrency, such as Bitcoin or Ethereum, which are fungible, each NFT is unique and can't be replaced/exchanged with something similar. While some NFTs may have some similarities, each one is inherently unique.
What's OpenSea?
OpenSea claims on its website that it's the biggest NFT marketplace. It offers a big selection of non-fungible tokens that include art, virtual worlds, trading cards, and collectibles. The site features millions of collections and NFTs and lets creators create their own items on the blockchain by means of the site's item mining tool. If you're selling items on OpenSea, you can sell it for a fixed price, create a declining price listing, or set up an auction listing.
What are the best NFT marketplaces?
There are a few NFT marketplaces that creators can use to sell their NFTs. Most of these platforms require buyers to have a digital wallet and use cryptocurrencies to pay for their purchase. You can, for instance, try OpenSea, Rarible, SuperRare, and Myth Market. These are regarded as some of the best NFT marketplaces for creators looking to sell NFTs.
What's the most expensive NFT ever to be sold?
Currently, the most expensive NFT ever to be sold is a contentious issue. In October 2021, CryptoPunk #9998 sold for $532 million. However, the person who bought this particular NFT bought it from herself/himself. In December 2021, The Merge by Pak sold for $91.8 million. Though, the jury is still out on if this can count as a single artwork or rather a series of artworks as it was sold to multiple buyers.
Who are some of the top NFT creators?
Some of the top-selling NFT creators are:
Beeple (formally known as Mike Winkelmann)

Grimes

Maddogjones (formally known as Michah Dowbak)

Hackatao

Slimesunday (formally known as Mike Parisella)