Best for:
Medium and Large brands
Overview:
Onalytica was founded in 2009, which in influencer marketing years puts the company in on the ground floor. Getting into any next-wave kind of industry from the outset, before it's even an industry, is the kind of thing that speaks well of a company. And since then, Onalytica's credibility has steadily risen over time; they were named one of 5 "Cool Vendors" by Gartner in its 2013 Consumer Dynamics Report, one of the top "Word-of-Mouth SaaS Platforms" by Forrester in 2015 and most recently 2019 MarTech vendor of the year by B2B Marketing.

Onalytica's client base mainly comprises of large global Enterprises such as Microsoft, VMWare, IBM, Amazon, British Airways, HP, SAP, Accenture, Centrica, Refinitiv (Thomson Reuters), Sage, Dell, Konica Minolta, Lenovo, Salesforce and SAS as well as leading agencies such as Golin, WE Communications, Edelman, Headland PR, OgilvyOne and charity / non-profits such as The Gates Foundation, The World Economic Forum, The Nature Conservancy, We Mean Business, Shelter, Woodland Trust, General Medical Council and Marie Curie.

Onalytica's software enables brands to Identify, Activate and Manage influencers and then measure their impact against business outcomes. Their clients have seen up to 5X reach, engagement and demand gen with their target audience by integrating industry influencers into their content and event strategies. Onalytica have a unique relationship with influencer communities in industries such as Tech, Finance, Healthcare, Environment, Energy, Automotive and Education and actively promote the top influencers across hot topics such as AI, Climate Change, Fintech, Driverless Cars, HealthTech, and the Future of Work.

Onalytica advocates equal value brand-influencer partnerships through organic "non-paid" engagement. The influencers' expertise is promoted globally and brands drive more reach, engagement & demand gen through their content and events. Consumers get access to more engaging and compelling content and the industry advances in a less self-serving and more productive way. Onalytica's mission is to connect brands with influencer communities so that brands create content that is influencer generated. This content helps promote the influencers and gives brands the associated credibility and access to the influencers' audiences.
---
Summary: Quick Jump Menu
---
Pricing:
Onalytica works like any other SaaS platform, with a monthly subscription fee that covers everything the platform has to offer: influencer discovery, tools to manage the relationship with each influencer you are working with or scouting, deep reporting and analytics, and access to support. Additionally, every customer of Onalytica is assigned a dedicated Customer Success Manager, available to help guide strategy and planning in ways that get the most out of the platform.

For specific pricing, you'll need to talk to Onalytica directly, but in general the platform is a good fit for medium to large sized companies.

Most customers will find that their plan is customised to fit their particular needs. As you start increasing the number of users who need to access the platform, and/or the number of influencers you'd like to track, the monthly fee goes up proportionally. For those looking for a more hands-on (and less self-service approach), Onalytica offers custom professional services and reporting tailored to each client.
---
The Details:
When it comes to influencer discovery, there are generally two ways to go about it. One way is to create an opt-in network, with influencers applying, and are then vetted by humans, to be part of the platform. This can sometimes raise questions about who the platform is meant to benefit, the marketers or influencers, and to which of these sides of the equation does the platform provider pledge allegiance. The other is to have an algorithm take care of everything for you, combing through billions of social posts and then indexing and listing those that fit a set a criteria. These unscreened results—numbering in the millions—can sometimes present less than desirable search results, with AI bots and other non-useful profiles getting added to the mix.
Onalytica is very much in the second camp here but where they set themselves apart from other vendors taking this approach is in the quality of their ranking algorithm. Onalytica has developed its own proprietary 'topical authority' score that measures influencers by analysing the wider community of influencers discussing the topic and how they interact with each other. This approach is less susceptible to being 'gamed' using bots or other similar techniques and their ranking reports are generally well received online due to the quality of their results. A quick search on Twitter for 'Onalytica' will show up a range of influencers discussing and sharing Onalytica's recent published reports.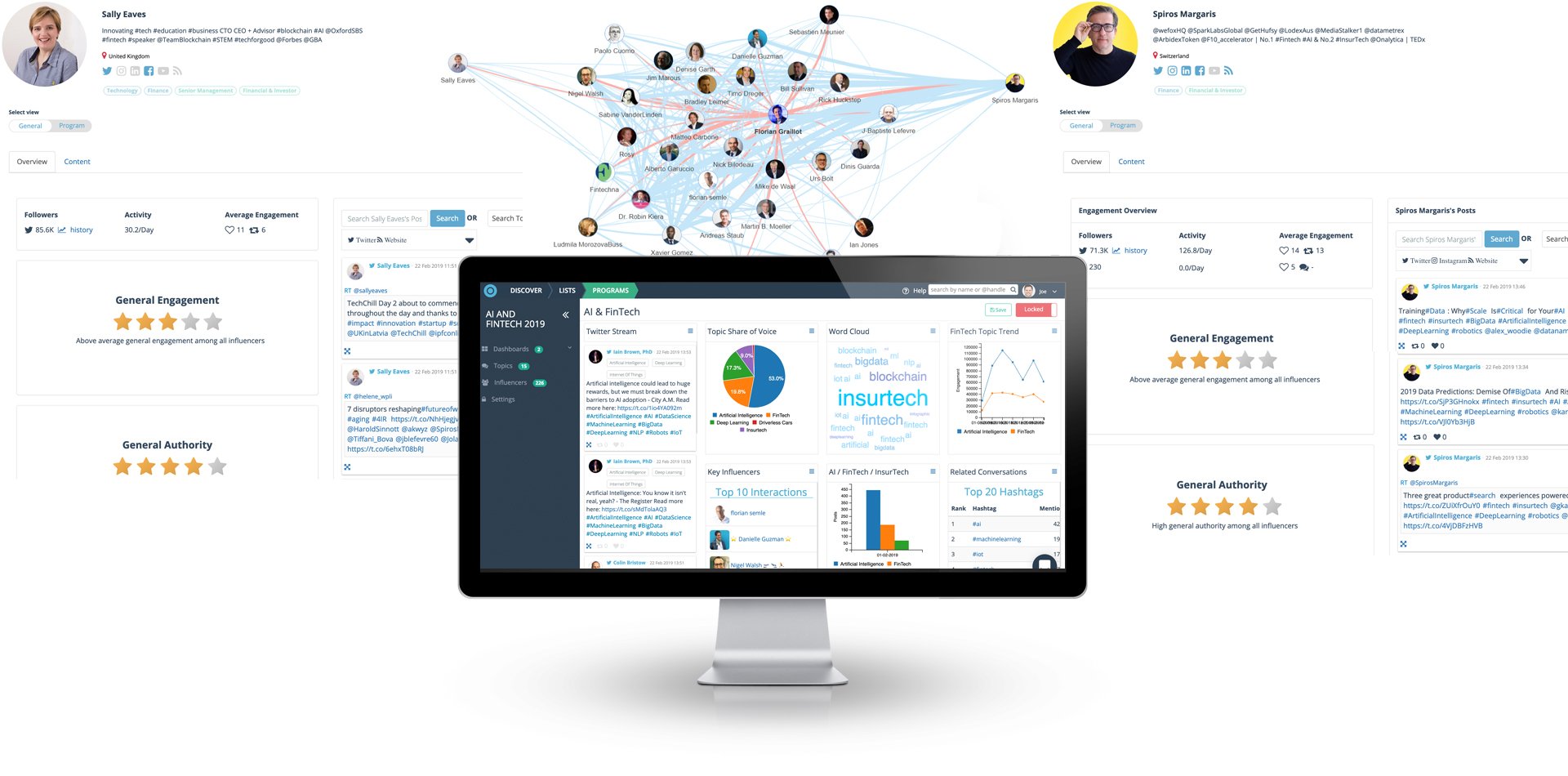 At the heart of the search function lies an algorithm, analyzing roughly 2 billion posts per year, and then indexing all the relevant information around these posts. There's also a team of people adding a human touch to the listings, trimming the fat and making sure that the platform is providing marketers and brands with relevant results. With over 700K profiles in their database, there's no shortage of work for this team.
Customers can search for influencers in 3 ways. You can search by influencer topical focus, influencer description or using Onalytica's patented content matcher feature.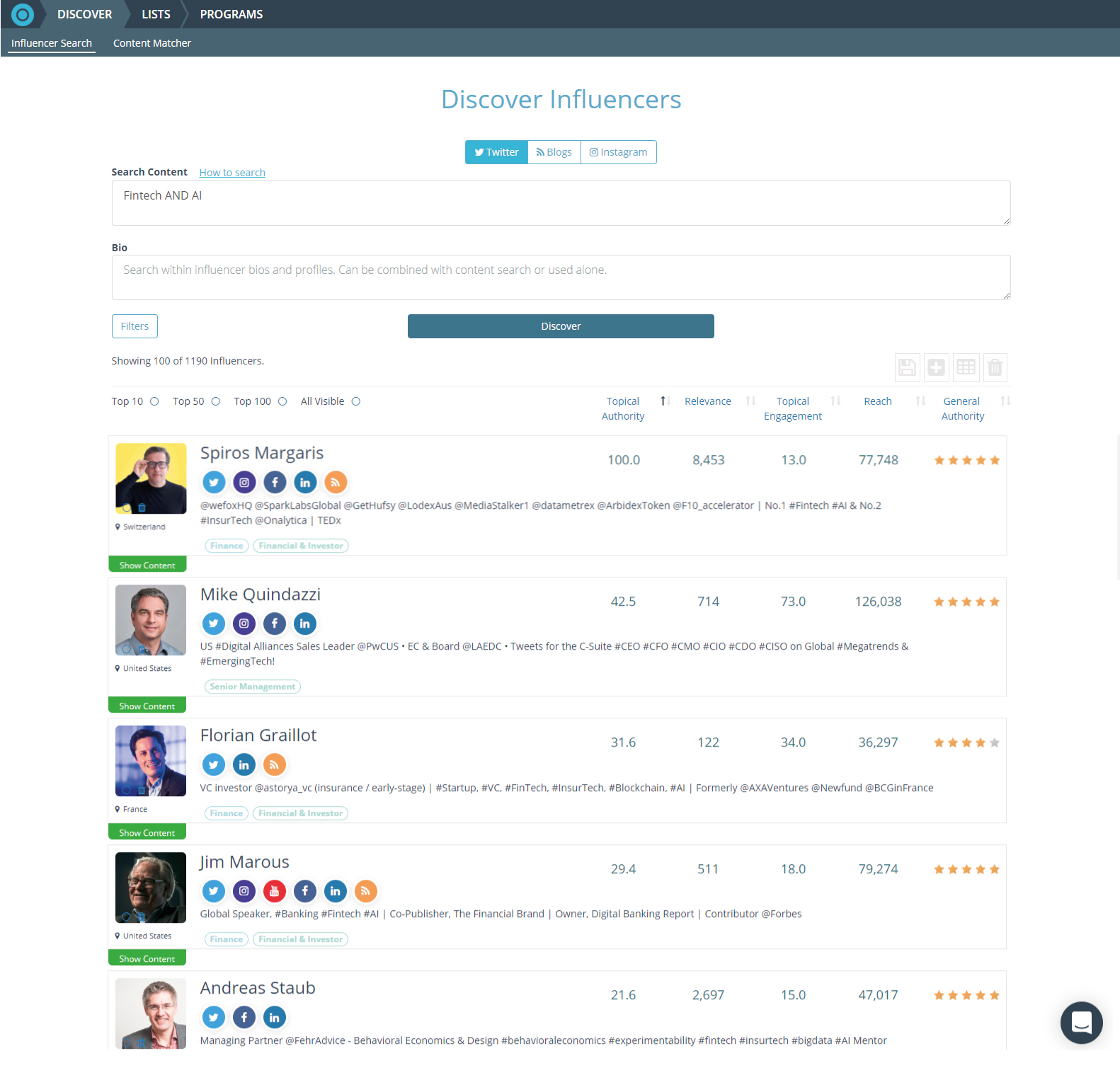 It's worth noting that search results come back within 5 - 10 seconds after you've plugged some criteria in for a keyword search. If you were to compare it to another search-only platform like Hypr or Upfluence, the difference in time is a few seconds, but for that extra few seconds though, you get a lot more information. With Onalytica, you get:
Word Clouds — These are visual representations of the most used keywords across an influencer's posts. This doesn't just give you an idea if there's an affinity on topics, but can also form the basis of some solid SEO planning, as well




Key Connections — Influencers don't just have followers, they follow other people. You can see their top connections at a glance in the profile, a great indicator of who might be influencing your influencer—which is another way of saying, "someone else you'd like to connect with." You can also get more detailed views of their connections and interactions with each one to truly get an understanding of what your infuencer's online social life looks like.




Influencer Feed — Cut through the clutter of your social feeds, and get right to the stuff you want to see: the posts of any influencer that you're either working with or wanting to work with. This gives you the chance to engage and stay on topic, building up credibility with the influencer and his / her community.




Topic Alerts — You can set up triggers that will alerts you to when an influencer in your program mentions a topic




Influencer Rankings — Each influencer is scored on four criteria: topical authority, reach, on-topic engagement and relevance. Each of these criteria is defined by Onalytica and scores are relative to the community as a whole.




Network maps




Customizable dashboards




Ability to tag influencers and create reports




Analytics and reporting on topic mentions, share of voice




Employee advocacy reporting




The ability to upload a list of influencer you want to manage

Onalytica can absolutely act as the engine that provides marketers and PR professionals with the data they need. Once you're working with influencers and start collaborating on content, that content is going to get mined by Onalytica's algorithm, and you'll start getting all the data you need to see how your campaigns have measured up. Things like reach, engagement rates, and amplification are all there.

My chief complaint with Onalytica was that they don't have an engagement section in the platform where you can manage all your messages with influencers across various networks. It would be great to see something added that provides a central resource for marketing campaigns, and the influencers within those campaigns—something that serves as a hub for the individual communications and content collaborations that are now fairly standard. Onalytica have assured me that this is coming soon!
---
Conclusion:
Onalytica's search function goes deeper than any other platform I've seen. Usually, to get close to the kind of data they're offering, you'll need to search through millions of influencers on a "talent agnostic" search engine—that is, one that isn't searching through an opt-in network. You'll get a lot of data, but not every search result is going to be compelling. With Onalytica's human-assisted approach to data mining, they've struck a balance between a robust data grab and quality assurance. And they went to town on the data grab.For companies looking for access to an exhaustive amount of data to go along with their influencer searches, Onalytica will not disappoint. Even for those looking for a full suite of self-service tools, it may be worth it to supplement Onalytica with more focused campaign- or project-management software.
Onalytica
Features

Ease of Use

Reporting

Best for:
Medium and Large brands