Services Offered: Influencer Search & DiscoveryRelationship Management
Channels: Facebook, Twitter, Instagram, LinkedIn, Wordpress, Blogs
Overview:
Onalytica was founded in 2009, which in influencer marketing years puts the company in on the ground floor. Getting into any next-wave kind of industry from the outset, before it's even an industry, is the kind of thing that speaks well of a company. And since then, Onalytica's credibility has steadily risen over time; they were named one of 5 "Cool Vendors" by Gartner in its 2013 Consumer Dynamics Report, and one of the top "Word-of-Mouth SaaS Platforms" by Forrester in 2015. With a stable of big name clients like Microsoft, Canon, VmWare, and the British Heart Foundation, it looks like Onalytica will be around for quite some time.
The downside of being in the game this long is that the rules sometimes change under you, and we can see this with their software platform, which they bill as an Influencer Relationship Management solution. But, mostly, what Onalytica offers does not fit the current mold of IRM software. As mentioned, Onalytica began its foray into influencer marketing back before it became an industry, complete with influencer marketplaces and fees-for-content arrangements. Today, Influencer Relationship Management is nearly synonymous with Campaign Management—a central suite of tools designed to track and monitor your working relationship with each influencer you've signed. It's a way to keep contact information, performance stats, communications, content collaborations, and more all accessible from a single interface. That's not really what Onalytica does, so it bears noting here if that's what you're looking for.
For Onalytica, IRM is something much less straightforward, though no less important. See, campaign collaborations are just a small part of the influencer marketing landscape; for long-term success a brand needs to focus on the public/social layers of whatever channels they're participating in. Meaning: if a brand wants to build up a good reputation with an influencer's audience on Instagram, then they've got to participate on Instagram. But how do they know if that participation is netting them any returns in the way of long-term brand loyalists?
That's where Onalytica comes in.
---
Summary: Quick Jump Menu
---
---
Pricing:
Onalytica works like any other SaaS platform, with a monthly subscription fee that covers everything the platform has to offer: influencer discovery, tools to manage the relationship with each influencer you are working with or scouting, deep reporting and analytics, and access to support. Additionally, every customer of Onalytica is assigned a dedicated Customer Success Manager, available to help guide strategy and planning in ways that get the most out of the platform.
Pricing starts at $500 a month for single user access, though most customers will find that their plan is customised to fit their particular needs. As you start increasing the number of users who need to access the platform, and/or the number of influencers you'd like to track, the monthly fee goes up proportionally. For those looking for a more hands-on (and less self-service approach), Onalytica offers custom professional services and reporting tailored to each client.
---
The Details:
When it comes to influencer discovery, there are generally two ways to go about it. One way is to create an opt-in network, with influencers applying, and are then vetted by humans, to be part of the platform. This can sometimes raise questions about who the platform is meant to benefit, the marketers or influencers, and to which of these sides of the equation does the platform provider pledge allegiance. The other is to have an algorithm take care of everything for you, combing through billions of social posts and then indexing and listing those that fit a set a criteria. These unscreened results—numbering in the millions—can sometimes present less than desirable search results, with AI bots and other non-useful profiles getting added to the mix. Onalytica takes a hybrid approach.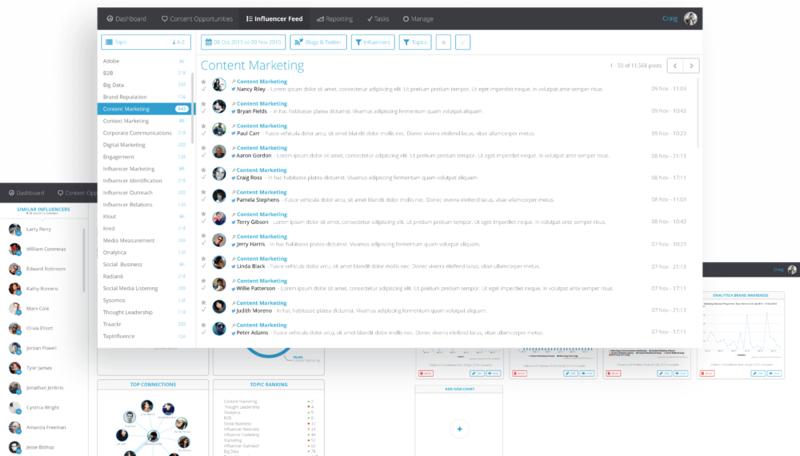 At the heart of the search function lies an algorithm, scraping away at roughly 200 billion social posts per year, and then indexing all the relevant information around these posts. But there's also a team of people adding a human touch to the listings, trimming the fat and making sure that the platform is providing marketers and brands with relevant results. With over a 150,000 influencers in the database, there's no shortage of work for this team.
Using Onalytica's human/technology approach, customers can search for influencers in four different ways:
Categories — The human element at Onalytica contribution can be found in the curated lists of influencers that are organised by category. Lists in categories like Fashion, Food, Lifestyle, and Television are all built out by the people behind the software. It's a quick jump into the top talent on the
Platform—quality content creators with loyal followings—as well as insights into their audience.
Topic Search — A basic keyword search, this is great for people who want to find hits more specific than a category. If you're looking for someone with expertise in Yoga, this is where you'd start looking.
Demographics — For a lot of brands, it might not matter what the influencer's into. What's more important is their audience. With a demographic search, you instead focus on the audience traits that matter. Look by gender, location, age, interests, or their role/occupation.
Content — This is a very unique feature to Onalytica, where you can upload your existing content and the software matches you with influencers whose written voices best match your yours.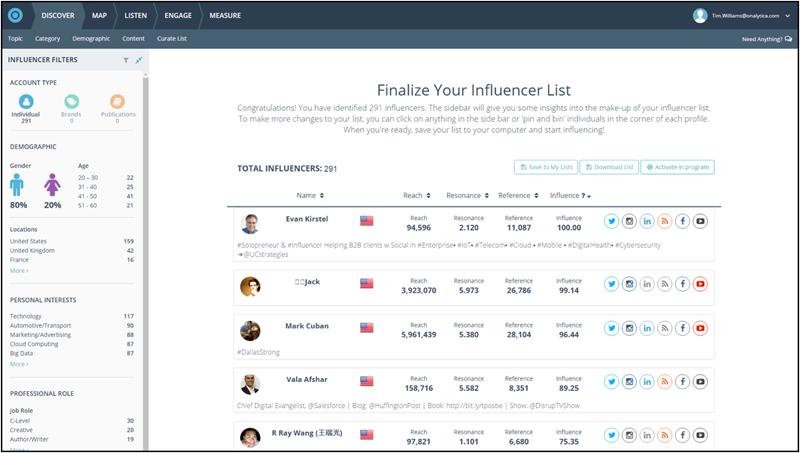 It's worth noting that search results come back pretty slowly, but it's important to understand that's relative to other tools I've been able to witness in action. In terms of your life and the time you have to live it, Onalytica isn't going to get in your way. We're talking about a 5 - 10 second wait after you've plugged some criteria in for a keyword or demographic search. I mention this more to point out that for each influencer that matches a search, Onalytica's parsing quite a lot of data. If you were to compare it to another search-only platform like Hyprbrand or Upfluence, the difference in time is noticeable. For that extra 5 - 10 seconds, though, you get quite a lot more information.
All this extra data is what feed's the Influencer Relationship Management portion of the Onalytica platform. Other search engines would provide you with an influencer profile that displays follower and engagement statistics, a link to a media kit, and the performance stats of their most recent content. There might be some demographic information—age, gender, and race—and their associated interests. With Onalytica, you also get:
Keyword Clouds — These are visual representations of the most used keywords across an influencer's posts, where the most used are prominently displayed in large and bold font and the lesser used ones fade into the background with smaller type and less pronounced colors. This doesn't just give you an idea if there's an affinity on topics, but can also form the basis of some solid SEO planning, as well.
Key Connections — Influencers don't just have followers, they follow other people. You can see their top connections at a glance in the profile, a great indicator of who might be influencing your influencer—which is another way of saying, "someone else you'd like to connect with." You can also get more detailed views of their connections and interactions with each one to truly get an understanding of what your infuencer's online social life looks like.
Real Time Influencer Feed — Cut through the clutter of your social feeds, and get right to the stuff you want to see: the posts of any influencer that you're either working with or wanting to work with. This gives you the chance to engage and stay on topic, building up credibility with the influencer and her community.
Topic Alerts — A social listening feature lets you search for any topic or mention—from anyone on the platform, regardless if they're someone you're watching—and then alerts you via email with links to the relevant posts. Again, it's important to respond to anything within a quick timeframe. You've got to be engaged to appear engaged.
Influencer Rankings — Each influencer is scored on four criteria: Reach, Resonance, Relevance, Reference. Each of these criteria is defined by Onalytica and scores are relative to the community as a whole.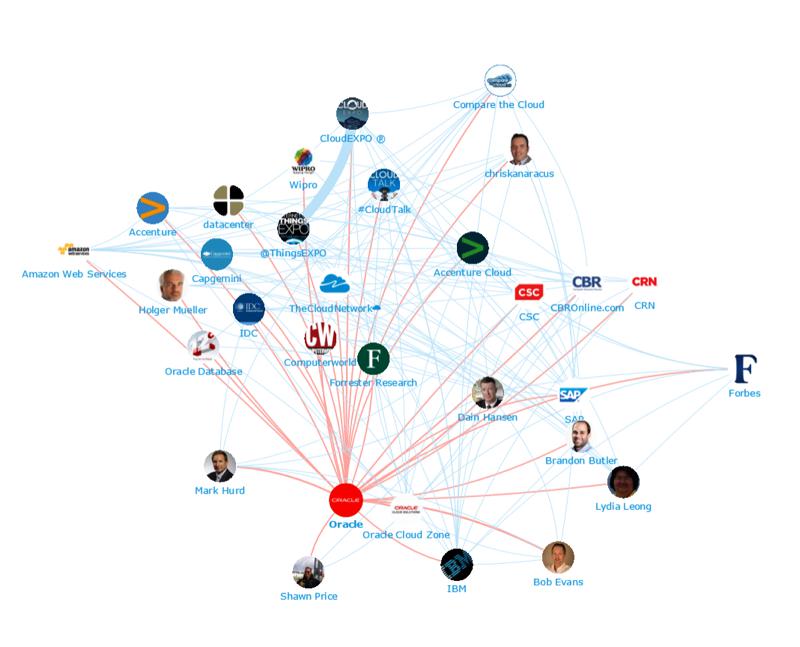 Even though Onalytica isn't set up to be a full fledged campaign management tool, it can absolutely act as the engine that provides those tools with the data they need. Once you're working with influencers and start collaborating on content, that content is going to get mined by Onalytica's algorithm, and you'll start getting all the data you need to see how your campaigns measured up. Things like reach, engagement rates, and amplification are all there.
My chief complaint with Onalytica was the sheer volume of data, and the way it's presented. Dashboard views are a bit too busy and confusing to give you the at-a-glance type information that dashboards were designed for. The many charts and graphs on view presented far too many data points across many axes of information, making it difficult to understand instantly what it is you're looking at. And there are so many charts and graphs. That amount of data is a good thing, don't get me wrong. But it's overwhelming in its presentation and probably doesn't have to be.
It could also stand to update its idea of what Influencer Relationship Management means at this point. The tools they've provided to grow and sustain relationships with influencers are top-notch, and that's impressive for a company that created its product at the same time the industry it was serving was forming. Influencer marketing has progressed, though, to something beyond the informal relationships and collaborations that marked its beginnings. Influencers command more power and respect in the dynamic than they once did, and IRM needs to have some tools that address the many offline aspects of the influencer relationship. It would be great to see something added that provides a central resource for marketing campaigns, and the influencers within those campaigns—something that serves as a hub for the individual communications and content collaborations that are now fairly standard.
---
Conclusion:
Onalytica's search function goes deeper than any other platform I've seen. Usually, to get close to the kind of data they're offering, you'll need to search through millions of influencers on a "talent agnostic" search engine—that is, one that isn't searching through an opt-in network. You'll get a lot of data, but not every search result is going to be compelling. With Onalytica's human-assisted approach to data mining, they've struck a balance between a robust data grab and quality assurance. And they went to town on the data grab.
For companies looking for access to an exhaustive amount of data to go along with their influencer searches, Onalytica will not disappoint. Even for those looking for a full suite of self-service tools, it may be worth it to supplement Onalytica with more focused campaign- or project-management software.
---
Onalytica
Search Precision

Management Tools

Interface/Ease of Use

Reporting/Analytics

Services Offered: Influencer Search & DiscoveryRelationship Management
Channels: Facebook, Twitter, Instagram, LinkedIn, Wordpress, Blogs