Best for:
SMM-specialists, Bloggers, Freelancers, Small and Medium-sized Businesses, Big Business, Agencies
Overview
Social media management platforms can often look kind of similar. And in many ways, they feel similar. But occasionally, we come across a tool that's different. We find something that checks all the boxes and offers all the features and functionality you need to run a successful social media strategy. And that's what you'll find in this Onlypult review.
Onlypult isn't your average social media tool. Sure, it lets you post on social media platforms, but you can also post to your blog as well. Onlypult is also built to manage tasks that would typically have you chasing your team for updates or would require you using additional tools that cost you more money.
And that's just half of it. If you have been on the lookout for something more than just another social media scheduling tool, this may just be what you're after.
---
Onlypult Overview:
---
Pricing
Free no credit card 7-day trial available.
Start, from $17.50/mo – 5 accounts, 1 manager, 10 tracked users, files up to 50 MB, unlimited posting, Builder page x 1, 300 mentions for one monitoring project
SMM, from $24.50/mo – 10 accounts, 2 managers, 15 tracked users, files up to 100 MB, unlimited posting, Builder page x 1, 300 mentions for one monitoring project
Agency, from $45.50/mo – 25 accounts, 3 managers, 20 tracked users, files up to 100 MB, unlimited posting, Builder page x 1, 300 mentions for one monitoring project
Pro, from $69.30/mo – 50 accounts, 5 managers, 30 tracked users, files up to 100 MB, unlimited posting, Builder page x 1, 300 mentions for one monitoring project
All plans also include Image editor, video editor, automatic post deletion, analytics, working with several accounts at the same time, Planner, Hashtags, Calendar, and teamwork.
---
The Details
Onlypult is packed with a collection of well-integrated features. From posting capabilities to its image and video editors, here's a look at what the app has to offer.
Posting
Pushing content on social media isn't rocket science, but it does take a tool that's easy to use to get the job done. When you have a busy team with tons of content to schedule and post, the last thing you want to do is struggle to get it all done. Another challenge today is access to more platforms. There's more to social media marketing than just Facebook, Instagram, Twitter, and LinkedIn. And this is something we low-key love about Onlypult. It supports 14 different platforms, making it easier for you to grow your brand by reaching as many people as possible, and all from one place.
Platforms include Facebook, Instagram, Twitter, LinkedIn, Google My Business, YouTube, TikTok, Tumblr, WordPress, Telegram, VKontakte, Odnoklassniki, Pinterest, and Medium.
What can you do with Onlypult? Here's a breakdown of what you can achieve:
Auto Scheduling
This may sound like a fancy way of saying, "schedule posts" and that's because it is. Onlypult's scheduling allows you to create a bunch of social posts and set days and times for them to be pushed through to your social media channels. What's great about this feature is that you can also schedule posts like carousels on Instagram and even stories. This really makes the platform highly flexible, giving you the same native capabilities. And if you run an agency, you'll love this even more because you have complete and utter control of every aspect of the content promotion process for all your clients in one app.
Multiposting
Multiposting is used when you'd like to publish a batch of social media posts. Onlypult lets you do this by creating copy that will apply to all posts. The variable will be your images. This may sound like a bad idea, but it's terribly useful. Because people scroll through their feed so frequently, and because feeds are populated with tons of content in seconds, multiposting helps you get your message out to as many people as possible. It's also a great tool for testing social media posts to find out which images and copy best resonate with your audience.
Auto-Deleting Posts
Auto-deleting posts is a smart way to manage promotional content. Onlypult lets you create a post and set a date and time for it to expire. This way, you no longer have to worry about promotional links and codes floating around on the web, or people querying old posts and asking for special discounts.
Social media content calendar
Like all good social media management tools, you get a content calendar to help you keep tabs on what's happening and when your content is going to be published. Onlypult's content calendar offers a complete view of all content scheduled. Unlike most social calendars you are familiar with, Onlypult has found a way to make even the busiest of content calendars appear as clean and easy to use as possible.
They've done this by aggregating the total amount of posts available in a day. So, instead of seeing icons for different social platforms, or stacks of entries on a particular day, you get to see your number.
Clicking on the date will show you which posts are to be published and which platforms they are to be published on.
Onlypult's content calendar works in tandem with Scheduler. You have the flexibility to set a date and time for content to be published and plan around specific events and changes that pop up. And if you're on the road or away from your desk, you can also schedule posts from your mobile device. Onlypult offers iPhone and Android apps and they're both easy to use.
---
Builder
If you've been around social media for any amount of time, you know that there's very little room to showcase landing pages. Many social media platforms allow one link in your bio, and it's typically dedicated to your homepage or whatever campaign you're running.
The solution? Use a link in bio tool. Today, there are tons of those available. Most offer free plans alongside premium options with additional features like analytics, eCommerce integrations, lead generation forms, and more.
Onlypult offers one, too. It's not as robust as say a Linktree premium plan. You can't leverage any eCommerce integrations, add a form to capture leads, capture telephone numbers, accept donations from your audience, or have access to tons of powerful integrations, but it has all you need to create micro landing pages that link to other assets.
Builder will let you assign an avatar, add text, use the divider functionality to space out content, add buttons, and even offer a link to messengers. You can also insert a map to your business's location, a banner with a special message or offer, and a list of FAQs.
If you're like us, you know the power of great content and that it's born in the smart use of text, images, and video. You're given the option of including a gallery of content and embedding a video. And this is powerful. Video is a strong marketing tool that can drive much-needed sales. If used strategically, you can use your micro landing page as a primer for an effective and persuasive video that gets your audience thinking.
Micro landing pages are really a powerful concept with many applications. As a creator, you're likely an affiliate marketer too. Smart affiliate marketers understand that their goal is to create the need for a product and then link to it. If you're on social media, you can easily do this with Builder. Using smart copy, imagery, or a video, you can generate the kind of interest you need and then send your audience over to affiliate offers.
Builder also offers analytics, giving insight into how your micro landing page is performing. You can get reports on page clicks and analyze the efficiency of your page for a specific period. And with these insights, you'll be able to improve your micro landing page for better results. Builder is also an easy-to-use modular tool. All you need to do is click on a specific element and you'll be presented with options to edit it. This means you could easily create a micro landing page in minutes.
---
Monitoring
Social media listening isn't a new idea. It's been around for almost two decades. It hasn't always been easily accessible, though. Most social and web listening and monitoring tools cost an arm and leg. For startups or smaller businesses, this functionality was out of reach.
Onlypult has done a great job of taking care of the little guy. Its built-in listening feature is powerful enough to listen to all social media platforms for trends and conversations about your brand and products. This gives you the opportunity to get closer to your customers and find out what matters most to them. You can take these insights and build a strong, data-driven, and more competitive strategy with content to boot.
But that's not all social media listening is about. Here are two smart ways you can use Onlypult's social media listing feature for your brand:
Crisis Management
Social media listening is a smart way to get ahead of anything that could hurt your brand. You're able to pick up on content that could hurt your brand with the use of alerts. These are easily created and quickly help you identify conversations and any negative comments that may impact on your brand.
Improve Customer Satisfaction
One of the more challenging aspects of running an effective business is getting direct feedback from your client. Often, it's hard to find the right tools to gather customer feedback and then translate it into tangible business results.
Onlypult's social media listening tool is able to gather customer sentiment, giving you an idea of how people feel about your brand and product. It also acts as a tool for identifying what's missing in your market, presenting more opportunities for you to deliver solutions with a stronger customer-product fit.
What can you track with the social media listening tool?
You'll be able to access a variety of metrics including the number of fan posts, brand mentions, engagement rates for posts, likes, comments, and the number of discussions about a specific topic.
You'll also appreciate that the social media listening feature allows you to set goals. This offers just the right amount of flexibility. If you know that your brand has a bit of an image problem, turning it around becomes a measurable objective.
---
Look and Feel
The look and feel of your next social media platform has to be one that you not only enjoy but find easy to use. Here's a breakdown of what you can expect with Onlypult.
Setup
Signing up for a social media marketing platform isn't the most difficult thing to do these days. With Onlypult, you're able to sign up using your Google, Facebook, Twitter, LinkedIn, or Apple account. If you want to go old school, you can create an account using your email address and password. When logged into your account for the first time you'll notice that it's easy to understand.
You will immediately receive a pop-up or wizard showing you how to select your social media accounts and add them. And this is a recurring theme throughout the platform. When you access various features, you are presented with a quick tutorial on how to get started with each.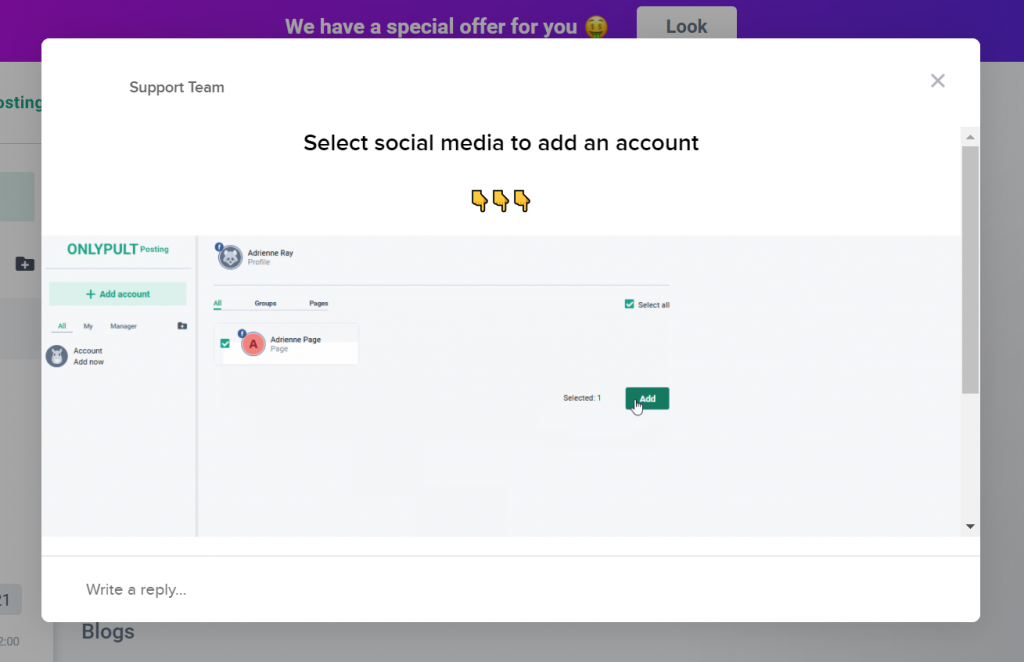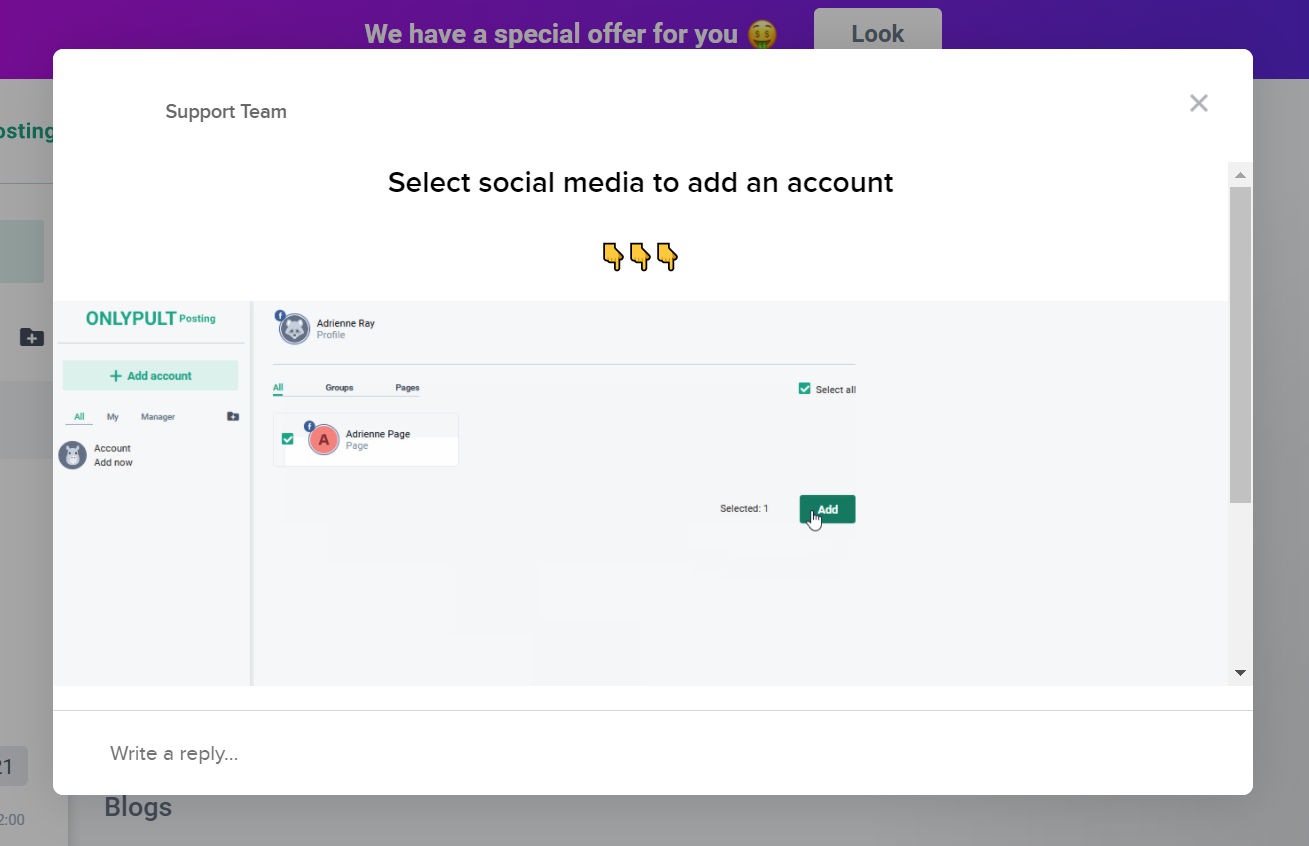 ---
Connecting Accounts
Setting up your social media accounts is simple. Click on the social media network you'd like to connect to your Onlypult account and follow the prompts.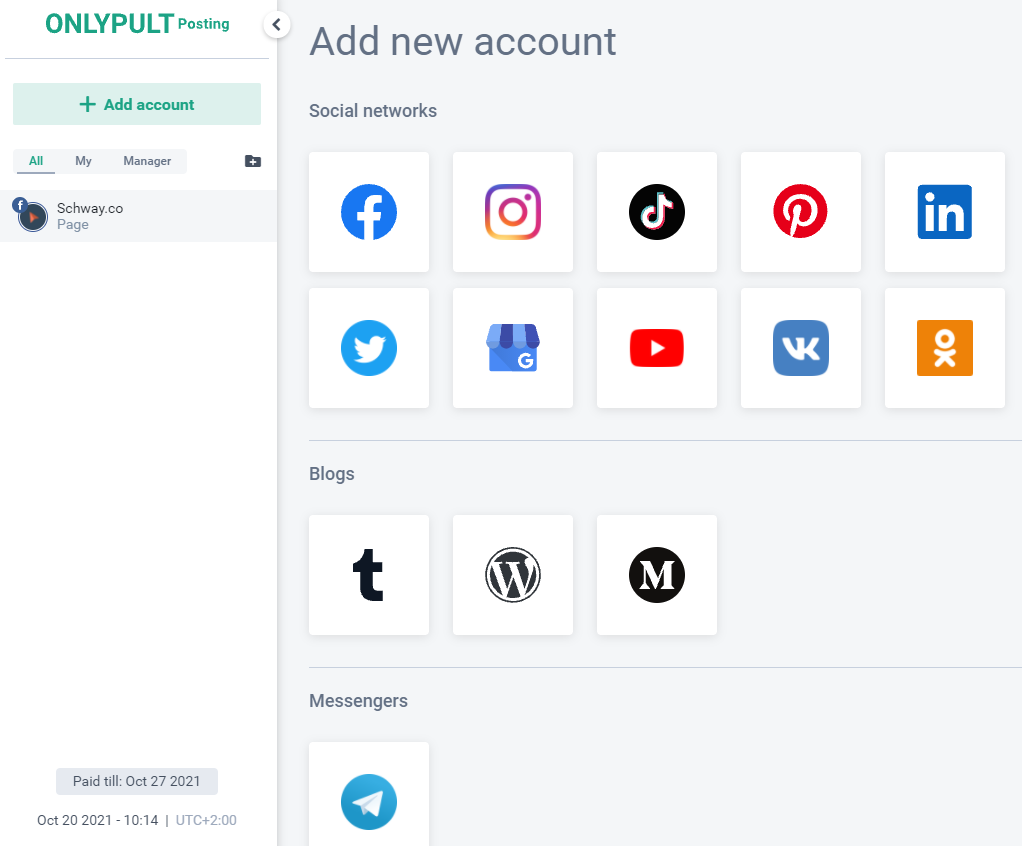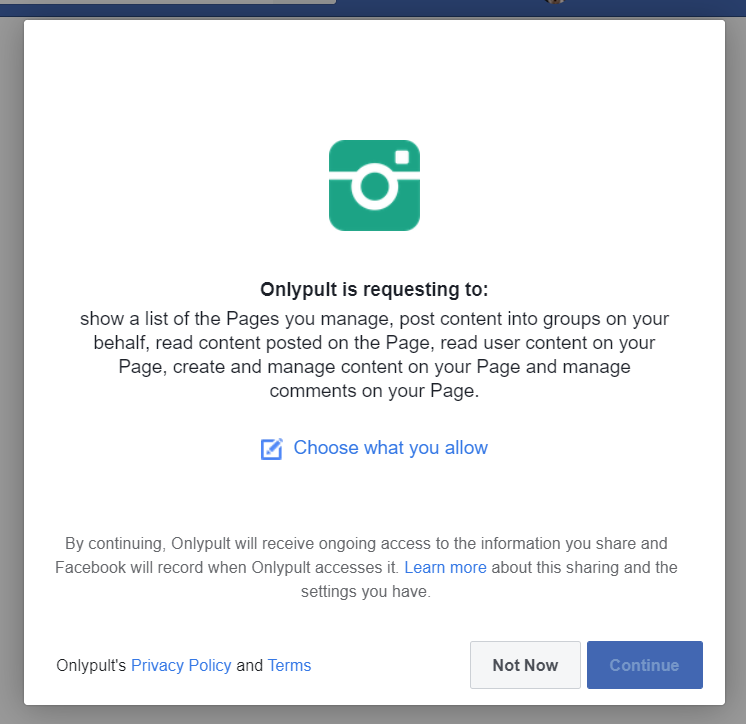 ---
Finding Features
Finding features in Onlypult really isn't something you'll struggle with. They've done a great job of making the three core features available through a left-hand menu.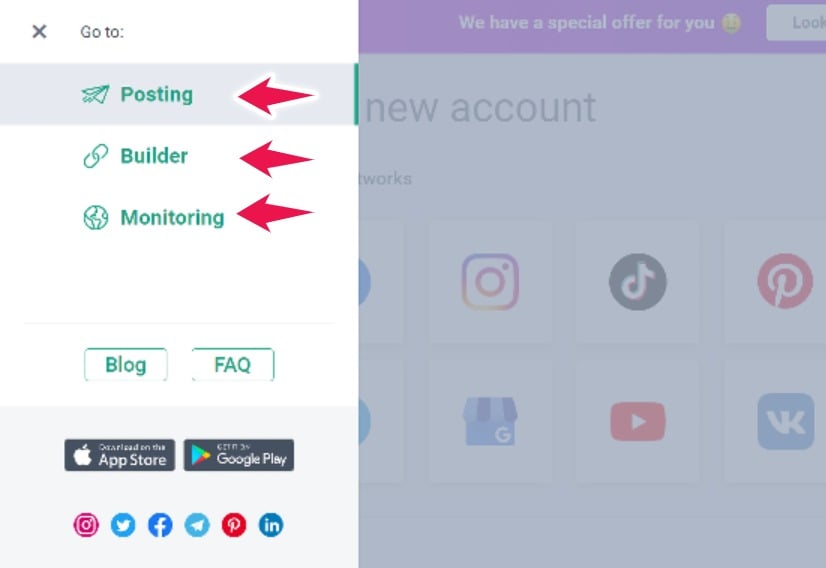 ---
Creating Content
One of the more important tests for any platform you choose is its approach to creating social media posts. Creating posts can sometimes be a long and convoluted process that leaves you feeling disheartened by the idea of repeating the process day in and day out. Thankfully, Onlypult has made post creation simple. Select your social media profile and simply get to work with copy, URL, hashtags, and setting a date and time to publish your post.
Hashtag Sets
Everyone knows that hashtags are a smart way to get found on social media platforms. The problem with including tons of hashtags is having to add them to every post. This often happens on the fly and isn't a fun experience, especially if you can never remember which hashtags your brand uses or which ones you should be using for a specific type of post.
The fix? Onlypult's Hashtag Sets. You're able to create sets of various hashtags that can be added to certain posts with just a click. And if you'd like to remove some of your hashtags, you can simply delete the ones you don't want to appear in your post.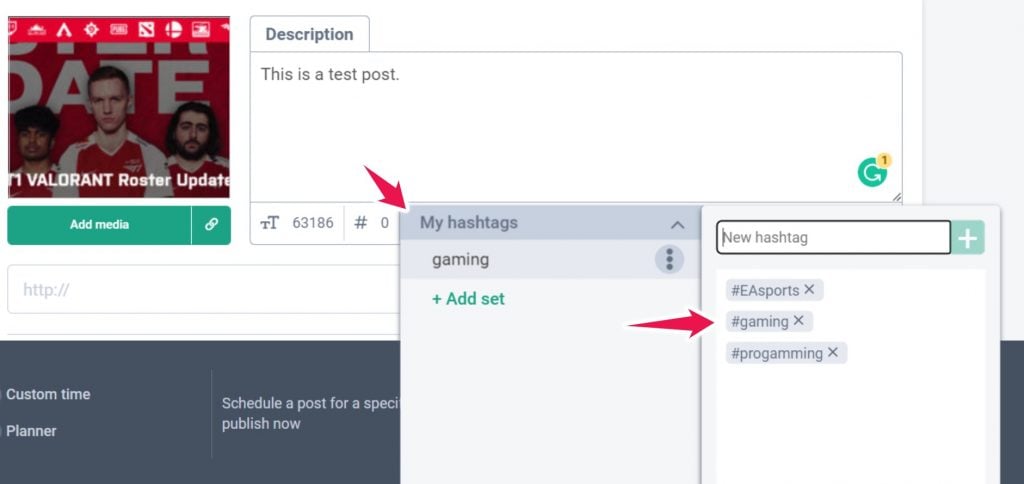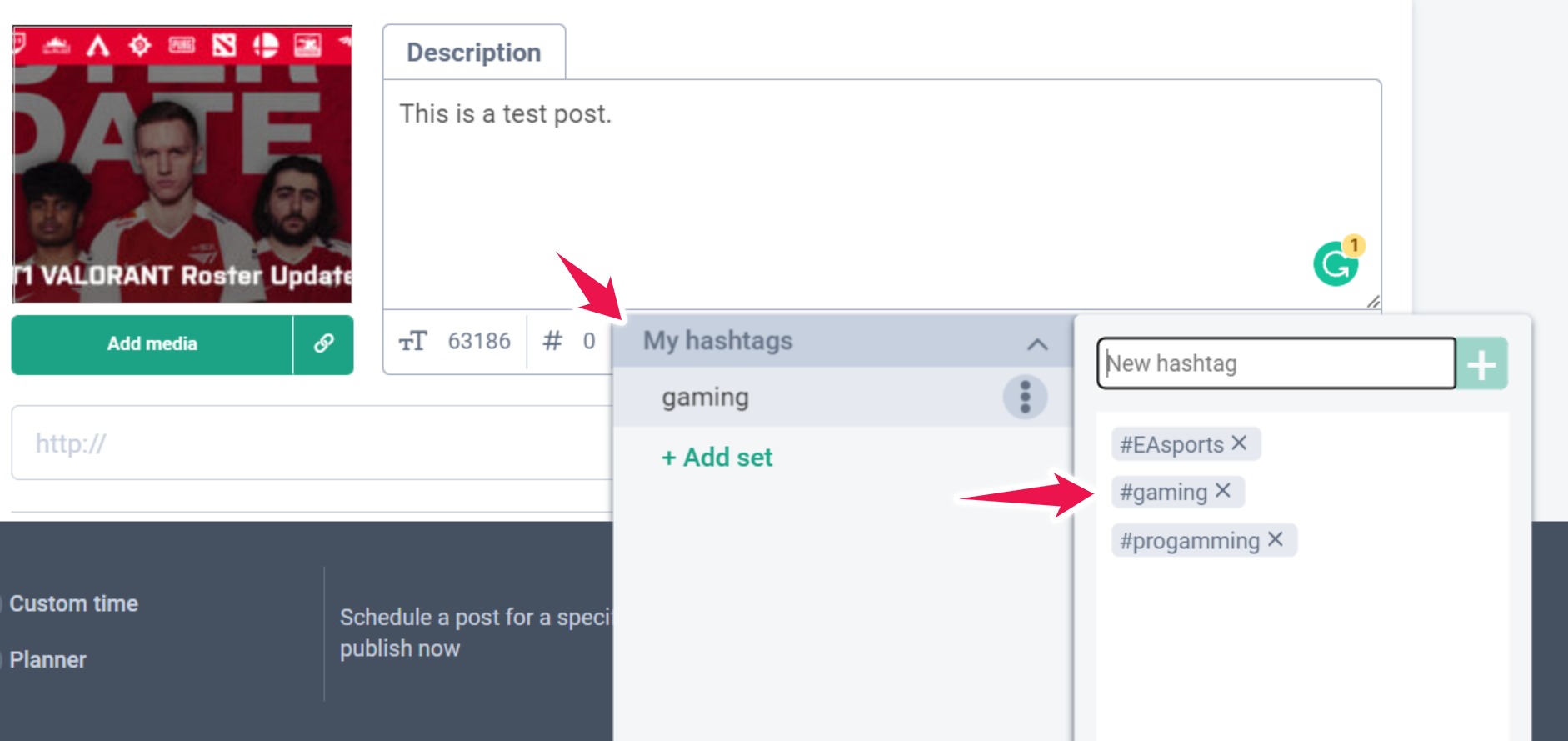 ---
Scheduling Posts
Scheduling posts is also quick and easy. At the bottom of each post you create, you have the option to select the date and time for each post. When you're ready, click on the schedule button at the bottom of your screen.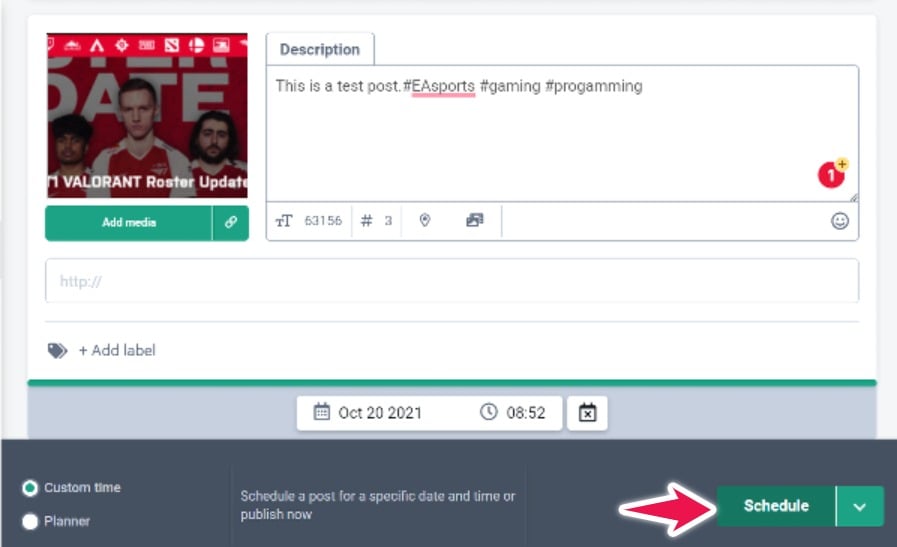 ---
Image & Video Editor
Working with social media means working with images and videos. You'll be pleased to know that Onlypult has both an image and a video editor built into the app.
Like everything else in Onlypult, both features are super-easy to use. The image editor allows you to add filters, adjust your color settings, tweak your focus, add text, include stickers, use a brush tool, and add a frame to images.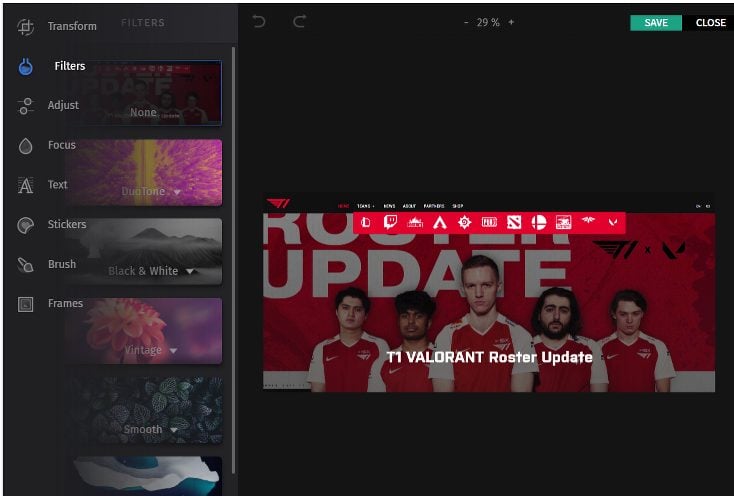 The video editor offers less functionality. It allows you to trim videos and save them. This does not offer tons of flexibility, but it's still a helpful tool to have access to - especially for random content you'd like to edit.
---
Using Builder
Builder is truly an easy tool to get started with. The layout is easy to follow and as you create your micro landing page, you have a preview in the right of your browser window.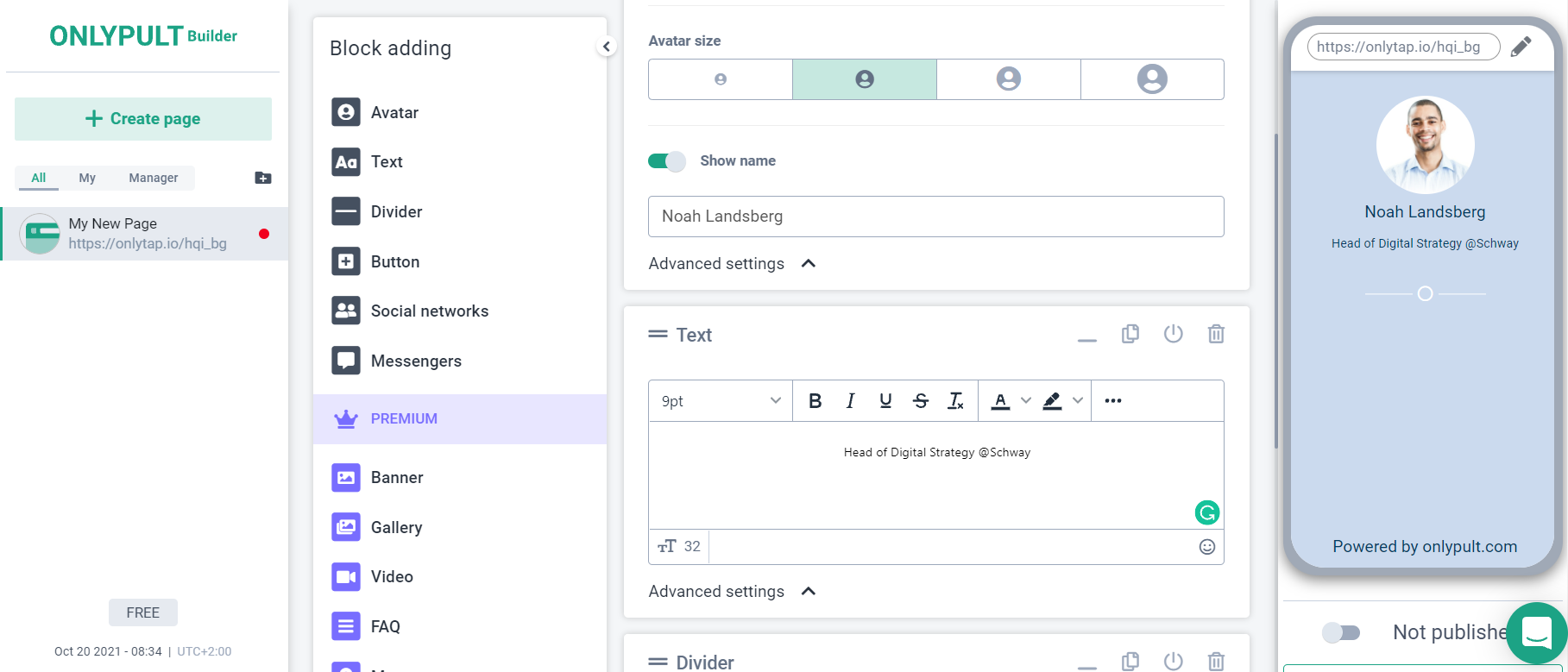 ---
Social Listening
Social listening is not nearly as complicated as it seems to set up. Start creating a project by giving it a name, come up in your search request, and enter words you'd like to exclude. When you're ready, identify the platforms you'd like to keep tabs on.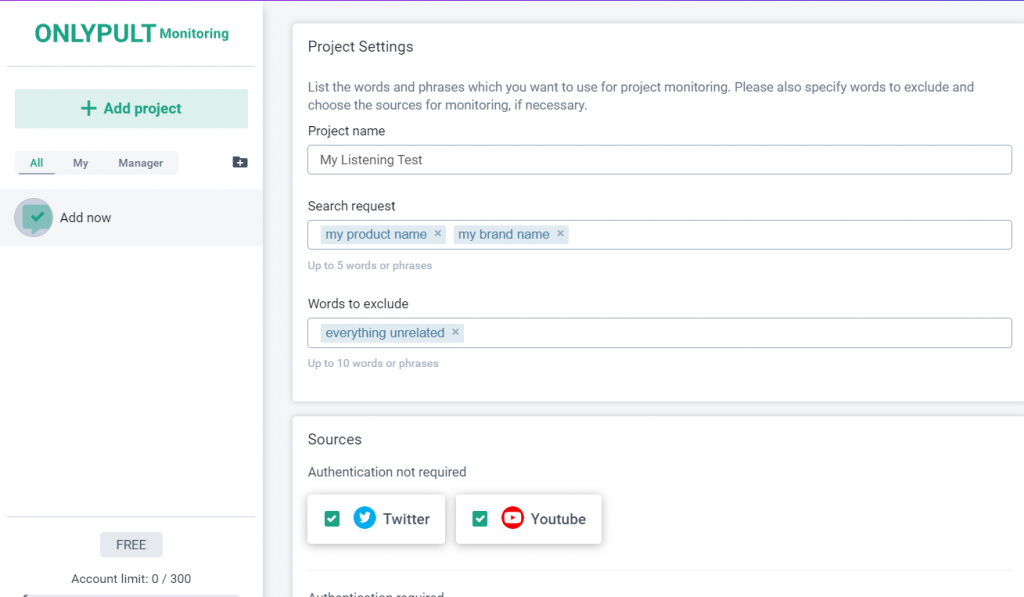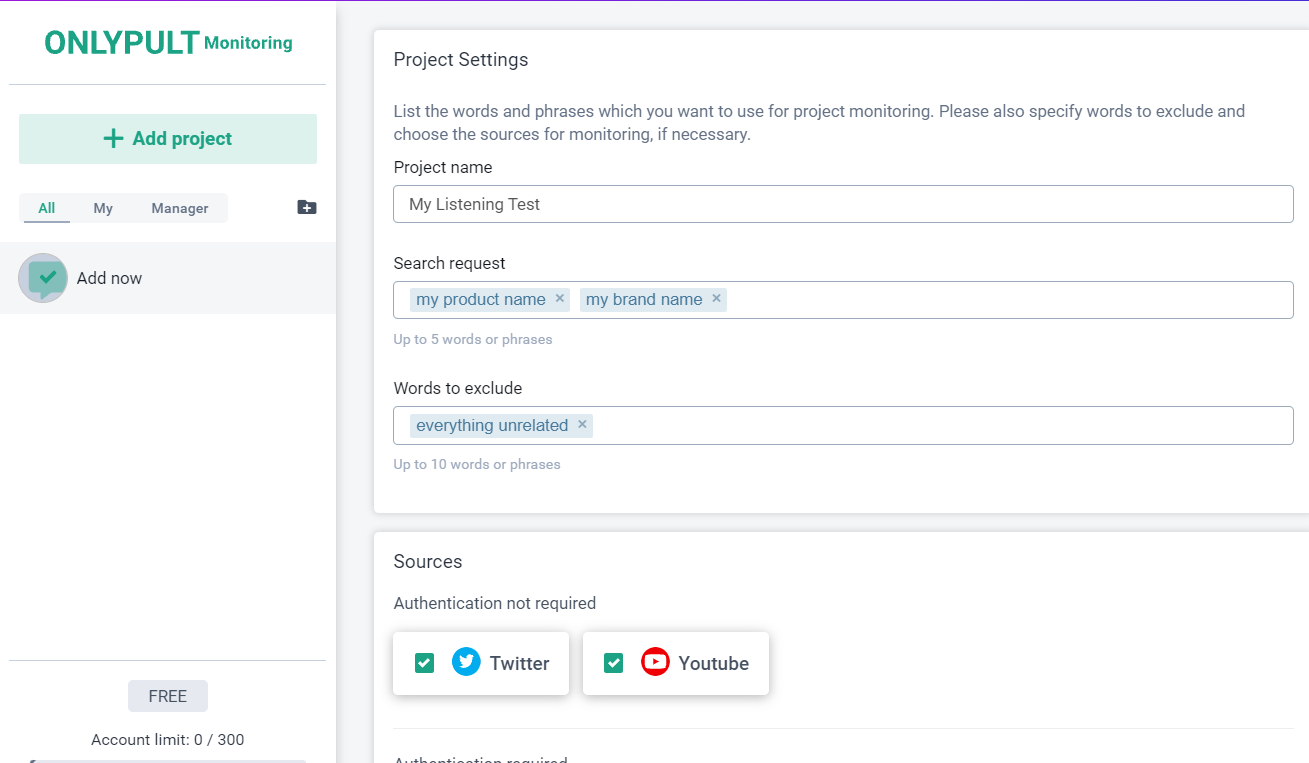 ---
Posting
Posting shows all content scheduled to go out and offers you different views. These include:
A post view showing individual posts as cards

A weekly view showing your calendar for the week you're in

A monthly view with a complete snapshot of all content scheduled for the month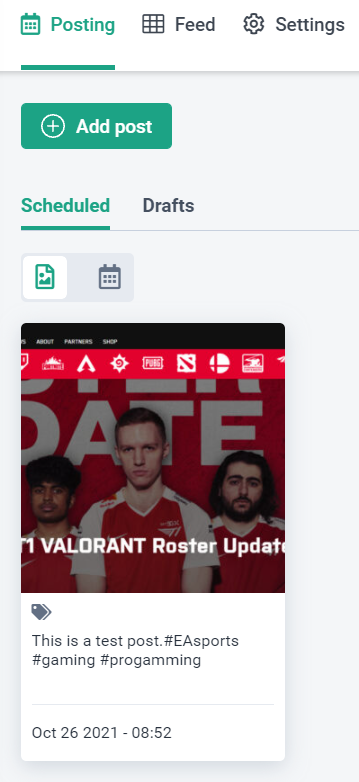 ---
Feed
Feed is where all content you have published appears.
Settings
Setting includes the following features:
Profile: Add team members that can manage your account through an invite, add a watermark to all image posts before they are published, and delete any social media accounts from Onlypult.
Planner: Add posts to be published later. These appear in your planner which shows everything happening in your current week.
Labels
Labels give you the opportunity to assign colors to specific kinds of posts. For example, question posts will be assigned a red label. Knowing this, a quick glance at your content calendar will tell you exactly how many question posts you have available.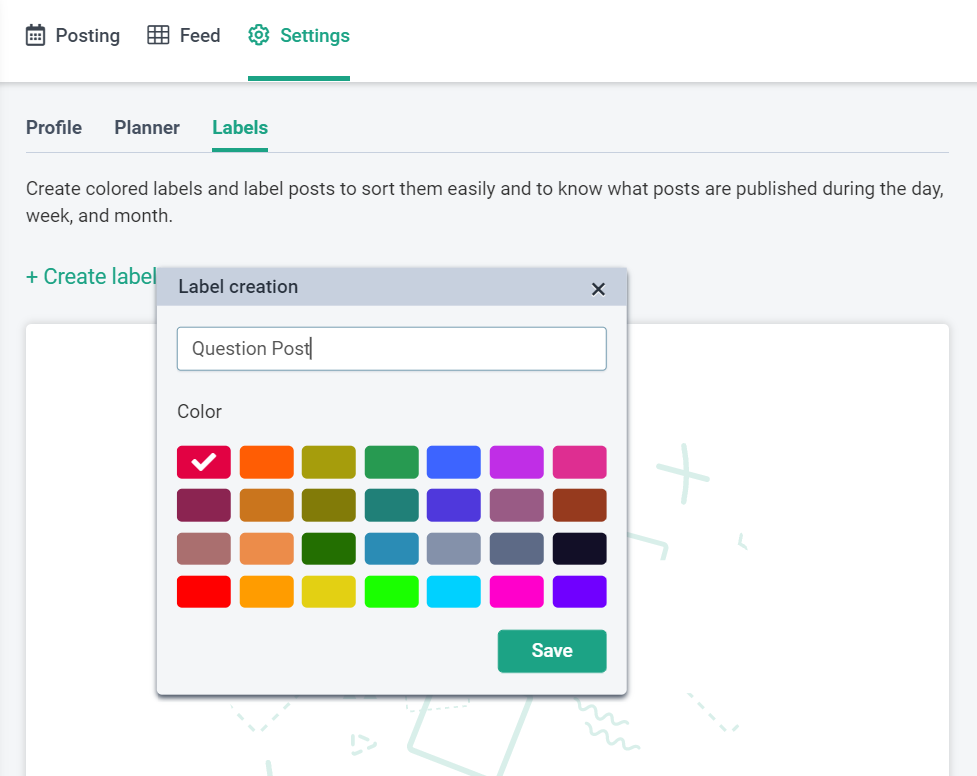 ---
Support
Support is kind of a big deal. To make your experience as easy as possible, Onlypult has created an online database with FAQs that you can access. Head to the bottom left-hand corner of your screen and click on the question mark. You'll find everything you need; including tips on getting started to creating posts, scheduling them, and much more.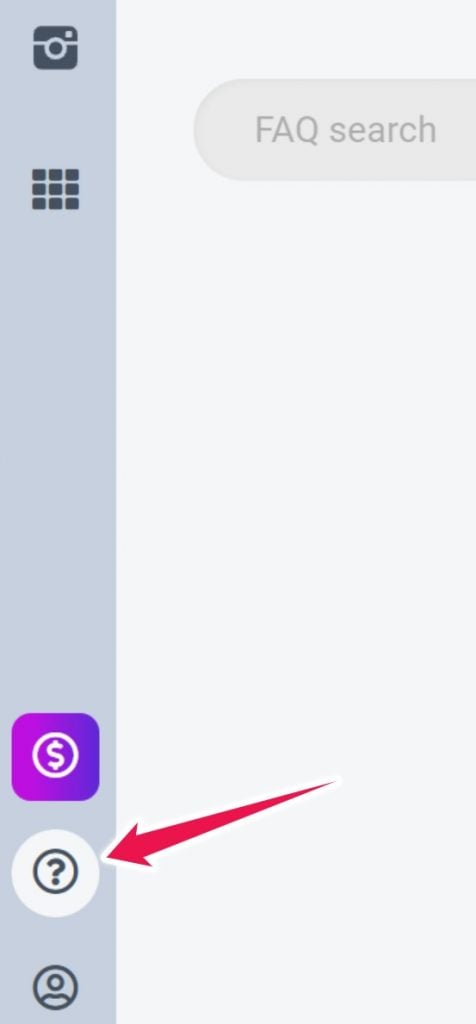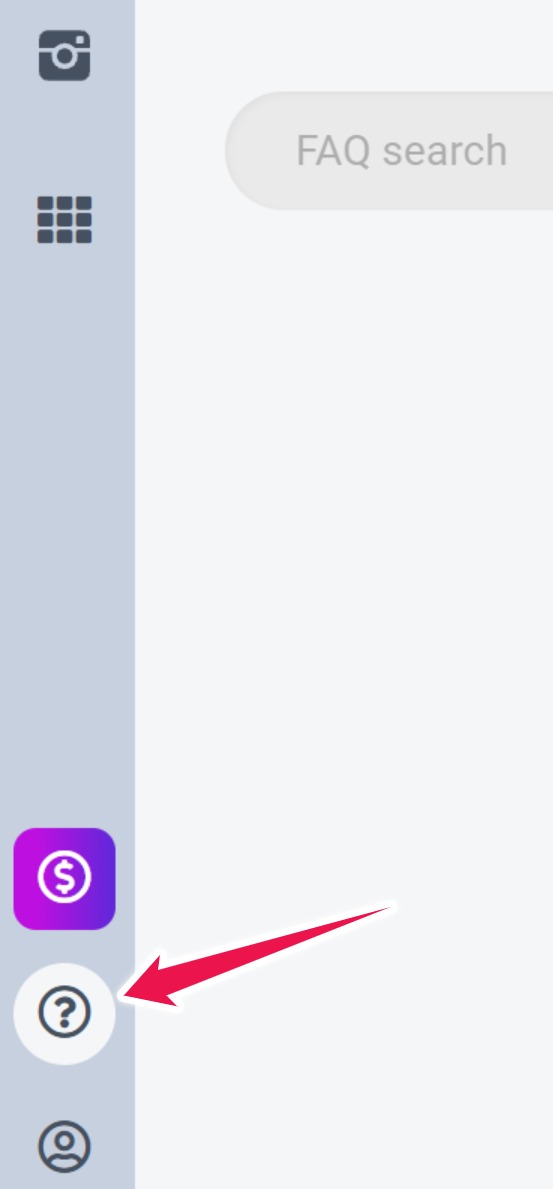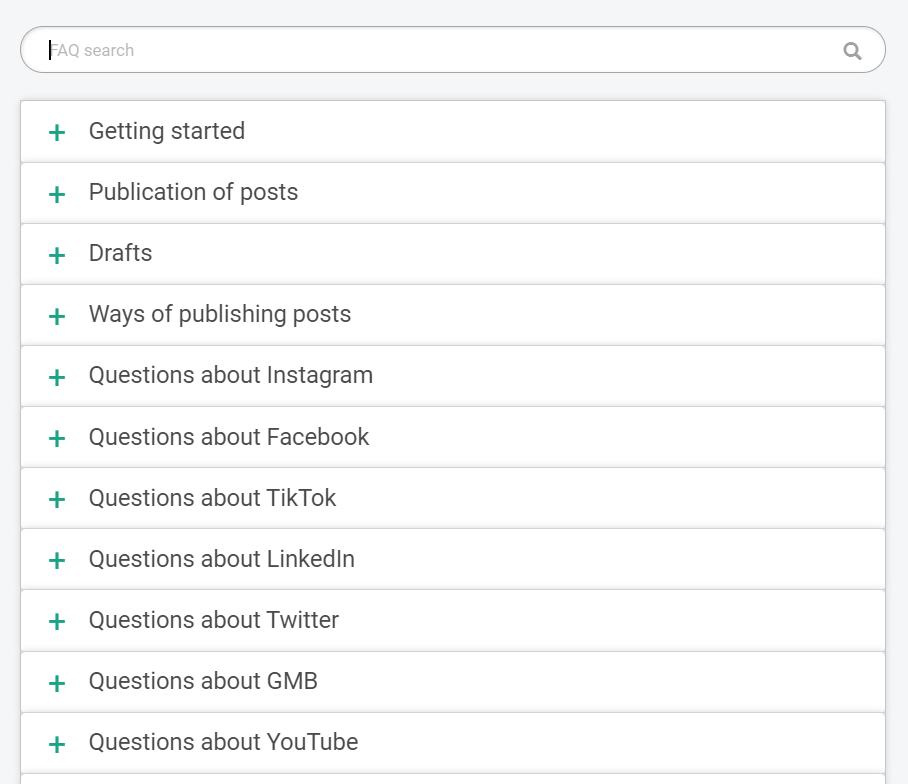 ---
Conclusion
Onlypult is a unique tool. It bundles in some of the most important features required for social media marketing today, making it a strong competitive solution. With features like Multiposting, Builder, Social Listening, and Hashtag Sets, it's easy to see how you won't just be able to put these to work, but also really appreciate them when we're creating content for social media campaigns.
Are there features we think could be elevated? Yes. Integrations for Builder would make it a more powerful tool, and if possible, the ability to add text, images, and splice videos would make the video editor a more compelling addition.
Agencies get all the above features and others to neatly segment your client accounts. This means more flexibility and control—without having to rely on more tools to get the job done.
If you're searching for a quick and easy-to-use tool with more features than your average social media marketing software, give this one a go. Signup is super-fast, and you'll love just how quickly you can get to posting content.
Frequently Asked Questions
Is Onlypult free?
Onlypult offers a credit-card-free 7-day trial along with a collection of plans for different kinds of users.
How much does Onlypult cost?
Start, from $10.50/mo – 3 accounts, 1 manager, 10 tracked users, files up to 50 MB, unlimited posting, Builder page x 1, 300 mentions for one monitoring project
SMM, from $17.50/mo – 7 accounts, 2 managers, 15 tracked users, files up to 100 MB, unlimited posting, Builder page x 1, 300 mentions for one monitoring project
Agency, from $25.00/mo – 20 accounts, 3 managers, 20 tracked users, files up to 100 MB, unlimited posting, Builder page x 1, 300 mentions for one monitoring project
Pro, from $79.00/mo – 40 accounts, 5 managers, 30 tracked users, files up to 100 MB, unlimited posting, Builder page x 1, 300 mentions for one monitoring project
All plans also include Image editor, video editor, automatic post deletion, analytics, working with several accounts at the same time, Planner, Hashtags, Calendar, and teamwork.
Onlypult
Features

Ease of Use

Support

Best for:
SMM-specialists, Bloggers, Freelancers, Small and Medium-sized Businesses, Big Business, Agencies