Your personal brand speaks for you before you even have a chance to interact with people. It is what gives people the first impression of you and what determines the opportunities you attract. So whether you're an influencer, an entrepreneur, a business owner, or even a freelancer, building a personal brand is a vital step to success.
---
Personal Branding: A Definitive Guide to Branding Yourself:
---
Understanding Personal Branding and Its Benefits
Personal branding involves establishing what you as an individual stand for and promoting it. It can be a combination of your experiences and skills that are unique to you, which will set you apart as an individual. With successful personal branding, you will be able to stand out among a horde of other professionals or influencers in your field or niche.
Your personal brand can have a major impact on how others perceive you. And "others" could include prospective partners and employers. They are going to form their opinions of you based on what they know about your personal brand. And this is vital because your personal brand will also have an impact on the brand or company associated with you.
A study conducted by Weber Shandwick found that 87% of global executives believe the reputation of a CEO is important for attracting investors. 83% believe that a good CEO reputation attracts positive media attention. 77% also believe that a strong CEO reputation is what attracts employees.
Additionally, a study conducted by the World Federation of Advertisers found that reputation was the second most important factor brands consider about an influencer they're planning to work with. While quality of followers is still the most important factor, 93% of respondents said that an influencer's credibility and reputation help them decide whether or not to work with them.
These are just a few numbers proving how important it is to build and improve your personal brand. Building a strong and recognizable personal brand can:
For Individuals - Help you find better employment opportunities. It helps convince prospective employers that you have what they're looking for and that you should be part of their team.
For Business Owners - Attract better clients and/or contacts for your business. It gives potential clients the impression that you are someone they can trust to deliver their expectations.
For Entrepreneurs and Freelancers - Get you recognition in your industry and build your reputation. It sets you apart from the competition and establishes your name as someone with exceptional expertise. This, in turn, helps you grow your professional network and attract better opportunities.
For Influencers - Compel relevant and reputable brands to partner with you. It convinces potential brand partners that you have credibility and authenticity that engages your audience.
---
Step One: Determine Who You Are
Building your personal brand begins with a clear understanding of who you are and what you bring to the table. You'll need to clearly define your values, your passions, and your ideal traits.
Perhaps you're a family-oriented person who is passionate about helping people. You want to become a voice for the voiceless, and you wish to be more courageous and sociable.
Make a list of your skills and your personal achievements, because these are some factors that define you as a person.
Are you exceptionally good at organizing things? Have you helped successfully organize something in the past? For example, maybe you've helped put together a fundraiser that successfully raised thousands of dollars for terminally ill children.
Neil Patel highlights some of his achievements as part of his personal brand. This includes being a New York Times Bestselling author, being named one of the top 10 marketers by Forbes, and more.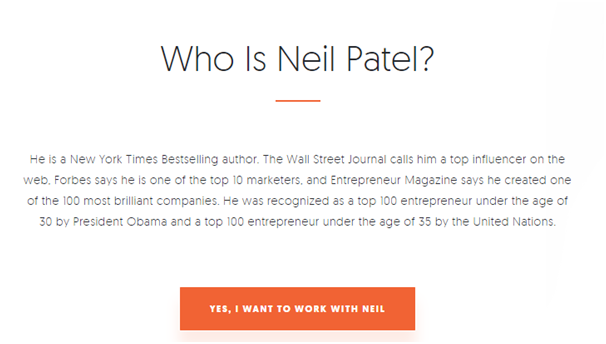 In addition to this, you can make a list of some of your strongest traits that you want people to know you for.
For example, you're a good listener and you have high levels of empathy. You have a deep understanding of people's emotional or mental situations and you often find yourself providing solutions for their problems.
You can also make a list of your interests. For example, you may be an adventurer and you like spontaneous road trips and gardening. You may enjoy certain TV shows and have in-depth knowledge about certain pop cultures.
It would be a good idea to infuse these interests as a part of who you are to give your identity a more unique face.
---
Step Two: What Makes You Unique?
Now that you have a clear idea of who you are, you need to determine what sets you apart from others in your field.
For example, maybe you're an experienced web designer but you can also offer content development services. And you're particularly good at developing content for firms that provide legal services.
Or maybe you're a marketing consultant who offers hands-on involvement in your client's campaigns based on what they need. Instead of just providing them with advice and helping them develop a strategy, you become part of their team for a set period of time. And you go all in to provide them with the exact kind of help they require to market their products.
These are just a few examples. But the goal is to find out what you do differently than most professionals in your industry. It's similar to the process a brand uses to determine the unique selling point of their product. This time, you have to determine what exactly your unique selling point is. Perhaps you can infuse a bit of your personal interests with your skills to develop one.
It would be a good idea to closely examine your top competitors or the top names in your industry. Make a list of what they do and what seems to be their unique selling point. Try to find out if there's anything they're not offering that you can offer to your clients. That should be your unique selling point.
After these two steps, you should be able to develop your personal brand statement. For example, your personal brand statement could be something like this: "I bake cakes for weddings, birthdays, anniversaries, and other special events. I can work around your budget to bake you your dream cake. Being a huge nerd, I specialize in baking cakes with pop culture themes."
Check out the personal brand statement of Hayley McKee, the owner of Sticky Fingers Bakery, for instance. "Soulful, earthy, and seasonal baking" is part of her slogan. And one of her unique selling points is that she bakes sweets that "taste of nature."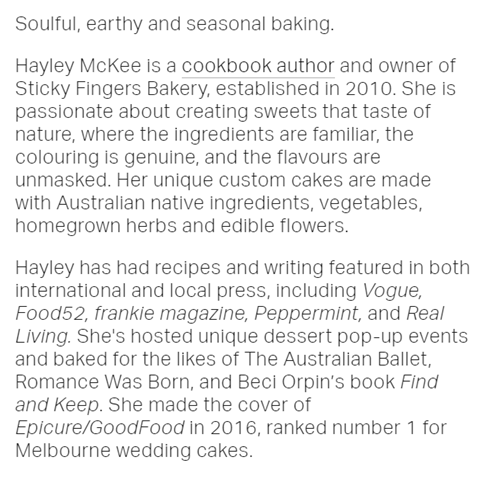 ---
Step Three: Start Building Your Online Presence
You need a strong online presence these days, since almost everyone uses the internet. Prospective employers conduct research on candidates when vetting them for employment. Prospective clients conduct thorough research on what people are saying about freelancers and entrepreneurs before they decide to work with them.
So without an online presence, you won't have any visibility for your personal brand. There are plenty of ways to build your online presence and you don't necessarily have to build a website.
However, freelancers and entrepreneurs can use a personal website to showcase and share their expertise. And you will need to optimize this website with keywords and metadata to increase your search engine visibility.
Otherwise, a blog and accounts on popular social media platforms are enough to start building your online presence. Instagram, Facebook, LinkedIn, Twitter, Pinterest, Tumblr, Medium, etc. are some of the most popular platforms.
The platforms you choose can depend a lot on your target audience. If you're trying to showcase your personal brand to prospective employers or clients, you will likely need a LinkedIn profile. If you're an influencer, a strong presence on Instagram and Facebook may be essential.
You'll need to optimize your profiles on these platforms with some of your vital information. On LinkedIn, you may need to include details like your education and employment backgrounds. You could also include some of your personal achievements such as any awards that you have received or any special training you have undergone.
Backlinko founder, Brian Dean, for instance, has properly optimized his LinkedIn profile with details about where he attended university. He's also included a description of some of his achievements. This includes some mentions from reputable publications like Forbes, Inc Magazine, and Entrepreneur.com.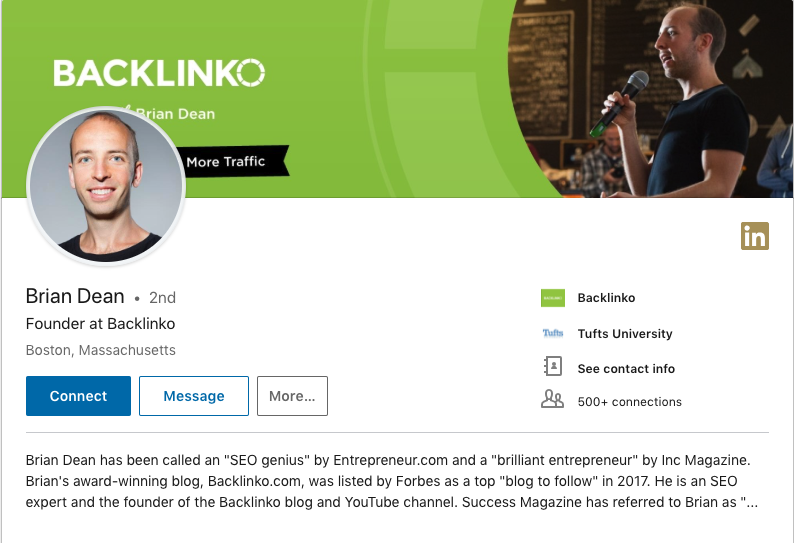 ---
Step Four: Start Building Your Audience
Building a strong personal brand involves building a loyal and engaged audience. There are several ways you can do this:
Conduct outreach - Connect with relevant individuals and organizations as well as news sources that might be interested in your work. This will help you raise awareness for your personal brand. You can tweet to them, send them messages, or even conduct cold outreach via phone or email.
Start networking - Attend events relevant to your industry. This could be anything from trade shows and leadership talks to fundraising events and art shows as long as it's relevant to what you do. You could also participate in relevant discussions on online forums and social media groups.
Create content - If you're an influencer, a freelancer, or an entrepreneur, it's going to be crucial that you constantly produce high-quality content. You could write blog posts and create videos, social media posts, free templates, and more depending on what you do. Whatever content you decide to create, make sure it's relevant and valuable for your audience so they keep coming to you.
Joey of She the Spy, for instance, updates her blog regularly with valuable content. But in addition to this, she creates pop culture templates that her fans can use on their Instagram Stories. When they share these templates, they also help her gain more visibility.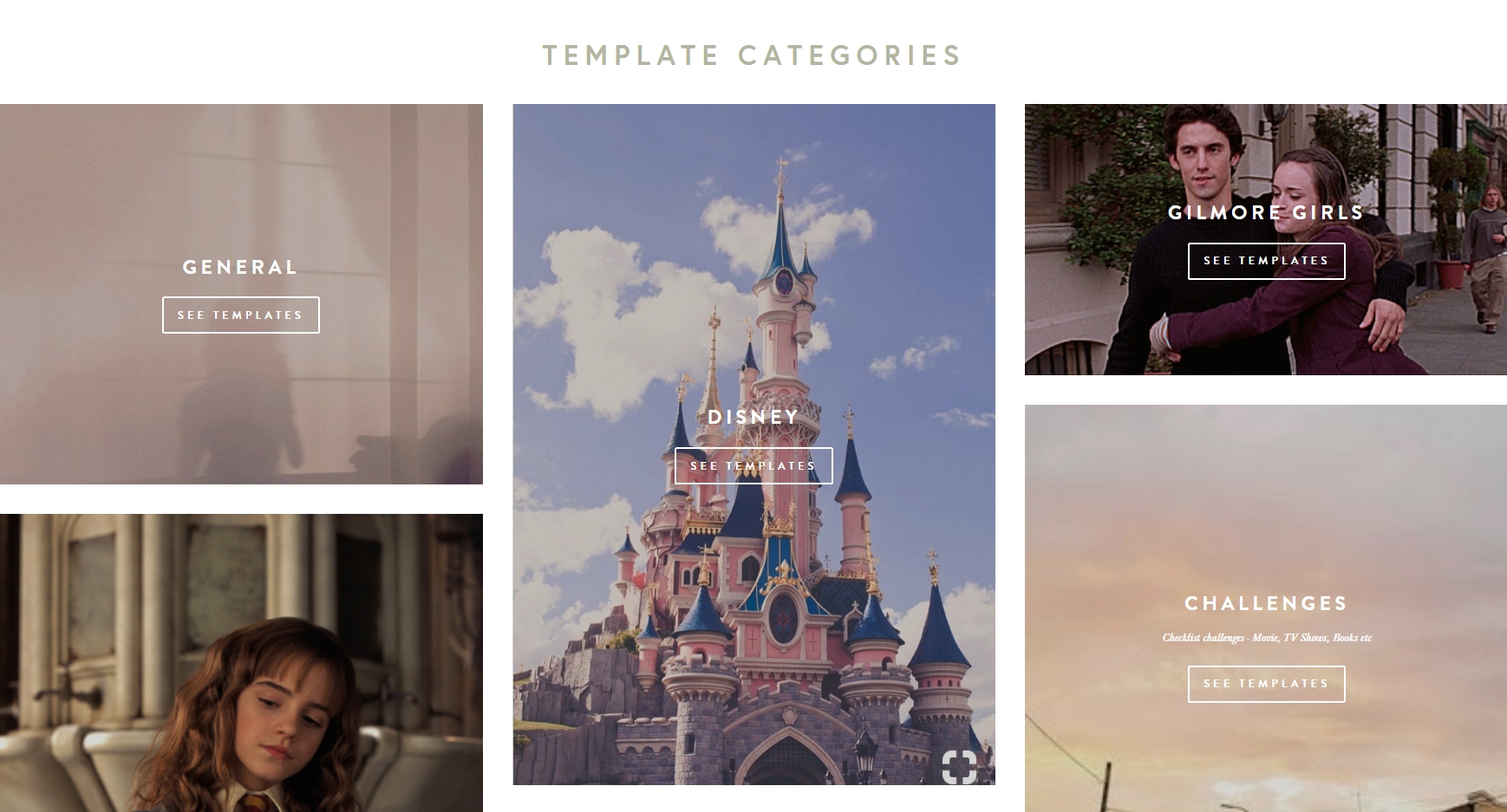 ---
Conclusion
These are some of the most important steps when you start building your personal brand. Remember that it begins with a clear understanding of who you are and what value you can offer to your audience. And then come the steps of building your visibility and your audience.