Best for:
Small and Medium Brands
In the summer of 2019, the analytics firm InfluencerDB released a report that summed up its findings of over 300,000 influential Instagram accounts. In short, organic engagement rates are dropping while #sponsored engagement is rising. This conclusion doesn't spell the demise of influencer marketing—2019's $8b spend is forecasted to hit $15b in 2022—but it does show a shift in consumer behavior.
Influencer charm and authenticity is one thing, but the rise in engagement for sponsored posts has shown that content is the thing of the thing. That's what audiences are after; quite the opposite of the notion that audiences are over your ads and want to look elsewhere. If they haven't already, brands will soon maintain a stockpile of their best content as a kind of in-house stock photo well. A company that's developed an influencer marketing platform for brands and agencies would do well to include some kind of functionality that meets this trend.
You see where this is going?
Founded in 2013, Popular Pays didn't begin its life with this idea in mind. At its inception, the platform was a way for Chicago businesses and local influencers to barter posts-for-product. That soon evolved an influencer marketplace as we've all come to know it: campaign and influencer management wound tightly together, with a robust data and analytics piece. Popular Pays adds content management to the mix, making it easy to repurpose high performing organic content for sponsored posts, website collateral, or even printed media.
You can see Popular Pays leaning more heavily into content creation for its core business, too, with the introduction of what they call The Pop Shop. It's a "micro-community of highly specialized content creators" available to Popular Pays clients who want to purchase content without the influence. This is a direct result of the rediscovered idea that all good digital marketing must start with quality content. To be clear, the content creation arm of Popular Pays is an add-on piece to the marketplace. There are no plans for the company to abandon their influencer offerings—nor is there any reason for them to do so—but I wouldn't be surprised to see Popular Pays continue to expand their content creation offering.
The platform's evolution from a loosely defined barter system to a data-driven campaign and content management platform has turned out to be a good thing for Popular Pays. They're practically ancient at 7 years old, several successful rounds of funding behind them, and have a customer list comprising companies you may have heard of before: Amazon, Google, Lyft, Banana Republic, Bobbi Brown—it's a long list. It's pretty likely that, after you've read this review, that list will get longer.
---
Summary:
---
Pricing
Popular Pays doesn't publicise their pricing, but marketplaces usually skew toward the SMB side of things—the company's client list notwithstanding. In any case, they offer three different levels of access to the platform, the first two of which operate on a SaaS subscription model.
Lite —

This plan strictly covers influencer discovery and relationship management. You can search for, research, organise, and communicate with the platform's opt-in network of creators.



Suite —

This gets you everything: Discovery, Relationship Management, Messaging, Campaigns, Content Library, Reporting/Analytics, as well as tools for the administrative side of things (contracts, other legal forms, and payments)



Single Buy —

With this service, you can BYO influencers and just manage your campaigns with Popular Pays (including contracts, legal, and payments) as well as get the reporting and analytics for your campaigns. Instead of a subscription, you make a one time payment that comprises your budget and fees from Popular Pays.
Popular Pays also offers a few add-on services at additional cost: Onboarding for those who could use some help in getting up and running; Managed Services, for those who could use some help once they are up and running; Content Creation service, discussed above in The Overview.
---
The Details
Popular Pays' interface is perfectly simple: six icons form a column down the left of the screen and, well, you know how navigation menus work. The point is, so does the platform's designers, and a first time user will feel right at home.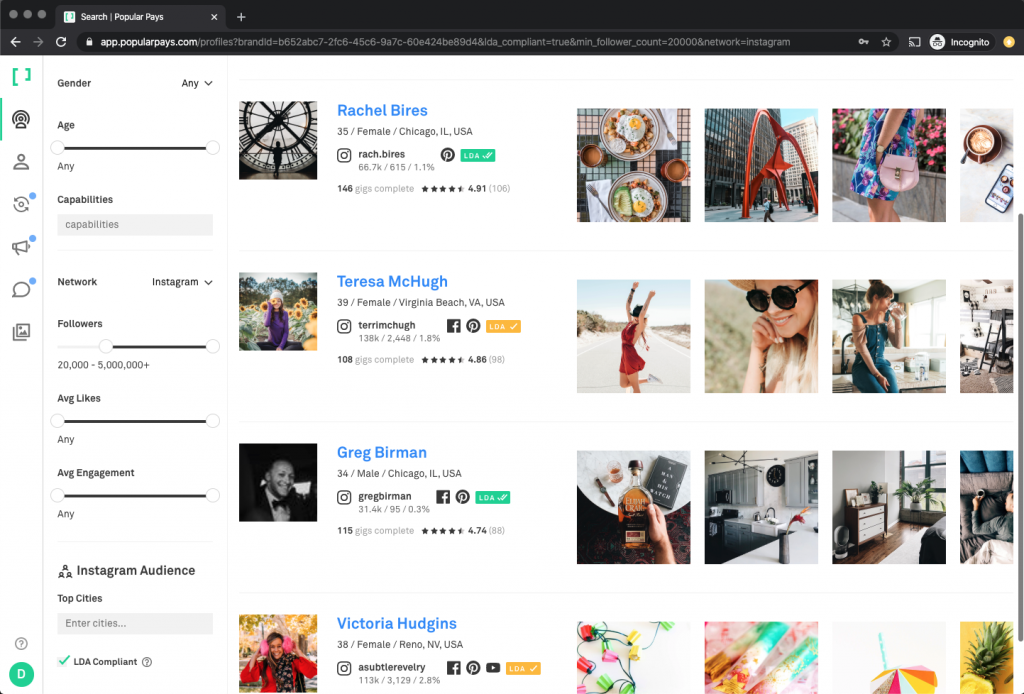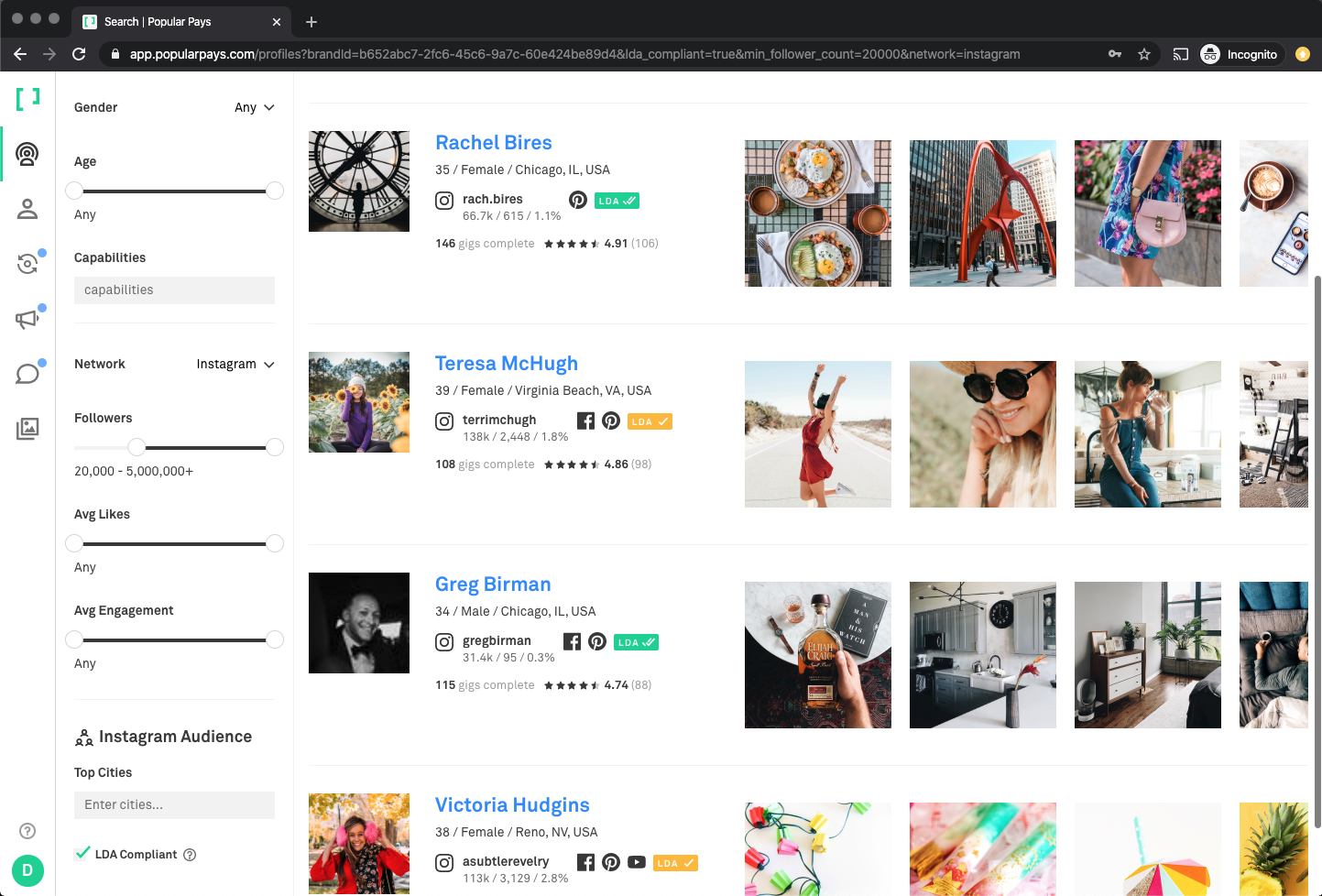 Searching through the platform's 60,000 opt-in influencers, you're provided with basic filters—location, gender, that sort of thing—but the flexible search bar turns out to be an effective way to get relevant results. In addition to more general keywords, you can search through bios and captions. The captions-search allows the content to take front and center in your search. This is especially good for finding influencers who may already be posting about you, but it's equally as effective a tool when you search for your competitors' content. With this ability, Popular Pays becomes an effective competitive research tool, as well.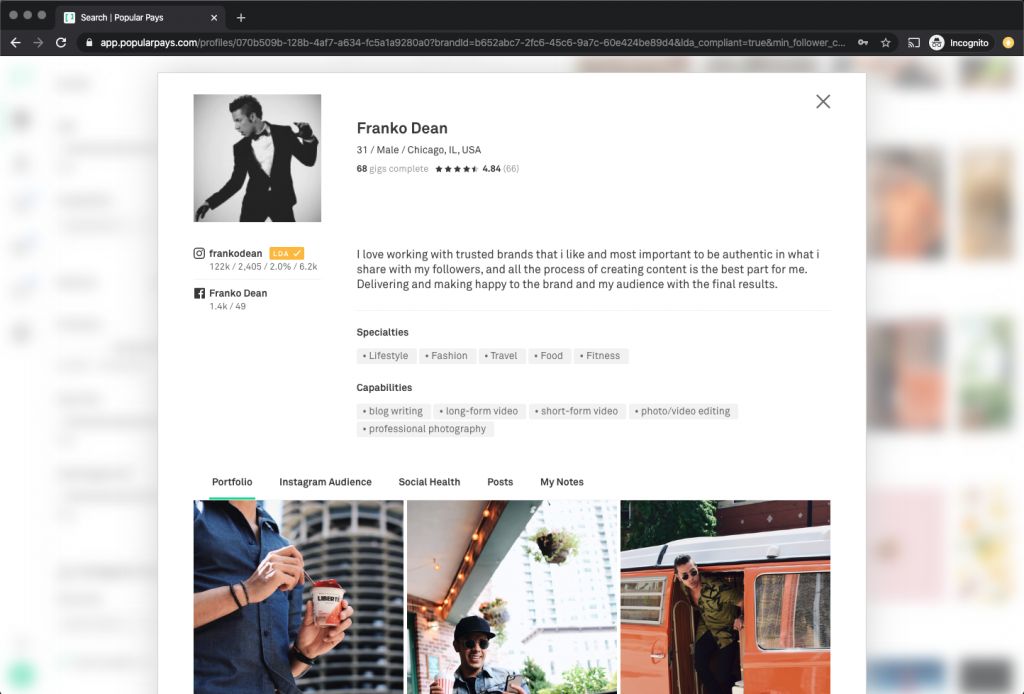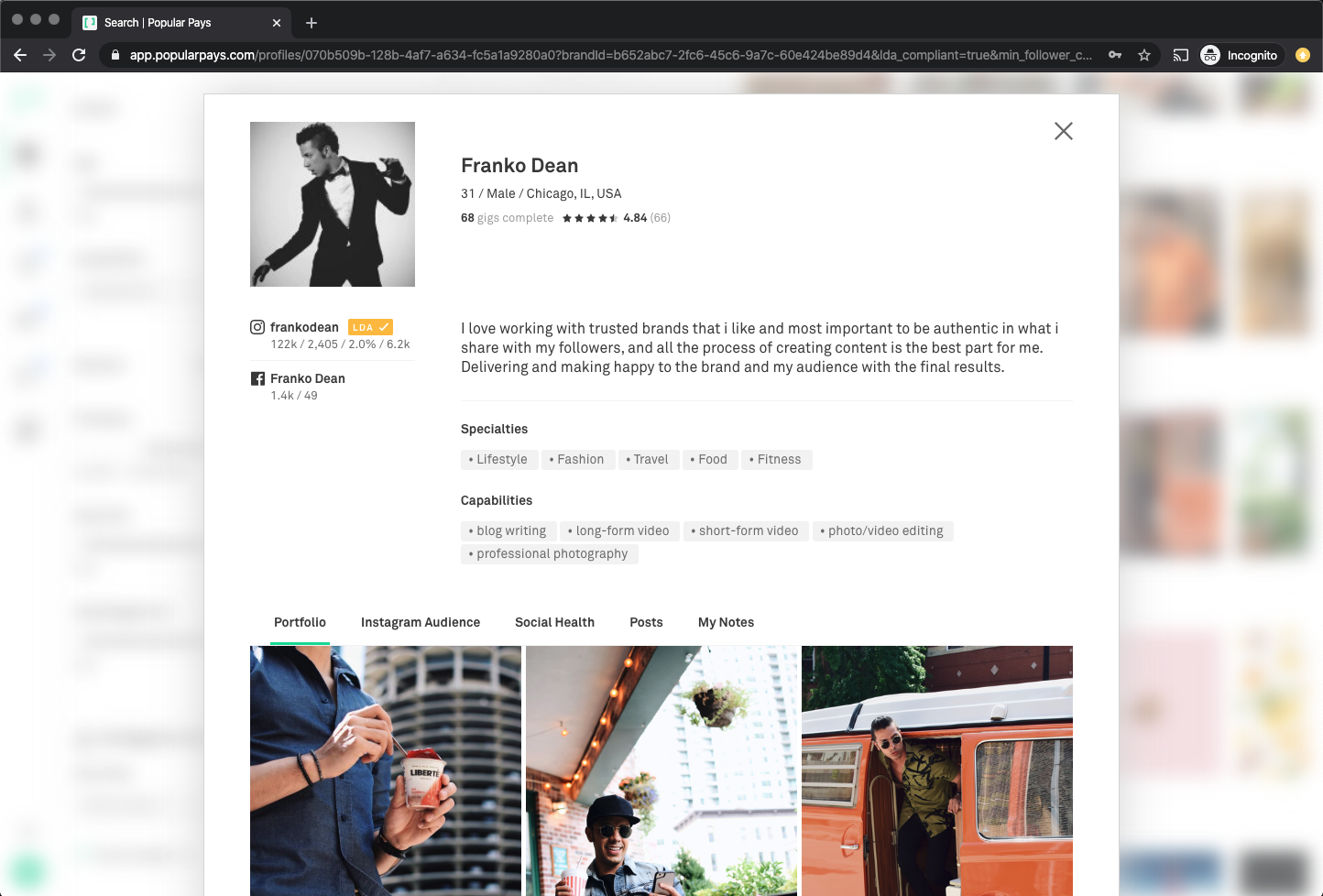 Of course, you can't have research without data. Because it's an opt-in network, Popular Pays influencers are serving up first-party data, which the platform ingests through APIs. Because of this, it was surprising to see limited audience data—nothing really beyond the standard age/gender/location trinity. On the flip side, there's an awful lot of data around each influencer's performance, which makes sense in a marketplace. But Popular Pays goes deeper than most, showing things like follower count, engagement rates, and how follower count relates to engagement rates over a period of two years. They call it Social Health, it includes a number of these kinds of metrics and comparisons—like impressions to follower ratio, or sponsored vs organic posts—and it's as good a measure of an influencer's trends and worth as I've seen, a concise way of showing the long term viability of an influencer.
Influencers can also fill in their bios and add in any other creative capabilities they have. An influencer might be known for her photography but also have video skills yet to be seen. Here again you can see Popular Pays' emphasis on content as a separate and distinct commodity from influence.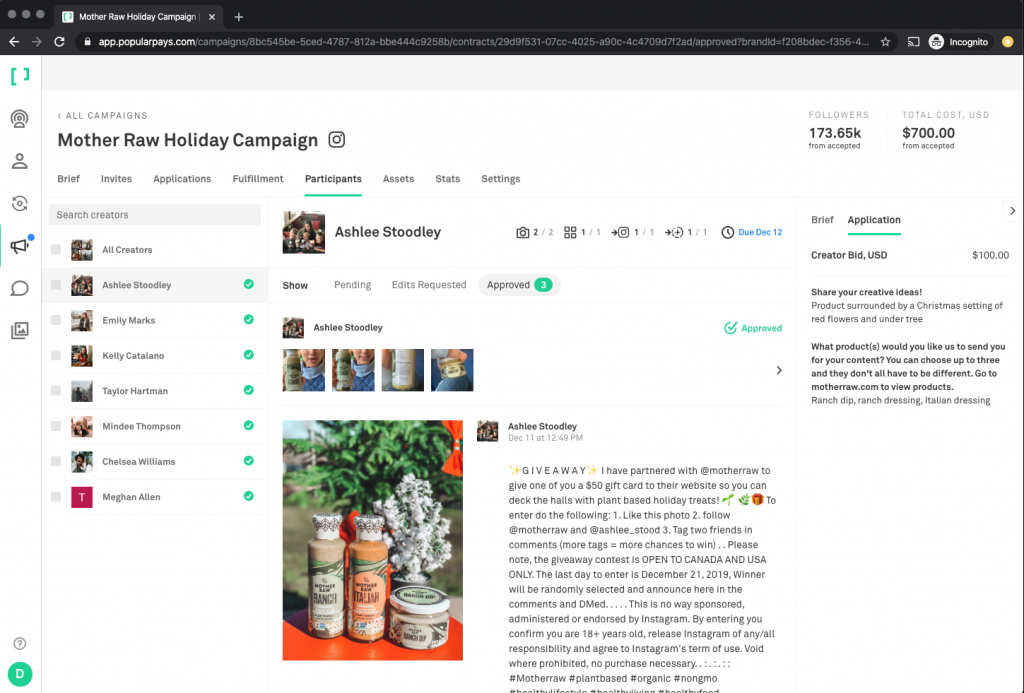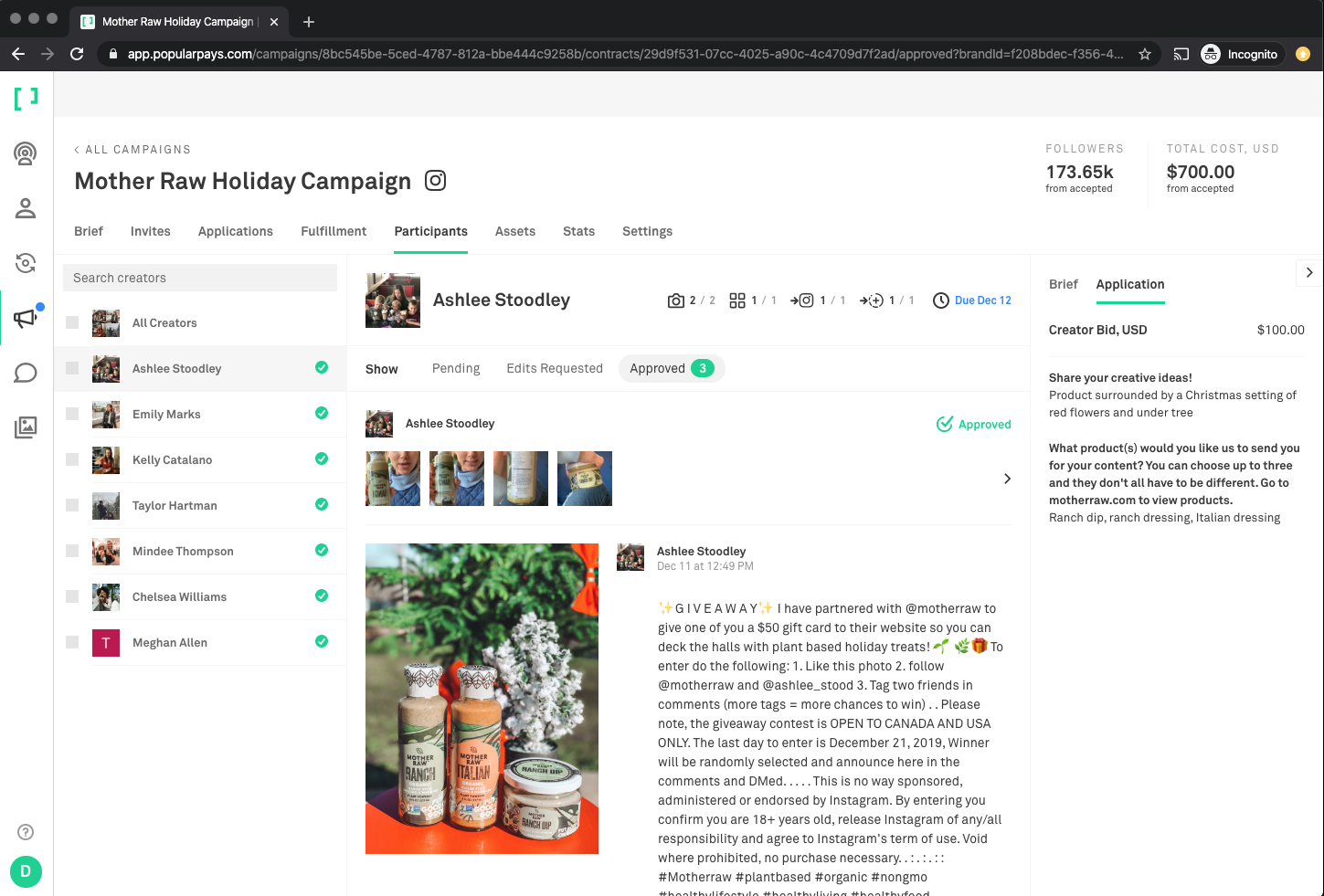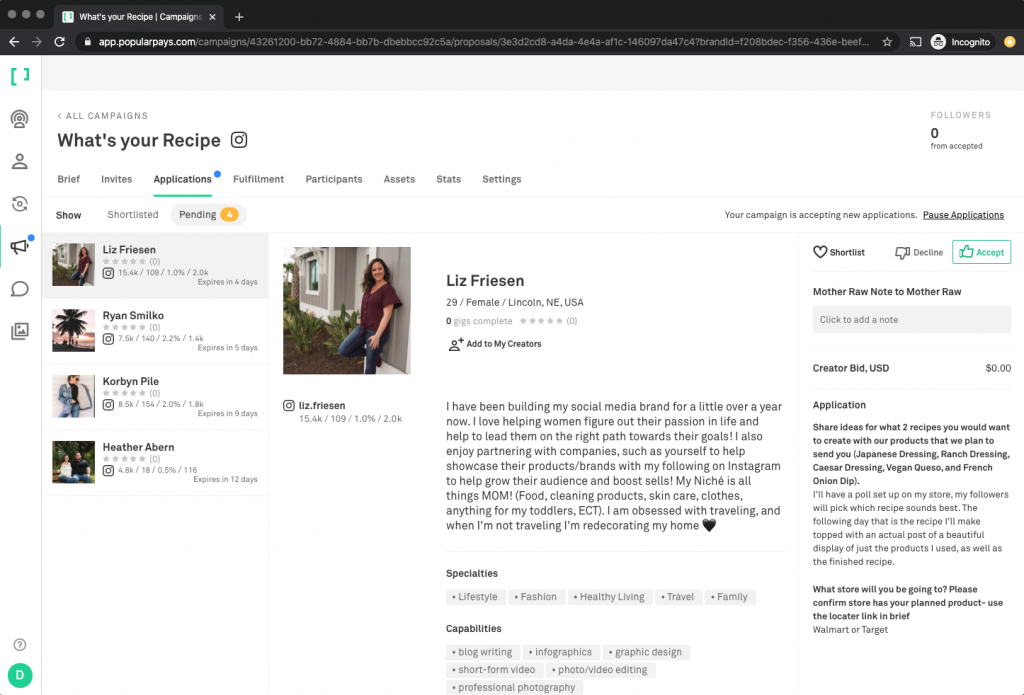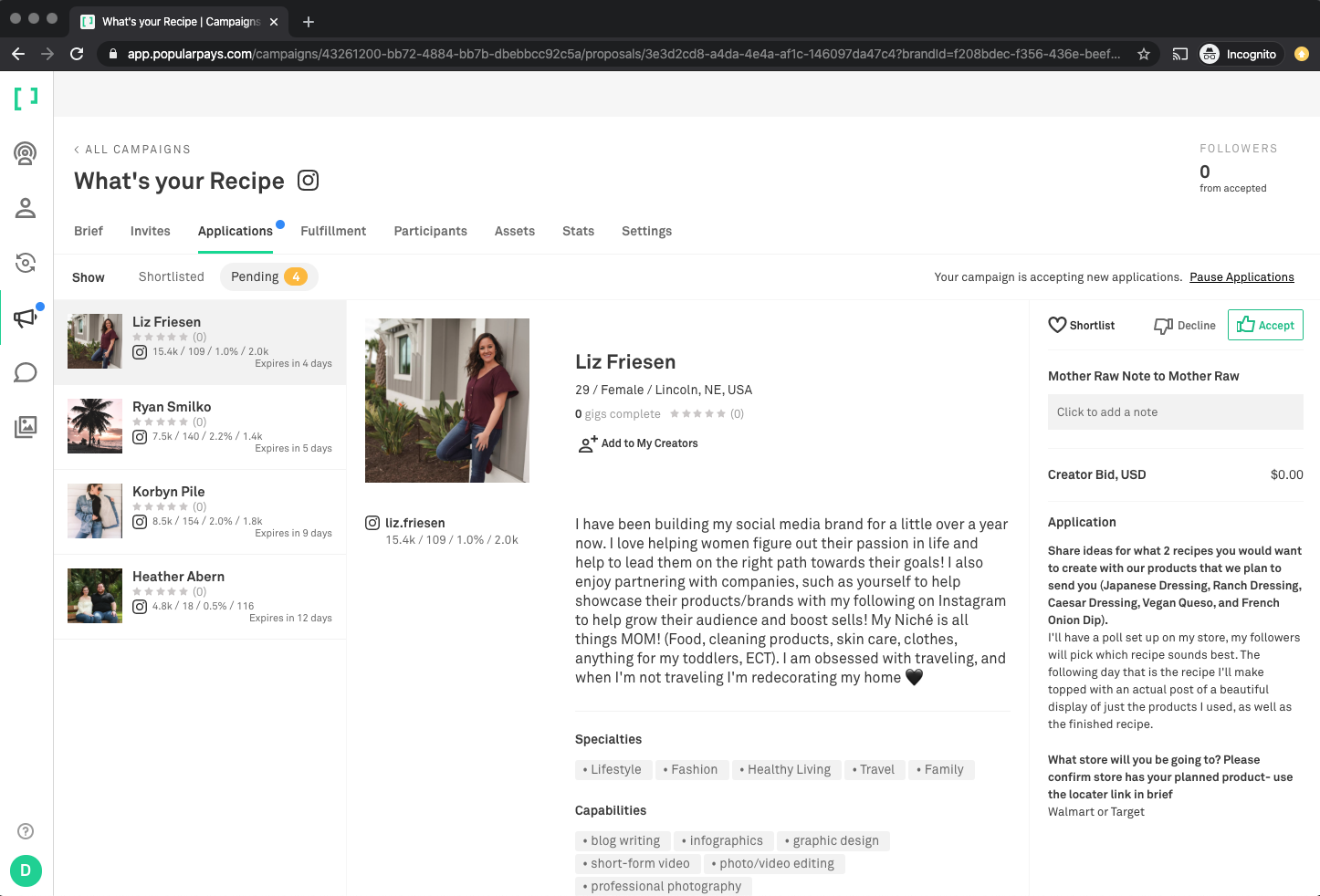 Both relationship and campaign management are well executed. Popular Pays isn't doing anything other than what you'd expect from a marketplace, but they still deserve credit for such an easy-to-use interface. The campaign creation process is easy to go through but still gets more pretty detailed. The interface enables users to easily manage all phases of the campaign, from influencer recruiting to payment.
Reporting is a little light, with the focus solely on the performance metrics of a post—there's no deep dive into the audience. That said, if you look at Popular Pays through the lens of content creation, you understand why this isn't necessary here. The campaign report will give stats like engagement rate, impressions, likes, and comments—in the aggregate, as an average per post, and individualized to the influencer/content. You'll very quickly understand who were your best performing influencers and which bits of content were the most compelling. The content can be managed and organized on the platform, and integrations with Facebook Ads and Pinterest mean you can quickly redeploy them. Same with the creator behind the content: you can build up your own roster of content creators this way. This is why audience data and the like are unimportant for the reporting: Think of a campaign as a way to generate new content and test it with audiences all at the same time, all while still promoting your brand or products. And then the best content moves on to paid advertising where it can have even more impact.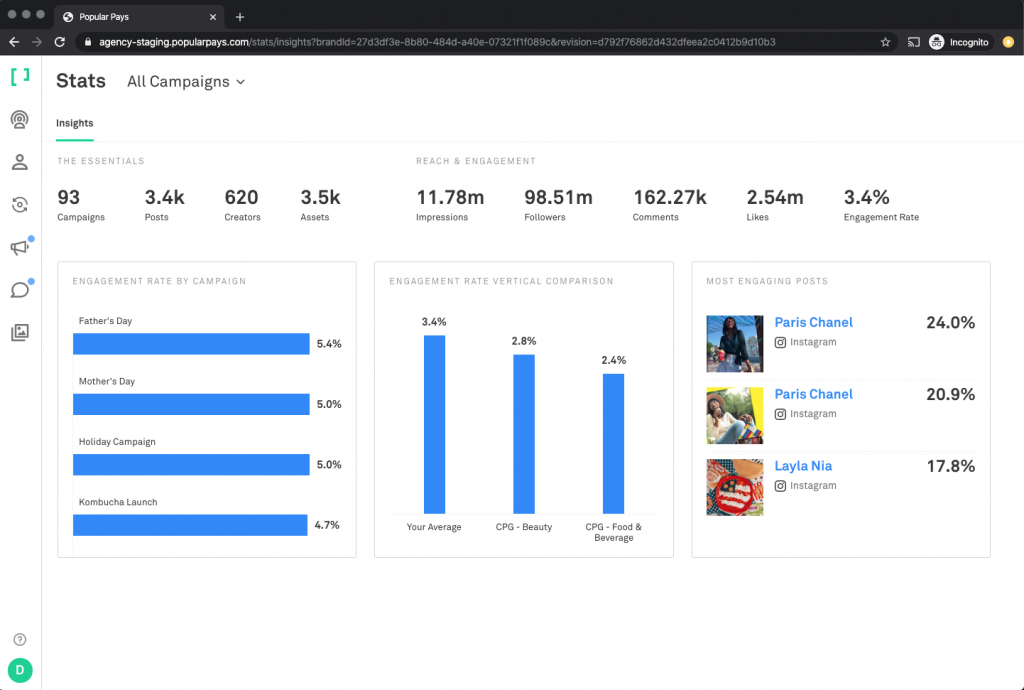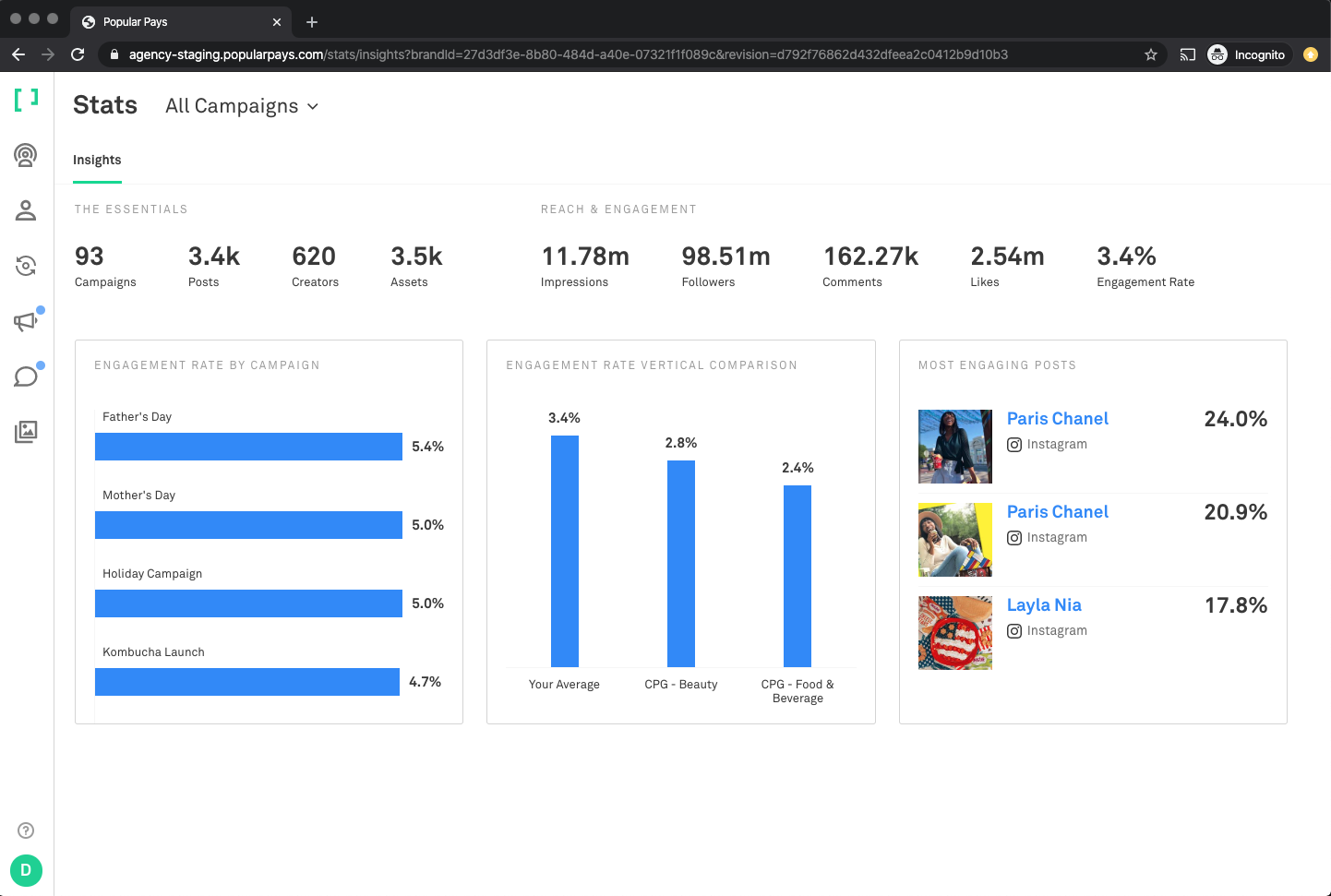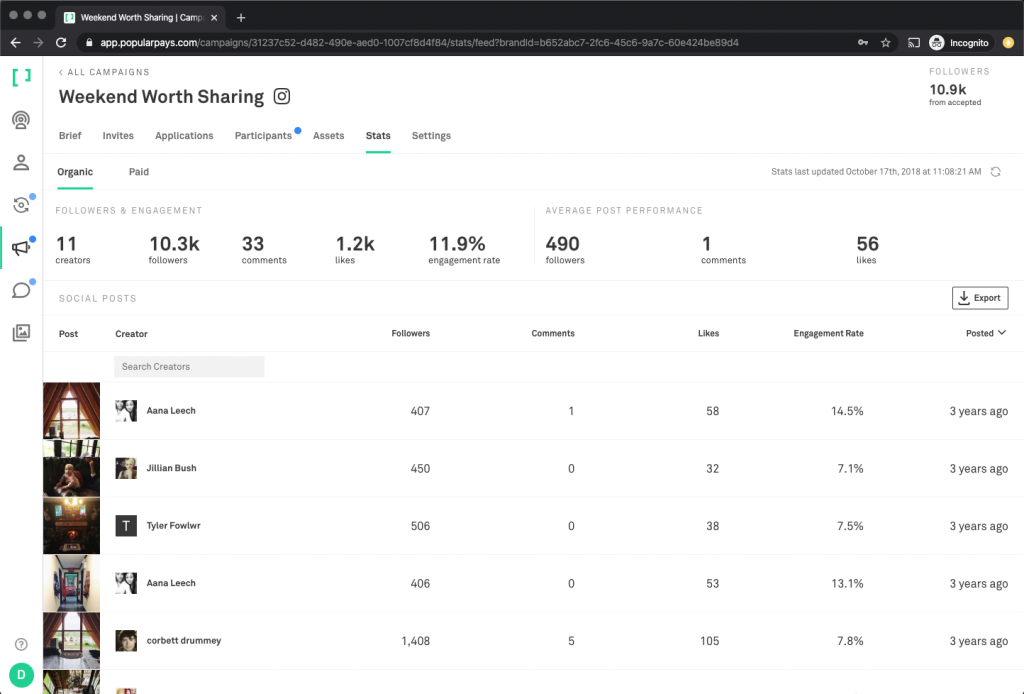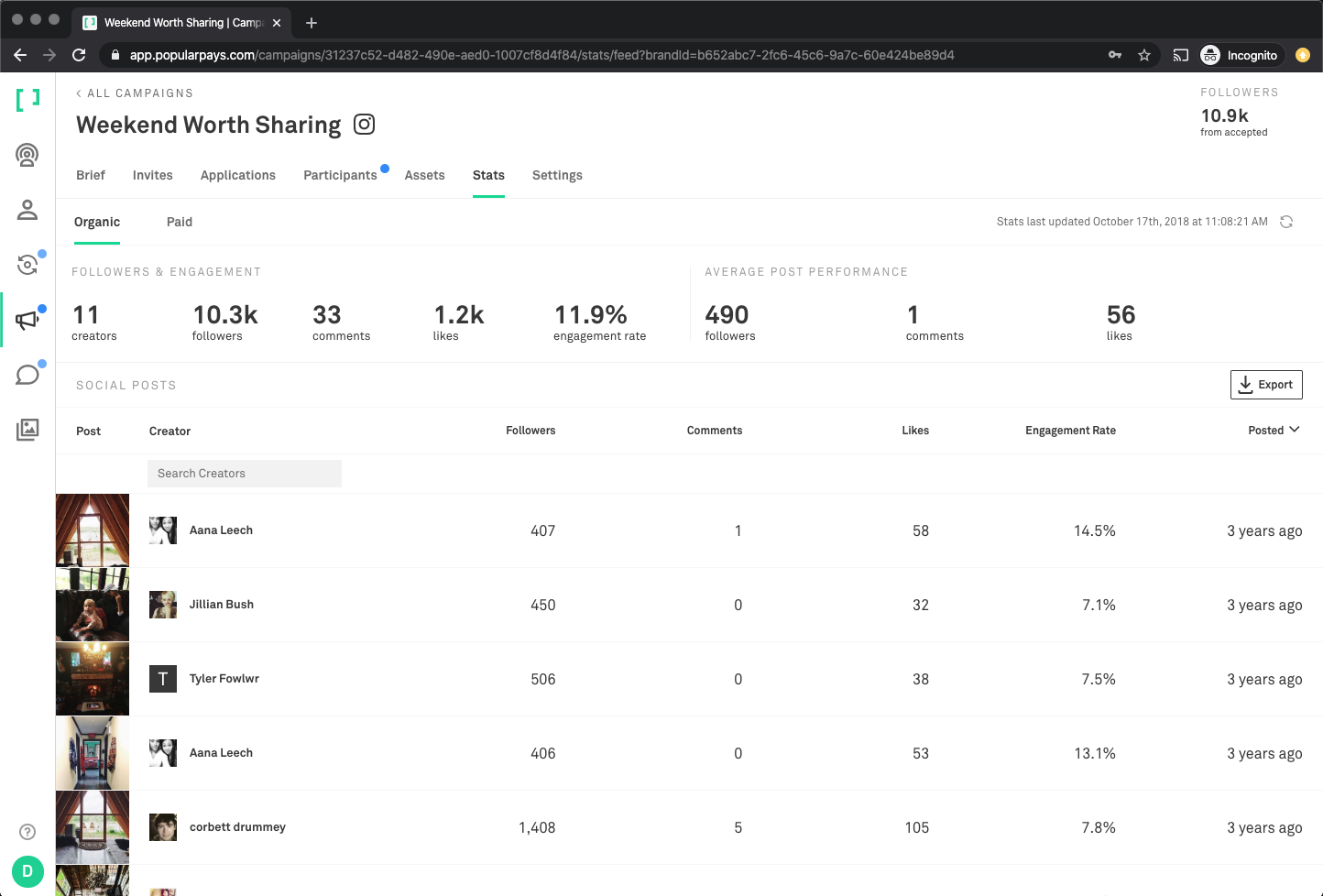 ---
Conclusion
Popular Pays is not so much shifting away from influencer marketing, as it is redefining what an influencer marketplace can be. In the early days of marketplaces, the criticism was that there was too much emphasis on reach and engagement, not enough on relationships or authenticity. That criticism doesn't hold with Popular Pays, though, which fully embraces the importance of performance, but does so with higher aspirations.
With their platform, they've given brands the tools necessary to create effective influencer campaigns. And with those effective influencer campaigns, they've given brands the tools generate new and better content for use to repurpose as needed. It's an innovative way to look at influencer marketing—as a means rather than an end—an approach that means good things for popular pays and its clients.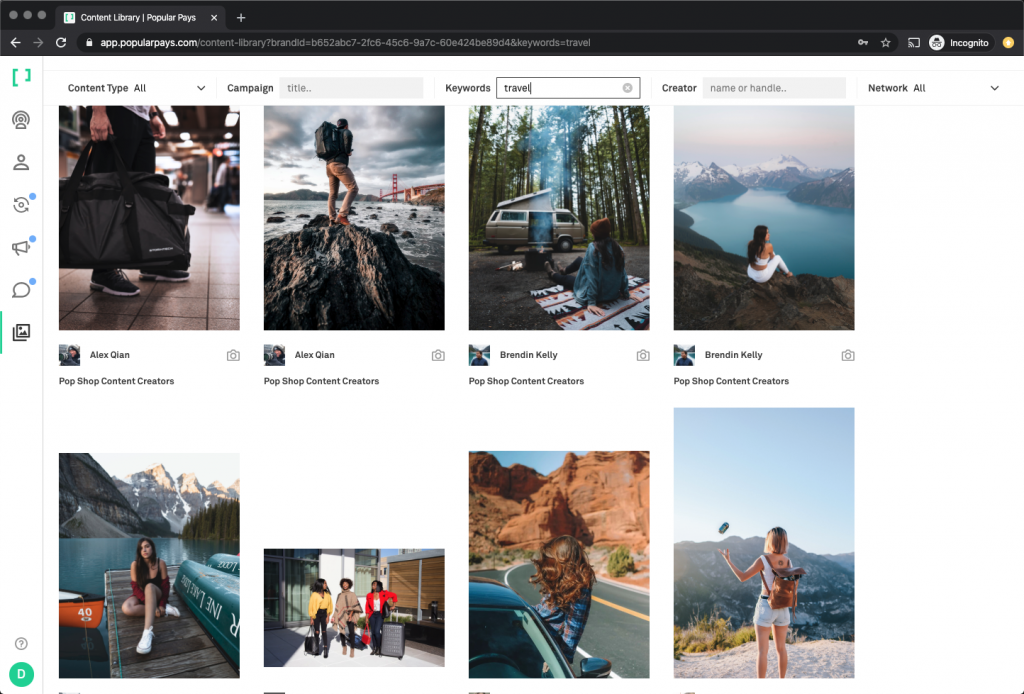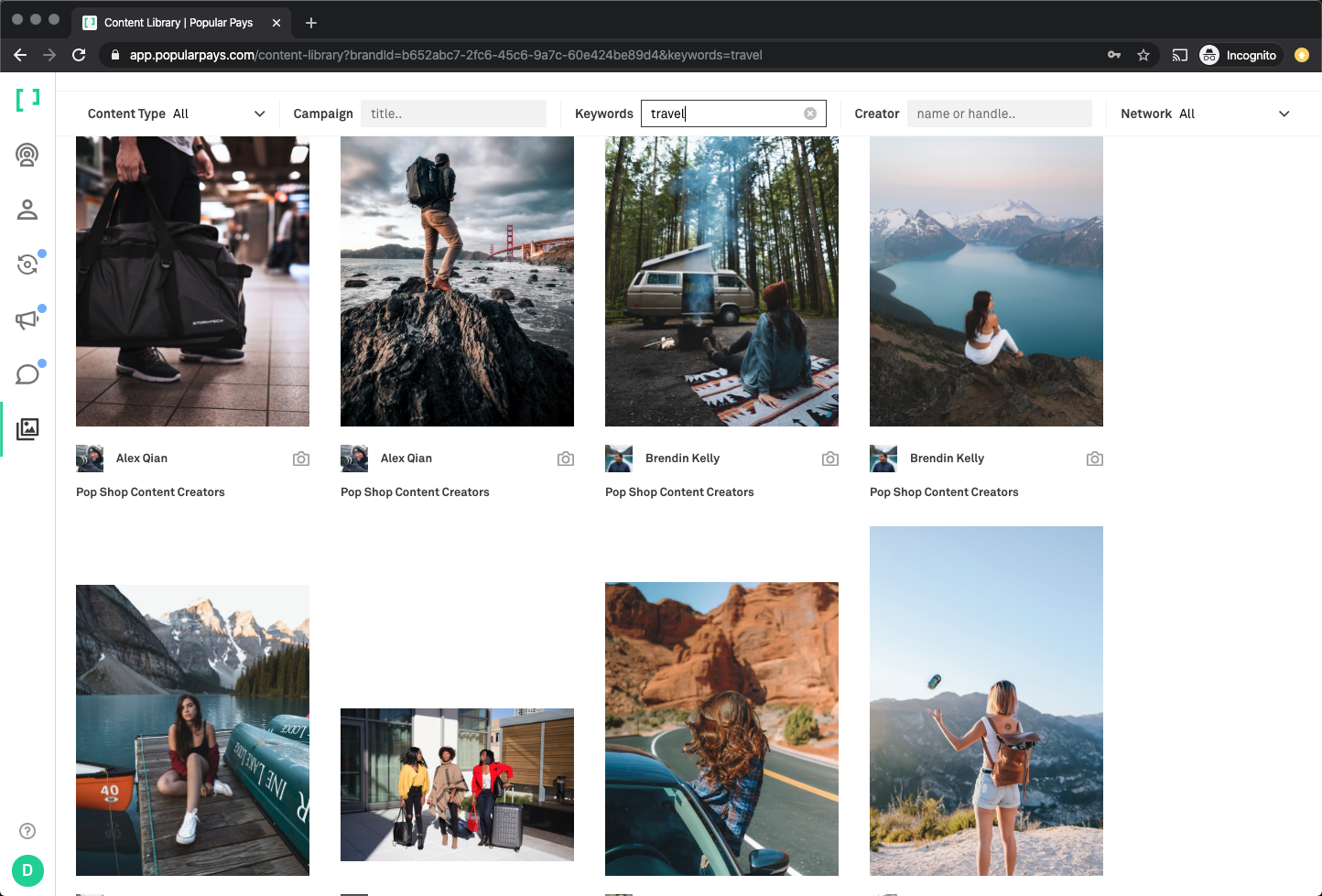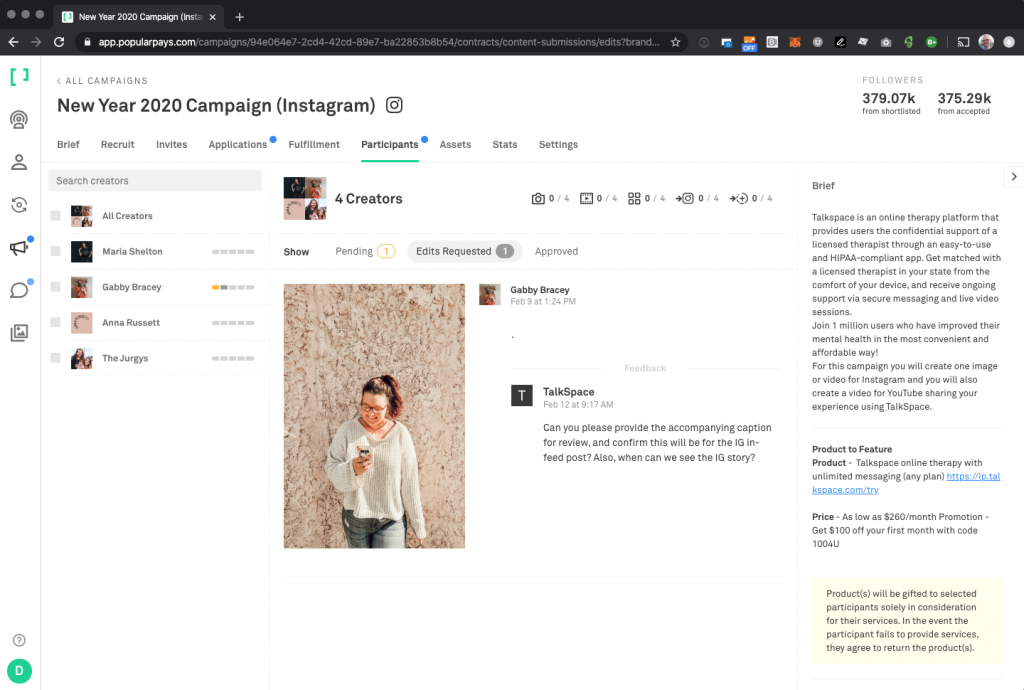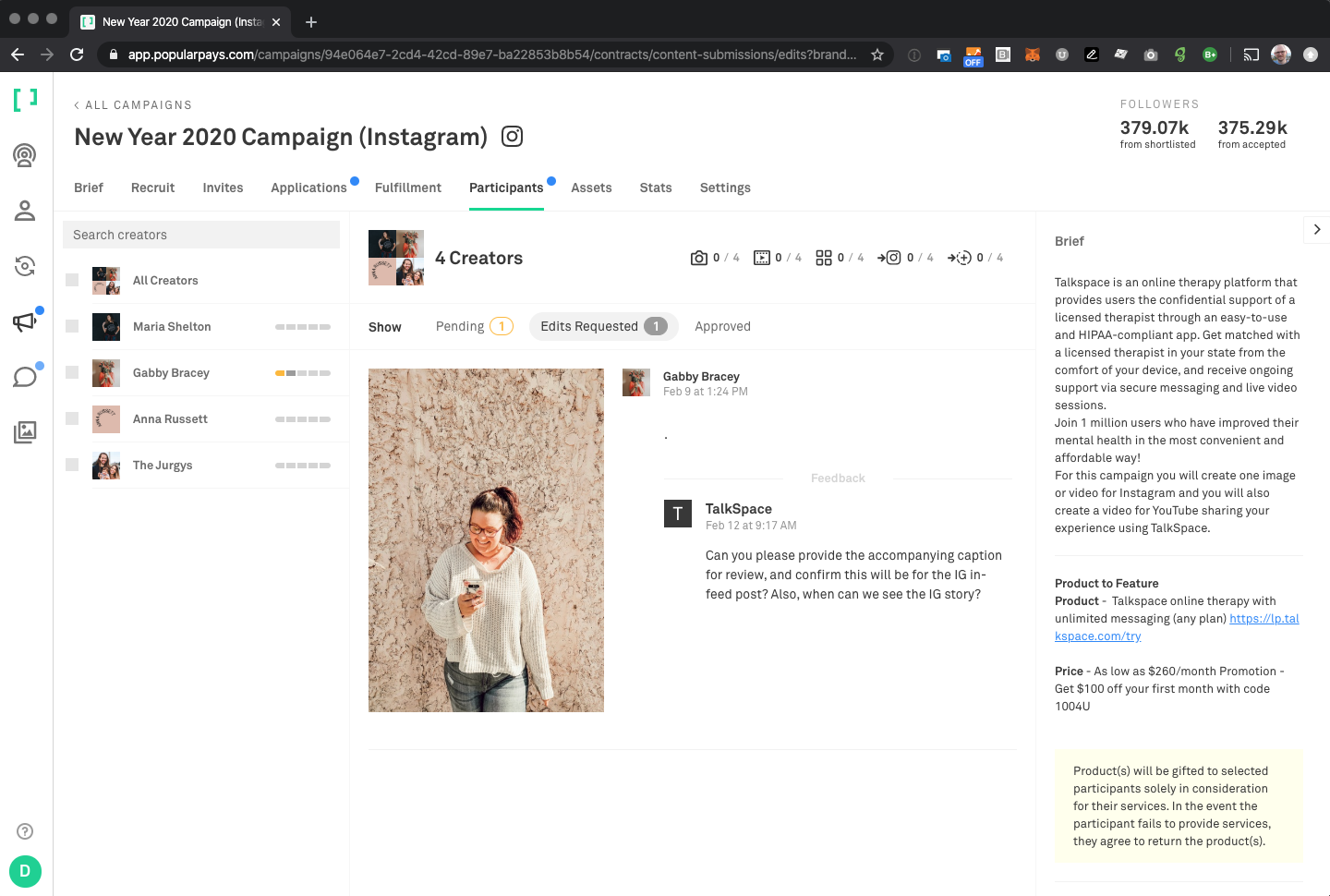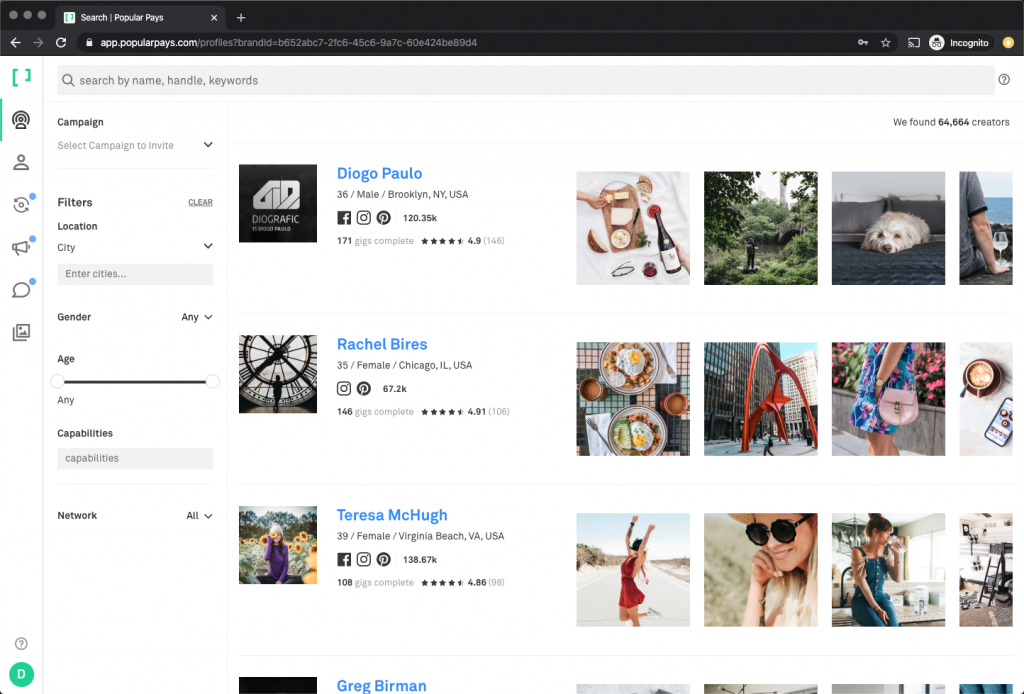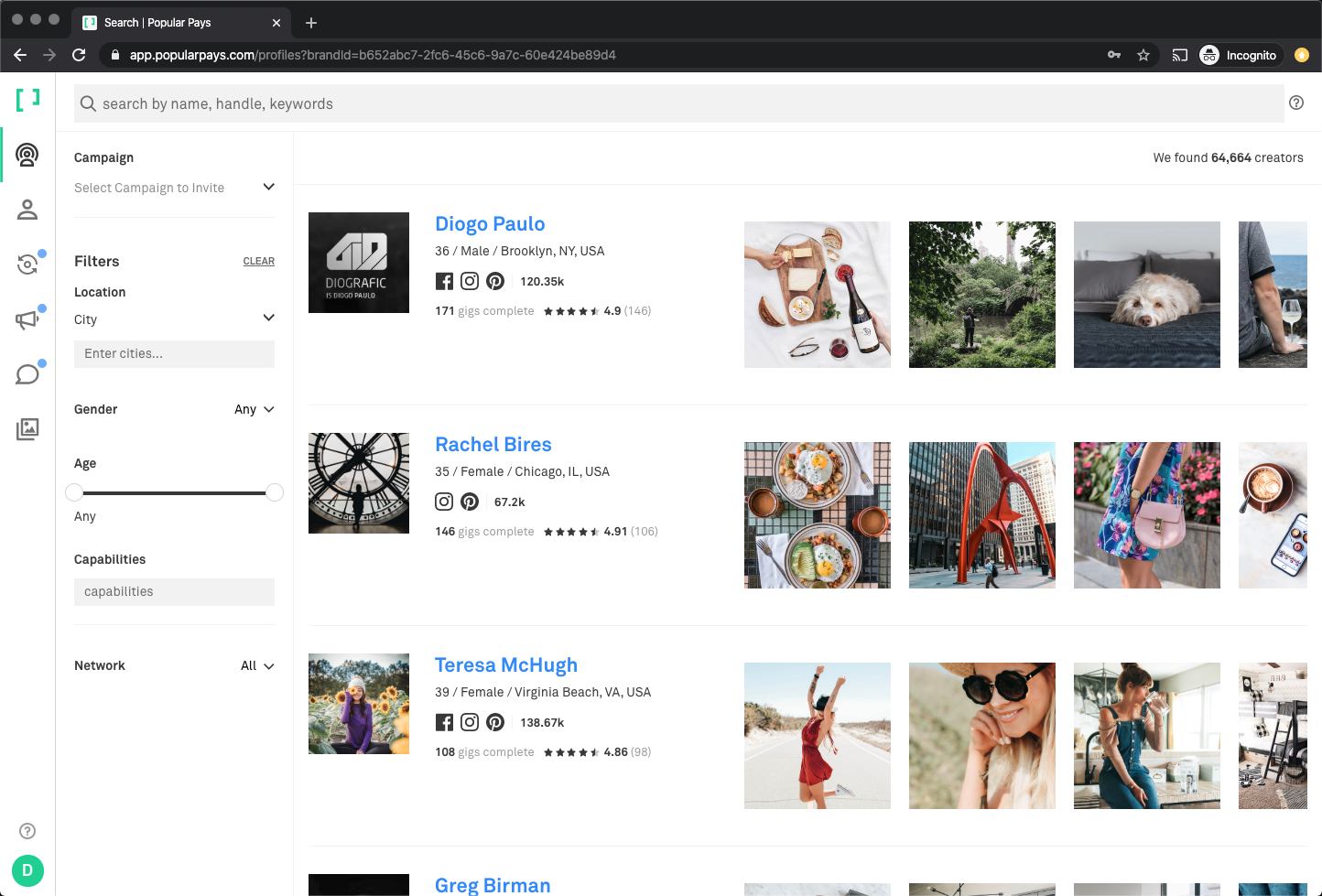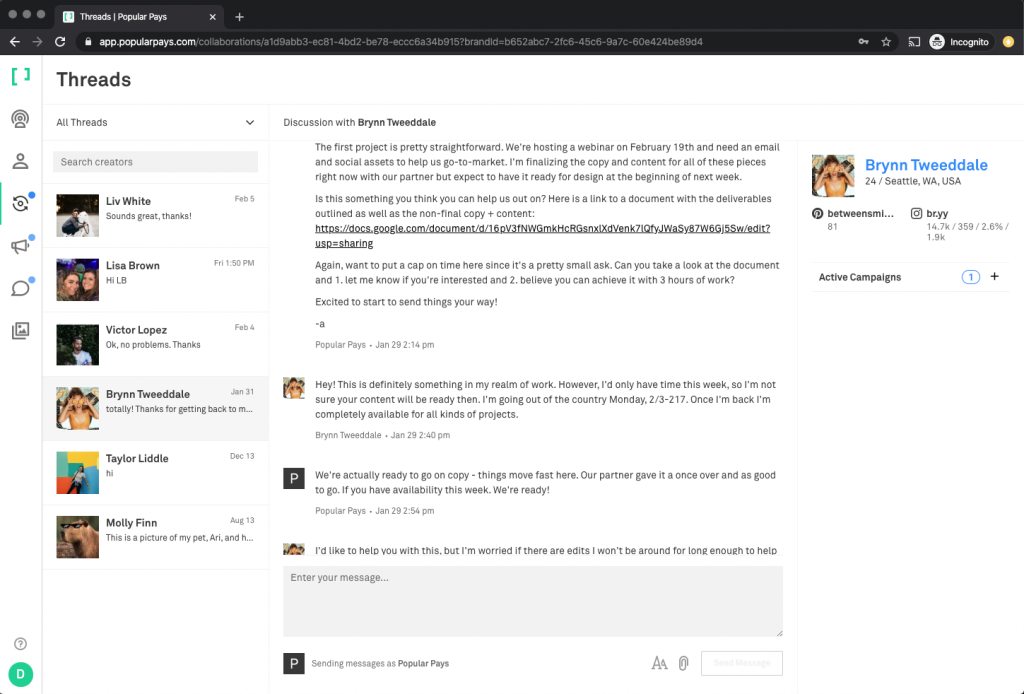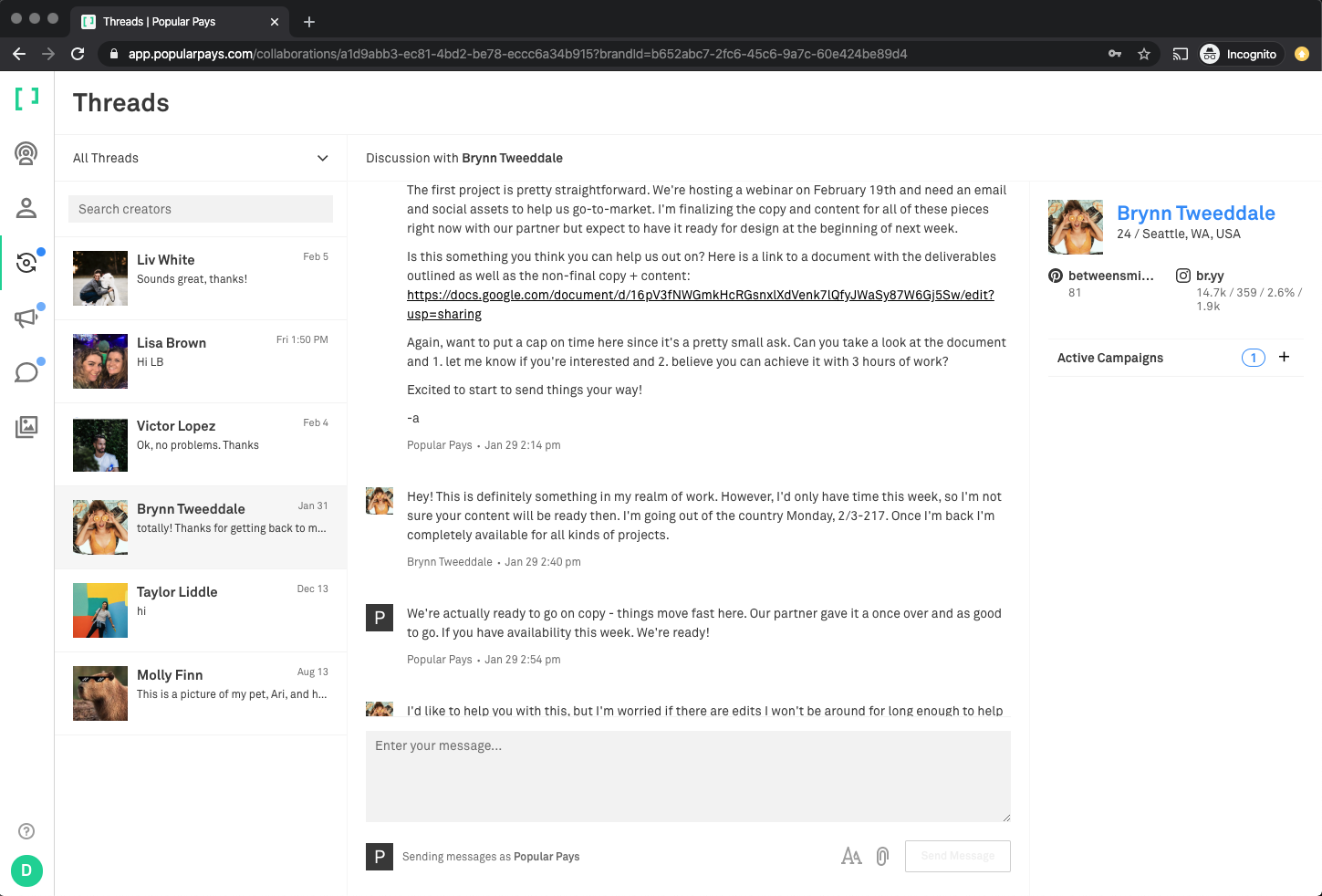 Popular Pays
Features

Ease of Use

Reporting

Best for:
Small and Medium Brands