Best for:
Mid-market and enterprise organizations
Do a quick search on Google for "postbeyond press release" and you'll see a lot of the news the company has wanted—rightfully so—to share with the world. In 2017, for example, there's the news that PostBeyond Celebrates Record Customer Growth. In 2019, they were put on the Canadian Innovation Exchange's Top 20 Most Innovative Canadian Company list. The good news for PostBeyond has been pretty consistent since its founding in 2013, and you can be sure that the employees of the company have been sharing links to all these bits of news on social media, via the Employee Advocacy platform that's garnered them all this good will.
You may be thinking that searching through a company's own press releases as proof of their achievements is a bit of a cheat, research wise. They're not going to be proactively distributing the bad stuff. Unhappy customers are a good resource for that, and so it's worth noting that PostBeyond doesn't have too many of those. Of their 255 people who reviewed PostBeyond on G2, 193 of them gave five stars. Only eight people gave less than four stars. This is how the company stands as the most popular employee advocacy platform on G2's website.
This is partially owing to PostBeyond's partnership approach to its customers. The majority of their clientele exists in the enterprise space, and as such they offer a "white glove" service when they sign on. Not all their customers are large enterprises, though, and this doesn't change anything about PostBeyond's approach. Small and medium sized customers get the same treatment. There's onboarding and training for using the platform, but then there's also training that isn't even specific to the software. That partnership approach is found in the way PostBeyond's customers also get an education in how to best use social media in a professional setting—what to post, what not to, how to leverage social selling and brand management, among other things. This surely has something to do with why they have so many satisfied customers.
Of course, the white glove experience doesn't mean anything if the software's no good, but they've got that covered, too. PostBeyond's co-founders, Ivan Tsarynny and Vitaliy Lim, both have long and impressive histories in tech, with focuses on professional services, web portal development, and architecture. All these skills come into play with their employee advocacy platform. Beyond their technical prowess, though, is a vision for how social media could aid businesses in their growth. While it's impossible to track the phrase "employee advocacy" to any first use, PostBeyond's 2013 founding certainly predates the practice becoming ubiquitous. To start developing a tool for employee advocacy at that time meant being ahead of the curve. As you'll see in this review, PostBeyond hasn't yielded that leadership status.
---
Summary
---
Pricing
PostBeyond doesn't publicise its pricing, so you'll need to contact a sales rep for a quote. We can tell you that pricing is based on the number of users, though access is sold in blocks, not per seat. In other words, customers buy into a tier based on their size—up to 100 users, up to 250, then 500, 750, 1,000, 2,000, and so on—and with an annual commitment. As the tiers go up, the price per user goes down (though, again, you're not buying single user licenses).
Regardless of the tier, every company that signs on with PostBeyond gets the full slate of features and services. A 50 person company and a 5,000 person company both get the same onboarding, training, and support. They both get a dedicated success manager, as well.
---
The Details
Where other employee advocacy platforms build out a bunch of extra features to create a kind of internal social network for a company, PostBeyond keeps it simple with a focus on gamified content sharing only. And that's a good thing, because it allows for an easy path to usage for employees. This doesn't mean that PostBeyond has more limited use-cases than competing platforms, either. As with any good platform in the genre, PostBeyond can serve a company in four important ways: basic employee advocacy, of course, but also social selling, employer branding, and HR/recruiting. Having stated that, it's a good time to reiterate that PostBeyond is dead simple to use.
That simplicity on the front end is made possible by robust admin capabilities on the back end. Users/employees can be segmented in any way that makes sense—by geography, by department, by a line of business, by anything you can define, and by any combination thereof. The content that you'll serve out to employees can also be categorized in any way you want, and those categories can be assigned to any of the user segments you've defined. What this adds up to is a pretty personalized feed of shareable content.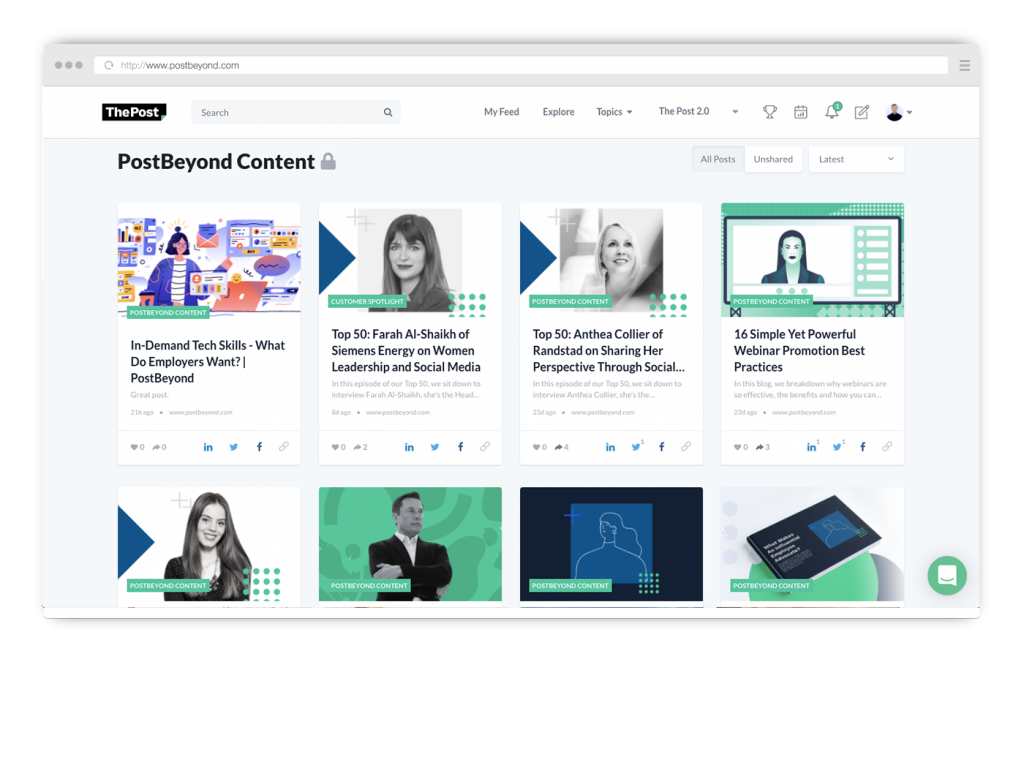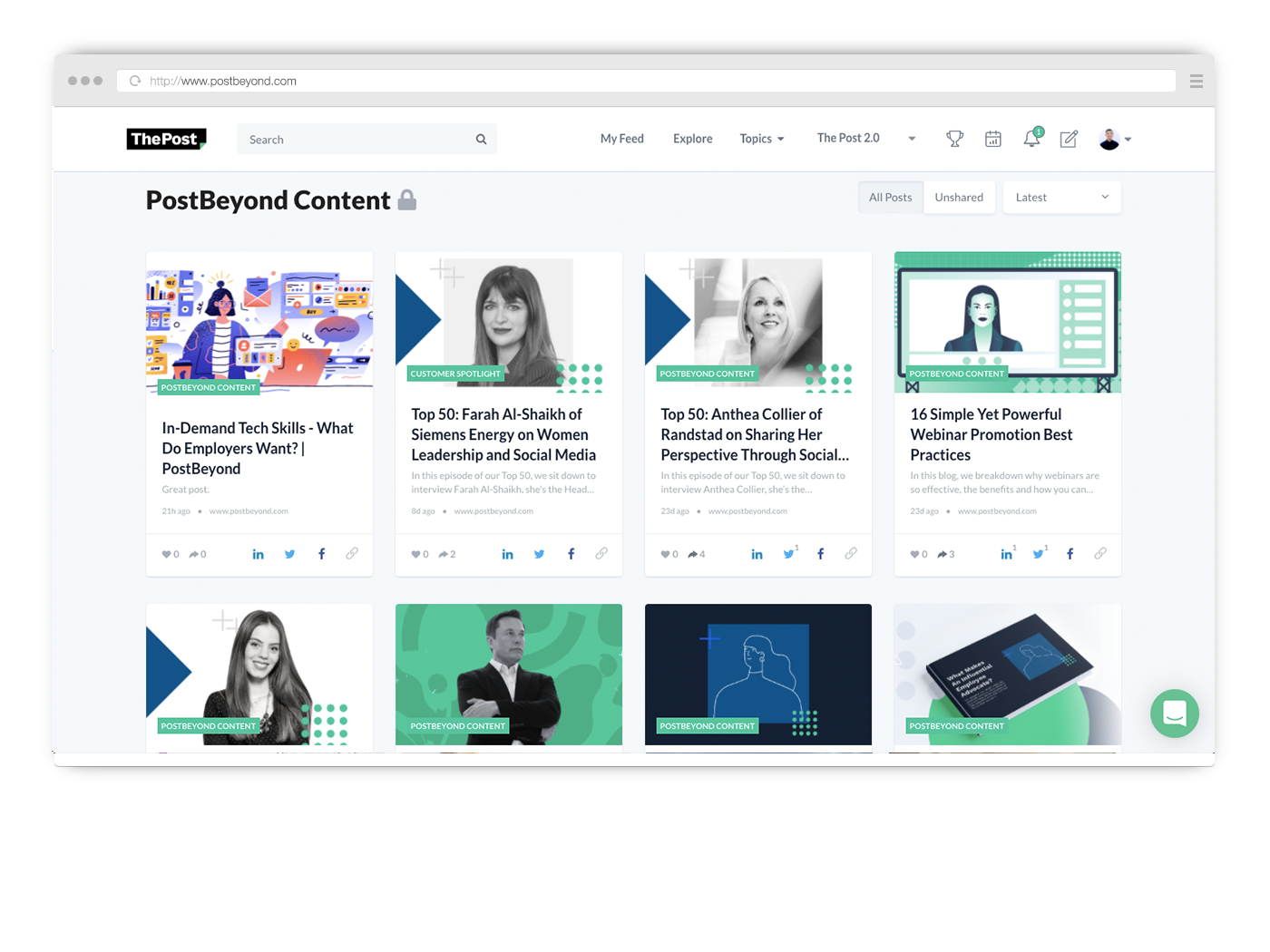 When users login, then, they'll be presented with a feed of stories and links laid out in a manner not unlike Netflix. At the top of the page are the Featured stories, those that the admins determine are most important/timely/relevant to share. Scrolling down are the different categories and the content within them. Some of the categories are force-fed at the admin level, while others can be added or subtracted by users to get a more customized feed.
For any piece of content, the admin can exert as much as little control over how, when, and with whom it's shared. For example, captions can be pre-written and locked out from changes, or the caption can be edited by users to better reflect their voice. A very cool feature of PostBeyond that prevents users from going rogue with their language is the ability to build lists of words and phrases that aren't allowed. If an employee shares a job opening post, it's very easy to prevent them from saying something like "Working here is the shit!"—as nice as that sentiment is, it's likely not on-brand for most companies. Apart from profanity, admins can create custom lists of words that just aren't allowed, which makes for an excellent compliance tool. Maybe you'd rather your employees don't guarantee anything about your offerings; this is a good way to keep them from doing that. In addition to words and phrases that are prohibited, another list can be created for those that bear another look. PostBeyond employees are discouraged from abbreviating the company's name to initials in posts, lest the caption read like it's about Peanut Butter. But it isn't fully prohibited: typing in PB will just raise an alert, and the user can decide if there's enough context to make it understandable.
From the web interface, shares can be made directly to one of three social networks: LinkedIn, Facebook, and Twitter. There's also an option to just grab a shareable link to copy and paste as an employee sees fit—like in a DM or text message, for example. On mobile, you can share to these services, plus Instagram, as well as using your phone's native sharing capabilities to get content out to just about any channel your phone supports. All content can be tagged with UTM and CID parameters to track things like where the content was shared and who shared it, conversions, click-throughs, and leads. Additionally, the gamification of the platform, where employees rack up points for completing certain tasks, can be configured—and reconfigured—in ways that encourage the sharing of content that's most useful for the company at any given moment. This really only scratches the surface of all the ways in which content can be queued up and managed on the backend to get the most out of every post from employees.
All that complexity on the admin side does more than just make things simple for the employees. It also helps to inform a robust analytics module that gives admins, managers, marketers, and sales teams keen insights into the reach and engagement of posts, and how that translates into success in any of the areas with the platform serves. The UTM and CID parameters mentioned above turn into real, reportable data—data which can also integrate with Salesforce when it comes to lead generation and conversions. But you can also see in depth analytics that shows you how well (or not) your employees are doing with PostBeyond, as well as the earned media value of their efforts.
---
Conclusion
Having just proofread this review, I can safely say that it doesn't really do justice to how powerful PostBeyond is. There are so many little details that got left out, in the interest of space and clarity. And, yet, for the employee who never needs to act as an administrator, they'll never know how much goes into the curation and crafting of share-ready content. For the user, it's as simple as scrolling through a feed and sharing relevant posts. They'll look at the leaderboard to see how their activity stacks up against the rest of the company (or just certain segments of it: the leaderboard is customisable, as well). But that's all they'll really know about PostBeyond.
The marketers and managers who have admin roles and set the direction of their employee advocacy campaigns, on the other hand, will have all the tools at their disposal to craft those campaigns in whatever way they see fit. With time and planning, they'll set everything up in a way that makes their advocacy efforts trackable and reportable, and get results that are enviable. There's a reason why PostBeyond is so popular, and why so many of its customers are happy to give testimonials. It's the same reason you should give the platform a look for yourself.
PostBeyond
Features

Ease of Use

Reporting

Best for:
Mid-market and enterprise organizations