Best for:
Small brands in Australia/New Zealand
In an interview with Femeconomy last May, Scrunch founder and CEO Danielle Lewis gave some advice to would-be entrepreneurs looking for outside investors. "People invest in people. But they also invest in people that know their shit."
The same could be said of influencer marketing in general, and of Lewis's company in particular, an online marketplace where the main product is People. We call them influencers, but really they're just people that know their shit. And brands are looking to invest in them.
Toward that end, Scrunch was born—launched in December of 2015 as neither the first nor the last influencer marketplace aiming to connect brands with influencers. By the time of Scrunch's launch, the influencer marketplace was still a relatively new thing. By now, though, we all roughly know what to expect as far as features. The ability to search, connect, negotiate, and collaborate with influencers for campaigns is foundational, with varying degrees of campaign management and reporting from platform to platform. And how does Scrunch stack up?
Without even going into The Details, their recent success tells you that the platform isn't lacking. They've achieved steady growth and investment over the last couple of years while landing big name clients like Vogue and Mini. Most notably, the recently announced partnership with NewsCorp simultaneously seems like a big payoff for their past efforts while creating a tremendous growth opportunity for the future.
What may be most impressive about Scrunch's gains with these big names is that the platform itself isn't necessarily something we'd recommend for large businesses. It doesn't completely look or act the part of an enterprise tool; the look and feel of the Scrunch brand is the polar opposite of staid and stuffy Newscorp, while its search algorithm isn't quite up to the job of parsing the data on the 20 million influencer profiles stored on the platform. The glitches in the search aren't exactly deal-breakers for the platform as a whole, but they might prove frustrating for large marketing departments—more on that in The Details. On the plus side of this, Scrunch is also priced for small businesses, making it useful for even the most limited of budgets. For those on the small side of the business-size spectrum, Scrunch looks like a great way to get into—and stay in—the influencer marketing game.
---
Summary: Quick Jump Menu
---
Pricing
Scrunch is a subscription-based SaaS platform, but it's been priced using a freemium model. This is where the appeal of the platform to small businesses is most apparent, but you'll see that appeal at each level of service:
Starter, $0/month —

While many marketplaces give a free account for people to poke around inside the software, that's generally all you can do. With Scrunch's starter plan, you can actually run and manage campaigns, though there are of course limitations: only one campaign at a time; only 40 results per search; only one influencer list. There's no reporting, but that's enough to start marketing at a basic level. If the results are good enough, free users might even end up paying for an upgraded subscription.



Pro, $99/month —

Here, you can run unlimited campaigns, using influencers you've found from your unlimited search results (all of whom you can organise into unlimited lists). You'll also be able to access influencers' contact details beyond their social handles. There's no reporting here, either, and that's disappointing. Even in this very basic level of service, it seems almost punitive not to allow for basic reports for metrics like reach, engagement, likes, and shares.



Power, $299/month —

This gets you everything as above, and campaign reporting that includes in-depth audience analysis.
---
The Details
As an influencer marketplace, Scrunch behaves exactly as you would expect. You login, you search, you connect; campaigns are defined, requirements specified. Fees are negotiated and content is generated. Reports are created and data is analysed. Scrunch does all this, so the question is: how well? The answer depends on the feature we're talking about.
The clear low point of its abilities is in its search tools. The tool itself is pretty sophisticated, as far filtering results goes—Scrunch gathers and indexes a lot of data for their profiles, letting users refine their results by location, social channel, follower range, and even post frequency. A nice little touch is the ability to search only in the lists you've created, too.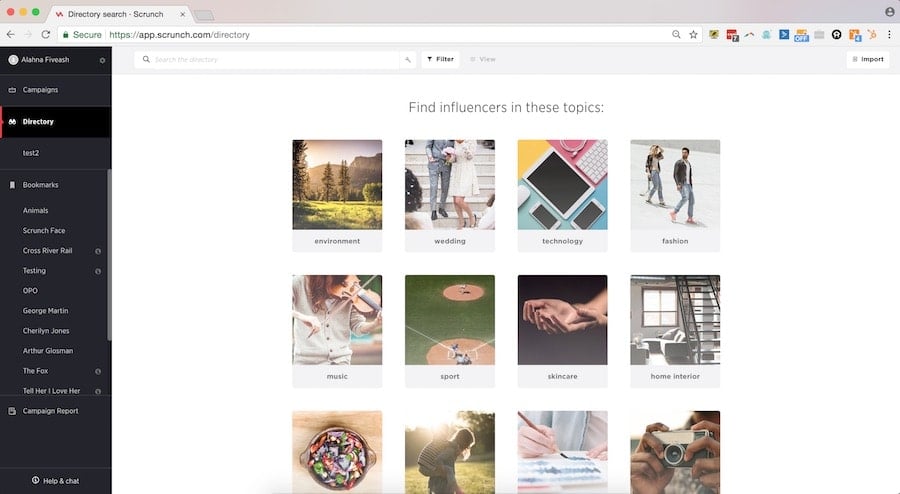 While conducting a search is relatively pain-free, going through the results is not as easy. The interface itself is a bit of a crowded mess, with the influencers and their accompanying data spanning 14 columns you have to scroll to see. To be fair, you can customise this and display any of the columns you want, but the default view is everything. And that's overwhelming for a first time user—it's easier for someone to hunt for specific information they know they want than it is for them to parse through a bunch of data they're not sure they don't want. Clicking on a profile just confuses the screen more, as an overlay slides in from the right, but not all the way. This means it only partially obscures the results behind it, so much of it is still visible and crowding the screen with words, numbers, and icons.
As for the results themselves, the filters make it easy to get pretty specific with what you want. Yes, you'll find matches to your criteria. But you'll also find other profiles have snuck in that definitely aren't what you were looking for, and are obviously the result of something going awry in Scrunch's algorithm as it indexes influencer data. A search for U.S.-based photographers included an influencer who was clearly Russian—her bio said she was in St. Petersburg, and her email address ended in .ru, but Scrunch's algorithm just latched onto Petersburg, which is the name of a city in Virginia.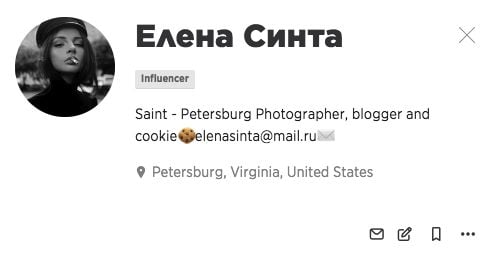 Searching for influencers in the Oceania region got me a profile of a woman in New York City. She had included the phrase "west coast" in her bio, and so Scrunch decided that she was in New Zealand.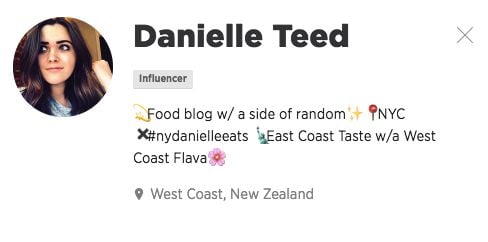 A search of Food & Drink bloggers recommended Scott Adams, an American comic strip writer who has a history of saying terrible things.
I could go on and list more of these, but the point is this: these glitchy results were not isolated incidents. Most of the results I got were relevant, but this happened enough to make it clear there's something in the secret sauce that isn't quite right. It's not a big enough deal to cancel out what does work on Scrunch, but it definitely needs to be addressed.
On the campaign management side, things are much better. The platform handles it all as you would expect, with two standout features worth noting:
First, they've integrated the discovery tool into the campaign section, as well, so that you get recommendations for influencers as you're defining the criteria about them. It's easy from there to shortlist people you want to invite on to the campaign. And since you're able to refine results just as you can in the standalone discovery tool, you'll be able to choose from lists you've already made.
Second, you can keep notes on each influencer and attach it to their profiles, which is great for teams that need transparent collaboration. Scrunch isn't the only tool to do this, but it is the only I've seen that allows you to format the text in the note for readability. Even more useful is the easy way to include hyperlinks in the notes. Simply highlight the text and add the link—this is great if you want to highlight some past content to show team members.
At the Power level of subscription, the reporting exceeds expectations for a marketplace. These types of platforms generally go for the basics—an influencer marketplace is a transactional thing, and so the reporting usually reflects what you got for your investment (reach and engagement-wise). Scrunch goes deep into the audience, providing some useful demographics like age, gender, and race. Even better is its reporting on the psychographics of an influencers, so that marketers can get a real feel for the likes and dislikes of their target audience (and tailor campaigns to those interests). The inclusion of psychographics should be seen as a big deal: influencer marketing is, after all, about authentically connecting with audiences. Half might be male, and half of them female; 40% of them might be in Australia, with the rest scattered over the globe. It's more likely that preferences and affinities unify an audience than where they come from from, or what their gender is. That means its more likely to make those kinds of authentic connections using Scrunch than another platform that limits your insights.
---
Conclusion
As influencer marketing moves forward it's looking to become the norm—that is to say, influencer marketing may one day just be called "marketing." If this is to be the case, then small businesses are going to need tools like Scrunch to participate. With the free starter plan, you have nothing to lose but your time to try it. Scrunch isn't perfect, but it's one of the better marketplaces we've seen, especially for small businesses. While the search has its issues, it still works very well overall. The campaign management and reporting are robust enough to satisfy large clients (and forge impressive partnerships). The people at Scrunch didn't invent the influencer marketplace, and they haven't yet perfected it. Whether they do or not is irrelevant, because—to paraphrase their CEO—these are clearly people who know their shit.
Scrunch
Features

Ease of Use

Reporting

Best for:
Small brands in Australia/New Zealand