Best for:
Small and Medium brands in Fashion and Beauty
By the time Shopping Links debuted in 2015, Kim Westwood and her team had spent the previous 12 months combing over social media channels to handpick the influencers who would become the heart of the service. Westwood, the Founder and Director of Shopping Links, described spending an "inordinate amount of time" on this task, but I don't think that's a fair assessment. "Inordinate" describes something that is disproportionately excessive, and Shopping Links looks and acts every bit like its developers spent quite a lot of time on it.
That's because the attention to detail doesn't end with the hand-selected influencers who populated its platform at launch time. (Note: with over 12,000 influencers in the database, Shopping Links has long stopped searching for them. There's enough momentum that they're finding their way to the website and opting in, but they are still individually screened—by humans—before being allowed on to the platform). The service itself is geared toward the fashion and beauty space, and the website looks more like a landing page for a high-end couture boutique than it does like software for marketers. And once you get inside the platform, it looks and feels more like a mobile app than a web app (more on this in The Details, below).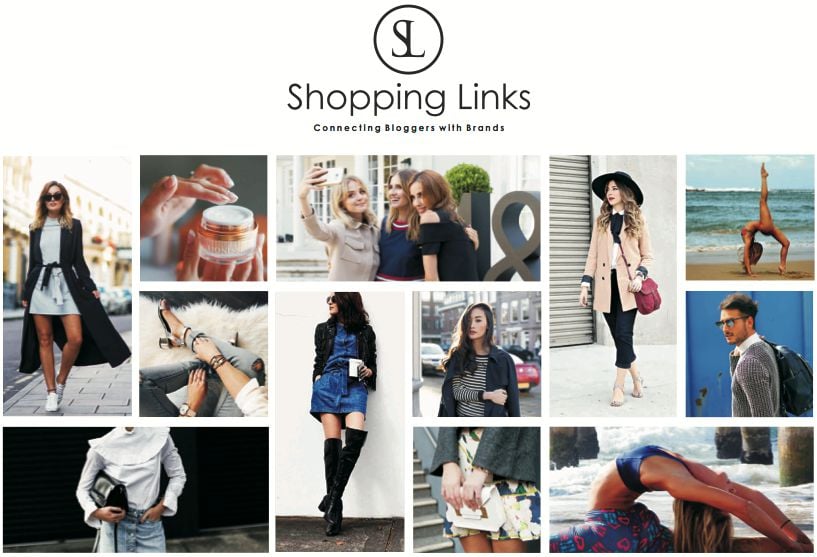 But let's not let the subtle details overshadow the software itself. Since going live, Westwood & company have grown Shopping Links well beyond Melbourne, where they're headquartered. The platform's influencers are spread out over 103 countries, and more than 850 brands—from niche fashion designers to Fortune 500 companies—are taking advantage of that geographic reach. The company won the 2016 Governor of Victoria Export Award in the Business Services category, while Westwood herself was named as a finalist for the Telstra Business Women Award. Shopping Links has a lot going for it as a company, is what I'm saying, and that doesn't happen with bad software. It's simple to use, generates impressive results, and looks real good doing it.
---
Summary:
---
Pricing
Shopping Links, the company, offers both self- and managed-service access to Shopping Links, the platform. Three different levels of managed services are offered, though pricing is tailored to each customer. Also, this review isn't about the managed services, it's about the software itself. And for that, the cost couldn't be more straightforward.
There's no subscription—any brand can sign up and create a free account. You only get charged when you post an opportunity for a collaboration out to the community of creatives on the site. It's worth noting that Shopping Links refers to their influencers as "bloggers," and this is somewhat confusing. Not all of them are literal bloggers (someone who writes a weB LOG), but instead run the gamut of people posting regular, blog-like, content on big social platforms. In other words, influencers.
In any case, the cost breaks down like this:
$79 per collaboration — You can create an account and a new collaboration in minutes. Once you've defined everything and are ready to push the opportunity out to the influencers you pay the fee. You can work with up to five influencers at a time, but there are options to add more.
$40 per collaboration if you want 10 more, for a total of 15.
$109 per collaboration if you just want to go all-in and work with as many as you want.
This doesn't include the cost of paying the influencers, though paying them to collaborate isn't mandatory, either. If you do negotiate a fee with someone, you can pay them through Shopping Links for a 10% charge. (So, for example, a $100 payment costs $110). If your influencers are happy to collaborate for exposure or gifts, then all you pay are the fees listed above.
---
The Details
Ultimately, what matters most about software is whether it can do the job it was designed to do. It shouldn't matter whether the interface is ugly or using it takes a long time to learn. But here's the thing about that: those things do matter. The front-end is where the user sits, and if you're not making it pleasant to interact with the underlying technology, you've failed at your job. Software doesn't have to be beautiful—there are plenty of platforms we've reviewed with basic, unremarkable interfaces that still get high marks. But when the front-end goes above and beyond, actually creating a dynamic aesthetic that reinforces everything else about the product, it needs to discussed.
This is what Shopping Links has done with its platform. The clean lines and black and white styling makes a lot of intuitive sense for software designed to serve people in the fashion and beauty niche. There are other colors, as well, used sparingly and dynamically as a way to highlight whatever information it is you're supposed to be looking at. The influencers who opt-in and are accepted based on their own creative work should feel right at home on Shopping Links. The brands the company wants to use the platform will also be reassured they're dealing with a service that "gets" what kind of content they're looking for.
Of course, underneath it all, there's got to be some robust software making users' lives easier. And that's just what Shopping Links does for the brands who rely on it to source material for their influencer marketing campaigns. It takes seconds to create an account, maybe a minute to create your company profile, and then a few minutes more to input the description and requirements of the content you're looking for. Once all that's done, you pay your $79 and get to work finding yourself some talent. Influencers who match what you're looking for are notified of the opportunity, and they can apply to take part. While that's happening, brands can browse through all the matches and send invites out to anyone who seems like a good fit. And they can track the progress of each influencer throughout the campaign lifecycle quite easily, from first contact, to offers and counter-offers, to acceptance, delivery, and payment.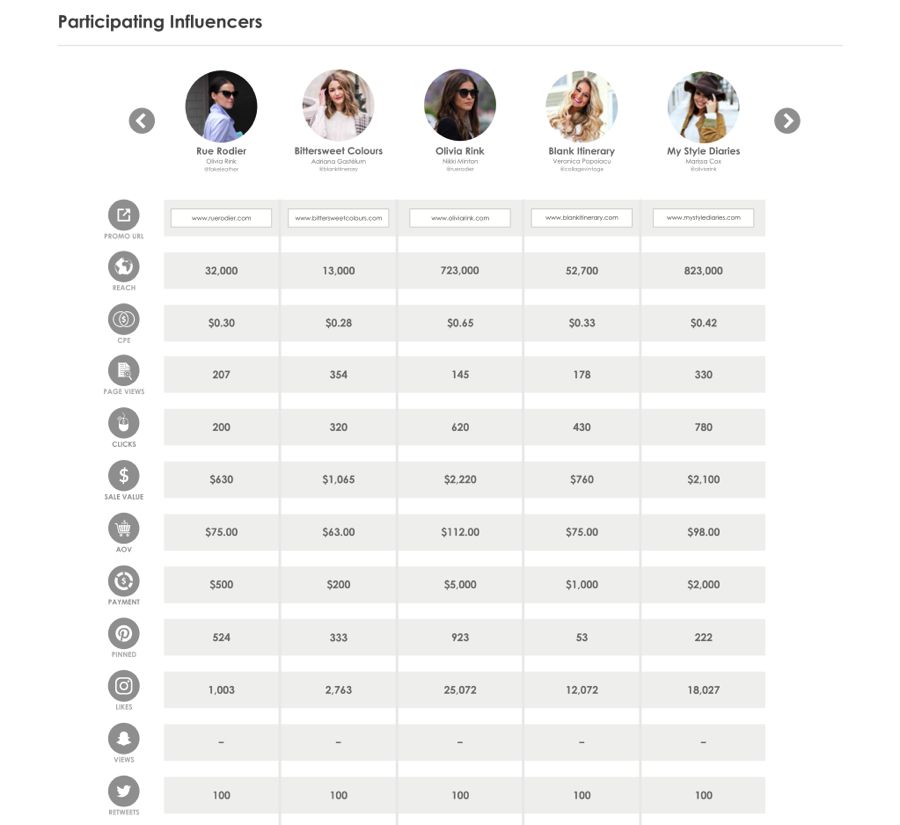 The only part of the search phase I can find issue with is the time-limit imposed on it. The collaboration is only available for public view for 15 days, during which time influencers can apply or be invited. This doesn't mean that brands are pressed to find and activate all the influencers they want to work with in that time frame, but they must make at least first contact. After the 15 days, negotiations may continue for as long as it needs to take, but you're stuck with only those who've responded to your posting or direct messages. It seems an arbitrary and unnecessary obstacle, and it begs one important question: if you've chosen to pay the $109 fee, how is it possible to work with an unlimited number with only 15 days to connect with them all? I realise that "unlimited" here means, more precisely, "no limit," but 15 days sounds very much like a limit to me. It could also lead to marketing teams spending days 14 and 15 just blasting out invites to everyone who looks remotely close to desirable, and then having to waste time winnowing that list down after the fact.
Beyond this quirk, there's not much else to criticise Shopping Links for. Once you've agreed to terms with your influencers, things happen pretty quickly. If you've agreed to pay them, you'll make the payment immediately, and the money sits in escrow until you've approved the content. Neither brands nor influencers need to worry about getting stiffed. It's easy to see which influencer has posted, who you're waiting on, who's waiting for payment, etc. Shopping Links handles this part of the process as well as any of its competitors—and that's to be expected, because at this point we all have certain expectations around an influencer marketplace works. Again, though, it's the interface that makes the software standout; using the software is an interactive and dynamic experience. Mouse-overs highlight what you're looking at, popping up relevant information where appropriate. It feels like true software, not a webapp.
This us doubly important for the reporting and analytics. The way the app responds makes it much easier to sort through and read the performance metrics. With other software this can often be an exercise in keeping your eyes open as you stare at rows of numbers and percentages and hard-to-read graphs. Here, it's actually kind of enjoyable to sift through the rows of numbers and percentages and easy-to-read graphs (I mean, if you're into that kind of thing). But that ease is more than just a pretty bow on a small gift. The data you get out of Shopping Links is extensive, much more than I'm used to seeing with marketplaces, and it can be parsed any number of ways.
---
Conclusion
Shopping Links isn't the only influencer marketing platform to sit in the Fashion/Beauty/Lifestyle niche, and it isn't the only one to set up a marketplace to connect brands with influencers for campaign specific tasks. It is, however, in the cream of that crop, offering something that looks as good as it performs. The pricing of its self-service model easily puts it in the financial reach of any company with a marketing budget of at least $79 (spoiler alert: that's not a lot of money). With the way the software looks and performs, along with Shopping Links' impressive roster of clients and over 1,400 collaborations to date, it's hard to believe that it's only been around for a bit over 2 years. It's easy to imagine it'll be around much longer, though.
Shopping Links
Features

Ease of Use

Reporting

Best for:
Small and Medium brands in Fashion and Beauty